Last Updated: June 26, 2023

Choosing the right online webinar/meeting software can be a challenge, especially if both tools are from the same company.
GoToMeeting seems to be for meetings, whereas GoToWebinar appears to be for webinars, which is true.
But still, you can't choose software, based only on this factor because there are so many other factors to consider for your unique needs.
In this post, I am going to review two popular collaboration softwares, GoToMeeting and GoToWebinar.
I dove deep into each platform to highlight the main differences, pros and cons, features, and much more.
Within each platform, I evaluated:
To help you make the best decision, make sure to read this review until the end.
Before I get into the review itself and dig deeper, let's take a quick look at the main differences of both software.
GoToMeeting vs GoToWebinar: Summary
GoToMeeting is best for online meetings with less than 250 participants, offers limited reports, has less features, and its pricing starts from $12/month. Whereas, GoToWebinar is best for hosting online events such as training with up to 3,000 participants, offers in-depth reports, tons of features, and its pricing starts from $49/month.
However, both offer a free trial so I recommend testing both for free (no credit card required) to test things out before committing any money.
Now let's dive right into our detailed comparison of GoToMeeting vs GoToWebinar to find the absolute best one for your needs
Participants Limit
Everything aside, when it comes to choosing the right software between GoToMeeting and GoToWebinar, the most crucial factor to consider is the number of participants you're going to invite to your meeting or webinar.
Both software supports a limited number of participants that you can invite to your meeting or webinar.
Let's discuss everything about participants limit.
GoToMeeting Participants Limit
GoToMeeting supports up to 250 participants at a time and if you want to host more than 250 participants then you've to contact their sales specialist team to get custom rates.

However, the participants limit depends on the subscription plan you choose (more on pricing and subscription offers later).
GoToWebinar Participants Limit
GoToWebinar supports up to 3,000 participants, and you can host a webinar from anywhere between 100 – 3,000 participants at a time depending on the plan you choose.
Instant Meetings, Webinars, Scheduling & Registration
Both software allows you to schedule a meeting or webinar on a specific day and time.
However, you may have heard that GoToMeeting supports an instant meeting, whereas GoToWebinar requires pre-planning scheduled time meaning the participants must pre-register before they can attend the webinar.
But is that even true or not? Let's talk about it.
GoToMeeting Scheduling & Registration
GoToMeeting gives you two options, Meet Now or Schedule Meeting. This means you can either host an instant meeting and invite participants right away with an invitation link or meeting ID. or schedule a meeting for later.
How to Host a Meeting with GoToMeeting?
To host an instant meeting or schedule a meeting for later, follow these steps:
Login to your GoToMeeting account.
Click on Meet Now for an instant meeting or Create a Meeting to schedule a meeting for later.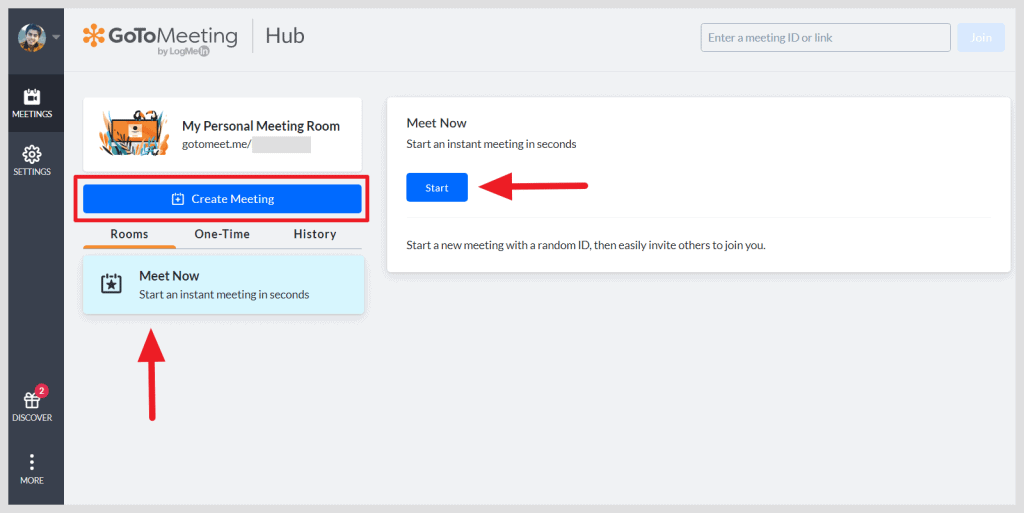 That's it! You can also host an instant meeting or scheduled meeting through the GoToMeeting desktop software as well (recommended).
GoToWebinar Scheduling & Registration
As I said earlier, because of the outdated information about these both programs, you may have read that GoToWebinar can't host an instant webinar but it's not true.
Just like GoToMeeting, you can also host a webinar instantly without the pre-registration to attend your webinar or schedule a webinar for later as well.
The only difference is that you can't host a webinar directly from the GoToWebinar website like GoToMeeting, but you can start an instant webinar from the desktop app of GoToWebinar.
Here's how to do it:
Download the desktop app of GoToWebinar.
Open the program and click on Webinar Now or Schedule Meeting for later.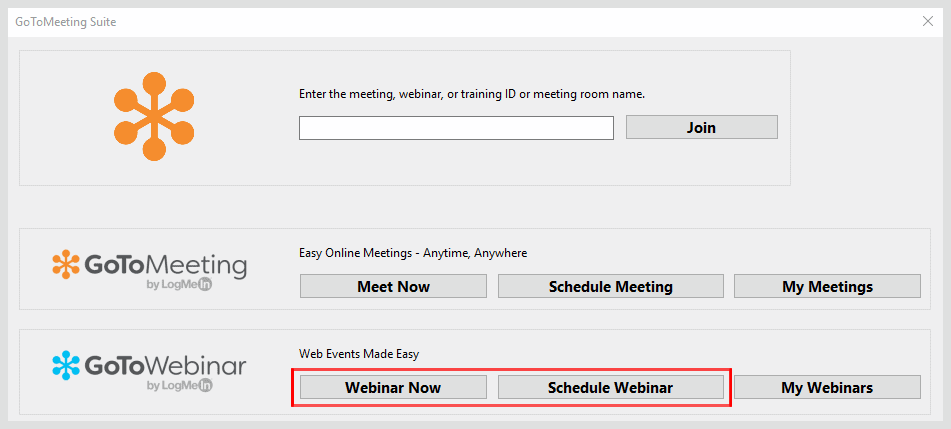 It's that simple, now all you've to do is simply copy your webinar I.D and share it with anyone you want to invite to your webinar.
Reporting & Analytics
If you're thinking about which one provides extensive reporting, polls, surveys, and advanced analytics, don't worry let's talk about it.
GoToMeeting Reporting & Analytics
GoToMeeting offers limited reporting functionality like attendee name, email address, join & leave times and it doesn't have polling and survey features.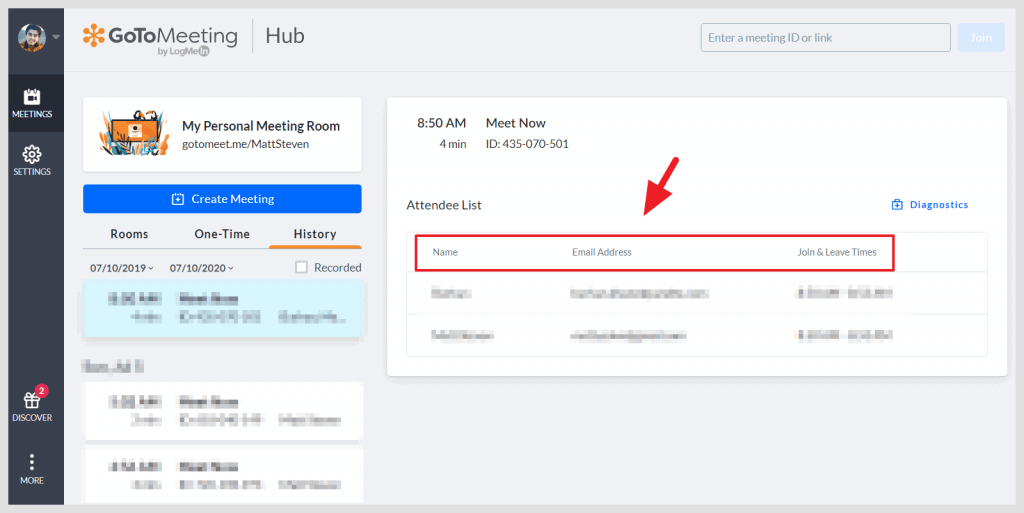 GoToWebinar Reporting & Analytics
GoToWebinar provides robust reporting and analytics, and it offers polling, survey, and Q & A functionality to engage your webinar participants.
Its analytics shows you the total sessions, the number of registrants, attendees, and attendance rate with a graph as well.
It also tracks audience feedback and the overall success of your webinar. Other than that, GoToWebinar provides you a detailed list of webinar attendee's names, the day, date, and start time of your webinar, email, and more.
Ease of Use & Interface
When comparing GoToMeeting vs GoToWebinar, it's important to consider which one is easier to use and has a better interface.
That's why I've taken the time to show you the ease of use and interface of both programs. Let's take a look at GoToMeeting first.
GoToMeeting Ease of Use & Interface
The ease of use of any software depends on its interface because the cleaner and simpler the interface will be, the easier it will be to use the program.
So let's take a look at the interface of GoToMeeting.
As you can see, the interface of the GoToMeeting is pretty clean which makes it easier for the users to use the program.
From the top left side of the software you can record your meetings whereas the top center lets you choose and view who's talking, there are four options in the bottom center which allows you to mute or unmute yourself, open your webcam, share computer screen, or end the meeting by clicking on leave.
The left side of the program shows the number of participants, the settings, and the chat section shows you the messages of other participants and lets you message as well.
GoToWebinar Ease of Use & Interface
So, you've seen the interface of GoToMeeting and now let's take a look at the interface of GoToWebinar.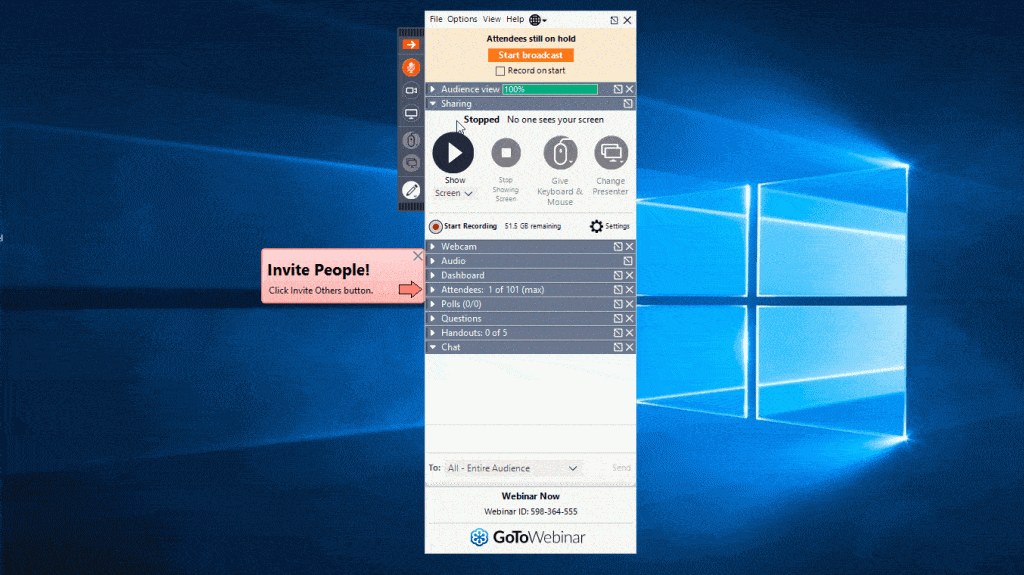 As you can see, the user interface of the GoToWebinar isn't excellent and while you're hosting a webinar it will take time to get used to it.
Also, checking out the questions of participants is not very user friendly in GoToWebinar.
Features
Before signing up for any service, it's crucial to make sure the service you're going to choose includes the features you'll need. Given this, let's check out what GoToMeeting vs GoToWebinar has to offer.
Both services offer similar features like screen sharing, recording, etc.
So we'll not cover similar features but the main and important ones that GoToMeeting offers but GoToWebinar doesn't, and the features GoToWebinar offers, whereas GoToMeeting doesn't.
Let's dive right in!
GoToMeeting Features
Personal Meeting Room
Set up your personal online meeting room in minutes and create a custom meeting room link that never changes. You can schedule a meeting so that anyone with your personal meeting room link can join the meetings with ease.
Business Messaging
It enables you to chat with anyone outside of your organization for free and then instantly transition into an instant or scheduled meeting.
You can chat with anyone by adding them to a one-on-one conversation or add a group of people by creating a private or public group.
To learn more, take watch out this video:
Smart Notes
Take notes during a meeting and then when the meeting is over the organizer can view them along with the recording and transcription.
Video to Slides PDF
GoToMeeting captures multiple sets of presentation slides from the organizer's meeting and automatically generates a PDF file that you can download or share with attendees.
Smart Assistant
The Smart Assistant feature uses machine learning to automatically transcribe your recorded meetings so once your online meeting is over, you can easily search for keywords in the text of your meeting transcription.
Image Credits: GoToMeeting
It helps you to focus on your meeting instead of solely on taking notes during meetings.
So, these are some of the GoToMeeting key features and now let's cover GoToWebinar.
GoToWebinar Features
Automated Emails
Whenever someone registers to your scheduled webinar, the registrants will get automated emails invitations, confirmations, and reminders about your webinar. However, you can customize the email templates as well.
Polls, Handouts, and Q&A
Create polls and surveys before a session to get their feedback and engage your attendees.
Video Embedding
Host videos or your webinar recordings on GoToStage and from there create an embed code of your videos, copy it, and embed the videos on your website, resource center, blog, support site, and more by pasting the embed code.
Custom Branding & Colors
Customize your webinars by adding your company logo, featured image, colors to produce webinars, and events that fit your brand.
Simulated Live Webinars (My Favorite Feature)
Conduct simulated live events by scheduling the pre-recorded webinars that feel as vibrant and interactive as a live event.
It helps you to keep your audience an experience that's just like a live session with polls, handouts Q&A and surveys, reminder emails, autoplay, and more to engage them from start to finish.
Here's how it works:
Sources Tracking
Enables you to monitor which channels drove the most webinar signups.
It allows you to create unique registration URLs to share on Linkedin, Twitter, Facebook, email campaigns or your website to see what sources the most qualified registrants are coming from so you can discover where to focus your future promotions.
Webcast Events
Schedule live webcasting for larger events with live audio, video, polling, Q&A, and more that attendees can join seamlessly from any browser, no downloads required.
Video Editor
GoToWebinar has its own video editor that you can use to do basic editing of your recorded webinars like trimming your video into sections to cut out the unnecessary moments from the recording.
Certificates
The organizers can choose to provide a digital certificate of completion for your webinar to engage the attendee from start to finish. If the certification is enabled, a link to the digital certificate will be automatically included in the follow-up emails.
The certificate looks like this, however, you can customize it by adding your own logo and message for attendees, etc.
Image Credits: GoToWebinar
Please note, the certification feature is available only in the Pro and Enterprise plan of GoToWebinar.
Channel Pages
Since with any GoToWebinar plan, you'll have access to GoToStage as well to publish and share your recorded webinars live for the audience.
Once you've got a GoToWebinar account, simply create a channel on GoToStage then customize your channel page by adding a banner, channel logo, description, etc.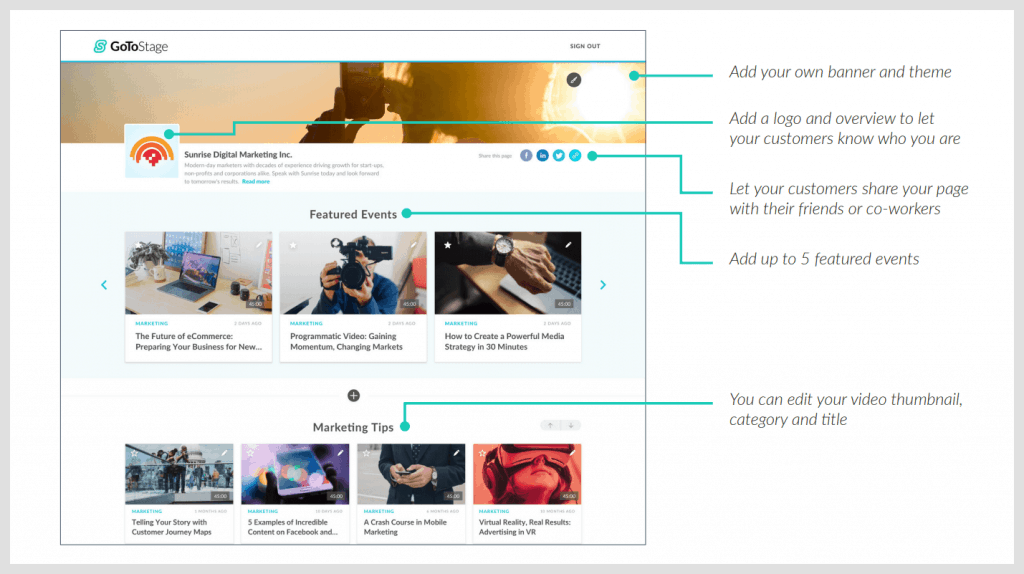 A channel page is your personal online hub where you can publish your webinar recordings that helps anyone to watch all your pre-recorded webinars in one place.
However, the number of channel pages you can create depends on the GoToWebinar subscription plan you choose.
Accept Payments
GoToWebinar allows you to charge registrants to attend your webinar. All you've to do is to connect GoToWebinar with Stripe, set up a price for your webinar, and start receiving payments to your Stripe account in US dollars.
The registrants can quickly pay the fee using major credit and debit cards (i.e., American Express, MasterCard, Visa, and Discover).
If you don't know how to add price to your webinar, watch this video.
Reporting and Analytics
Get detailed in-depth analytics and reports of all your webinars or a specific session.
Allows you to monitor registration details, attendance rate, how interested the attendees were, what questions they asked and answered, recorded views with at a glance dashboard charts & customizable in-depth reports – the list goes on.
Pricing & Plans
Pricing is often the most crucial consideration when choosing a web-hosted online meeting or webinar service.
The same goes for GoToMeeting and GoToWebinar as well, no matter which one you want to get but in the end you'll have to choose based on your budget and specific needs, right?
I'll go through each one, covering their monthly costs, what's included in each subscription so you can choose the right subscription plan for your needs.
GoToMeeting Pricing
GoToMeeting offers two plans with a monthly or annual subscription. The Professional plan costs $12 (billed annually) or $14 a month, allowing you to host meetings with up to 150 attendees. The Business plan costs $16 (billed annually) or $19 a month, allowing you to host meetings with up to 250 attendees.
Do you love discounts? Who doesn't? Well, if you choose the annual Professional plan then you'll save 14% or 16% on the Business plan if paid annually.
However, it has an Enterprise plan as well for large organizations but to get that plan you'll have to contact their sales team to get custom rates and packages that fit all your company's needs.
Now let's talk about what's included in each plan of GoToMeeting.
Now let's take a look at GoToWebinar's price plans and what's included in each plan.
GoToWebinar Pricing
GoToWebinar Lite plan costs $49 per month (billed annually) with up to 100 participants, the Standard is $99 a month (billed annually) with up to 250 participants, the Pro plan costs $199 per month (billed annually) with up to 500 participants, and the Enterprise costs $399 monthly (billed annually) with up to 3,000 participants.
If you choose GoToWebinar annual subscription plans instead of a monthly subscription, you can save between 17% to 23%.
Here's good news for you that may end this GoToMeeting vs GoToWebinar battle for you if you're going to choose any GoToWebinar plan.
The good news is that with any GoToWebinar plan, you'll get a GoToMeeting license for free with up to 150 attendees, unlimited meetings, recording, screen sharing, transcription, and almost all the other features.
If you're thinking, which plan is for me? The short answer is, it depends on your webinar needs, that's it.
Since both services offer a free trial so before purchasing any plan, I highly recommend you to try a free trial of both tools (no credit card required).
Test each one for yourself without paying a dollar and then decide the right one for your needs
Conclusion
Comparing GoToWebinar vs GoToMeeting isn't about deciding the best tool. It's more about deciding which is the best for you because each one fulfills different needs and purposes.
I've unpacked the key differences between GoToMeeting and GoToWebinar, and I hope you now know which tool is best for you.
Here's a quick recap and some final suggestions to make your decision easier.
You Should Use GoToMeeting If:
You want to host meetings with less than 250 attendees.
You are looking for an easy to use web conferencing tool to host an online meeting with screen sharing, remote control, and chat functionality.
You want to do online group discussions with your employees or a team.
You want to do business messaging with anyone inside or outside of your organization.
You're looking for a lot cheaper option than GoToWebinar but for your basic meeting needs.
You Should Use GoToWebinar If:
You're looking for a webinar software that supports up to 3,000 attendees at a time.
You want to do paid webinars as well to earn money by sharing your knowledge with participants.
You're looking for a tool with an impressive range of helpful features.
You want to do online events such as training, marketing, and corporate communications to engage the audience, get leads, and much more.
You want to get in-depth reports and analytics about the registrants and attendees of your webinar.
You want to create simulated live webinars that last forever on the internet as long as you've GoToWebinar subscription.
Now I'd like to hear from you: which one you're going to choose or have any questions? Let me know in the comments below!