Last Updated: July 11, 2022

Have doubts about Agoda's legitimacy, safety, and reliability? I think you've arrived at the right place.
Booking accommodation or flights through Agoda is usually cheaper than booking directly which raises these questions: 
Is Agoda legit? 
Is it safe and reliable?
Why is it cheaper than booking direct?
Should I book through them or stay away?
So if you're in search of the detailed answers to these questions and many more, this article is for you.
Without further ado, let's get right into the main question.
Is Agoda Legit?
Agoda is definitely legit as it is owned by Booking Holdings, a world's leading provider of online travel services. However, booking through Agoda carries a higher risk of issues than booking directly due to the fact that it is a middleman between the traveler and the host.
Before going into the details of explaining how you can reduce the risks of issues when booking through Agoda, let me clarify one thing:
How can I say that Agoda is legit platform? 
Well, I am speaking from personal experiences, statistics, and the parent company behind them. 
I am not a frequent traveler but I have used this platform twice for booking hotels and haven't faced any issues. 
Despite my personal experiences, Agoda has been in business for more than 16 years and if it weren't a legit platform, it probably would have been dead long ago.

Apart from that, Agoda's reputation is further backed up by their parent company, Booking Holdings that also owns world's leading online travel booking sites like Booking.com, Rentalcars.com, Kayak, Priceline, OpenTable, and more.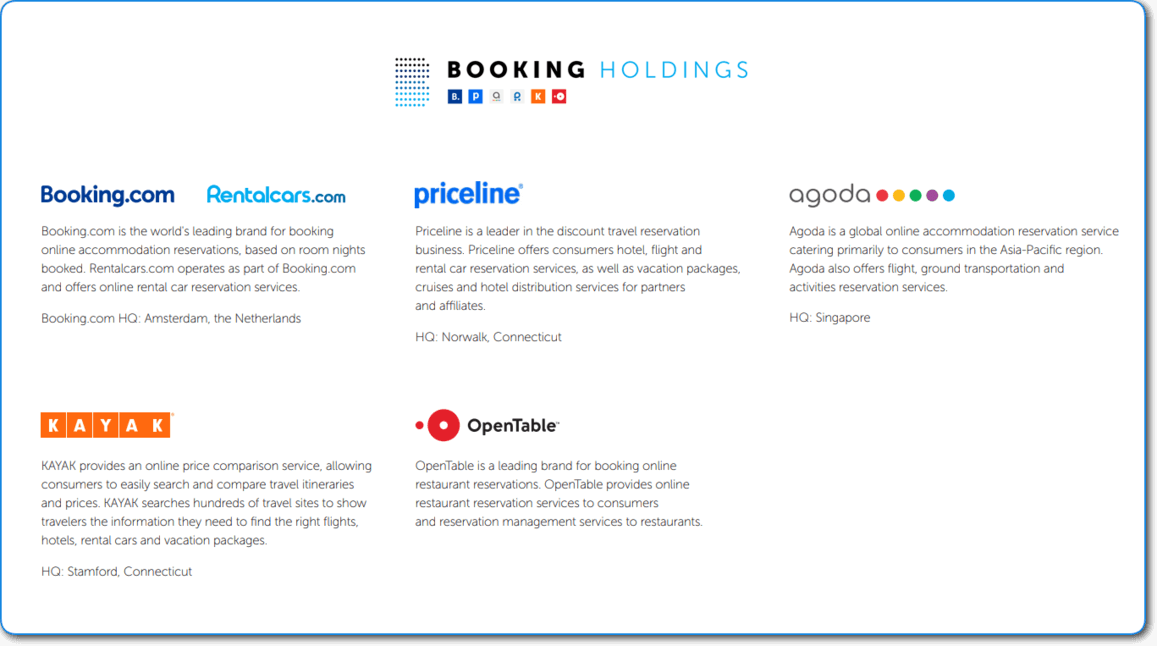 Furthermore, over 2.3 million travelers are using it for booking their travel arrangements and it is one world's fastest growing online travel agency currently ranking among the top 10 booking websites in the world.
To sum up the question, is Agoda legit? I would say:
A platform that is part of the world's leading online travel company, has been in business for so long, attracting millions of users, and ranking among the top booking websites is certainly a legit platform.
Although it's a legit platform, that doesn't mean there are not any drawbacks and it's completely safe and reliable for booking hotels or flights
In order to understand how reliable and safe Agoda is for booking, you need to know how this platform works.
Agoda is an online travel agency (OTA) which works as a middleman between the travelers and the property owner or airline companies.
They are partnered with several airlines around the world and allow anyone to list their property on Agoda for a percentage of commission when travelers book those listed hotels or airline tickets.
The reason why people list their properties and why airlines partner with them is because Agoda gets millions of visitors from all around the world which helps the airline companies or property owners to reach their potential customers without any hassles.
To put it simply, here's how it works:
Property owners and airline companies list on Agoda to reach millions of customers.
Agoda takes commission from them when a booking is made by travelers.
Travelers book through Agoda because it usually offers cheaper prices than booking directly with the hotel or airline company (more details later on about how it's cheaper than booking directly).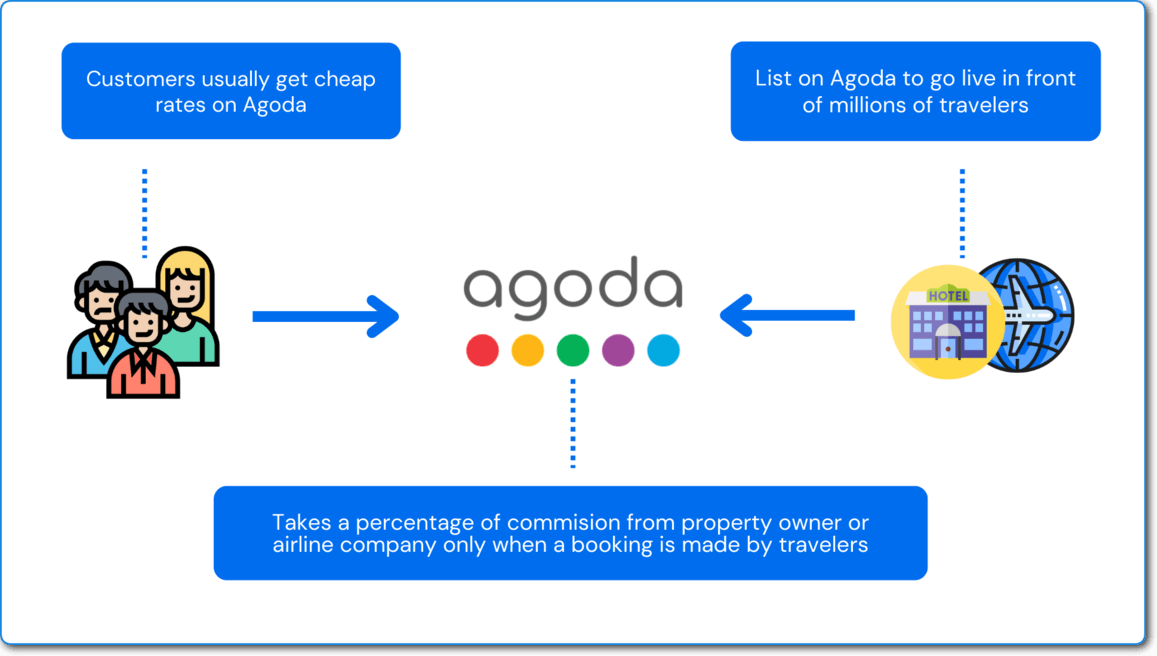 While it seems like a win-win situation for everyone, including Agoda, property owner or airline company, and traveler but there's a major disadvantage especially for travelers and that is:
Booking through Agoda contains higher risks as compared to booking directly.
Although issues can occur even with booking directly, the risks associated with booking through Agoda are higher because of third-party involution.
In case of any problems, don't expect customer support directly from hotel staff or airline companies since your contract is not directly with them, it's with Agoda. 
To resolve the issues between you and your hotel or airline company, you'll have to: 
First, contact the customer support of Agoda and explain the situation. 
Agoda will get back to you and may ask for further details.
Then, Agoda will forward your inquiry to the host and handle the rest of the situation between both parties.
This makes the whole process a bit of a hassle and your issue usually takes longer to resolve compared to booking directly.
However, I've seen some people complaining about Agoda's refunds and cancellation but it's not always their fault.
Sometimes, it's the customer's fault as well when they fail to follow the safety tips below and the cancellation policies which leads to problems if things go wrong.
Therefore, it's crucial for you to follow the tips I am about to share with you and get familiar with the cancellation policies to reduce the risks of issues.
To begin, let's get to know the safety tips first.
6 Tips For Travelers To Stay Safe
To stay safe and avoid scams when booking through Agoda, here are my top tips for travelers:
1. Research Before Booking
As I said at the beginning of this article, the success of your booking is largely determined by the property or airline you book with. The more research you can do prior to booking, the safer you're going to be.
That's why it is extremely important to research before you book with the property or airline company.
Here's what you need to check before booking:
Reviews
Amenities and facilities with your room
Carefully read property policies and their cancellation and refund policies
Check room photos
For flights, check cancellation and changing policy, seat choice, baggage details, and restrictions.
If you're booking an accommodation with Agoda, the first thing you should always check is the reviews for the property. Look for information about cleanliness, facilities, and customer service. 
The reviews on Agoda are pretty trustworthy, as they can only be submitted by people who have genuinely stayed with the property before. You can even see when the customer visited the location, and what the purpose of their visit was.
I'd recommend only staying in an accommodation with 100+ reviews. This should ensure you can get plenty of behind-the-scenes insights into what the accommodation is like. Try to opt for a star rating of at least 9.0 or above to get the best results.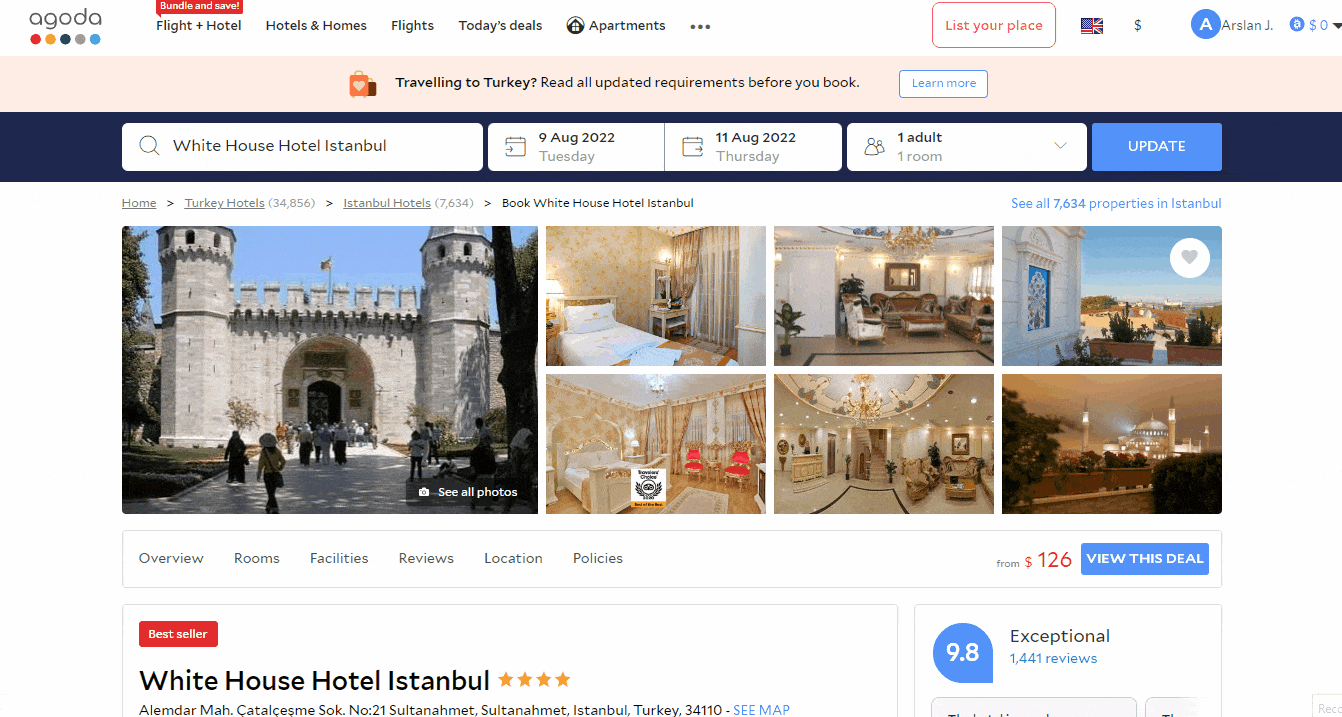 Furthermore, it's also worth double-checking exactly what you're going to get with your room. You should check your room amenities and facilities to know exactly what's included in your package like Breakfast, Wi-Fi, Telephone, and other kinds of services. 
Another most important thing to keep an eye on is the property policies as well as their rooms cancellation and refund policies because each property has their own policies for specific rooms.
Some rooms include free cancellation before a certain time to receive a refund, whereas others are non-refundable.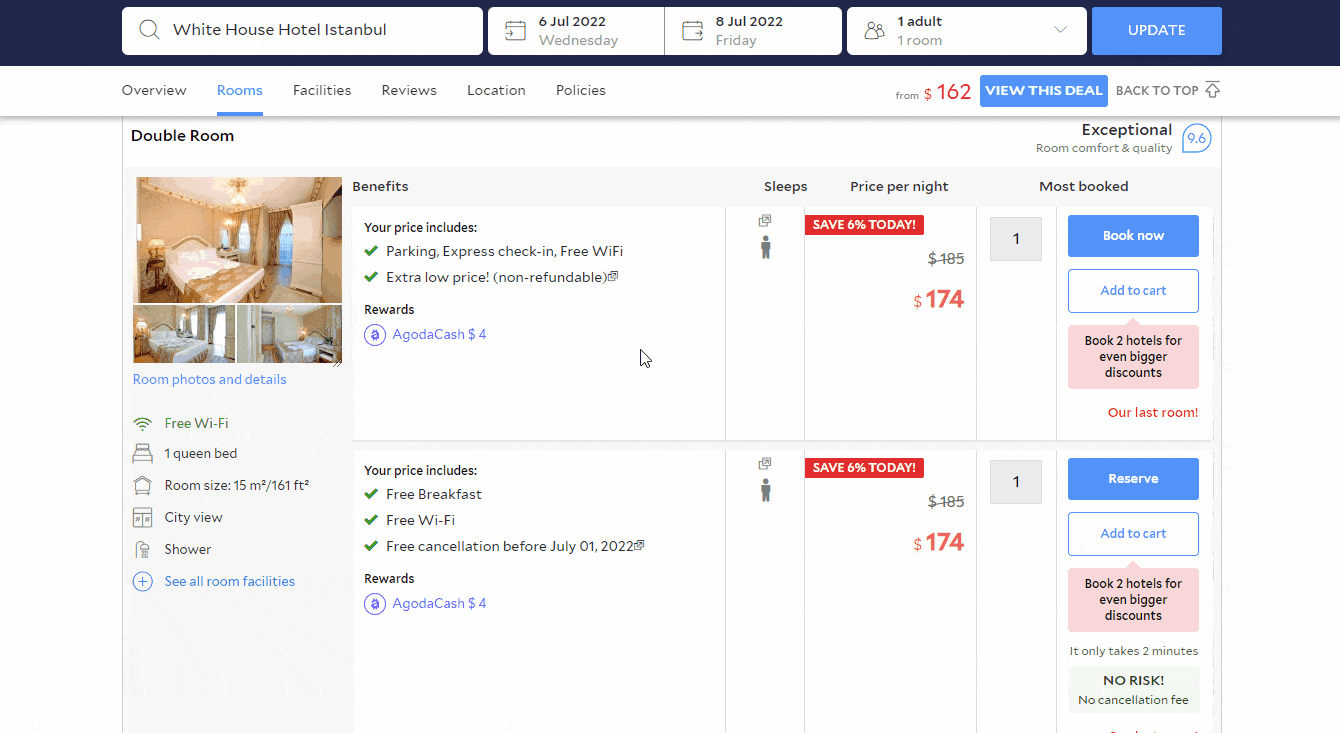 Moreover, you should also check the photos of your room carefully and be wary of any listings with limited photos of things like the bathroom or the bedding to avoid any nasty surprises when you arrive at your destination.
When booking flights and airport transfers, make sure you check the cancellation and changing policies, as well as how much baggage you'll be able to take with you. 
It's a good idea to ensure you can choose your seats if you want to be able to sit alongside the people you're traveling with.
For airport transfer, Agoda does allow for on-site cancellation if you change your mind about a pickup with most providers.
Personally, I don't recommend booking your flight tickets through Agoda instead you should always book directly with the airline company.
However, I definitely recommend recommend Agoda for booking accomodation as long as you know these safety tips and aware of the Agoda's policies (more details later on).
2. Confirm Your Booking
Another important tip is to confirm your booking by contacting the property.
Even though you'll receive a confirmation email from Agoda on your email once your booking is made, I recommend confirming directly from the property as well to avoid any problems when you arrive at the property.
You can contact the property via chat, email, or the phone number provided to you by Agoda. This can be done by visiting "My Bookings" from your account and clicking on your booking.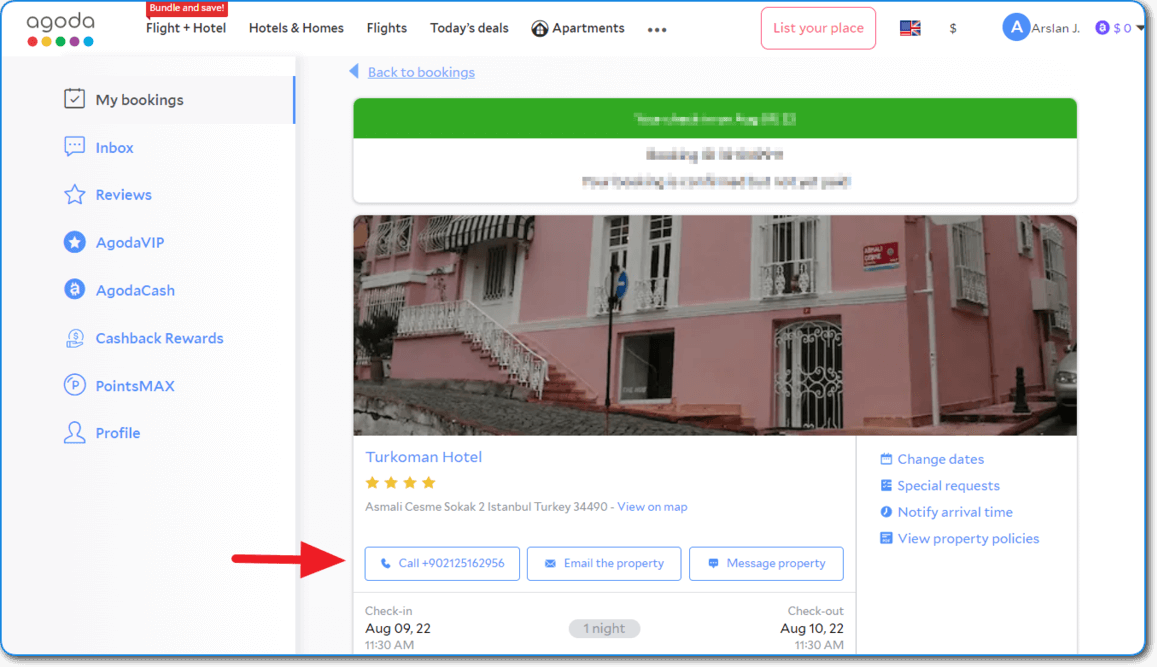 3. Never Deal Outside of Agoda
Another important tip for travelers is to never deal outside of Agoda. This means you should always make payments and engage with your host inside the platform.
Once a booking is made with Agoda, you or the host can connect with each other in the chat. 
However, your host should never request payments or security deposits outside of Agoda and if a host asks you to make payment outside of Agoda, it's likely to be a scam.
Remember, Agoda will always collect the payment for your reservation and send it to the host on your behalf.
You should also aim to communicate with your travel supplier and contacts through the Agoda platform. The chat environment is monitored to ensure all bookings are completed securely. 
If you engage in a deal outside of the Agoda platform with a travel supplier and it turns out to be a scam, Agoda won't be responsible for refunding you. 
4. Choose A Safe Destination 
Agoda offers vacation opportunities at more than 2 million properties around the world. While it's difficult to know for certain how safe any destination will be, doing your homework will help.
Thoroughly research any travel destination you're considering, so you know if there are any common scams, political issues, or safety concerns you need to be aware of before you go.
I recommend staying in urban areas, where there are plenty of people and access to facilities if you need any help.  
The listings provided on Agoda will also give you an insight into the amenities and locations available around your accommodation. Look for an area that appears safe and friendly. 
5. Print Out Your Itineraries
After successfully making your booking with Agoda, you'll receive a confirmation email from them, outlining the details of your stay, what's included in your booking, cancellation and refund policies, and other important details.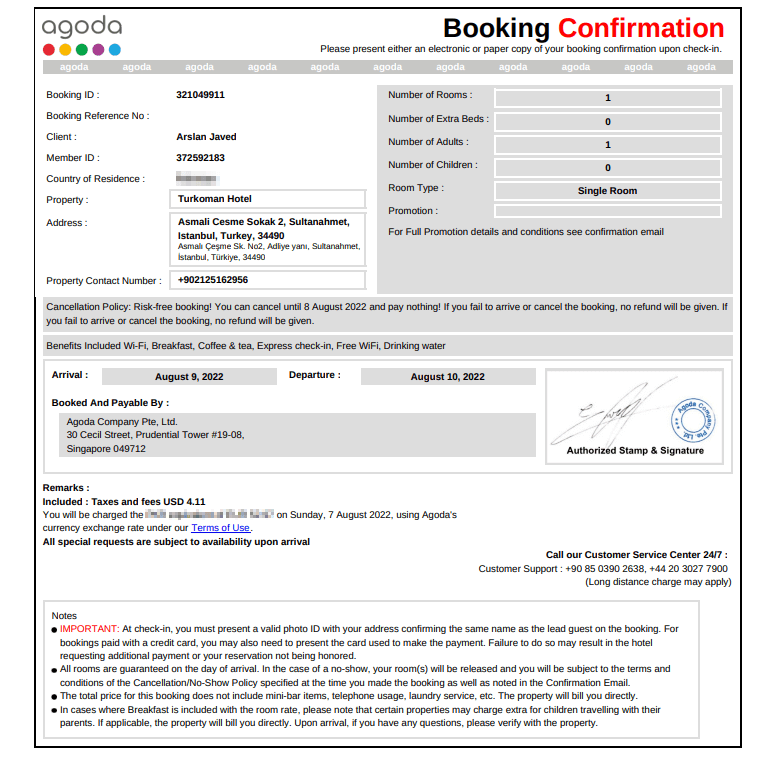 Although you can present an electronic copy of your booking confirmation upon check-in, it is always better to print out your itineraries before you begin your vacation to ensure you have proof in-hand to avoid any problems when you arrive at your destination.
6. Beware of Phone Calls And Emails Scams
Scams are unfortunately common in today's digital world, particularly in the travel sector. 
Once you've signed up with Agoda, make sure you double-check the legitimacy of any email or call you receive from someone claiming to be from the company.
Scammers can often try to take advantage of travelers by claiming to be affiliated with a reputable company.
If you receive an email or call from someone who claims to be from Agoda asking for your personal information or credit card details, it's probably a scam. 
Do not give any information to anyone who contacts you this way, even if they say your booking will be cancelled or your account will be banned. Instead, contact Agoda yourself through the platform to find out if there are any issues. 
Apart from that, be cautious when it comes to opening files from people who claim to be from Agoda. Phishing scams involve attaching malicious files to emails sent by an apparently trustworthy account. Check the email details before you do anything.
You might notice a slight spelling error in the email address, such as support@aagoda.com or suport@agoda.com.
There you have it! These are the most important tips you should be aware of to avoid scams and book safely on Agoda. 
Now let's discuss the policies before booking through Agoda.
Agoda's Policies You Should Know Before Booking
Often, customers overlook Agoda's cancellation or refund policy which results in unsuccessful cancellations and refunds.
In case you are also unfamiliar with these policies, let's get familiar with them right away so that you don't run into any problems later.
Agoda Cancellation Policy
First of all, you should know that each property or airline company has their own cancellation and refund policy which should always be checked before you start booking.
Some offer free cancellation and are refundable, whereas some don't.
Unless specifically mentioned in a booking policy submitted by a vendor, Agoda does not charge any processing fees for cancellations.
However, when you book with Agoda, you will receive an email letting you know what your cancellation policy entails. If your booking is cancellable, you can cancel it without a charge within a certain time period before you are due to travel.
If you fail to arrive or cancel your room after the due date specified in your confirmation email, either you'll pay a cancellation fee or no refund will be given depending on policies set by the property.
Furthermore, any changes to reservations or cancellations need to be made through Agoda. This means you can't simply contact the hotel to make a change. This applies whether you're asking for an early checkout, a delay of arrival, or a change of dates. 
Agoda Refund Policy
Similar to cancellations, all refunds must be handled through Agoda directly. You can contact the team through the Agoda help center. 
Refunds are not available for all properties. 
If you shorten your stay or cancel it completely during the high season, periods of high occupancy, or during conventions, failure to cancel your reservation before the due date sent in your confirmation email will lead to a penalty, deducted from the amount refunded. 
Your confirmation email following a booking should provide details on the exact cancellation deadline you will need to adhere to. 
The cancellation deadline is usually around 14 days prior to arrival at the hotel, and the penalty of cancelling after this is usually a minimum of the price of one night staying at the venue. 
Unless mentioned otherwise in the cancellation policy, cancellation requests correctly submitted before the deadline will usually lead to full refunds. There are no processing fees, and you should receive your money within 10 days of the request. 
If you cancel after the due date specified in your confirmation, your request will also be processed within 10 days, and any applicable penalty charge will be deducted from the refund.
Shortened stays will lead to a refund of the amount owed for your booking within 10 days, absent any penalty charges which might be applicable. If you notify Agoda prior to shortening your stay, it's sometimes possible to expedite the refund process.
If you notify Agoda that you need to leave a location early for any reason, and shorten your stay, it may take longer to receive your refund, as Agoda will need to confirm the full length of your stay.
Keep in mind, since Agoda is responsible for mediating issues between guests and hosts, they enforce these policies on both parties whether it's guest or the host.
Guests agree to the policies above when booking a location, while Hosts agree to the Terms and Conditions before publishing a listing. 
If a host is found to be at fault for unreasonably cancelling a guest's stay, using misleading photos, or failing to provide the agreed service, Agoda will penalize the host and give the guest a refund. 
Alternatively, if a guest is at fault for a late cancellation or no-show, Agoda will not provide you with a refund. 
That's it!
By following the safety tips and keeping these policies in mind, your chances of facing any issues are significantly lower when booking through Agoda.
With that being said, let's talk about another important question: why is Agoda cheaper than booking direct? 
Why Is Agoda So Cheap?
Often, when things seem too good to be true – they are. One of the reasons people ask "is Agoda legit, safe, and reliable?" is because of their low prices compared to booking directly with the hotel or airline company.
So, let me explain why Agoda is cheaper than booking direct.
Agoda is usally cheaper because it buys rooms in bulk (wholesale) from a range of partner hosts and sells those rooms individually through its website. This means they get much lower prices they can pass onto you. 
Since the company buys in bulk and pays in advance, they can get a much better deal. Agoda has a mutually beneficial relationship with partner hosts, which allows them to access discount prices much lower than the standard rate. 
For instance, Agoda might get a room for $100 a night when the going market rate is $150 per night. Once the hotel sells a block of 50 rooms, they can't offer a cheaper price, because those rooms are already sold to Agoda for a specific time frame. 
Within the time when Agoda has "reserved" the rooms, if you asked the hotel directly for a price on a room, they would have to give a higher price to buy the room back from Agoda.
Buying from Agoda, on the other hand, means you get a price that's higher than the rate the company purchased the room for, but lower than the price given by the hotel directly.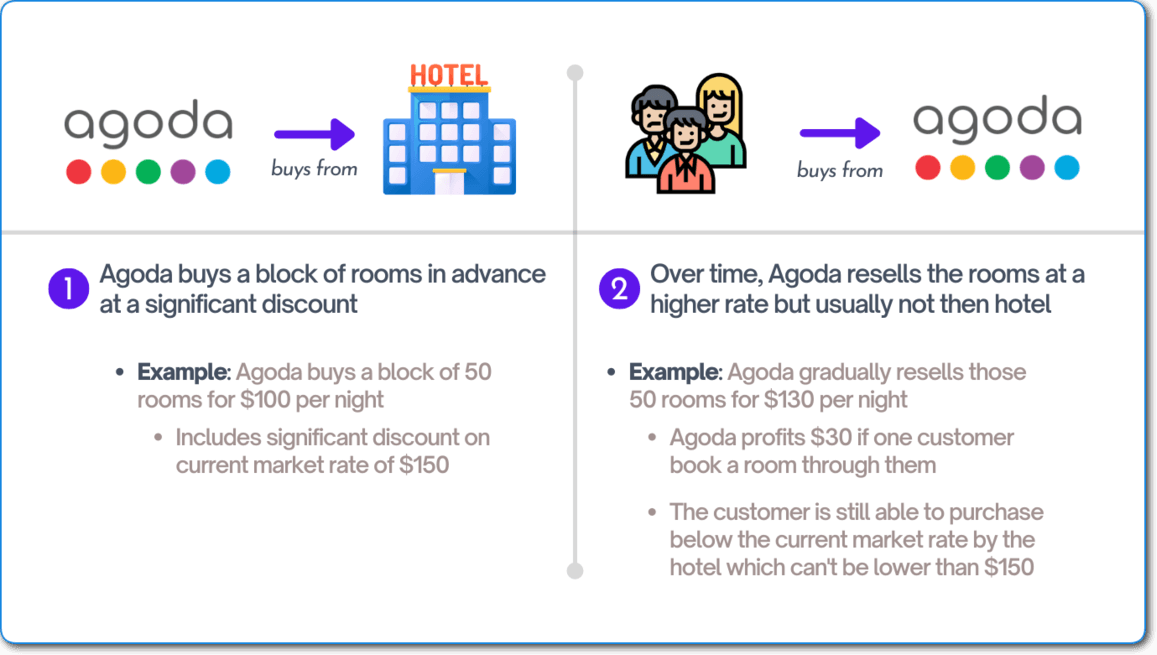 Agoda employs the same model (the Merchant model) with airline tickets and transfers from airports, to help you get the best possible deals. 
What's more, many partners are more willing to offer Agoda cheaper rates, because they know it gets them exposure to a wider range of potential customers.
Agoda markets the hotels for the vendors and makes it easier to fill rooms throughout multiple seasons.
Agoda also has its own marketplace and ecosystem. Some hosts allow Agoda to sell their rooms at a highly discounted rate to gain traction within this marketplace. 
The lower the price, the higher the room will appear on the search listings given by Agoda when a customer filters their search based on price. 
So that's how Agoda is able to offer cheaper rates than booking directly.
However, it's worth noting that Agoda's prices won't always be the lowest. It's definitely worth checking the prices both on Agoda and with the vendor directly to get the best rates.
Common Safety Concerns By Guests
Here are the common safety concerns you might also have:
Is My Payment & Personal Information Secure?
Are Guests Safe At The Property?
Can I Get Scammed on Agoda?
Let me clear your concerns.
1. Is My Payment & Personal Information Secure?
Agoda takes a number of steps to ensure your payment data and personal information remains safe and secure when you're booking online. The website is secured with an SSL certificate, which means any data you submit through a browser remains encrypted. 
Agoda also follows the guidelines of applicable data protection laws, ensuring they don't hold onto any information that isn't necessary. 
After searching through reviews of Agoda online, I couldn't find any negative comments about the safety and security measures of the company. I would say you should generally feel confident that your booking information will remain safe. 
Is My Personal Information Passed Onto Hosts?
It's also worth noting that because your booking is managed by Agoda, there's less risk giving your details to a third-party vendor. Agoda remains responsible for processing payments, rather than hosts, so your personal details are not passed onto the hosts themselves.
Hosts are not permitted to ask for your financial information or personal details (beyond perhaps your name for booking reasons). If your host asks for any sensitive information outside of Agoda, or in the Agoda chat environment, contact the customer service team at Agoda
2. Are Guests Safe At The Property?
Any property you book for a trip, personal, business, or otherwise, should make you feel as safe as possible. It's fair to be concerned that you might not be entirely safe in a specific location.
Generally, you should be safe with most properties you can access through Agoda. However, a completely safe stay can't be guaranteed. This is why it's so important to do your research before you agree to stay anywhere. 
Make sure the property you're looking for has plenty of reviews (more than 100) from customers who have already visited in the past. You should prioritize a rating of at least 9.0 to ensure absolute peace of mind. 
I would also recommend staying away from rural areas which might not have access to amenities and emergency services when you need them most. Always, stay in urban areas where you're close to other people and sources of assistance. 
3. Can I Get Scammed on Agoda?
Yes, there are possibilities of getting scammed on Agoda. 
However, Agoda has systems in place to prevent booking scams and fraud. One example is, Agoda holds onto a host's first payout for 30 days after their first guest checks out. Payment is only delivered if the booking went smoothly.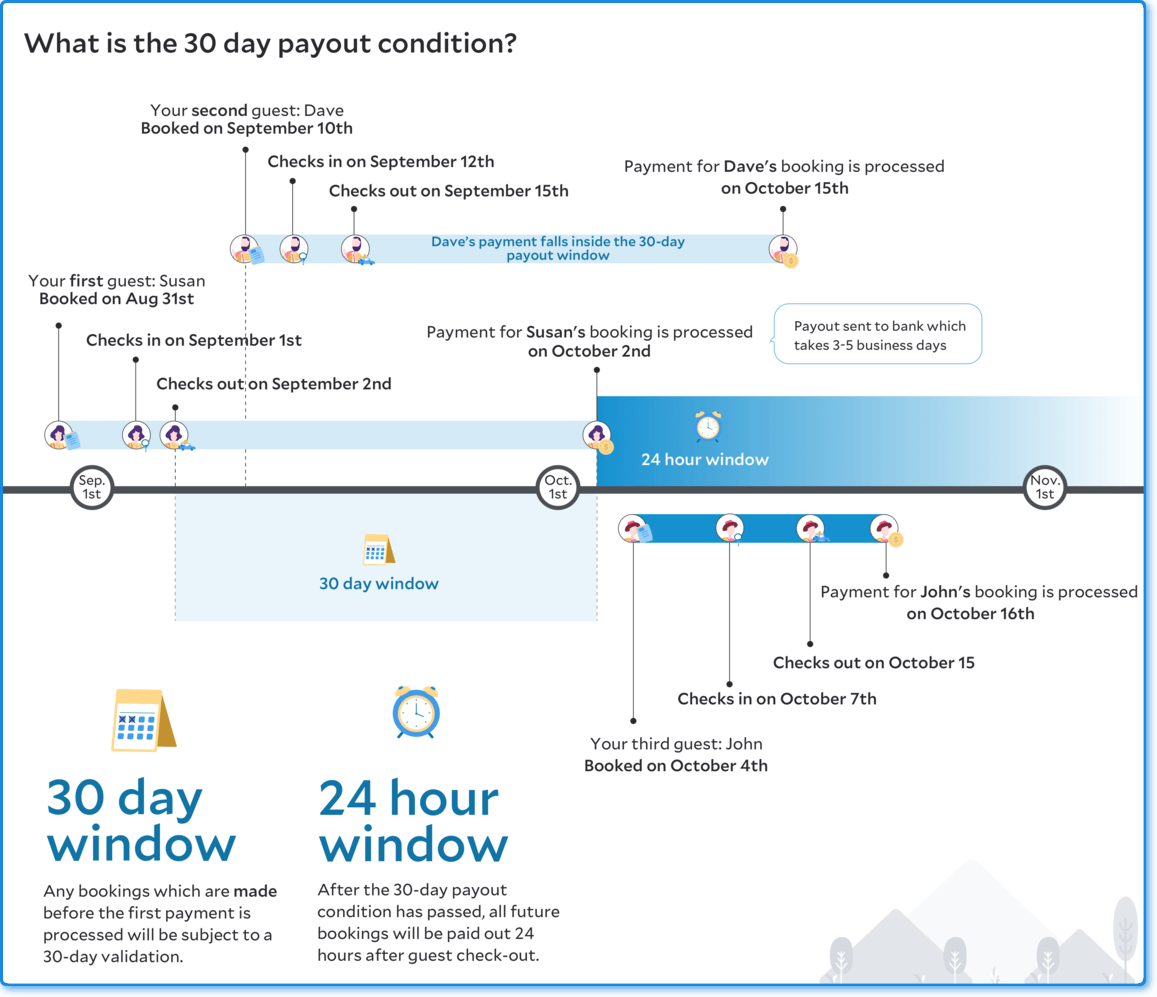 But as a guest, it's your responsibility as well to follow the safety tips I shared with you above and get familiar with the policies before you book through them to avoid any potential issues or scams.
Finally, let's talk about the customer support of Agoda.
How's Agoda Customer Support?
Agoda customer support may seem reliable on the surface. There's a help center you can visit to find answers to common questions, such as whether there are any COVID travel restrictions in your area, and how you can make changes to your booking.
However, if you need genuine support from a specialist team, this is where things start to go south. 
Based on my research, though there's a toll-free number for queries and complaints, as well as a live chat feature, responses are notoriously slow, and not always helpful.
Users on Agoda seem generally unhappy with the quality of the support provided, and complain about limited assistance with booking issues.
While the team claims to be available 24 hours a day in case of issues, you might not be able to get assistance when you need it most.
Do I Recommend Agoda For Booking?
As long as you follow the safety tips and know the policies, I definitely recommend Agoda for booking accommodation unless there are significant differences in prices between booking directly and through them. 
However, I don't recommend Agoda for booking flights.
Typically, Flights are expensive so I recommend booking directly with the airline company rather than through Agoda to avoid any sort of risks. 
Although issues can occur with booking directly with the airline company as well, the chances are lower compared to Agoda because of third-party involution. 
You might face customer support issues and cancellation or refunds issues so it's better to pay a little extra for your flights than to take high risks.
In contrast, booking an accommodation is generally not as expensive as booking flights and there is no high risk involved unless you are choosing an extremely expensive accommodation for your stay.
So I definitely recommend booking your stay through Agoda rather than direct because the prices are usually cheaper.
However, you must double check the prices between booking accommodation directly and through Agoda and only book through them if there are significant differences in prices.
These are just my suggestions, the final choice is definitely yours!
Conclusion 
Agoda is owned by Booking Holdings, one of the world's leading providers of online travel services, so it's definitely legit. However, booking through Agoda carries a higher risk of issues than booking directly because of third party involution.
On the plus side, booking through Agoda is usually cheaper than booking directly with the hotel or airline company and it makes it easier to arrange a booking and manage your itinerary in one place.
My personal recommendation is to avoid using Agoda for booking flights, but definitely use it for booking accommodations if the price difference between booking directly and through them is significant.
Just make sure to keep in mind the safety tips listed above and be familiar with Agoda's policies before you book through them. By doing so, you will rarely face any issues booking through Agoda.
Got any questions, or want to share your own experiences of booking with Agoda?
Please get in touch and share your insights in the comments below.