Last Updated: September 22, 2022

Interested in buying sneakers from KicksCrew but scared of getting scammed? This article is for you!
There are mixed reviews online about KicksCrew's legitimacy. Some people claimed they are legit, while others claimed they are not legit.
As a result, you're now confused and need an honest answer to these questions:
Is KicksCrew legit?
Does it sell fake shoes?
Can you get scammed?
By the end of this article, all of your confusion will be cleared up regarding KicksCrew's legitimacy and you will know exactly whether you should buy from them or stay away.
Let's get started with the main question.
Is KicksCrew Legit?
KicksCrew is definitely a legit e-commerce marketplace to buy sneakers and apparel. However, they have high shipping costs, take too long to deliver, and returning the product for refund or size exchange is a difficult and costly process.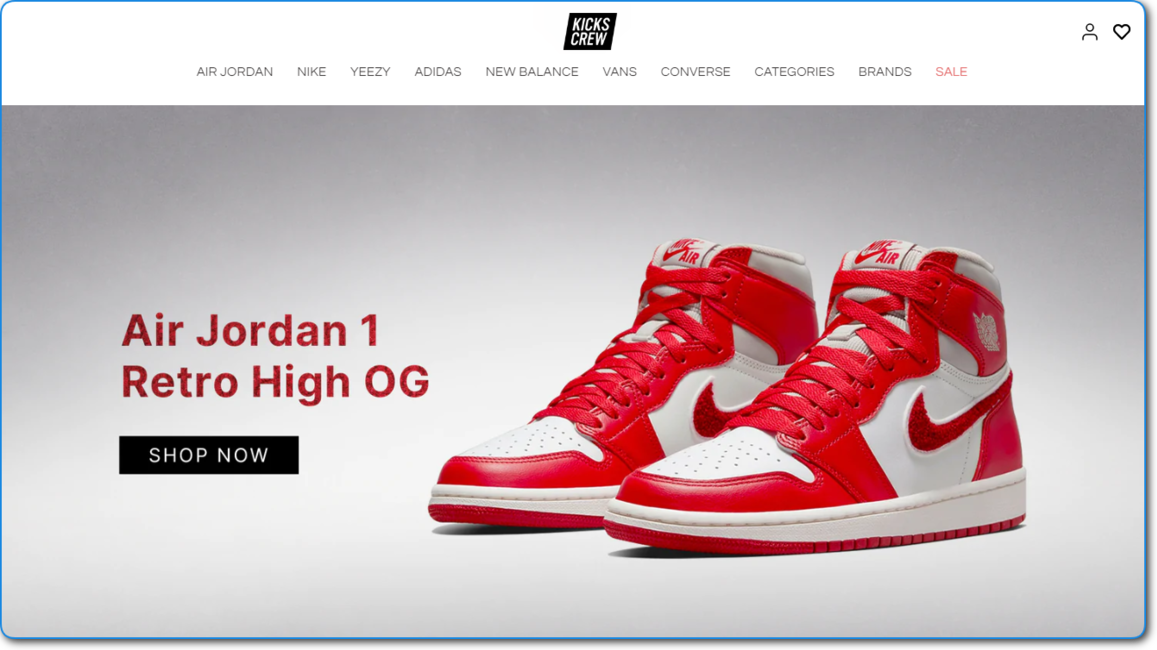 Although it's a legit platform, the first major downside of KicksCrew is that their shipping costs are high and customers have to pay them.
Typically, their shipping charges range from $25-$50 based on your shipping address (more details later).
Despite the high shipping costs, KicksCrew's delivery time is too long since the product is shipped usually from Hong Kong. The average delivery time is 2-3 weeks after an order is placed.
On top of all that, returning a received product for a refund or size exchange is a costly process.
In case of refunds, the buyer has to pay return shipping costs and a 15% of the total transaction payment will be deducted from the transaction amount as restocking fee.
And in case of size exchanges, the buyer has to pay both the return and reshipping costs (more details below).
Even though KicksCrew has these drawbacks, it is undoubtedly a legitimate site for buying sneakers and apparel.
How Do I Know KicksCrew Is A Legit Company?
I know because someone in my circle ordered from KicksCrew and received the order without any issues. However, the shipping costs were high and the delivery took about 2-3 weeks.
Besides that, KicksCrew has been around for over 13 years and scam websites or businesses don't run this long.
Moreover, they are not operating their business anonymously.
Unlike scam e-commerce companies, KicksCrew isn't hiding the identity of people running this business and where they are based.
In case you don't know, the company was founded by Johnny Mak, CEO, and Ross Adrian Yip, COO. Rose previously worked for a well-known sneaker platform GOAT as well.
They are running their business from Hong Kong with a headquarters in Los Angeles, California, United States as well.
Apart from that, KicksCrew recently raised $6.2 million from Gobi Partners, Pacific Century Group, and COMPLEX CHINA and if it weren't a legit e-commerce company then why would these companies invest in it.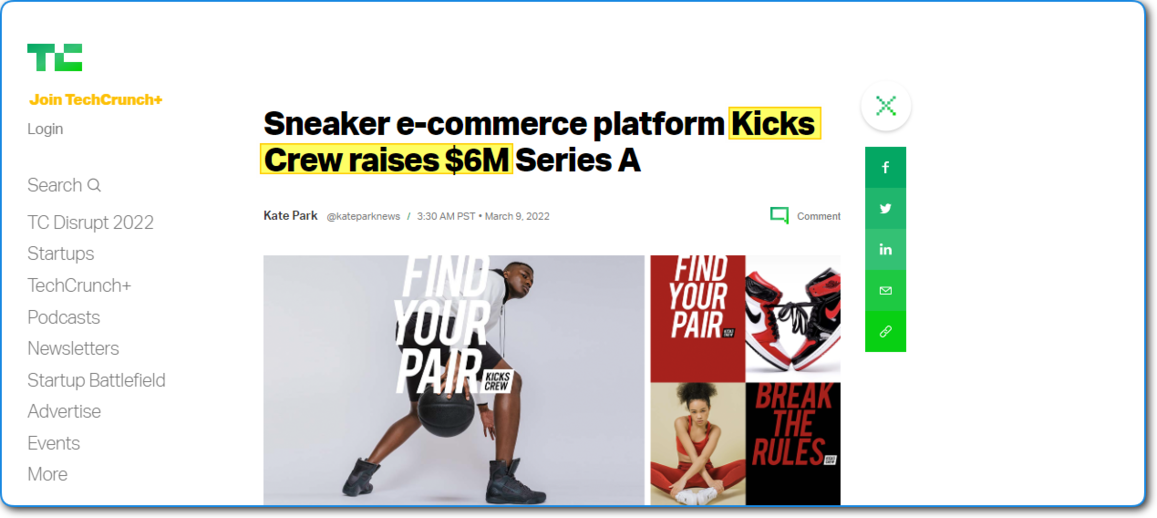 In addition to all that, they have a strong presence on Instagram with over 1 million followers, as well as a verified profile.

Taking all these factors into consideration, one can easily judge whether KicksCrew is legit or not.
However, their legitimacy isn't enough to buy from them.
There are 7 things you must know before ordering from them, which I'll cover shortly.
But first, let me answer another frequently asked question:
Does KicksCrew Sell Fake Shoes?
In order to understand whether KicksCrew sells fake or genuine shoes, you need to know how this platform works.
KicksCrew is partnered with retailers all around the world to connect buyers with authentic supply of sneakers and more.
Basically, it only acts as an intermediary between the buyer and their verified brand retailers (sellers).
Here's how it works:
After an order is placed by the buyer, KicksCrew informs their partnered seller to fulfill the order.
The seller then checks their stock to ensure the ordered product is available or not.
If not available, KicksCrew cancels the buyer's order and the payment is refunded. However, it rarely occurs.
If available, the seller sends the product to KicksCrew's quality control center to confirm whether the product is genuine or not. Every product undergoes rigorous quality control from Box to color, material, stitching, tag, sizing, manufacturing quality, and more.
Once verified, KicksCrew adds their verified tag on the product and passes the order to the courier.
The courier then delivers the product to the buyer.

Generally, the shoes you will receive from KicksCrew will be authentic/genuine. However, the suppliers they are working with might send them fake shoes and they may fail to detect the pairs but this rarely happens.
Only in such a case, the buyer will receive fake shoes.
Now that you know KicksCrew is legit and doesn't sell fake shoes, it's crucial for you to know these:
7 Must Knows Before Buying From KicksCrew
First and foremost, the most important thing you should be aware of is their policies:
1. KicksCrew's Policies
Before making a purchase from KicksCrew, the following policies must be kept in mind to avoid getting into trouble:
a. Refund Policy
In case of returning the product for a refund, please note that your request will only be accepted:
Within 7 days of the delivery date.
If the item and its box are in their original condition.
If the KicksCrew tag is not removed.
The KicksCrew verified tag is attached to shoes with the message "KicksCrew disclaims all liabilities if tag is removed."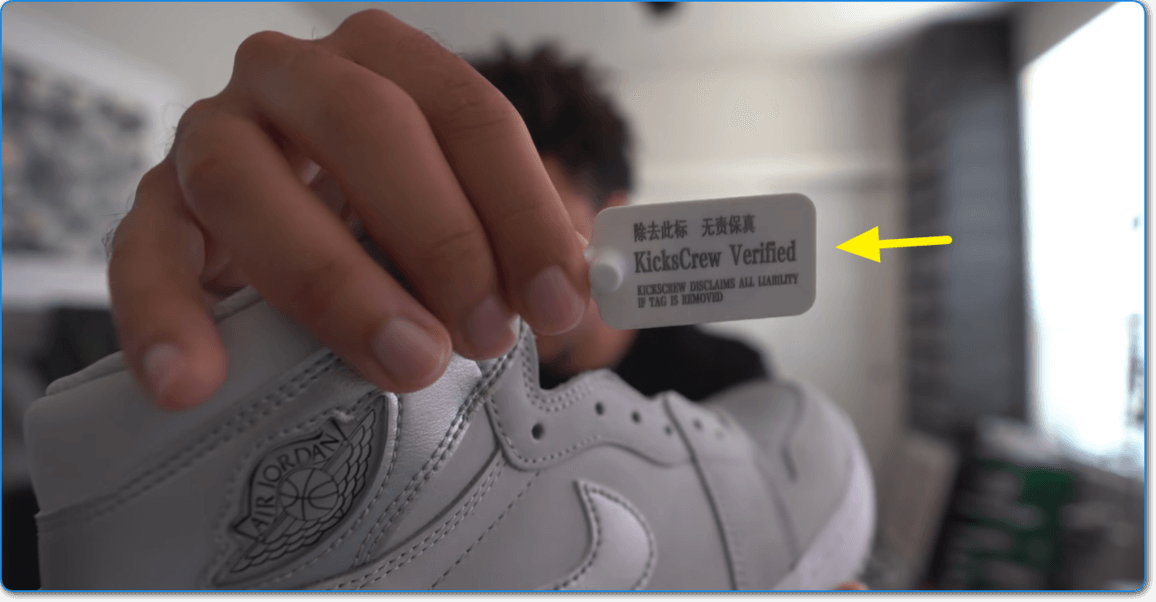 To request a return, you'll have to contact the KicksCrew customer service team and once they accept your return request, you'll be granted the return shipping address by them.
However, they clearly stated that the initial shipping fee is non-refundable and 15% of the total transaction payment will be deducted from your transaction amount as a restocking fee.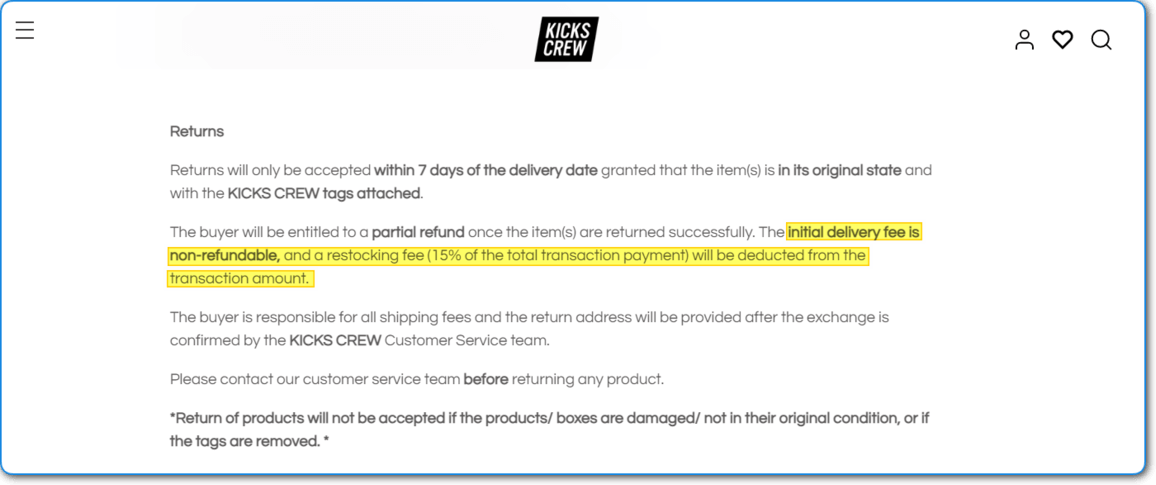 b. Size Exchanges Policy
In case of returning products for size exchange, the policies of the KicksCrew are almost the same as its return policy with only a few differences.
The request for size change can only be accepted if it is made within 7 days of the delivery date, the item is unused, the KicksCrew tag isn't removed, and the size you want is available in stock.
For example, if you have purchased shoes in size 7 and want to exchange them for size 8, your request can only be accepted if the latter size is available.
However, KicksCrew clearly stated that the buyer will be responsible for returning and reshipping fees as well as any relevant charges such as price differences between sizes and sales tax if applicable.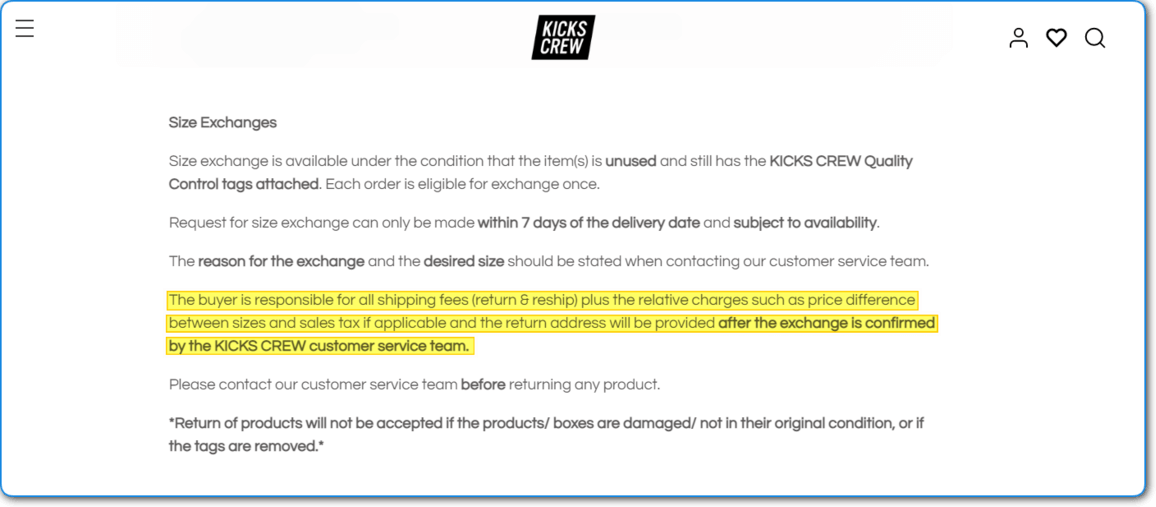 Please note that each order is eligible for exchange once and you have to state the reason for the size exchange as well as the desired size when contacting their customer service team.
Here are all the unacceptable reasons for refund/exchange+
c. Order Cancellation Policy
Though KicksCrew offers the facility of cancellation to its customers, your cancellation request can only be accepted if it is made before the order was shipped. However, once your order is shipped, you cannot cancel it.
However, KicksCrew clearly stated that your request for the cancellation is not 100% guaranteed and if your request is accepted then you'll be charged a cancellation fee of 15% of your total payment.

Therefore, make yourself sure and mind-ready before going to purchase from KicksCrew as you cannot do amendments to your order details once the order has been placed.
2. Customs Fees & Issues
Another thing to keep in mind before buying from KicksCrew is that they do not offer prepaid duties and taxes which means your orders could incur customs charges.
The reason why Kicks Crew uses DDU (Delivery Duty Unpaid) method for shipping is that it delivers to almost 180 countries whose customs duties are not the same. Therefore, a fixed price for each item cannot be fixed.
If the fees are applicable, they will be paid by the buyer to the courier in the designated country at the time of receiving the product.
This means that you pay the actual price of the product only and KicksCrew is not responsible for the extra charges of customs, import-export duties, and sales tax.

It is noteworthy to mention here that these extra charges are non-refundable, as I have already mentioned, it is only responsible for the actual price.
Therefore, it is essential for any buyer to first check the charges by contacting his country's customs office prior to purchasing a product.
The exceptional case is only for the United States and Australia where the sales tax is included in the final price of the product shipping to these two countries. But the buyer is still responsible for the extra duties if applicable.
Also, keep in mind that KicksCrew won't be responsible if your order gets stuck in customs. However, it rarely happens but there are possibilities.
4. Delivery Time, Failure, & Package Loss
As mentioned before, KicksCrew delivery time is usually 2-3 weeks and if you are OKAY with this time period only then you should buy from them.
Apart from that, your shipping fee will be non-refundable for all forms of delivery failure whether your delivery is discarded by your local customs office or returned to KicksCrew.
In the latter case, you will be refunded your payment according to their return policy minus taxes and customs charges.

Furthermore, KicksCrew does not take the responsibility for package loss or damage caused by the mishandling of the courier. It can only assist you in complaining against the courier and is not bound to compensate you.

3. Return Is Costly & Headache
Another important thing to be aware of is that returning products for refund or size exchange is a costly process and a headache.
Return is a costly process because:
In case of refunds, the buyer will have to pay the return shipping fees and a 15% of the total payment will be deducted from the buyer as a restocking fee.
In case of a size exchange, the buyer will have to pay the return shipping fees as well as the reshipping fee.
If your ordered shoes do not fit you and you want to exchange the size, you will charge for another size if applicable. And if your required size is not available with the company, KicksCrew is not bound to exchange it.
Extra charges may be applied to you by the customs during the time of returning.
Return is a headache because:
Return will be accepted only under the conditions mentioned above.
There is no guarantee that it will accept the customer return request because it is subjected to the proper scrutiny of KicksCrew.
Return is a very lengthy process.
There is no guarantee that the courier will return your product safely without any damage to it or its box.
You may not receive what you actually ordered. In this case, you will bear all the burdens. Though these cases occur very rarely, still there exists probability.
Hence, you should look into these issues before going to purchase from KicksCrew.
5. Maximum Order Quantity Is 1 Unit
On KicksCrew, the maximum order quantity is 1 unit per order because it may receive items from different suppliers.
If you want to order two same or different items on one delivery even though you offer double the price for each item to KicksCrew, it is not possible. The items can be ordered separately and you will be charged separately for shipping.
6. Contact KicksCrew About The Product Before Buying
Despite the fact that KicksCrew provides images, sizes, colors, and other details of the products and has taken reasonable steps to display the products as accurately as possible, you may not receive your order as you saw when you placed your order.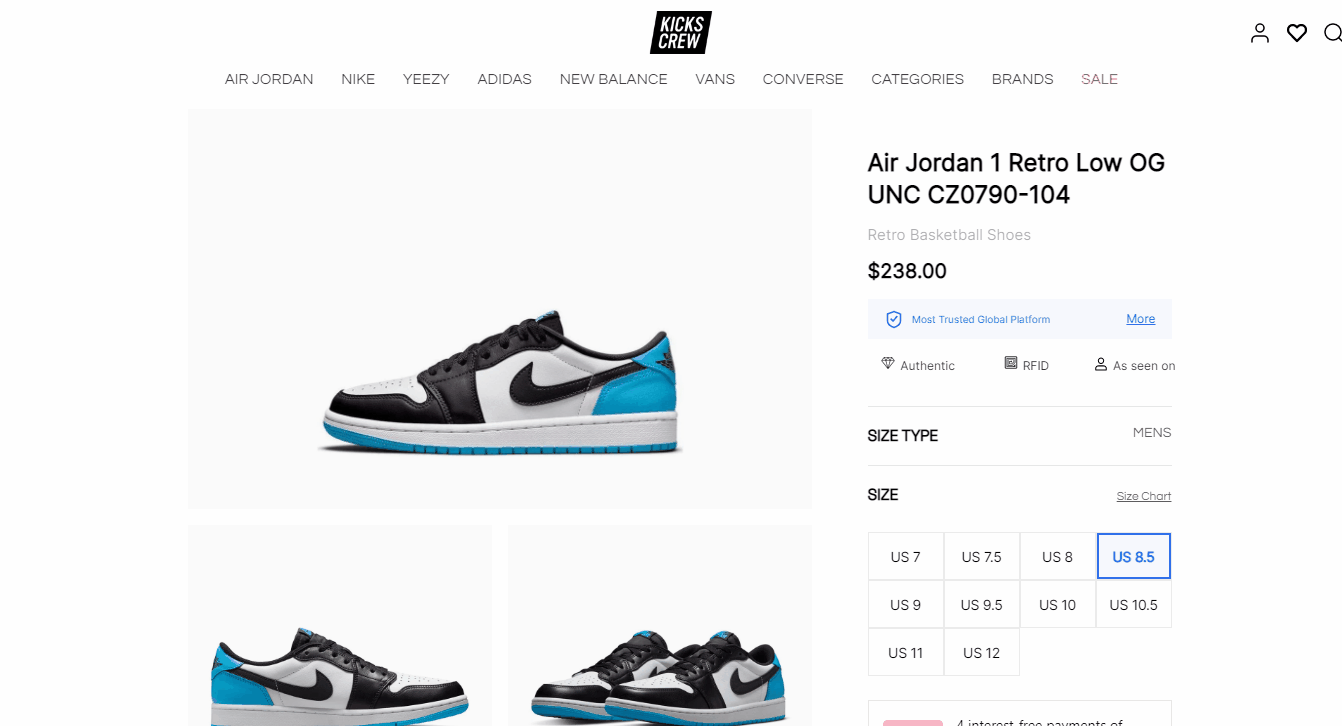 The reason for this is that your computer or mobile screen and the product images may not be able to show you the actual details of the shoes you're purchasing.
Therefore, if you have doubts or questions about the order, KicksCrew recommends you approach its staff before placing an order so that you know exactly what you're ordering.

7. KicksCrew Can Cancel Your Order by Itself
Lastly, you should be aware that your order can be cancelled by KicksCrew for the following reasons:
The product you are ordering is not available in the stock of KicksCrew's suppliers.
You give inaccurate information to it. This includes your wrong email, phone number or debit card number, or other information required to KicksCrew.
Kicks Crew's security system finds your order as a fraud or an unusual order.
The product is not accessible to an address given by the buyer.
The billing information is wrong or not verifiable.
Your payment is not received by KicksCrew within 7 days after acceptance of your order.
An error occurs in the price of an item of the KicksCrew.
That's it!
Despite KicksCrew being legit and selling genuine shoes, it's up to you whether you want to buy from them or not. Just take these 7 things into account before purchasing.
Do I Recommend KicksCrew?
In case your required sneakers are not available in the local market and you need them at all costs only then I recommend you to approach KicksCrew for purchasing sneakers or apparel, just keep in mind the 7 must-knows I mentioned earlier.
However, if you have access to your desired item physically, it is much better to purchase it directly to avoid risks and problems attached to the KicksCrew.
Even if that item in the local market is slightly more expensive than the same item available on the KicksCrew, still, I will not recommend purchasing from KicksCrew.
The reasons why I don't recommend buying from KicksCrew if the item is available in the local market is because their shipping costs are high, delivery time is too long, and its return, cancellation, and refund policies are a headache.
These are my personal recommendations, the choice is yours.
How's KicksCrew Customer Support?
Based on my research, the majority of the people are happy with KicksCrew's customer support.
The customers are guided through emails. All the information such as tracking your delivery ID number, receiving the product from the seller, and then dispatching it for delivery to the courier is delivered to the customers quickly.
However, the downside of their customer service is that they only support via email.
Conclusion
KicksCrew is definitely a legit platform for buying authentic and branded sneakers. However, their delivery time is too long and returning the items for a refund or size exchange is costly and a headache.
Moreover, KicksCrew is not responsible for the extra charges of sales tax and customs duties if applicable, nor does it take responsibility if your delivery is kept by the customs office.
Taking these factors into consideration, the choice is yours whether you want to buy from them or stay away.
Got any questions or want to share your experience with KicksCrew?
Please let me know in the comments.
KicksCrew FAQs
What is KicksCrew?
KicksCrew is a global e-commerce marketplace primarily for sneakers but it sells apparel as well. It sells authentic, unused, and unworn products with 400,000 unique styles.
Is KicksCrew reliable?
KicksCrew is definitely a reliable e-commerce platform for purchasing sneakers and apparel. However, it is not very reliable when it comes to the delivery time and returning a product for size exchange or refund.
Is KicksCrew real?
KicksCrew is a real company selling real and genuine shoes.
How long does KicksCrew take to ship?
KicksCrew usually takes 5-10 days to ship your product and 2-3 weeks to deliver your orders.
Where is KicksCrew located?
KicksCrew is located in Hong Kong with its headquarters in Los Angeles, California, United States as well.
Does KicksCrew ship internationally?
Yes, Kick Screw ships internationally to nearly 180 countries except those which are not conducive to its delivery due to unrest and uncertain situations.
Can you track your order on KicksCrew?
Yes, you can keep track of your order by using the status link given in your order confirmation email as it moves along the process of KicksCrew.
You will receive a confirmation email after the order is shipped wherein its tracking details are given. You can also trace your order by visiting the online tracking system of the courier.
What are the accepted payment methods by KicksCrew?
KicksCrew accepts Mastercard, Visa, AMEX, Discover, JCB, and Diners Club credit cards via Checkout.com payment gateway along with PayPal Express Checkout.
Does KicksCrew sell new items?
Yes, KicksCrew sells totally new items that are unused or unworn.
Does KicksCrew have the best price guarantee?
No, KicksCrew does not have the best price guarantee. However, it accepts feedback on certain items being priced uncompetitively.
How can you return a purchase?
To return a purchase, you will need to contact their customer support team.