Last Updated: November 13, 2023

Are you interested in buying products from PandaBuy but concerned about its legitimacy?
Don't despair!
By the end of this post, you'll know EXACTLY if PandaBuy is legit or just another scam waiting to take your hard-earned money.
So buckle up, and let's get started!
Is PandaBuy Legit?
PandaBuy is certainly a legitimate online shopping platform. However, it doesn't take responsibility for products sold through its platform.
Here's why:
PandaBuy is not an ecommerce store or online marketplace itself as it doesn't sell its own goods or connect sellers with buyers.
Instead, it is a Chinese shopping agent that provides shopping and shipping services to international customers who want to buy goods from Chinese offline sellers and online marketplaces such as Taobao, Tmall, JD.com, and others.
When you place an order on PandaBuy, they will purchase your desired item(s) from the seller on your behalf and have it shipped to their warehouse in China.
After receiving your order, PandaBuy will store your goods at their warehouse and ship them to you whenever you want within 90 days.
PandaBuy basically works as a middleman between you and China-based sellers and online marketplaces.
They don't manufacture or sell their own stuff; they just help you in purchasing and shipping Chinese goods since it is a shopping agent, not an ecommerce store or marketplace itself.
And this is the reason why PandaBuy does take direct responsibility for the quality or authenticity of the products purchased through its platform.
However, PandaBuy does offer certain protections and services to ensure the safety and quality of the products that you order through them.
For instance, PandaBuy's team will inspect your items to ensure that they meet the seller's specifications, are as described, and are free from any defects or damage.
If any issues are found, they will work with the seller to resolve the issue or offer a refund or exchange.
Additionally, PandaBuy provides free photos (2-5 free, $0.16 per additional image) of your desired item(s) from various angles and uploads them to your account for you to review.
If the item(s) are exactly as described and meet your expectations, you can choose to ship it to your address by paying the shipping fee.
If not, PandaBuy will assist you in returning the product to the seller for a refund or exchange.
And the best part is that you won't have to pay high return shipping charges for your orders since they will be shipped directly from PandaBuy's warehouse in China to the seller if you haven't shipped already.
So to conclude everything, I would say:
While PandaBuy provides several protection services and policies to ensure that you get the products as expected and assist you with any issues that may arise, they are not the actual sellers of the products.
Therefore, PandaBuy does not take direct responsibility for the authenticity or quality of products sold through them.
But as far as its legitimacy is concerned, it is indeed a legitimate platform for buying products from China.
So, Should You Buy Directly or Through PandaBuy?
Well, it depends on your personal preferences and the specific circumstances of your purchase because both have their own advantages and disadvantages.
Buying directly from Chinese online marketplaces, such as Taobao or JD.com, can be more cost-effective, especially if you're only looking to purchase a few items since no intermediary (PandaBuy) is involved.
However, the downsides and risks associated with buying directly are:
Possibilities of Not Receiving The Exact Products: You may not receive the exact product as shown by the seller in the product's listing since there is no one to verify.
Ridiculously High Return Shipping Charges: Since the buyer is generally responsible for paying the return shipping charges, you will have to accept the item as received because returning them would cost you a lot – often more than the items themselves since they need to be shipped back to China.
Language Barrier: If you do not speak Chinese language, it will be difficult for you to navigate Chinese online marketplaces and communicate with the sellers.
On the other hand, buying through PandaBuy minimizes these risks and issues since they verify your item(s) and send you photos to ensure they meet your expectations before shipping.
This also helps you avoid the ridiculously high return shipping cost since your orders will be sent from PandaBuy's warehouse to the seller rather than your country in case of returns.
Additionally, PandaBuy solves the problem of the language barrier as they can communicate with the Chinese sellers on your behalf.
However, the two major downsides of buying through PandaBuy are:
Additional Cost
Delivery Takes Longer
First of all, additional costs may add to your purchases as you might have to pay the domestic shipping fee (from the seller to PandaBuy's warehouse) as well as the international shipping fee (from PandaBuy's warehouse to you).
In addition, you might buy additional services from PandaBuy.
While PandaBuy does not charge any fee for basic services it provides such as quality inspection, storage, and photos, it will charge you for value-added service.
Value-added services mean additional services such as in-depth quality inspection or additional photos from specific areas or angles that you may require according to your own needs.
Another major downside of buying through PandaBuy is that the delivery of your products will take longer than buying directly from the marketplaces since a middleman is involved.
Instead of receiving the order directly from the seller, your orders will first be sent to PandaBuy's warehouse then they will inspect your products before shipping them to you.
That's why your orders will take longer to deliver if you buy through PandaBuy.
So long story short, the choice of buying products directly from the Chinese marketplace vs. through PandaBuy ultimately depends on your individual preferences and needs.
Personally, I highly recommend purchasing from online marketplaces if:
You live outside China and want to buy goods from China's offline sellers, but particularly online marketplaces such as Taobao, Tmall, and JD.com.
You already have experience in buying from Chinese marketplaces, are good at vetting sellers and their products, and can handle communication with the sellers.
You are ordering a few low-ticket items.
You want the lowest possible price.
You are willing to take the risks involved (possibilities of not receiving the exact items and no returns because of ridiculously high return shipping charges).
However, I recommend buying through PandaBuy only if:
You are new to ordering from Chinese online marketplaces and can't communicate with sellers.
You are ordering high-ticket items or products in bulk because purchasing a few low-cost items through them would cost you a lot due to the shipping fees.
You need someone to verify and show you the actual photos of your products before shipping.
You are OKAY with longer delivery time and additional costs that may add to your purchases.
Decided to purchase through PandaBuy?
If so, then you need to follow the tips listed below for a great shopping experience.
8 Tips To Know Before Purchasing Through PandaBuy
Here are some tips to keep in mind before buying through PandaBuy:
1. Research The Product & Its Seller
Though PandaBuy will inspect your products and send you the photos as well, it's always a good idea to do your own research about the product and its seller on the marketplace from which you are purchasing.
For example, if you're buying a product from Tmall through PandaBuy, you must research the product and its seller on Tmall.
Here's what to look for when researching the product you want to buy:
Product Photos: First of all, carefully take a look at the photos provided by the seller in the product's listing.
Reviews: Carefully read reviews of other customers thoroughly, particularly reviews with pictures of the product, to gain insight into the actual item. If a product doesn't have numerous reviews, especially positive ones, avoid buying it.
Item Details: Make sure to confirm the product details, such as the size, color, and material, before making a purchase. This can help prevent any misunderstandings or issues with the product.
Size chart: If you're buying clothing or shoes, make sure to check the size chart if provided by the seller and compare it to your measurements. If the size chart isn't available in the seller's listing, contact the seller and ask for a size chart before ordering to avoid ordering the wrong size and the headache of returns.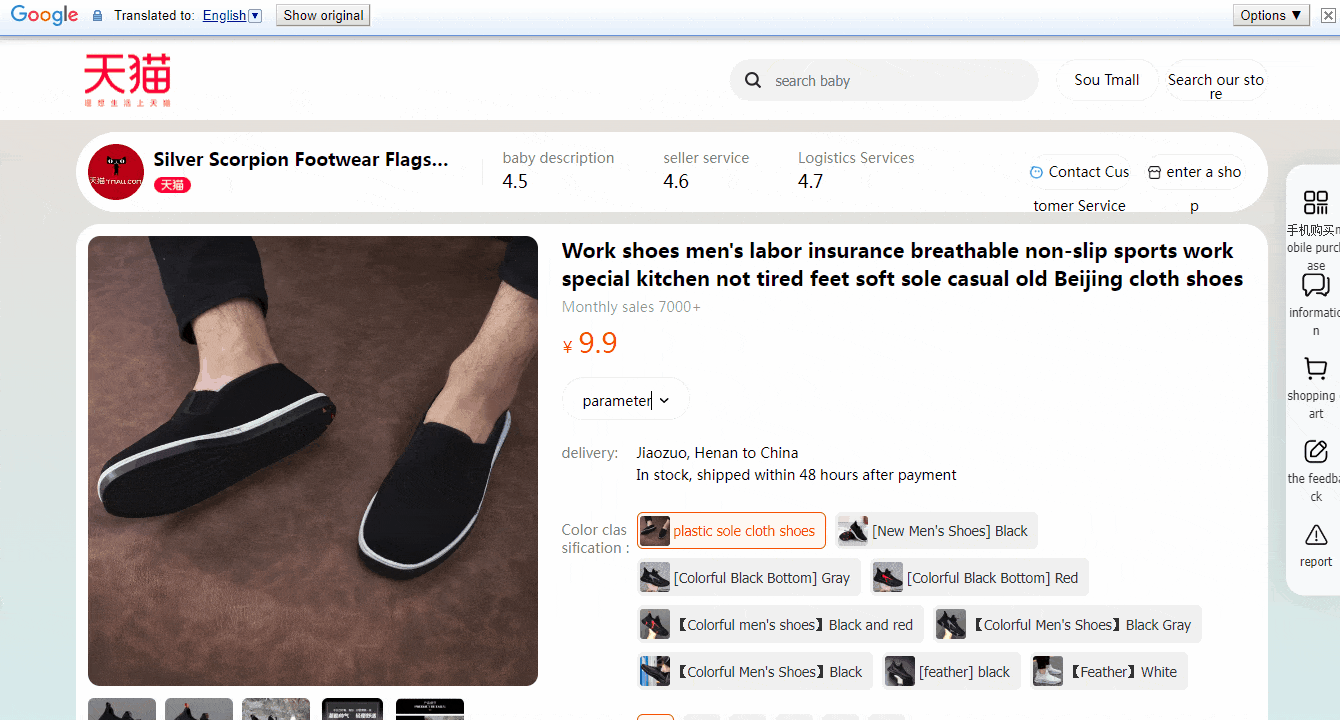 And to verify the seller, you should look for:
Seller's ratings: Check the seller's ratings before making a purchase and always buy from sellers with high ratings because the higher the ratings, the more trustworthy the seller is likely to be.

Seller's store age: Check the seller's store age and always buy from the ones whose stores are at least a year old.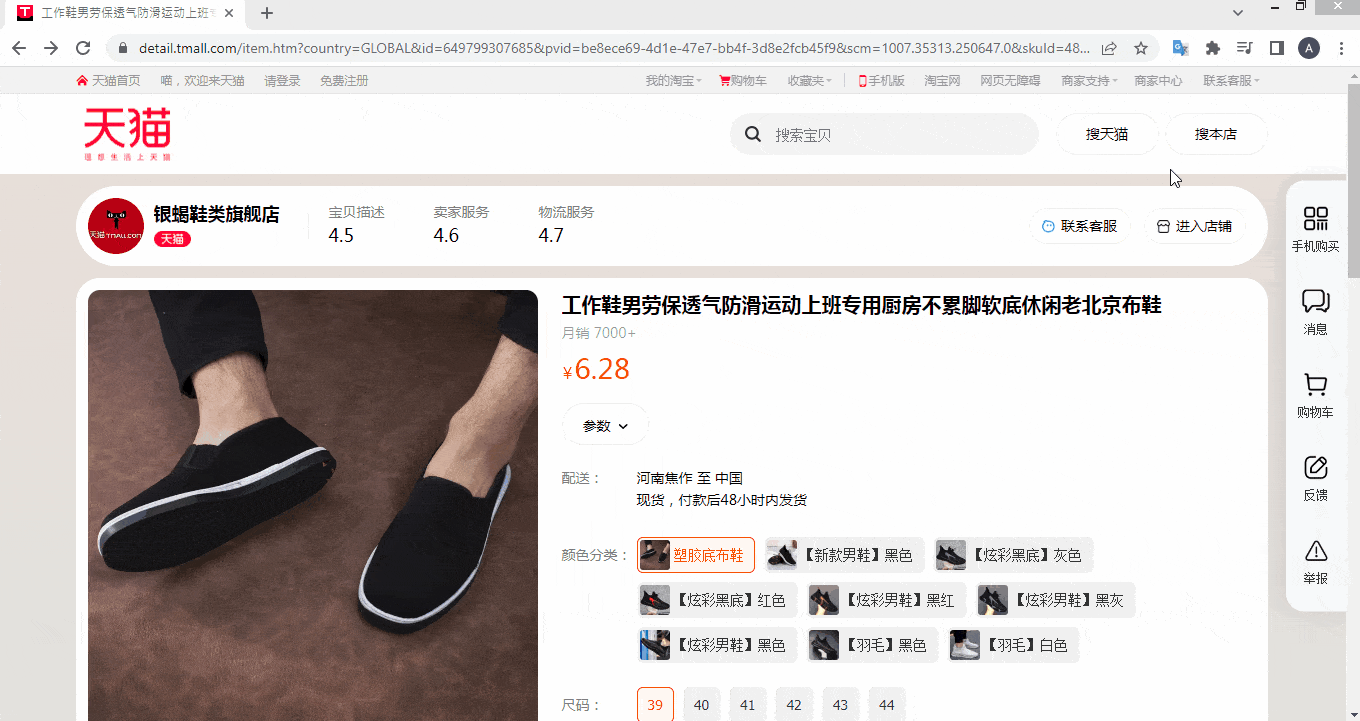 Once you've done your research, the next thing you should do is to:
2. Calculate The Estimated Shipping on PandaBuy
Prior to placing your order through PandaBuy, it's crucial to estimate the shipping costs and delivery time to get a sense of what to expect, especially if you have a certain budget or need your order by a specific date.
You can calculate estimated shipping through PandaBuy's shipping estimation tool.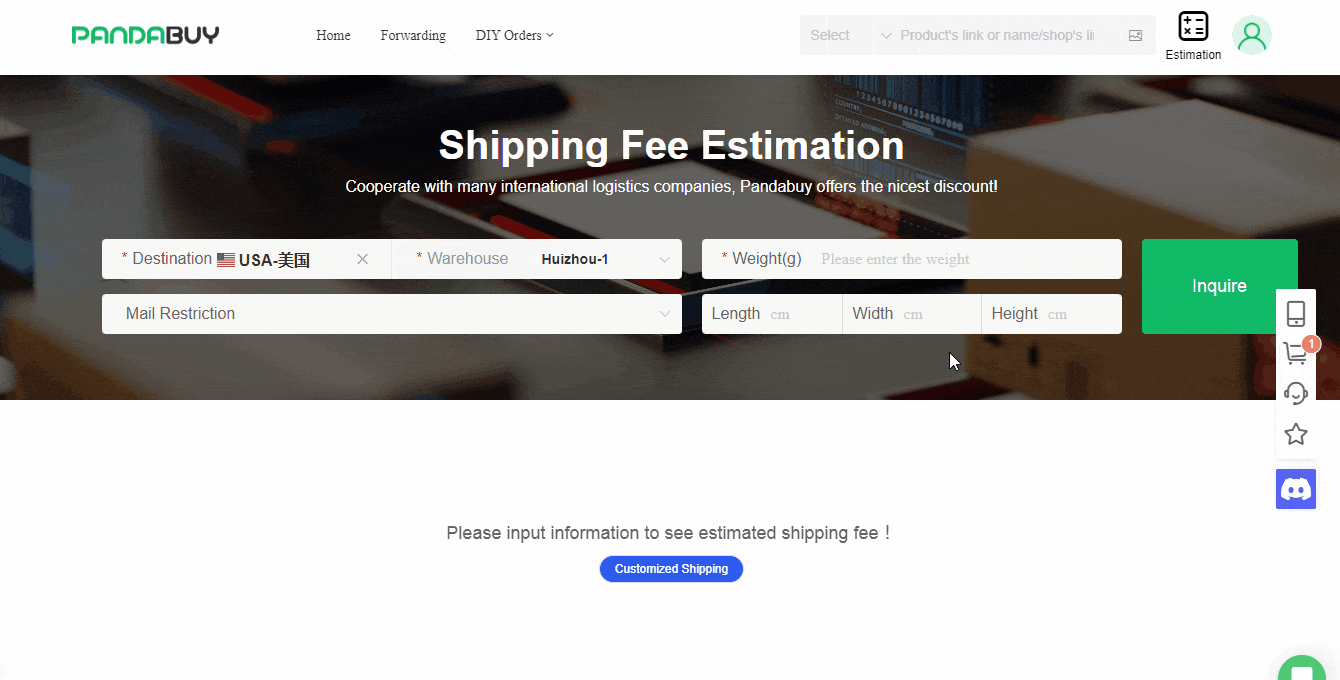 After that, you should:
3. Know You Country's Import Taxes & Duties
Depending on your country's customs regulations, you may be subject to additional fees and taxes when importing goods, especially if you're ordering high-ticket items or products in bulk.
For example, importing goods to the US is generally taxed when they are valued at over $800.
So make sure to research your country's customs tax rates and regulations before making a purchase through PandaBuy to get a general idea of the total cost of your package.
4. Be Aware of PandaBuy's Return Policy
Another extremely important thing you must be aware of before ordering through PandaBuy is their return policy.
So make sure to read and understand their return policy carefully to know what to expect if you need to return an item purchased through PandaBuy.
So you've researched the product and its seller, calculated the estimated shipping, are aware of your country's import taxes, and their return policy, now what?
Now you should place your order on PandaBuy and when your package arrives at their warehouse in China, you must:
5. Verify Your Order Carefully Before Submitting It For Delivery
Though PandaBuy will verify your purchased items by inspecting them for any defects or damages, they will also provide a few photos to you with proper measurements and weight.
So even if your order passed the quality inspection of PandaBuy, you must also look at the photos of your purchased items carefully before submitting them for delivery.
And if you've ordered shoes or clothing then don't forget to compare the measurements provided by PandaBuy to your own.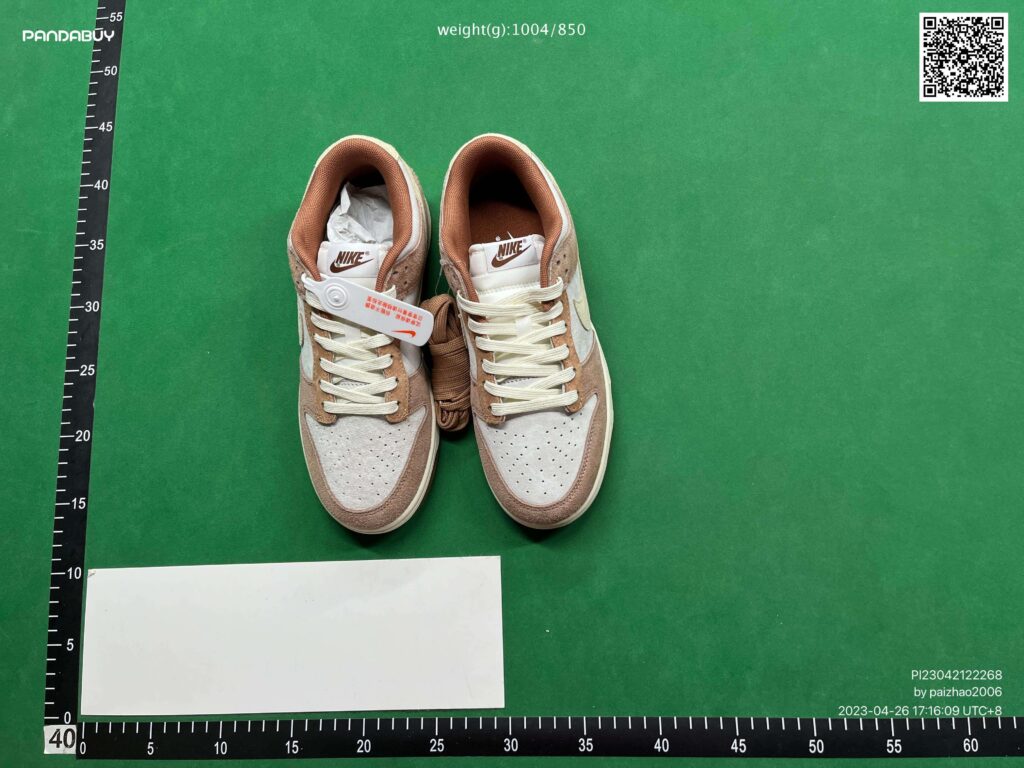 On top of all that, if you have any questions or concerns regarding your order, you must reach out to PandaBuy's customer service before proceeding with the delivery.
By following these discussed precautions, you can prevent the ridiculously high return shipping fees in case you are dissatisfied with your order, as returns will be dispatched from PandaBuy's warehouse in China instead of your country.
6. Consolidate Your Products Into One Package
The best thing about ordering products through PandaBuy is that they allow you to consolidate your goods into one package and have them shipped to you.
And as I said before, I only recommend PandaBuy for ordering high-ticket products or products in large quantities because of the shipping fees, as shipping items separately, especially low-ticket items, usually cost more than the cost of the actual goods.
Hence, use PandaBuy only if purchasing high-ticket items or items in bulk so that you can consolidate them into one package and get your things at reasonable prices.
7. Choose The Right Shipping Method
When submitting your order for delivery, PandaBuy will offer several shipping methods, including DHL, EMS, and UPS.
Choose the one that best suits your needs and budget.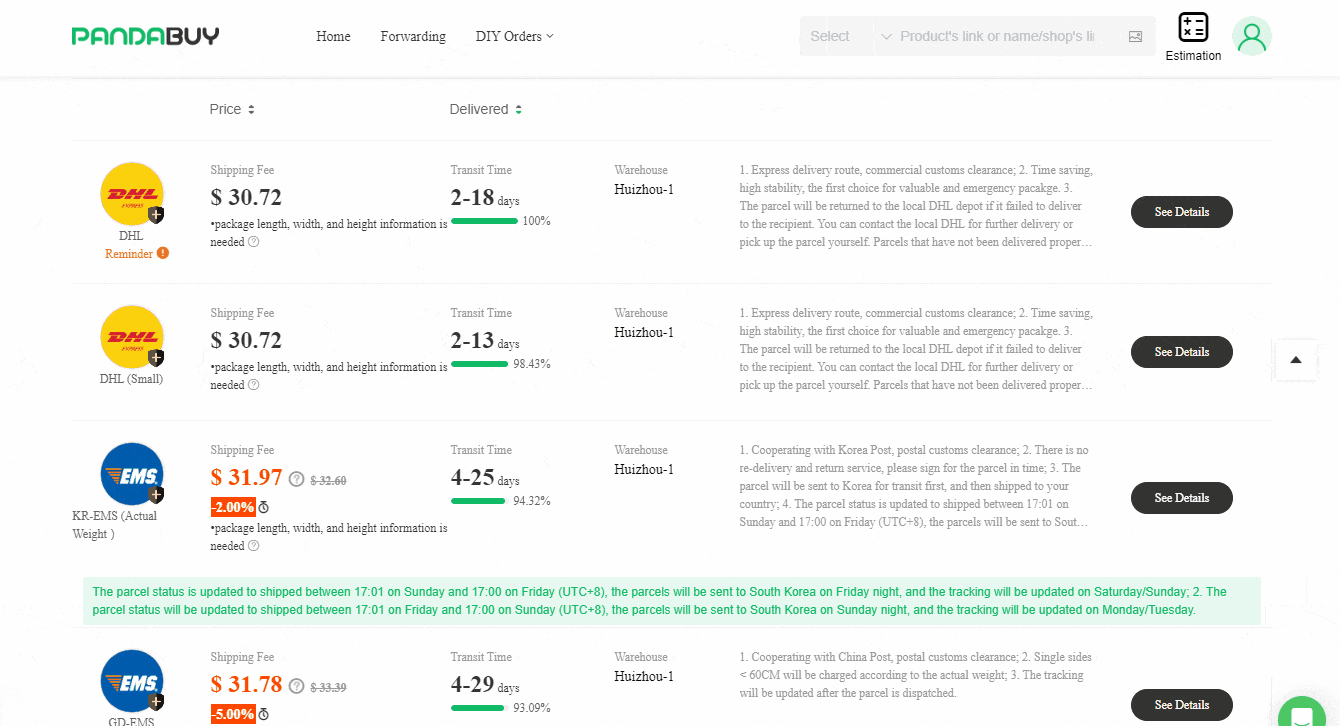 8. Be Patient
Once you've submitted your order for delivery, be patient as shipping can take a few weeks or even months for your items to arrive.
There you have it!
By following these tips, you can make your shopping experience with PandaBuy a great one.
How Long Does PandaBuy Take To Ship?
PandaBuy shipping time depends on various factors such as the chosen shipping method, destination country, and customs clearance process.
When submitting your order for delivery, PandaBuy typically offers several shipping options, including express shipping, standard shipping, and economy shipping, with varying delivery times and costs.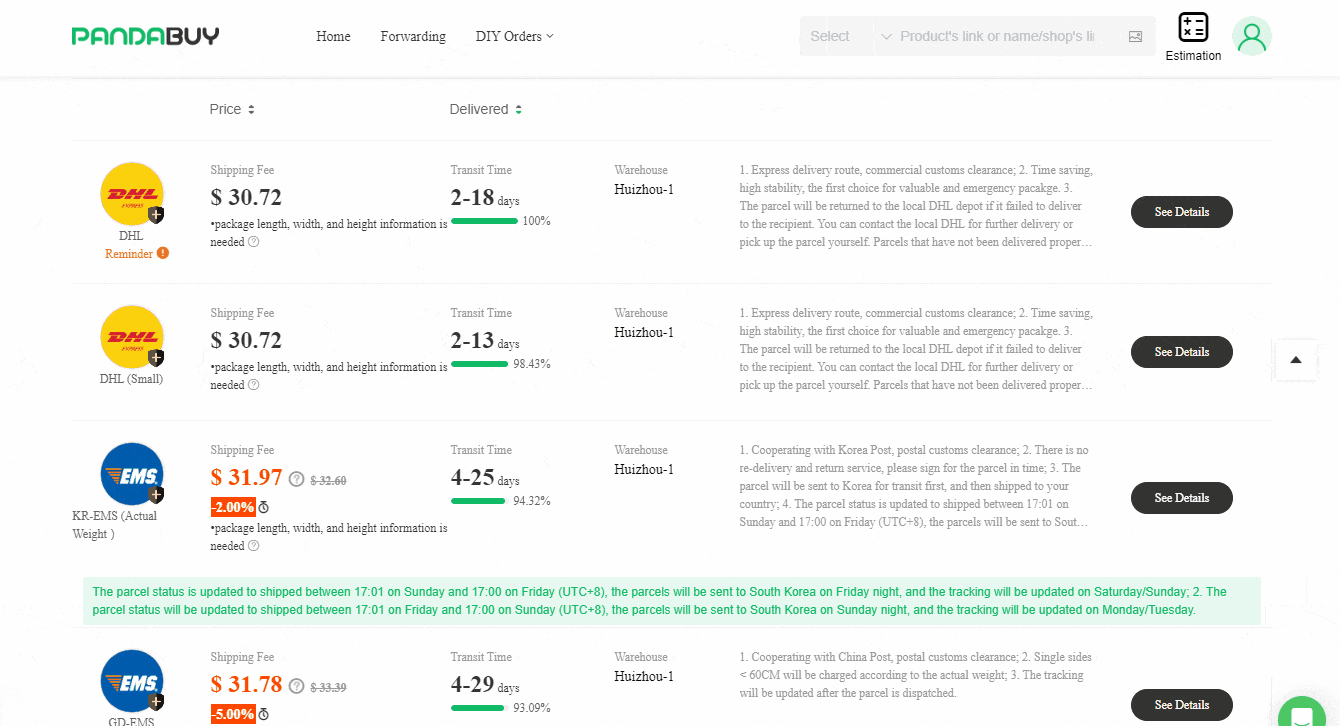 If you select DHL, UPS, or FedEx as your shipping method, you can typically expect your package to arrive within 3-18 business days.
On the other hand, if you choose a slower but economical shipping option such as EMS and China Post, it may take up to 2-4 weeks or maybe even longer for your package to arrive at your location.
Additionally, other factors that are outside of PandaBuy's control can cause delays such as customs clearance, weather conditions, national holidays, etc.
Overall, the shipping time for PandaBuy varies depending on several factors discussed above.
However, PandaBuy provides tracking information for your package so you can track the progress of your shipment and estimate the delivery time.
How To Buy From PandaBuy?
To buy from PandaBuy, follow these steps:
Create an account: In order to buy from PandaBuy, you need to create an account.
Browse and select products: Browse the item you want to purchase by entering the product's link, shop's link, a keyword into the search bar, or even uploading an image of the product.
Add items to the cart: Once you find the item you want to purchase, click the "Add to Cart" button. If you want to purchase more items, you can continue shopping and adding items to your cart.
Pay for your items: After you have added all the items you want to purchase to your cart, click the "Checkout" button. You can pay for your items using a variety of payment methods, including credit cards, PayPal, Stripe, Wise, and more.
Confirm your purchase: After you have paid for your items, PandaBuy will purchase the items on your behalf and have them shipped to their warehouse. Once the items have arrived at the warehouse, PandaBuy will notify you, and you can confirm that the items are correct and in good condition.
Submit your order for delivery: After you have confirmed your items, you can submit your order for delivery by choosing the shipping method and paying for the shipping costs. PandaBuy will then ship your items to your address.
For a better understanding of ordering from PandaBuy, watch this video:
Conclusion
So yes, PandaBuy is a legitimate platform.
But being a shopping agent, it does not take direct responsibility for goods purchased through their platform.
However, prior to shipping the goods to its customers, they thoroughly inspect them and even provide photos to ensure that the item(s) are free from any defects and meet customer's expectations.
Now the decision of whether to buy products directly from Chinese marketplaces or through PandaBuy ultimately depends on your personal preferences and needs.
Just make sure to read my personal recommendation discussed above and follow the tips if you're planning to buy through PandaBuy.
Got any questions?
Please feel free to let me know in the comments down below.
PandaBuy FAQs
Is PandaBuy safe?
PandaBuy is definitely safe to buy from as it offers various safety measures to protect users, such as product inspection, quality control, buyer protection, and secure payment options. However, it's important to keep in mind that no online platform is completely risk-free.
Is PandaBuy illegal?
PandaBuy itself is not illegal. It just helps you purchase goods from Chinese online stores and provides you with shipping services. However, the item(s) you order through PandaBuy can be legal or illegal depending on the laws and regulations of your country.
Does PandaBuy sell real shoes?
PandaBuy itself does not sell shoes or any other products. Instead, they facilitate the purchasing process on behalf of their users from various Chinese sellers and assist with international shipping and logistics.
Therefore, the authenticity of the shoes or any other products purchased through PandaBuy depends on the individual sellers or stores from which the products are sourced.
Is PandaBuy a scam?
PandaBuy is not a scam. It is a legitimate online shopping platform that operates as a shopping agent, assisting users in buying products from Chinese online stores and handling international shipping and logistics.