Last Updated: August 31, 2021
Feeling worried about sending or receiving money through Wise? Is TransferWise safe and secure? Are there any security risks?
I have been using Wise (formerly TransferWise) for more than a year now and will answer these and many more questions to clear all your doubts.
Here's what I am going to cover in this easy to read guide:
Make sure to read this Wise review all the way to the end so you'll have all the information you need before using the service to avoid getting scammed.
Let's begin with the most important question for which you came here in the first place.
Is Wise Safe?
Wise is safe to send and receive money internationally. It has robust security and encryption in place to keep your personal data secure and it is also regulated by financial authorities all around the world to protect you.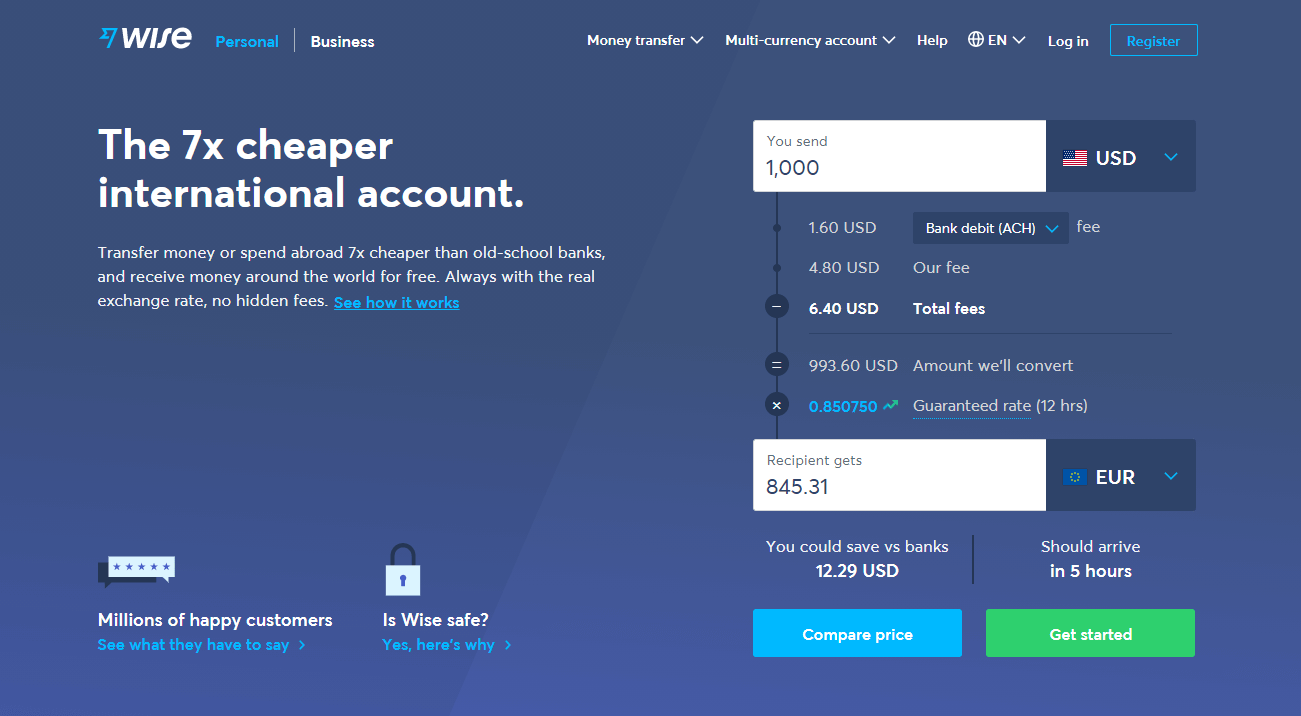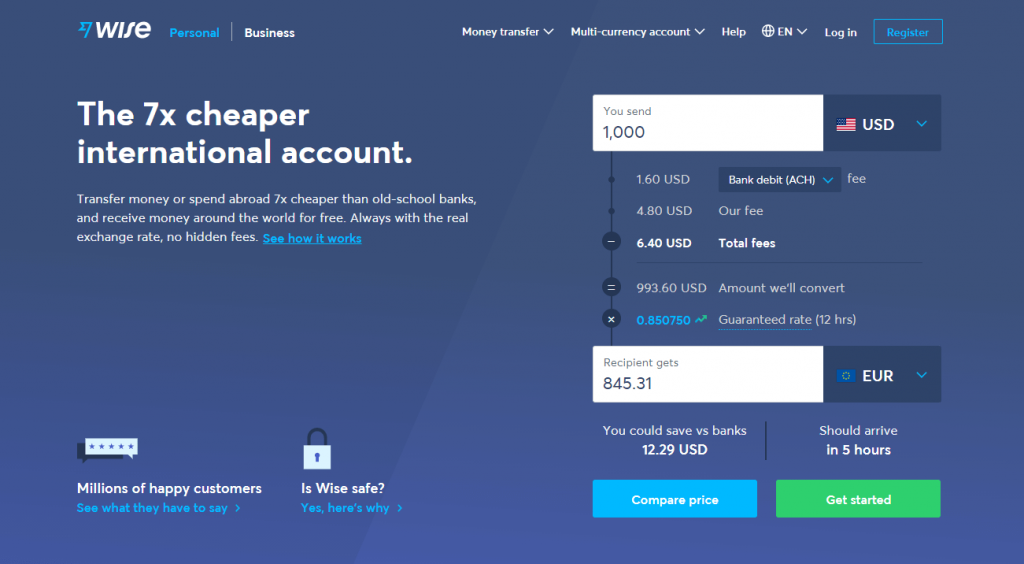 They have to follow a strict set of rules set by regulatory agencies in every country they operate in – such as the FCA in the UK and FinCEN in the US.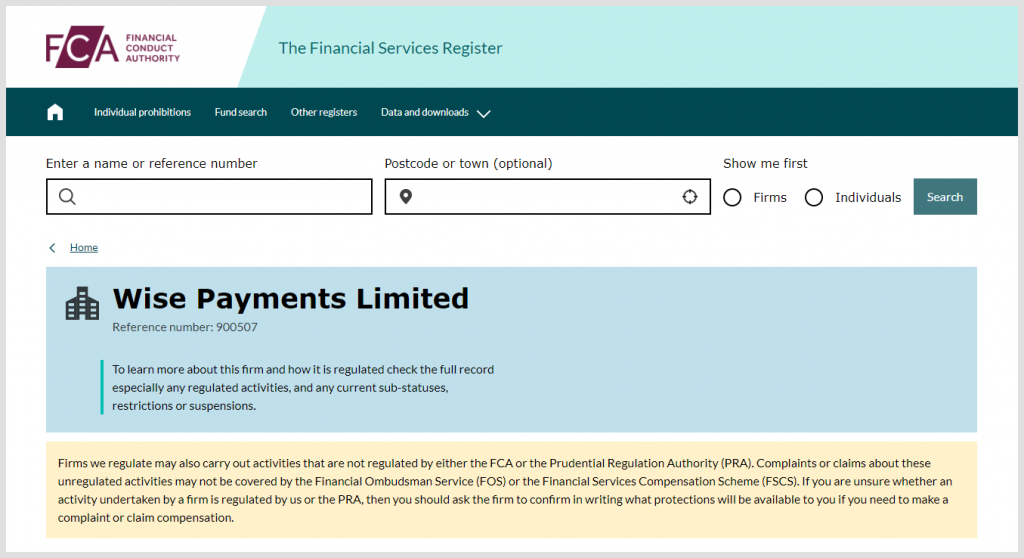 Since Wise is regulated by financial authorities around the globe, click to learn more about where Wise is regulated and see all its licenses yourself.
These financial regulatory agencies protect you and the market they operate in by monitoring Wise to make sure it meets their regulatory standards and if they find that Wise is not following their rules, they intervene to protect consumers.
Furthermore, to keep you relatively safe, Wise:
Is safeguarded with leading banks
Is audited regularly
Offers extra-secure transactions with 2-factor authentication
Have a dedicated anti-fraud team
Have a data protection in place
Provides you real-time notification for instant alerts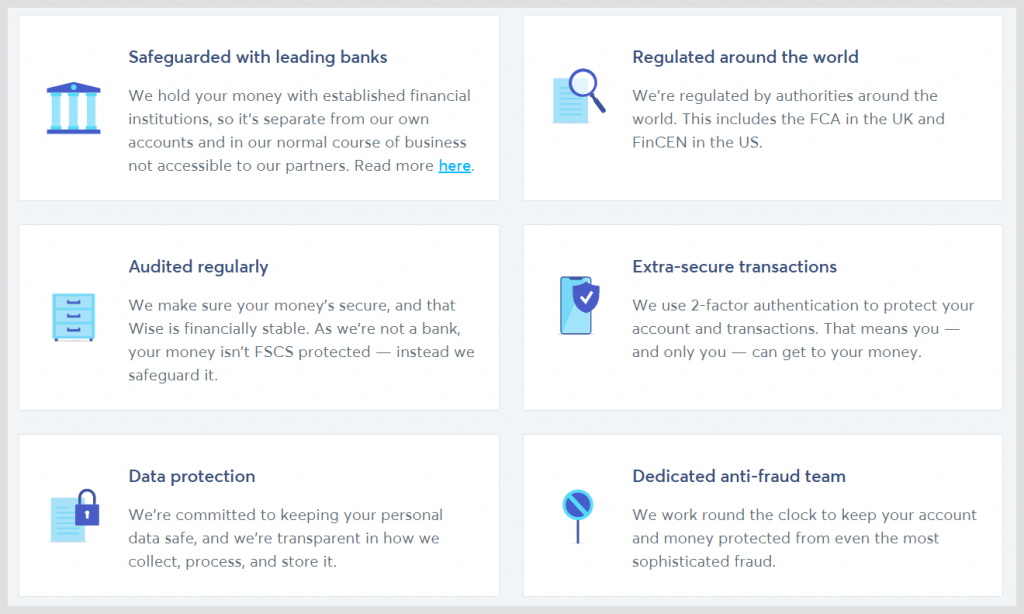 Also, Wise isn't a new company, it has been around since 2011 and if it weren't a safe platform, it would likely have been consigned to the garbage heap of dead technology platforms long ago.
Today it has over 10 million customers (I am one of them) around the world, moving almost $7 or £5 billion of their money every month.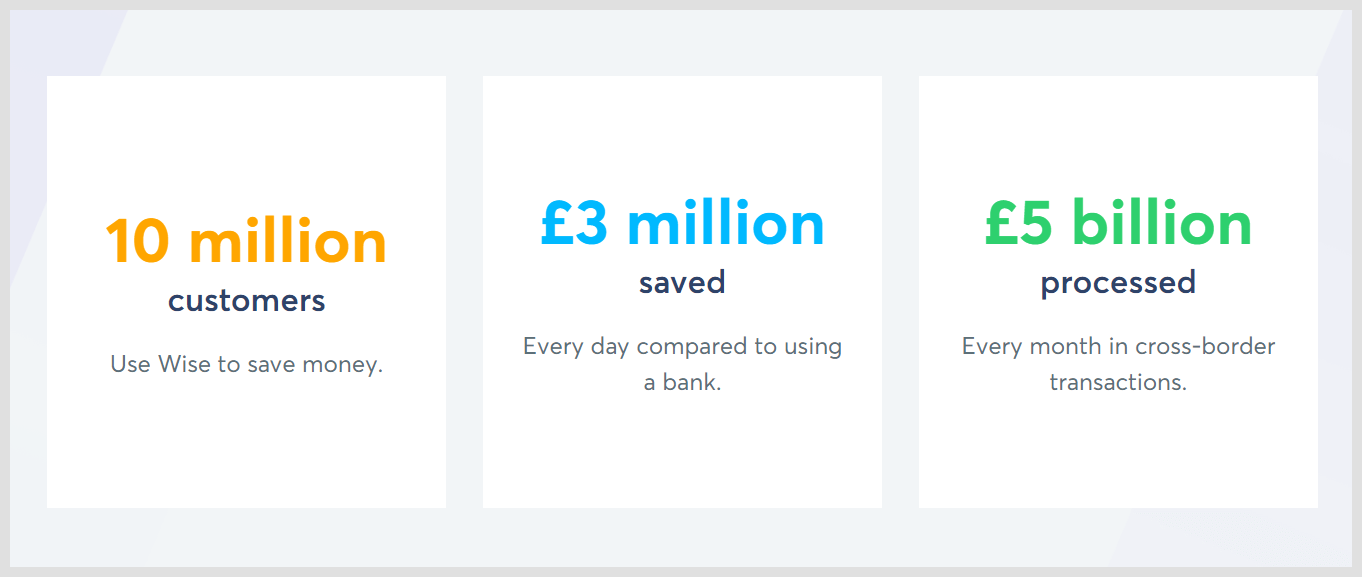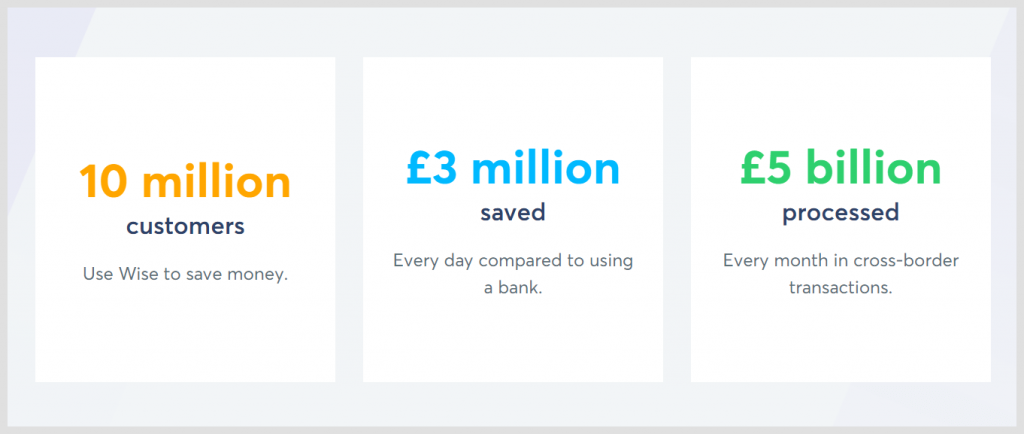 Now, let me share my experience with you as a user of Wise.
On this blog, I am earning most of the money through affiliate marketing, meaning I earn a commission when someone like you makes a purchase through the referral links in my article at no additional cost to you, which helps me to run this blog.
For example, if you sign up to Wise via any of the links in this article, I'll earn a small commission at no additional cost to you.
However, this doesn't influence my writings in any way and I am not here to convince you to use Wise at all cost.
I never wrote any review just for the sake of my affiliate commission, the final choice is definitely yours.
Why am I telling you all this?
It is because most of the companies I am affiliated with paying me via PayPal and since I live in Pakistan, PayPal isn't officially available here so I've to use a third-party service like Wise to get paid in my Pakistani bank accounts.
I am using my friend's PayPal account who lives in the US and linked my Wise bank account details with his account.
Whenever I get paid by any of the companies I am affiliated with, I transfer that money from PayPal to my Wise account and from there to my Pakistani bank account.
It's been more than a year now, I've sent and received thousands of dollars through Wise and didn't face any issues to date.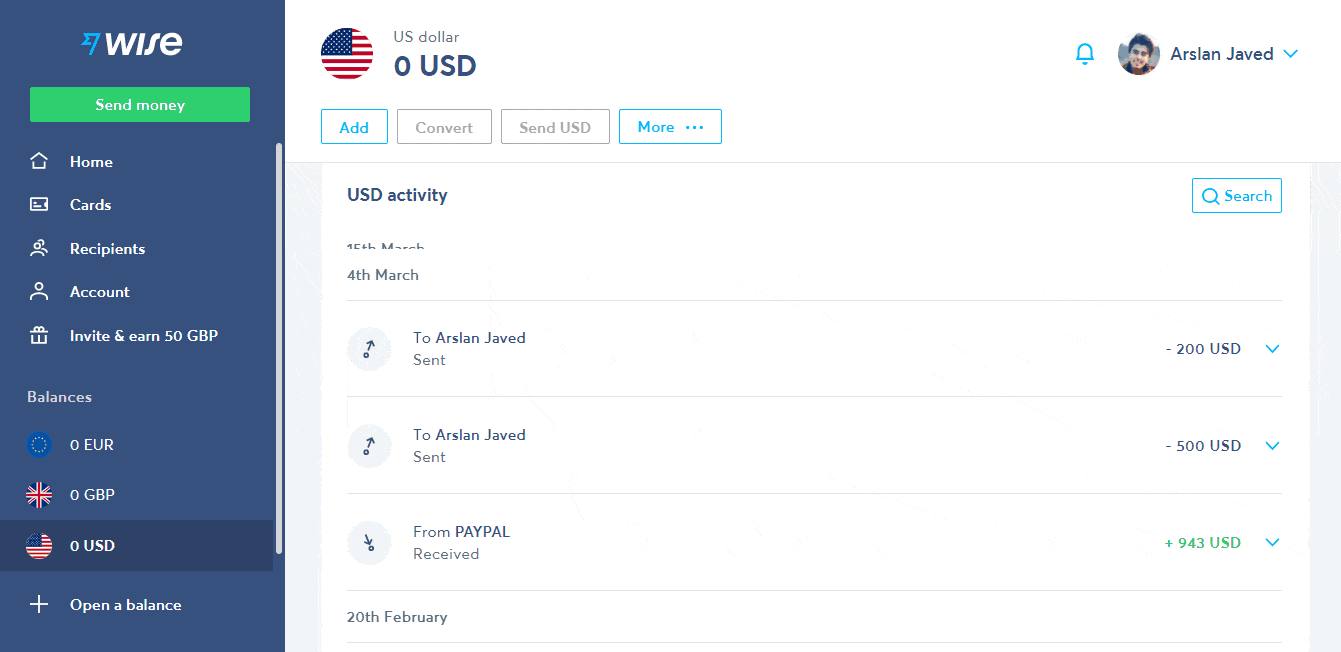 Later on, I'll send some money from Wise to my bank account for further clarification and to let you know how the process works.
Like it so far? Get a fee-free transfer of up to 500 GBP on Wise
Is It Safe to Send Large Amounts with Wise?
No doubt, Wise itself is safe but it's important to bear in mind that there are chances of facing problems when it comes to large amounts, not always but your experiences may vary.
Honestly speaking, I have sent thousands of dollars through Wise in multiple transactions but haven't sent more than $10,000 in a single transaction so I can't tell you for sure that it's completely safe for larger amounts (more than $10,000) and you'll not face any problems.
However, throughout all the transactions I carried out using Wise, I never experienced any issues.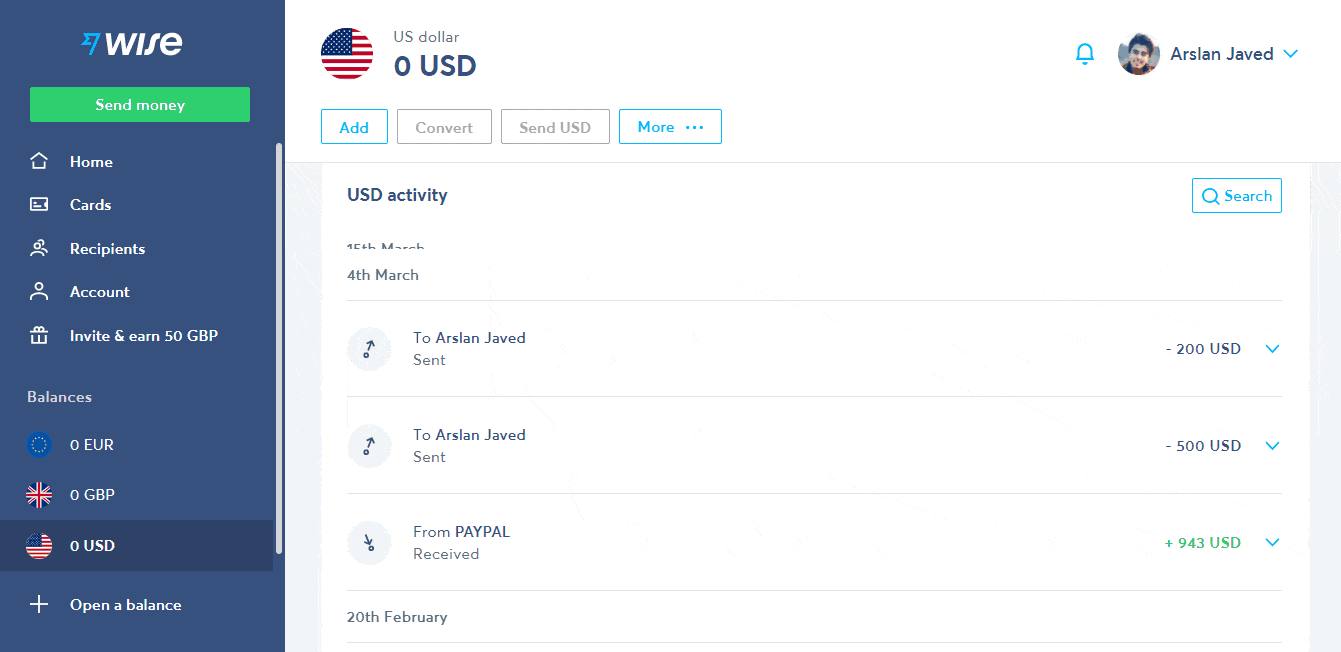 By the way, I searched on the internet and read reviews of other customers to know whether Wise is safe for large amounts or not but haven't found a clear answer to this question.
Some users reported that their large transaction went smoothly without any problems, while some reported having had difficulties.
Sending large amounts can be challenging sometimes not only because of Wise but maybe due to issues with your bank, currency, as well as the country you are in.
Having said that, I never had any issues for sending/receiving $10,000 in one transaction so if your plan is to send or receive small amounts, probably $10,000 or less than that then I believe you should give Wise a shot without a second thought.
For transactions more than that, I can't give you a complete surety.
However, if you want to transfer a large amount of money through Wise then you should follow the tips below.
Tips Before Sending Large Amounts Through Wise
To reduce the delays and risk of problems when sending large amounts through Wise, here are some crucial tips to help you get started with large transfers.
1. Get verified before making your first big transfer
No matter whether you have a personal or business account on Wise, you should get verified before making your first big transfer to avoid delays.
To get verified, you'll need to sign up for a Wise Personal account or create your Wise Business account.
The verification process for both account types is different, getting verified on a personal account is easy as compared to a business account but you'll have access to more features on your business account.
To get verified on a Wise personal account, you'll have to upload a photo of any of these three:
National ID card
Passport (photo page only)
Driver's licence
Learn more about verifying Personal accounts
To get verified on the Wise business account, you'll have to:
Tell them about your business and yourself like your business registration, the industry you're in, where you're located, social presence, name, date of birth, and country of residence.
Learn more about verifying Business accounts
2. Check your bank limits
Most banks have limits on how much you can send per day, or per transfer — and they may need you to pay in-branch when sending a large transfer.
So before adding money from your bank account to your Wise account, contact and ask your bank whether there are limits for sending large amounts or not.
3. Get your documents ready
When sending a large amount, Wise may ask for more documents depending on how much you're sending.
Most of the time, they ask for your bank statement or other documents that show where your money comes from.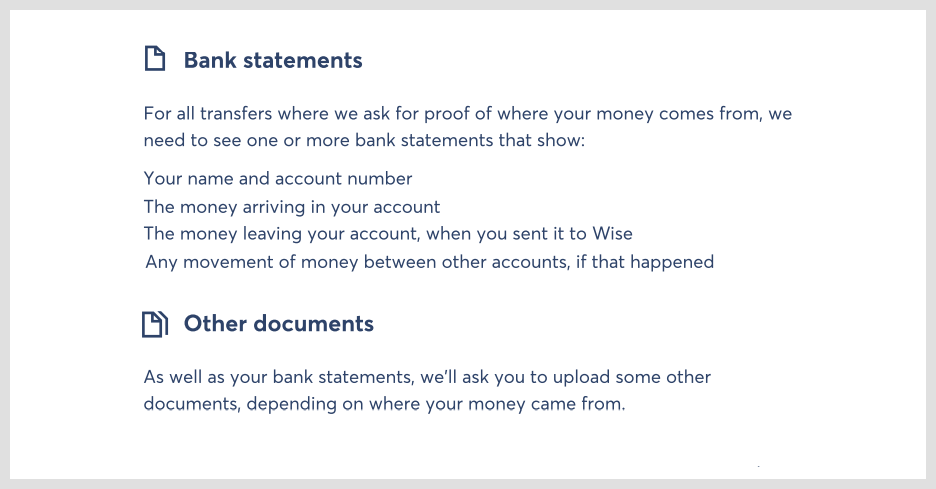 So make sure to get your documents ready before sending a large amount to avoid delays.
4. Talk with the experts in large transfers
Before you make a large transfer, make sure to talk with Wise's customer support specialists in large transfers to get personalized support and guidance.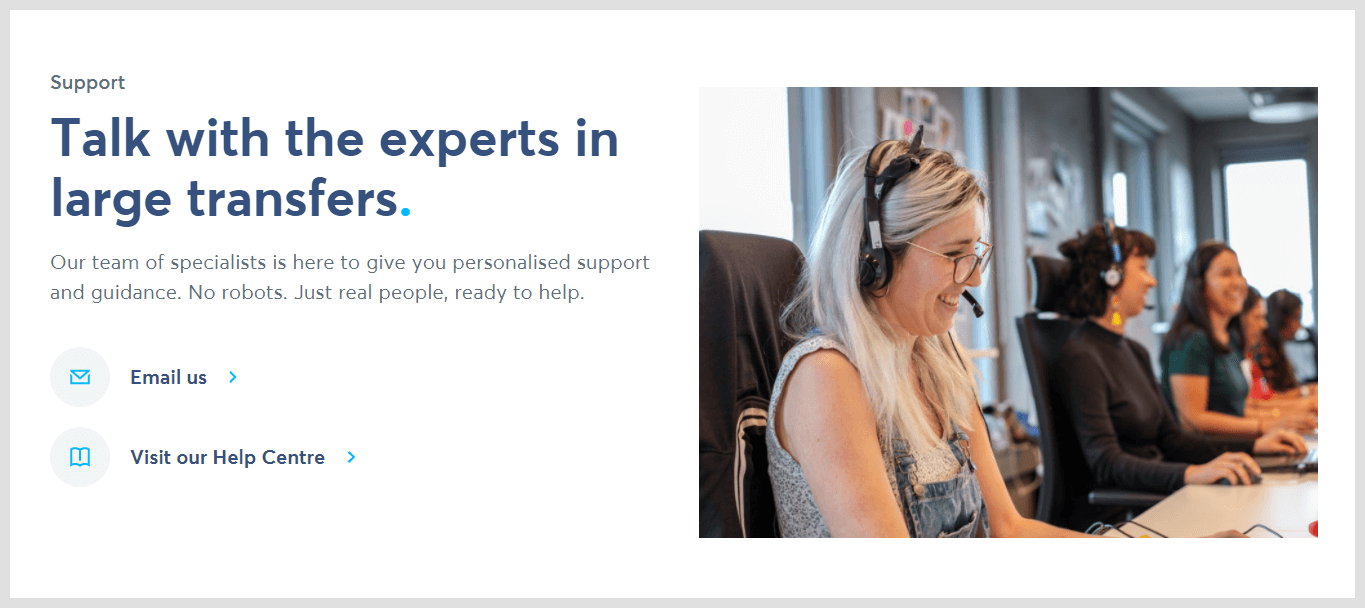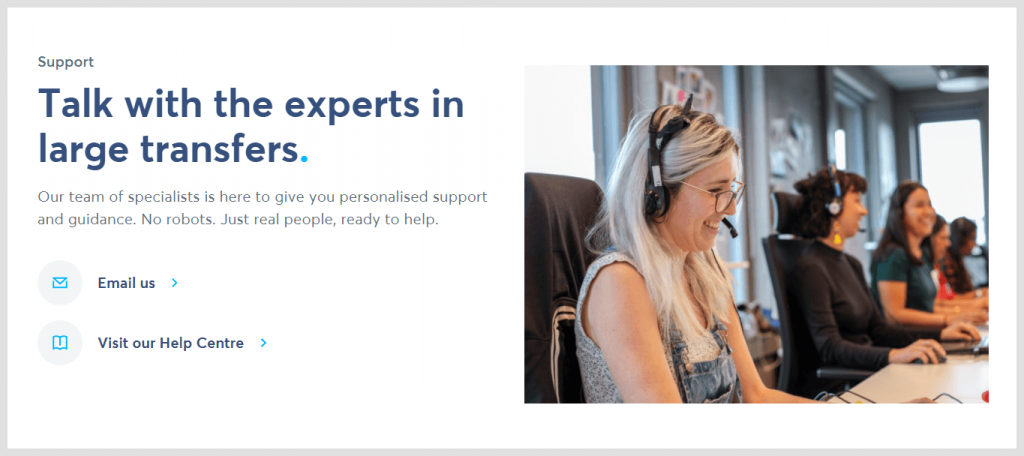 For more details, visit this page of Wise or download the full guide for sending large amounts.
How Can Wise Be So Cheap?
On average, Wise is 7-8x cheaper than using banks and 3x cheaper than PayPal. But, how?
First, you should keep in mind that Wise is a non-bank payment provider, it's an e-money institution which means your account on Wise is an electronic money account.
Banks and most currency exchange companies claim to have low or really cheap fees but it's simply not true. They add a markup to the exchange rates which is like adding a giant hidden fee to the transfer and you could be paying more than you should.
In contrast, Wise has bank accounts all over the world linked together by their smart technology, allowing you to hold and convert money in 54 currencies to make sending/receiving money easier and avoid the markup to the exchange rates to offer you the best rates possible.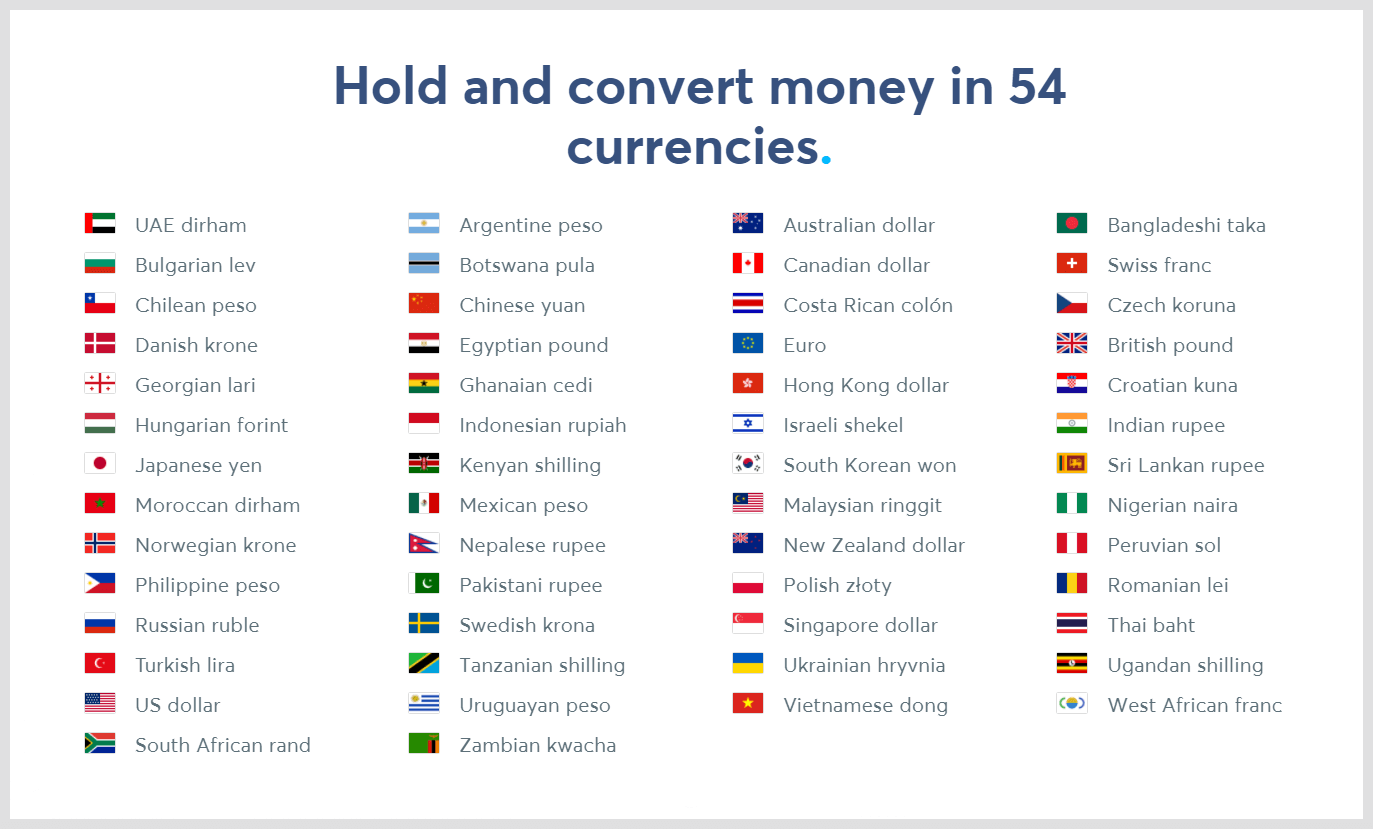 So for example, if you want to send pounds to the US, simply log on to your account and pay in your local currency which is pounds and Wise will send dollars to recipients from their own account which means the money never actually crosses any borders.
To understand even better why Wise is cheap and how it works, watch this video.
Like it so far? Get a fee-free transfer of up to 500 GBP on Wise
Is Your Personal Data Safe on Wise?
Yes, your personal data is safe on Wise and they don't share your personal information with anyone except selected third parties unless it is vital to your use of Wise and they disclosed this on their privacy policy page.

Passing on some information to their business third parties is necessary, for example, there's nothing wrong with sharing your information such as your bank account number, name, etc. with their business partner banks as it's necessary for the completion of the transfer.
However, it stores your information in a secure server as it needs to be recorded in compliance with their regulators and all your transaction information is encrypted using Transport Layer Security technology.
Also, to date, no one has ever reported any issues regarding the privacy of their personal information on Wise and also I haven't faced any issues yet in terms of privacy.
If you're interested to know more, visit their privacy policy page.
Wise Pros & Cons
Before we talk about how you can get started on Wise, it's crucial for you to know both the good and the bad about Wise to help you decide whether it is the right choice for you or not.
Let's take a look at the pros first.
Wise Review – The Pros
No hidden fees – They are very transparent with their fees and you'll know exactly how much you're going to get and what the current exchange rates are.
Cheap – Wise is a lot cheaper than sending money via banks, PayPal, and exchange companies, probably 3-8x cheaper. The good news is, if you sign up to Wise using my personalized link, your first insternational transfer of up to 500 GBP will be fee-free.
50+ currencies – Allowing you to hold and convert money in 50+ currencies and it's completely free. You just have to open a new balance and will get all the account details from Wise like the holder name, account number, routing number, and account type.
Interface – It has a user-friendly and easy to use interface.
Very minimum transfer amount – Wise has a very minimum transfer amount, you can send as low as $3 internationally or $1 in the same currency.
Register in minutes – The registration process of Wise isn't complicated, you can register your account in minutes.
Track your transfer at every step – Keep track of your transfer every step of the way and see its progress at any time on the Wise website or app.
Various payment methods – For your convenience, Wise accepts a variety of payment methods depending on the currency you're sending.
Get rate alerts – Wise has a rate tracker so you can keep track of the REAL exchange rate straight to your email inbox.
Sounds a good fit for you? Get a fee-free transfer of up to 500 GBP on Wise
Wise Review – The Cons
Bank account transfers only – You can only send money to a recipient's bank account, there's no option for either a cheque or cash pickup.
Debit Card – Wise's debit card is supported for limited countries, you can check out here if your country is eligible for their debit card or not.
Doesn't support all currencies – Wise doesn't support all currencies, it allows you to add money to your account in 19 countries, hold and convert money in 50+ currencies, and you can receive money from other people in limited currencies.
Occasionally low transfer speeds – Most of the time, I had no problems with transfer speeds, usually I get my payment in a couple of minutes but occasionally I had low transfer speeds (6-24 hours) as well.
Not so great for large transfers – For large transfers (more than $10,000), Wise isn't a very great option and a specialist foreign exchange provider or other global payment service providers might be a little cheaper.
Some complained of account deactivation – I've been using Wise (AKA TransferWise) for more than a year now and my account is still working without any problems. However, some users complained of sudden deactivation.
Please note, your Wise account might be deactivated if it's a duplicate of another.
Like it so far? Get a fee-free transfer of up to 500 GBP on Wise
Now that you know both the pros and cons of Wise so if it sounds like a good fit for you, let's learn how to get started.
How To Get Started on Wise
To get started on Wise, you've to create an account first:
Go to Wise in your browser and click on Register from the top right corner.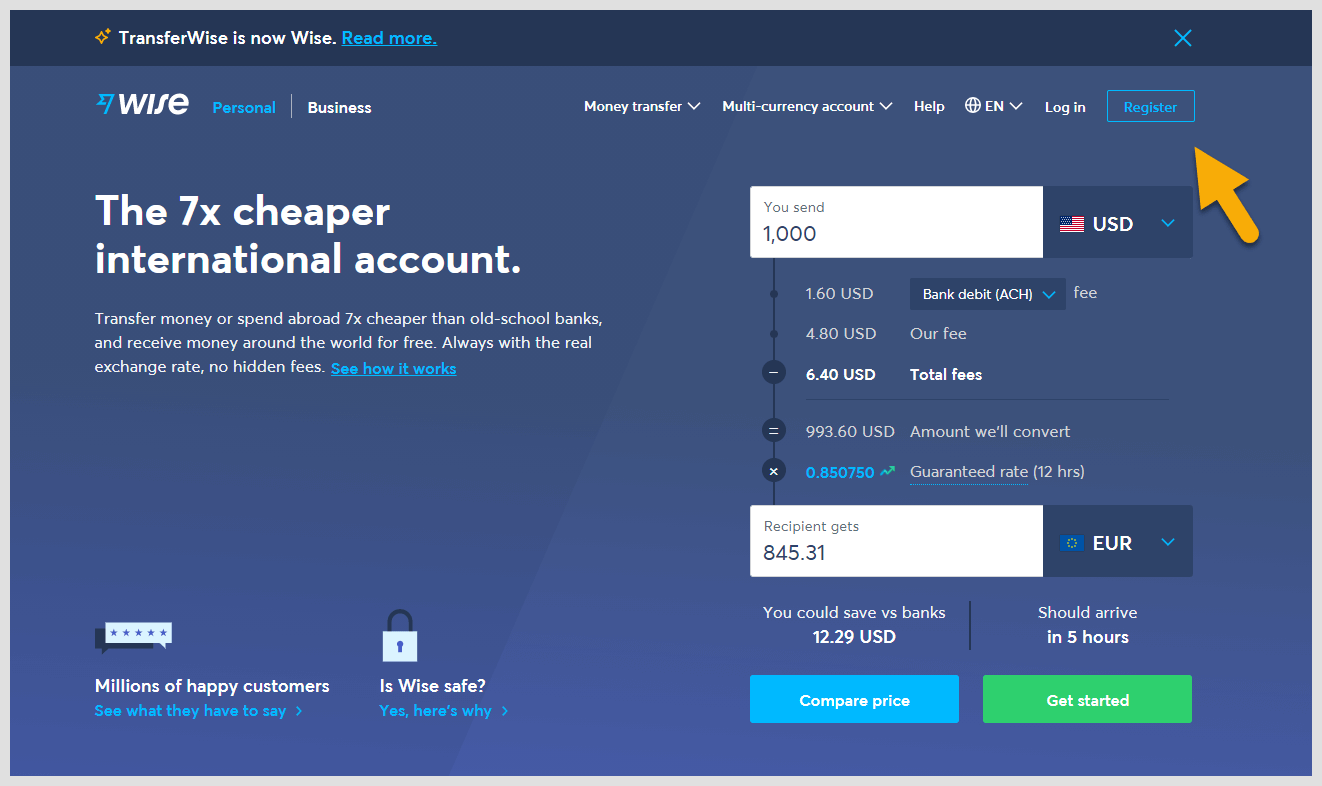 Sign up with your email address, or a Facebook, Google or Apple account.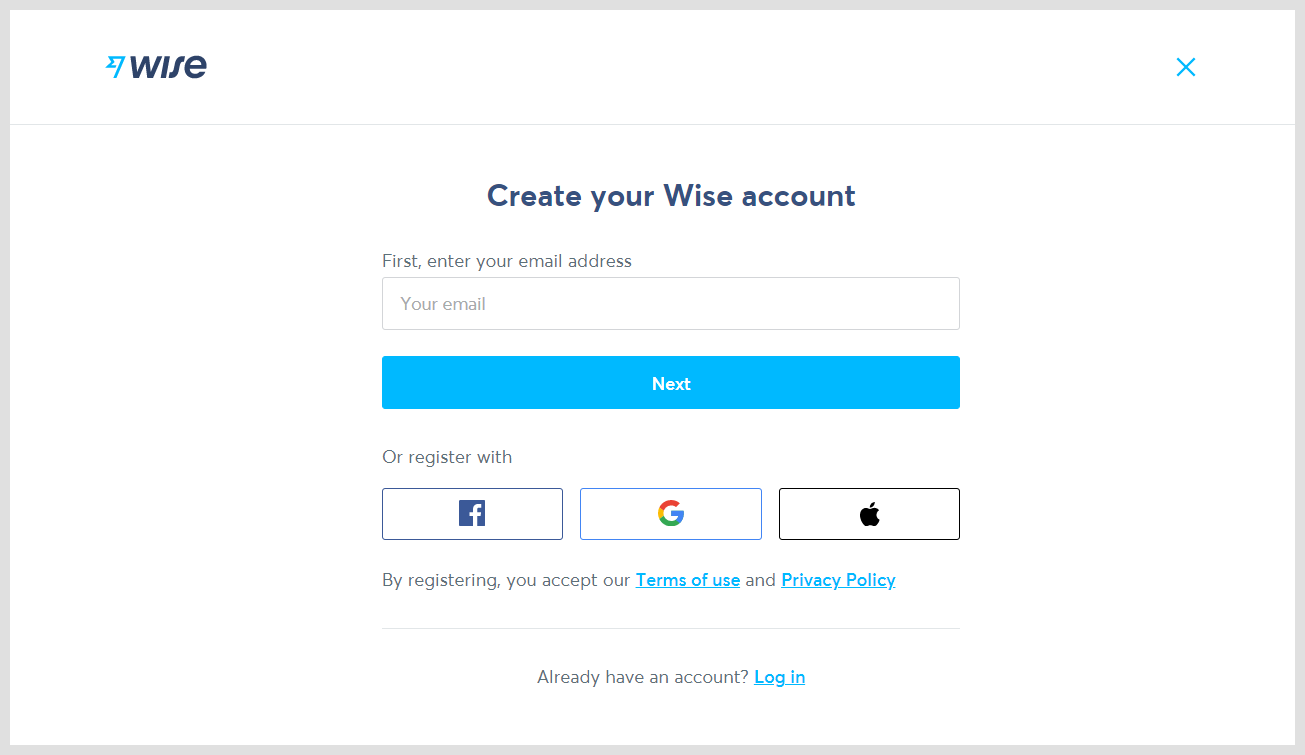 Select account type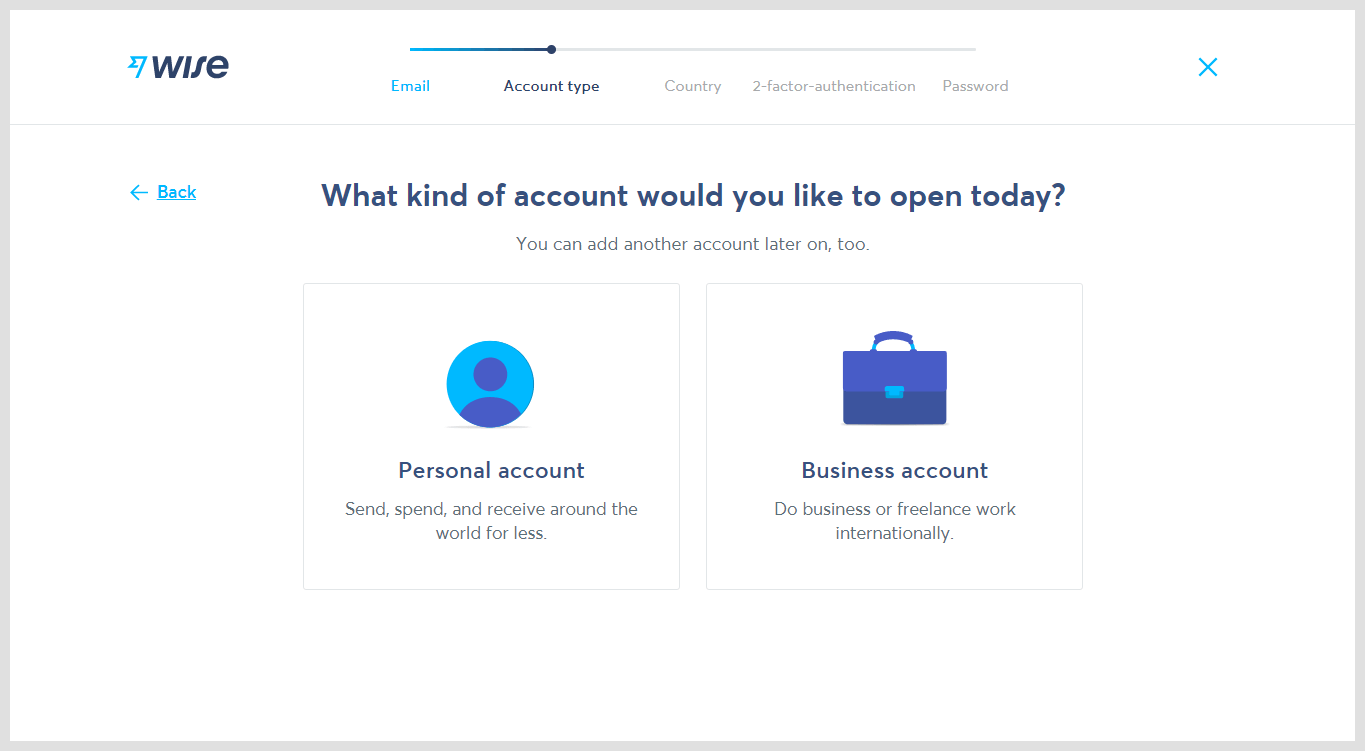 Choose your country of primary residence.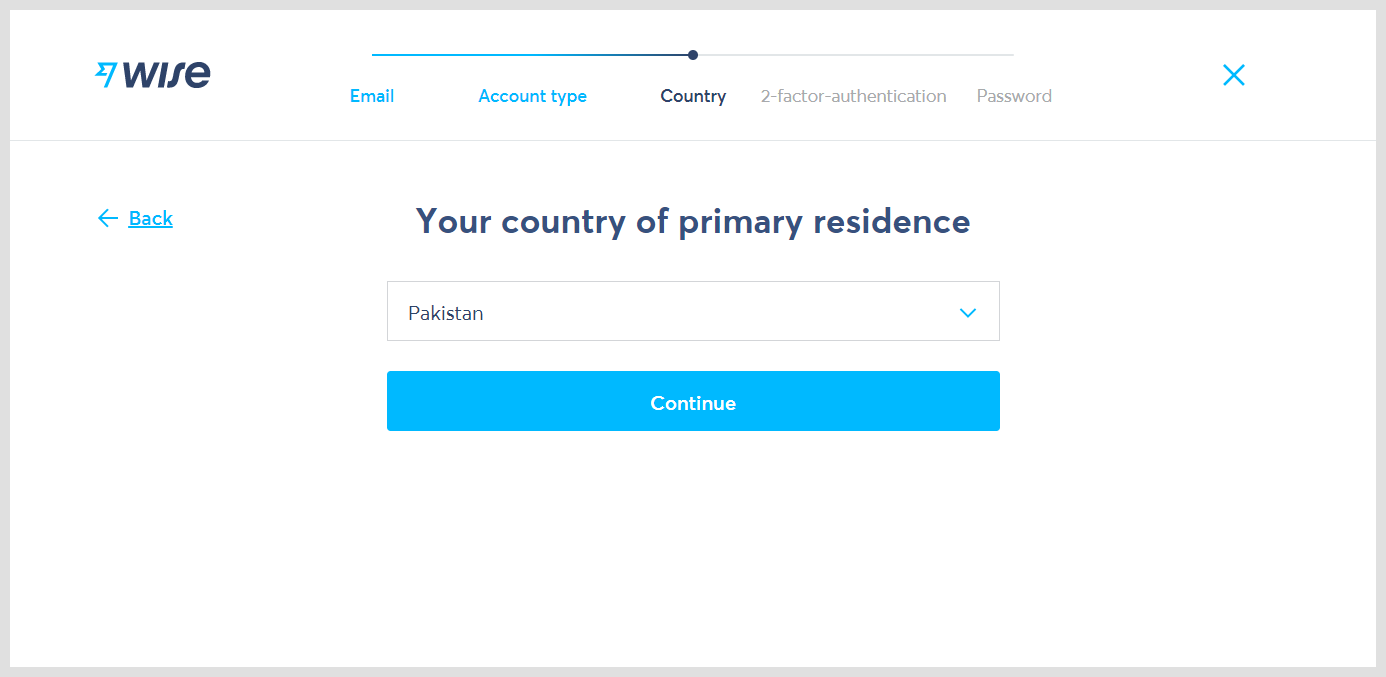 Now, verify your phone number for 2-factor-authentication to keep your account secure.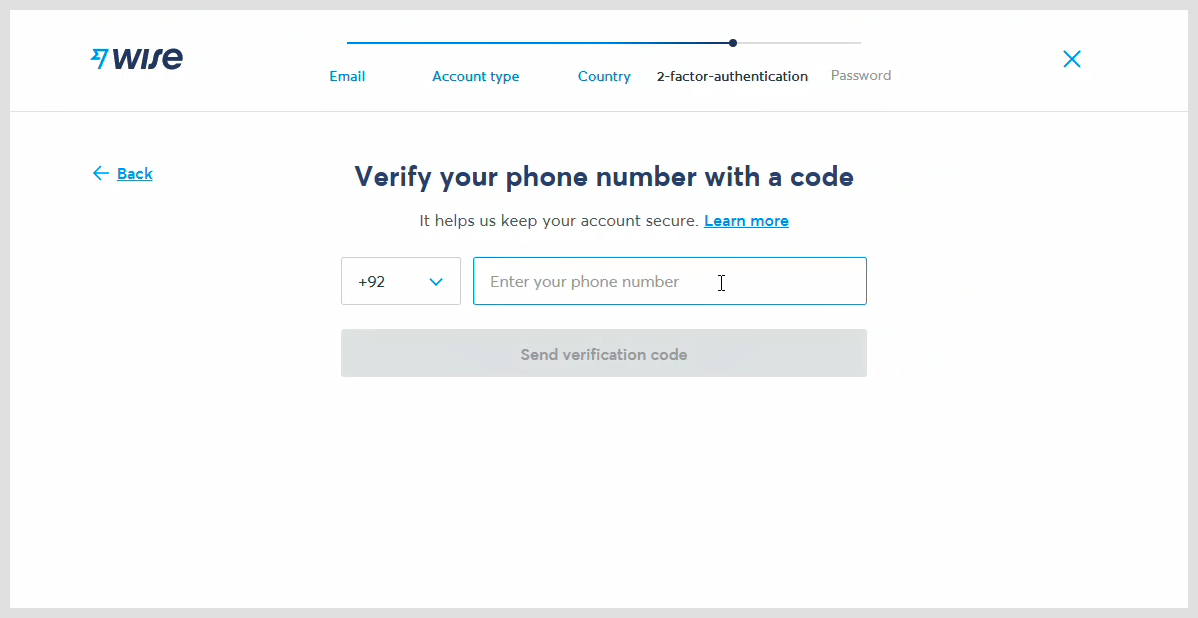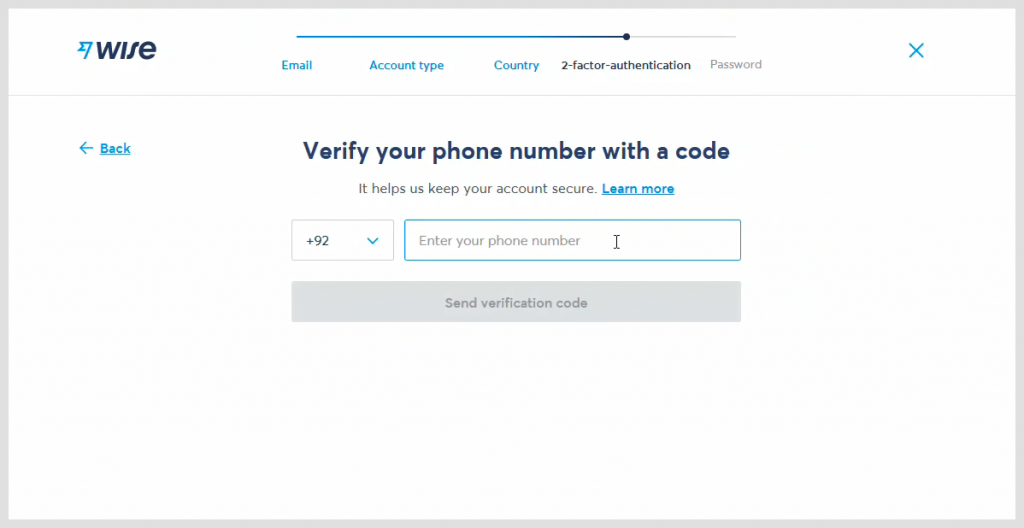 Finally, create a strong password and click on Continue.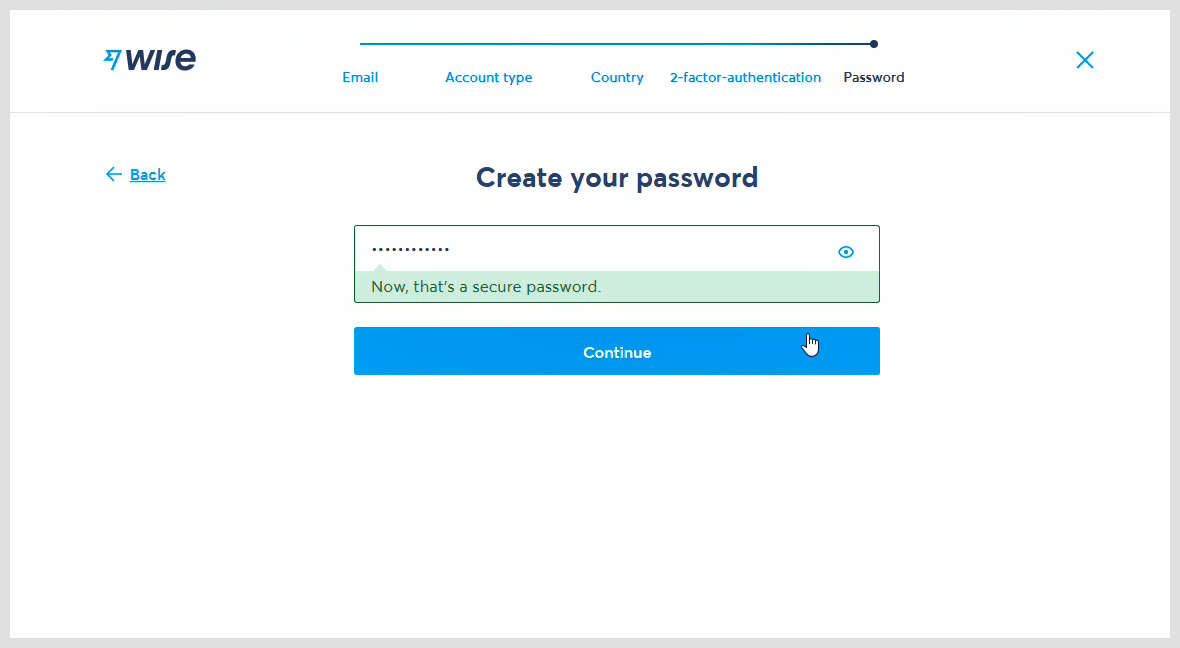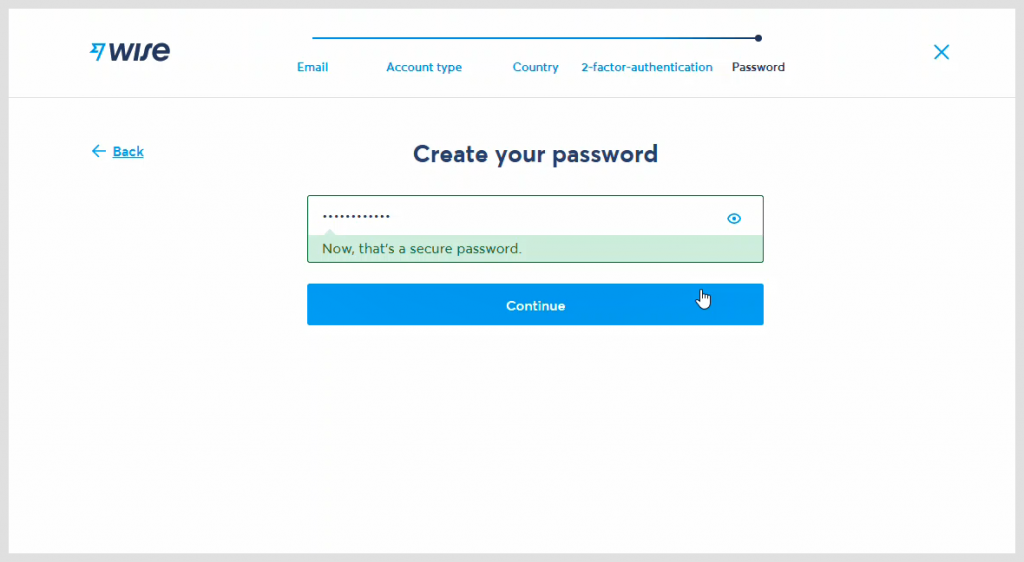 That's it! You've just created an account on Wise.
To understand even better, here's a quick video as well on how to register on Wise.
Once your account is created, the next step will be to verify your Wise account in order to send and receive money.
How To Verify Wise Account
To verify your Wise account, follow these steps:
Login to your account, click on your profile and then on Finish account set up.
Select account type.
After that, fill your personal information and click on Save.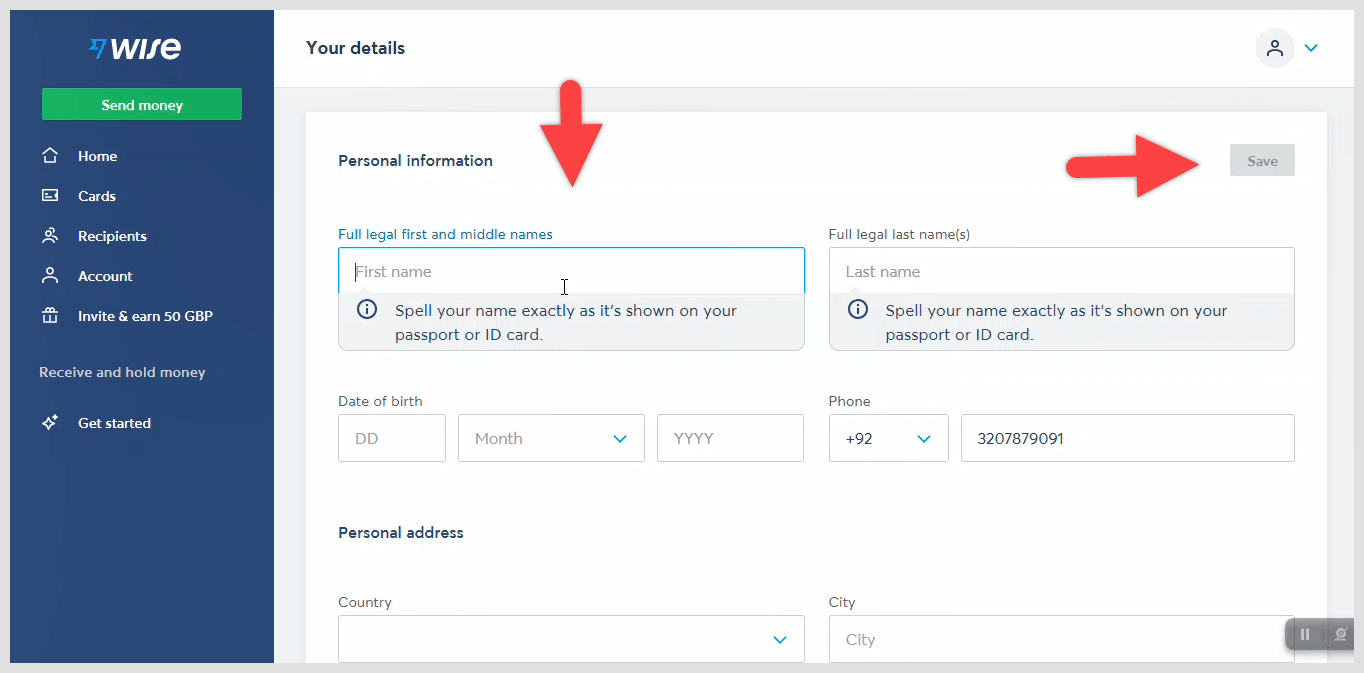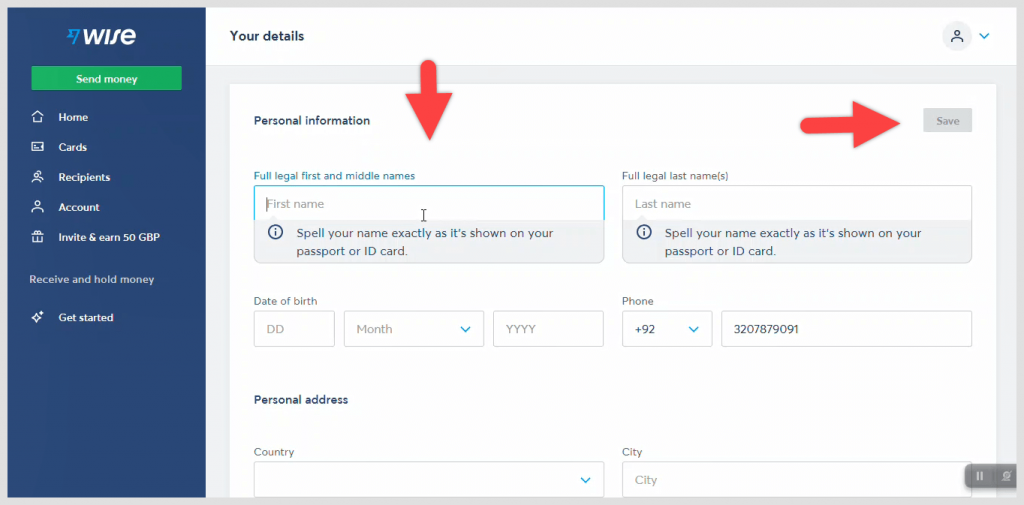 Once you filled out all the information and saved it then click on Get started.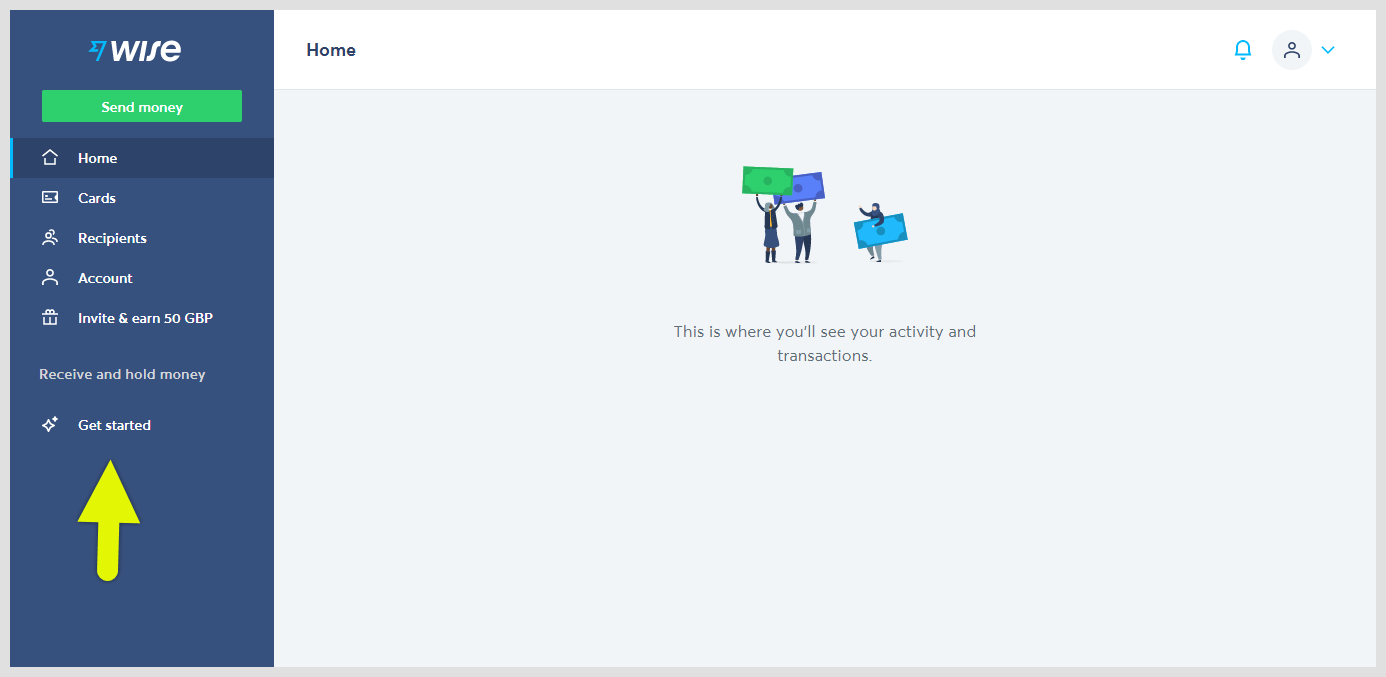 After that, click on Let's go to open a new balance.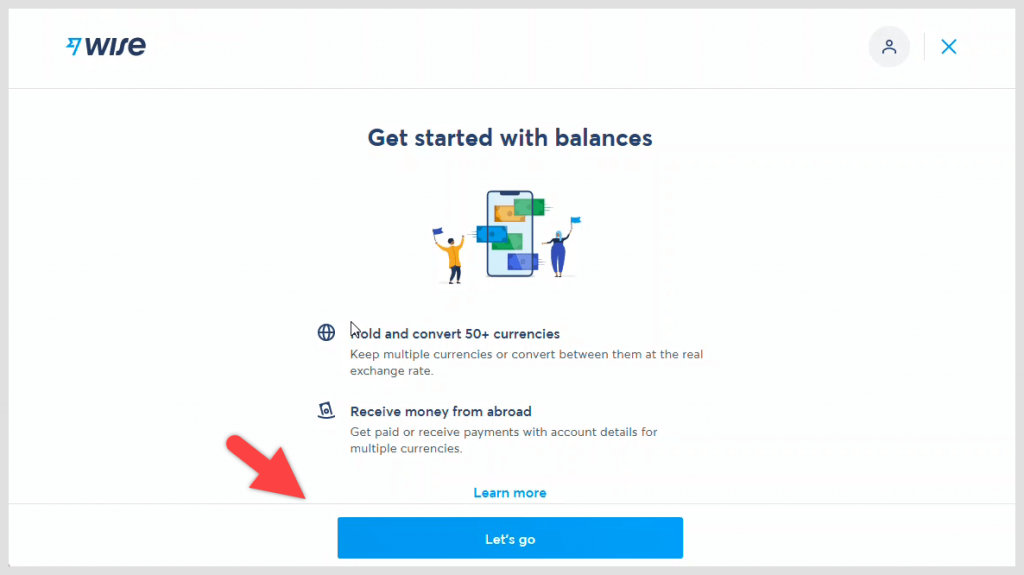 Choose from any of the 50+ currencies and click on Confirm.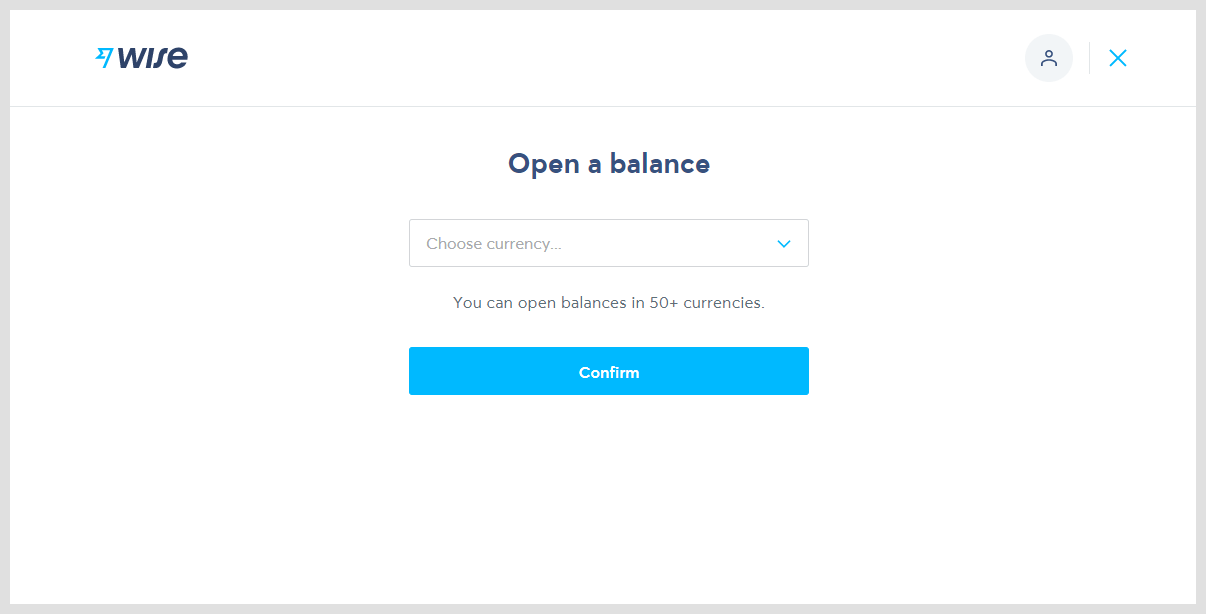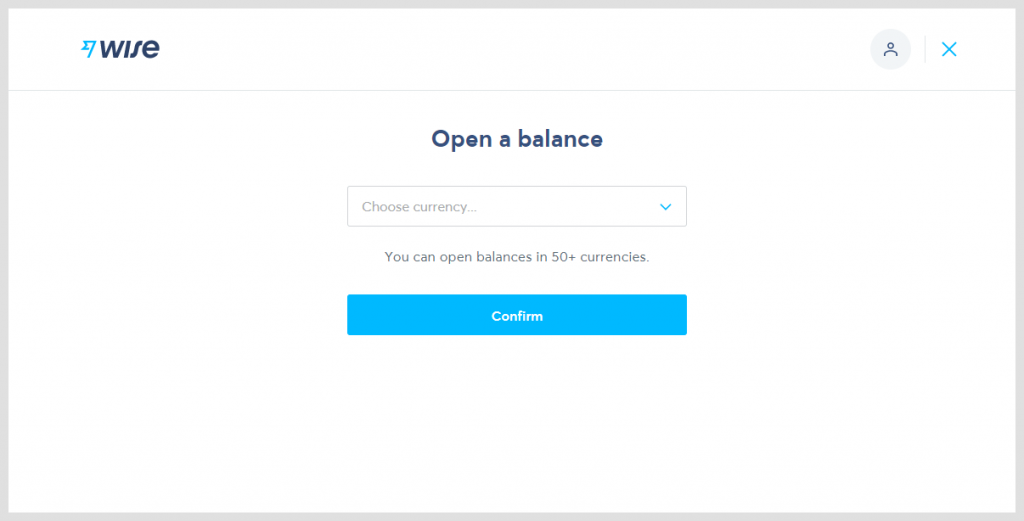 Once you open a balance, click on Get account details to finish account set up and verify your identity.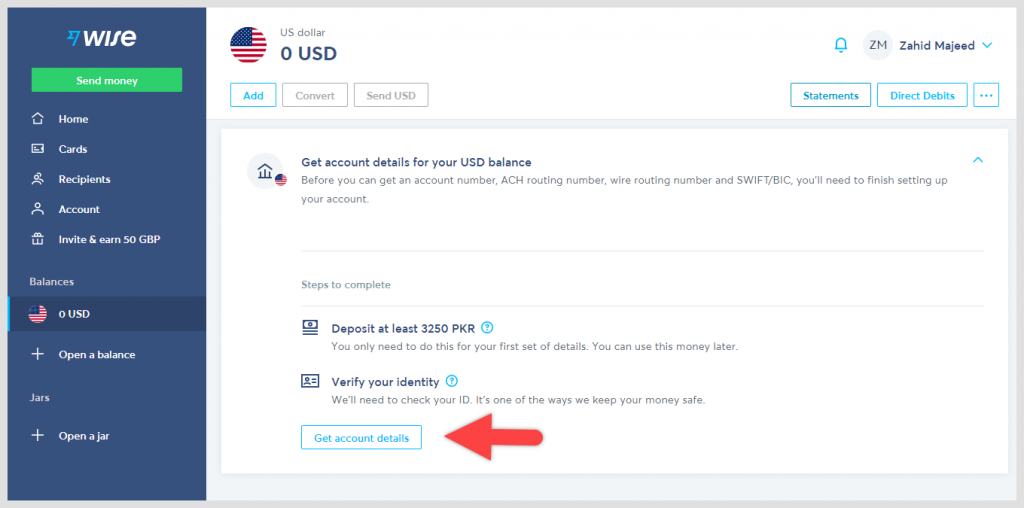 To get account details and verify your account, you need to add some money to your Wise account. Don't worry, you'll be able to use this money once it's there.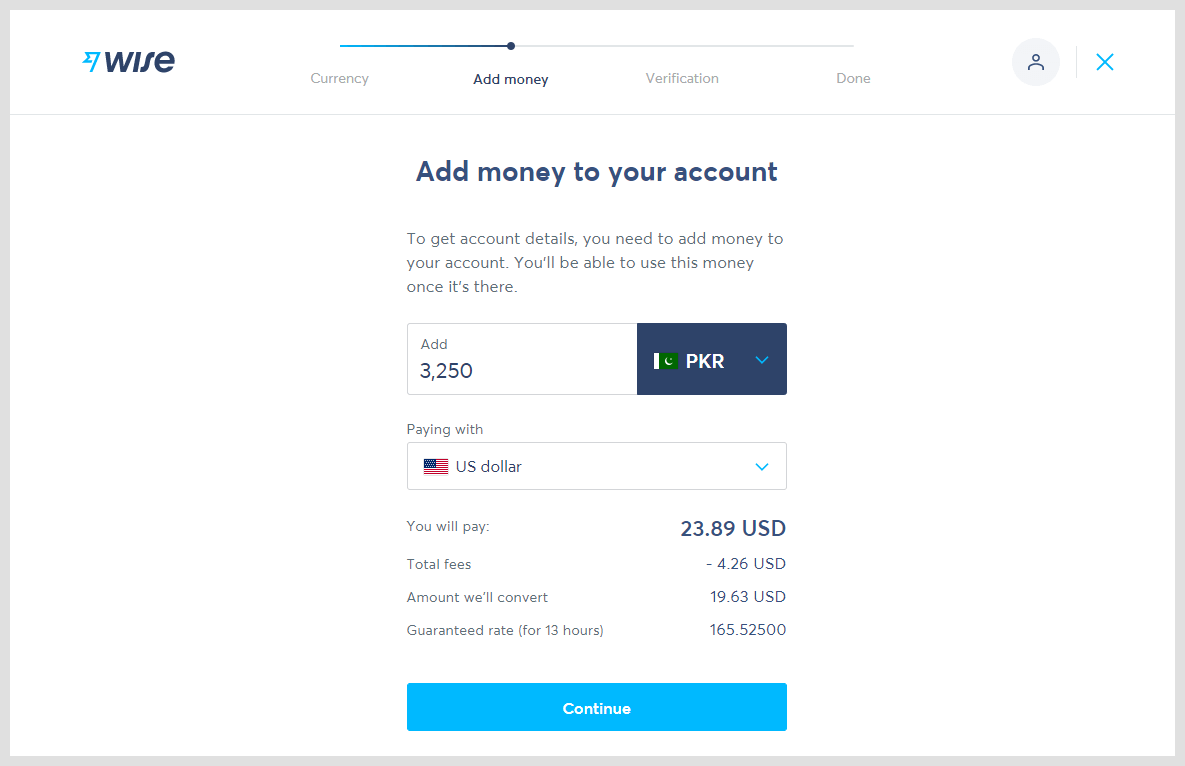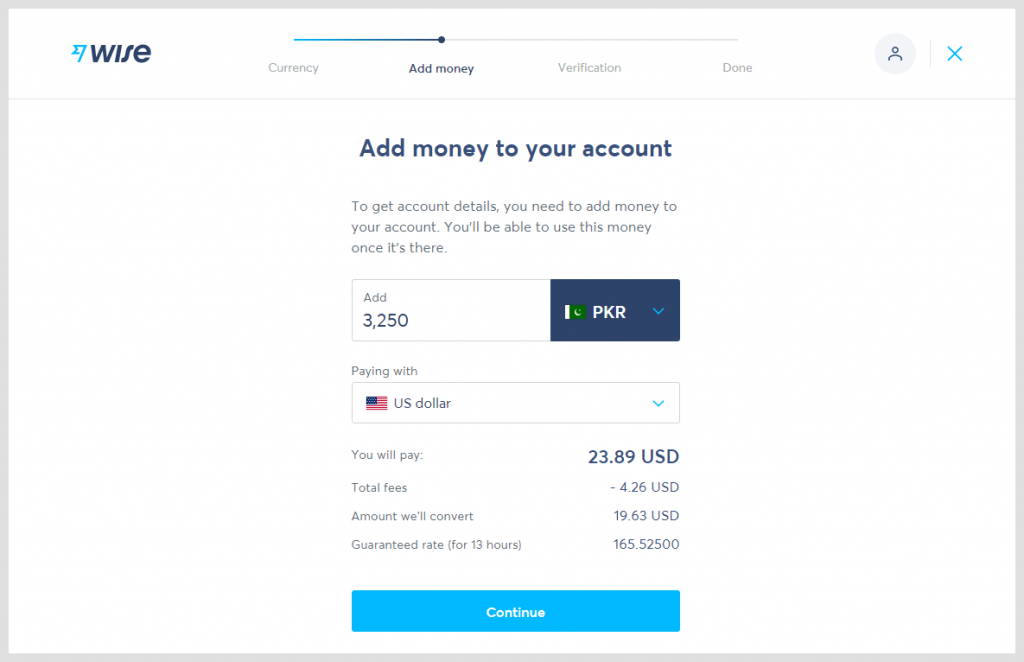 Now add money either from your debit card, credit card, bank debit, wire transfer, or international wire.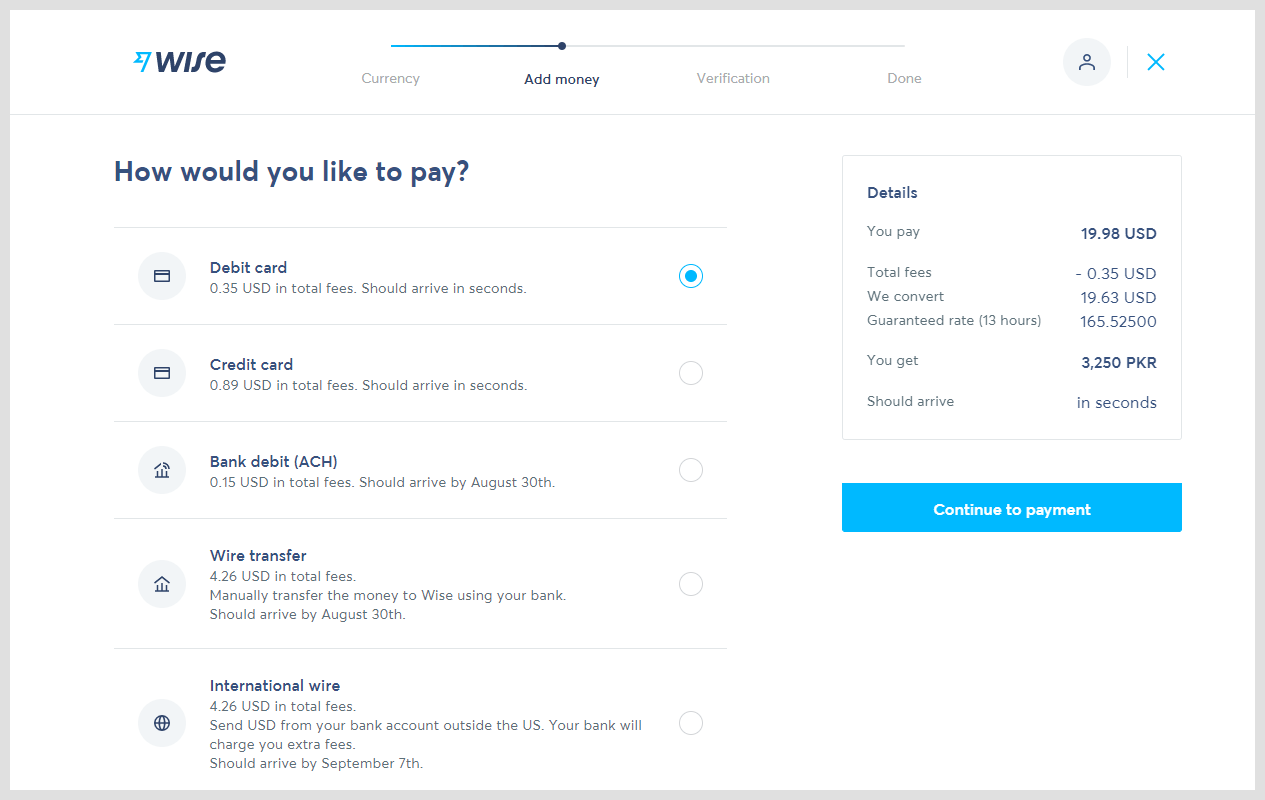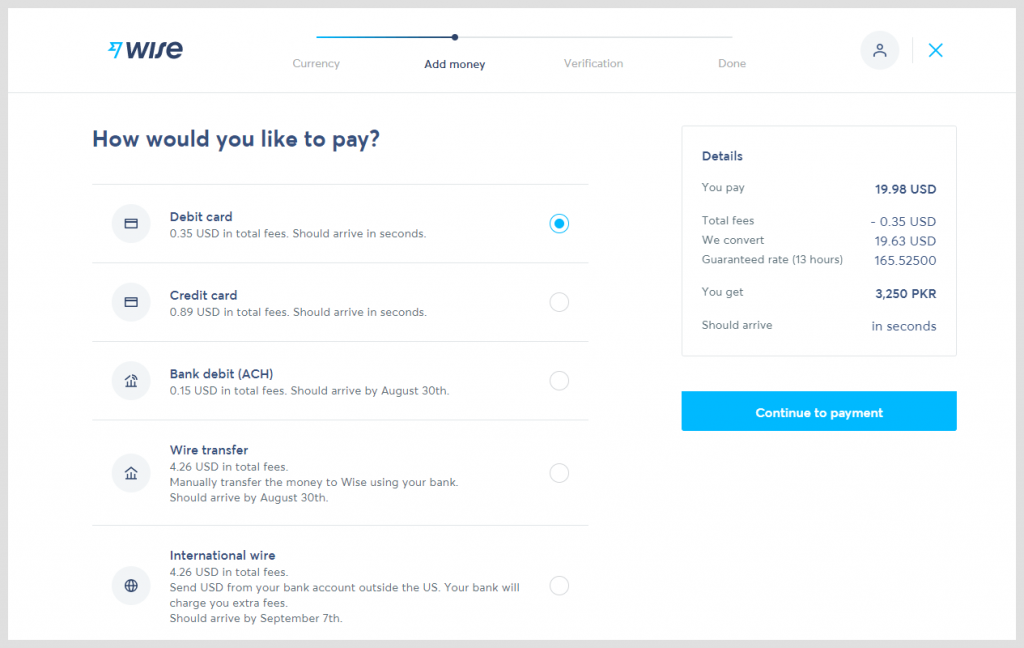 Once you add money to your account, the final step is to upload either your National ID card, Passport, or Driving licence and you're done.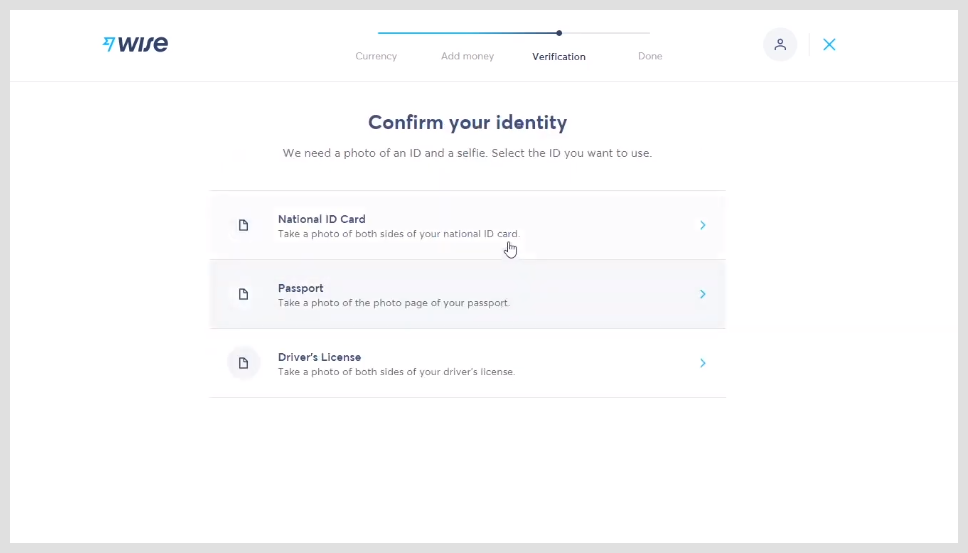 That's it! Now you just have to wait 1-3 days to get the verification email from Wise.
Once your account gets verified, you can start sending and receiving money abroad at the best rates possible.
To understand this whole process of verifying your account even easier, here's a tutorial I recorded for you:
Let's Send Money From Wise To My Bank Account
Since I already have a verified Wise account with some money in it, let's send them to my bank account to let you know the process and also to erase any concerns you may still have about their safety.
Wise is very transparent with their fees, they showed me 4657 Pakistani rupees (PKR) for $29 upfront and I received the exact amount in my bank account, as you can see:
Apart from that, they usually transfer funds very quickly. I received those $29 (4657 PKR) from Wise to my bank account in less than a minute.
Like it so far? Get a fee-free transfer of up to 500 GBP on Wise
Conclusion
So, is Wise safe? Without a doubt, it's a completely safe and secure financial technology company. I've been using it for more than a year now, sent and received thousands of dollars, and haven't faced any issues yet.
Even I sent some money in front of you in the video above for further clarification about their safety and also to let you know the process of sending money from Wise to your bank account.
For large transfers (more than $10,000), I can't give you a 100% surety of their safety since I did not send more than that amount in a single transaction.
However, before creating an account on Wise and sending a large amount through Wise, make sure to:
Read the tips I shared above.
Know the pros and cons to make an informed decision.
Overall, I highly recommend Wise for sending and receiving money because it lets you hold and convert 50+ currencies, offers some of the best rates, and is usually cheaper than most banks, exchange companies, and PayPal.
Hopefully, your concerns about the safety of Wise have been cleared up now.
If you still have any questions or want to share your experience, please let me and all the other users know so we can help each other in the comment section.
FURTHER READING