Last Updated: August 13, 2023

Homeaglow might have caught your eyes with its enticing offer of a $19 home cleaning service or the opportunity to earn money as a cleaner.
But you know that such affordable rates and online earning opportunities often result in a scam, which is why you might be asking:
Is Homeaglow genuinely legitimate or just another fraudulent scheme?
Don't despair!
By the time you finish reading this article, you'll have a crystal-clear understanding of everything there is to know about Homeaglow.
So, without further ado, let's get straight to the point.
Disclaimer: Make sure to thoroughly read this post until the end to avoid overlooking important details regarding Homeaglow.
Is Homeaglow Legit?
Homeaglow is a legitimate house cleaning service as it has been in business since 2015 and gained recognition and validation from esteemed websites like Forbes, Business Insider, and HomeAdvisor.
In fact, Homeaglow is a convenient solution for homeowners to hire cleaners from the comfort of their homes.
All they need is to sign up, browse available cleaners, choose a suitable time, and make bookings via their website.
Likewise, it is a good option for cleaners to earn some side income.
In case, you're wondering: Does Homeaglow really pay cleaners?
Yes, it absolutely does!
But wait!
Prior to hiring a cleaner or applying as a cleaner via Homeaglow, you must be aware of the following six vital aspects.
The first one is for those who are thinking of hiring a cleaner through Homeaglow:
1. Homeaglow Tricks You Into Their Membership & Then Locks You Into 6 Months Contract
Although Homeaglow offers the first booking for as low as $9, there are two hidden/unclear caveats behind their remarkably affordable rates.
First, they trick you into their membership.
Then, it requires you to pay an outrageous fee to cancel your membership.
Here's how Homeaglow tricks its customers:
When you land on their website, Homeaglow attracts you with their exceptionally low rates, typically with their offer of $19.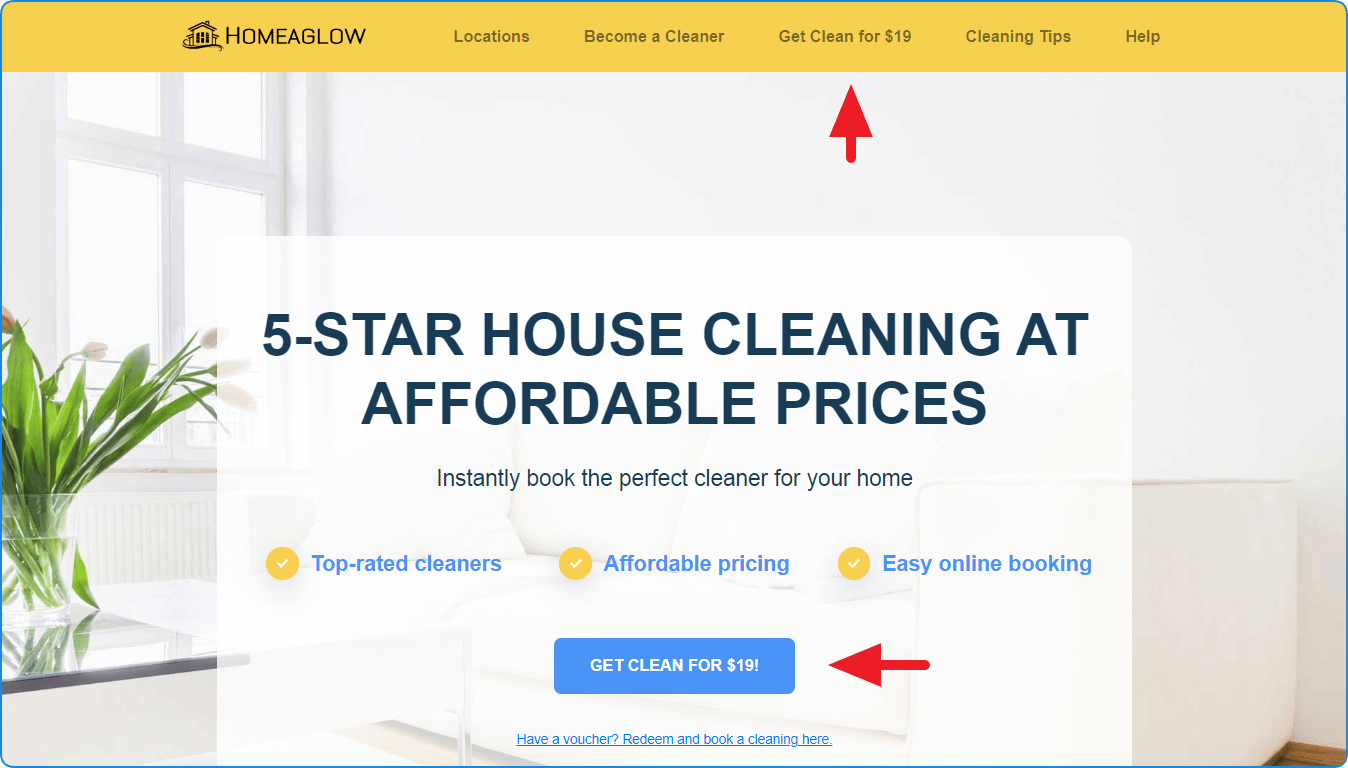 By clicking on the deal, you will be shown this page where you will be required to enter your zip code or choose one of the available offers by scrolling down.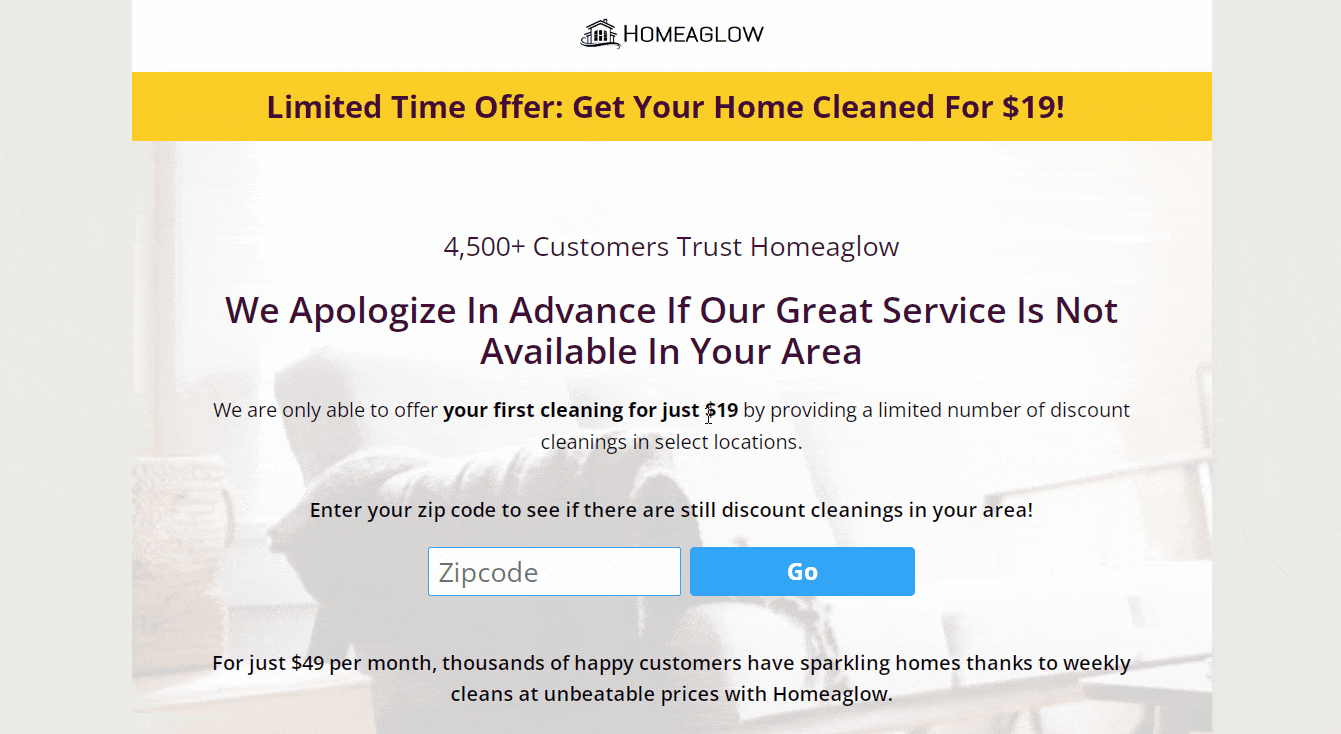 No matter which option you choose, you will be required to enter your email address and zip code.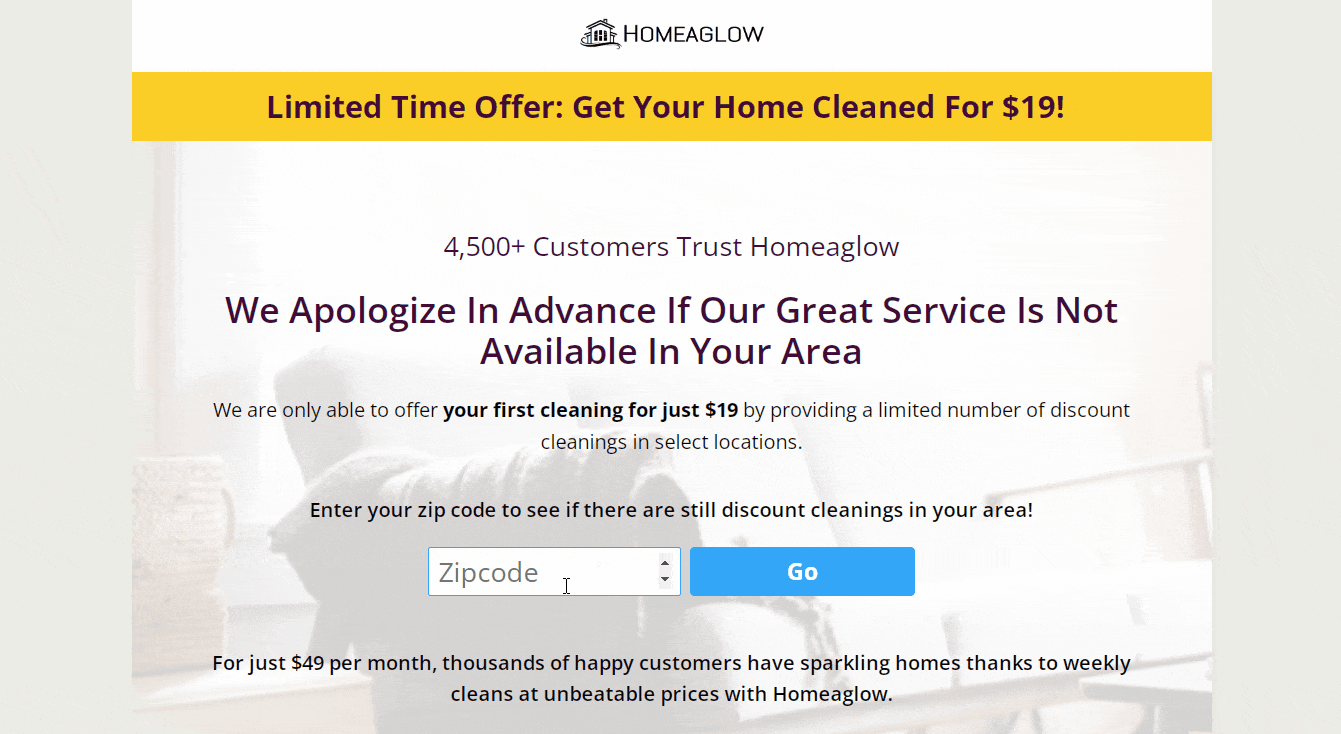 In the next step, although it is indeed mentioned in the fine print by Homeaglow that:
This voucher requires a 6-month ForeverClean membership that automatically renews monthly at $49/mo until you cancel, but you can cancel at any time.
Cancelling before 6 months results in your first cleaning being charged at full price.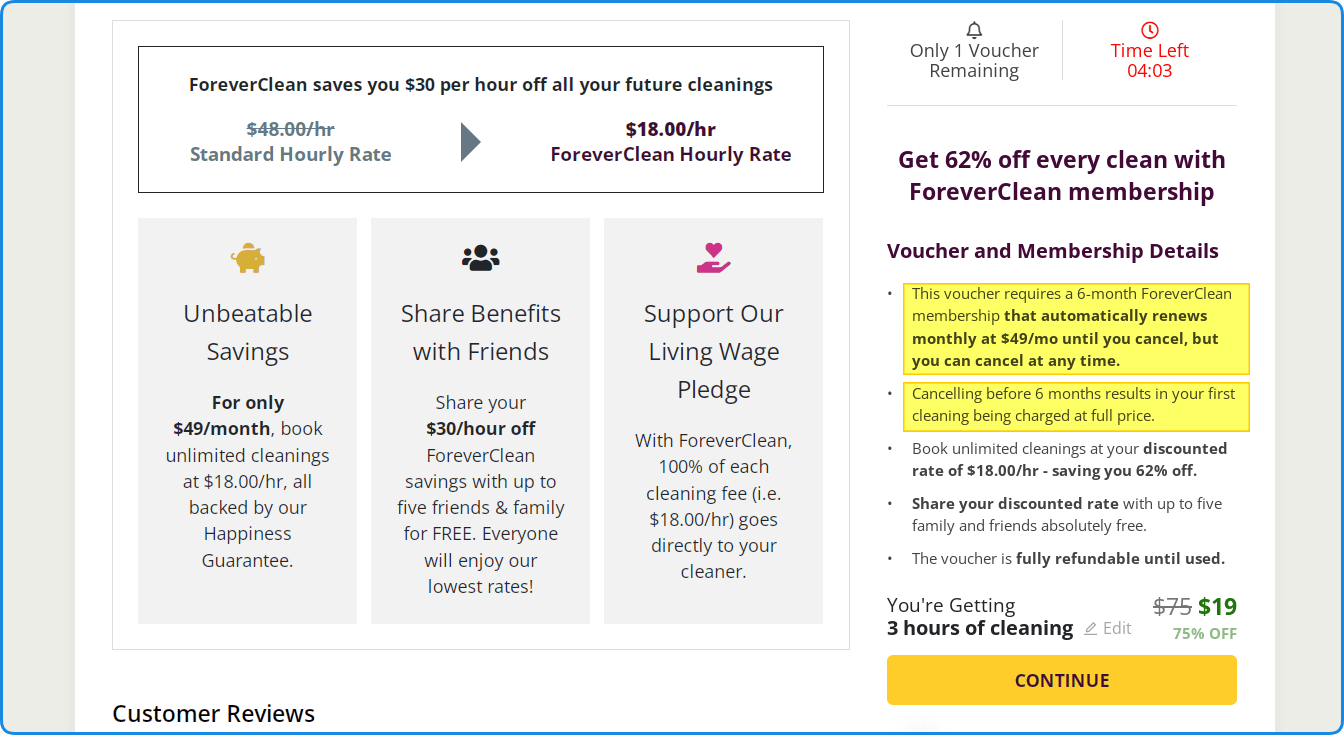 But the language used by Homeaglow is unclear as they mention that "you can cancel at any time" while simultaneously stating that "cancelling before 6 months will result in your first cleaning being charged at the full price."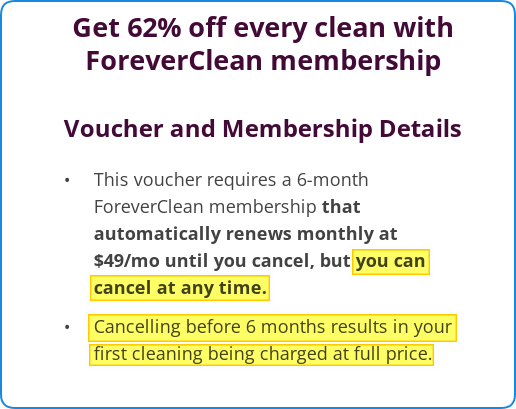 Furthermore, in the subsequent step, the total amount you will be billed is not clearly specified.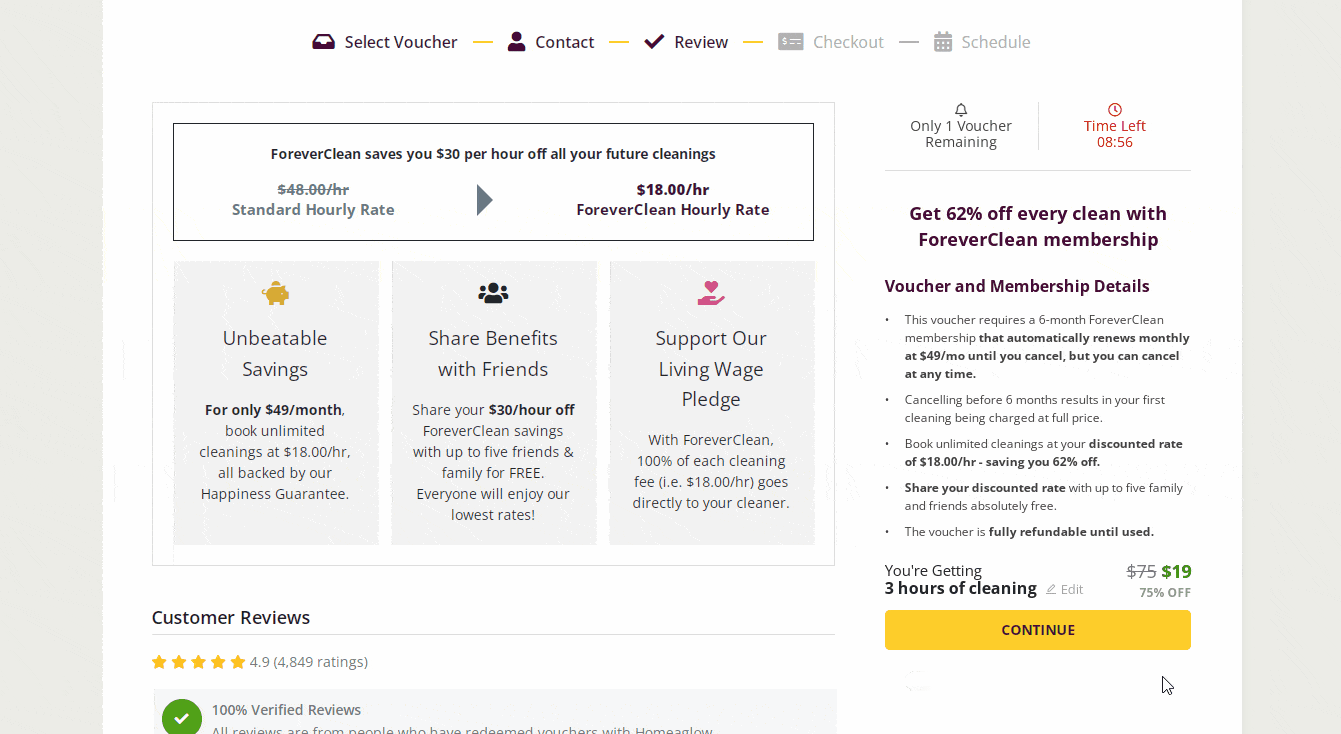 This leads to confusion, causing many customers to unknowingly provide their payment information without realizing that they will be charged not only the hourly rate but also a recurring membership fee of $49 per month.
But most importantly, they are unaware of the fact that cancelling their membership before the 6 months will result in a steep penalty fee.
As a result, they are left with no other choice but to proceed with their membership for 6 months or pay the substantial cancellation fee.
So before you use Homeaglow's service, keep in mind that you will not only incur charges based on the hourly rate but also the membership fee.
Furthermore, canceling the service will result in a substantial fee, typically ranging from $100 to $250.
Next, be aware that:
2. Homeaglow Is Just A Middleman
Be aware that the cleaners you hire through Homeaglow are not their own staff members.
Instead, they are independent contractors who were registered as a cleaner on their platform.
Likewise, the customers you serve as a cleaner are individuals who leverage the platform to book cleaners according to their specific requirements.
Homeaglow just acts as an intermediary between homeowners and cleaners.
The platform offers a centralized platform where customers could easily access a network of vetted cleaners and make bookings, while enabling cleaners to connect with potential clients and receive job assignments through the platform.
Nevertheless, as a middleman, Homeaglow takes charge of the entire process, including matching customers with cleaners, managing payments, and providing customer support.
But, the problem is:
3. Homeaglow's Customer Support Is Poor
Homeaglow is notorious for its lack of responsiveness towards its users, which greatly hinders the resolution of any issues or conflicts that may arise between you and the cleaner or homeowner.
Consequently, both parties are often left to their own devices, struggling to find a satisfactory solution independently.
Next, be aware that:
4. Homeowners & Cleaners Varies From Great To Worst
Before hiring cleaners through Homeaglow, it is important to note that their performance can range from exceptional to subpar.
While some cleaners exhibit exemplary skills, showcasing competence and a strong work ethic, others may fall short of expected standards, showing rudeness and a lack of dedication to their responsibilities.
Similarly, it is worth acknowledging that homeowners also encompass a diverse range of attitudes.
While many homeowners are highly polite and respectful, some may demonstrate rudeness or impoliteness.
However, being an intermediary between both parties, Homeaglow claims to assist you in case of any issues or conflicts between you and the homeowner or cleaner.
But as we discussed previously, Homeaglow lacks customer support which means there's no guarantee that your matter will be addressed, especially if urgent.
And lastly, cleaners should be aware that:
5. For Each New Client, Homeaglow Deducts $5 From Your Hourly Rate
While Homeaglow provides cleaners with the opportunity to connect with prospective clients and earn income via their platform, it's worth noticing that they deduct $5 from your hourly rate for each new client.
For instance, let's say you've set your hourly rate at $20 and recently completed a 3-hour job for a new client.
In this case, your total earnings would be $45 ($20 – $5 per hour = $15/hr), rather than the expected $60.
However, Homeaglow does not impose the $5 deduction from your hourly rate for recurring clients.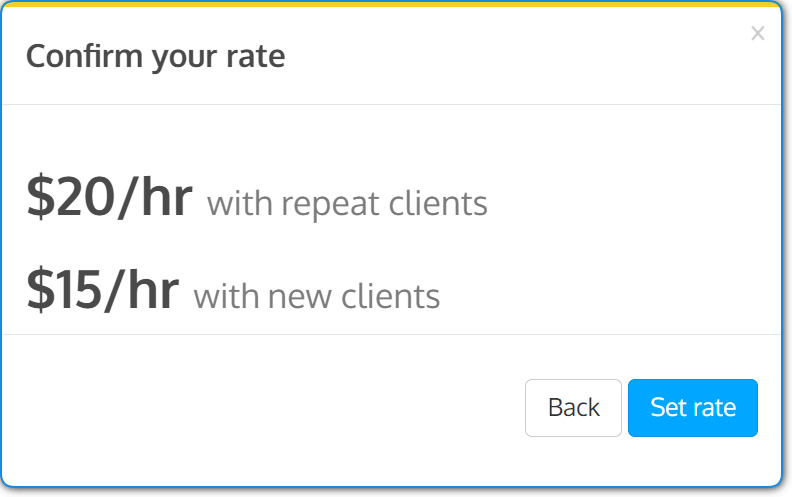 So, those were the 5 extremely important aspects you needed to be aware of about Homeaglow.
Let's quickly recap them:
Homeaglow tricks you into their membership & then locks you into 6-months contract
Homeaglow is just a middleman between homeowner and cleaner
Their customer service is poor
Cleaners and homeowners vary from great to bad
For each new client, Homeaglow deducts $5 from the cleaner's hourly rate
However, as far as its legitimacy is concerned, Homeaglow is without any doubt a legitimate platform.
So, Should You Use Homeaglow?
If you're a homeowner looking to book cleaning services through Homeaglow, I highly recommend you to AVOID IT because of these two reasons:
Excessive cancellation fees: Homeaglow imposes an exorbitant fee if you cancel your membership before the 6-month mark. This can be a significant drawback if you anticipate the need to change or discontinue your service within that timeframe.
Lack of customer support: Homeaglow has been known to have shortcomings in its customer support department. This can be frustrating if you encounter any issues or need assistance with your cleaning service.
However, if you're comfortable with these potential drawbacks and find the other aspects of Homeaglow appealing such as the convenience to hire a cleaner from the comfort of your home, then it may still be a viable option for you.
And, what about those who are thinking of joining Homeaglow as a cleaner to earn money?
To make an informed decision, you need to have a clear understanding of its positive, as well as, negative aspects.
First, let's explore the positive aspects:
Homeaglow offers a quick and convenient way to earn money, allowing you to work on your own terms by setting your own schedule. This flexibility is particularly beneficial if you're seeking a part-time gig that can be easily integrated into your existing schedule.
Now, the negative aspects:
Its customer service is poor which makes it an unreliable option.
Deducts a notable portion ( $5) from your hourly rate for each new client you serve. This should be taken into consideration when evaluating the financial viability of joining the platform.
By carefully considering both the positive and negative aspects, you can make an informed decision about whether joining Homeaglow as a cleaner aligns with your goals and preferences.
It's worth noting, however, that Homeaglow is generally more suitable for supplementing your income with a side hustle, rather than pursuing it as a full-time endeavor.