Last Updated: September 9, 2023

Cettire may have captured your interest with its enticingly competitive prices, often surpassing even those set by official designer brands.
This naturally leads to questions like:
Is it a legitimate option to shop from?
Does it sell authentic items?
If so, how can they offer lower prices than the official brands themselves?
Let's delve into this matter and uncover the truth behind Cettire.
Is Cettire Legit?
Cettire is definitely legit as it is a publicly traded company listed on the Australian Securities Exchange (ASX).
Moreover, it has been operating in the fashion industry for many years (since 2017) and has gained a solid reputation in the online fashion industry.
So yes, Cettire is legit.
In fact, it is a great choice for those who want to explore and buy from a diverse selection of products from world-renowned brands such as Prada, Gucci, Saint Laurent, and Valentino – all at highly competitive price points.
But wait!
Before you buy anything from there, here are the two things you must be aware of:
1. No Exchanges & Returns Will Incur A Fee
It's extremely important to be aware that Cettire does not accept exchanges.

All you can do is, return the original item, receive a refund, and then place a new order.
However, returns will incur a fee of $25 per item.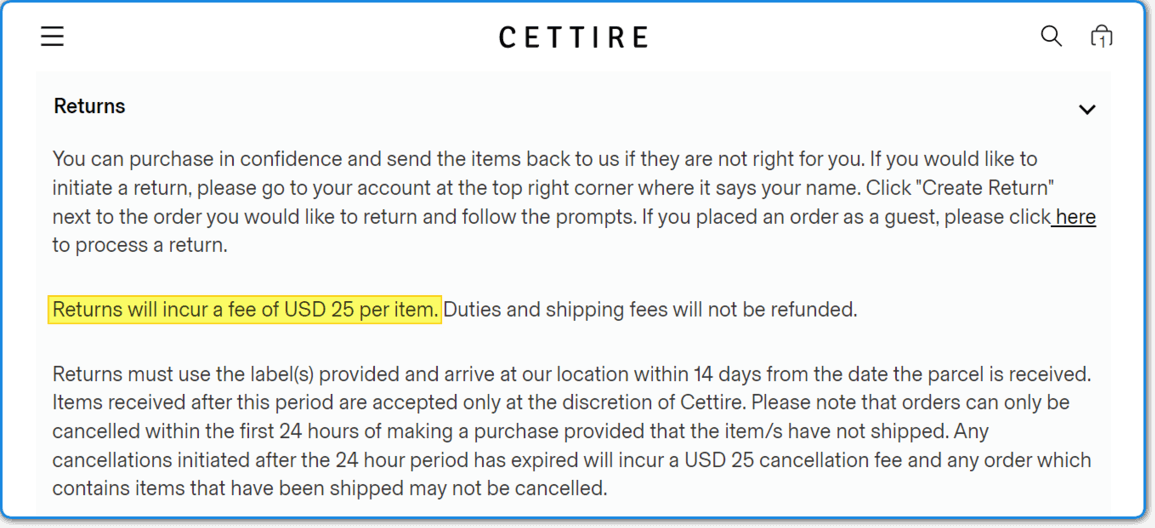 Furthermore, the initial shipping fee, as well as any applicable taxes and duties, will not be refunded.
To illustrate, let's consider a scenario where you paid $400 for an item, along with $30 for shipping and $20 for taxes.
Should you opt to return the item, your refund would amount to $325 ($400 – $25 return fee – $30 shipping fee – $20 taxes = $325).
However, if your initial order included free shipping and wasn't subject to taxes or duties, your refund would total $375 (only a $25 return fee).
2. Cettire's Packaging Might Not Be As Fancy As Those Of Official Designer Brands
While it's rare, sometimes the packaging of the designer items purchased through Cettire isn't as lavish as those acquired directly from the official designer brands.
Now this doesn't necessarily mean that there are any flaws in their packaging.
Rather, it implies that on certain occasions, the items they dispatch arrive encased in a basic generic box, lacking additional elements such as a dust bag, papers, original boxes, swing tags, or authenticity cards.
So these were the two things you needed to know prior to purchasing from Cettire.
However, as far as its legitimacy is concerned, Cettire is indeed a legitimate online retailer of designer brands.
Now here comes the million-dollar question:
Is Cettire Authentic?
Cettire is authentic. It doesn't sell fake items as all the products purchased through them are sourced directly from reputable designer boutiques and department stores that are partnered with them.
In case you don't know, Cettire does not own any inventory.
Instead, it acts as an intermediary between customers and a network of luxury boutiques and stores from all around the world that are partnered with them.
However, it is worth noticing that not every random boutique and store can partner with Cettire.
Cettire works only with trusted and reputable boutiques and stores to ensure customers receive genuine items, which is why it has a solid reputation among its customers for selling authentic products.
So yes, all the products purchased through Cettire are indeed authentic.
However, as with any online marketplace, there is always a possibility of counterfeit products slipping through the cracks.
But, that is very rare.
Now the question is:
If Cettire is legit and doesn't sell fake items, how are they able to offer products at lower prices than the official designer brands themselves?
Let's discuss.
Why Is Cettire Cheaper?
Cettire is often cheaper than designer brands themselves due to several factors, such as:
Marketplace Model: Cettire acts as an intermediary between customers and a wide range of boutiques and stores from different regions. This allows them to tap into a diverse range of inventory, which can lead to a broader selection and potentially more competitive pricing.
Relationships with Boutiques: Cettire has established relationships with various boutiques and retailers, which might lead to unique pricing agreements that allow them to offer products at lower prices than the brands themselves.
Sales and Discounts: Cettire often runs sales, promotions, and discounts on various items. These discounts could be a result of negotiations with its partner boutiques and stores, overstock situations, older collections, or seasonal sales events, enabling them to offer products at lower prices than what designer brands might offer in their standalone stores.
Reduced Overhead Costs: Designer brands often have significant overhead costs associated with operating physical stores, managing staff, and other traditional retail expenses. Cettire's online-only model could help them reduce some of these costs and pass on the savings to customers.
However, the primary factor that enables Cettire to provide lower prices than the designer's official website or store is its utilization of Parallel Imports, also known as gray market imports.
In simpler terms, it is a practice of sourcing genuine and authentic products from one country where the prices are lower and then reselling them in a different country where the same items are priced higher.
For example, the Ella Chain Tote bag from Tory Burch is priced at £310 ($393) for the UK market, while the same bag is priced at $298 for the US market (around $95 difference).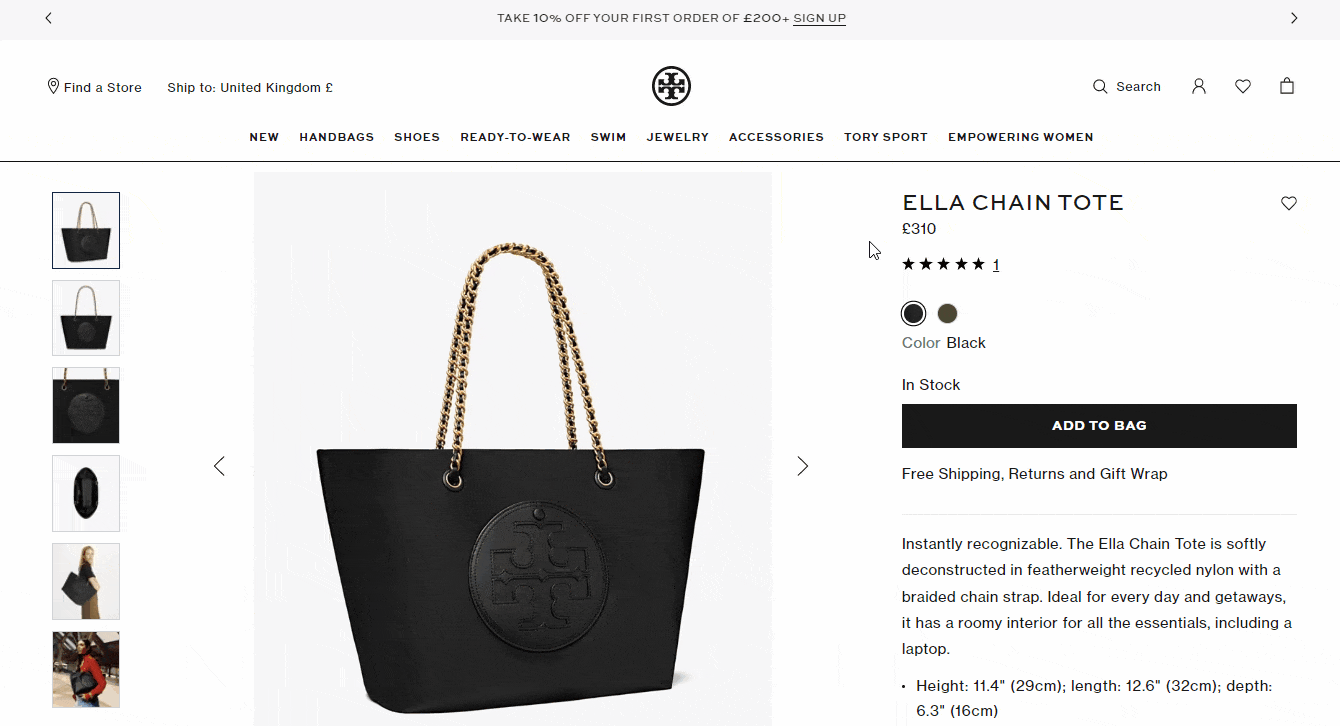 Cettire's global presence and network of boutiques allow them to exploit this legal loophole.
If a customer from the UK places an order for this bag through Cettire, the company sources the exact item from one of its partner boutiques or stores in the US and subsequently dispatches it to the customer in the UK.
In this way, Cettire earns a commission while also passing on the savings to customers in the form of lower prices.
However, it's important to note that while Cettire does provide certain products than those offered by designer brands, this isn't always the case.
In fact, it often sells items at higher prices than the official brands.
This is the case with that Ella Chain Tote bag from Tory Burch as well.
While customers in the UK can acquire this item at a lower price if purchased through Cettire, the same item is priced higher on Cettire for the US market (Cettire $302 – Tory Burch $298, $4 difference).
Therefore, it's always a good idea to compare prices between Cettire, the designer brand, and other trustworthy online luxury fashion retailers such as Farfetch and SSense.
So, Should You Buy From Cettire?
Well, it depends on your personal needs, budget, and considerations.
However, here are my personal suggestions:
If the price difference between Cettire and the designer's official website or store is the same or slightly cheaper, I highly recommend you to always buy items directly rather than through Cettire.
However, if the price difference is significant then it mostly comes down to your personal comfort level.
This does not mean that there is something wrong with ordering luxury items via Cettire, such as the risk of being scammed or receiving fake stuff by them (intentionally).
This simply means that if you are fine with their exchange and return policy and prioritize savings over the chance of receiving limited or not as fancy packaging as those of the official designer, then you should definitely buy through Cettire.
But if you're not fine with their exchange and return policy (no exchange and $25 return fees) and want luxurious packaging at all costs, then Cettire isn't for you.
And, what if the price difference isn't substantial but the designer doesn't have the stock of the product or the color or size you're interested in, but Cettire does?
In such a case, you will have no other choice but to wait until the item is restocked by the designer or purchase through Cettire.
Considering purchasing through Cettire?
If so, make sure to follow these tips below for a pleasant shopping experience with Cettire.
8 Tips To Know Before Buying From Cettire
First and foremost:
1. Create an Account
Signing up for an account on Cettire can make the checkout process smoother and allow you to track your orders more easily.
It might also grant you access to exclusive promotions or early notifications of sales.
2. Familiarize Yourself with Cettire's Return Policy
While we covered some aspects of Cettire's return policy above, you must read its entire return policy carefully to have a complete understanding of all the details.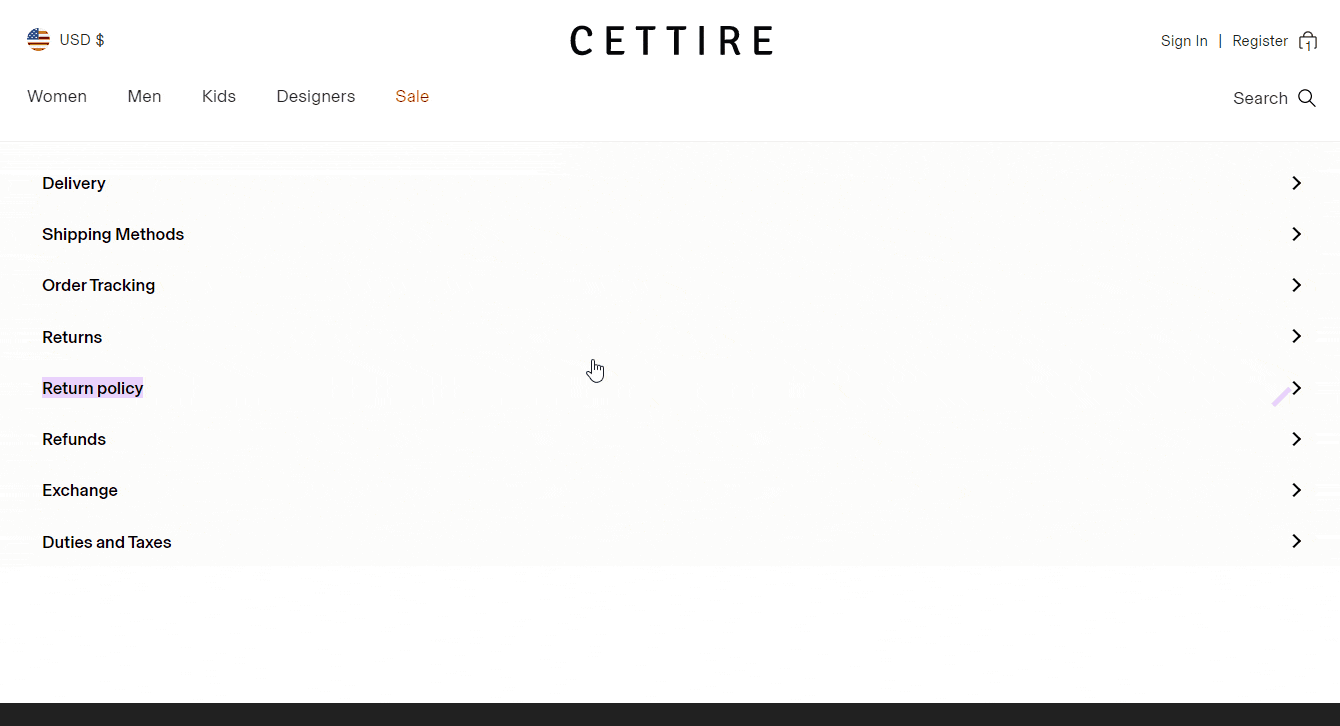 This includes familiarizing yourself with any specified return deadlines, conditions, applicable fees, and other important details.
3. Check Product Photos & Description
Carefully read the product descriptions and view all available images.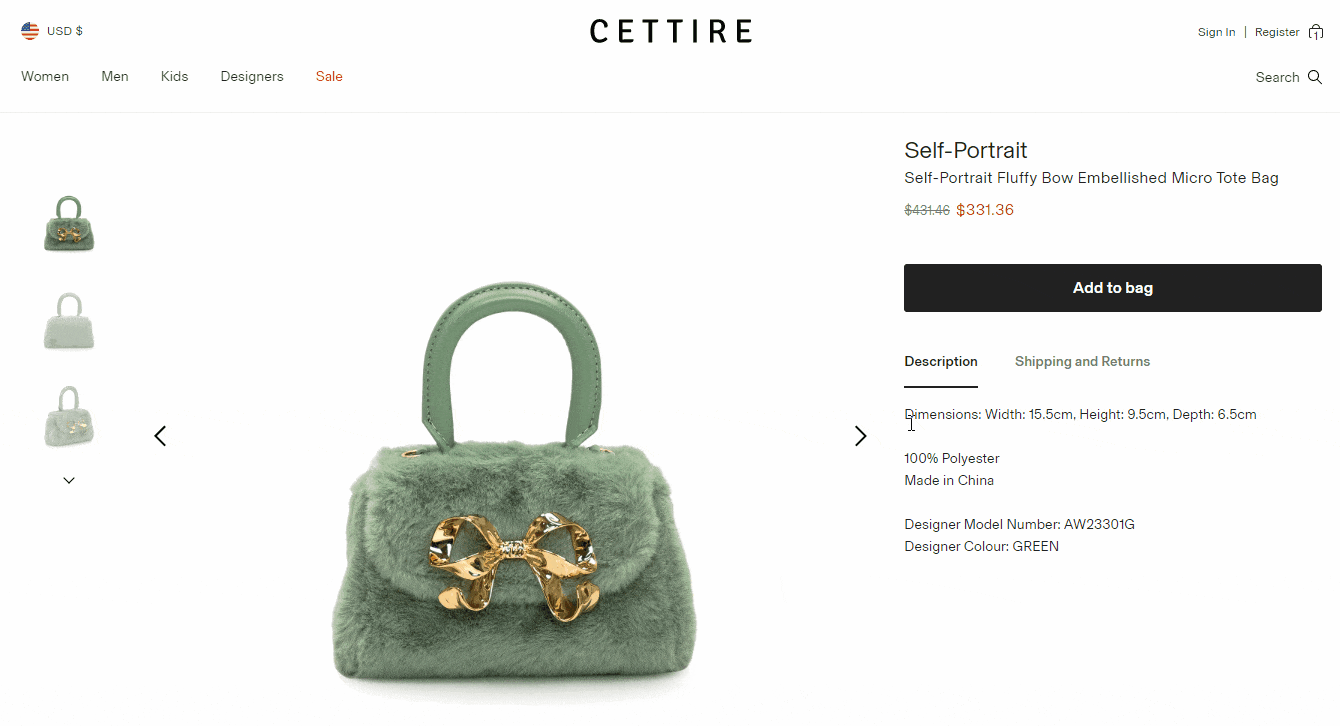 This will give you a better understanding of the item's look, size, color, material, and any other important details.
4. Check the Size Chart Carefully
Luxury brands often come with unique sizing and fit considerations.
Be sure to check the size chart provided by Cettire and compare the measurements to your own to ensure you're selecting the right size.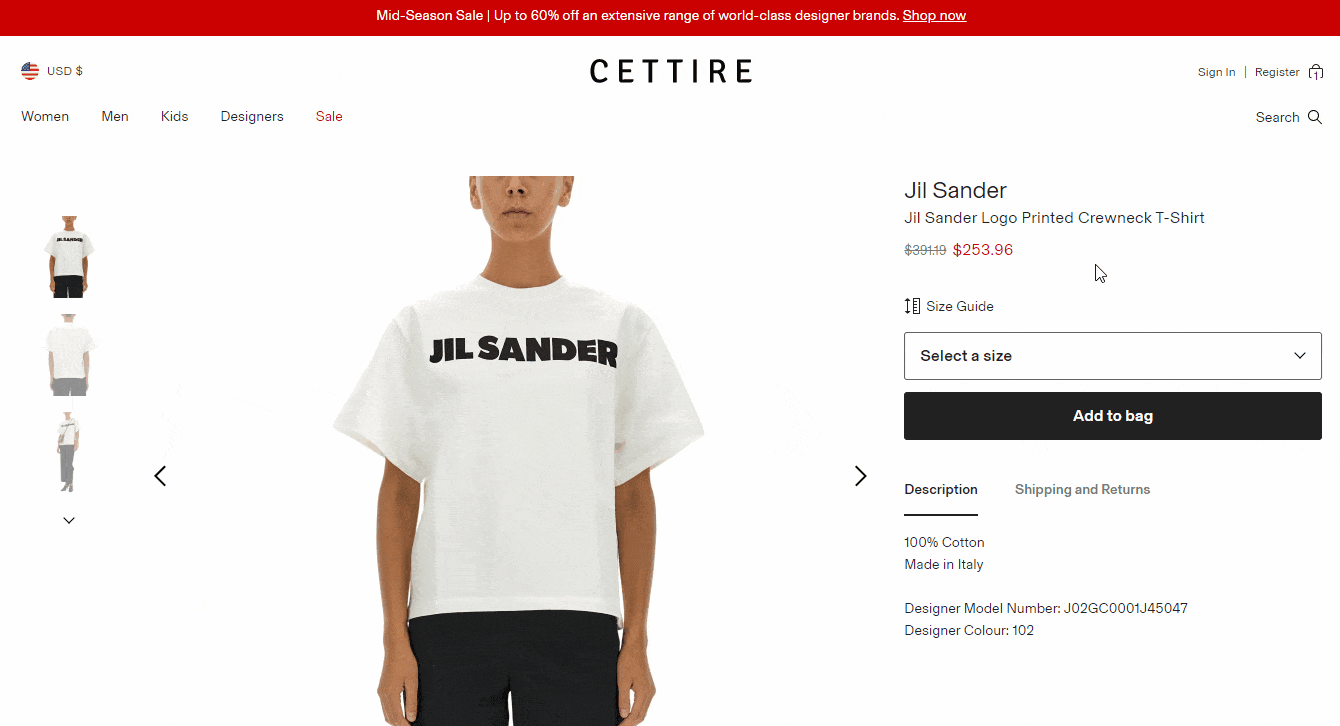 5. Clear All Your Questions & Doubts
In case you've any questions or doubts regarding the size, color, material, or any other aspect of the product you're interested in, don't hesitate to reach out to Cettire's customer support for guidance.
Refrain from placing an order until all your questions and doubts have been resolved.
6. Research
Before making a purchase, do some research on the specific designer brand or item you're interested in.
This can help you make an informed decision and know what to expect.
7. Make Sure Your Shipping Details Are Correct
Before finalizing your purchase, be sure to double-check your shipping information to prevent any potential loss of your package.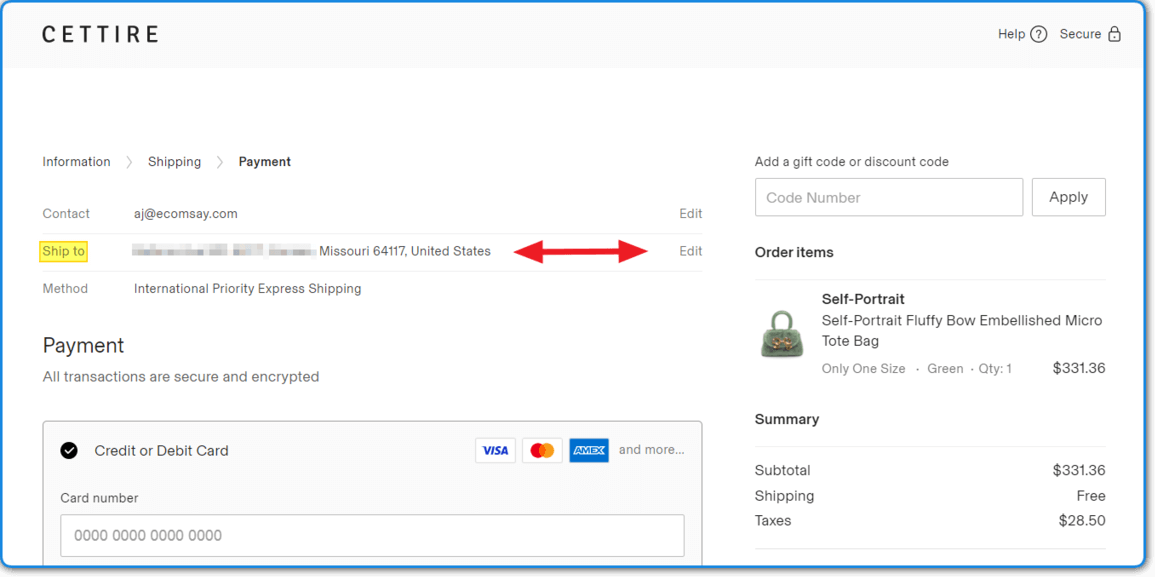 And lastly, you should:
8. Verify The Authenticity of The Items
Though Cettire is known for selling authentic designer products, it's a good practice to be cautious and verify the authenticity of the item you receive.
Look for key details such as the brand's logo, stitching details, quality, and other identifiers to help spot counterfeit items.
If you have any doubts regarding the authenticity of the item(s) you received, return it as soon as possible.
There you have it!
By following these tips, you can make informed decisions and have a positive shopping experience when buying from Cettire.
Conclusion
So yes, Cettire is legit and sells authentic items.
However, purchasing designer goods through them is recommended only if:
The price difference is substantial between Cettire and Designer.
Stock isn't available on the designer's official website or store.
You prioritize savings over the possibility of receiving limited or not-as-fancy packaging as those of the official designer.
And prior to placing your order on Cettire, don't forget to follow those eight tips to ensure a great shopping experience.
Got any questions?
Please, feel free to ask in the comment section below.