Last Updated: December 24, 2021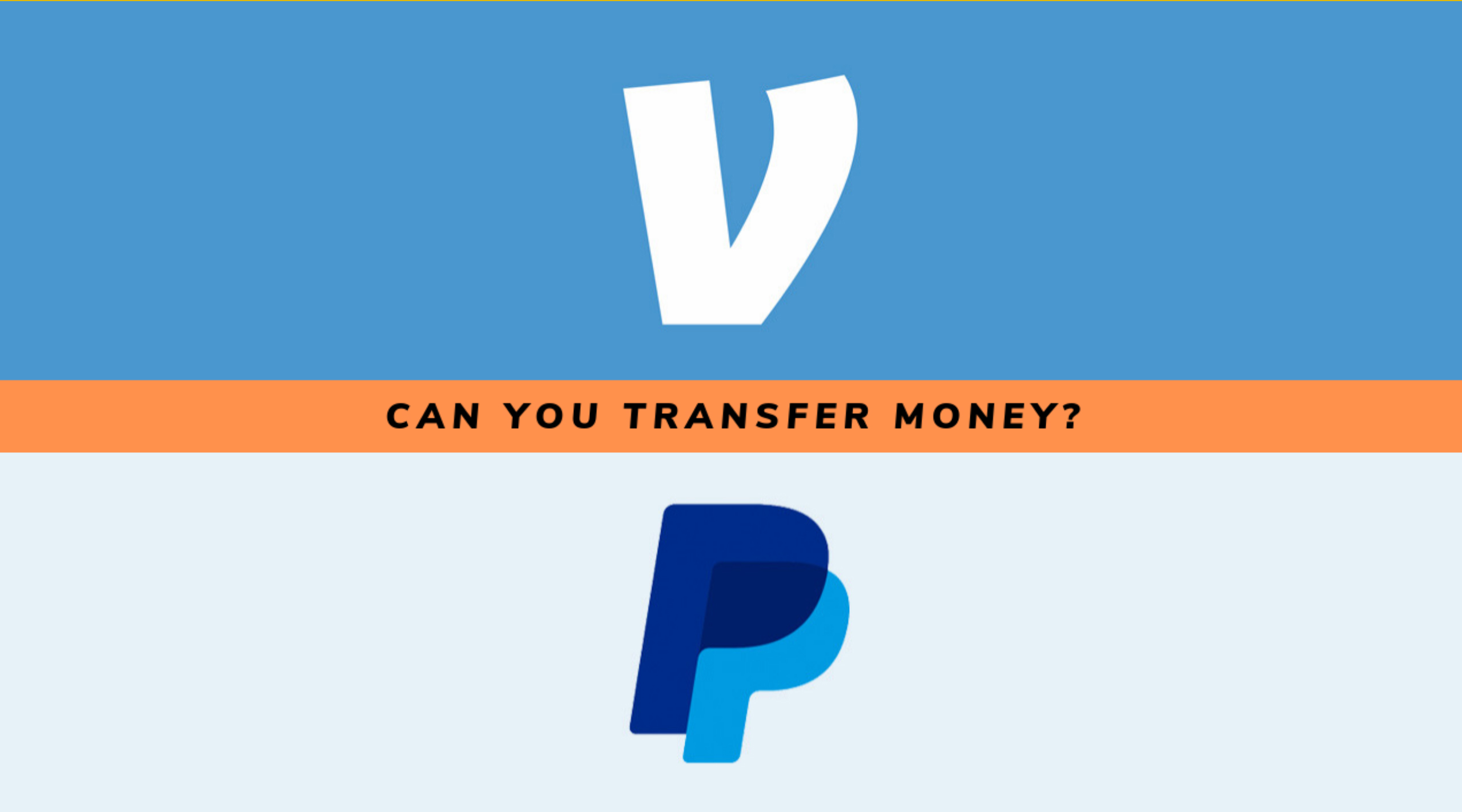 Want to transfer money from Venmo to Paypal but not sure whether you can transfer the payment or not? And is there any way to send it?
If so, then you've landed on the right article!
In this article, you'll know exactly whether you can transfer money from Venmo to PayPal or not and much more.
Here's what you'll learn:
Without further ado, let's dive right in.
What is Venmo?
Venmo is a social mobile payment service owned by PayPal, allowing users to share and receive money from one another and also make purchases at approved merchants using a mobile app. Its users can make payments using their credit card, debit card, bank account, and existing balance.
It is built especially for friends and family who have to split the bill, maybe for a cup of coffee or dinner.
Venmo operates like a social network where you can like and comment on other people's payments to see who and what your friends are spending on.
Can You Transfer Money From Venmo to PayPal?
You can't transfer money from Venmo to PayPal directly because there is no tie-up between them but you can do so by attaching the same bank account on both Venmo and PayPal. Once attached, transfer money from Venmo to the same bank account and add money from that same bank account to your PayPal account.
I know you're intelligent but if you're still confused then you should follow these simple steps if you want to send money from Venmo to PayPal:
Attach the same bank account to both Venmo and PayPal.
Transfer your Venmo funds over to your bank account.
Open your PayPal account and then top-up money from your bank account to PayPal.
That's it!
Currently, this is the only way but maybe in the future, you can transfer money directly.
However, if you don't know how to send and receive money from Venmo to your bank account watch this video.
And, to know how to add money to PayPal from a bank account watch out this video.
Venmo Fees: Is Venmo Free?
Venmo is popular because everyone is talking it's free, yes it's free but there are some fees which you need to pay.
Let's know what they are.
Venmo is free for sending money from a linked bank account, debit card, or your Venmo balance and receiving/withdrawing money into your account when using a standard transfer to your bank account.
It doesn't mean that you have to pay monthly or annual fees.
If you're using credit cards then they charge a 3% fee and also for premium services such as instant transfer for which you have to pay a 1% fee (with a minimum fee of $0.25 and a maximum fee of $10).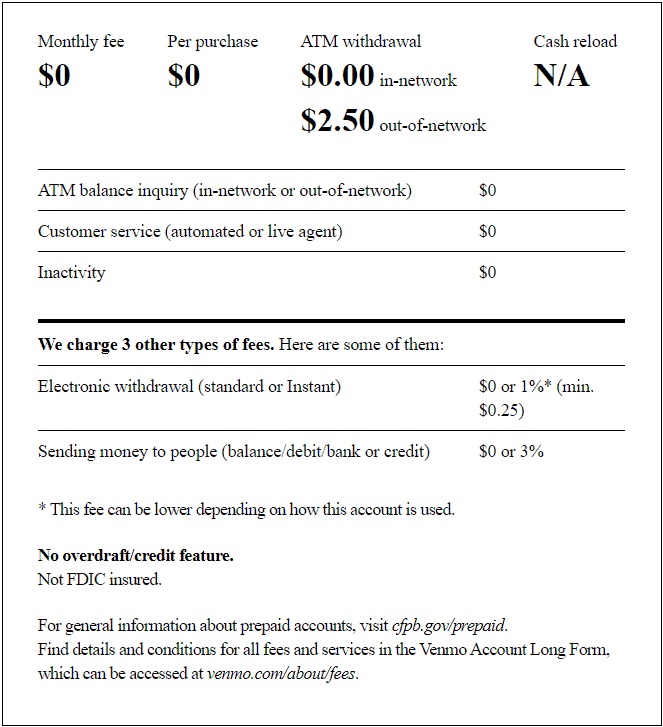 For more information about Venmo fees, check out this page.
According to Venmo, Standard transfer takes 1-3 business days while instant transfer money is typically available in 1-30 minutes.
Can you do purchasing with Venmo
Whenever you buy a product from online stores, you can either pay with your credit card, Bank account, or PayPal.
But now you can pay with Venmo using PayPal checkout at many websites where there's a PayPal checkout button but for that, you'll need to opt-in to make purchases.
How can I opt-in to pay with Venmo?
Well, to checkout using Venmo, you will need to follow these steps:
Tap on the ☰ icon in the upper left corner of the app.
In Settings, there's a Buying section, In that tap on Enable Mobile Web Purchase or connect the browser of your mobile.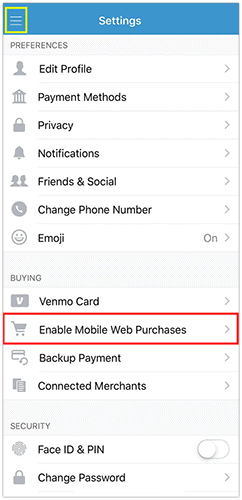 ???? Note: Purchasing with Venmo currently works with some PayPal merchants and only with these browsers (Safari for iOS or Google Chrome for Android).
Information You Need To Know About Venmo Payments
Here is some information you need to keep in mind about Venmo payments.
Both the sender and recipient can create an account to receive the funds.
Users can quickly transfer their Venmo balance to their bank account once the bank account is attached.
Find friends automatically by syncing their Facebook account or phonebook.
The users can make payments by linking their bank account, credit/debit card, or by using their Venmo balance.
Transfer money quickly using a friend's phone number email address or username.
Splitting payments with friends and family like a dinner bill, event tickets, or the cost of a trip is one of the most popular uses of Venmo.
Venmo has a social feed where the users share their payments and purchases on the with a fun comment.
Final Thoughts
I hope that this guide answers your query "can you transfer money from Venmo to PayPal?" and got some other important information as well.
Maybe, I missed some questions or if anything is not clear, feel free to reach out to us via the comments below.
Now I'd like to hear from you:
What's your review on Venmo? Please let me know because I want to know your opinions.
Venmo & PayPal FAQs
Are there any costs to accept Venmo payments?
No, there is no additional cost to accept Venmo payment. You will pay the same fees for Venmo payments as you do for PayPal.
Is Venmo payments available for desktop transactions?
Venmo payments are only available for mobile transactions right now. A desktop transaction may be available in the future.
What does the payment sent to "New User" mean?
It means that the payment you sent went to an email address or phone number that isn't associated with an active Venmo account.
Can I cancel my Venmo payment?
No, you can't cancel a payment once it has been sent because sending money through Venmo is so instantaneous. You'll have to send the user whom you sent the money a request for the amount. If you sent to an email address or phone number that's not associated with a Venmo account, then you can cancel the payment.
Can I pay someone on PayPal with Venmo?
No, currently it's not possible to pay someone on PayPal with your Venmo account.
Are Venmo transactions covered by PayPal's Seller Protection Policy?
Yes, PayPal Seller Protection Policy covers your Venmo transactions received through your PayPal account.
How to take back the Payment I sent to an inactive Venmo account?
If you sent the payment to an inactive account and now want to take back the amount.
Follow this instruction:
Tap the "☰" icon in the upper left-hand corner of the app.
Tap "Incomplete."
Now, tap on the "Payment" tab.
Tap on "Cancel" beneath the payment.
FURTHER READING