Last Updated: August 21, 2023


The cheaper hotel deals Vio.com offers may have tempted you to make a booking through it.
But you're hesitant to book through Vio.com due to the common concern that offers that seem too good to be true often result in hidden costs and scam.
Therefore, you want to know:
Is Vio.com legit or a scam?
What are the issues concerned with booking through it?
Should I book through Vio.com?
Don't worry. All your concerns and queries will be cleared after reading this article.
Let's dive right in!
Is Vio.com Legit?
Vio.com is definitely legit as it is one of the leading online travel agencies in Europe and partners with all major travel networks and suppliers such as Agoda, Booking.com, Expedia, Skyscanner, Kayak, Trivago, and many others.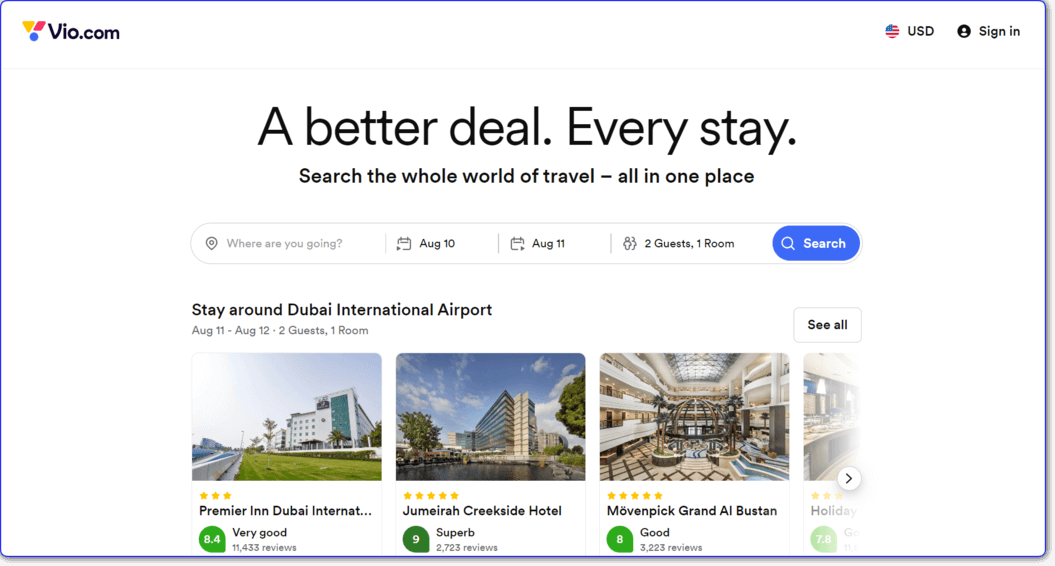 There's no doubt in the legitimacy of Vio.com as if it were a scam company, how would these well-known online travel agencies allow it to list their reservation deals on its site.
Moreover, it has been in business for the last 7 years.
Furthermore, it's not like scam companies running anonymously but it has its headquarter in Amsterdam, North Holland, The Netherlands.
So Vio.com is indeed a legit and good platform for making room bookings at affordable prices and also for exploring cheapest reservation deals in just one go from world's trusted OTAs.
But wait!
Though Vio.com is legit, knowing the following 4 things is extremely important for you before making a booking with it.
The first one is:
1. Vio.com Is A Middleman Between You And The Hotel
Keep in mind that Vio.com like other online travel agencies acts as a middleman between you and the hotel you booked with through it.

Being a middleman, Vio.com handles your booking with the hotel you booked with.
Therefore, your respective hotel isn't liable to help you directly, since your contract isn't directly with the hotel, it's through Vio.com.
In the event you face an issue and need help, you've to first contact Vio.com who will then reach out to the concerned hotel on your behalf and then will communicate the hotel response with you.

So you can make changes, cancellations, obtain a refund, or resolve any other issues only through Vio.com, not directly with the hotel.
In this way, the involvement of the middleman (Vio.com) can make things a little bit complicated to resolve if something goes wrong with your hotel reservation.
The next one is:
2. Vio.com Is Not Responsible For Third Party Travel Providers
When you search for hotels on Vio.com's site, it shows you its own multiple hotel deals it offers as well as hotel deals from other third party online travel agencies like Booking.com, Agoda, Expedia, etc.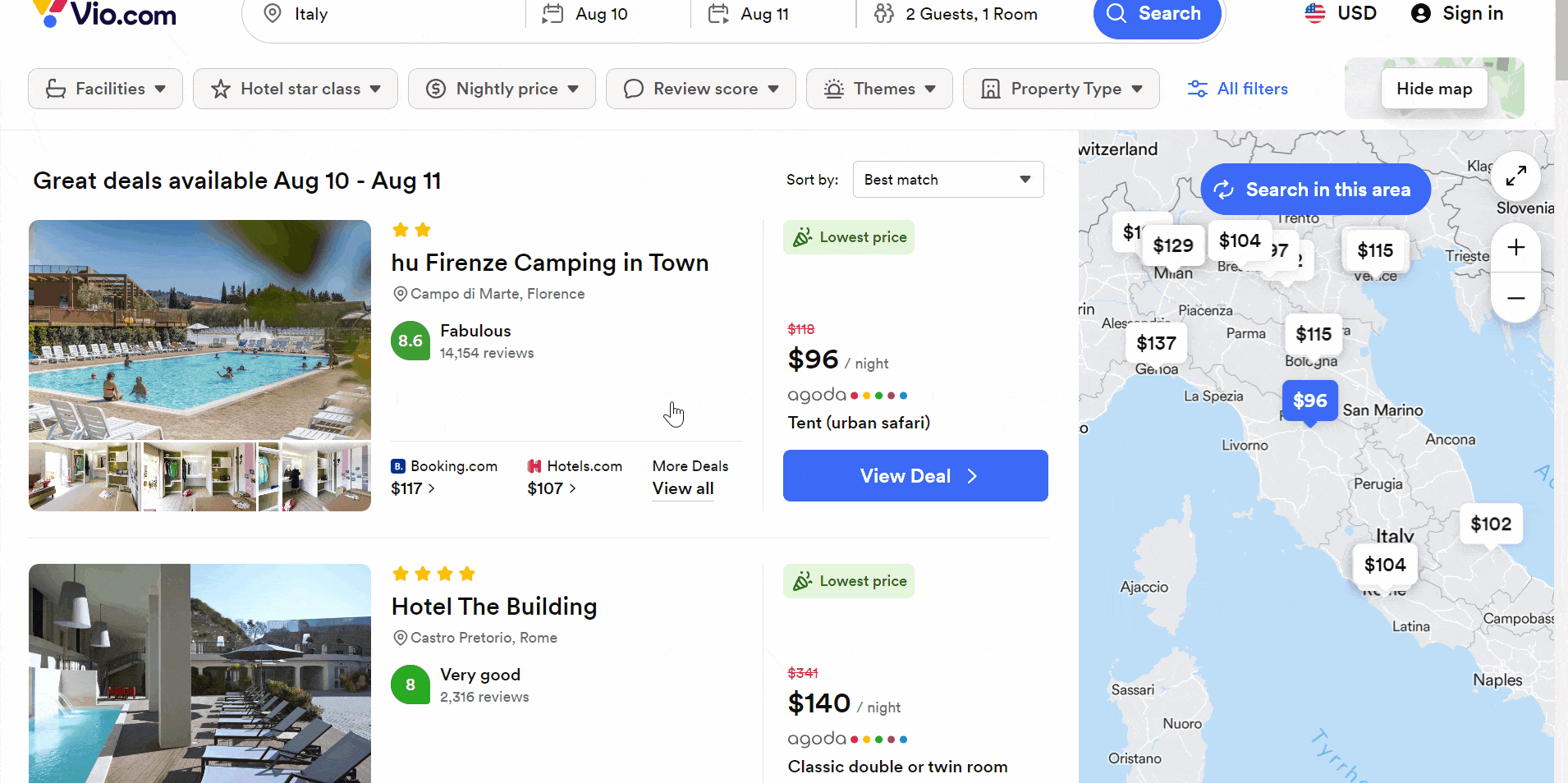 So when you book with Vio.com, it will handle your booking with the hotel you booked with as just mentioned above.
But keep in mind that when you choose hotel deals from other 3rd party OTAs, Vio.com will redirect you to the site of the 3rd party OTA you choose its deal and henceforth will neither handle nor be responsible for your booking.
After Vio.com redirects you to a 3rd party OTA, then the 3rd party you choose will handle your booking with the hotel you booked with, not Vio.com.
So when you choose a deal from a 3rd party OTA and face an issue, you'll have to contact that 3rd party OTA, not Vio.com, as Vio.com isn't responsible for your booking in this case.
The next important thing you should consider is:
3. No Booking Confirmations And Overbookings
Customers in some cases reported that their bookings were not confirmed by Vio.com with the hotel with which they reserved a room.
So when they go to their respective hotel, they're told that their booking was never made despite the fact that they received the booking confirmation email from Vio.com.
Besides failure in booking confirmation by Vio.com, the hotel sometimes refuses to provide their booked room because of overbooking of the same room.
The hotels notify Vio.com for overbooking of the room but Vio.com sometimes forgets to notify its customers about overbooking of their room.
So they're then stuck in the middle between Vio.com and the hotel, since the hotel isn't liable to help them directly in this regard as a middleman is involved.
Though Vio.com attempts to resolve your issue with the respective hotel, there's no guarantee that they will resolve it right away, especially if it needs urgent resolution.
The last one is that:
4. Vio.com Has No Control Over The Standard And Services Of The Hotels
The other important aspect you should know is that online travel agencies have no control over the hotel services they list on their sites and nor are they responsible for these services.
The same is the case with Vio.com too.
If the services and standard of the hotel you booked don't meet your expectations or don't align with what Vio.com advertises on its site, Vio.com will neither be responsible for this nor will compensate you.
So you've to accept the hotel as it is because Vio.com can do nothing for you in this unfortunate situation.
Hence, these are the 4 important things you should consider before buying from Vio.com.
Now the question is: If these issues are concerned, do they mean that Vio.com is a bad platform and you should avoid booking through it?
Let me tell you the reality.
Should You Book Through Vio.com Or Stay Away?
No, you shouldn't avoid booking through Vio.com because of the issues concerned.
Why?
It's not always the case that customers are stuck in problems after making a booking through Vio.com but only some customers sometimes face booking issues, especially reservations issues.
The majority of the customers had a very pleasant travel journey and were satisfied with their bookings they made through Vio.com.
The challenges some customers face aren't universal and don't represent the experience of every traveler as everyone's travel journey is unique.
So don't be afraid of booking through Vio.com after looking at the negative travel experiences of some customers as your travel experience may differ from the others.
The issues that are mentioned above are for consideration only that you should take into account before booking through Vio.com.
Furthermore, you must be aware that things mentioned above are not only confined to Vio.com.
Just like Vio.com, every online travel agency is a middleman, has no control over the hotel services, and customers face reservation issues when making a booking through them.
So I will recommend you to not quit booking through Vio.com because of the concerned issues and negative experiences of only some customers as it is a genuine platform that offers bookings at very affordable and cheaper rates.
The other noteworthy point here is that it's not always Vio.com's fault but the customers themselves make blunders and then blame Vio.com later for those blunders they themselves committed.
This happens because either they lack awareness of Vio.com's policies or overlook some important things during making a booking.
But don't worry.
To avoid any blunders and pay attention to some important things to have a pleasant travel experience with Vio.com, there are some tips you should follow while making a booking with Vio.com.
Here are the 7 tips you need to follow:
7 Tips To Follow While Booking Through Vio.com
The first one is:
1. Beware Of Vio.com Amendment, Cancellation And Refund Policies
Though the room refund and cancellation policy are mentioned next to the room rate, it's better to go to Vio.com's amendment and cancellation and refund policies on their site to have a complete understanding of everything.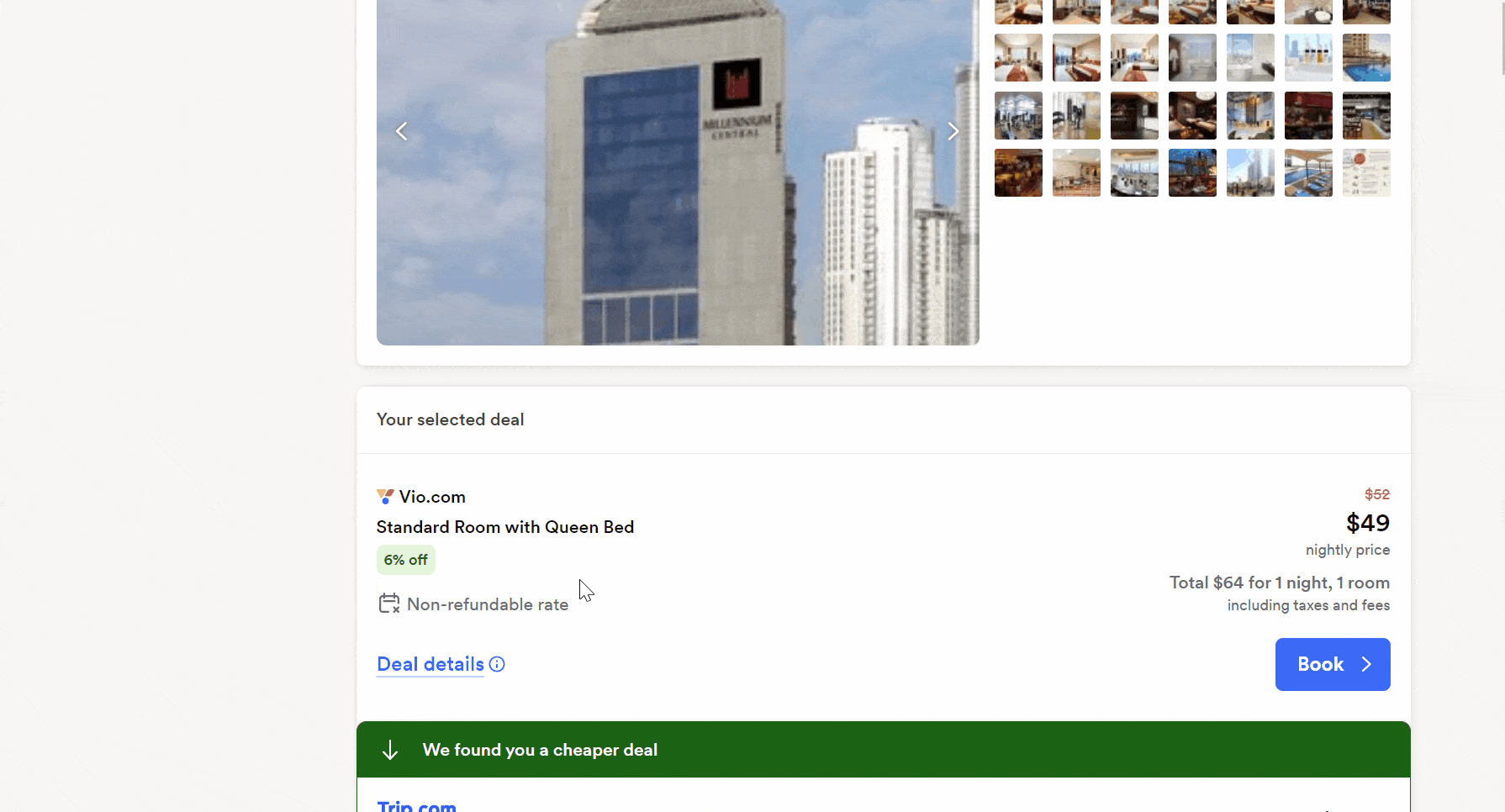 For bookings made through other 3rd party OTAs other than Vio.com, read the policies of the 3rd party OTA you're going to book with.
This will enable you to become familiar with refund amount and conditions, cancellation deadlines, amendment details, and other important information.
Note: Vio.com doesn't allow changes to the dates of hotel bookings.
2. Carefully Look At The Hotel And Room Photos
You should carefully check multiple pictures of the hotel you're going to reserve a room in.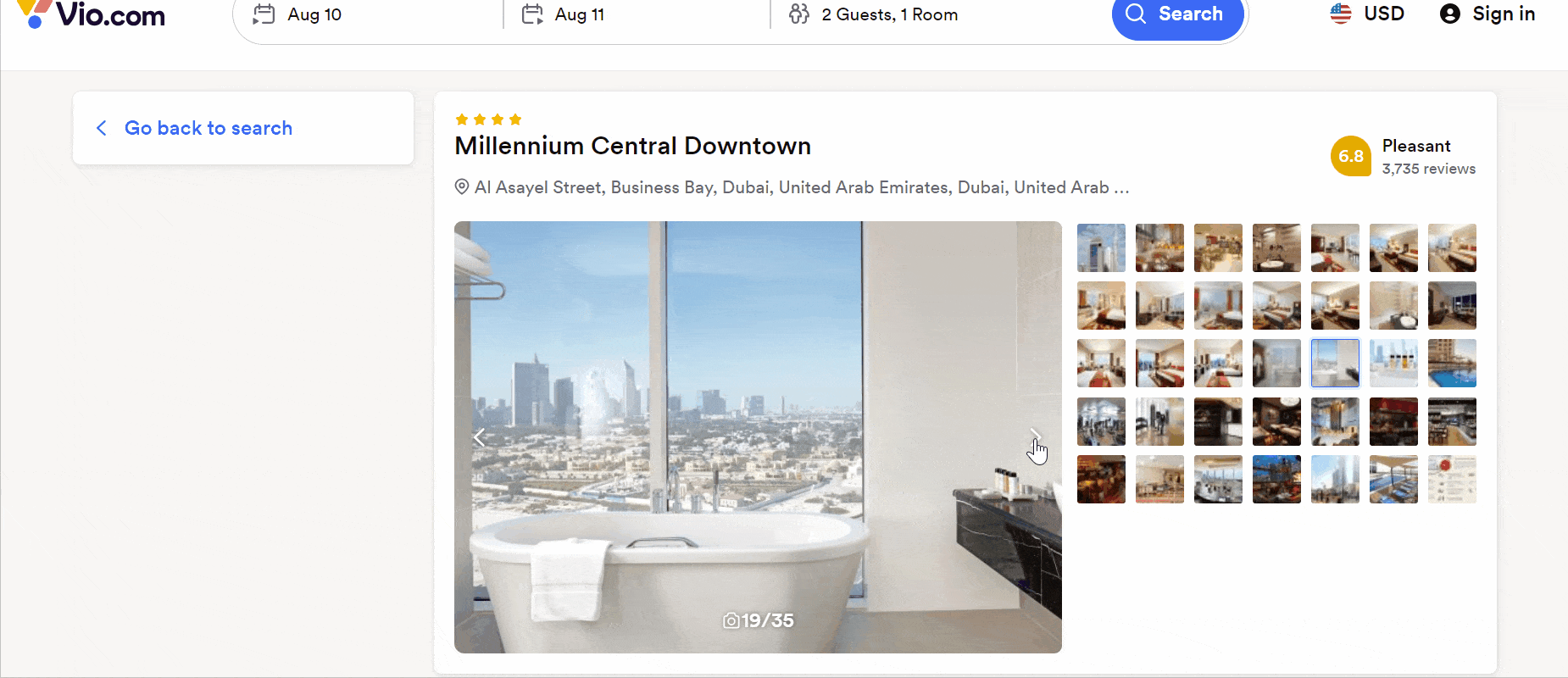 After checking the hotel rooms, properly look at the photos of the room(s) you're booking.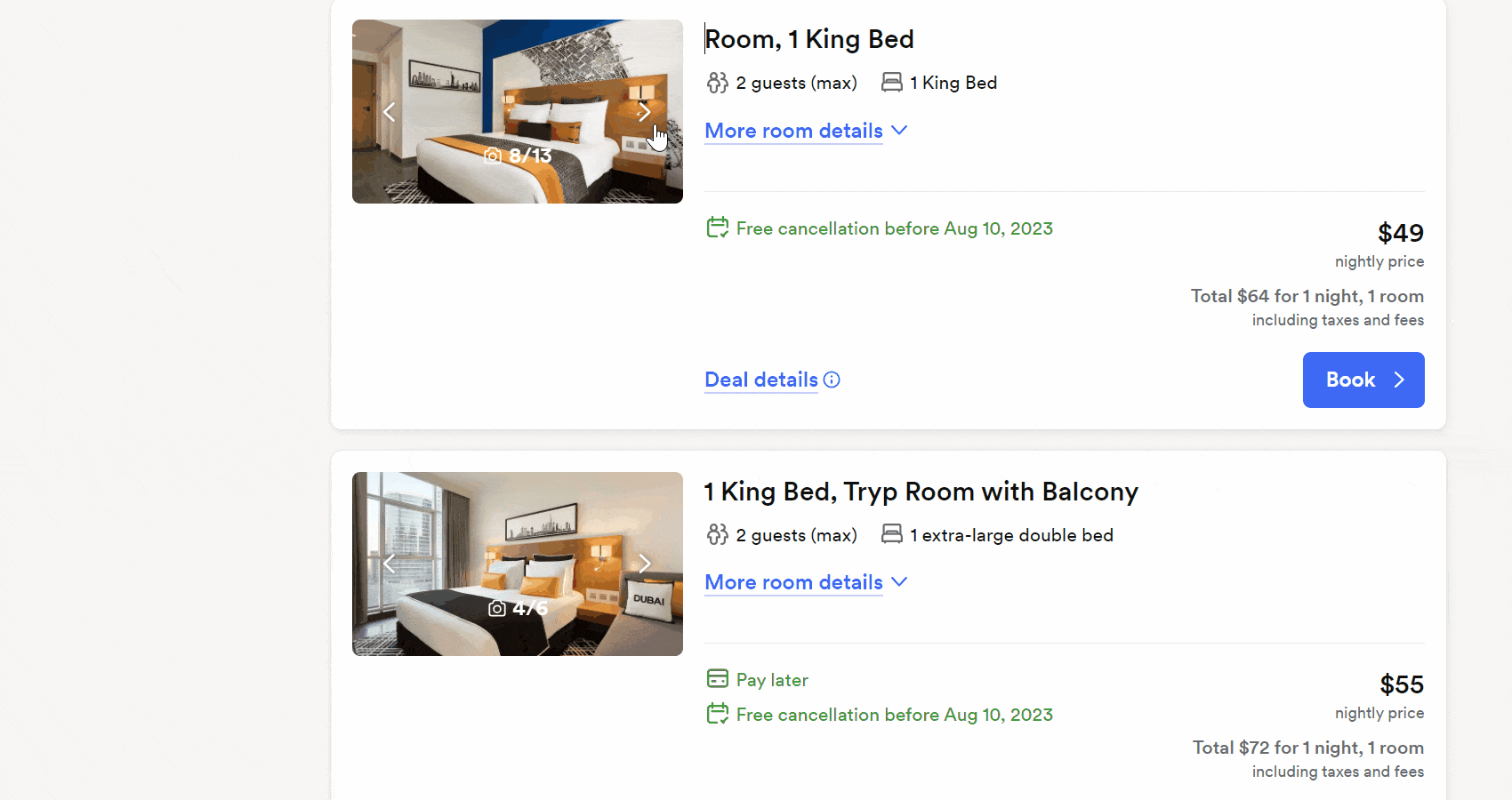 This will give you an idea about the type and look of the hotel and its rooms.
3. Look For Your Required Amenities
Make sure that room you're going to book has the amenities you need.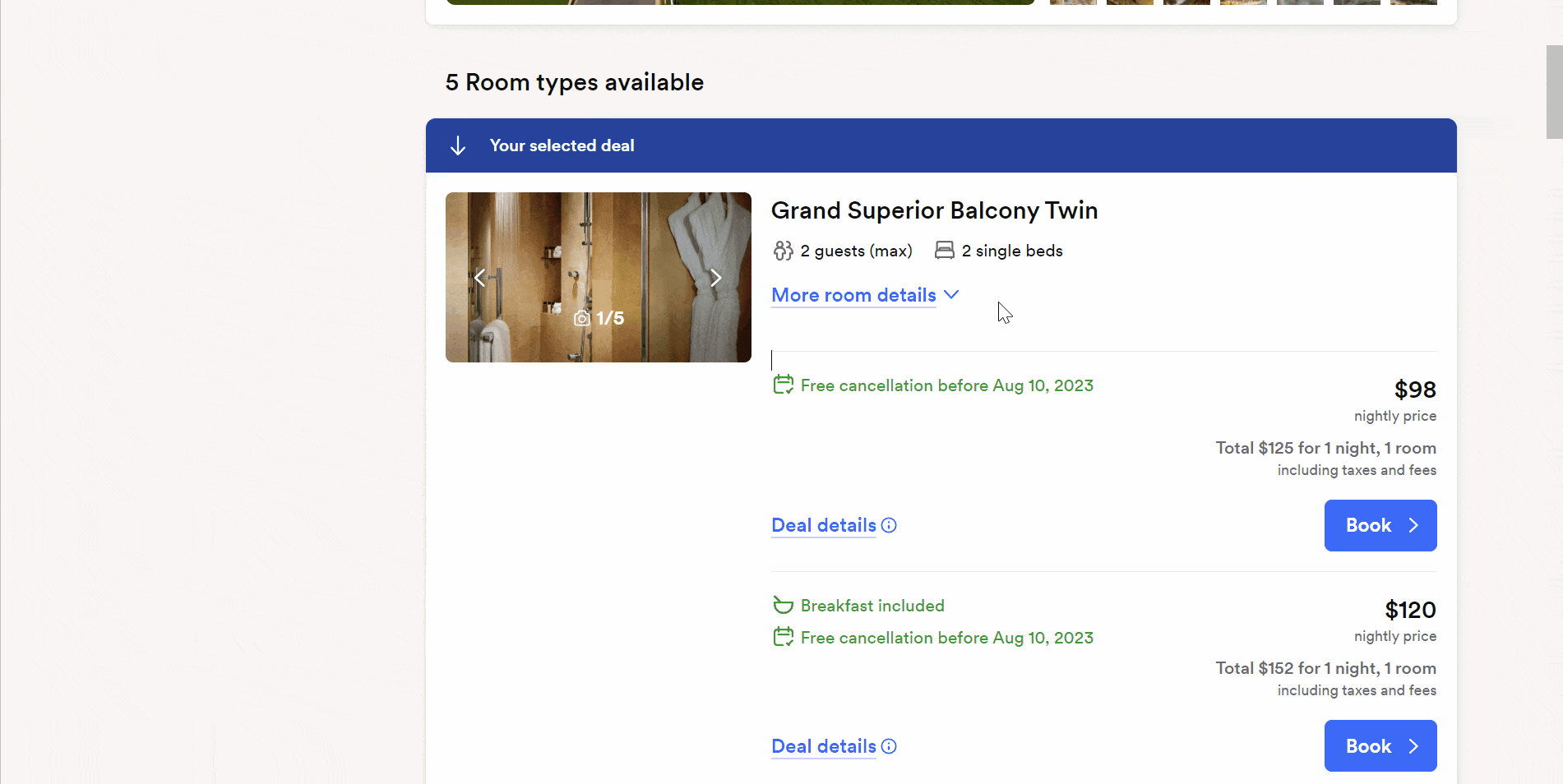 Besides room amenities, also look for the amenities of the hotel you're booking a room in.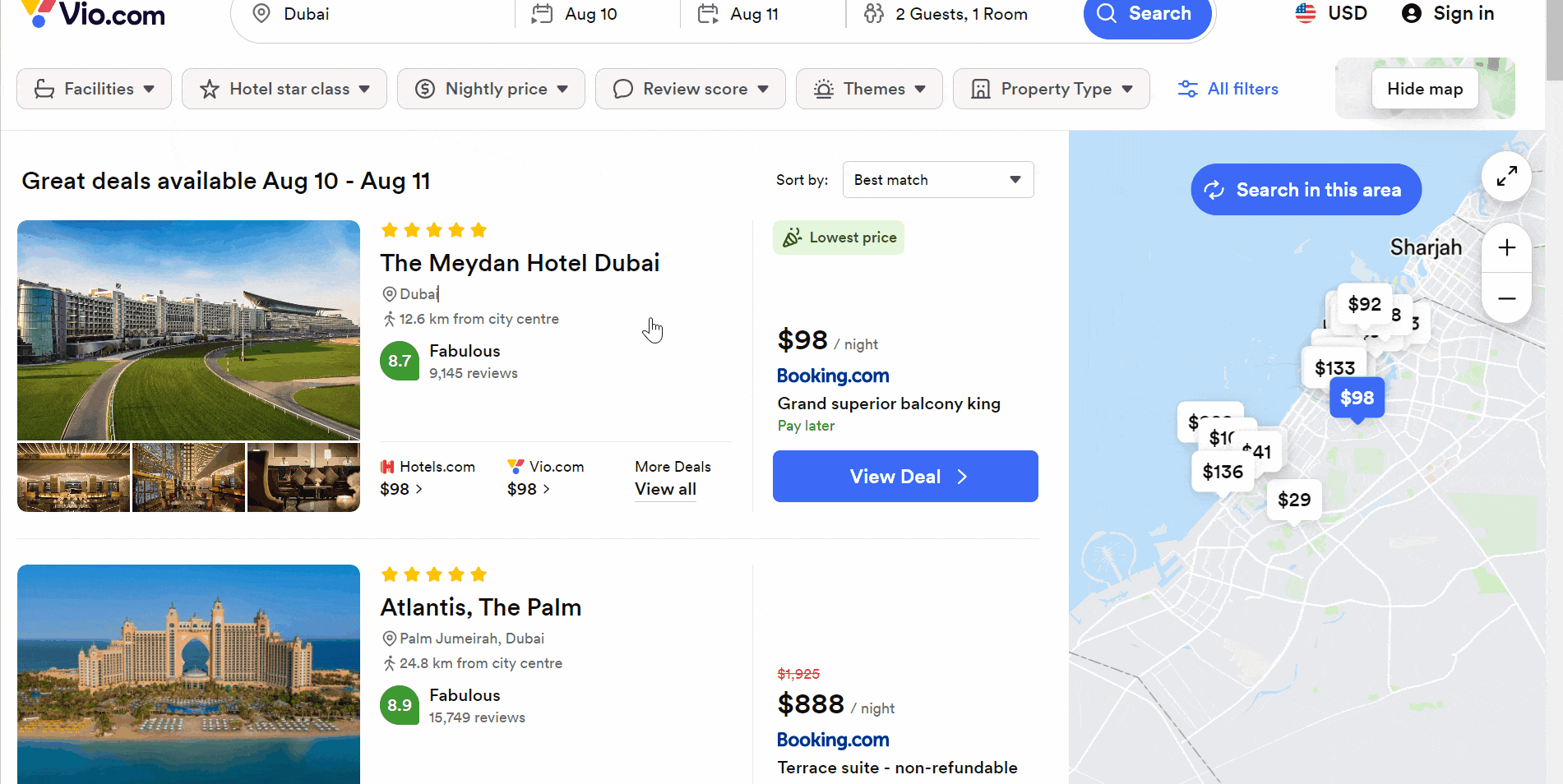 It is advisable not to make a room reservation in the hotel if it or its rooms has no facilities you need.
4. Pay At Property
Payment to the hotel can be made either through Vio.com during booking or be given to the hotel directly upon arrival.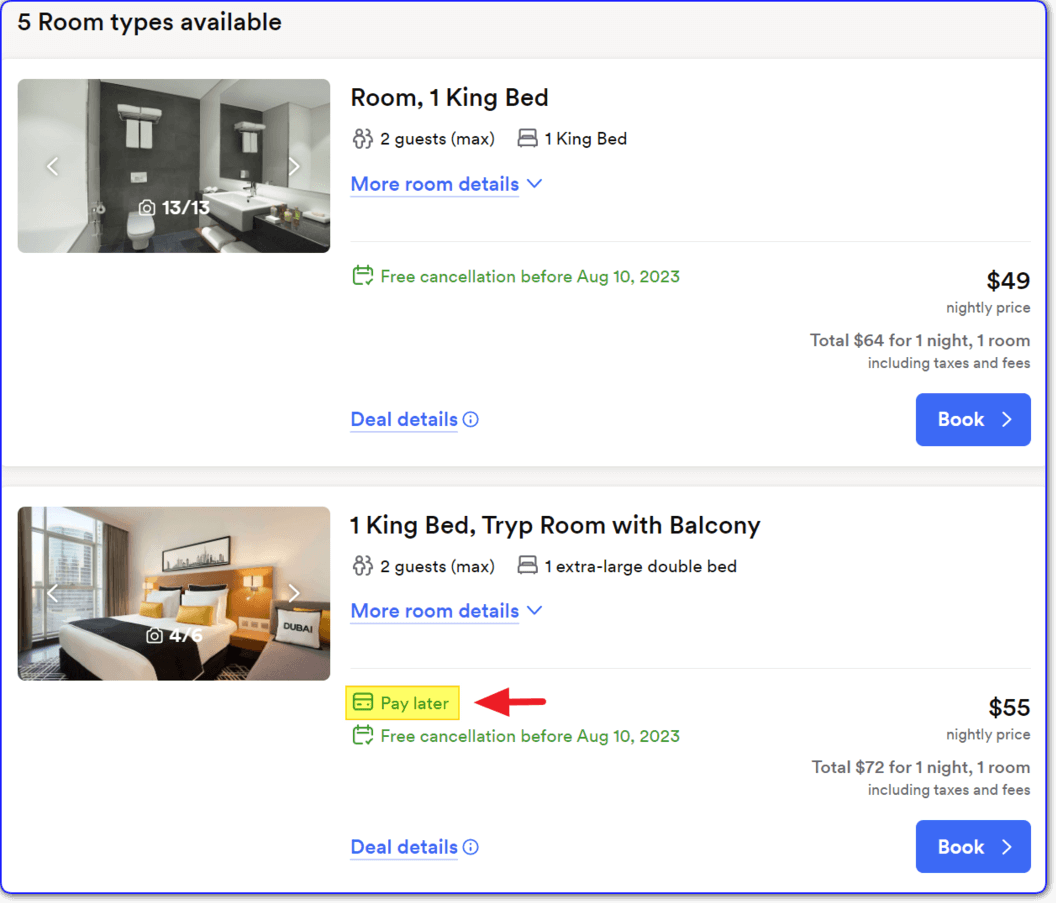 It's preferable to book rooms having option 'pay later' available so that if your plans change, you can easily cancel your booking without going through Vio.com's complicated refund process.
5. Review Your Booking Details
Before you confirm your booking with Vio.com, make sure that you've reviewed your booking details, especially cancellation conditions, prices and dates as it gets complicated to resolve any issue with Vio.com.
6. Confirm Your Booking With The Hotel
As discussed above, one of the major problems in booking with Vio.com or any other online travel agencies is that they sometimes don't confirm their customers' bookings with the hotel they booked with.
Therefore, don't just rely on the booking confirmation email Vio.com sends you but personally contact the hotel about your booking confirmation.
And last but not the least is:
7. Print Out Your Booking Itinerary
Once the booking is completed, Vio.com will send you a confirmation email where the summary of your booking details will be given.
Though it's enough to show this on your phone upon check-in, it's better to make a print of your itinerary as if there may arise a technical problem in your phone or you lose your phone, you can show the itinerary paper of your booking.
That's it!
So these are the 7 tips you should follow while making a booking to have a pleasant travel journey with Vio.com.
Conclusion
There's no doubt that Vio.com is legit as it has been in business since 2016 and lists hotel deals from world's renowned online travel agencies like Hotels.com, Expedia, Bookings.com, Agod, and many more.
However, though it's legit, you should consider some important things before buying through it such as:
It's a middleman
Has no control over the services of hotels it lists.
Not responsible for the bookings you made through the 3rd party OTAs it lists.
Customers sometimes encounter booking confirmation and overbooking issues when they book through Vio.com.
Furthermore, you should follow the 7 tips mentioned above to avoid any blunder and pay attention to some important things to have a good travel journey with Vio.com.
Hope this article may have cleared all your concerns you had about Vio.com and helped you make an informed decision about your travel plan with them.
Still, if you've any queries or want to add something about Vio.com, feel free to let me know in the comment section below.