Last Updated: September 16, 2022

Are you considering buying products from LightInTheBox, but have concerns about its legitimacy, reliability, and safety?
If so, you've come to the right place.
In this article, you'll know EXACTLY if it is a legit platform or a scam and what are the things you must BEWARE of before purchasing anything from LightInTheBox.
Let's dive right in.
Is Light In The Box Legit?
Light In The Box is definitely a legit company as it has been around since 2007, trades on the New York Stock Exchange, and has millions of customers worldwide. However, it is not completely safe and reliable to buy from.
7 Must Knows Before Buying From LITB
To know how reliable and safe is LightInTheBox, you must BEWARE of these 6 important things before ordering anything from there:
1. High Shipping Costs
First and foremost, keep in mind that their shipping charges are usually high.
The only cost-effective method for shipping is Postal Service which costs between $5 and $15, depending on the delivery address but it has the following problems:
No tracking details
Longer delivery time
Possibilities of package lost or receiving broken/damaged items
If you select a shipping method other than Postal Service, such as Expedited Express, the shipping charges are often more than the item(s) themselves.
As you can see, the product is costing me $14.94 while the shipping charges are $76.36 with Expedited Express and $7.07 with Postal Service .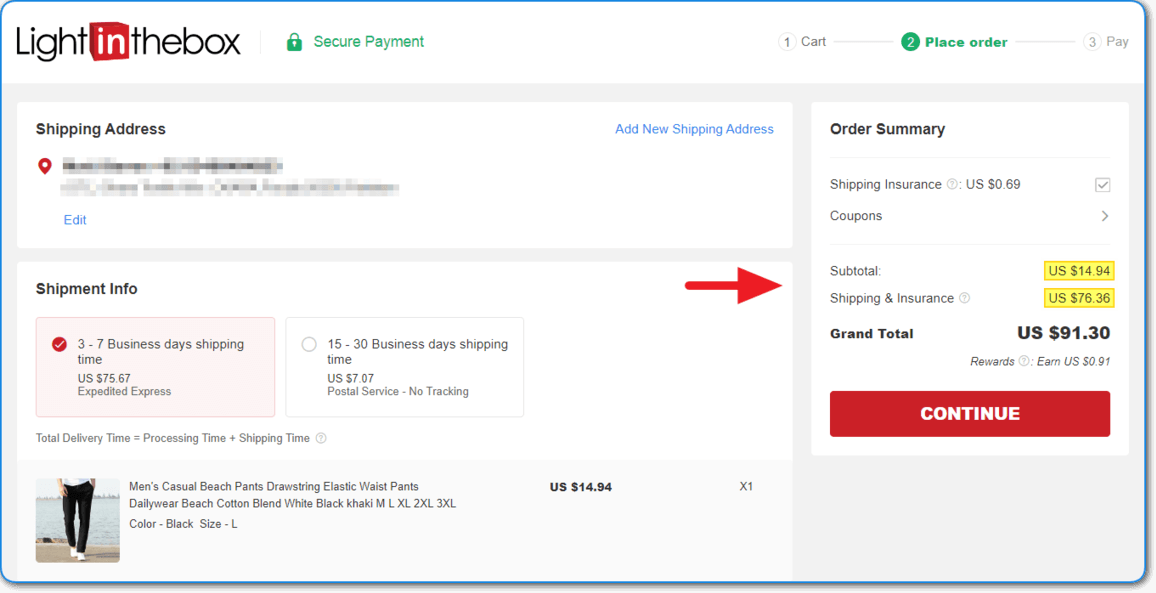 2. Longer Delivery Time
Despite the high shipping costs, another major downside of ordering products from Light In The Box is the long delivery time.
Generally, it delivers products to most countries within 3 to 5 weeks.
For some countries, however, the delivery can take up to 1-2 months as well.
Therefore, you should only consider buying from LightInTheBox if you're OK with this time frame (3-5 weeks or more).
RELATED ARTICLE
3. Returns Are Headache and Costly
Before ordering products from LightInTheBox, another thing you MUST beware of is that returning products for refunds or size exchanges is mostly unsuccessful.
Why?
Because of a complicated and costly return process.
It's a hassle to return the items because there is no guarantee that your return request will be accepted but you must have to go through the lengthy return process.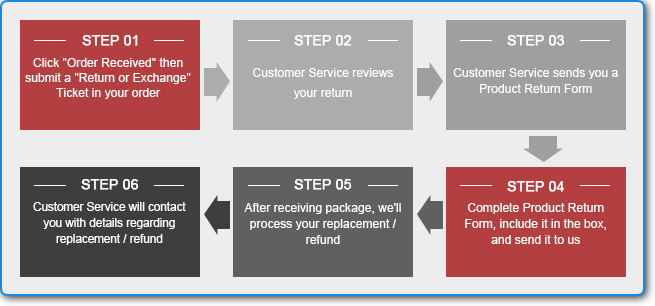 Even though your return request is accepted, it will cost you a lot to return the items since the return shipping charges are on the buyer which usually costs more than the products themselves.
As you can see, LightInTheBox clearly stated this in their return policy: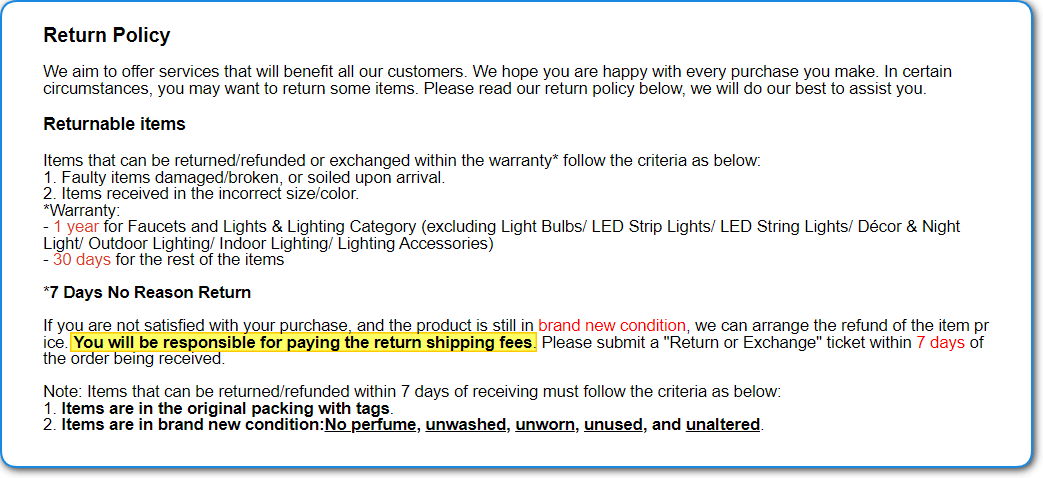 The reason why the return shipping costs a lot is because of sending the item(s) back to their warehouse in China since LightInTheBox is a Chinese-based company.
Therefore, I would say:
If the products you ordered from LITB don't turn out to be in perfect condition or as described, unfortunately, you will have to leave them as-is, especially if they are inexpensive items because sending them back would cost you a lot – often more than the item(s) themselves.
RELATED ARTICLE
4. Customs/Import Duties May Be Charged
Since the products are shipped from China, the customs department in your country may charge you customs and import duties or maybe other taxes (VAT, sales tax, etc.).
Usually, a few pairs of low-cost items get past the eyes of the customs department, but there is a high probability that you'll incur customs or import duties for expensive products or items ordered in bulk.
In case these tax fees are applied to your orders, LightInTheBox stated that you'll be responsible for paying these customs and import fees if applied by your country's customs department.

However, LightInTheBox provides duty and tax insurance for certain items which incur the extra charges while ordering but they claim to fully refund you the tax fee if applied to your orders.

So before ordering from LITB, keep in mind that you may be charged customs/import duties.
5. No Customer Service via Email, Phone, or Live Chat
In addition to all the above factors, you must know that LightInTheBox cannot be reached directly by phone, email, or live chat in case you've any questions or issues with your orders.
LightInTheBox can only be contacted by submitting a ticket, which is not an efficient way of reaching out.
RELATED ARTICLE
And lastly, keep in mind that:
6. You Get What You Pay
Customers often prefer high-quality products at cheap prices. Though LightInTheBox provides cheap and affordable products, too, do not expect their quality to be extremely good and reliable.
The cheap prices usually lead customers to order from LightInTheBox, but often they are disappointed with the products once they receive them because they had high expectations.
For example, when ordering replicas from LightInTheBox at very low prices then don't expect the quality to be as good as the original ones.
In other words, you get what you pay.
And that's it!
Let's quickly recap all the six factors that are CRUCIAL for you to know before making a purchase on LightInTheBox:
High shipping costs
Longer delivery time
Returns are mostly unsuccessful because of the complicated and costly return process
Customs/Import duties may be charged on your orders
No customer service via phone, email, and live chat
You get what you pay
By keeping these six factors into consideration, you can easily determine how safe and reliable is LightInTheBox and whether or not you should buy from them.
The only benefit of ordering products from LightInTheBox is that it offers a wide variety of items especially dresses at affordable prices.
Want to give LightInTheBox a try?
Then, do follow the tips below to greatly reduce the risks of having issues with your orders.
8 Tips For Buying Safely on LightInTheBox
Before buying any items, the first thing you should do is to:
1. Check The Product Reviews
One of the most crucial things to do before purchasing anything is to read the product reviews, as this will inform you of what other customers have to say about the item since only actual buyers can leave reviews.
Good reviews indicate good products, while bad reviews indicate bad products.
Personally, I recommend buying items having at least 70+ reviews with star ratings of 4.7 or above, the more the better.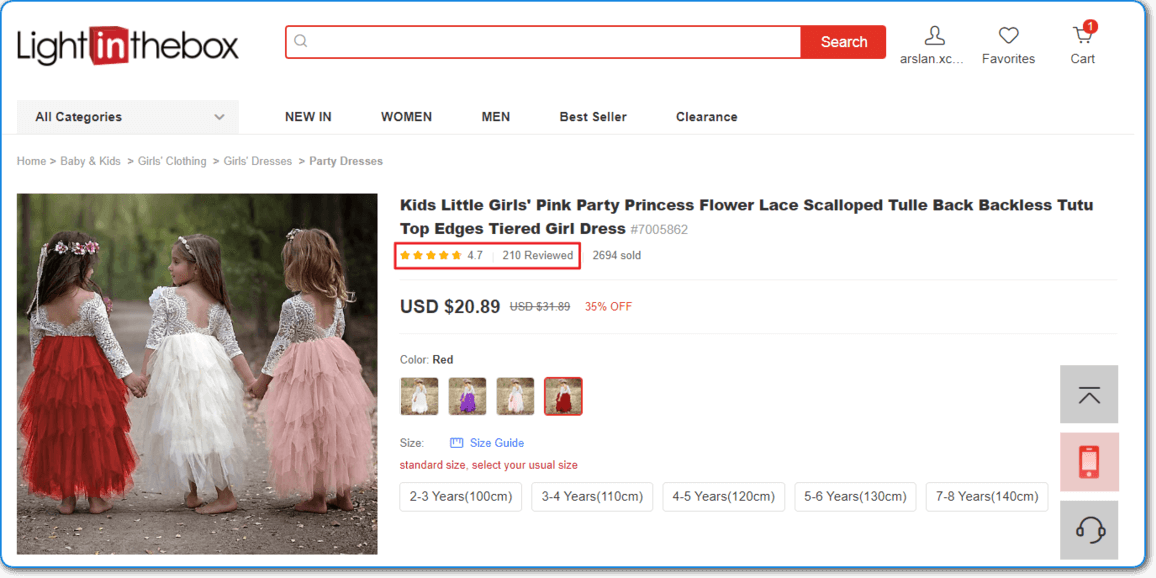 However, DO NOT PLACE ORDERS just by looking at product images posted by LightInTheBox because those pictures usually portray the items as being better than they really are.
Instead, you should check the product images posted by other people in the reviews section to get an idea of how the product actually looks like.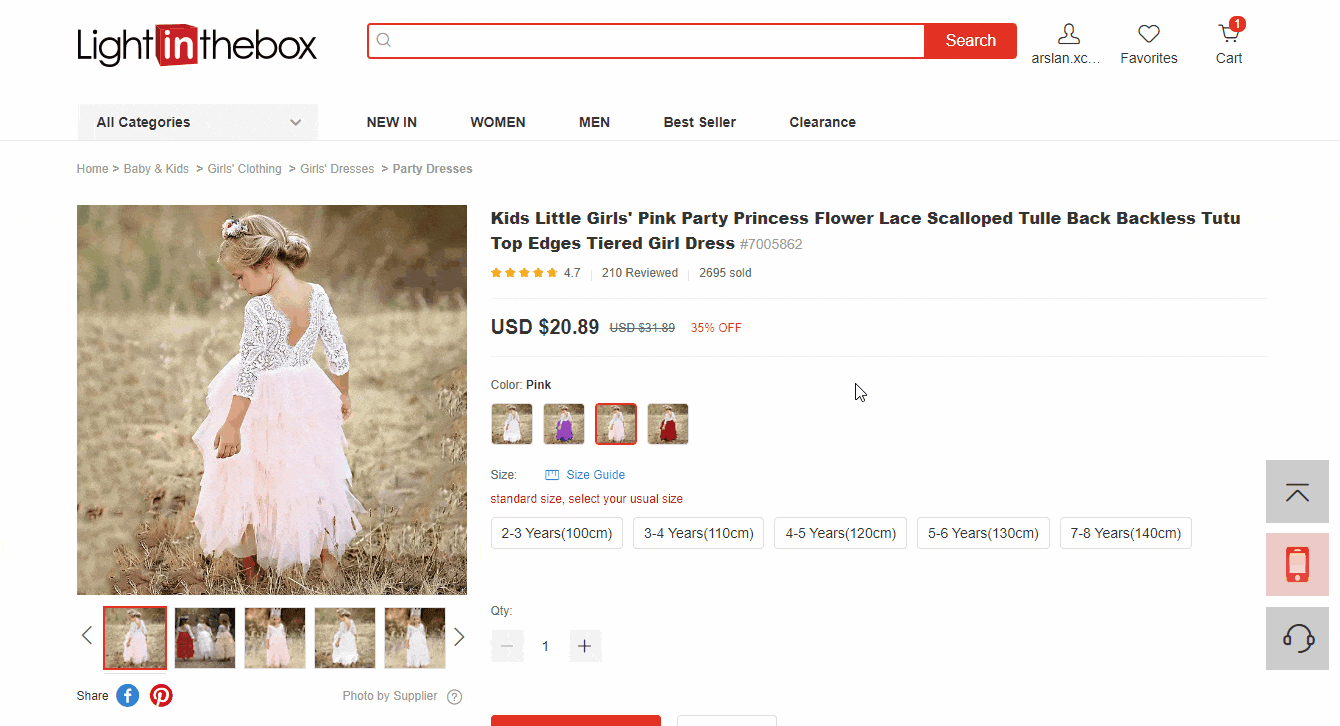 After thoroughly going through the product reviews, the next step is to:
2. Check The Number of Sold Items
A product having positive reviews and good ratings is usually purchased frequently by customers but you should manually check the total number of sold items.
I recommend purchasing items that have been sold at least 1000 times.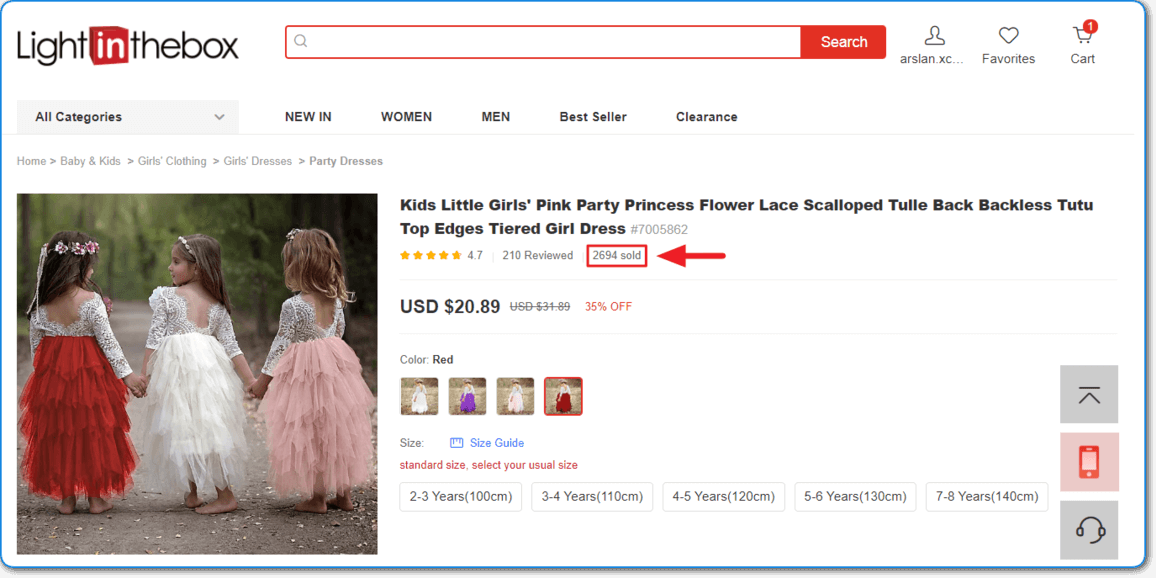 After that you should:
3. Carefully Read Product Description
Buyers usually overlook the product description and place orders just by checking the product's photos and reviews.
Not reading the description can have bad consequences for you because there might be important information about the product you should be aware of.
For example, product features, quality, sizing, specifications, compatibility, what's in the box, and whether it is a replica or an original product.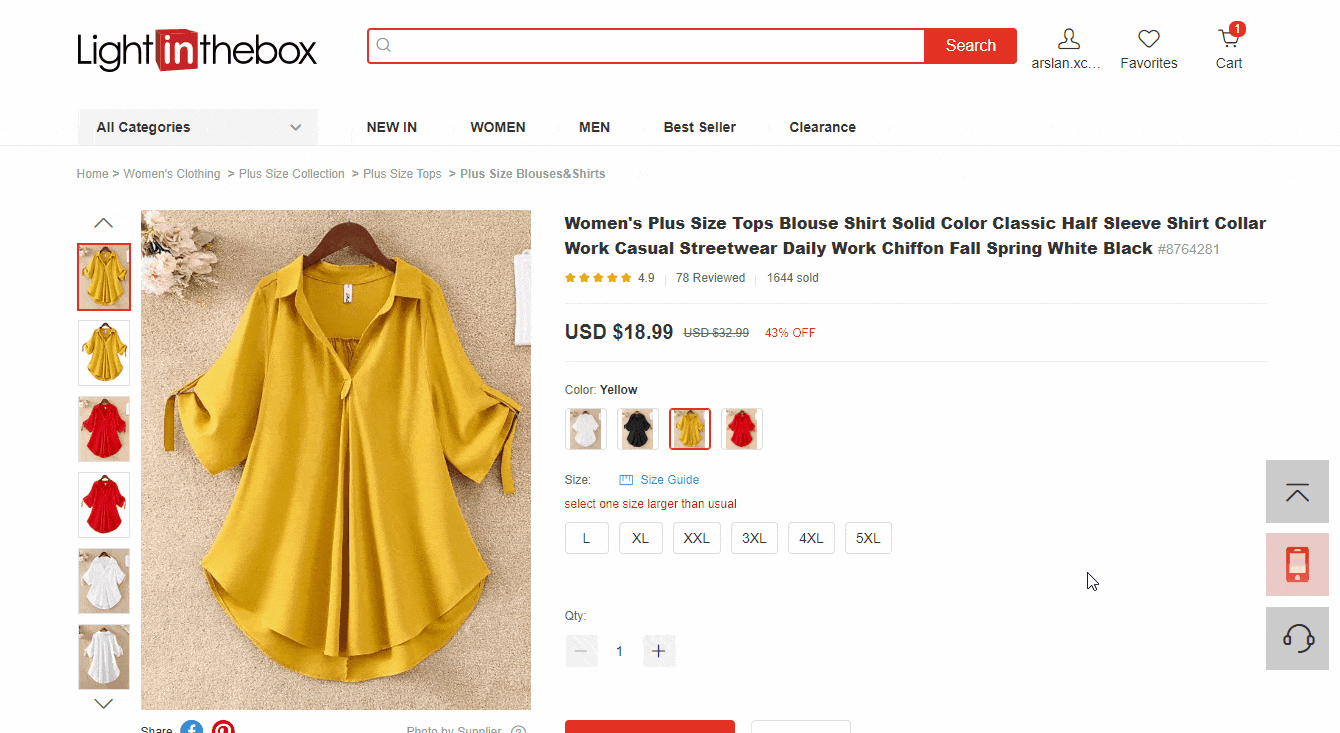 Therefore, it's mandatory for you to carefully read the description of the product before placing an order.
Besides that, you should also:
4. Check The Product Size Properly
One of the biggest complaints of users who bought from LightInTheBox is about the product sizes.
In most cases, sizing issues occur due to the blunder of customers who do not properly check the size chart while ordering.
As a result, when customers attempt to return the item for size exchange, they come to know that the return procedure of LightInTheBox is complicated and expensive, as already mentioned.
Therefore, if you're ordering products where size matters such as clothes and shoes then it's extremely important to check the size guide/chart properly to make sure you are ordering the right items.
After checking the reviews, numbers of sold items, product description, and size chart then you should also:
5. Read The Q&A Section
If you have any confusion regarding an item you wish to purchase, read the question and answer section to find answers to the questions you might also have in your mind about that product.
In case you haven't found the answer to your question, you can ask your own question by clicking on Ask a New Question.

You should not place your order until you find the answer to your question and your confusion is cleared about that particular product you're interested in buying.
6. Look for Duty and Tax Insurance
LightInTheBox provides duty and tax insurance for certain items that you should look out for and add to your order if available.
Though you will incur the extra charges, its benefit is that if your local customs office charges a tax fee from you, LITB claims to fully refund you that tax fee.

7. Add Shipping Insurance To Your Order
Although duty and tax insurance is available for certain items, shipping Insurance is available for all products and applied by default while ordering any items.
I highly recommend not to remove it from your order because LightInTheBox claims to reship your order immediately without any extra charges if your package is lost or damaged during shipment.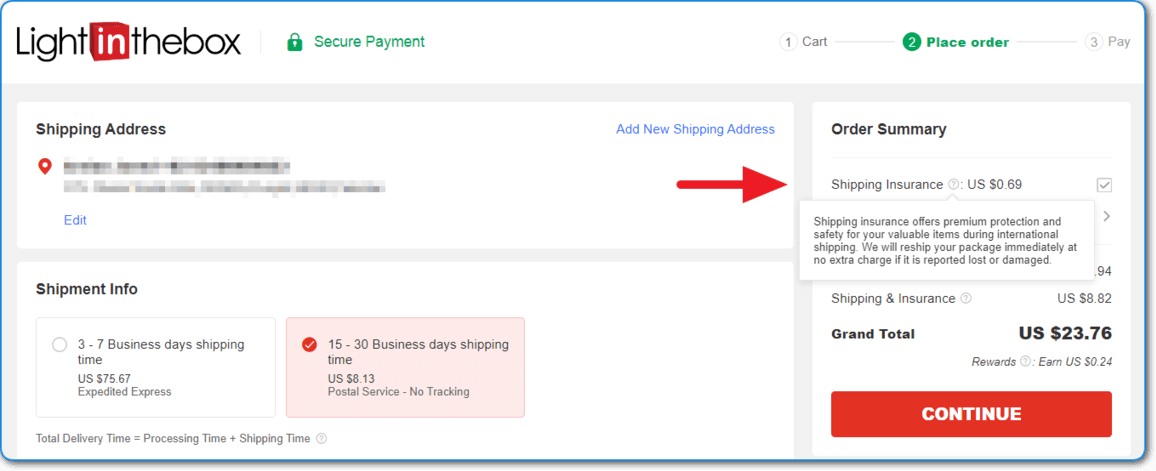 And lastly, I recommend you to:
8. Avoid Postal Service As a Shipping Method for Expensive Items
First of all, I recommend not to purchase expensive items from LightInTheBox because of the risks discussed above.
However, if you still want to order then I highly suggest you avoid the Postal Service as a shipping method for your order even though it is the most affordable option for shipment.
The reason for avoiding it for expensive items is because of the very long delivery time and the risks of your items being damaged/broken or even never reaching your destination.
I recommend Postal Service only for inexpensive products, while Expedited Express or any other better shipping method is recommended for expensive items.
There you have it!
By following these eight tips, your chances of encountering issues with your LightInTheBox's orders will be significantly lower.
Do I Recommend Buying From LightInTheBox?
In case your required items are not available in your local market or available at significantly higher prices and you want those products no matter what, then I recommend purchasing from LightInTheBox.
However, you must be OK with:
Longer delivery time
Products as received because of the complicated and costly return process
Customs duties if applied by your country's customs department
By the way, I DO NOT Recommend LightInTheBox for purchasing expensive items due to the risks involved.
Conclusion
LightInTheBox is definitely a legitimate shopping website as it trades on the New York Stock Exchange (NYSE).
Being listed on NYSE isn't a piece of cake, companies have to go through a rigorous application process and must meet their listing requirements before getting approved for trading.
Furthermore, it is a publicly-traded company, under the name, LightInTheBox Holding Co., Ltd. and it has been operating since 2007 and scam companies don't survive this long.
Besides, it has millions of customers from all around the globe which further proves its legitimacy.
Taking all these factors into consideration, one can easily judge whether it is a legit company or not.
Although LightInTheBox is legit, it is not entirely safe and reliable because of:
High shipping costs
Longer delivery time
The complex and costly return process
No customer support via email, phone, or live chat.
Even though LightInTheBox has these drawbacks, the only benefit of purchasing items from them is that they offer a wide variety of products at cheap prices.
So if you still want to give them a try then do follow the tips I shared above to greatly reduce the risks of issues.
Got any questions? Want to share your experiences with LightInTheBox?
Check out the FAQs section below and please share your experience with us in the comments below!
LightInTheBox FAQs
Is Light In The Box safe?
Light In The Box is safe to buy from but not entirely because of the issues with delivery and returns.
Is Light In The Box reliable?
LightInTheBox is reliable to buy from but it is not very reliable when it comes to delivery and returning items for refunds or size exchanges.
Is LightInTheBox A Chinese company?
Yes, LightInTheBox is a Chinese company based in Beijing, China.
Where is Light In The Box located?
Light In The Box is located in Beijing, China.
Where does LightInTheBox ship from?
LightInTheBox ships from China.
How long does It take for LightInThebox to deliver?
LightInTheBox delivery times depend on the customer's delivery address as well as the shipping method you choose while ordering. However, it usually takes 3-5 weeks to deliver items globally.
How much does LightInTheBox charge for shipping?
LightInTheBox's shipping costs are different for each order and it varies based on the shipping method and delivery address. You will be able to see the shipping charges for your order during the checkout process of your order.