Last Updated: August 2, 2023

As it is usual in daily life, people are deceived by scammers active in the market by offering them attractive deals.
That's why you may have worries about FlightHub too after seeing its cheaper flight or accommodation deals it offers you.
So before making a booking through FlightHub, you've to read this article to know whether it's a legit company or just a scam waiting to steal your hard-earned money.
Let's start!
Is FlightHub Legit?
FlightHub is a legit online travel agency as it has been in business for the last 11 years. However, booking through it carries higher risks compared to booking directly with the airline or hotel.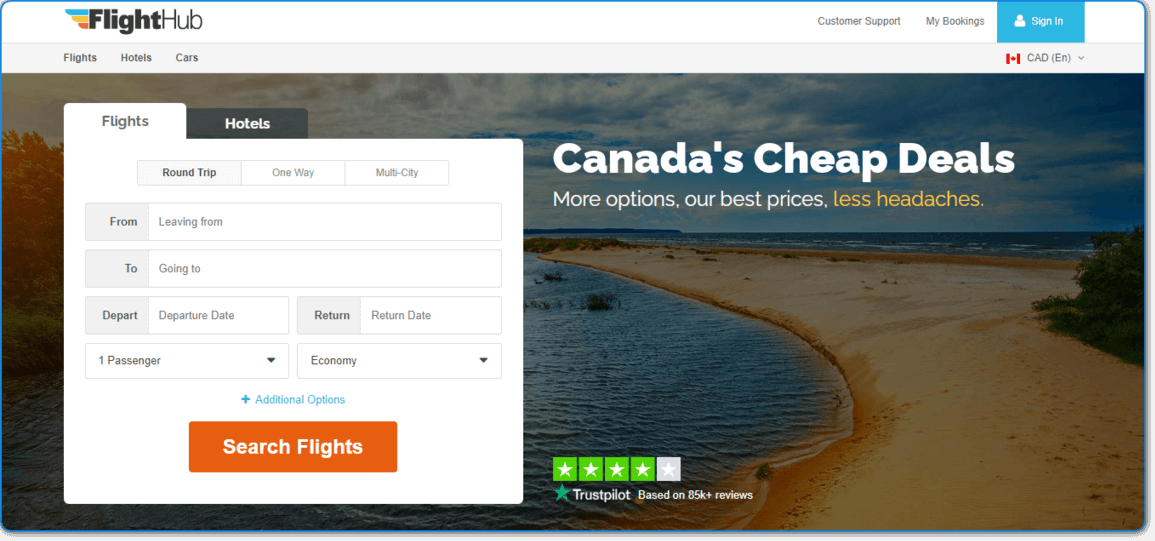 Although problems can occur even when you book directly with a travel service provider (hotel or airline), their chances are much lower compared to booking through FlightHub.
To know why these problems occur when booking through FlightHub, you've to know how it works.
Let me tell you!
FlightHub is basically a third party agent who collects your payment and connects you with the airline or hotel it lists on its site.
When you make a reservation with a hotel or airline through FlightHub, then it is the FlightHub who handles your booking, not the airline or hotel you have booked with, since your contract is with FlightHub, not with your travel service provider.
FlightHub merely acts as a middleman between you and the service provider (airlines and hotels).

So if something goes wrong, you can't resolve your issue with your respective service provider directly because they are neither liable nor responsible to serve you directly.
To fix your problem with your travel service provider, you have to involve FlightHub first who will then reach out to the service provider you booked with and then FlightHub will communicate the response with you.
So for resolving any issue with the hotel or airline, you have to pass through a long and complicated process between your travel service provider and FlightHub before your issue is finally resolved.

And it is also most probable that you may be stuck in a lot of back-and-forth between FlightHub and your respective travel service provider due to FlightHub's worst customer service.

Similarly, making changes and cancellations to your booking, and getting a refund is not simple and easy when you book through FlightHub as you can't contact your service provider directly but to involve a middleman (FlightHub) for doing so.
While you may be able to make changes and cancellations to your hotel booking, doing the same with a flight booking is very challenging and nearly impossible when you book through FlightHub.
Here's why:
Even if you booked directly with the airline, making changes or cancellations to your flight is challenging.
And if you've booked through FlightHub, things are going to be more complicated because of the third party involvement.
Moreover, booking a flight through FlightHub is very risky because there are some drawbacks which the majority of the customers find when they make flight reservations through FlightHub.
So it is essential to have a look at these drawbacks:
1. Cancel flights on its own without informing you: FlightHub sometimes cancels flights of its customers on its own without informing them that it has cancelled their flights.
Customers who are unaware of their flights being cancelled, thus bother to go to the airport for nothing.
As the airline agency they booked with isn't liable to help them directly and also it takes too long to resolve your issue through FlightHub, they either return helplessly or book with that or other nearby airline directly.
2. Issues in rebooking on travel credit: In certain cases, the airline may allow you to cancel without refund. In this case, you're issued a travel credit which you can use for future flight with the same airline for a specific time.
But in many cases, customers fail to rebook on the same travel credit due to the worst customer service of FlightHub and also sometimes the airline you previously booked with refuses to allow you rebook on the travel credit you are issued without any reason.
Moreover, if the price for rebooking on the same ticket is higher than the price you paid for the ticket you previously booked, you'll need to pay the remaining difference in price.
But often the difference in price is so high that it becomes difficult for the customers to manage it from their budget.
3. Misleading Information: The other major drawback in booking flights through FlightHub is that it doesn't give its customers accurate information about their booking.
For example, it shows its customers that checked luggage is included in their booking but upon their arrival at the airport, they are told that it isn't included in their booking and thus cost them extra money.
Furthermore, FlightHub generally tells its customers that they need only a passport and visa of the country they are going to travel to.
They're not well informed by FlightHub that they need transit visas of the countries they will pass by during their journey before reaching their final destination country.
Therefore, they are stopped at the airport in the middle of their journey because they have no transit visa for the country they're going to pass.
4. Make alterations to your booking: In many instances, FlightHub makes such changes in the booking of its customers that they create huge problems for them during their journey.
FlightHub often adds layovers to its customers' flight booking in the result of which it takes more time for them to reach their destination.
5. Incomplete booking reservation: Last but not least drawback of FlightHub is that though it gives their customers a receipt that their booking is done with the airline, it sometimes doesn't confirm their booking with the airline they booked with.
Upon their arrival at the airport, they are told that the reservation has never been made even though customers show them their booking itinerary because the reservation is not confirmed with them by FlightHub.
So these were the 5 major drawbacks of making flight bookings through FlightHub.
Now the main question is:
Does all these drawbacks and risks associated with FlightHub mean that it is not a legit online travel agency?
Let me tell you in short.
Despite having many risks and drawbacks with booking through FlightHub, as far as its legitimacy is concerned, it is a legit online travel agency.
Why I am claiming its legitimacy is because it has been in business for the last 11 years, since 2012 and you know scam companies don't survive this long.
Moreover, Justfly.com, an online travel agency, is a successful brand of FlightHub which was launched in 2014.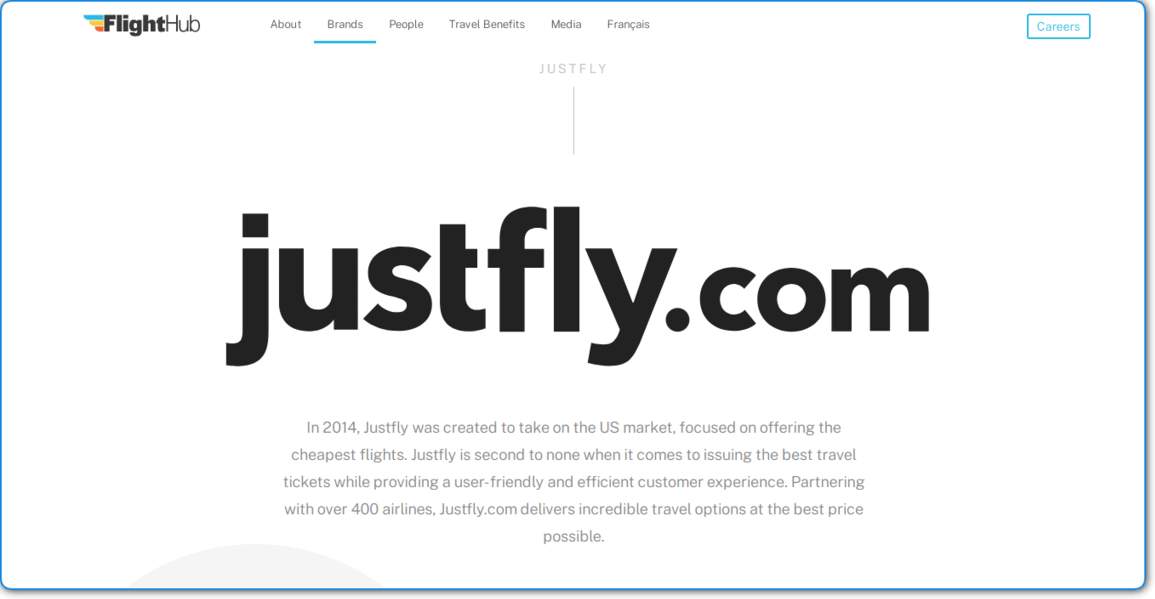 FlightHub doesn't run its business anonymously. It has its headquarter in Montreal, Canada and it's one of Canada's fastest growing online travel agencies.
By considering all these attributes of FlightHub, one can't deny the fact that it is a legit online travel agency.
While you've known that FlightHub is a legit company but by looking into its major drawbacks and the risks it carries, you may be a little bit hesitant whether to book through it or not.
So let's talk about it.
Should You Book Directly Or Through FlightHub?
If you're short of budget and FlightHub offers you the best possible flight deal affordable to you and also you're ready for the risks and issues associated with booking flights through FlightHub, then it comes down to your personal comfort whether to book through it or stay away.
However, as far as my personal recommendation is concerned, I would suggest that you should prefer direct booking with an airline to booking through FlightHub.
This is because:
The customer service of FlightHub is very poor and it is nearly impossible to resolve your issue if something odd happens to your booking.
FlightHub has no control over the standard and the services of the airlines it lists on site and therefore isn't guaranteeing you to help you if you're misbehaved by the staff or you're not satisfied with the airline's services.
By booking directly with the airline, you cut off intermediaries (FlightHub) between you and the airline and can get direct help from them rather than passing through a long, headache and complex process between FlightHub and your respective airline.
Regarding booking hotel accommodations through FlightHub, I would recommend you to not rely on FlightHub for booking hotel accommodations as travellers usually don't use it for hotel bookings.
However, I would highly recommend some other well-known online travel agencies for booking hotels such as Agoda, Booking.com, Expedia, Priceline, and Trip.com on the condition that you should look into their common safety tips as mentioned below before making a booking with them.
That's it!
So this was all about FlightHub from my side. Still, if you've any confusion or want to add your personal experience with FlightHub, let me know in the comment section below.