Last Updated: August 28, 2022

Thinking of selling online but don't know which one will be a better option for you between Etsy and eBay? You've landed on the right article.
Selling online is easy, but choosing the right platform to sell on isn't easy.
The same goes for Etsy and eBay, and if you choose the wrong platform between either of these two well-known marketplaces, you will lose your money, and no one wants that, right.
Therefore, in this article, I'll be comparing Etsy vs eBay based on:
By the end of this article, you'll have all the information you need to make the best decision between choosing eBay and Etsy.
Let's dive right in!
Selling on Etsy vs eBay
If you are serious about selling your stuff on Etsy or eBay, please read this whole topic carefully because this information is crucial for you to know.
Are you ready?
Let's talk about the difference in selling.
Etsy and eBay are different marketplaces from each other, and if you already decided what items you're going to sell – that's great because choosing between these two platforms becomes very easy.
For Whom Etsy Is?
Etsy is a global marketplace, especially for unique and creative goods.
Most of the items selling on Etsy include vintage, jewelry, clothing, art, furniture, home décor, toys, as well as craft supplies and tools.
If you are creative in making these handmade goods, then there is no other platform better than Etsy.
But, if you aren't selling these types of items, then Etsy might not be an option for you.
However, if you don't know what to sell or want to know the best selling categories of Etsy then read our post on "What To Sell On Etsy."
Note: Vintage items must be at least 20 years old when selling.
Tip: Never sell high-ticket items on Etsy.
For Whom eBay is?
eBay is one of the world's largest marketplaces for buyers and sellers, where millions of people trade every day.
On eBay, you can sell almost everything whether it's new or second-hand items, but it's best known for its auctions and consumer-to-consumer sales.
eBay is best for you if you're looking for a platform where you can sell almost everything whether the products are new or used items and don't have enough budget for marketing. (more on this later)
Tip: Sell items that are less than $50 when you are a new seller to avoid getting target for a scam.
Competitiveness: Which One Is Easier To Sell On?
After you come to know the difference between selling on Etsy and eBay, now it's important to know the competitiveness on both platforms.
Let's discover which platform is easier to use.
Is it easier to sell on Etsy?
Opening an Etsy shop is very easy, but making it a successful shop isn't easy.
Many new sellers think that they just have to add listings, and people will buy from them.
But, the reality is, it's not as simple as just listing your stuff, you must have to promote your goods.
Etsy Marketing & Promotions: Promoting your items is essential to get sales because it's hard to be discovered on Etsy.
Yes, ranking on eBay is also not easy, but it is much easier than on Etsy if you have some knowledge to do product SEO.
Selling on Etsy is easier than eBay if you sell unique handmade items and you already have a following on social media, a blog, etc.
However, your audience must be related to the items in some way, and if they are then what are you waiting for, just go with Etsy.
Recommendation:

If you don't have the skills to market the products online then go with eBay
.
Tips to become a successful Etsy seller
Create the Perfect Product Combination
Be Creative
Use the Right Keywords in your title and description
Understand copyright and Trademark Laws
Write easy to understand descriptions
Include unique identifiers
Avoid keyword stuffing
Include relevant links
Use image alt tags
Is it easier to sell on eBay?
It's not very easy but compared to Etsy, yes it is when you don't have a budget for marketing and promotions eBay generally gives preference to 'good sellers' plus you follow their rules of selling.
eBay Marketing & Promotions: Marketing your products is not compulsory on eBay, but if you promote them, that's well and good.
This doesn't mean you'll just list your items and you'll get sales but I mean if you know or follow the right tactics to do product SEO then chances are you'll rank on eBay and get sales organically.
All in all, eBay is effortless than Etsy for ranking your products in the search results.
Recommendation:

If you are a beginner and don't have money to spend on paid promotions or don't know much about marketing, then eBay is a good option for you
.
Some of the important tips for selling
Find the right product to sell at a fair price on eBay
Write a good title and description
Create high-quality product photos
The item you are going to ship must be in good packing
Some SEO tips to rank your products
The better your conversions rate is with good reviews from your buyer, the more likely you'll appear in the search result
If you're using templates in your product descriptions, they must be mobile-friendly
Add keywords you want to rank for in the beginning and toward the end of your listing description
Your product description must be clear and informative
Add alt text to product images – it helps you to rank high on eBay and Google search results
I recommend you to read their official article, which will help you to drive people to your eBay shop.
Pros And Cons: Etsy vs eBay
No matter which platform you choose, there'll be some advantages and disadvantages, and you've to decide by yourself which one is a better fit for you.
So, these pros and cons will help you to make your decision on where you decide to sell.
Pros And Cons of Selling on Etsy
Here is the list of the most common pros and cons of Etsy.
Etsy Pros
The ease of use is pretty simple
Etsy is a way cheaper marketplace than eBay for sellers
It has built-in analytics tools to track your sales visitors
Listing up a product is easy; you can create a listing in just minutes
It's easy to set up your virtual store and get started
You don't have to worry about setting up a website or a product page
The buyers on Etsy don't tend to mind paying a little bit more for products
Starting a store on Etsy is so simple and easy
Etsy Cons
You can't sell everything; your products must be unique & handmade
Every niche or category seems saturated; to succeed, you have to be patient
Getting discovered by customers isn't easy
A lot of competitors listing the same type of oversaturated products
You can't create an email list of your customers and ask them for their email because it is against Etsy's Terms of Use
You may face copycats replicating your work when your brand grows, but you can report them
Pros And Cons of Selling on eBay
Here is the list of the most common pros and cons of eBay.
eBay Pros
Getting discovered by customers can be easier than Etsy
eBay literary lets you sell almost anything
Great for Auctions and used items
It has a massive amount of potential customers
Instantaneously accept payments from customers all over the world because eBay is integrated with PayPal
It does not take a lot of money to get started on eBay
Unlike other popular e-commerce marketplace sites, eBay offers both auctions as well as Buy It Now options for sellers
eBay Cons
The fees are quite high than Etsy
It's getting very competitive with thrift stores like clothing, electronics or shoes, etc.
Listing up a product isn't easy as compared to Etsy
It has stringent policies that sort of lockout most drop shippers
eBay is very time-consuming; let's say you are selling clothing; you have to clean your clothing, measure them, take quality pictures, shipping them as well as answering buyer's questions, etc.
If you're thinking of starting your dropshipping business on eBay or any other platform, it's important for you to have the right dropshipping pricing strategy.
Customer Base & Stats: Etsy vs eBay

When selling online, it's essential to know who your customers are and what expectations they have.
Let's have a look at what differentiates Etsy shoppers from eBay.
Etsy Statistics
In 2018, almost 39.5 million buyers had purchased goods on Etsy
As of 2018, total sellers on Etsy are more than 2.1 million
Nearly 67% of visitors come from a mobile device
Etsy buyers mostly shop for unique creative items
Total generated revenues worth 603.7 million U.S. dollars in 2018
The majority of the customers come from the USA; only 34% of the customers are from worldwide
10 million+ Installs on a mobile phone
eBay Statistics
eBay Inc. reported revenue for Q2 2020 is $2.9B
eBay reached 182 million active buyers worldwide in the second quarter of 2019, representing a 5% growth year-over-year
The eBay app is downloaded by 530 million across the globe on mobile
In Q2 2020, $17.1 billion amount of sales volume was completed on mobile devices
eBay generated 62% of the revenue internationally
Check out recent eBay's fast facts.
eBay Inc.
eBay Marketplace
Popularity
eBay is a clear winner in terms of popularity, but Etsy is becoming popular and growing day by day.
Need proof? So, I searched both terms on Google Trends, and here are the results.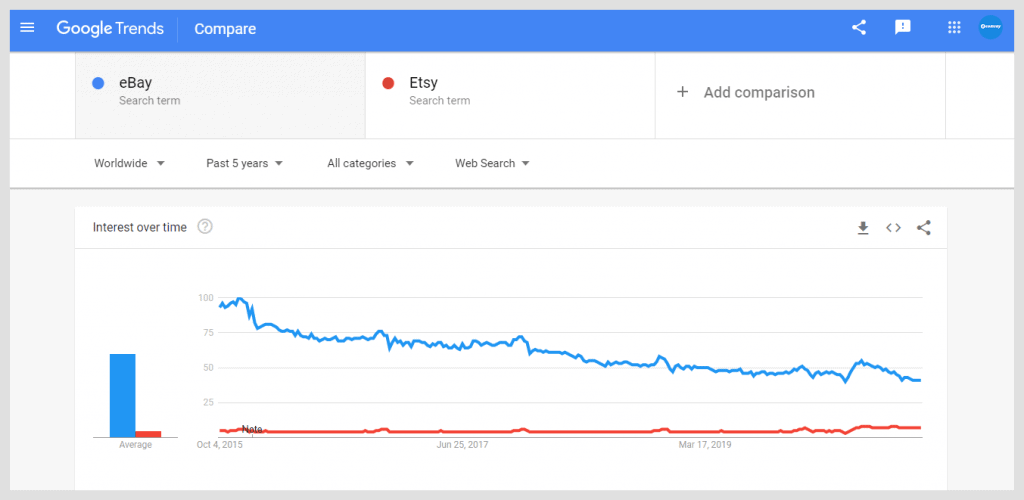 As you can see over the past 5 years, eBay is trending down whereas the Etsy graph is trending up as time passes.
Etsy Fees vs. eBay Fees
Which platform has more fees? Well, it depends on how many listings you want to add to your store.
Let's talk about the difference in fees.
Etsy Fees
Etsy's fees are pretty straightforward, and the good news for beginners is that joining and starting a shop on Etsy is free.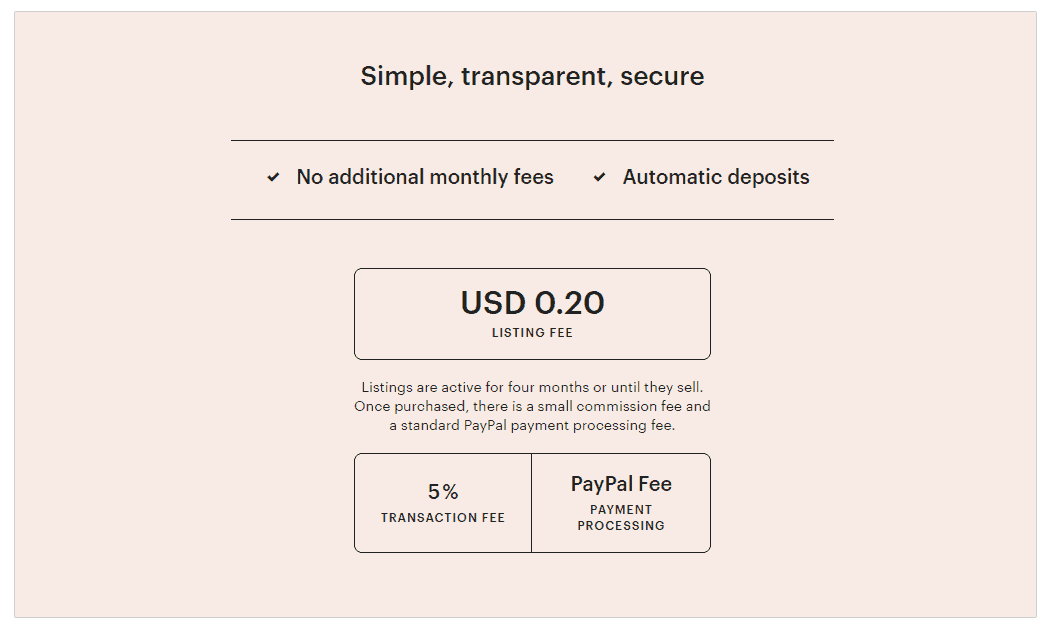 There are three necessary selling fees:
Listing Fee –

Publishing a listing on Etsy costs 20 cents whether your item sells or not; you have to pay a $0.20 listing fee, and it expires after four months.

Transaction Fee –

Etsy charges a 5% transaction fee of the item you sold (including the shipping price you set).

Payment Processing Fees –

It depends on your country, Etsy will charge a payment processing fee of 3% + $0.25 per transaction for the United States & Australia.

(to know the costs of other countries read our post mentioned below)
These are the main fees of Etsy, and if you want to know about them in detail, check out our post on "Etsy Fees."
eBay Fees
Understanding eBay fees is a bit confusing, but don't worry, I am going to explain it as simply as I can.
So, there are two main fees that you have to pay on eBay, and that's the insertion fee and the final value fee.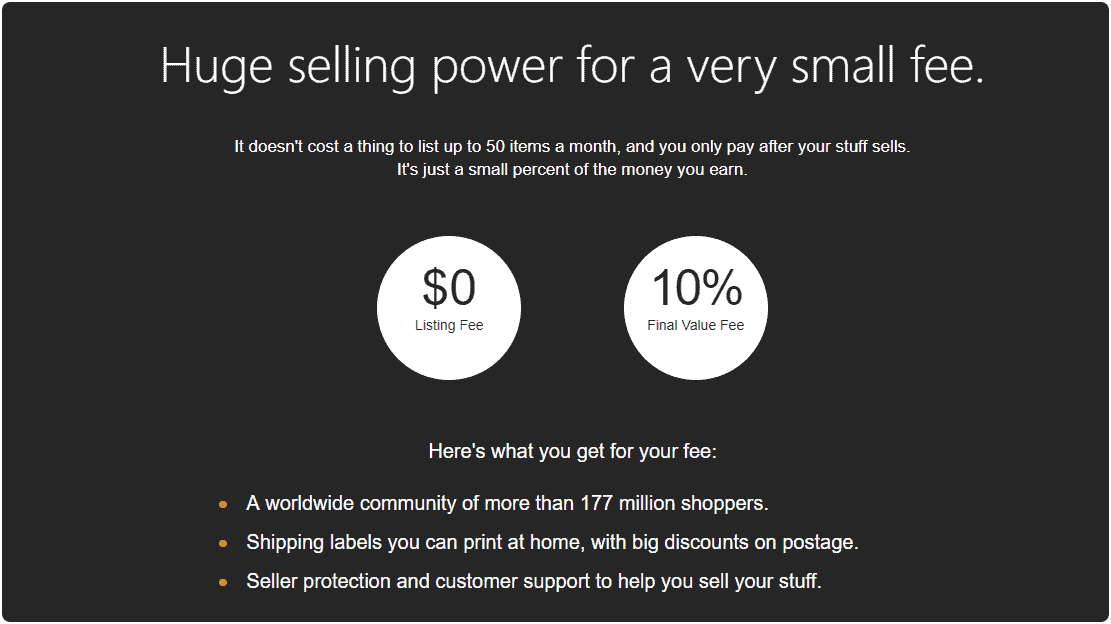 The insertion fee is a small fee that you're going to pay for every single listing you put up, while the final value fee is 10 percent of the total order amount.
Insertion Fees
One benefit of eBay is that they'll give you 50 free listings every single month and 6 vehicle listings in a year.
If you exceed the limit, then you have to pay $0.35 per listing.

It's great to save some money if you're just starting, or even if you're not selling many products every month.
Now, I am going to break down the different insertion fees:
So, if you have an auction for 1 to 10 days and it's under $150, you have to pay a $0.10 insertion fee on every single item.
And, if you have a good 'til canceled listings under $150, you have to pay a $0.30 insertion fee.
| | |
| --- | --- |
| Item price of $150 or less | Good 'Til Cancelled listings of $150 or less |
| $0.10 | $0.30 |
What if the product is worth over $150? eBay is going to double the insertion fee.
So, if you have an auction listed for $150, you have to pay $0.20 on that while $0.60 for good 'til canceled listings.
| | |
| --- | --- |
| Item price over $150         | Good 'Til Cancelled listings over $150 |
| $0.20 | |
So that's all you have to know about insertion fees.
Insertion fees don't pay that much of a factor into the final fees, most of the fees you have to pay are Final value & PayPal fees
Final Value Fee
The final value fee is a percentage (%) that eBay is going to take right off the top whenever you sell something.
For most of the items eBay charges, 10% of the total price of item + 5% shipping up to 750 transactions but for some categories fees are different.
Look at the table below to know the fees of other categories.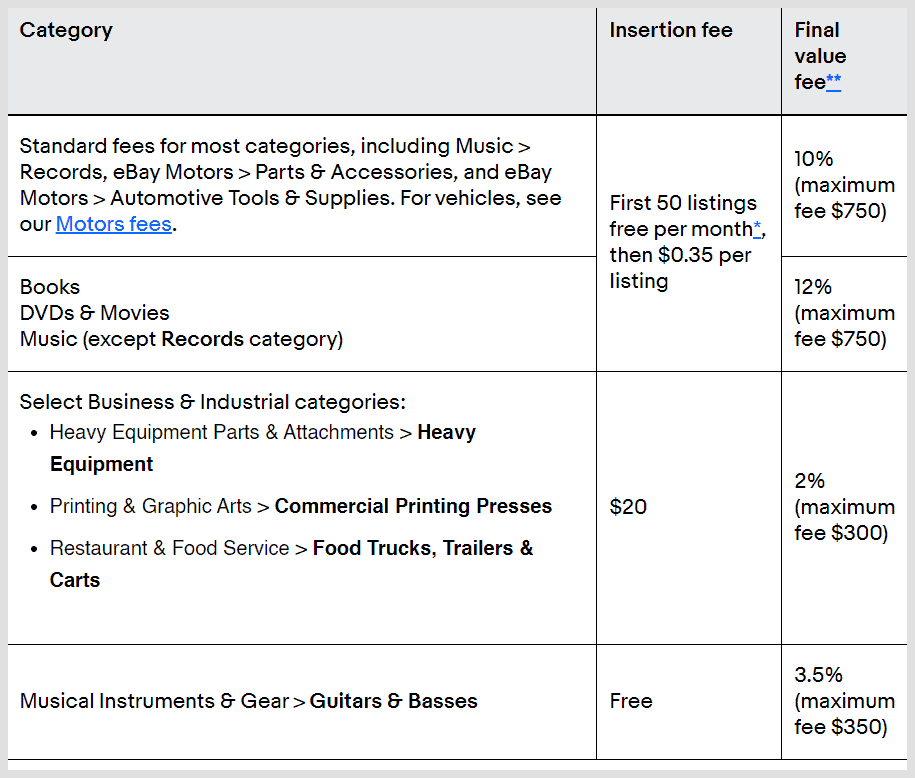 Note: It's very important to keep your account in good standing because if eBay considers you a below standard seller, your final value fees are going to go up significantly.
PayPal Fees
PayPal is going to charge 2.9% of the total selling price + $0.30 per transaction.
That's it; these are the main fees of eBay, and if you want to learn in detail, check out eBay's official article about selling fees.
Tip: Always calculate your fees first to know exactly how much you're going to profit.
Total Fees (Summary): The total fees are roughly about 12.9% + $0.30 of the total selling price of an item.

Things You Can't Sell on eBay And Etsy
There are some prohibited and restricted items you should know about to prevent your account from being banned.
Etsy restricted items are:
Alcohol, Tobacco, Drugs, Drug Paraphernalia, and Medical Drugs
Animal Products and Human Remains
Hazardous Materials, Recalled Items, and Weapons
Items that Promote, Support, or Glorify Hatred
Promoting Illegal Activity, and Highly Regulated Items
Internationally Regulated Items
Pornography and Mature Content
Items that Promote, Support, or Glorify Violence
For more details, check out the Etsy Prohibited Items list.
eBay restricted items are:
Adult items
Alcohol
Animals and wildlife products
Artifacts, cultural heritage, and grave-related items
Autographed items
Catalytic converter and test pipes
Coupons
Chance listings
Credit and debit cards
Digitally delivered goods
Drugs and drug paraphernalia
Electrical and electronic equipment
Event ticket
Embargoed goods and prohibited countries
Encouraging illegal activity
Firearms, weapons, and knives
Food
Gift cards
Government, transit, and shipping-related items
Government documents, IDs and licenses
Hazardous, restricted, or regulated materials
Human remains and body parts
Lock picking devices
Mailing lists and personal information
Medical drugs, devices, and healthcare
Personal relationships and services
Police-related items
Real estate
Product safety
Slot machines
Selling art
Stamps, currency and coins
Stocks and other securities
Stolen property
Travel
Used cosmetics
Used clothing
For more details, click here.
Getting Started
No matter which platform you choose on the basis of your situation, the first step will be getting started.
"The secret of getting ahead is getting started." ― Mark Twain
So, here you are going to find the information you need to start your shop on Etsy and eBay.
Getting Started on Etsy
This guide is going to help you through the first steps of opening an Etsy shop and provide resources for further guidance along the way.
It's easy to start selling on Etsy; you have to fill out some necessary information while creating your account and start adding listings to your store.
Once the process is complete, your next step will be promoting your products and after that, managing the store.
So, let's get started:
Getting Started on eBay
Selling on eBay is a great way to earn extra cash for stuff you don't need anymore, or even start a business.
Don't know where to start?
Our guides below will help you to get started selling and provides resources for further guidance along the way.
That's all you need to get started, and later on, you have to add your payment method to get paid by eBay, which you will learn below.
For more guidance and tips on selling, click here.
Getting Paid: How Do You Get Paid?

Keep in mind that not all payment methods will provide the same level of buyer confidence when you're selling online.
It's essential to know the buyer's perspective when you are selecting the payment methods.
There are many payment methods that you can add, but some of them are restricted and not allowed, so knowing about them is crucial for you.
Let's start with Etsy.
Getting paid on Etsy
Before getting paid, it's crucial to know how your buyers can pay for the products you are selling.
Your buyers can choose from the following payment options:
Credit cards
Debit/bank cards
Etsy Gift Cards and Etsy Credits
PayPal
Apple Pay
Google Pay
Klarna Invoice payments (Germany)
iDEAL (the Netherlands)
Sofort (Austria and Germany)
But how do you get paid from Etsy is the next question. Right?
Etsy Payments is the primary way to get paid on Etsy and simplifies payments for both you and your buyers.
To get paid from Etsy your shop must be enrolled in Etsy Payments.
Getting Paid on eBay
First, we will talk about which payments are allowed, restricted, and not allowed, and then how do you get paid.
Allowed ✔️
PayPal
PayPal credit or debit card
Merchant credit or debit card
Payment upon pickup
Restricted ⚠️
Bank-to-bank transfers or bank wire transfers
Checks
Money orders
Online payment services such as CertaPay, Allpay.net, Fiserv, XOOM, Nochex.com
Not Allowed
Paying through the mail
Bank-to-bank transfers
Paying with Cryptocurrencies
Mailing checks or money orders
Offering a payment method to specific buyers
Paying using online or other payment methods
Paying through Western Union or MoneyGram, etc.
Disappointing buyers from using any payment method
Offering buyers to contact you for additional payment methods.
Asking buyers to pay using a method not mentioned in the listing
So, this is the information you need to keep in mind, now let's know how to get paid for items you've sold.
How To Get Paid When Selling on eBay?
Once a buyer has paid for your item, you'll automatically receive your proceeds, but the timing of processing depends on the payment method the buyer used.
Whenever the buyer pays with a credit or debit card or PayPal, eBay will let you know by email when the payment will be finalized in your account.
You can check the status of a payment in "My eBay":
A question might arise, how long does it take to get paid on eBay?
Well, It depends on the payment methods you added:
Recommendation:

If you don't have the skills to market the products online then go with eBay
.
Conclusion – Which Is Better, Etsy or eBay?
At last, I want to say that I can't make the decision for you to choose between Etsy or eBay because it depends on your situation, but on the basis of the information I shared, you can easily make your decision.
One thing I've learned in business is that it's never the way it appears, and also everyone has different opinions.
So you must dive into it to experience any platform for yourself to know which one is beneficial for you and which one isn't.
If there are any other differences that you have experienced or prefer one marketplace over the other for a specific reason, feel free to drop a comment down below 🙂
FURTHER READING