Last Updated: May 16, 2022
Are you related to e-commerce business but don't know the types of eCommerce business models? Stay connected!
Many people know only about e-commerce and its basics but very few of them know the types of e-commerce business models, so in this post, I'll talk about them.
There are 6 types of eCommerce business models:
B2C: Business-to-Consumer
C2B: Consumer-to-Business
B2B: Business-to-Business
C2C: Consumer-to-Consumer
B2A: Business-to-Administration
C2A: Consumer-to-Administration
Let's discuss the types of e-commerce with diagrams and examples so you can understand them better.
First, take a look at the infographic and then we'll talk in detail about them.

Now let's talk about them in more detail.
1. Business To Consumer (B2C)
Business-to-consumer or B2C e-commerce consists of the sale of goods and services to the general public.
In this type, customers or consumers can visit the website and purchase goods online using credit cards.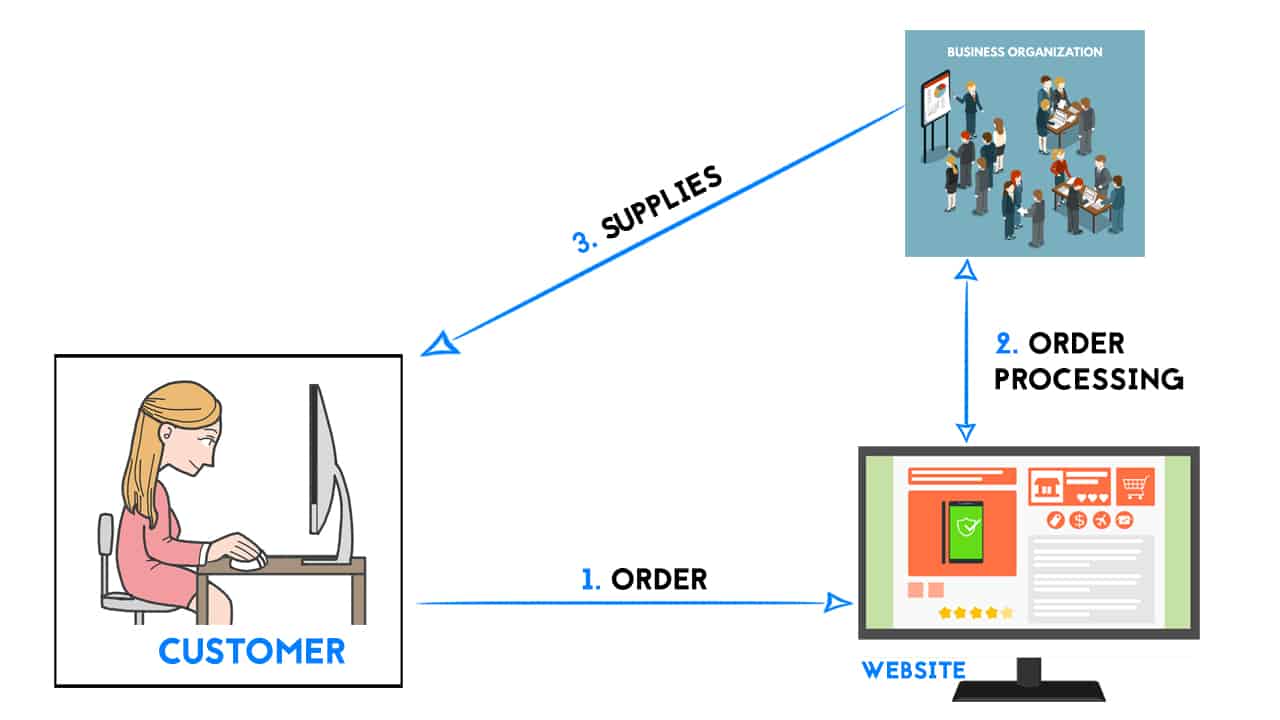 B2C Example
Let's say we have a company, and we want to sell our goods or services online through our website or any other online resource, then it can be referred to as the B2C model.
An excellent example of it is Amazon or eBay. We can call their business, Business To Consumer model.
2. Consumer To Business (C2B)
Consumer-to-business or C2B e-commerce consists of the sale of goods and services to the business organization via the website.
In this business model, the consumer creates value, and the businesses consume that value.
C2B is a complete reverse of the B2C model; if we reverse the process of the Business-to-consumer e-commerce model, we can call it the Consumer-to-business model.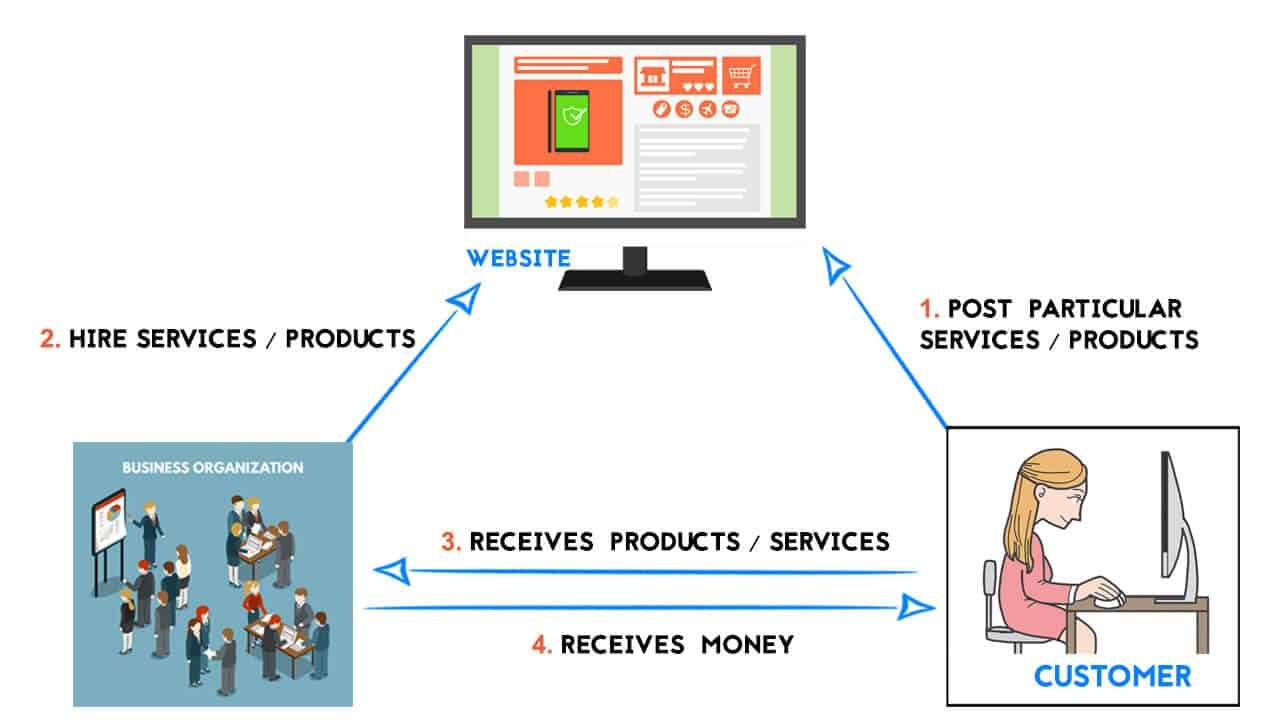 C2B Example
For example, a customer places some of their services or products on the website.
If the services or products create value for the business organization, then they order these services or products, but in most cases, services.
Suppose, a customer charge 100$ for a specific service and a business organization need that service because it can help them in some way so that they can order that service.
Whenever the deal is done, they receive services or products, and the customer receives money.
An example of the C2B business model is freelancing sites like Fiverr, Freelancer.
3. Business To Business (B2B)
Business-to-business or B2B takes place between two businesses where one business provides services to other businesses.
The business organization, also known as the manufacturer of the products, sells products to wholesalers, and the wholesaler re-sells them.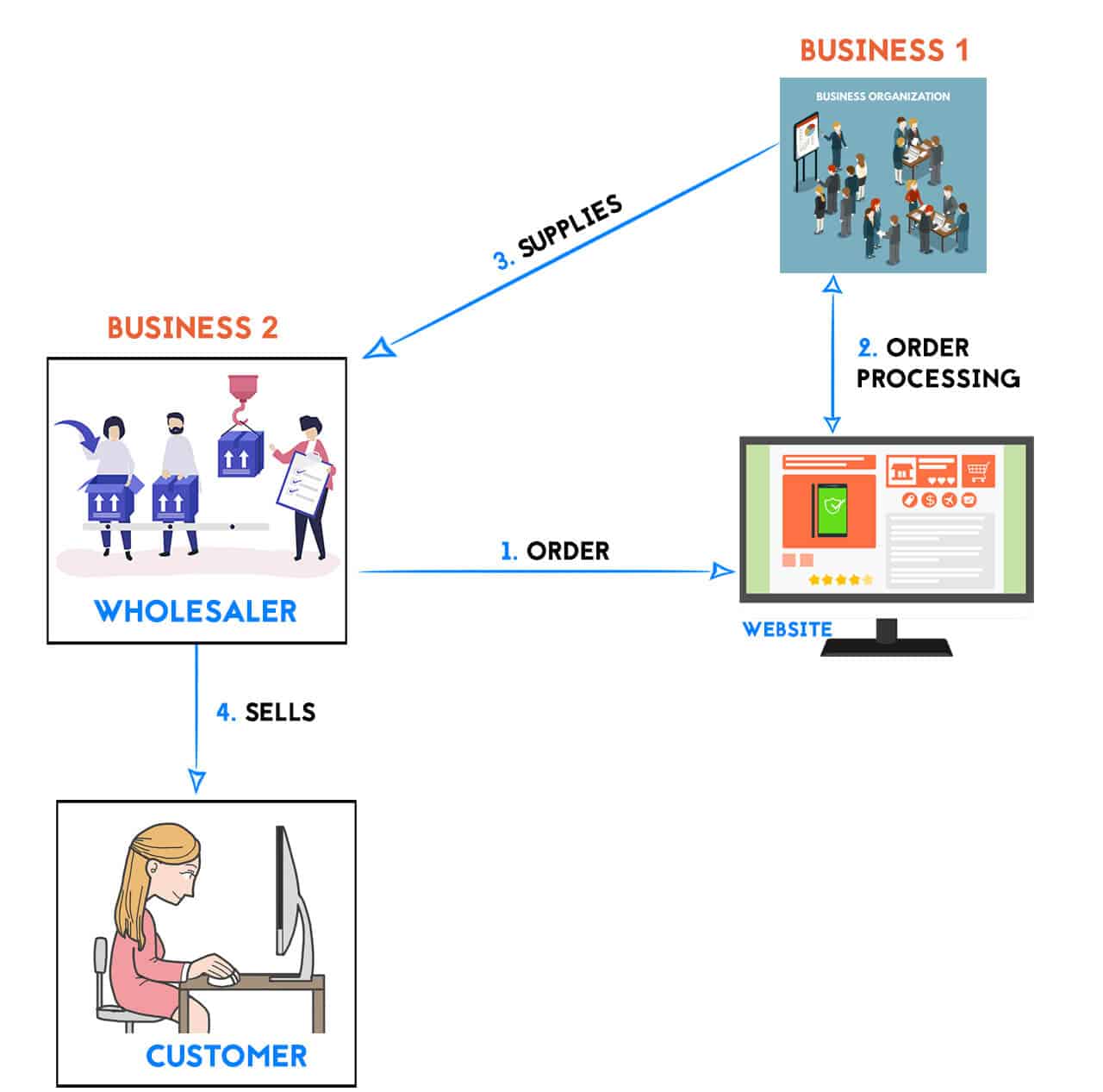 B2B Example
For example, there are two businesses:
Business Organization or Manufacturer

Wholesaler
A wholesaler goes to the Business Organization's website or any other online resource and orders products in bulk.
The Business Organization processes the order and supplies the products to the wholesaler.
When the wholesaler receives the products, then the wholesaler can sell those same products at a high price to their customers, and it can be referred to as a business-to-business or B2B model.
An excellent example of it is Alibaba.
Benefits
Importing & exporting products are easy and comfortable, and you don't have to go physically because you can order the products online.
The determination of buyers and sellers is easy.
B2B clients order more products than retail clients.
You can get the information about the Trade Guides and also make your business successful.
Business-to-business sales have a high potential to make more money than business-to-people sales.
4. Consumer To Consumer (C2C)
Consumer-to-consumer or C2C e-commerce takes place between two consumers where one consumer sells an item through an online auction while the other consumer purchases the item by offering the highest bid.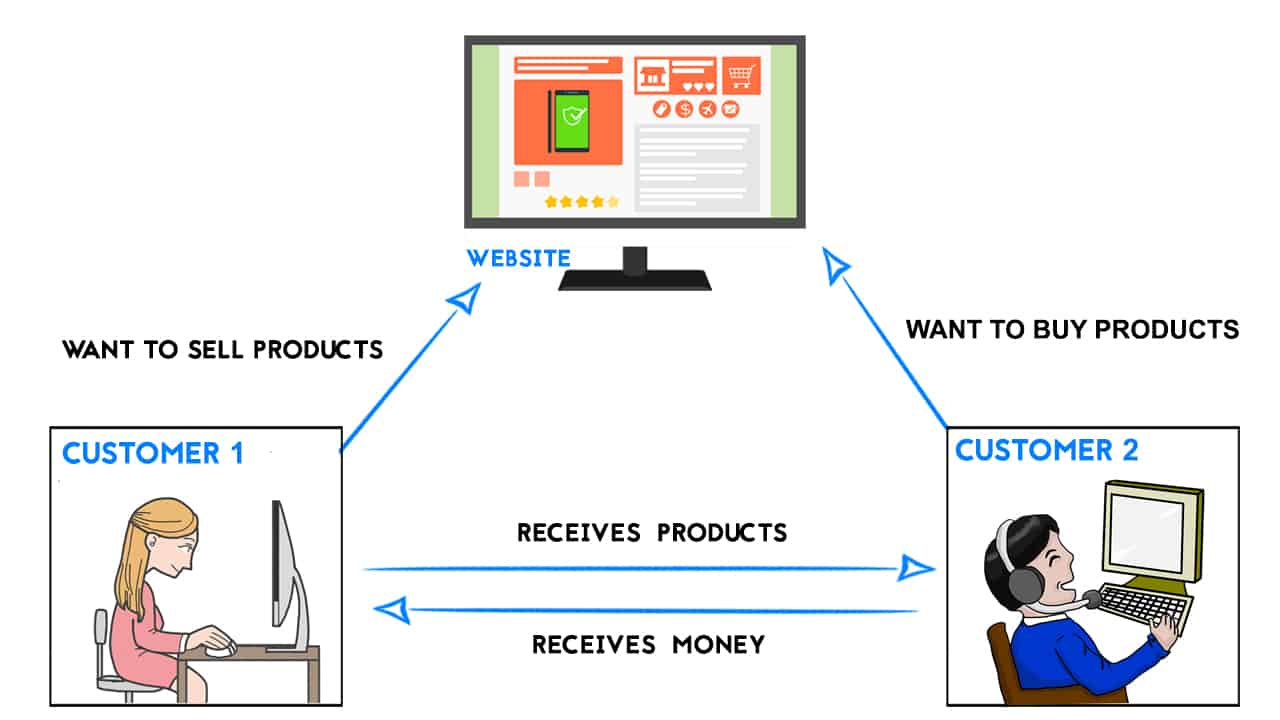 C2C is also called C2B2C because the deal is done between consumer to a consumer but through a business organization which is OLX or eBay or other sites like these.
C2C Example
For example, consumer 1 wants to sell a car, so he/she can places his/her car on a website like OLX or eBay, while customer 2 wants to buy that car.
So, customer 2 can contact customer 1 and buys the car from him/her.
5. Business To Administration (B2A)
Business-to-administration or (B2A) takes place between companies, public administration, or government agencies.
In this e-commerce business model, there are dealings between companies and public administration using the internet.

Government agencies (administration) use central websites to trade and exchange information with various business organizations.
B2A includes different services, and some of them are fiscal measures, social security, legal documents, and other government-related operations.
Business-to-administration model is also referred to as Business-to-government (B2G).
B2A Example
An excellent example of a B2A model is Accela; it's a software company that provides government software solutions and public access to government services for permitting, planning, licensing, public health, and so on.
6. Consumer To Administration (C2A)
The Consumer-to-Administration or C2A e-commerce business model encompasses electronic transactions online between individuals and the public administration.

The C2A e-commerce model helps the consumers to post their queries and request information regarding public sectors directly from their local governments/authorities.
It provides an easy way to establish communication between the consumers and the government.
C2A Examples
Some of the examples of C2A are disseminating information, distance learning, distribution of information through social security, electronic tax filing, payment of health services, etc.
Wrapping Up!
There's no doubt that eCommerce is growing at an unprecedented rate all over the world because it provides flexibility and gives more happiness than physical shopping.
Therefore, as I already said, you must know about these 6 types of e-commerce business models.
If you're still confused or would like to express your opinion, please let me know in the comments section below.
FURTHER READING