Last Updated: January 15, 2023
Etsy becomes very popular over the past few years, therefore, a lot of people want to start selling on Etsy, but a common question most people have in their mind and that is, what to sell on Etsy?
Well, if you're thinking the same then my friend you are not the only one who is confused about choosing the right category or niche to sell.
Finding out the right niche and the top-selling items on Etsy needs some proper research.
But, don't worry! I've spent hours and hours doing research and finally found the 11 best things to sell on Etsy.
And in this article, I am not just going to reveal that list with you, rather I'll give you some legit reasons why those items sell best.
Before I share the list with you, it's very important to consider some points to find out the perfect niche/category to sell on Etsy.
Things To Know Before Starting Selling on Etsy
???? Before you decide what you're going to sell, ask yourself the following questions:
What is my passion?
What do I enjoy creating?
What inspires me?
What keeps me going?
What can I work hard without feeling exhausted?
Can I treat my Etsy shop as a business?
Can I make my customers satisfied?
How can I make a profit from your passion?
Can I have patience?
According to these questions, you should pick your niche.
The biggest reason why not many people become successful in selling online is that they are not identifying their passion and what they're good at.
Most people saw someone else as successful in selling jewelry, so they're like I am going to start my jewelry shop as well.
But, once they start their jewelry business then after some time, they get tired of it and don't make any money because they are not passionate and good at selling jewelry items and they quit.
So, you need to pick a niche that's going to keep pushing you, especially at the beginning stage when you are not making money.
At the beginning stage, you have to figure everything out like:
SEO
Market your products
Create a cohesive brand.
Description of the products
Brand colors
Logo
Products Photography
So, that's why you have to pick something that does not matter how hard it gets; you're not going to quit.
The best thing about Etsy is that it is integrated with many popular ecommerce platforms. By integrating with other ecommerce platforms lets you sell on Etsy with Shift4Shop, Shopify, and many more platforms.
Another important thing you should know before selling is the Etsy Fees structure if you already don't know.
Etsy's fee structure looks simple but there is more than that, therefore if you don't know completely about its fees then you should definitely read our article on Etsy Fees.
Useful Tip
Don't rush when choosing a niche and don't go with a too broad category. For example, if you select the Jewelry niche, then don't sell all kinds of jewelry items.
You can go with rings, earrings or something like that.
It's important to niche down because you will get your targeted customers quickly.
Some people sell jewelry, clothing, prints all in one store, which is terrible because your target audience will get confused.
And, it will be tough to narrow down your target audience.
Therefore, the more you niche down, the easier it will be to identify your ideal customers and helps you in marketing your products as well.
Now it's time to talk about the main question, what should I sell on Etsy? Let's dive right in.
What To Sell On Etsy
The confusing part of starting your online store is choosing a perfect niche/category according to your passion and specialty.
Let's have a look at the best sellers of Etsy and other low competitive niches.
It will help us to understand what sells the most on Etsy, why that sells, and is that right for you or not. So without further ado, Let's dive in.
Here's the list of best-selling items on Etsy.
1. Digital Prints & Downloads
If you don't know what digital printing is, so in short, it's a method of printing from a digital-based image.
Selling digital prints is a great way to earn extra income especially for those who have graphic designing skills.
All you've to design high-quality amazing digital prints that the buyers can print and put on their wall arts.
While creating your Etsy listing, you've to include your digital print files, set the price, publish the listing, and whenever someone purchases from you, the buyer will simply be able to download the digital print. That's it!
No shipping, avoid extra headache & safe time as well!
Here's an example of one seller, selling digital prints: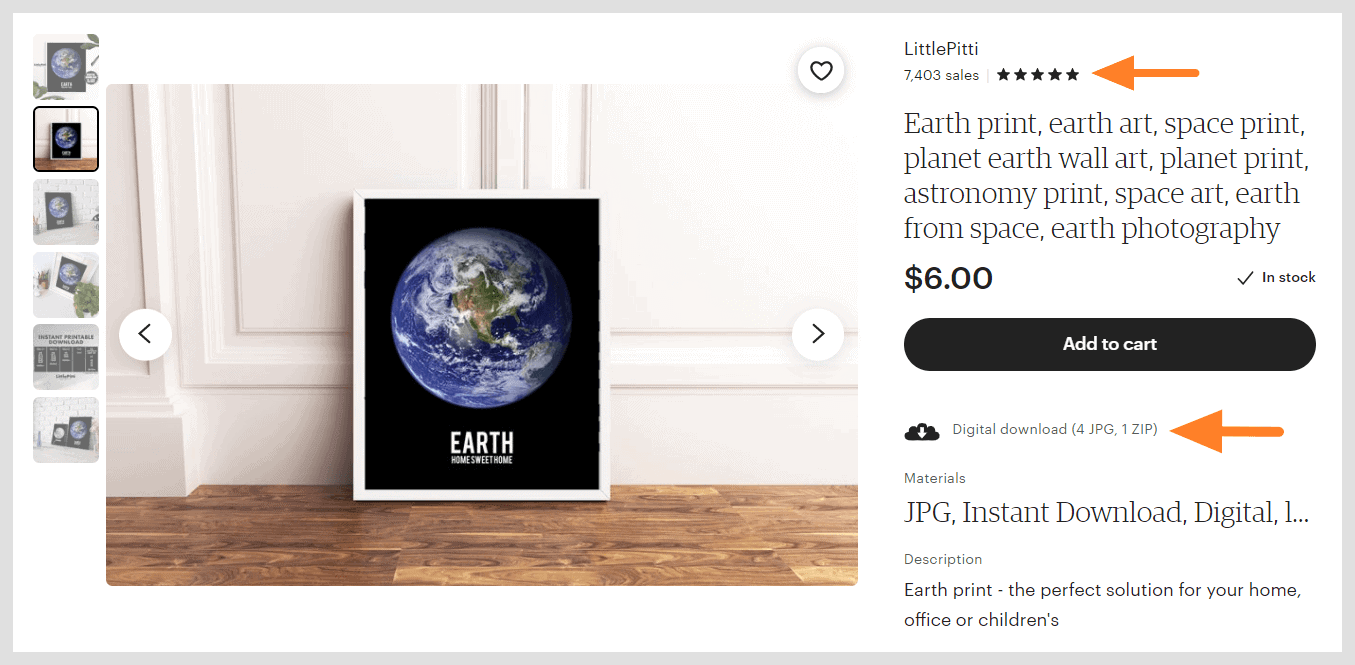 You can see the total number of sales is almost 7400+ and the seller is charging $6 for this digital prints download.
Let's calculate how much the seller is earning by selling these digital print downloads files, so $6 x $7400 = $44400. Wow!
Yes, there will be transaction fees, listing fees, and other fees as well but that isn't too much.
Selling digital prints or any other kind of digital downloads is a great way to make passive income while you are sleeping without doing additional work.
One of the best things I like about selling digital stuff is that you can sell without shipping or overhead costs.
You only have to spend time creating your digital print or you can pay someone to create a digital print for you.
After that, you can sell the actual listing one time, 1000 times or more it doesn't matter and you'll be earning money from your digital downloads without shipping and overhead costs.
2. Jewelry
Jewelry is very hot on Etsy, and it is one of the best selling Etsy items as well because it is tiny in size and easy to ship.
The cost of shipping for Jewelry is low because it's not a heavy and bulky item.
Just make the shipping package decent and send that out to your customer, so it's a great idea, especially if you make jewelry yourself.
Decided to start your jewelry store?
If yes, then check out jewelersparadise as a blueprint so you can understand what type of jewelry items they are selling and why people are buying them.
3. Handmade Clothing
Clothing items are Etsy's top-selling items and best to sell, but keep in mind that I am talking about handmade clothing items.
If you know how to sew, knit, and are interested in making handmade clothing, then I highly recommend you to sell clothing items on Etsy.
Why is it right for you?
People come to get handmade items, whether it's a digital print, jewelry, clothing, or other handmade products.
They love buying handmade items, so if you could create something beautiful, unique, and custom, this platform is for you.

4. Party Decor
Party decoration items are the best items to sell on Etsy because everyone from kids to elders wants their party to be decorative and unique.
Parties without decoration are worthless, therefore, these items are convenient and perfect to sell on Etsy.
If you can offer unique party decoration items to the customers then definitely people will pay for your effort.
See a successful store called ScribblePrintsCo, which sells party supplies and other paper goods as a blueprint.
5. Toys & Games
Toys and games sell best on Etsy for those who currently handcraft toys and that's their specialty.
Any reason why it sells best? Yes! Let me tell you.
There is not much competition selling toys and games items because creating handcrafted toys is hard, so not many people have the skill to do it.
It's not something that anyone could easily copy.
In short, I would say if you can make handmade toys and that's your specialty then definitely start selling it right now on Etsy.

6. Vintage
Vintage is another category that sells best on Etsy, but it is a little bit harder to sell.
The best thing about vintage is that no one else has the same items you are trying to sell.
If you have older vintage stuff at home that you have restored, then it is worth at least putting up on Etsy.
To sell vintage products, you have to focus more on product photography and marketing because these items are for a specific audience.
However, if you have great items to sell, you have to price them according to your marketing budget and product photography to be profitable.
So, if you market them correctly and have the best photos, and your items are unique, then you could do very well as a vintage seller on Etsy.

7. Kids & Baby
Kids and baby is another popular category that features a wide variety of handmade products specially created for children.
The reason why this category has top selling items on Etsy is the love of a mother for their children.
Mothers know that their love and emotional availability are vital to their children's, therefore, they buy the products for them.
So, if you can make beautiful & unique baby items, then you will stand out from the crowd and can sell very well.
8. Vinyl & Heat Transfer Supplies
If you don't have the skill to knit, draw, handmade jewelry, or other handmade items, then you can sell vinyl & heat transfer supplies, and it sells best on Etsy.
These items are mostly bought by other Etsy sellers to use them for their products (t-shirts/clothing) or to become crafty.

9. Stickers
Stickers are one of the best sellers on Etsy because everyone loves to use stickers.
Why?
Because it is useful for designing work to make stuff look cool or for the planner as a label to apply on their to-do list and much more.
Why do Stickers sell well on Etsy?
Stickers are cute, and everyone loves cute.
Handmade item sells best on Etsy and stickers are hand-drawn.
Affordable to buy because the price ranges from $2 to $10.
Serve as rewards for kids.
Low levels of returns on stickers because of the lower price.
Buy in bulk.
So, these are some points of why stickers are top-selling items on Etsy.
The great thing about selling stickers on Etsy is that you don't need a high budget to start your store and the cost of shipping is also low.
Therefore, if you know how to design cool and unique stickers that can fit the customer's need, then start your store right now.
I highly recommend checking out the Once More with Love Etsy shop as a blueprint.
10. Pet Supplies
Do you love pets? Of course, yes!
A lot of people love their pets more than anyone else, therefore, there is a massive demand for pet-related products on almost every marketplace.
I recommend you to check out a store called PuddleJumperPups as a blueprint which sells handmade dog collars, leashes & more because it had great success on Etsy.
So, if you can create unique pet products or can help their pets in any way, then what are you waiting for, start your pet supplies store on Etsy right now.
11. Invitations & Paper
Invitations & Paper items sell best on Etsy, it's a good way to start your store with a low budget, and it's beginner-friendly as well.
It is good because not many people are selling these items, and people who are selling them make a good amount of money from them.
Why Are Invitation supplies good to sell?
Everyone needs a unique invitation, whether it's a birthday, wedding, or parties, etc.
So, if you can create unique invites and in many different styles, then start your store now.
????Note: Do not add trademarks or movie references on your designs without getting permission from the company.
Just create something unique and simple. That's it.
Conclusion
Choosing the right niche to sell your items is a pretty complicated decision. There are a lot of different factors that determine which niche is best for you, and there is not a single right answer for every niche.
We hope that after reading this comprehensive guide, your confusion about what to sell on Etsy has cleared.
Now, you can choose your niche according to the instruction I gave above.
If you are still confused and have any questions in your mind or want to share your thoughts, feel free to reach out in the comments below.
FURTHER READING