Last Updated: November 18, 2022

Keen on booking a hotel, car, cruise, or flight through Travelocity but have concerns about its legitimacy, reliability, and safety?
If so, then please be here for a while.
After reading this article, you will know EXACTLY if it is a legitimate, safe, and reliable platform or a scam and what you should be aware of before booking.
Let's get started.
Is Travelocity Legit?
Travelocity is definitely legit as it is owned by Expedia Group, the largest online travel company in the world. However, booking through Travelocity increases the risk of issues because it acts as an intermediary between the customer and the travel provider.

Let me explain in detail why the risks associated with booking through Travelocity are higher.
So as you might know:
Travelocity solely acts as a middleman between the traveler (you) and travel providers such as airlines, hotels, car rental companies, etc.
As a middleman, Travelocity collects the payment and is responsible for your booking.
Since your contract is not directly with the hotel, airline, or other travel providers you booked with, they are not responsible for your booking, and don't expect any direct help from them.
In the event an issue between you and the host/traveler provider arises, you will have to involve Travelocity first, and then they will reach out to the travel provider on your behalf to resolve the matter.
But the problem is:
There is a lack of customer support on Travelocity.
It is not just Travelocity where customer service can be lacking; online travel agencies (OTAs) generally skimp on customer service to keep their costs down and offer you cheap bookings.
Of course, the lack of customer support is part of how Travelocity and other OTAs are able to offer cheaper rates than direct bookings.
Therefore, if you've booked through Travelocity then there is a good chance you are going to be stuck in a lot of back and forth between the host and Travelocity before your issue is resolved.

However, there are possibilities that your issue might not be resolved either, especially if it is urgent due to the lack of customer service.
Similarly, when you are booked through Travelocity then it becomes complicated to make changes or cancellations to your bookings, especially in the case of flight reservations.
While you may be able to easily make changes or cancellations to other travel services, doing so to a flight reservation is very challenging.
In fact, it is almost impossible to cancel or change flights booked through Travelocity.
The reason is that even if you booked directly with the airline, making changes or cancellations to your flight is challenging.
And if you booked flights through Travelocity, things are going to be more complicated because of the third party involvement.
Having a middleman can complicate any mishaps because airlines will tell you to coordinate any issues through Travelocity rather than offering you direct assistance.
And Travelocity may then turn around and push things back to the airline, leaving you stuck in the middle.

On the other hand, it is far more convenient to make cancellations, amendments, or resolve other issues when you are booked directly since there are no intermediaries involved.
In addition, the travel providers (hotels, airlines, car rental, etc.) give high priority to customers who booked directly with them rather than those who booked through Travelocity.
The reason is simple:
They make more profits from direct sales than those made through Travelocity since they won't have to pay any commission fees to them.
Contrary to this, it is much easier for them to manage the customers who book directly rather than those who book through online travel agencies like Travelocity, Agoda, Expedia, Booking.com, Trip.com, etc.
One example of it is that the hotels may not receive your booking confirmation from Travelocity, resulting in overbooking for the same room.
There have been many instances where a guest has been stranded in a strange city without any room availability in the hotel, despite making an advance booking with them through Travelocity.
As for direct bookings, there is no risk of missing your booking confirmation since there is no middleman involved (Travelocity).
Hence, I would say:
Travelocity works out just fine until something goes wrong.
The major advantage of booking anything through Travelocity is that they usually offer cheaper prices than booking directly.
But if something goes wrong, you may have a hard time cancelling, changing, or resolving any other issues when you're booked through them because of the involvement of a middleman (Travelocity).
With that said, let's conclude: Is Travelocity legit?
Even though booking through Travelocity carries a higher risk of issues than booking directly, but as far as its legitimacy is concerned, it is certainly a legitimate platform.
Travelocity's legitimacy cannot be questioned because it is owned and operated by the world's largest online travel company, Expedia Group.
Expedia Group not only owns Travelocity, but also other leading online travel sites like Expedia, Hotels.com, Vrbo, Hotwire, and more.

If Travelocity were a scam company, it probably would not be a part of the Expedia Group.
Furthermore, Travelocity has been in business for the last 26 years and scam companies don't survive this long.
Taking these major factors into consideration, one can easily judge whether or not Travelocity is legitimate.
Should You Book Through Travelocity or Directly?
If the price difference is the same or slightly cheaper then there is no point to book through Travelocity.
However, if the price difference between booking through Travelocity and directly is significant then it mostly comes down to personal comfort.
Personally, I highly recommend you to AVOID booking flights through Travelocity.
The reason is that when you book flights through Travelocity, it gets very complex to make changes, cancellations, or resolve other problems.
On the other hand, if you book your flight directly with the airline then it will be far more convenient for you to make changes, cancellations, or resolve other problems.
I only recommend Travelocity for booking hotels but only under these conditions:
The price difference is significant between booking directly and through Travelocity.
Booking an average hotel, not an expensive luxury hotel.
Not making reservations for a large number of days at once.
Besides these conditions, you must have to be aware of these:
7 Tips To Book Safely on Travelocity
To minimize the risks associated with your booking through Travelocity, keep these seven tips in mind before you book anything:
1. Check the Photos of Hotel and Its Rooms
Before booking any hotel, check multiple photos of it provided in the listing of Travelocity: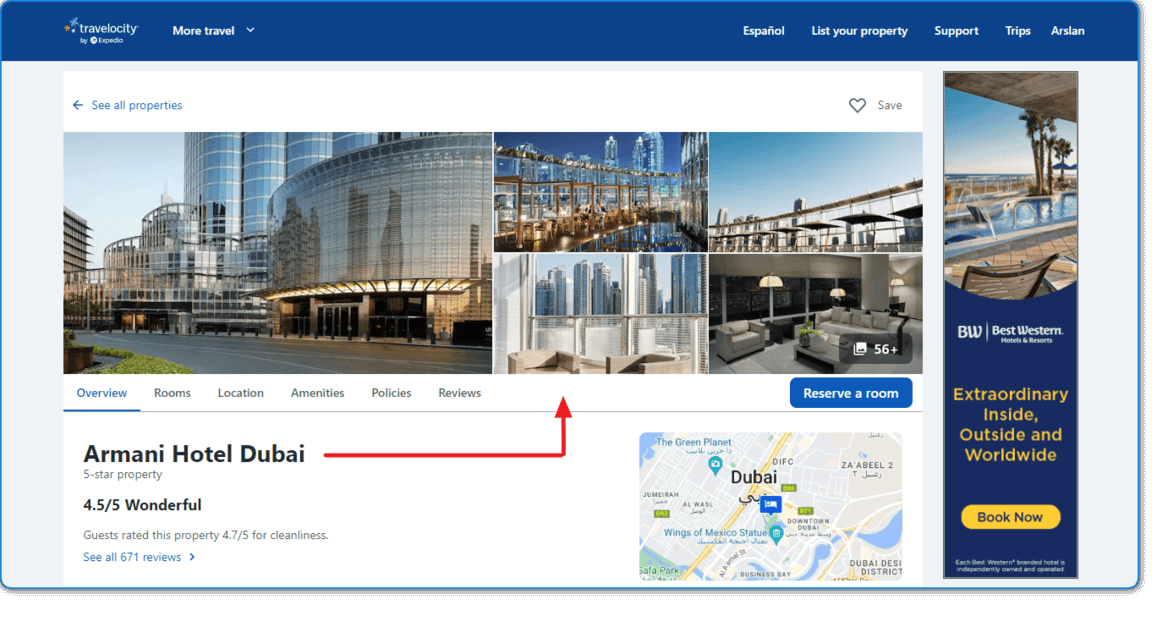 After checking the photos of the accommodation, make sure to check the photos of the room you're considering booking.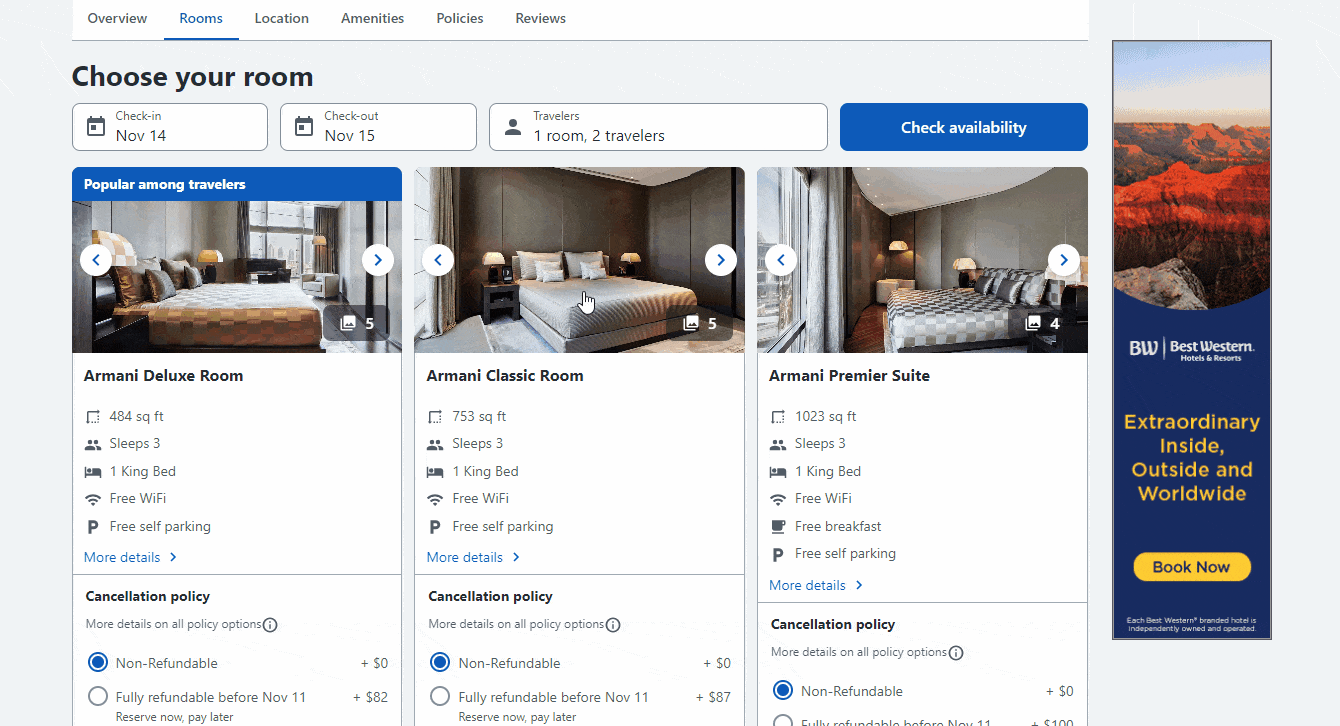 Once you check the photos of the hotel and the room, you have to:
2. Read Guest Reviews
Before you book your hotel, it is extremely important to read guest reviews thoroughly to get an actual idea of what to expect from the property.
Make sure to choose an accommodation with a minimum of 100+ reviews and ratings of at least 4.5 out of 5.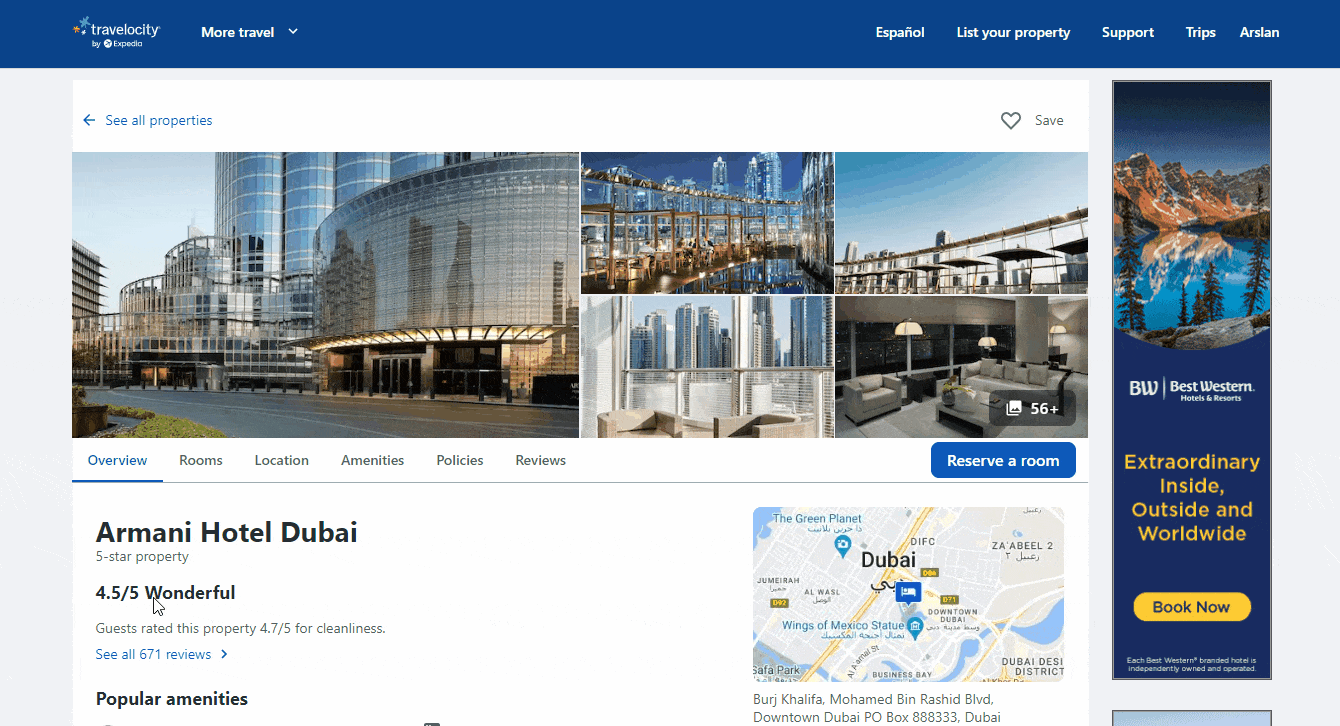 In case you're wondering:
Are the reviews on the properties listed on Travelocity real?
Since the reviews can only be submitted by people who have genuinely stayed with the property before, they are definitely real.

3. Carefully Read The Policies
Oftentimes, guests ignore the policies when booking which later on results in unsuccessful cancellations and refunds.
To avoid such issues, be aware of the room cancellations and refund policies before booking your room.
Furthermore, also make sure that you read the property rules properly.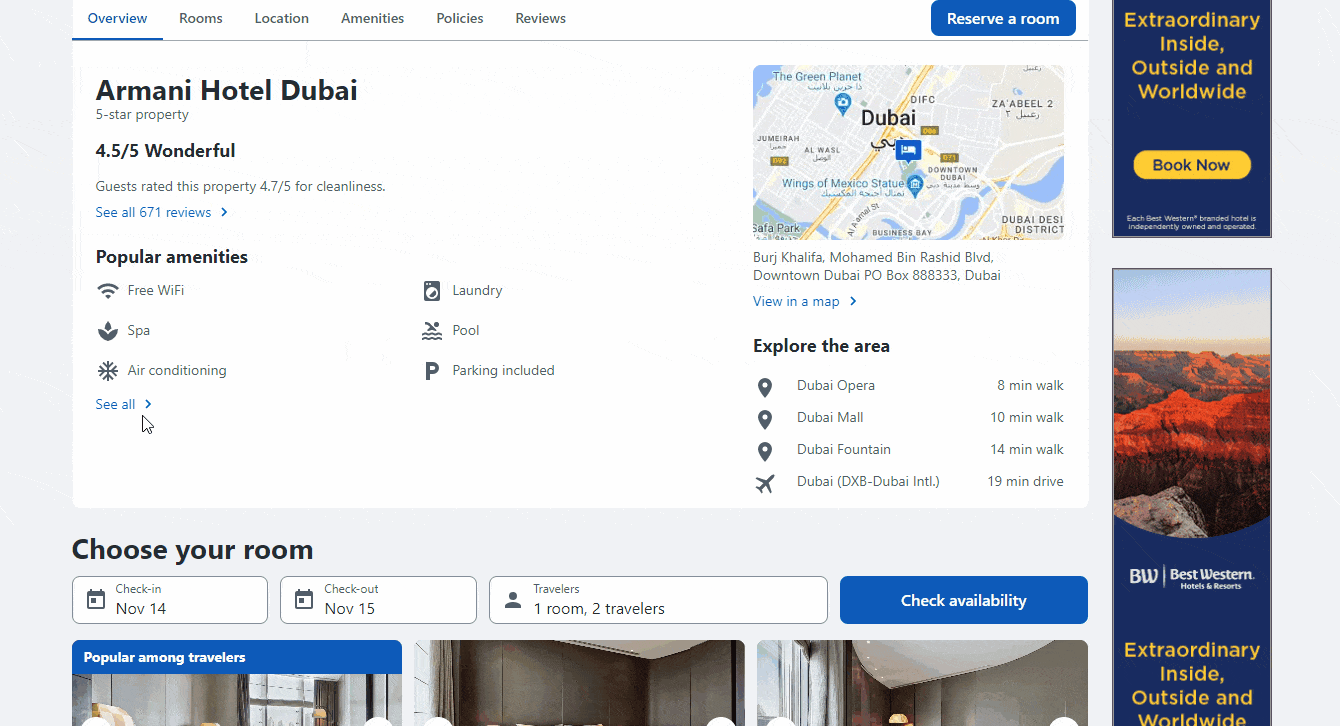 Similarly, make sure to read the policies of any other services you plan to book (flights, cars, taxis, etc.).
4. Check the Amenities You Need
Before making the reservation, make sure the room you're considering has the amenities you need.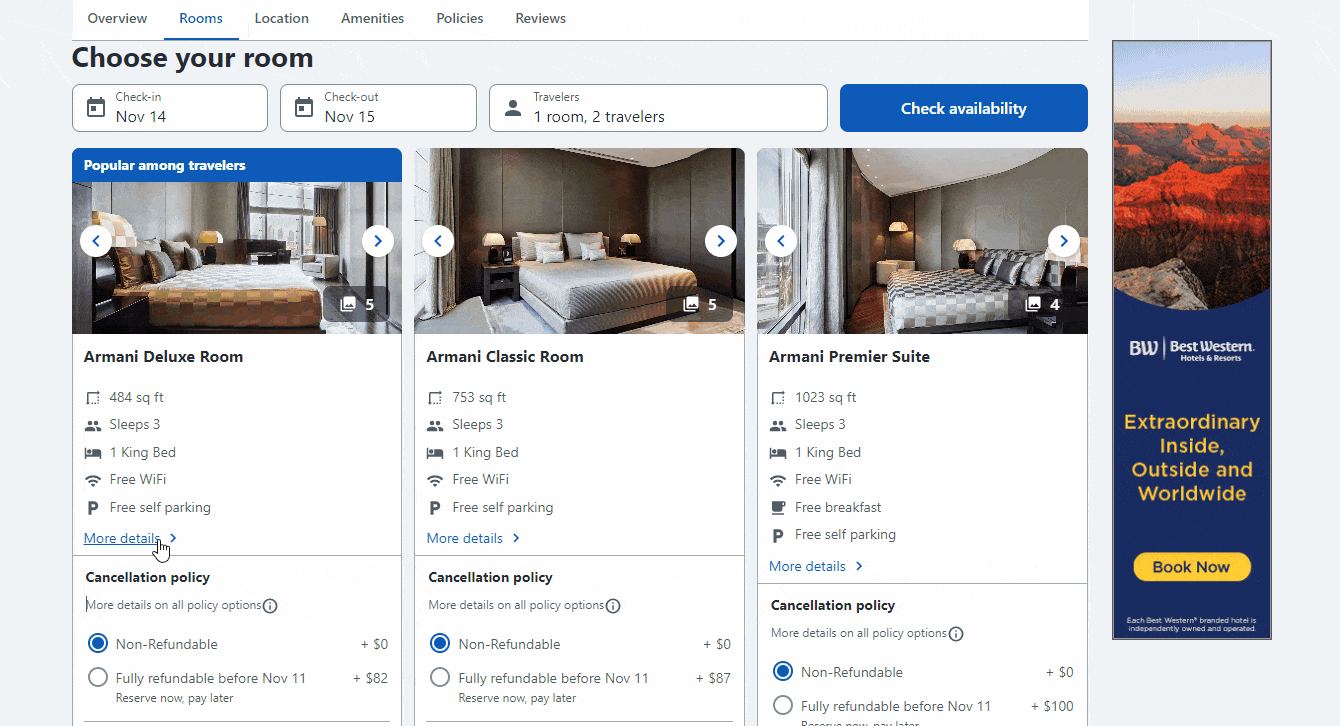 In addition, check the property amenities to make sure it has the amenities you require.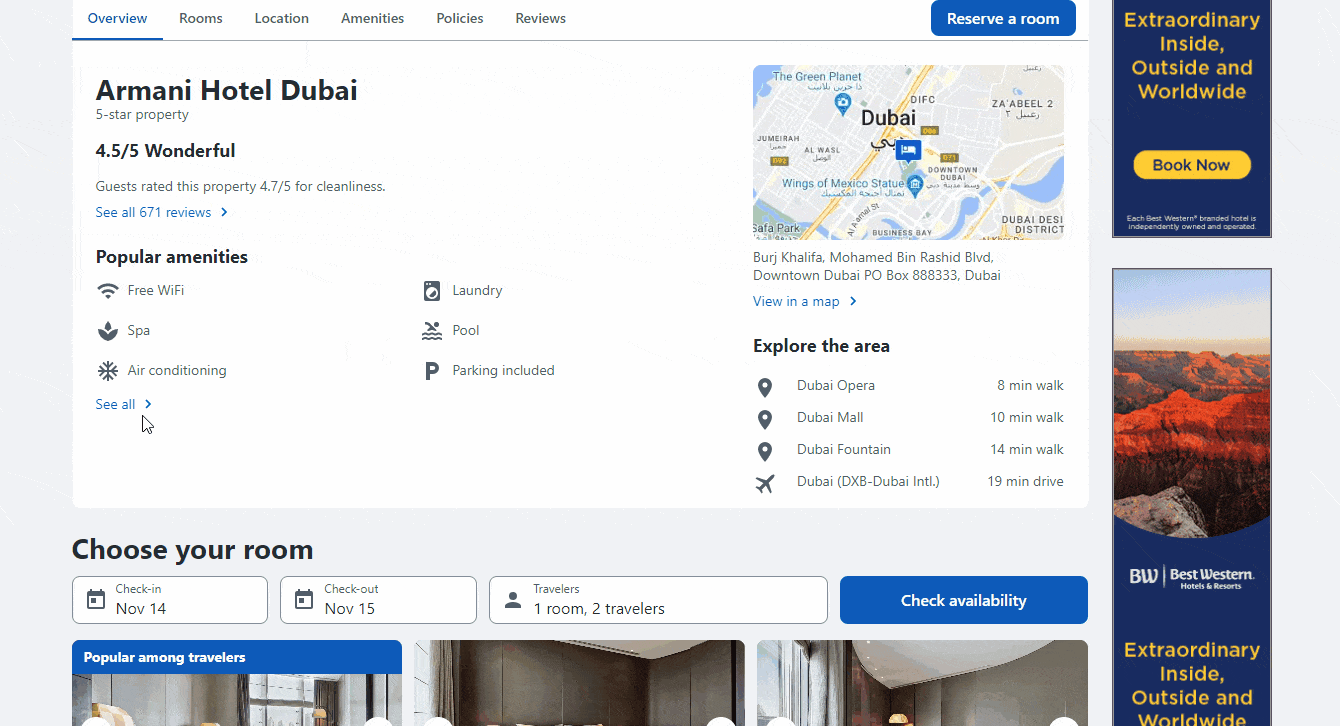 5. Don't Make Prepayments
Some hotels on Travelocity give you an option to either "Pay Now" or "Pay at the hotel".
Always book with a hotel that has a "Pay at property" option and select this payment option when booking so that if your plans change, you won't have to face any problems dealing with Travelocity.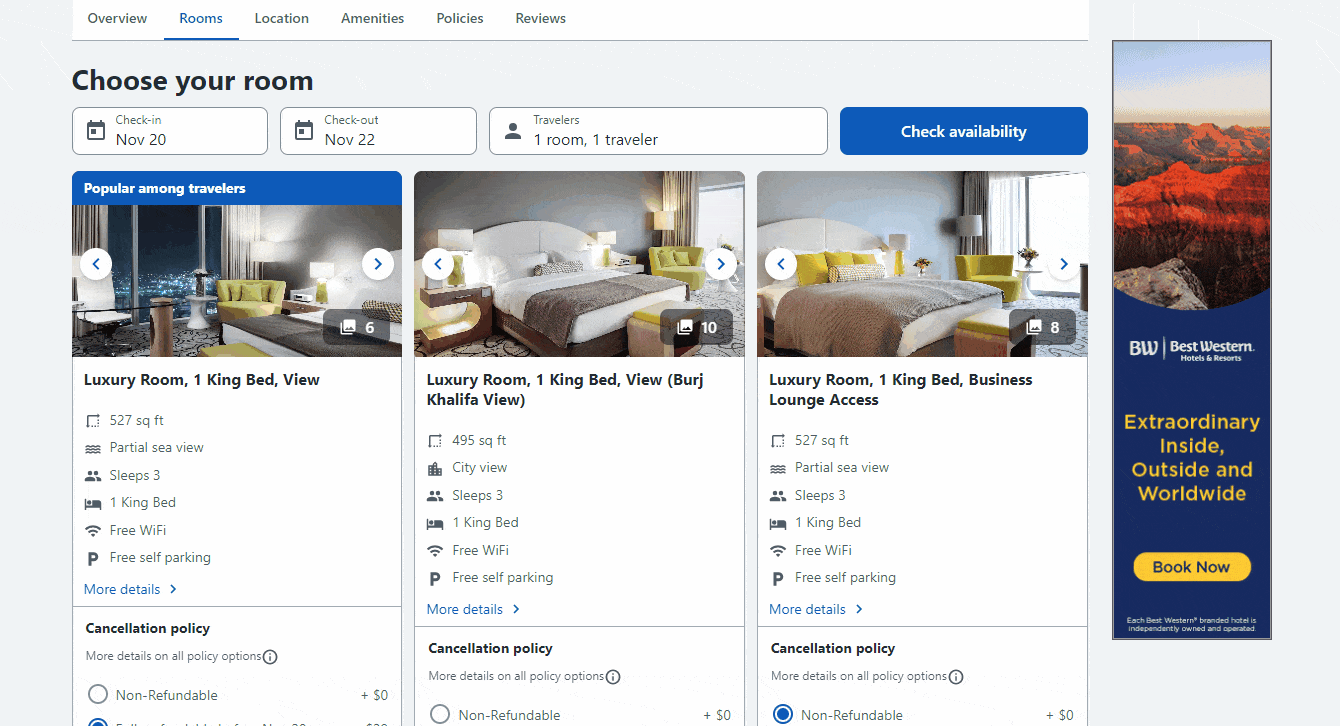 6. Make Sure The Book Details Are Correct
When booking anything through Travelocity, make sure the booking details are correct as incorrect details cause real problems and it will be a headache to make changes, especially in the case of flight reservations.
And finally:
7. Confirm Your Booking From The Hotel
As you know, booking a hotel through Travelocity comes with the risk of not receiving your booking confirmation which could result in no room availability when you arrive at the property.
To avoid this issue, contact your hotel and confirm your booking with them before arriving at the property.
That's it!
By following these seven tips, you are less likely to get stuck in any problems.
Why Booking Through Travelocity Is Cheaper Than Booking Directly?
Well, it is due to the two primary business models Travelocity employs:
Merchant Model
Agency Model
1. Merchant Model
Travelocity uses the merchant model to buy hotel rooms or another type of booking in advance and in bulk to get discounts and then sells them to you and me over time at a higher price, passing some of its commission to us.
Confused? Consider this example:
Travelocity uses its purchasing power to buy rooms in bulk and in advance at a discount rate from the hotel.
For instance, Travelocity books a block of 50 rooms from a hotel for $100 per night while the current market rate sits at around $100 per night.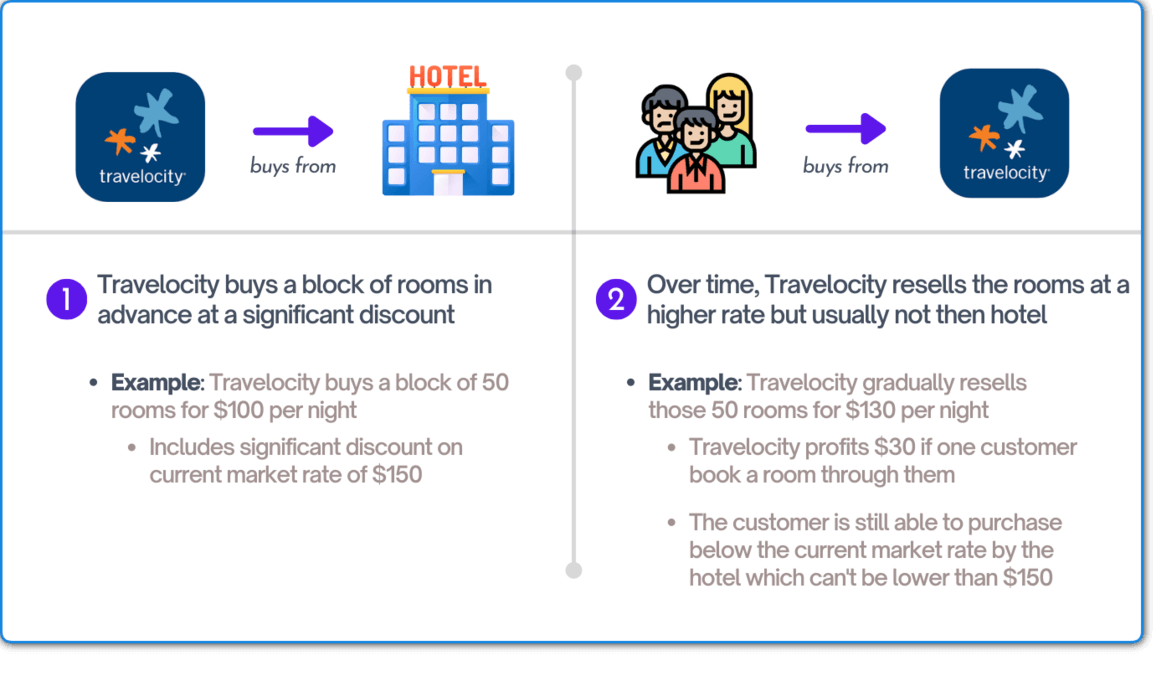 Over time, Travelocity resells those rooms at a higher rate ($130) but cheaper than the current market rate by the hotel ($150).
Example:
Travelocity gradually resells those 50 rooms for $130 per night.
Travelocity profits $30 if one customer books a room through them.
The customer is still able to purchase below the current market ($150) by the hotel, saving you $20.
By selling those rooms at a higher price than they purchased them for, Travelocity made a profit but also presented savings to us over the current market rate.
Travelocity also employs the merchant model with airline tickets or rental cars and then combines the different bookings to offer an attractive vacation package with built-in savings over booking the components independently.
So that's one of the major reasons why Travelocity is able to offer cheaper rates to us than booking directly.
Another reason how they are able to offer cheaper rates is that they use:
2. Agency Model
In the agency model, Travelocity acts as a salesperson and facilitates a booking between the customer and the hotel, airline, or car rental company.
To help them sell their bookings, Travelocity gets a commission in exchange.
Basically, Travelocity allows anyone to list on their platform for free and charges a percentage of commission from them once a sale is made through their platform.
Since the travel providers (hotels, airlines, taxis, etc.) pay a commission to Travelocity when a traveler books through them, Travelocity, in turn, may pass some of that commission on to consumers.
That's how Travelocity is able to offer you cheaper rates than booking directly.
Conclusion
There is no doubt that Travelocity is a legitimate online travel agency.
However, when you're booked through Travelocity and something goes wrong or you need to make changes or cancellations, especially in the case of flights, then things get complicated to resolve.
On the other hand, the main benefit of booking through Travelocity is that you often get cheaper rates than booking directly with hotels, airlines, or other travel agencies.
To wrap up, here are my two cents:
Avoid booking everything, especially flights, through Travelocity except hotels or other types of accommodation but only under these conditions:
The price difference is significant.
You're not booking an expensive luxury hotel.
You're not booking accommodation for a large number of days at once.
In addition to these conditions, you must be aware of the safety tips mentioned above as well.
I hope you are now fully aware of Travelocity's legitimacy, reliability, and safety.
Still if you have concerns or want to share your experience, feel free to let me know in the comment section below.