Last Updated: August 22, 2023

The appealing airfare rates of BudgetAir may have tempted you to book a flight through it but as a smart traveller you're worried if it is a scam company.
Your concerns are reasonable because these enticing flight rates often come with a scam or hidden costs.
So before making a flight booking, it is crucial for you to read this article to know if BudgetAir is a legit company or just a scam waiting to steal your hard-earned money.
Let's get started!
Is BudgetAir Legit?
BudgetAir is definitely a legit online travel agency as it is a brand of Travix, which is one of the leading online travel companies in the world. However, booking flights through it increases the risk of issues compared to booking directly with an airline.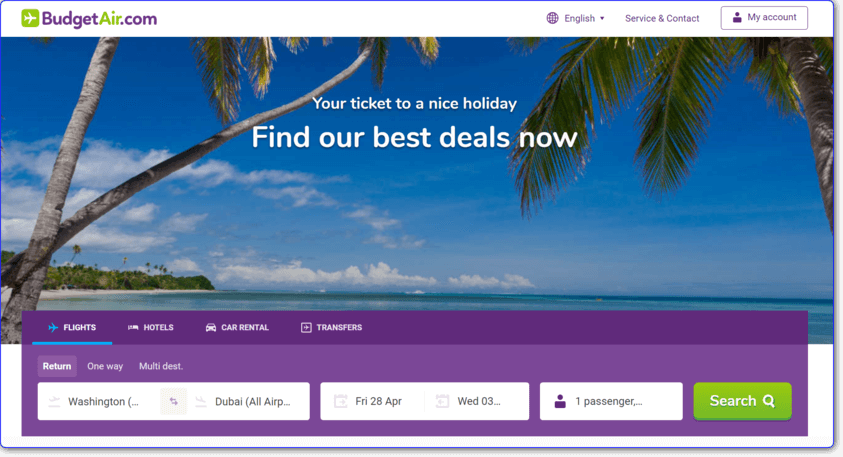 Though issues can also occur when you book with an airline directly, their chances are much lower as compared to booking through BudgetAir.
The reason is simple:
As a third party agent, BudgetAir merely acts as a middleman between you and the service provider (airline).

Working as a middleman, BudgetAir collects your payment and connects you with the airlines it lists on its site.
When you make a flight booking with an airline through BudgetAir, then it is BudgetAir who handles your booking, not the airline you have booked with, since your contract is with BudgetAir, not with your airline.
So if something odd happens with your booking, you can't contact your respective airline directly to resolve your issue because they are neither liable nor responsible to serve you directly.
To resolve your issue, you have to contact BudgetAir first who will then reach out to the airline on your behalf and then BudgetAir will communicate the airline's response with you.

So for resolving any issue with the airline, you have to pass through a long and complicated process between your airline and BudgetAir before your issue is finally resolved.
And it is also most probable that you may be stuck in a lot of back-and-forth between BudgetAir and your respective airline due to BudgetAir's worst customer service.

Regarding changes and cancellations to your booking, you will bear some extra administrative charges of BudgetAir as well as the charges of changes and cancellation applied by your respective airline.
How much BudgetAir will charge you for making changes and cancellations to your booking, depends upon the type of flight service packages it offers you during booking.
BudgetAir offers you three types of package services: Premium Plus, Premium, and Basic.
Premium Plus Or Premium: If you've purchased Premium or Premium Plus service at the time of booking, then you will not bear the administrative charges of BudgetAir if you later need changes and cancellations. But you have to pay for these two services during your booking.
Basic: You have not to pay for the Basic service during booking but if you choose this service and later need changes and cancellation, you will bear more extra charges than the charges of Premium and Premium Plus.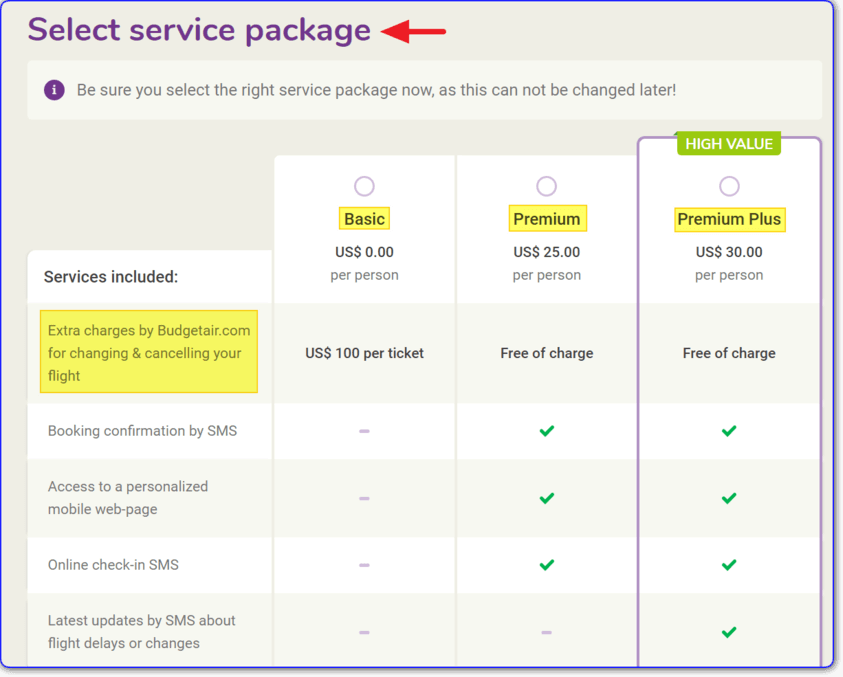 Even if you have paid for Premium Plus or Premium services and then later need changes and cancellations to your booking, don't expect that you will be successful in making changes and cancellation and will get a refund due to BudgetAir's worst customer service.
Moreover, to further protect yourself from problems like flight delays, cancellations, and overbooking by the airlines, you have to pay some more to buy the Flight Delay Compensation Service of AirHelp during booking to get compensation.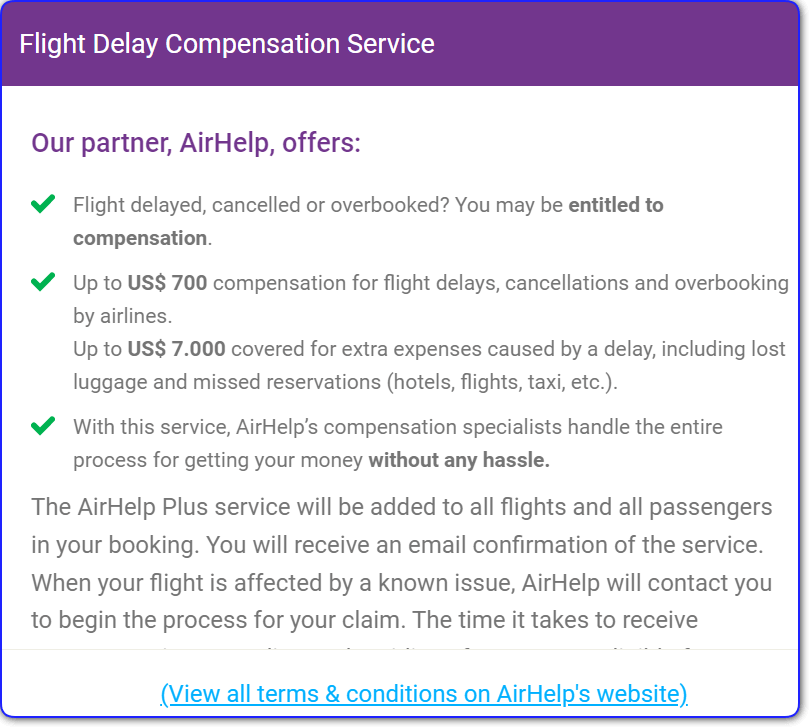 In fact, booking a flight directly with the airline with the same or even better features (cancellations, changes, and get compensation) can be a lot cheaper than paying for BudgetAir's extra services as paying for these extra services wipes out all the savings you get over direct booking.
On the other hand if you book with an airline directly, you have not to pay for these extra services because the airline will help you without charging you for providing these services.
From the above discussion it is concluded that booking through BudgetAir is just fine and can save you money as long as everything is going smoothly and you don't need its extra services.
That said, now coming to the main question: Is BudgetAir legit?
Despites having many issues and risks associated with booking through BudgetAir, as far as its legitimacy is concerned, it is definitely a legit online travel agency as it runs its business for the last 22 years, since 2001.
So if BudgetAir were a scam company, it would have vanished from the market long before as scam companies don't survive this long.
Moreover, BudgetAir is one of the successful brands of Travix, one of the world leading online travel agencies, which has been in business for the last 12 years, since 2011.
Travix not only manages BudgetAir, but also owns other well-known online travel agencies such as CheapTickets, Vliegwinkel, Flugladen, and Vayama.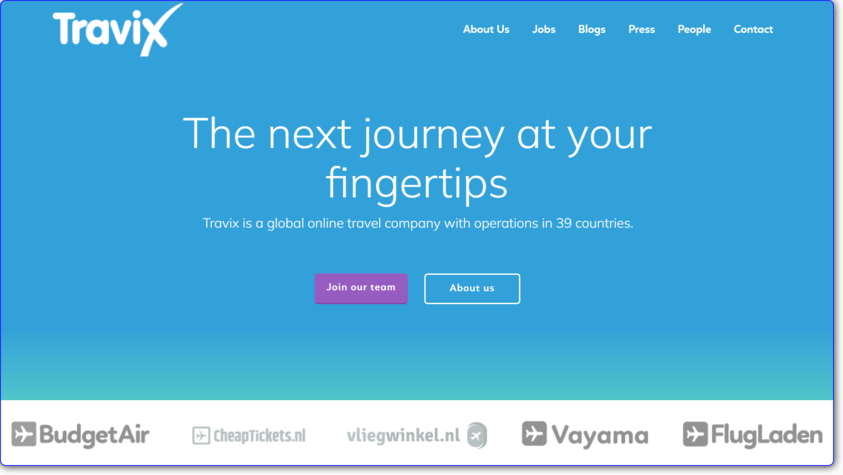 Besides, BudgetAir is indirectly a part of Trip.com Group as its parent company, Travix, is one of the subsidiaries of Trip.com Group which is currently the largest online travel agency of China and one of the world's leading travel agencies in the world.
By taking all these major factors into consideration, there's no doubt that BudgetAir is a legit online travel agency.
While you've known that BudgetAir is a legit company, by looking into the issues and risks associated with booking through it, you may be a little bit hesitant whether to book through it or not.
So let's talk about it.
Should You Book Through BudgetAir Or Book Directly?
If you're short of budget and BudgetAir offers you the best possible flight deal affordable to you and also you're ready for the risks and issues associated with booking flights through it, then it comes down to your personal comfort whether to book through it or stay away.
But as far as my personal recommendation is concerned, I don't recommend BudgetAir but rather would suggest you to book directly with the airline.
I don't recommend BudgetAir due to the following drawbacks of booking through it:
BudgetAir shows you one price during booking but sometimes charges your credit more than what you're shown during booking.
BudgetAir sometimes cancels the flights on its own with or without any reason and then getting a refund from it is nearly impossible due to its worst customer service.
In many cases, the airline you booked with cancels your flight on its own and it is then hard to rebook or get a refund through BudgetAir.
BudgetAir gives you paid extra services for the protection of your journey which the airline will provide you free if you book directly. Paying for these extra services often wipes out all the savings you get over direct booking.
That's it!
So this is all about BudgetAir from my side but if there's any shortcomings or want to share your personal experiences with BudgetAir, feel free to let me know in the comment section below.