Last Updated: August 7, 2023

I dove deep into the Canva Pro plan to uncover the good, the bad (and the ugly) to let you know if it's worth the extra investment or not.
If you've been using the free plan of Canva, you know it's the best online tool for creating designs, right?
But you've probably wondered whether paying for Canva Pro is worth it, or if it's better to stick with the free plan and save money.
So make sure to read this Canva Pro review until the end. That way you can make the best decision for yourself.
Here's what I am going to cover in this article:
Canva At A Glance
If you're short on time, here's a quick interactive presentation about Canva Pro and the free plan to give you an overview so you can make a quick decision whether the pro plan is worth it for you or not.
Canva Pro vs Free
The free plan of Canva is a good option for you if you often use it to create quick designs and don't mind the limitation that comes with it. Whereas, the pro plan is best for you if you need access to millions of premium content and time-saving features with better collaboration functionality.
I am going to explain each feature and what both plans have to offer in detail but before that, take a look at this side-by-side comparison between Canva Free vs Pro plan.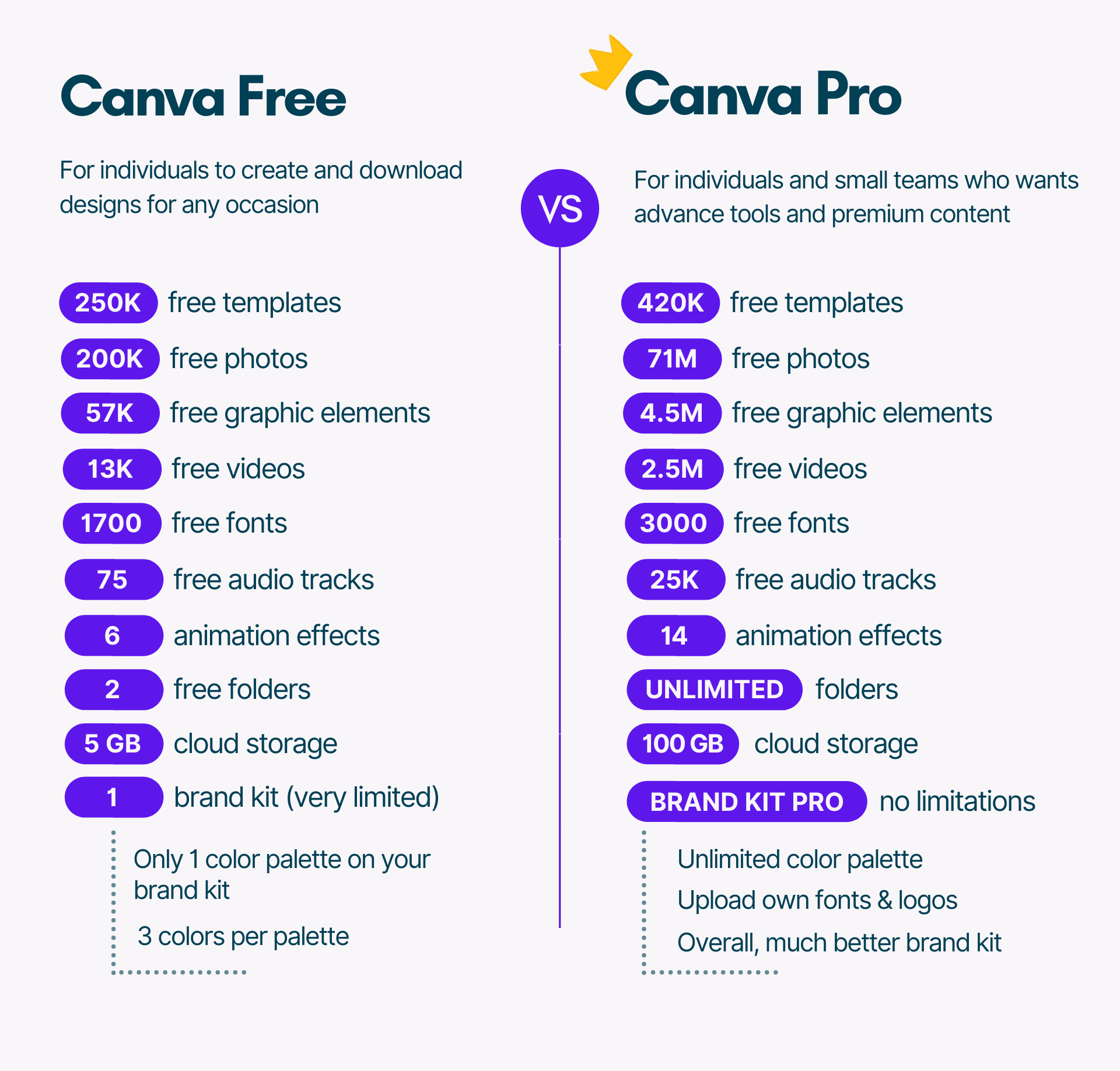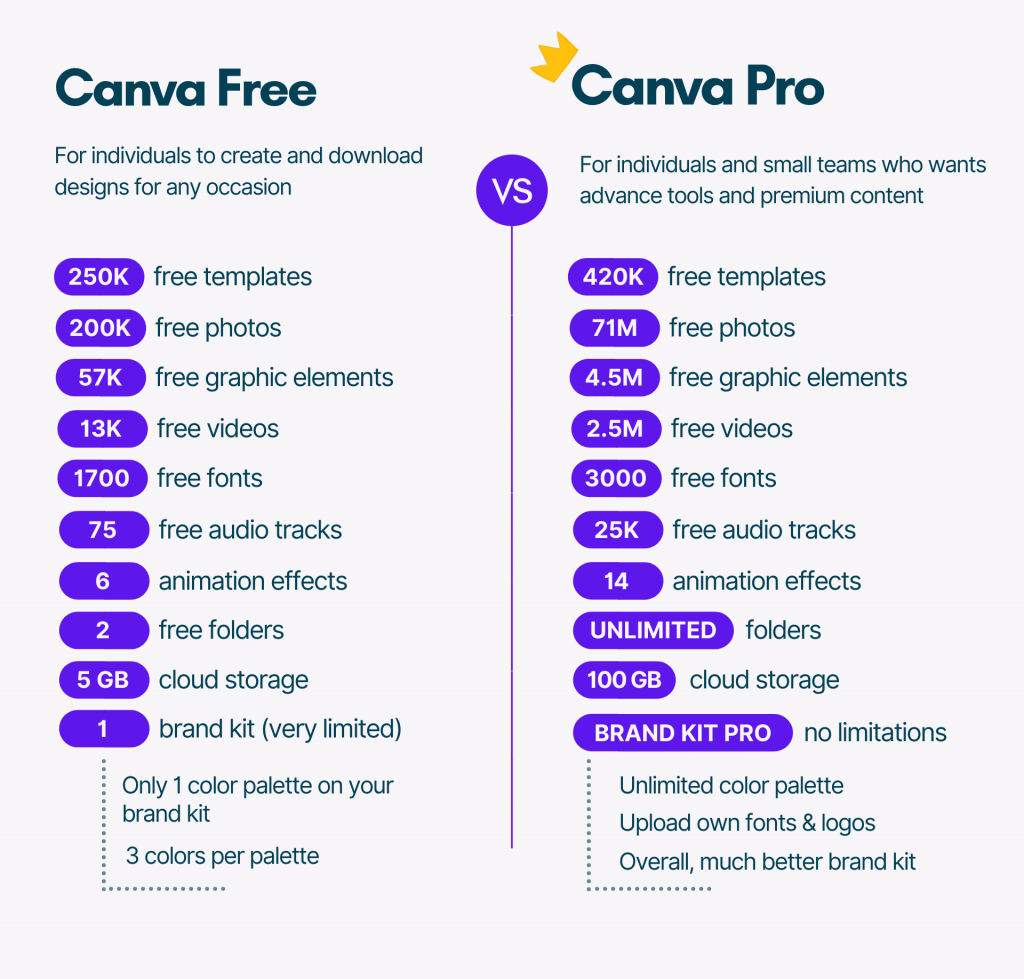 Let's get into the details.
So, these are the main features and content you get with the free plan.
Now, let's talk about what's included in Canva Pro.
Canva Pro plan includes everything free plan has, plus:
So all of these are included in the Canva Pro plan.
Every feature of the Canva Pro plan is useful but the first five features and getting access to 610,000+ premium templates, 3000+ fonts, and a library of 100+ million premium photos, videos, audios, and graphics are probably the big draws of the pro plan.
Being able to create content that matches to your brand, removing background from images in one click, instantly resizing designs into any content format or custom sizes, transparent images in seconds, and scheduling your designs in Canva are the huge benefits of Canva Pro.
Watch out this video to have a quick recap of the main Canva Pro plan features!
Canva Print
Besides all that, Canva offers you a service known as Canva Print which allows you to print your designs and order them if you want.
To learn more, here's a quick introduction to Canva Print:
Note:
This service is available to limited countries, to learn more about their availability and other details, head over to
Canva Print
.
Finally, here comes the main question, is it worth upgrading to Canva Pro? Let's discuss.
Is Canva Pro Worth It?
Canva Pro is worth it if you need access to premium 610,000+ templates, 100+ million premium stock photos, videos, audios, and graphic elements, 25K+ audio tracks, 3000+ fonts, 100 GB storage, unlimited folders to organize your designs with better collaboration tools and advanced time-saving features.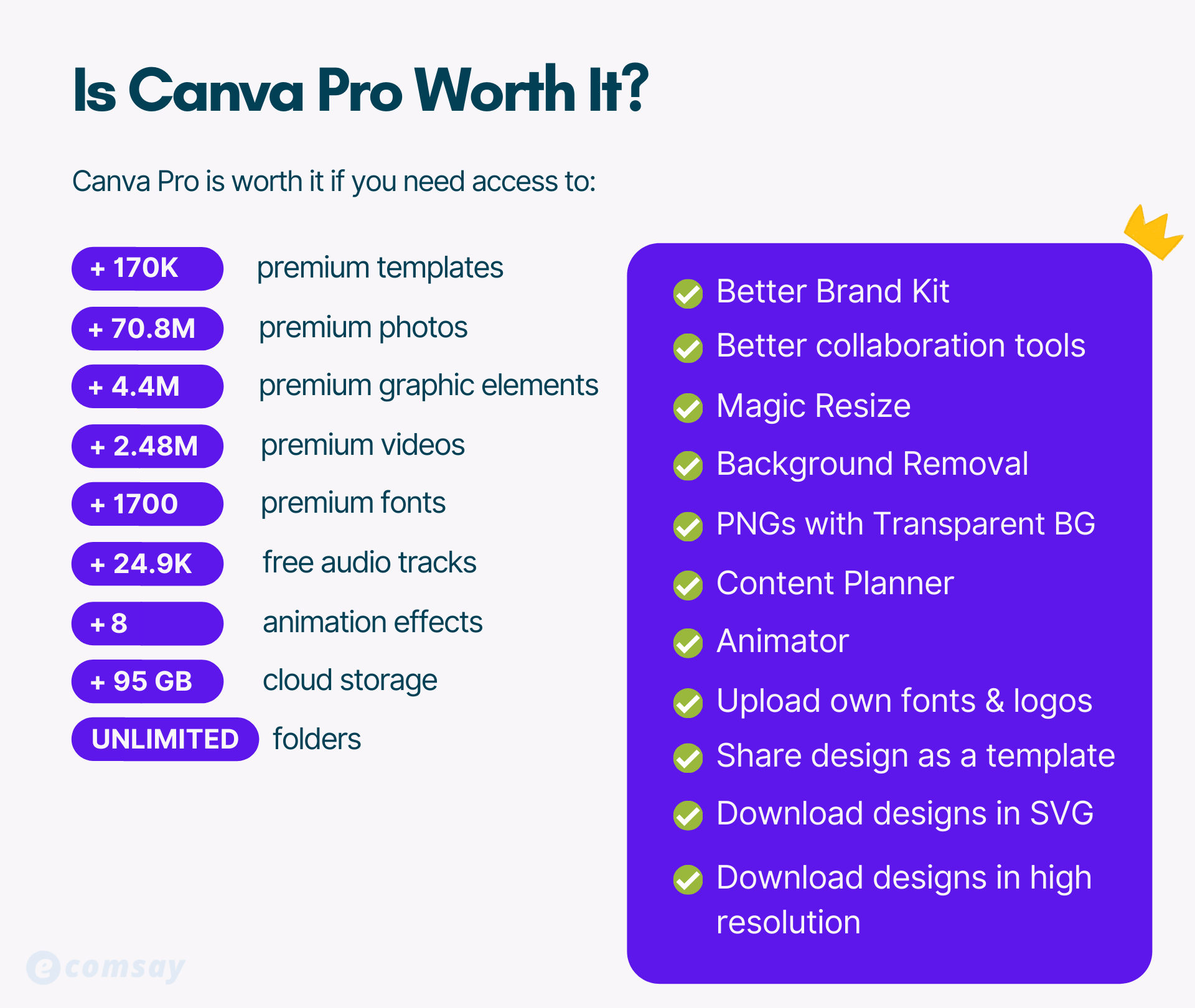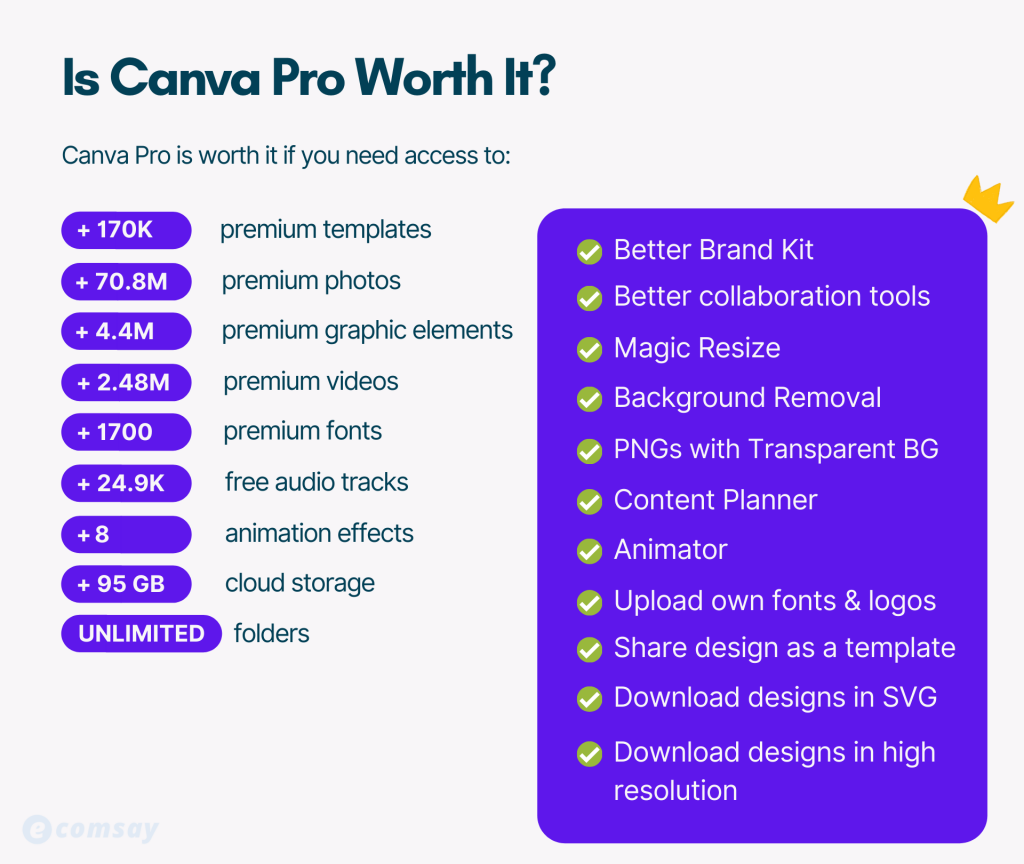 All of these are available only to Pro plan users and upgrading to Canva Pro totally depends on you.
Just ask yourself. Do I need access to all of these premium content and most of the advanced time-saving features?
If the answer is yes then Canva Pro is worth it for you and if the answer is no then Canva Pro isn't worth it for you.
It's that simple.
However, the above image just gives you a quick overview of what the Pro plan includes, and if you haven't read the above section (Canva Pro vs Free) where I covered everything in detail…
Make sure to read everything carefully and take a look at an overview of each feature so that way you can make the absolute right decision whether upgrading to Canva Pro suit your needs or not.
What I figure out is that majority of the Pro plan users are happy (including myself) with the Canva Pro plan because it is pretty robust and affordable.
However, if you're still skeptical, I'd recommend trying out Canva Pro free for 30 days to decide if the Pro plan is right for you or not.
How Much Is Canva Pro?
Canva Pro is $12.99 if you choose to be charged monthly or $119.99 per year, for up to 5 people which means you can give access to your other 4 team members to Canva Pro.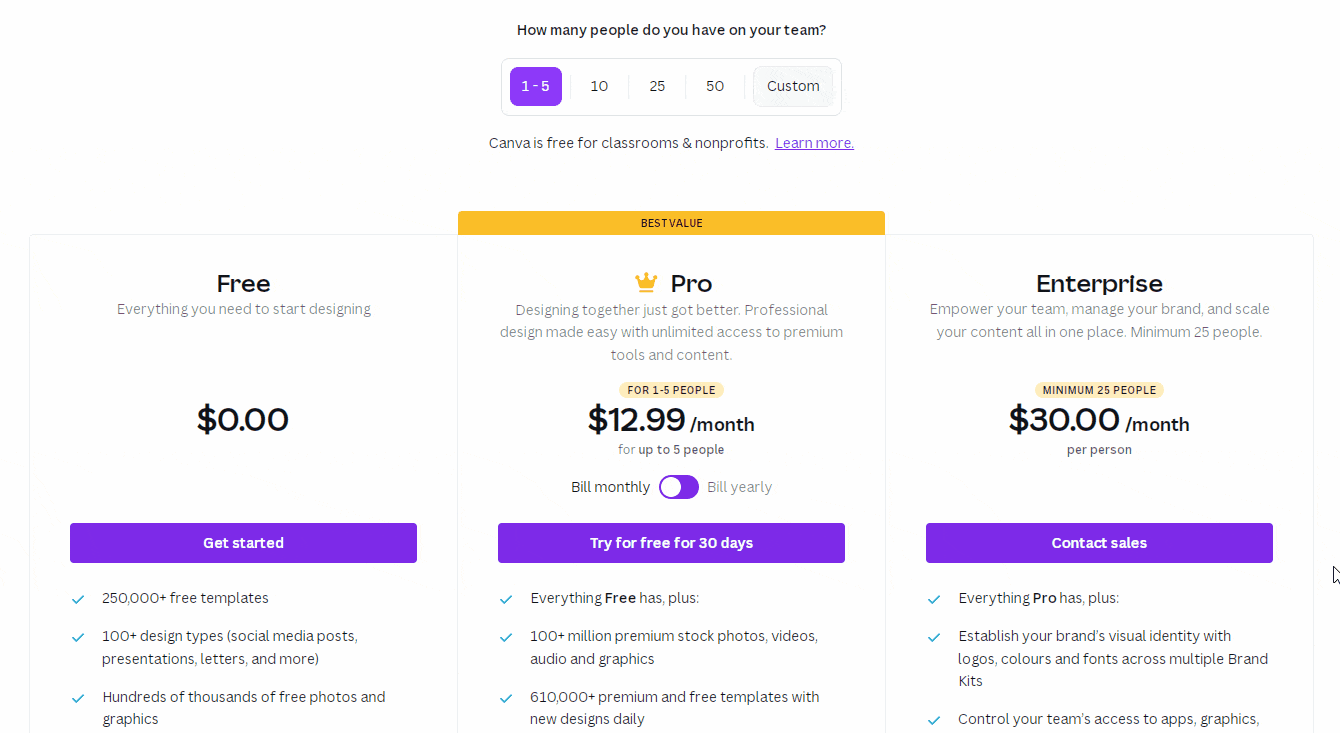 Apart from 5 team members, giving access to each adding each additional member will cost you $7.
Which Canva Plan Should You Choose?
If you don't use Canva frequently, need decent number of features and content to create quick designs, require no more than 5 GB of cloud storage, and do not need to download designs in high-resolution then stick with the free plan.
However, when it comes to premium plans, here's my suggestion:
For most users, the Pro plan will be the most suitable but if run a company or have a team of more than 25 users and they have to work together in Canva then the Enterprise plan is right for you.
In short, the Pro plan is good for individual or small business owners while the Enterprise plan is for larger teams who need advanced features and collaboration controls.
I understood, but should I choose the monthly plan or yearly?
If you select the yearly plan of Canva Pro, you get a 29% discount as compared to the monthly plan.
The monthly and yearly plan of Canva Pro offers the same features but the pricing is different.
Recommendation:
I recommend you to
try Canva Pro 30 days free trial
at no cost and once you are satisfied with the pro plan then you should go for the annual plan to save some bucks.
Is Canva Easy to Use?
Graphic designing tools or software often struggle to combine power with ease of use, but Canva has excelled in this crucial area.
It is very easy to use, in fact, it becomes so popular especially because of its ease of use and ready-made templates for any content type.
Anyone can use it, a non-designer as well as professionals. It is as easy as that – you don't need graphic designing skills and can create stunning designs in minutes.
Choosing from 610,000+ predesigned templates, millions of photos, videos, audios, elements, graphics, thousands of premium fonts, hundreds of integrations, and tons of time-saving features make Canva a quick and affordable tool for creating professional-looking designs.
Besides all that, the drag and drop editor of Canva makes it even easier for anyone to create stunning designs in minutes with a live preview.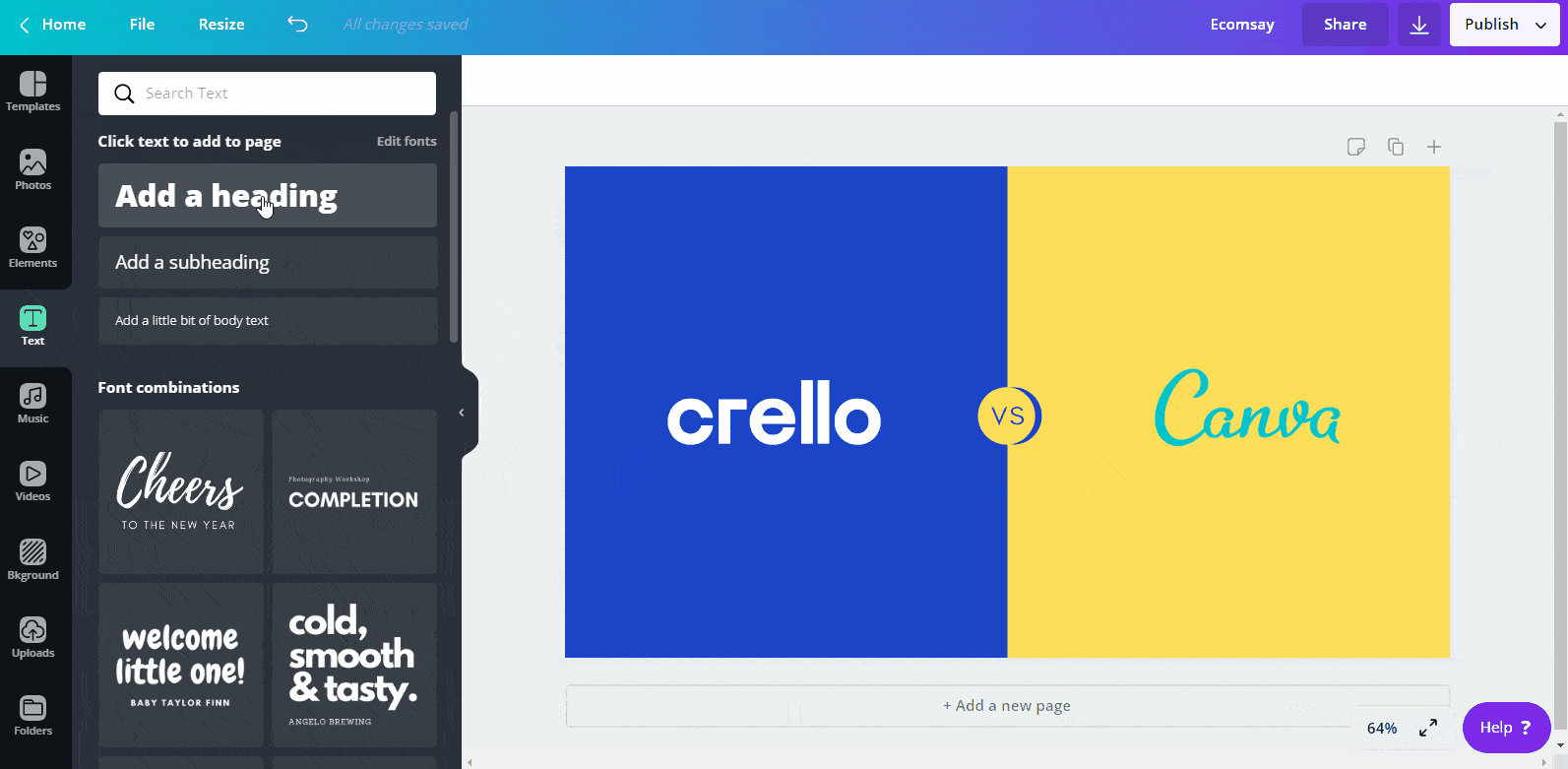 Try it yourself for free and discover how easy Canva is to use by having a go on Canva's 30-day free trial – it won't cost you a single cent!
Canva Pros and Cons
No matter whichever platform you choose, there will be some pros as well as cons and it's your job to know what they are, so you have no regrets later on.
There are many pros and cons online about Canva – usually with user-generated reviews which is fine but I will share my personal experience with Canva.
So, here are the main pros and cons that I think you can expect to encounter if using Canva.
Let's start by looking at some of the advantages of Canva.
Pros of Using Canva
#1 – Quick & easy to use
As I already discussed, it is one of the easiest tools out there for designing any type of content.
Other tools such as Adobe Photoshop definitely have more editing features than Canva but it can be overwhelming and frustrating to use for the beginner designer.
In my opinion, Canva is a must-have tool especially for beginners or people with little design experience. However, even photoshop experts use Canva for quick and easy designs.
#2 – Tons of integrations and third-party apps
Canva is integrated with hundreds of popular platforms and third-party apps such as social media platforms, cloud storage services, music hosting sites, CRM like HubSpot, editing extensions, and much more.
Integration with other platforms saves your time to do things within Canva such as sharing your photos or saving your designs in Dropbox with one click.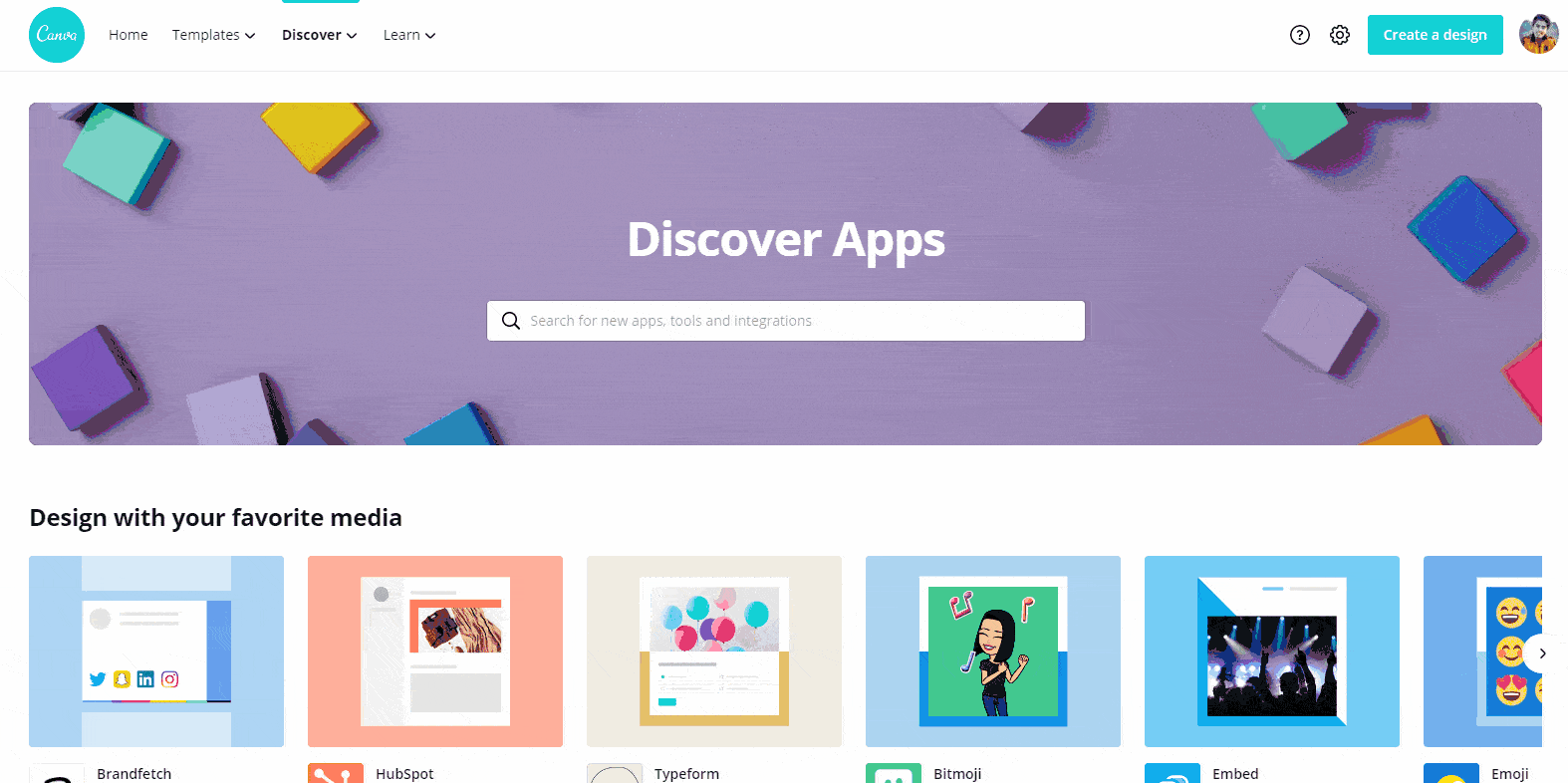 #3 – Huge number of pre-designed templates and graphics
Canva offers you more than 610,000 pre-designed templates for any content type which is a huge plus.
All you've to do is, simply select any template whether a social media design, logos, presentation, or any other content types, and then just customize that design however you like with your creativity.
The templates are professional and flexible. You can easily change the photos, color, fonts, add elements, icons, and much more!
#4 – Clean and user-friendly interface
The interface is straightforward, it's got a clean, modern interface with a user-friendly layout.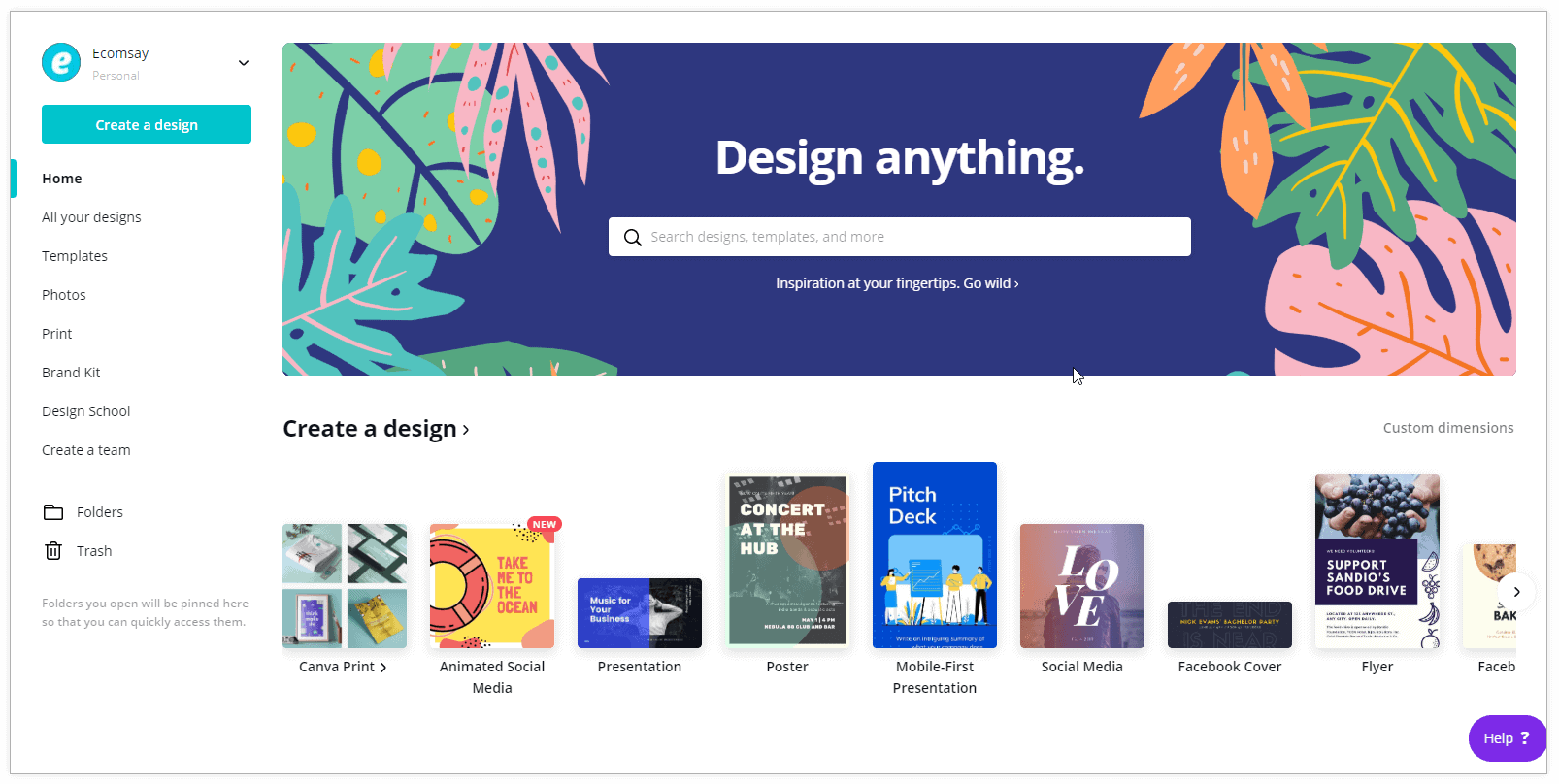 #5 – Collaboration
One of the benefits of using Canva especially for someone with a team is that they can work together on designs in real-time which is an excellent way to collaborate with peers on any project
Sending an invitation is pretty simple, you just need the person's email and give them access as an administrator, team member, or template designer to work together on designs.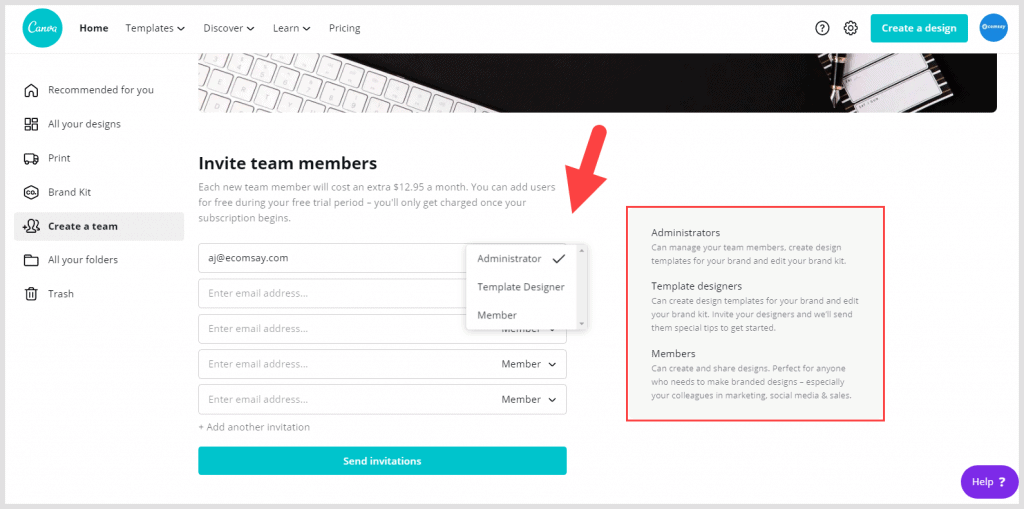 #6 – Access to millions of photos and graphics
As I already said, Canva provides millions of free and premium high-quality photos to create beautiful designs.
The pro user gets access to more than 100+ million premium photos, videos, and graphics that you can download and use anywhere.
It's a huge plus for those who pay for expensive stock subscriptions like iStock, Getty Images, or any other to get premium photos or videos.

Cons of Using Canva
Now, let's talk about the negatives of Canva.
#1 – Mobile app isn't user-friendly
Canva's mobile app is not user-friendly and a little bit hard to use on mobile devices, and it has more design restrictions than the browser.
The reviews of the app are excellent but the main issue is that it is not entirely user-friendly and sometimes the templates get ruined.
The app is a lot better now than before but still, it has some issues which need to be fixed.
I recommend creating all your designs on your PC's browser or the desktop version.
#2 – Customer support is'nt very good
One of the downsides of Canva is that their customer service is not the greatest.
Sometimes Canva support team takes a while to get back to you but your issue/question will be resolved eventually.
#3 – The best features require a subscription
The free plan is a very good option for many users but to gain access to its time-saving features and premium content, you will have to upgrade to the pro plan.
#4 – Poor search results
The search result of Canva is not user-friendly especially for free users to find images, elements, or graphics.
Maybe you will be searching for free elements or graphics, but since there is not any filter option to choose only the free ones so you'll see both the free and premium elements or images and that may confuse you.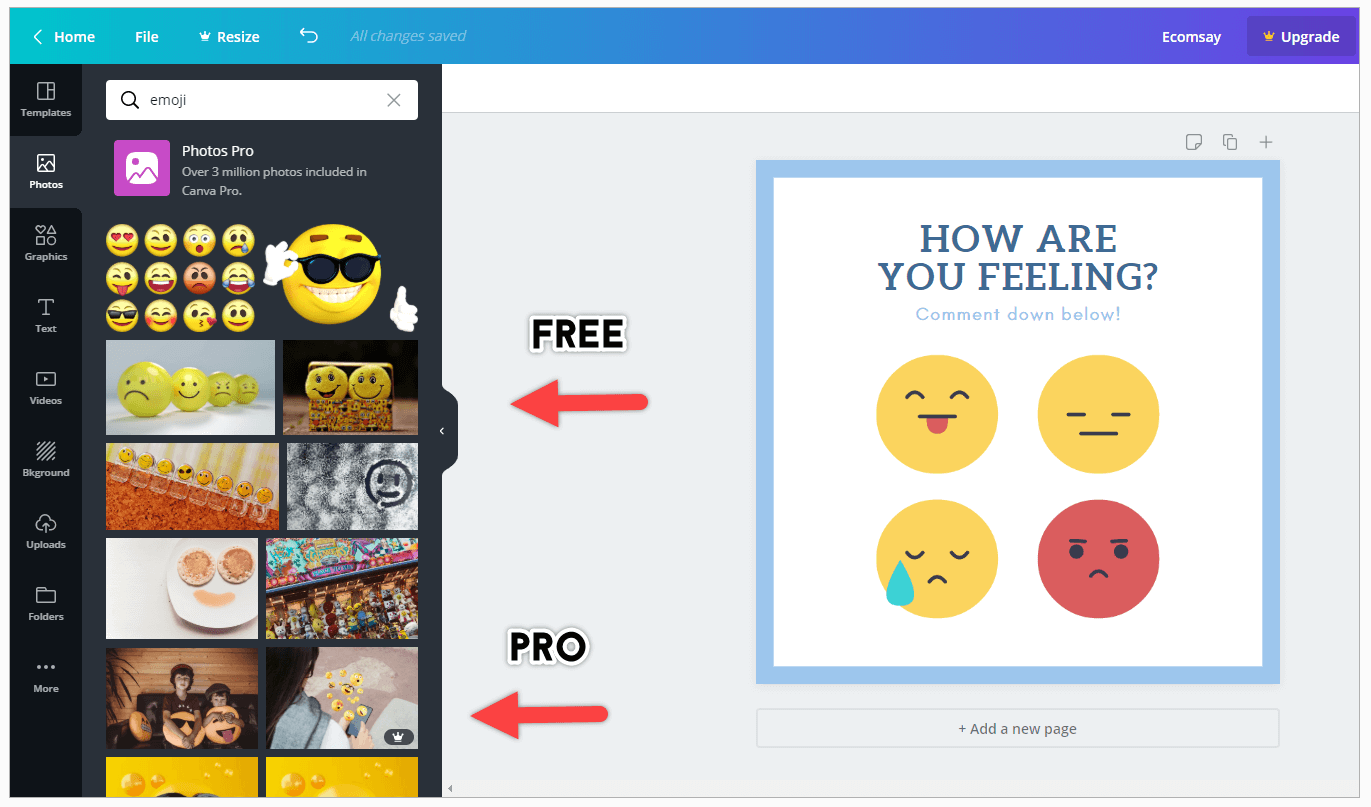 #5 – No offline feature
One of the main downsides of Canva is that you can use this tool only when you have an internet connection.
If you are looking for an offline graphic designing tool then Canva won't be an option for you.
Instead, it's better to learn and use Photoshop in these situations.
However, Canva has a desktop version for both Windows and Mac that you can download but still, you can't use it without the internet.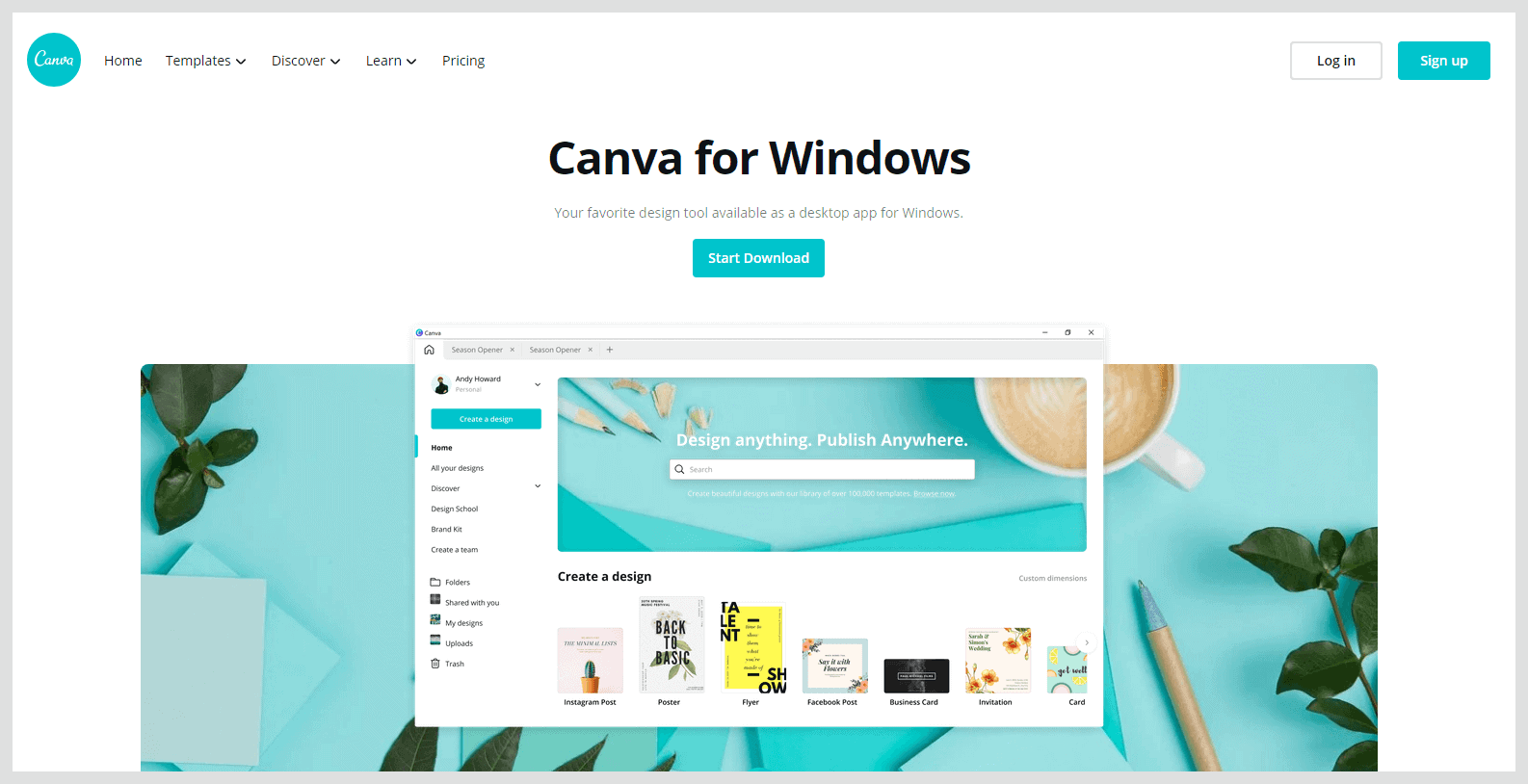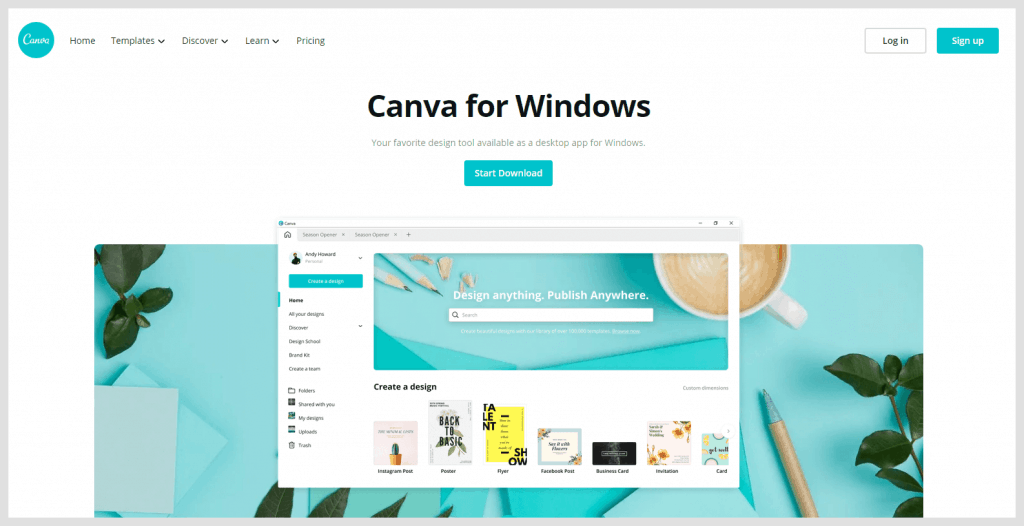 How To Get Canva Pro For Free?
So, you made your decision to jump to the pro plan, let me show you how to get it free for 30 days.
Head to

Canva.com

in your browser and click on "

Pricing/Plans".

After that, you'll see a screen like this, click on "

Try it free for 30 days"

.

Now, select the monthly or yearly plan and proceed through the payment with your credit card.
Don't worry! You won't be charged until your free trial ends, and also you can cancel your trial at any time.
That's it!
Enjoy using it for a month and then decide whether you want to stay with the pro plan or not.
Here's a quick video as well on how to get Canva Pro for free (30 days).
Final Thoughts
Canva makes it very easy to create stunning designs for your project – and you can do it within a few minutes without graphic designing skills.
Its pre-designed templates give you a huge advantage because you can customize them easily using a drag-and-drop tool.
I only recommend it for small businesses/individuals who don't have the resources to hire a designer and want to do designing on their own quickly and easily without any experience.
To sum it up, I just want to say that trying Canva Pro by yourself is the best way to know if it's the best choice for you or not and why not try when it is free of cost for 30 days.
Now I'd like to hear from you:
So what are you gonna go with, Canva free or Canva Pro?
Let me know by leaving a comment below right now. I would love to know what you're choosing in the comments of this article.
Common Canva FAQs
What is Canva Pro?
Canva Pro is the premium plan of Canva that comes with far more premium content including photos, templates, graphics, unlimited folders with advanced features and better collaboration functionality, and much more.
Can I cancel my Canva Pro subscription?
Yes, you can cancel your Canva Pro subscription at any time you want. However, you can also pause or unpause your subscription as well.
Can you use Canva for commercial purposes?
Yes, almost all the media on Canva can be used free for commercial and noncommercial use.
Can I Cancel my Canva Pro free trial?
If at any point you think that Canva Pro isn't for you then you can easily cancel your free trial at any time and you won't be charged for anything when your trial expires. But please make sure that you cancel your free trial before the trial expires.
Is Canva better than Photoshop?
In short, both programs are useful in their own ways. Canva is better than Photoshop for non-designers or someone who wants to create awesome designs quickly. However, Photoshop is a professional-level program, that can be used for almost any kind of design you want to create.
Related Articles – Canva vs The Competition