Last Updated: April 15, 2023

Is Canva free or are there any hidden costs? It is one of the most frequently asked questions from me by the users.
If you are also looking for a simple yet detailed answer to this question, this article is for you.
In this article, I'll discuss every question associated with Canva's free or paid versions, such as:
Is Canva free?
If not, what are their pricing plans?
What are the differences between each plan?
Which plan should you choose?
Is it worth upgrading?
Are the premium plans free for students, teachers, and nonprofits?
So, let's get started!
Is Canva Free?
Canva is free to use but its free version doesn't include access to advanced tools and premium content. In order to get access, you would need to upgrade to the Canva Pro or Canva for Enterprise plan.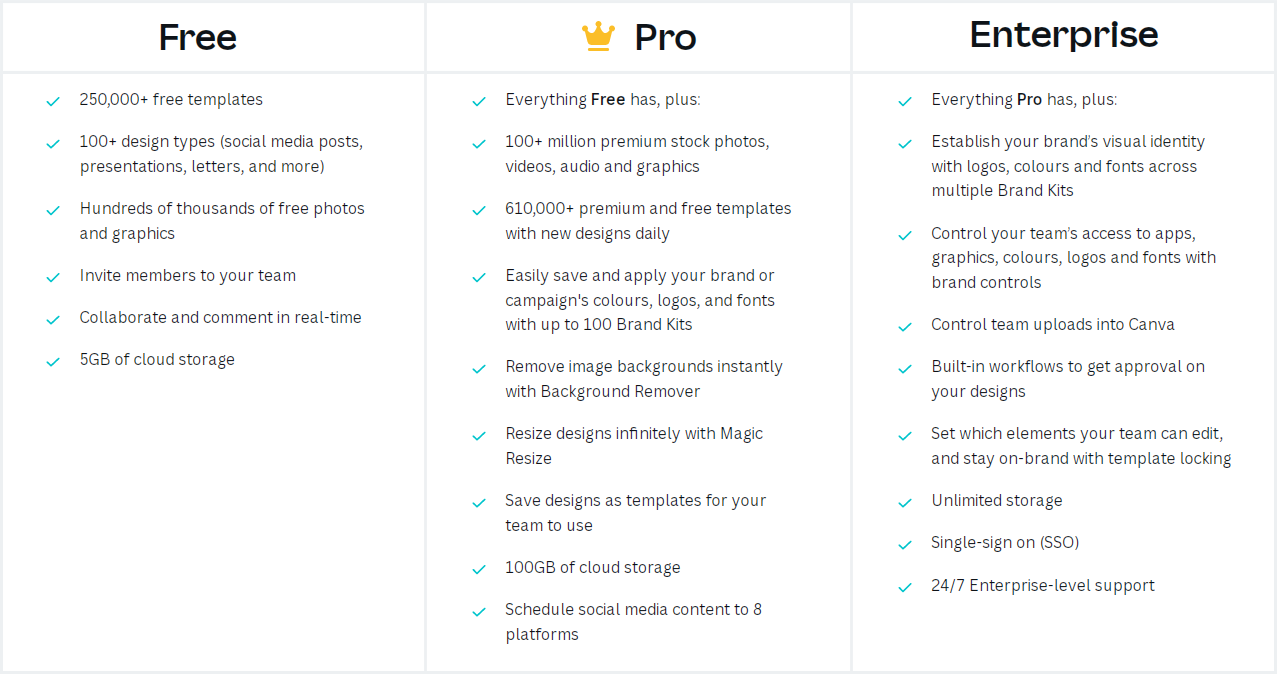 By the way, you can also get access to everything Canva Pro or Enterprise plan has to offer for free by taking the 30-day free trial. You can cancel it at any time during your trial and you won't be charged a single penny.
Once your trial is over, you'll need to upgrade to one of these two premium plans:
Upgrading to Canva Pro costs $12.99 per month or $119.99 annually, for up to 5 team members. It means you and your other 4 team members will also have access to Canva Pro.
However, adding any additional team member in your Canva Pro plan costs $7.00/month on a monthly plan or $60.00 per year ($5.00/month) on a yearly plan.
In contrast, upgrading to the Enterprise plan costs $30.00 a month per user, however, it requires a minimum of 25 people. This plan is quotation based.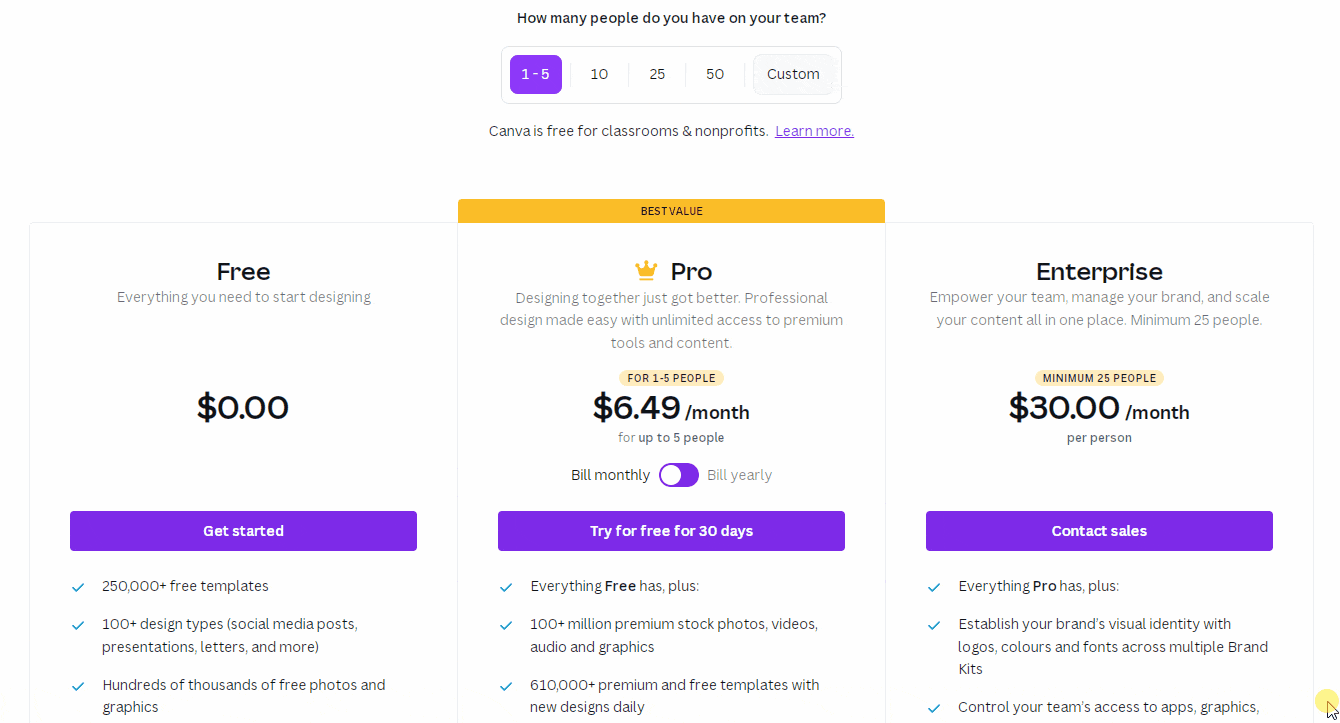 In order to sign up to the Enterprise plan, you'll need to contact Canva's sales team to get a custom quote and this plan is only for a large team or organization of more than 25 people.
For most people, the Canva Pro plan will be the most suitable option (more details on which plan to choose and why later on).
Apart from premium plans, the free plan of Canva isn't as restrictive as other free design platforms. It is free forever, lets you download your designs without a watermark on them, and there are no download limits.
In addition to that, the free plan includes a decent number of features and content to create beautiful designs quickly.
However, the major downside of the free version is that you can't download your designs in high-resolution and it lacks advanced features and premium content for creating professional designs.
Before we get into the details of what's included in each plan and their differences, let me answer another important question you may have, which is…
Are The Premium Plans Free For Students, Teachers, and Nonprofits?
Yes, they offer a free subscription to Canva Pro for nonprofits, K12 teachers and their students but Canva for Enterprise is not free to anyone.
Students on their own can't get Canva Pro for free. They can get access only via their teacher signing up to Canva for Education program and once verified, they can invite their students to join.
To learn more about Canva for Education and to apply, click here.
In addition, the nonprofits can also get the Canva Pro subscription completely free of cost but they can give access to only 10 people in their organization.
For more details and to apply as a nonprofit, visit Canva for Nonprofits.
The Differences Between Free, Pro & Enterprise Plan
The key differences between each plan is the access to features and content. Of course, the pricing as well.
Before we dig deeper into what each plan has to offer, I've created this side-by-side comparison of Canva Free vs Pro vs Enterprise plan so you can get the most important details right away.
Free
Pro
Enterprise

Pricing

$0

$12.99/ month, $119.99/year for up to 5 people

$30/month per user

Content

Access to stock photos, videos, graphics, and audio

350,000+

100+ million

100+ million

Templates

250,000+

610,000+

610,000+

Fonts

1700

3000

3000

Animation styles

6

14

14

Features

Background Remover

✓
✓

Magic Resize

✓
✓

Content Planner

✓
✓

Upload fonts

✓
✓

Custom Templates

✓
✓

Set download quality

✓
✓

Download designs as SVG

✓
✓

Download designs with transparent BG

✓
✓

Brand Management

Brand Kits


100

500

Advanced template locking

✓

Controlling your team's access

✓

Collaboration

Number of members you can invite

Unlimited

Unlimited

Unlimited

Assign roles to member as

Admin & Member

Admin, Member, & Template Designer

Admin, Member, & Template Designer

Sharing designs with others to view or edit

✓
✓
✓

Comments on designs in real-time

✓
✓
✓

Built-in workflows to get approval on your designs

✓

Storage

Cloud storage

5 GB

100 GB

Unlimited

Folders

2

Unlimited

Unlimited

Support

Support

Unlimited

Unlimited

Unlimited

Two-factor authentication (2FA)

✓

Single Sign-On (SSA) integrations

✓

Are You Ready?

Try for free

Try for free

Try for free
For more explanation of each plan offerings with an overview of the features, check out this presentation:
Which Canva Subscription Should You Choose?
Choosing the right plan depends on your specific needs, budget, and how frequently you use Canva.
When it comes to choosing a Canva plan, here are my suggestions:
You should stick with the free plan if you don't use Canva frequently, need decent number of features and content to create quick designs, require no more than 5 GB of cloud storage, and do not need to download designs in high-resolution.
However, you should choose Canva Pro over the free plan if:
You are an individual or have a small team of less than 25 people.
Need advanced features and access to 610,000+ premium templates, 3,000+ fonts, and 100 million+ photos, videos, and graphics.
You want to create unlimited folders for organizing all your designs and 100 GB of cloud storage.
You need to download designs in high resolution.
You can afford to pay $12.99 per month or $119.99 per year.
In contrast, Canva for Enterprise is the best choice for businesses, organizations, franchises, and agencies with large teams (25+ people) who have to publish on-brand designs at scale and need the smart design features of Canva Pro with advanced controls to collaborate.
????
Recommendation
: Before you spend your hard-earned money directly on the paid plans, I recommend trying Canva Pro or Enterprise plans for free by taking their
30 days free trial
and it's the best way to pick the right plan for yourself.
Is It Worth Upgrading To The Paid Versions of Canva?
Although, the free version of Canva is still a fantastic tool and provides a decent free offering but it lacks:
So if you are fine without these offerings then you should not upgrade to the premium versions of Canva.
But, if you are looking for a cost-effective, non-designer, easy to use graphic design tool for creating stunning designs instantly with the help of time-saving features, thousands of premium templates and millions of photos, videos, graphics, and audio then it's definitely worth upgrading to Canva Pro.
However, it's worth upgrading to Canva for Enterprise instead of Canva Pro if you need everything it has to offer, plus more advanced controls to collaborate, much greater control over your team members, managing your brand, and scaling your content all in one place.
Can I Use Designs Made In Canva For Commercial Purposes?
As long as you are not reselling, redistributing, or taking credit for unaltered media provided through Canva, you can use the designs made in Canva for personal and commercial uses.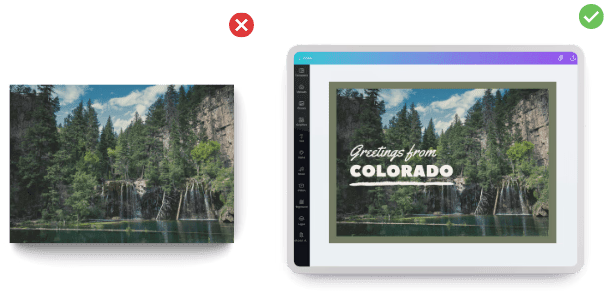 This means that the standalone content in Canva (e.g. photos, videos, audios, icons, or any other graphics used on its own without any alteration) can't be used for commercial purposes no matter whether you're a Free plan user or the premium plan.
For example, a standalone photo or icon downloaded from Canva can't be printed on products or merchandise for sale.
Moreover, the music it offers can be used in online advertisements (such as pre-, mid- and post-roll ads in a YouTube video) but it can't be used in traditional commercials or media advertisements in paid channels (such as TV, podcasts, cinema, billboards, or radio).
Besides, you can't use any Free or Premium content from Canva's library in a trademark (except for fonts, basic shapes and lines).
However, if you want to design a unique logo with Canva for a trademark, you can:
Use any of their fonts
Use basic shapes and lines
Upload your own graphics but they must be designed by you or commissioned from a graphic designer.
To sum up, I would say it's never acceptable to use any content downloaded from Canva without any alteration. In order to use them for commercial purposes, you must modify the designs.
For more details, please read Canva's licensing agreement.
Conclusion
Canva is free forever, but allows you to upgrade to Canva Pro or Canva for Enterprise for access to premium content, advanced features, and collaboration tools.
The Pro plan is $12.99 per month or $119.99 yearly (9.99/month) for up to 5 people. For adding each additional team member, you'll be charged $7.00/month if you are on a monthly plan or $60.00 per year ($5.00/month) if you are on a yearly plan.
On the other hand, Canva for Enterprise is a quotation based plan for large teams and organizations, however, it costs $30.00/month per user.
Nonetheless, Canva Pro is free of charge for nonprofit organizations, K12 teachers, and their students.
Have any questions? Check out the FAQ section or feel free to leave a comment below, I'll try my best to answer.
Is Canva Free FAQ
Is Canva Free Forever?
Yes, Canva is free forever but it has premium plans for advanced tools and premium content.
Is Canva App Free?
Just like the browser and desktop version, Canva app is also free to use but offers Canva Pro and Canva for Enterprise for accessing advanced features and premium tools.
Is Canva Free For Students?
Canva premium version is not free for students on their own. However, they can get access to Canva Pro via their teachers signing up for the Canva for Education program or if they are already enrolled.
Is Canva Free For Teachers?
Canva Pro is completely free for K12 teachers and their students.
What Does K-12 Mean?
K-12 means kindergarten to 12th grade.