Last Updated: January 6, 2023

Are you interested in being a freelancer or hiring someone on Upwork, but unsure whether it's a legit and safe platform?
Thankfully, this post has every answer you're looking for, including:
Let's dive right in.
Is Upwork Legit?
Upwork itself is a legit freelancing platform and it takes numerous security measures to ensure the safety of its users. However, there are possibilities of getting scammed on it if you don't know the rules and best practices before dealing with a client or freelancer.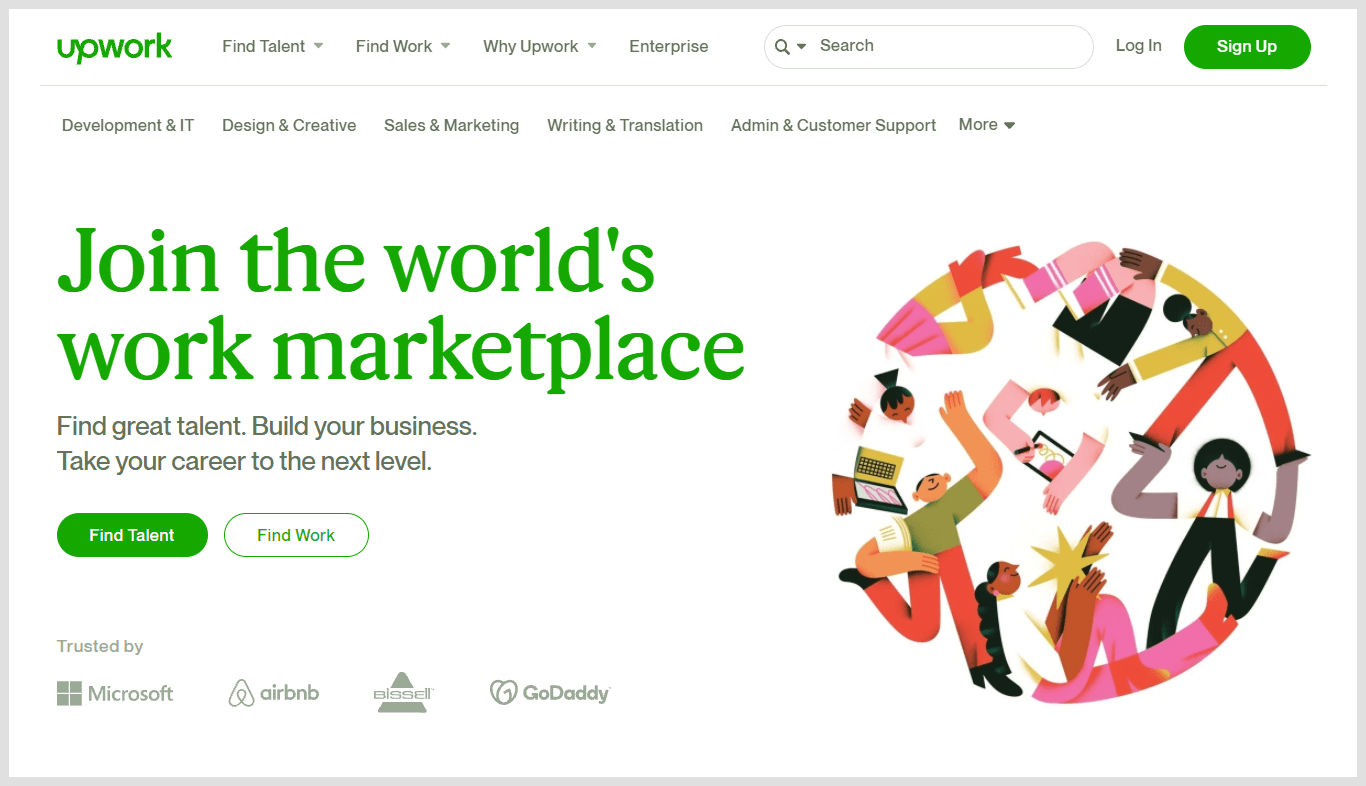 Like any other freelance marketplace, Upwork also has its fair share of scammers (both clients and freelancers) but the platform itself isn't a scam.
Although most users have had positive reviews about Upwork but there are some who have had bad experiences while using this platform and written bad reviews about it on the internet.
Those who have had bad experiences and fallen victim to a scam are most probably those who don't know the company's guidelines, rules, and best practices to prevent getting scammed and staying safe on Upwork.
Before we discuss the rules you should know when using this platform, let me share some other facts and my personal experiences about Upwork to prove whether it's a legitimate platform or not.
Here are some key reasons that proves Upwork is a legitimate platform:
Upwork isn't a new company, it began over two decades ago.
Become a leading freelance marketplace for a reason.
Trusted by world's leading companies.
My personal experiences with Upwork were very good.
Firstly, the fact that Upwork has been in business for so long proves that it is a legitimate company.
For those who don't know, Elance (founded in 1998) and oDesk (founded in 2003) merged with each other to boost service for freelancers and they were rebranded as Upwork in 2015.

That same year, the company's gross services volume exceeded $1 billion.
Today, Upwork is the largest global freelancing marketplace and for many reasons, here are few stats:
In 2020, Upwork reported revenue of $373.63 million.
In 2017, they reported 14 million users in 180 countries.
It has more than 145 thousand core active clients who collectively spend over $2.5 billion per year.
Has 540 employees.
Keeping these stats in mind and a long history of this platform further proves that Upwork is a legitimate company and if it were not then it would have likely ended up in the rubbish heap of dead technology platforms long ago.
Furthermore, Upwork is trusted by world's leading companies such as Microsoft, Airbnb, GoDaddy, Nasdaq, Automattic, and much more.


Apart from all that, Upwork was the first platform I used for freelancing when I wasn't blogging full time and I had a great experience using it.
Taking all these factors into consideration as well as my own personal experience, I would say that Upwork is definitely a legitimate platform but you should know the rules and best practices to avoid getting scammed.
Let's discuss what are the best practices to stay safe on Upwork.
Tips To Avoid Getting Scammed on Upwork
Since I don't know whether you're a client or freelancer, I'll break down the tips for both parties, and believe me, these tips are crucial for you to know in order to avoid getting scammed:
To begin with, here are the most important tips clients should follow.
Tips for Clients
1. Review the freelancer's profile before hiring
Always review the freelancer's profile before hiring, here's what you should watch out in their profile before hiring any freelancer:
Newest reviews & feedback: Make sure to look at the recent reviews and feedback posted by other clients. It's a great way of identifying whether you're hiring the right freelancer or not. In addition, check how the freelancer responds to feedback, as this can also be a good indicator of knowing their professionalism.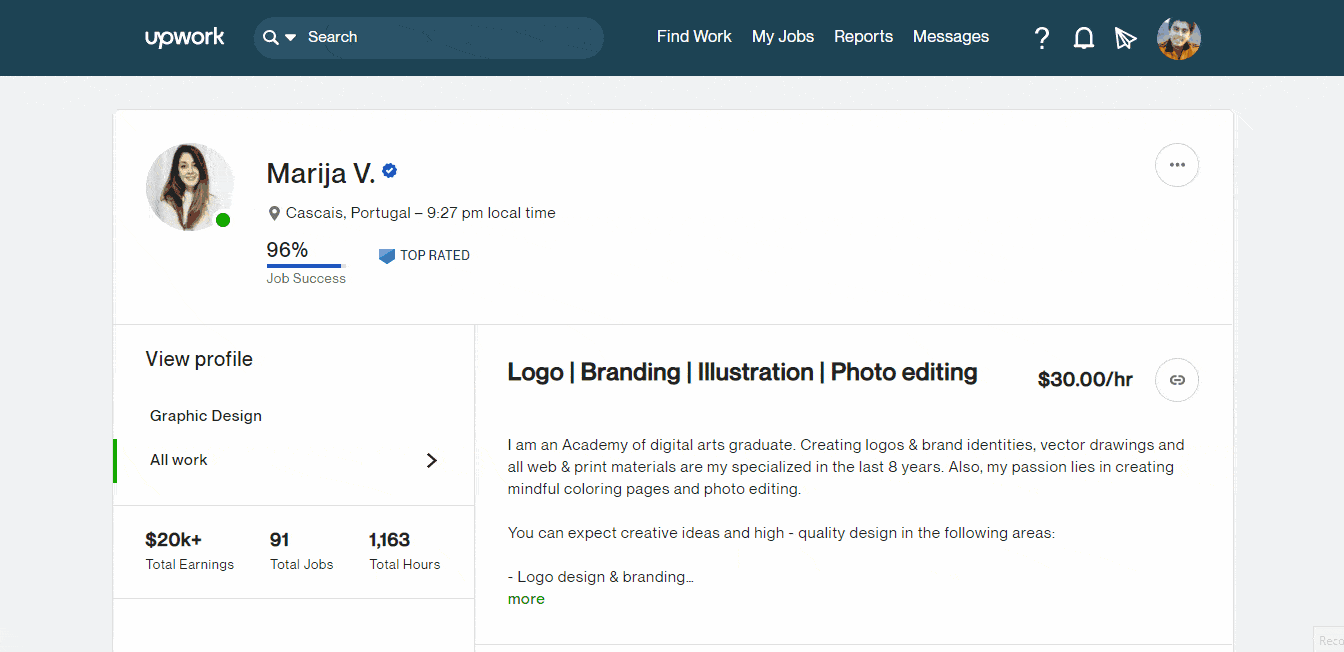 Job Success Scores: Make sure to check out freelancer's overall success score as well, it provides a summary of their work history and reputation. Ideally, you should aim for a job success rate of at least 85% or above.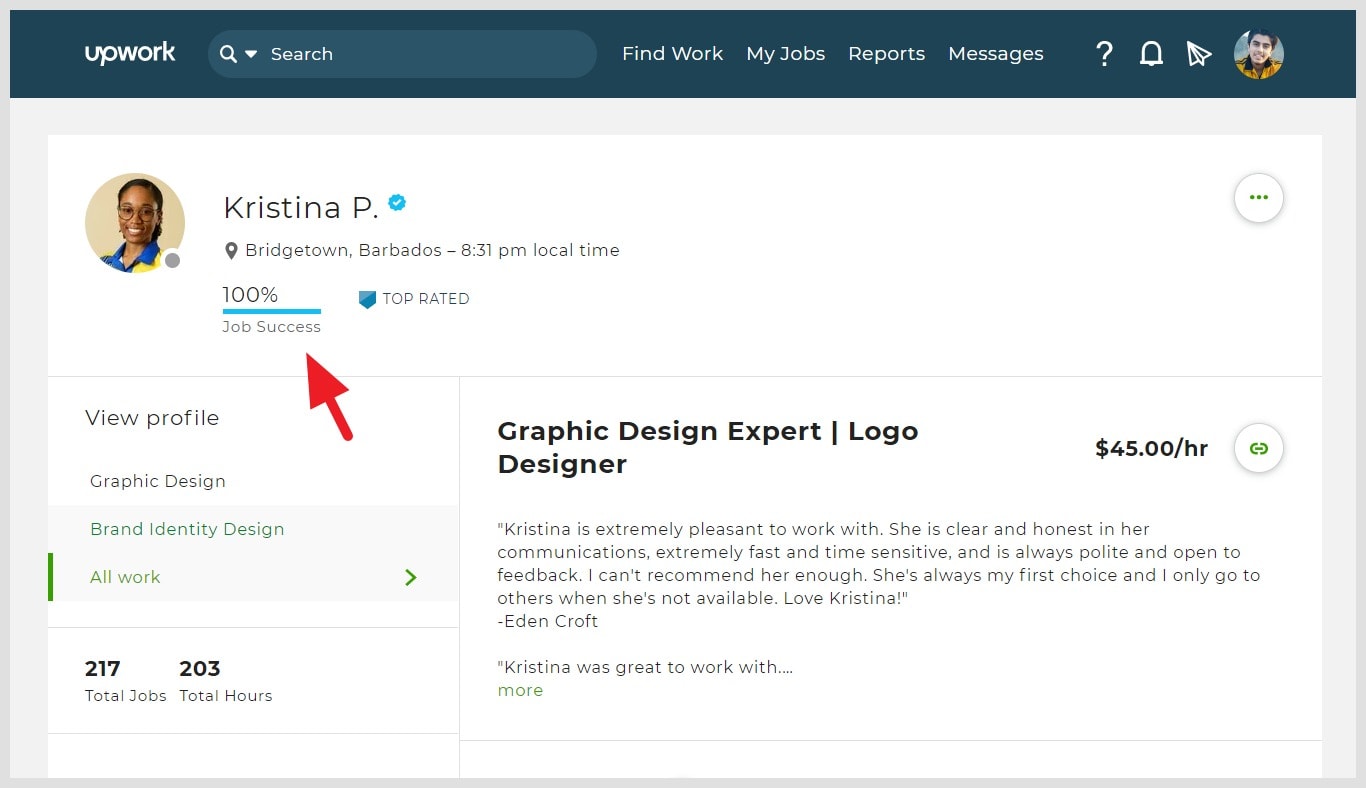 View portfolios: You should also view the portfolios of the freelancers you are considering working with because it's the best way to get an idea of their talent before starting the actual work.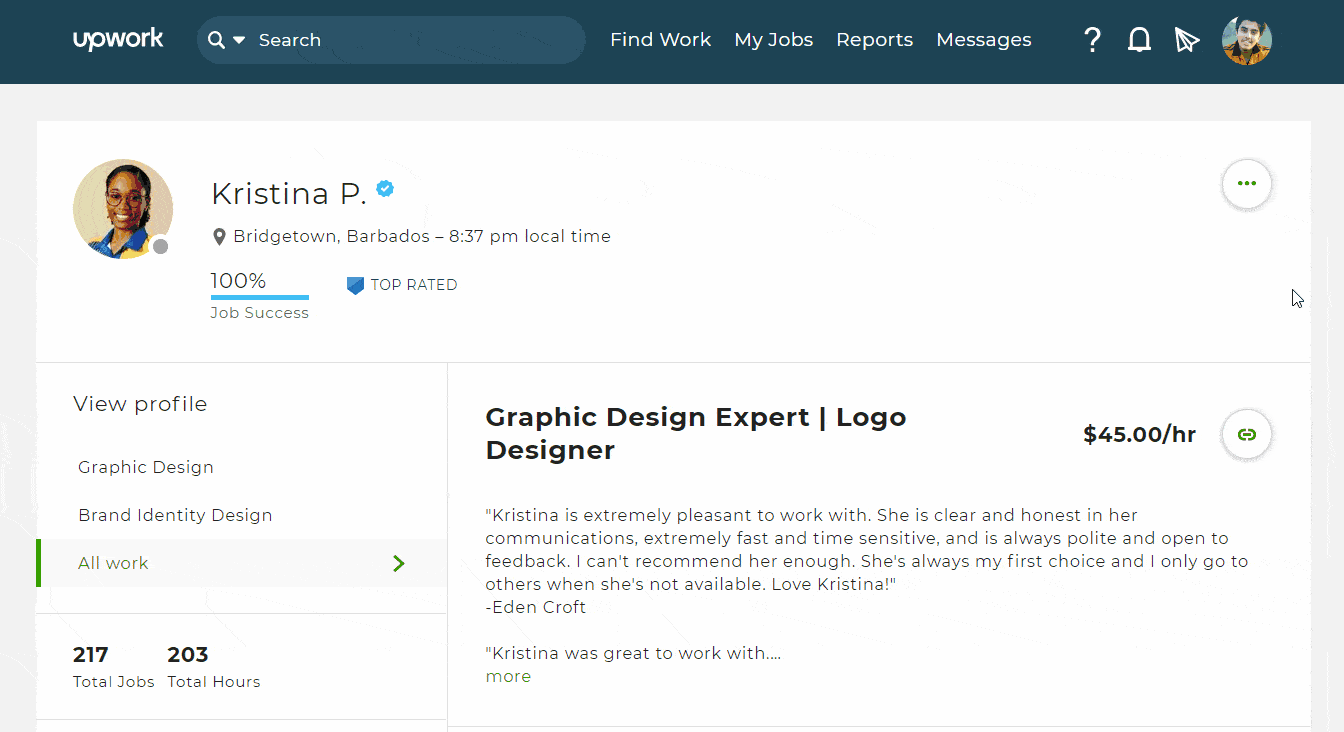 Apart from all that, Freelancers with any Upwork's Talent Badges such as Rising Talent, Top Rated, Top Rated Plus, and Expert-Vetted is a good indicator of great and reliable freelancers.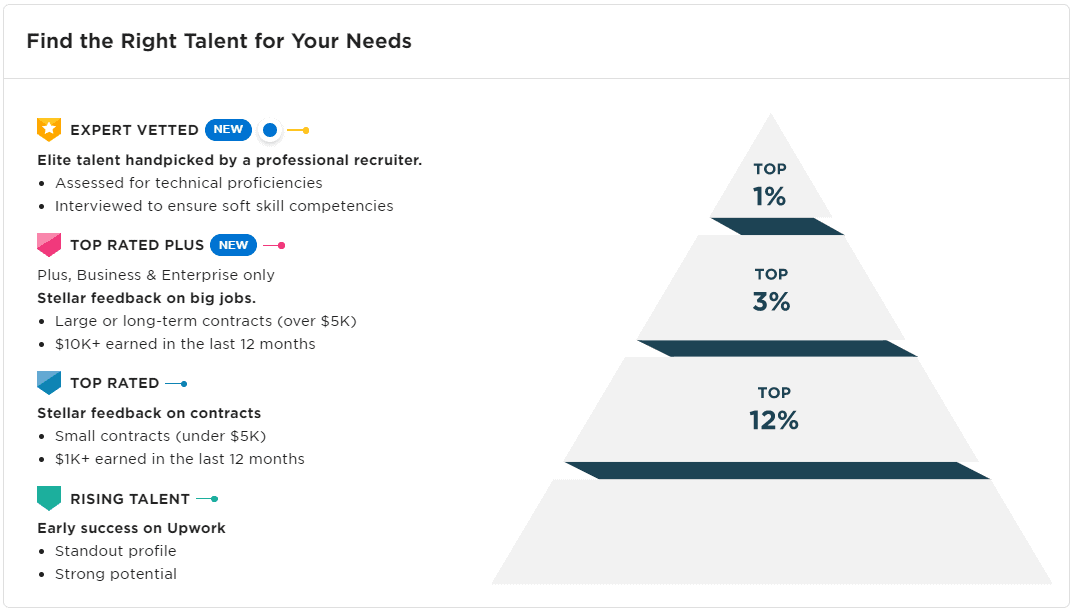 2. Never deal outside of Upwork
The most common reason why people get scammed is because of dealing outside of Upwork to avoid their fees or maybe the freelancers force them but you should not do that under any circumstances.
Unfortunately, if you take work outside of their platform, you lose the security of Upwork's Trust and Safety programs, including Hourly Payment Protection.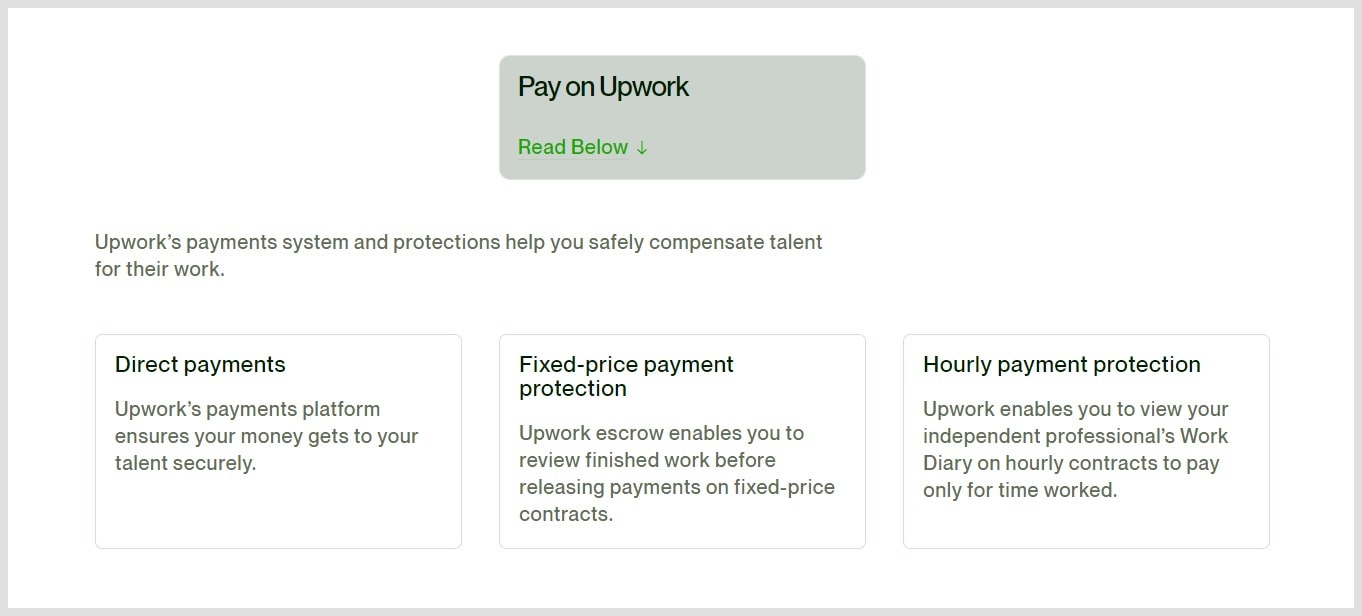 So keep in mind that if anyone asks or forces you to deal with them outside of Upwork is most likely a scammer and you should avoid and report that user.
3. Do not release payment to freelancers unless…
The second most common reason clients get scammed is by releasing payment to freelancers before receiving or reviewing the work they are paying for.
Whenever the freelancer or agency you're working with submit your order, you should review the work and request changes if the work does not meet the requirements set out in the milestone within 14 days.
As you might know, Upwork holds your payment in Escrow for 14 days and if you fail to respond to a submission within that period, your funds are automatically released to your freelancer as your failure to respond is deemed approval.
Also, it's clearly stated by Upwork: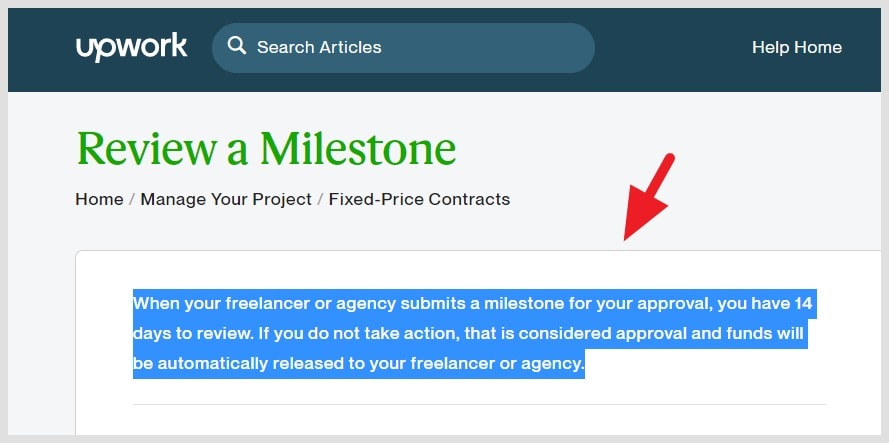 Therefore, it is important not to mark order as completed without receiving the work, or in case, you received the work then you must review it and request changes within 14 days of submission if you would like your freelancer or agency to edit their submitted work.
Tips For Freelancers
1. Review the client's profile before working
Before submitting a proposal to a job, make sure you always:
Check reviews of the client posted by other freelancers and make sure the client has some reviews with an overall star rating of 4.8 or above.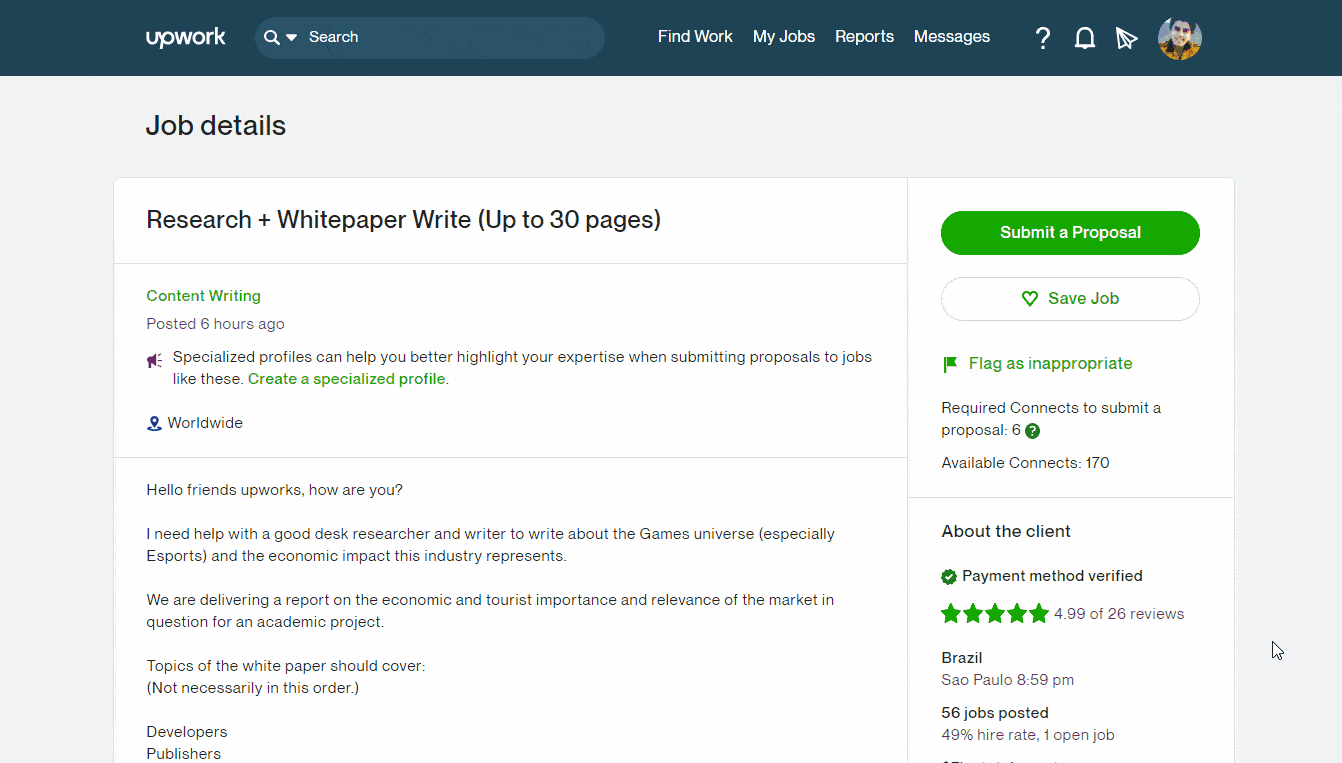 Confirm that the client spent at least a few hundred bucks in the past.
Confirm that your client has a verified payment method before starting the contract.
2. Never deal outside of Upwork
As I mentioned earlier, clients should never deal outside of Upwork but the same goes for the freelancers as well.
Clients may only lose their money, but if you're a freelancer and deal outside of the platform, you may lose your account on where you might have spent a lot of time and effort in building up a great portfolio and reputation.
So always deliver work and receive payments through the Upwork platform.
3. Don't do free sample works in most cases
When you submit a proposal for a job, some bad clients may interview you and request free samples of your work, for example, a few hundred words of writing as a work sample.
Remember, their goal is to interview dozens of freelancers and request free sample work from each one without hiring any of them, this way they get a lot of work without actually paying anything.
Please keep in mind that not all clients who request free samples are scammers, but most of them are.
Luckily, you can easily spot such scammers by looking at the "Activity on their posted job" and see how many freelancers that client interviewed out of total proposals and the hire rate.
If a client posted only 1 job, interviewing tons of freelancers (e.g. 15 interviews – out of 20 proposals), have no reviews, and a hire rate of 0%, asking for free sample work is most probably a scammer.
4. Avoid pay to work scams
Some clients may ask you to pay in order to work for them. It might feel like a necessary investment, but you shouldn't pay anything and report suspicious behavior.
Unfortunately if you pay them, they will take your money and move onto their next victim and it is even more alarming if they ask you to pay them outside of Upwork.
How to Avoid Getting Suspended on Upwork?
I've seen the complaints of many people on the internet saying that "Upwork is a scam, they suspended my account" but most of them violate Upwork's Terms of Services knowingly or unknowingly.
One of the common reasons why users get suspended is because of checking that "Yes, I agree to the Upwork Terms of Service" box when creating account without even reading those terms which leads them to violating their rules unknowingly.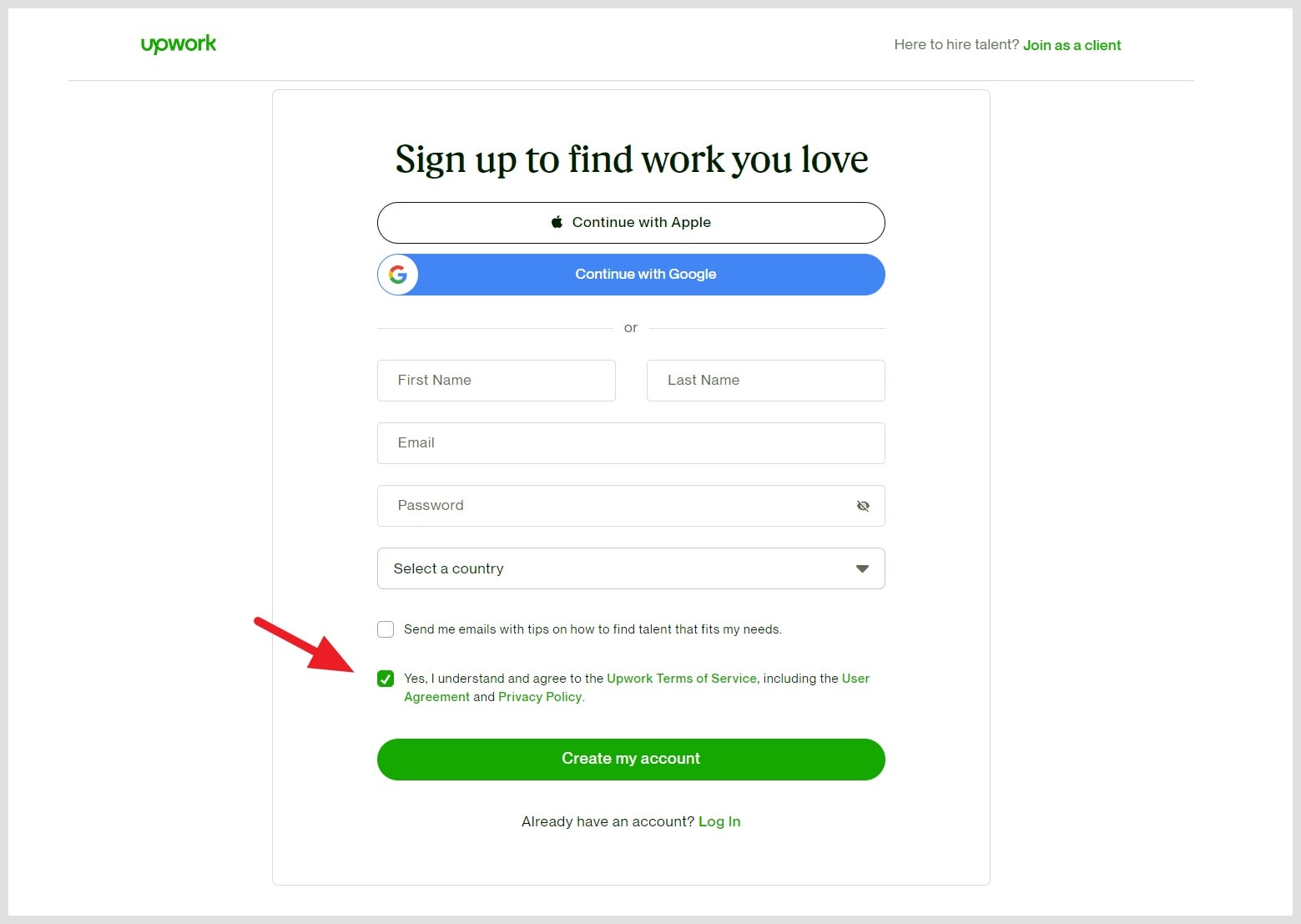 It might not always be the client's or freelancer's fault, but in most cases, they violate some rules which results in the suspension of their account.
Let's get to know how you can avoid those mistakes and stay safe from getting suspended.
5 Tips To Avoid Getting Suspended on Upwork
1. Never deal outside of Upwork
As mentioned earlier, getting paid or paying someone outside of Upwork is very risky and you may open yourself up to scams or fraud but it's also against their Terms of Service.
Violating this rule is a serious breach and your account may be permanently suspended so please, never ever deal outside of Upwork.
In fact, if a client or freelancer asks you to deal outside of Upwork, you should not respond and report that user as well.
2. Don't share your contact information
Upwork encourages users to communicate only through their site and not sharing contact information.
So no matter whether you are a client or a freelancer, you should not request or share contact information especially when the contract between you and the freelancer or client isn't started.
I understand that sometimes you need to send or request contact information, but doing so directly without any reason is a violation of Upwork's rules.
However, when a contract is started between both of you only then you can share your contact details if necessary and for some valid reasons because Upwork tracks your communication.
3. Do not log in from multiple devices at same time and also don't create duplicate accounts
Upwork allows only one account per person and prohibits creating duplicate accounts or sharing with someone.

Also, logging into your account by you, your friend, or a family member who've access to your account from multiple devices at the same time can put your account at risk.
Therefore, you should create only one account, try to log in only from your computer, and never share your account access with anyone to avoid getting banned on Upwork.
4. Avoid selling, trading, or giving an account
The act of selling, trading, or giving an account to another person without Upwork's permission can also put your account at risk because it is against their Terms of Use.
5. Don't manipulate or misuse the feedback system
Manipulating or misusing the Upwork's feedback system means that you should not threaten your freelancer or client to give negative feedback, withhold payment, work product, or engage in any other conduct for the purpose of obtaining positive feedback.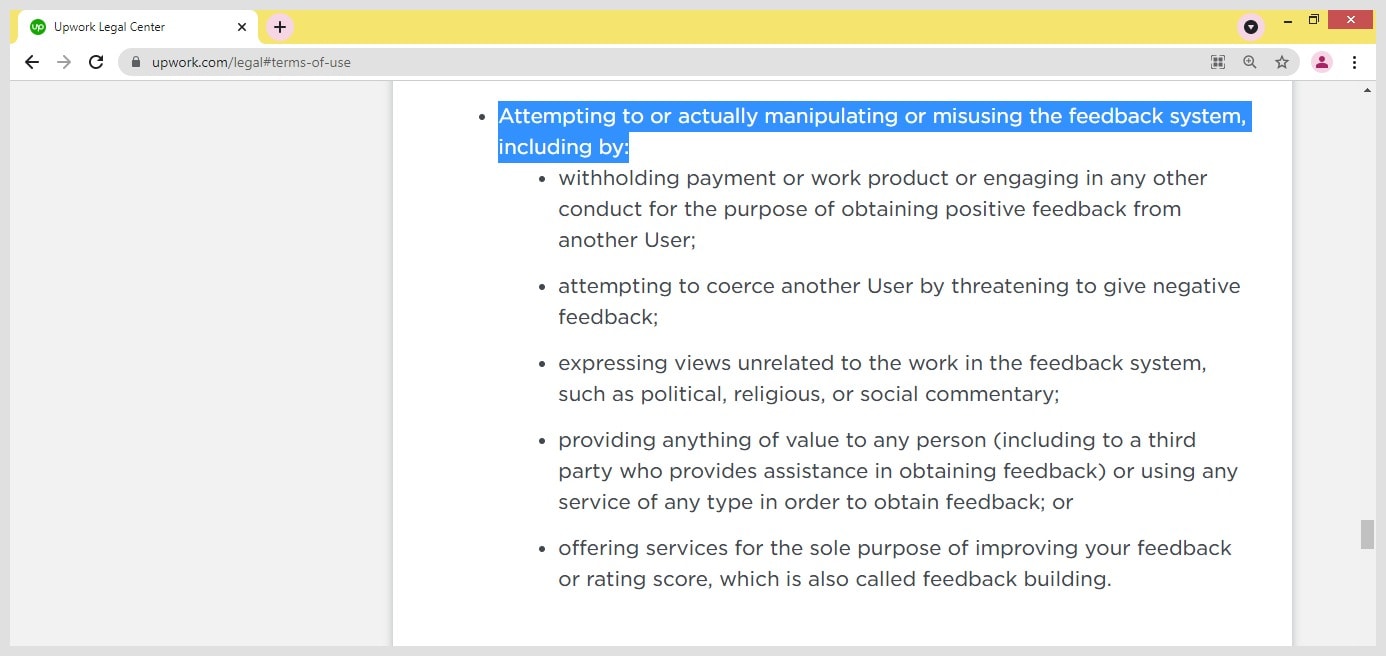 So please, never do that to avoid suspension of your account, however, if your freelancer or client is doing this with you then you should definitely send a flag to that user without a second thought.
Is Upwork Safe And Secure?
Upwork itself is a safe and secure freelance marketplace as it takes numerous security measures to protect its users but scams are possible through the platform if you don't know signs to look for before dealing.
We've already discussed the signs to look for before dealing with a freelancer or client to avoid getting scammed, but if you're asking in terms of data protection safety, it's very safe.
Upwork protects your data with its robust infrastructure providing streamlined asset protection and authentication.
The asset protection includes data encryption, malware & spam protection, confidentiality and IP rights:
Whereas, Upwork's authentication includes multi-factor authentication, single sign-on, and custom session timeouts.

In addition to data protection, Upwork meets stringent privacy and security industry certifications to demonstrate their commitment to keeping your personal data private and safe.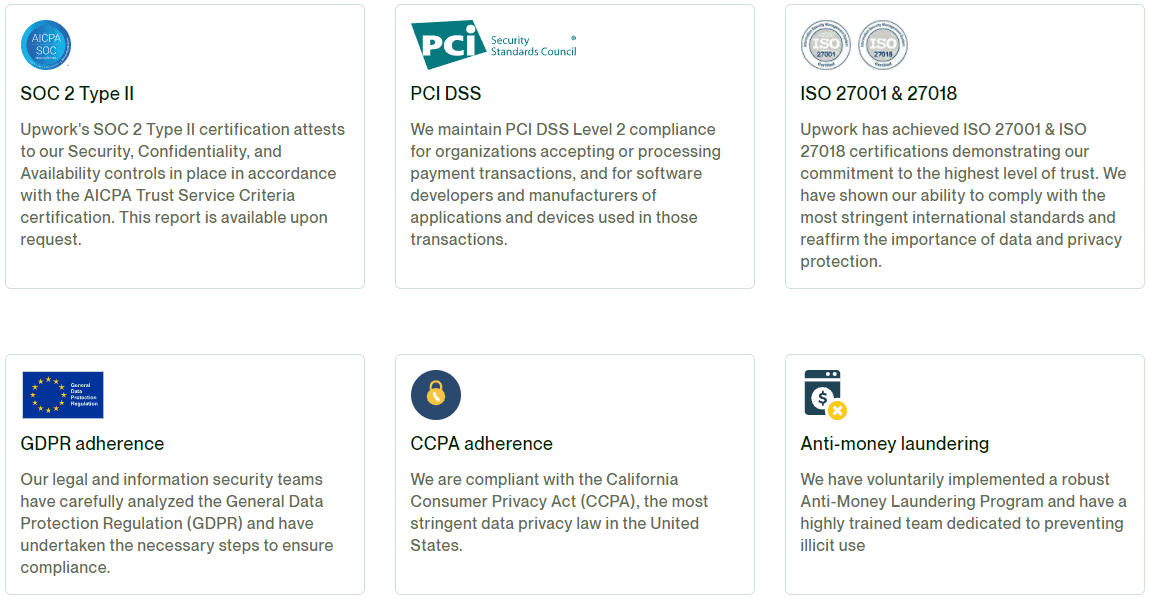 Apart from that, Upwork has an enterprise-wide information security risk management program that includes a variety of tools and resources to identify and resolve security vulnerabilities.

Conclusion
To conclude, I would say that Upwork is definitely a legitimate, safe, and secure platform but with millions of users on their platform, there are possibilities of getting scammed as well.
While Upwork takes many security measures to keep their platform safe from scammers, it's also your responsibility to know and follow the dos and don'ts.
Also, you must read Upwork's Terms of Services and the tips I shared so you can protect yourself from account suspension as well.
Got questions? Want to share your experience? Please, let me know in the comments.