Many people want to use TubeBuddy but a fear of being hacked or losing their YouTube channel stops them from using it and I think you're one of them.
In fact, I don't use any tool until I confirm whether it's safe or not.
So in this article, I am going to answer "Is TubeBuddy safe & YouTube certified?" and many more important queries such as:
Let's get started!
Is TubeBuddy Safe?
TubeBuddy is safe to use for your YouTube channel. In fact, many trusted creators are using it, and also till date no one has reported any issue in terms of security about it.
The company is not running their business anonymously, there's a team behind it.
The CEO / Co-Founder of TubeBuddy is Phil Starkovich, who is responsible for the overall vision and direction of TubeBuddy.
Besides that, they've a YouTube channel with over 250K subscribers, which shows that they have a good reputation around the community as well.
Did you set your videos in line with FTC / COPPA?
It's a bit off-topic but essential as well to let you know that you must set your videos in line with FTC / COPPA to keep your channel safe.
The good news is that recently TubeBuddy added a new feature to find videos 'Made for Kids' on your channel easily.
Now another common question you might have.
Is TubeBuddy YouTube Certified?
Yes, TubeBuddy is YouTube certified and this certification is not easy to get without proper verification. Anyone who has the certification is considered as a trusted person or company.
They have clearly mentioned on their website that it is YouTube certified but don't just take anyone word for it, you can find them listed on Youtube's list of certified partners.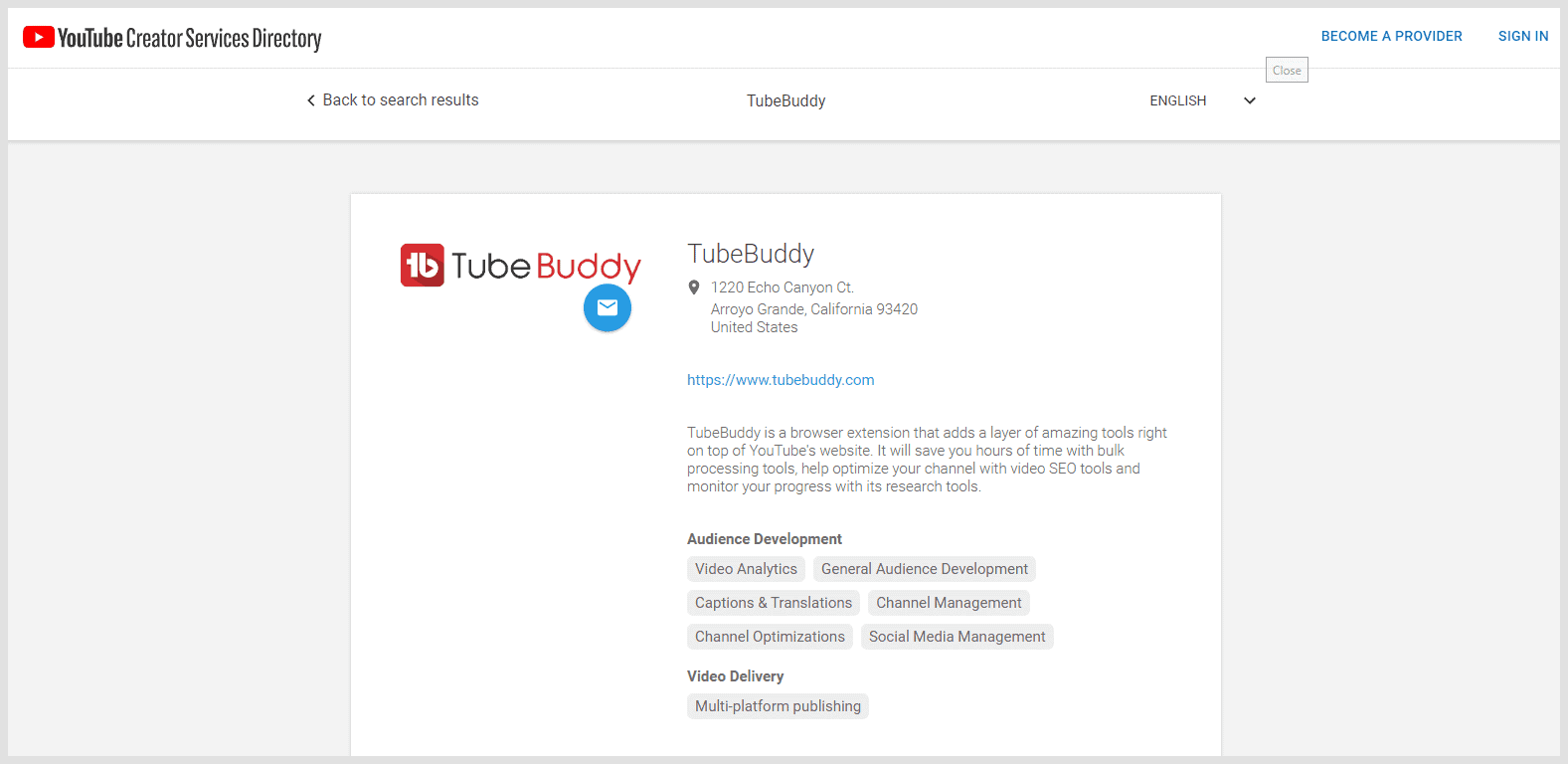 Any Well-Known YouTubers Using TubeBuddy?
As I said earlier, TubeBuddy is used by many creators around the globe and trusted by some of the biggest names on YouTube such as Roberto Blake, Matthew Santoro, Derral Eves, Family Feud and much more.
Here's what they said about TubeBuddy:
TubeBuddy has completely transformed the way I manage my personal YouTube channel and my clients' channels.
Derral Eves
---
I'm so glad I discovered TubeBuddy! It's super helpful. Love you guys!
Matthew Santoro
Even these testimonials clarify your answer and now you can try it for free.
Why Is TubeBuddy Asking For Access To My Channel?
During integration, you'll see a screen like this.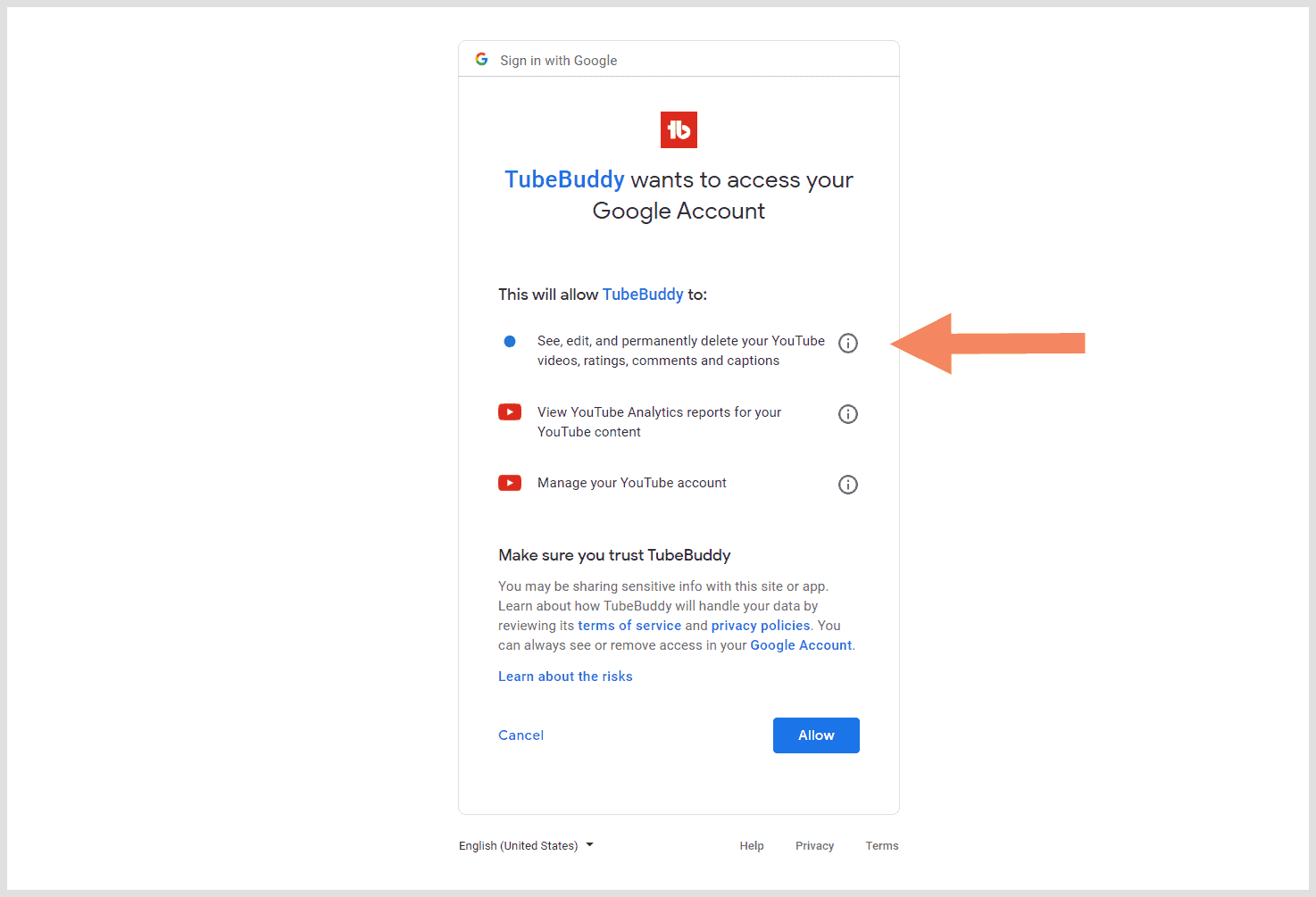 Let me tell you why they are asking for this access and why you should not worry about it.
TubeBuddy is an excellent tool with cool features and it can do many things to help you run your channel with ease but those things require access.
Giving the tool access is crucial if you want to use the tool to take greater control of your channel.
In the above image, you can see during integration it says TubeBuddy will be able to see, edit and delete your videos, so a question arises in mind.
Can TubeBuddy Delete Your Videos & Edit It Automatically?
No, TubeBuddy cannot permanently delete and edit your videos automatically which means it won't do anything without your consent, it is mentioned just so the functions can be used.
I know it sounds like 'TubeBuddy' will automatically delete or edit your videos at will, but it is allowing you to do that function through TubeBuddy.
Example:
Think of it like when you install a new app on your phone, if it's an Instagram app you need to give it access to your files to upload photos or videos.
Is Personal Data Safe on TubeBuddy?
One of the biggest concerns some users have about TubeBuddy when integrating their YouTube channel or choosing the premium plan is that "Is my personal data safe & secure on TubeBuddy?"
The short answer is yes but to be secure, it's your responsibility as well to keep your account login details confidential and not sharing it with anyone else. Besides that, be sure that only you've the access to your device.
In TubeBuddy privacy policy page, they clearly mentioned that they collect these information about customers:
When choosing the premium plans of TubeBuddy, the payment information provided by the customer is collected but it is processed by a trusted company Braintree

which is a PayPal company.

Personal information such as the name and email which is collected while signing in with your Google account, this information is collected for identification and contacting purpose.

TubeBuddy collects some other data including your IP address, the browser you use, and access times.
This information is crucial for every website to collect whether it's Amazon, eBay, Mercari or any other well-known site.
So with this information in mind about TubeBuddy, your personal data is safe.
Final Thoughts
In the online world, you are not always safe whether you're using a tool, marketplaces or anything else.
It's our responsibility to confirm the tool we're going to use is safe or not, whether for our YouTube channel or website where we put a lot of hard work, time, and effort.
When it comes to TubeBuddy, it is an incredibly useful tool to grow the channel with ease but some people want to know "Is it safe?" and the answer is yes, it is safe as well as YouTube certified and can't do anything such as deleting or editing your videos automatically.
Did you like the tool or faced any issue in terms of safety? Let me know in the comments below.
Last Updated: June 8, 2023