Last Updated: May 16, 2022

Do you want to start selling or buying on Mercari but one thing stopping you and that is a fear in your mind, is Mercari legit and safe or not?
If so, then you're landed on the right article.
In the online world, you are not always safe while you're shopping online.
So, before choosing any platform, you must know whether the platform you're going to use is legitimate, safe, and reputable or not and how you can stay safe from being scammed.
Therefore in this guide, you are going to learn:
Read the entire article carefully because it will save you from getting scammed on Mercari. Let's dive right in!
Is Mercari Legit?
Mercari itself is a completely legitimate and reliable e-commerce marketplace. Both sellers and buyers are real people, and they aren't retailers, which means that there is no guarantee that the people buying and selling on it are legitimate.
So you need to be assured about the seller as well as a buyer when dealing.
Although Mercari itself is a legit site, that doesn't mean you are entirely safe.
Just use common sense when you see an iPhone selling for only $99, you should be skeptical.
Keep in mind, some sellers don't show the downside of the product in their listings so it's hard for the buyer to know if the products are in good condition until you order and receive them.
According to Mercari, they'll not release payments until the buyer receives the item, confirm and rate the seller.
But plenty of buyers complaint that we order the item but it was not as described in the listings and Mercari customer support didn't help us in these situations.
???? Recommendation: Never deal with the seller that didn't upload photos of the item from every angle.
Other than that, I think some people got scammed because of their own mistakes.
You might be thinking, what do you mean? Let's discuss this.
How People Got Scammed On Mercari?
Just like Mercari, other online retailers come with a host of possible scams as well but if you know how people are scammed, you can stay safe from scammers.
Most of the time, scammers have a fresh or without reviews seller profile and they add the unbelievable price of the item.

As I said before, Mercari does not release payments until the buyer receives the item, you might be wondering then how they got scammed, right?
Actually, if you're buying stuff on Mercari then maybe the seller asks you to contact him/her through another platform like Facebook, WhatsApp, or by phone number, etc.
And, if you deal outside Mercari then chances are you'll be scammed by the seller.
Dealing outside of Mercari is against their guidelines as well and they clearly mentioned that they are not responsible for it.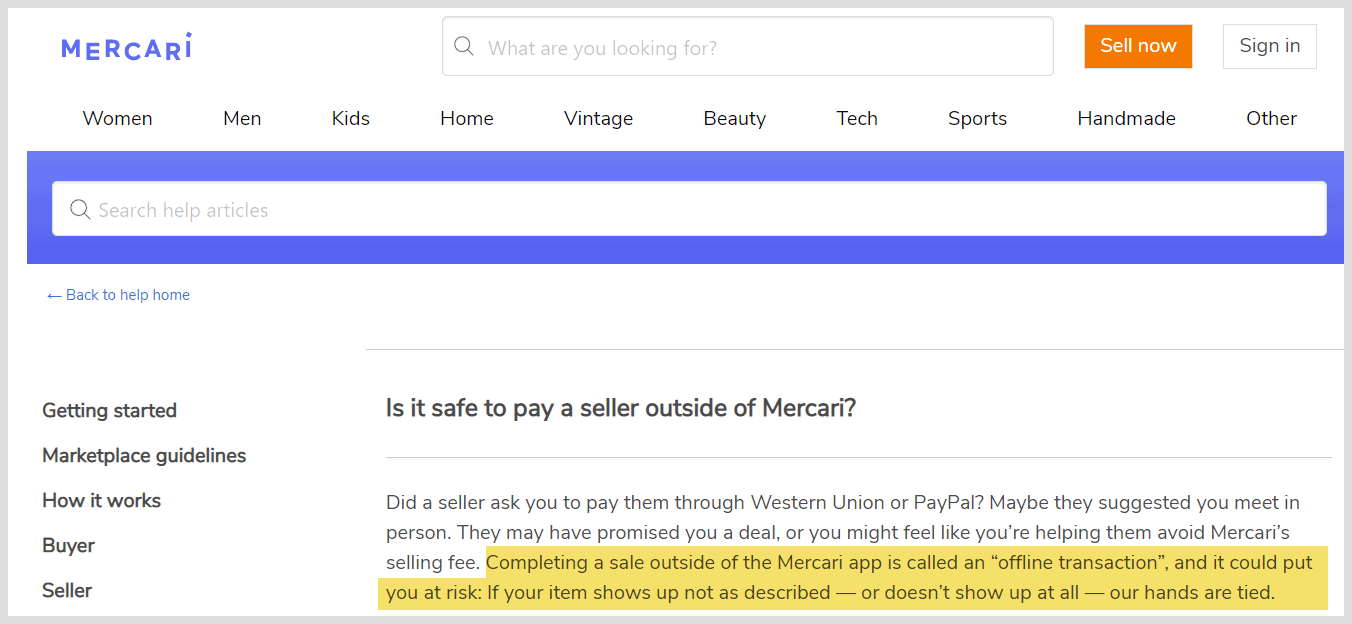 So never deal outside Mercari whether you're a buyer or a seller.
Now we know how people got scammed but the question is:
How to Avoid Getting Scammed on Mercari?
On any online marketplace, it's important to carefully research not only what you are buying but who you are buying it from.
Many instances of fraud happen with sellers and buyers because they don't know the warning signs to watch out for before dealing.
Here's how to avoid being scammed when buying and selling on Mercari and hopefully spot any potential scams before it's too late.
Don't deal outside the app – Never deal outside their platform and if you do so then your transaction is not protected by them, and it could put you at risk.
Don't share personal information – Never give out your personal contact information such as a phone number, email address, or social media account.
Make a strong password – Always use a strong password not only on Mercari but on any platform and change it frequently.
Be skeptical – Never buy any product without checking their reviews and description.
Don't share login details – Do not share your Mercari account login details with anyone including third-party websites.
Confirm order within 3 days – When you received an item, you have 3 days to confirm whether it's damaged or not as described. If there is any problem with the item, you've 3 days from the delivery date to request a return.
Do not sell prohibited items – If you are selling prohibited items then Mercari will suspend your account and cancel the transactions as well.
Use a credit card instead of a debit card – The risk of fraud is always lurking in the background, there isn't a problem with using a debit card but for online purchases, credit cards often come with additional protections.
So these are some of the important points you should keep in mind to avoid getting scammed.
Is Mercari Safe for Buyers and Sellers?
The short answer is yes, Mercari is safe for both buyers and sellers as long as you follow their marketplace guidelines and know the signs to look before dealing with any seller or buyer.
Is your personal data secure on Mercari?
You're probably hesitant to type your credit card information on a website but Mercari appears to be as safe as any other online retailer.
The listings aren't private and the items you list shows your real name.
They protect your account messages, login information to protect against misuse and unauthorized access.
But to be secure, it's your responsibility as well to keep your account login information confidential and have control access to your device, and not sharing it with anyone.
However, they collect this information about the customers:
Personal data, which includes your name, phone, email and address, date of birth, or tax identification number.
Financial information, collect your credit card or other payment card information for payment processing purposes.
Receive information about who you communicate with, locations and accessing logs such as IP address, device ID, your actions within their service.
Don't worry this information is collected by almost all the online marketplaces.
So with these things in mind about Mercari, your personal data is secure but no internet transmission is completely safe and can be hacked for which Mercari isn't responsible.
For more information, check out their privacy policy page.
Now, let's cover how buyers can safely purchase something and be secure on Mercari.
Tips for Buying Safely on Mercari
There are several things you should know before starting your Mercari haul but these tips are crucial to ensure you make a safe purchase.
1. Don't Ignore Reviews
If you are ordering items without checking their reviews, later on, you will be in trouble.
The best way to safely buy products on Mercari is to do your research before purchasing and even contacting a seller, first look for these things:
Look for negative reviews.
Photos that the seller has posted of the product.
Check whether the photos are taken from every angle or not.
⚠️ Warning: Never order items with 1 to 5 positive reviews because sometimes these reviews are not legit and added by the seller themself from different profiles.
Some sellers are "ID Check by Mercari" which means that those sellers are verified and trusted.
2. Watch Out for Misleading Descriptions
One of the issues with Mercari is that some sellers include misleading or vague descriptions and photos.
Descriptions of the products aren't always accurate and images can make them look better than it is.
In this case, it's better to pay more attention to the product descriptions and get the items you wish for.
3. If the Price Sounds Too Good to Be True, It Probably Is
As I said already if you see a product with an extremely low price that you can't find anywhere then it means you are probably looking at a scam.
Don't get me wrong, you'll definitely find the best deals but if you see a drone for $35, that's definitely a scam or maybe buying a counterfeit product.
You get the idea ???? and with that being said the next tip is…
4. Check Your Order Carefully When You Receive It
As we know Mercari does not release your payment to the seller until you've received and confirmed your order.
Buyers have 3 days to confirm the order whether it's the same item as described and submit a rating to that seller.
Make sure everything is included and looks like what you ordered, and it doesn't look like a fake.
If it isn't then you have 3 days from the delivery date to request a return and if you didn't request a return all sales are final.
???? Tip: Always ask for a tracking number first and then deal with the seller.
If you are satisfied with your order then give a rating to the seller, so he or she can get their payments.
Tips for Selling Safely on Mercari
Selling stuff on Mercari sounds simple but selling them safely is where you have to be careful, so these tips can help you to sell your stuff safely.
1. Do not sell prohibited items
If you are choosing Mercari for selling your stuff then never sell items that are on Mercari's Prohibited items list.
Whenever a seller lists a prohibited item, it will be against their Terms of Service regardless of whether the seller acted intentionally or not.
???? Note: Maybe you are not selling a prohibited item but still don't include prohibited product words as well in your listing title.
When Mercari determines that a listing is in violation, they will remove their listing and cancel any related transactions up to and chances are they suspend or terminate that seller account.
2. Shipping protection (Package carefully)
Once you got a sale then your main priority is going to be shipping the product to a buyer but there is some information you need to keep in mind before shipping the item.

Here are some points you need to know:
The seller has to ship the item within 3 business days of purchase.
Provide a valid tracking number for the item you are going to ship to complete the transaction.
Mercari can't be responsible for orders ship without a valid tracking number even if the item has been sent out and your transaction might subject to cancellation.
Package the items carefully so they can't be damaged.
Never write a misleading or vague description of the product you are selling.
You can send your order through Mercari prepaid label, but if the weight is over 150 lbs, you'll need to ship on your own.
All the items you have to ship must not be on Mercari's prohibited items list.
So finally, you have shipped the item the next step is to go to the Order Status page and click "I've shipped it" and inform your buyer as well.
These are some of the most important points about shipping you have to keep in mind, for more information about Mercari shipping & packing click here.
3. Ensure your product listings are accurate
There are some buyers who want to get the product but when they receive the item, they feel unhappy and wish to return the item.
However, the buyer can't just return the item without a legit reason like broken items, misleading descriptions, wrong images, etc.
In that case, it's your responsibility to make sure that all the details on your listings are accurate.
Maybe the buyer opens a dispute against you, so you can prove yourself right.
4. Keep all the shipment and delivery details handy
As I said already, the seller must provide a valid tracking number because maybe a buyer claims that they didn't receive an item.
So if that happens, the seller can prove that the item is actually shipped and successfully delivered to the buyer's address.
Watch this video as well for more tips about selling.
Mercari Prohibited Items (Don't Ignore)
Selling any of Mercari's restricted products can have massive consequences for you.
Discover this crucial list of items to ensure Mercari does not penalize you and you have to avoid selling them on their marketplace.
Here is the list of products you can't sell on Mercari with examples:
Anything illegal such as drugs
FDA restricted such as foods
Counterfeit goods such as listings of non-brands
Weapons such as firearms or parts
Digital items such as e-books
Alcohol and Tobacco such as cigarettes
Identity theft such as user login information
Age-restricted products such as license
Gambling such as mystery purchases
Financial items such as insurance
Animals such as dog
Human body parts such as blood
Pornographic material such as sex toys
The things that are not yours such as dropshipping
Safety hazard
A computer virus, malware type items
These types of items are restricted by Mercari, so don't sell them.
And, if someone is listing these items then Mercari has the right to give them penalties such as cancellation of listings, removal of listing privileges, termination, or suspension of an account.
So do your due diligence before selling and also delete the listing that falls under this list, if your account is still safe. ????
Pros And Cons of Mercari
Here are the main pros and cons of Mercari that we think you can expect to encounter if using this marketplace.
#1 – Listing is free
Unlike eBay and some other online e-commerce marketplaces, listing your items on Mercari is entirely free.
#2 – Fairly price
It is a marketplace for old or used stuff that the seller doesn't need anymore which means you'll get the items at a fairly cheap price and save money.
#3 – Low selling fees
The fees are pretty low, Mercari charges a flat 10% selling fee once a sale is completed.
#4 – The shipping process is easy
The huge plus is that shipping items to your buyers are easy to navigate.
#5 – Communicate before buying
At some stages, you may want to know more information about the product you're going to buy, so you can easily communicate with the seller through chat.
#6 – Listing items are so easy
Another benefit is that you can list the products easily and quickly within a few minutes.
#7 – Handle your business through your phone
You can pretty much do everything from your phone which is a huge advantage.
#1 – Lower end items aren't worth
Mercari is not a place for very low-end items like ($1 to $15) because you have to pay a 10% fee to Mercari and then for shipping as well, and even if the buyer pays for shipping, it's still not worth it.
#2 – Inactive sellers
Some sellers need to be active, they just list their items and a buyer doesn't get a response.
#3 – Not get paid until buyer rates
As a seller, you'll not get paid until the buyer rates you but for a buyer, it's an advantage.
Conclusion
We hope that this post has so far confirmed that the answer to "Is Mercari a legit site?" and "Is Mercari safe?", and much more.
The summary of this post in a few words is that whether you are a buyer or seller, you'll have to do your due diligence when making a purchase and carefully monitor all your dealing to avoid any unwanted surprises.
So, after reading this entire article I can hopefully say that you have the information to catch out a scammer and how you can stay safe from them.
Now I want to turn it over to you:
Have you bought an item off Mercari? Have you ever had to use dispute channels? What was your experience like?
Let me know all your stories by leaving a quick comment below right now.
FURTHER READING