Last Updated: June 26, 2023

After looking at Rihoas's stylish and unique dress designs at much cheaper prices than expected, you're eager to buy dresses from it.
But as a savvy customer, you're hesitant to buy from Rihoas because e-scammers entice people by offering cheaper rates and thus steal their money.
So before buying from Rihoas, reading this article is crucial for you to know if it is actually legit or just waiting to take your hard-earned money.
Let's dive into it!
Is Rihoas Legit?
Rihoas is definitely a legit fast-fashion online retailer that sells trendy clothes like prom dresses, formal dresses, tops, bottoms, swimwear, and other stylish attires.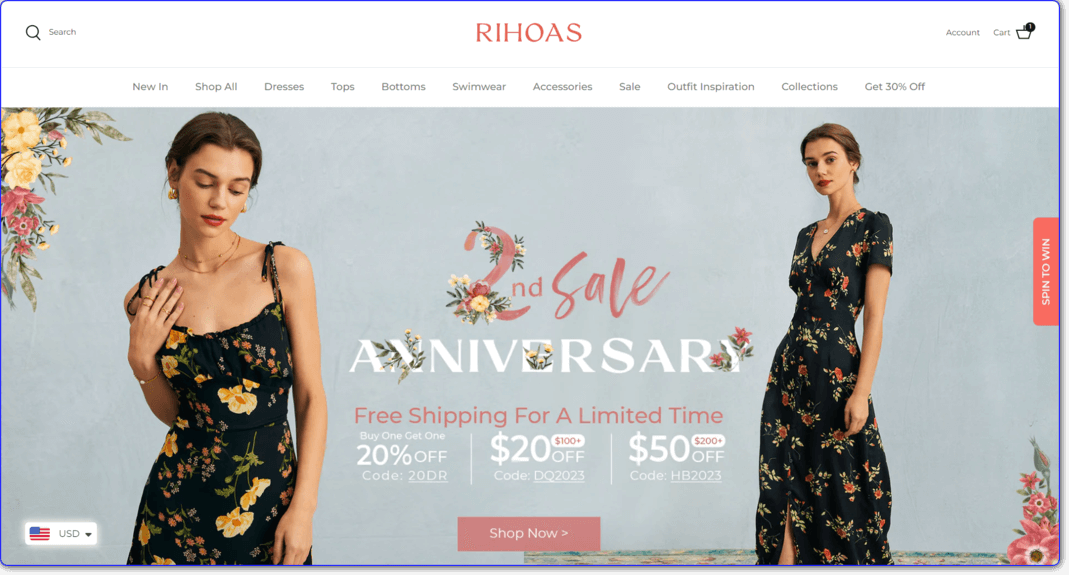 Rihoas isn't like online scam companies that run anonymously and steal people's money by not delivering the products they deceptively advertise on their sites.
Instead, its operating office is based in China and owned by Xibor Limited, a Hong Kong company. Moreover, Rihoas delivers products to its customers successfully.
But WAIT!
Though it is a legit online retailer, here are the 3 things you must be aware of before buying anything from Rihoas:
1. You Get What You Pay For
The products Rihoas sells are generally much cheaper and more affordable than other online retailers.
Rihoas even applies sales on its already cheaper products plus gives coupon codes and offers free shipping on products over $63.
This naturally raises a question: How is it possible for Rihoas to manage its finances then?
To know the logic behind this, you should know that Rihoas is a fast-fashion online retailer that prioritizes trendy, affordable, and stylish products over long-lasting and high-quality products.
So, Rihoas uses fabric and other materials in manufacturing its products relatively lower in quality than luxury or high-priced online retailers use in manufacturing their products.
Therefore, don't expect the quality of Rihoas's products to be as good and long-lasting as the products of high-end online retailers because:
'You'll get what you paid for.'
2. Size And Fitting Issues
When it comes to online shopping, getting the right-sized and well-fitted dress is one of the major challenges.
But what Rihoas further complicates is that it gives the same size chart for different types of dresses as a reference only means that it is not a final chart to be relied on.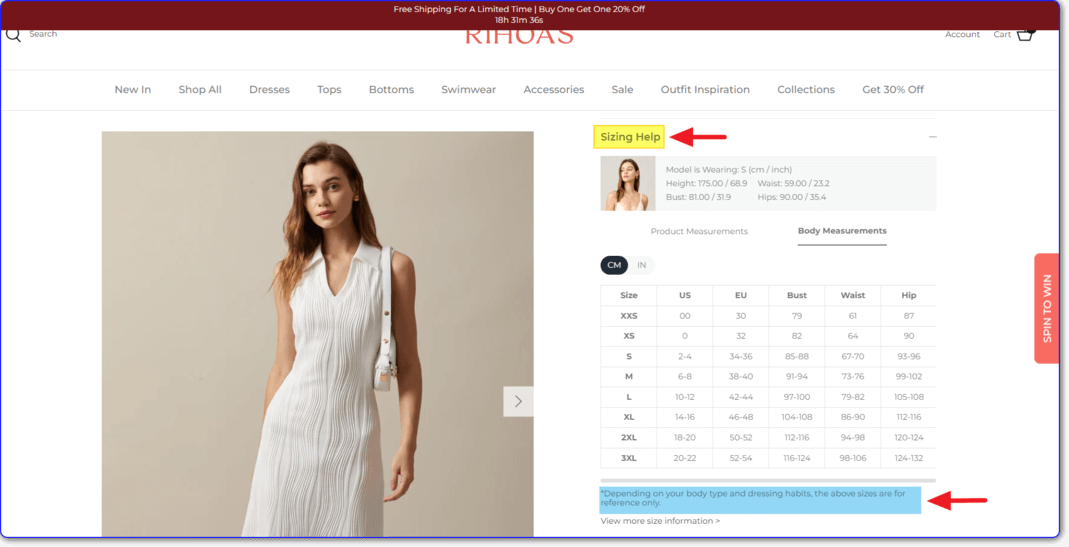 So this increases the probability of receiving a dress having defects in size and fitting as the measurement of one type of dress is different from another.
However, it's important to note that dresses sometimes don't fit properly even if they accurately match the given size chart because people have different body types and dressing habits.
Therefore, it is possible that you may need some alteration on your own through a local tailor if you receive a slightly loose or large-sized dress.
But you are stuck with no helping hands when you receive a small-sized or tight dress because you can do alterations to a large or loose dress but can't do alterations to a small or tight one to achieve the desired fit.
So you'll be left with only one option: Exchange, or return your dress for a refund.
But the problem here is that:
3. No Exchanges & Getting A Full Refund From Them Is Nearly Impossible
Regarding exchange, Rihoas doesn't allow you to exchange the product but instead tells you to return your product and then place a new order.

So you've to return your unwanted dress and get a refund but Rihoas typically doesn't give the full refund.
To avoid return at any cost, Rihoas instead gives you the offer to keep the product and get a partial refund.
And even if they accept your return for a refund, the shipping charges, if applied, will not be refunded to you as they are non-refundable.

And also, you have to return your product at your own cost (return shipping cost) to Rihoas to get your refund.
So you'll bear the shipping as well as the return shipping charges which often exceed the actual price of the product as Rihoas's products are generally cheap.
Whatever the case may be, getting a refund from Rihoas isn't reasonable for you.
Therefore, you'll have no option but to accept your order as it is, as returning your order for getting a reasonable refund from Rihoas is impossible.
Long story short, Rihoas is legit but the dresses from them are hit or miss.
If the dress or any product you receive meets your expectations and satisfies you, you'll definitely benefit from Rihoas's cheaper yet stylish products.
But if unfortunately not, you'll lose almost all you've paid since Rihoas only give partial refunds that are often exceeded by the shipping and return shipping charges.
So if Rihoas is legit but some issues are associated with buying from it, then:
Should You Buy Dresses From Rihoas?
It comes down to your personal comfort whether you should buy from Rihoas or not owing to your personal preferences, financial limitations, and willingness to face some issues that you may face while buying from it.
But personally, I would say that Rihoas is the best option for you to buy fast-fashion and stylish dresses if:
You are tight on budget.
Don't keep higher expectations from the quality of its products.
You're mentally prepared that you may receive your dress with defects in size and fitting.
You don't expect a reasonable refund from Rihoas.
After looking at these factors, if you're still considering trying out Rihoas, carefully follow the following tips before buying to minimize the risks and ensure a good shopping experience.
9 Tips Before Buying From Rihoas
Before buying anything from Rihoas, the following 9 tips are EXTREMELY IMPORTANT for you.
1. First Know About Custom Charges
The majority of Rihoa's customers prefer buying from it due to its cheaper prices.
But as you know countries sometimes apply custom charges or other taxes on products, so the lower prices will end up costing more after these charges are applied.
The majority of the people are unaware of these charges because they aren't included in the final price shown on Rihoas's site, and neither Rihoas takes responsibility for these charges.
Therefore, the first and foremost thing you should do is to make yourself aware of these charges applied by your country's customs office.
2. Beware of Rihoas's Return And Refund Policy
While we gave a touch to Rihoas's return and refund policies above, it's better to carefully read its return and refund policies in more detail to have a complete understanding of all its details.
You'll be able to get familiar with its specific return deadlines, return process, refund amount, applicable fee, and other important particulars.
3. Read The Product Description Carefully
After choosing a product, reading its description carefully is crucial for you as it contains important details about the product such as the fabric and other materials used, its properties, the type of dress, and some other important details.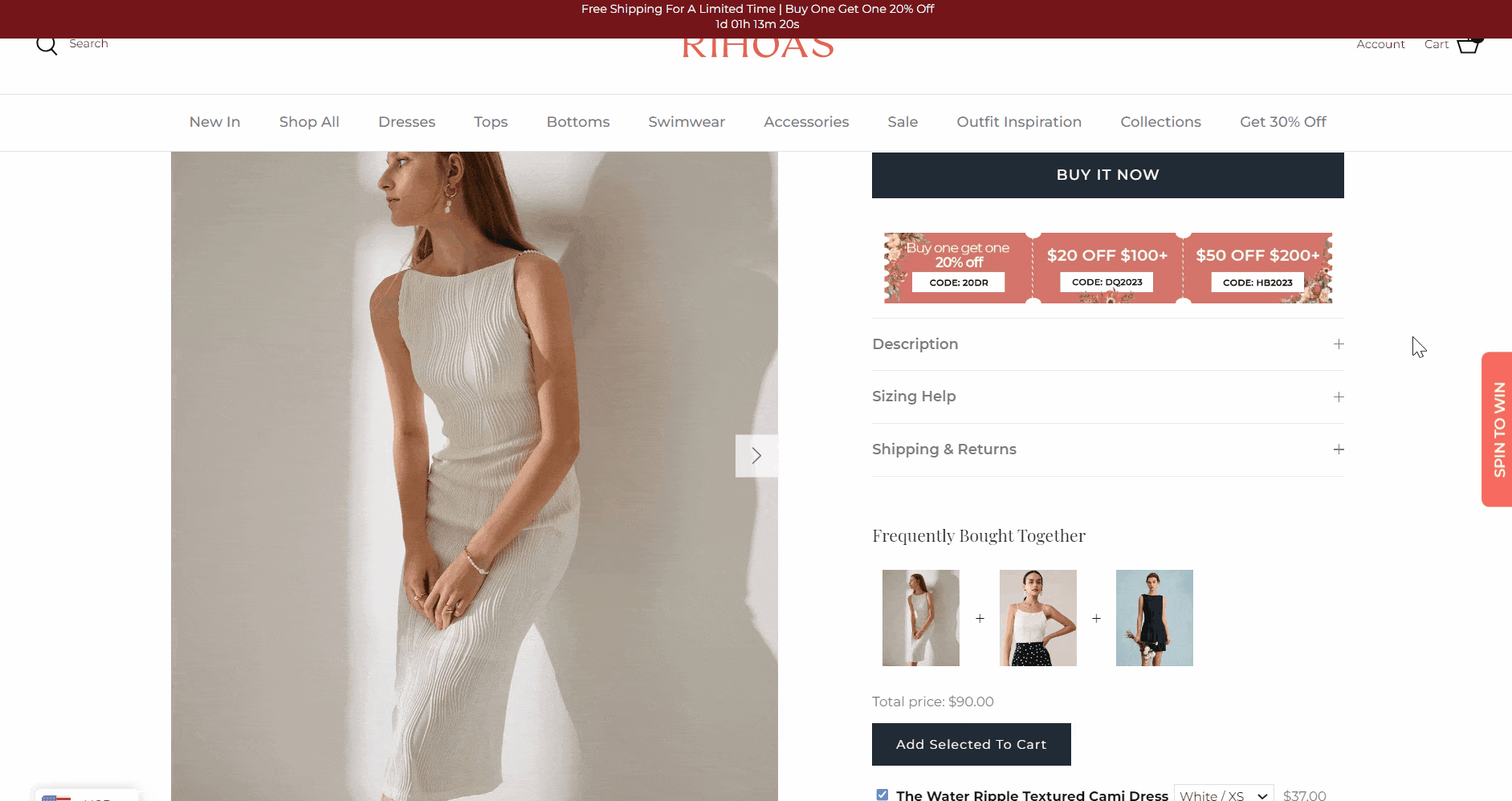 After doing this, proceed to:
4. Read The Customer Reviews
To gain a clearer idea of what to expect from the product you're going to purchase, thoroughly examine the customer reviews that will provide you feedback based on their prior experience with the product.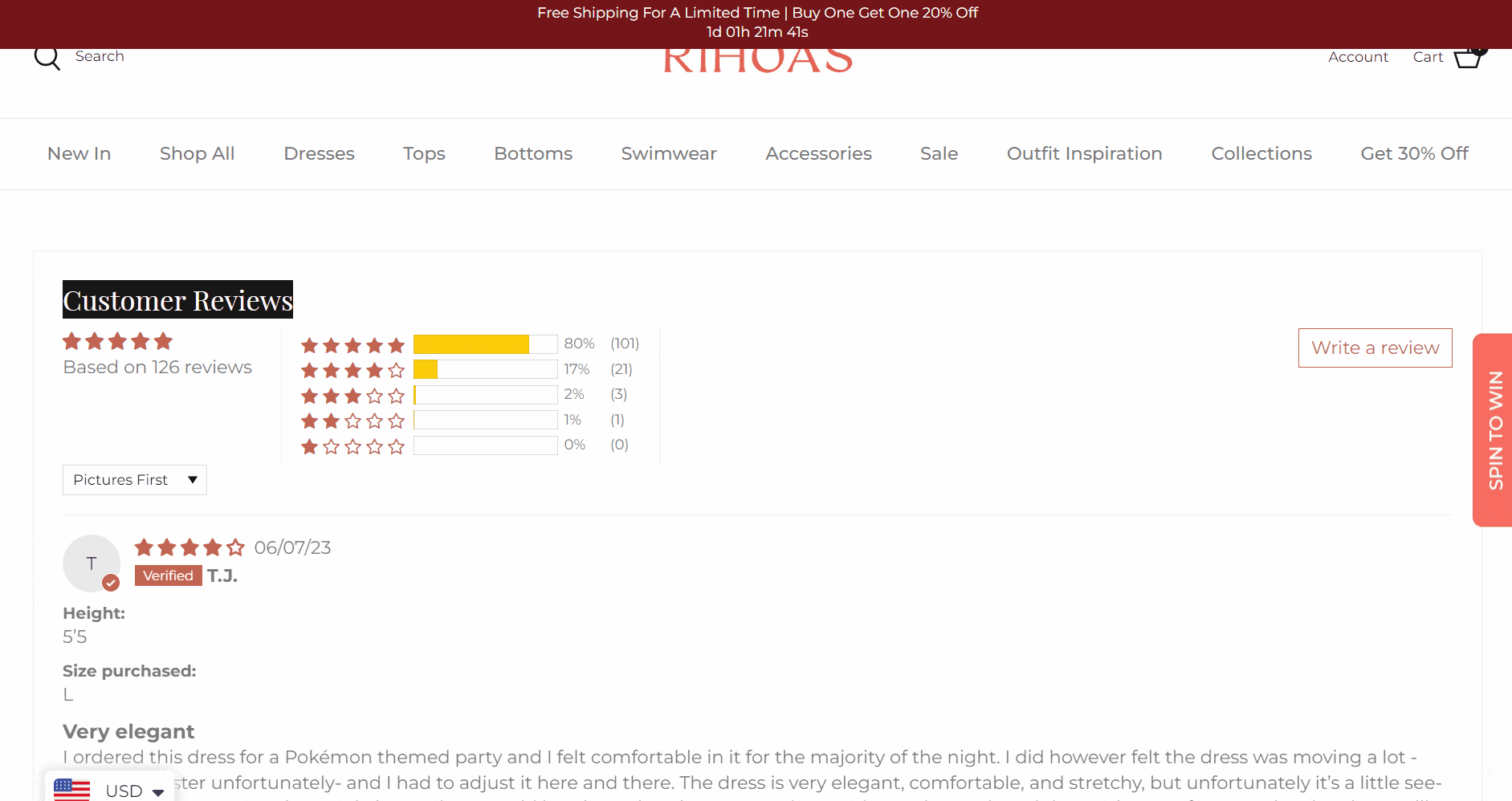 5. Look At The Size Guide And Select The Right Size
As mentioned earlier, one of the major hurdles in online shopping is finding a dress in the appropriate size that suits you perfectly.
Therefore, you need to look at the size guide and select the accurate size from the given size chart that aligns with your body measurements perfectly, as Rihoas doesn't accept exchanges, and getting a full refund from them is impossible.
6. Clear Your Doubts And Concerns In Advance
If you've any questions or concerns about the product you're considering buying, don't hesitate to contact Rihoas's Customer service.
You should proceed with the purchase only if they provide assistance and clear your confusion; otherwise, refrain from buying.
7. Place Your Order Well In Advance
If you need a dress for a special occasion or need it by a certain date, it is advisable to place your order with sufficient time in advance.
By doing so, it allows ample time for processing the product, shipping, possible alterations, and addressing any potential issues (especially custom and delivery issues).
I recommend you order your dress 2 months before you need it as they deliver products in 3-4 weeks to most countries (more on this later).
8. Review Your Order Before Completing Your Purchase
Before finalizing your purchase, don't forget to review your order information like the product, size, color, and shipping address.
And last but not least:
9. Pay With PayPal
While you can pay Rihoas via credit card as well as via Paypal, I highly recommend you to pay with PayPal because of its buyer protection program.
For your information, the buyer protection program is a program of Paypal that provides an extra layer of safety and security to your purchases.
That's it!
By following these tips, it is more likely that you will not face any issues and you'll have a pleasant shopping experience with Rihoas.
RELATED ARTICLE
How Long Does Rihoas Take To Deliver Your Product
Rihoas delivery time depends on several factors, such as chosen shipping method, processing time, destination country, customs clearance, and unforeseen circumstances.
Primarily, the total delivery time of Rihoas = Processing time + Shipping time.
Processing time is the time in which your product is scrutinized and prepared for shipment while shipping time is the time taken by the shipping carrier to deliver the product to your destination.
The processing time is similar for all dresses which usually takes 1-5 business days while the shipping time varies from country to country.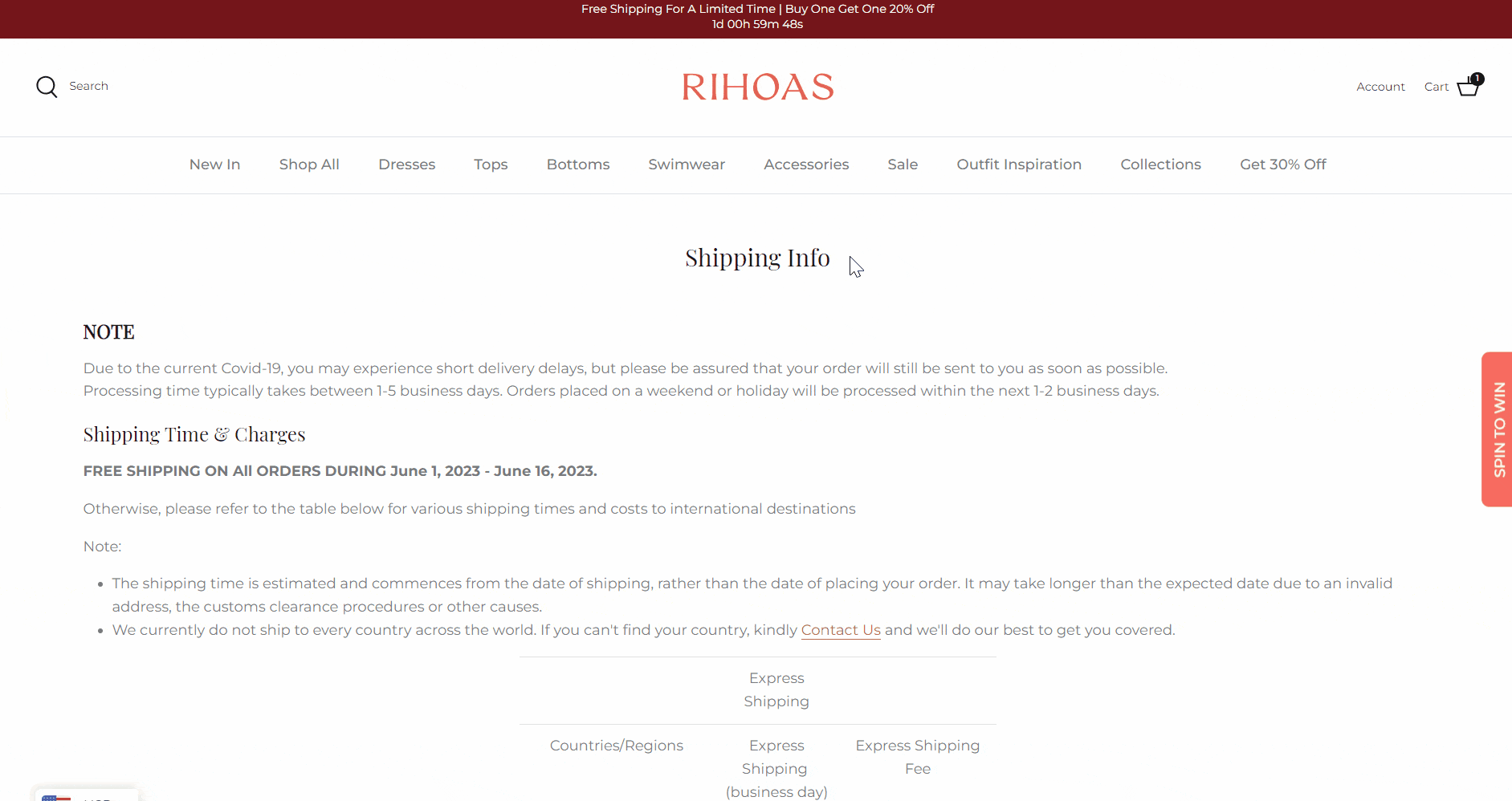 But generally, Rihoas delivers products within 3-5 weeks to most countries.
Conclusion
Rihoas is definitely a legit fast-fashion online retailer but the dresses from them often come with defects in the quality of the material it uses in products and in sizing and fittings.
Moreover, returning your product to Rihous is very challenging, and getting a full refund from them is impossible.
Therefore, you should only consider buying from them if:
You don't keep higher expectations from the quality of its products.
Are ready for receiving a dress that may have some size and fitting issues.
You're ready for the return and refund issues mentioned above.
So that's all about Rihoas from my side.
Still, if you've any concerns or want to share something about Rihoas, feel free to leave in the comment section below.
RELATED ARTICLE