Last Updated: July 26, 2023

The alluring flight and hotel deals of Rehlat might have tempted you to make a booking through it.
But you are afraid of e-scammers who attract customers by offering them such attractive deals and thus deceive them.
So before you book through Rehlat, be here till the end to know: Is Rehlat legit or a scam waiting to steal your hard-earned money?
Let's delve into it!
Is Rehlat Legit?
Rehlat is definitely legit as it's one of the leading online travel agencies in the middle east and has been in business since 2012. However, booking through it isn't entirely safe and reliable.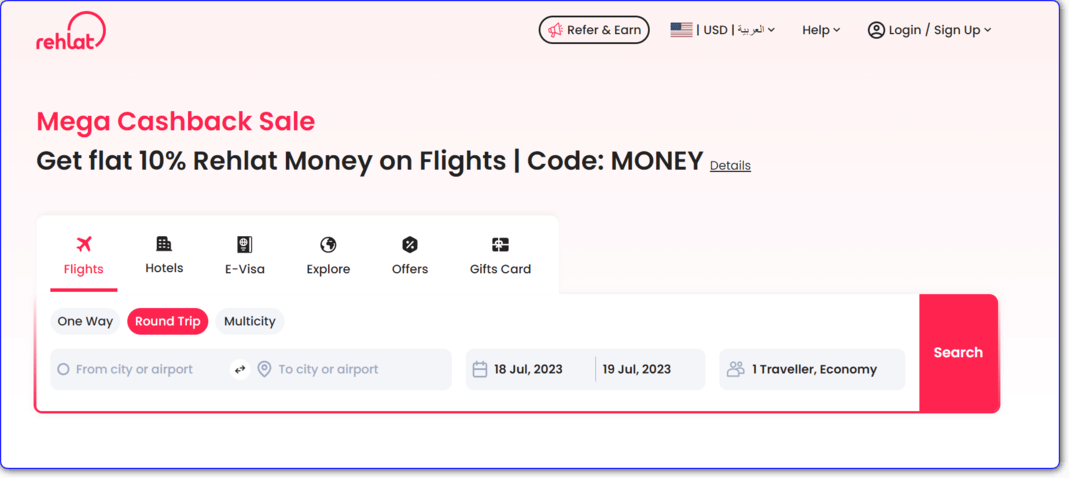 Here's why:
Rehlat basically acts as a middleman between you and the travel providers (hotels or airlines) it lists on its site.

Being a middleman, it's Rehlat who handles your booking with the travel provider after collecting your payment, not the travel provider you booked with.
Therefore, your respective hotel or airline will not help you directly because your booking contract isn't directly with them, it is through Rehlat.
So if an unfortunate incident takes place and you need assistance, you have to contact Rehlat first who will then refer your issue to your travel provider and then Rehlat will communicate their response to you.

In simple terms, if you need to make changes and cancel your booking and want to get a refund or to resolve any other issue, you've to involve Rehlat.
In this way, the involvement of a third party (Rehlat) makes the process of resolving your issue complicated if you need to make changes, cancellations, or get a refund, especially in terms of flights.
But what makes things even more complicated to resolve is the worst customer service of Rehlat.
The customer service of Rehlat is very poor as you've to wait for hours and days to receive their response which makes resolving your issue nearly impossible, especially if it is urgent.
Due to its worst customer service, making changes and cancellations to your booking and getting a refund is nearly impossible.
While these issues are common in booking with other online travel agencies too, what is wrong with booking with Rehlat is that they cancel their customer bookings at the last minute on their own.
And then instead of facilitating their customers in giving them their refund, Rehlat either doesn't refund them or refund them after causing frustration and inconvenience for its customers.
So you've to beg for your refund even if your booking is cancelled by Rehlat itself, not by you.
In short, either you cancel your booking within the cancellation deadline or the airline, hotel, or Rehlat itself cancel it, getting a refund from Rehlat is a nightmare.
Besides these issues, customers also encounter some other multiple problems in booking with Rehlat. These are:
Price Difference Issues: Rehlat shows you one price during booking and deducts sometimes more than what it shows during booking. It means that Rehlat has some additional charges and hidden fees it doesn't show to its customers during booking.
High Administrative Charges: If you need cancellation, changes, or refund, you'll bear the administrative charges of both Rehlat and the airline or hotel. You'll get a meager refund as these administrative charges will be deducted from your refund.
Rehlat Has No Control Over The Services Of The Service Provider: Rehlat provides you only the services of the hotels or airlines it lists on its site. Rehlat has neither control over these services nor can do anything for you if the services of the hotel or airline don't satisfy you or meet your expectations.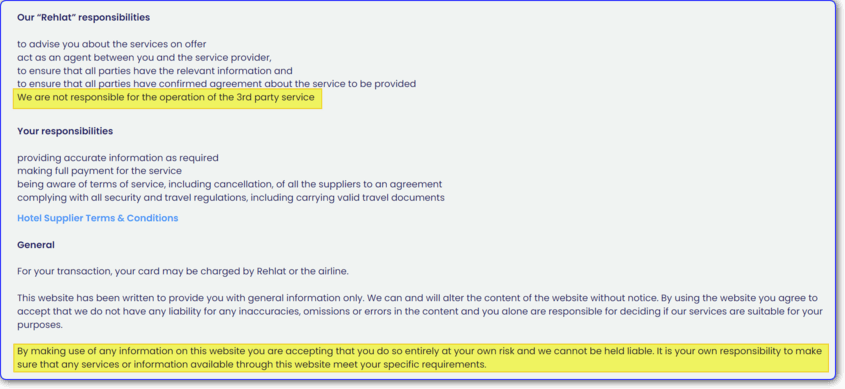 Technical Errors: Customers sometimes find difficulties in making their bookings via the Rehlat site or app due to technical errors. This includes unsuccessful transactions, failure in booking completion or not receiving a booking confirmation email from Rehlat.
No Confirmation Of Booking With Travel Provider: Customers are reported to have their bookings being resulted in failure because Rehlat hasn't confirmed their bookings with the airline or hotel.
When they reach their respective airline or hotel, they're then stuck in the middle between Rehlat and the airline or hotel they booked with.
And it is then a headache for customers to resolve their issue as they've to resolve it through Rehlat and you know the customer service of Rehlat is very poor.
Hence, these are the reasons why Rehlat isn't reliable and safe to book through it.
So, Should You Book Through Rehlat?
Owing to the issues discussed above, I don't recommend Rehlat for both hotel and flight bookings, especially for flight bookings.
This is because it lacks transparency and often refuses to give refunds even in situations when it itself cancels its customer's bookings.
For flight bookings, I usually recommend not to book through online travel agencies, but instead, book with the airline directly.
But for hotel bookings, instead of making hotel reservations through Rehlat, I recommend you to book through other reliable and prestigious online travel agencies like Agoda and Booking.com.
That's it!
Still, if you've any questions or want to share your personal experience with Rehlat, let me know in the comment section below.