Last Updated: May 4, 2021

Struggling to choose the right option between Canva vs Adobe Spark?
In just a few minutes, you'll have a MUCH better idea of choosing the right one for your designing needs.
I dove deep into both tools to uncover the good, the bad, and important differences to give you the best insight possible into these two market leaders.
I am going to compare both tools in terms of the things that matter the most, and they are:
So without further ado, let's start our digging, shall I?
Canva vs Adobe Spark: What's The Main Difference?
Canva offers 420,000+ templates with a better editor, collaborations tools, has far more features and integrations than Adobe Spark, and its pricing starts at $9.95 per month. Adobe Spark has 26,000+ templates, fewer capabilities overall, but a better option for videos or web pages designs, starting at $9.99 per month.
Overall, I recommend Canva over Adobe Spark except you want to create videos or web pages designs. However, you can try the premium version of both tools for free via the links below:
Want to find the best one between Canva and Adobe Spark quickly? Answer 4 questions below to find your winner in seconds!
Still haven't found your winner or want to know detailed information? Read on to find the absolute best one for your needs. Let's get started.
Ease of Use
Let's be very clear here: both platforms are extremely easy to use.
Both Canva and Adobe Spark have drag-and-drop editors, all you've to do is choose one of the many pre-designed templates, and start moving things around with your mouse.
You can choose and drag elements, icons, boxes, photos, music, videos, animations, charts etc. and 'drop' them anywhere on the web page editor to create stunning designs in minutes.
But the question is, which one is more beginner and user-friendly when the decision is between Adobe Spark vs Canva.
Firstly, let's talk about Canva in terms of ease of use and user-friendliness.
Having used Canva for more than 2 years now, I can confidently say that it is well optimized and user-friendly.
I've designed graphics on Canva's editor with countless elements and notice little to no dips or lags in performance when adding tons of elements, animations, photos, videos, and music, Canva handled everything with no problem.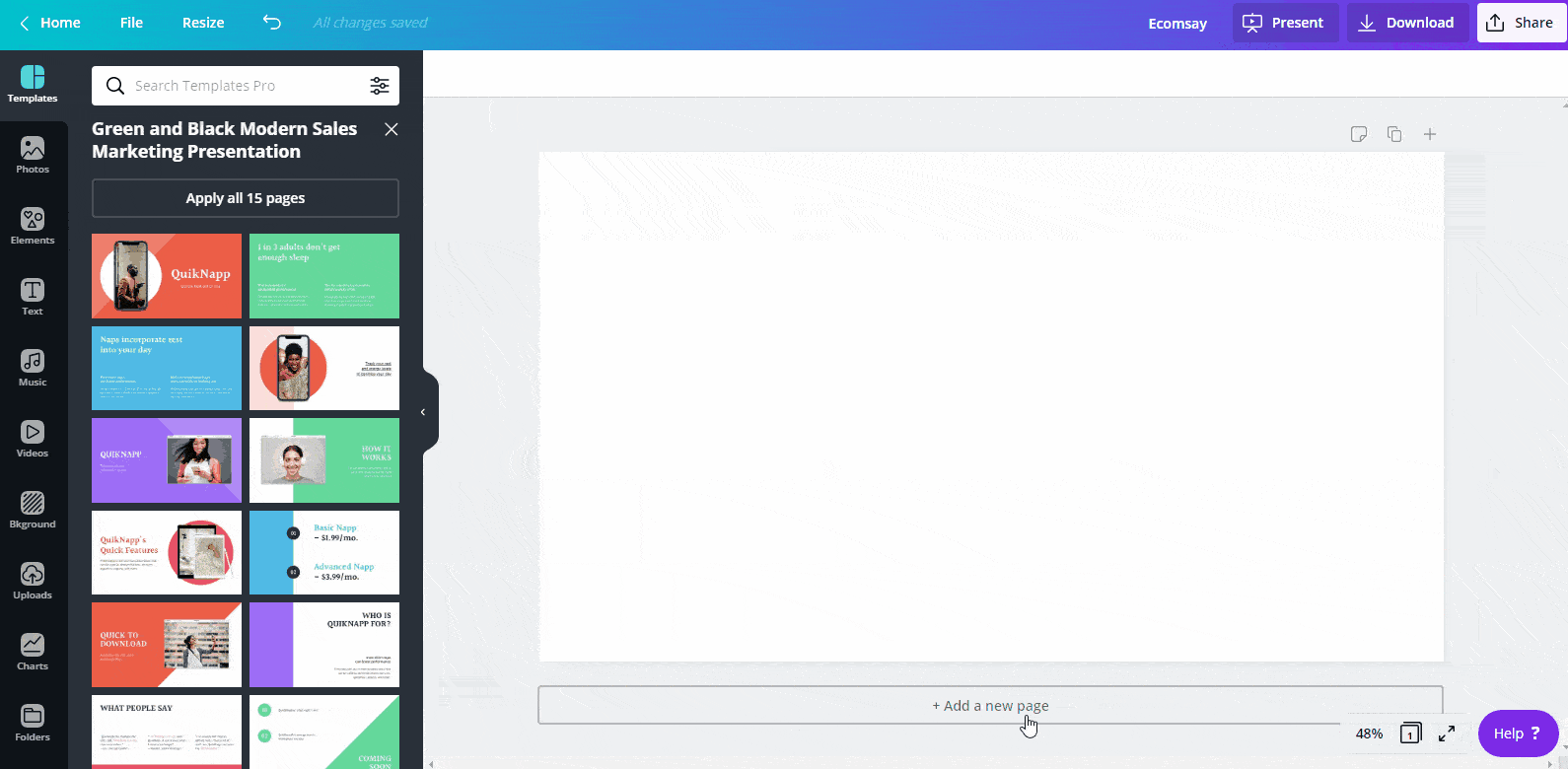 It's fuss-free, it's quick, and in my testing, it scored 4.9 out of 5 for ease of use.
Adobe Spark, on the other hand, is also very easy to use but I found it to be a bit laggy and not really well optimized across different browsers.
Its loading time isn't as good as Canva's loading time when grabbing a template or dragging any element to the editor, as you can see:
You might be wondering, Arslan this might be due to your laptop performance.
But I tested Adobe Spark on different computers and browsers and I found that it still struggles to perform better than Canva in terms of performance which ultimately affects ease of use and user-friendliness.
Overall, in my testing, Adobe Spark scored 4.7 out of 5 when it comes to ease of use.
Ease of Use – The Verdict:
This is a close one. Both are extremely easy to use but Canva just edges this one. Overall, I recommend both when it comes to ease of use but my go-to tool is going to be Canva because it is well-optimized and doesn't lag.
Which One Has A Better Editor?
One of the main difference between Canva and Adobe Spark is the page editor.
Canva has a visual drag-and-drop page editor which lets you drag and drop elements in your designs easily and quickly.
The main editing options and functions that can be used to create your designs are on the left side of the editor while on the right side of the page editor, you can see the real-time editing preview of your designs.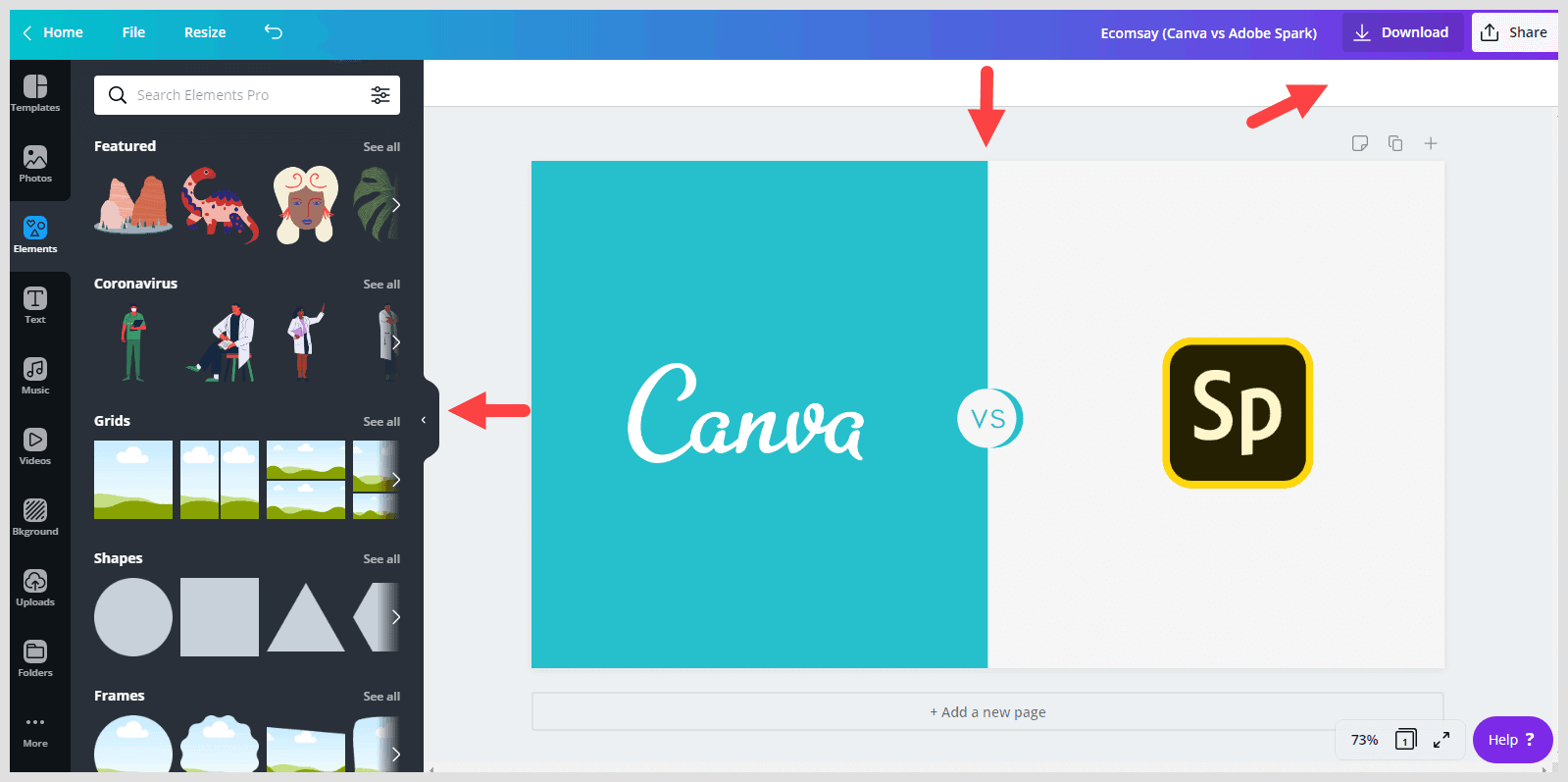 The clean interface of the page editor and the drag and drop editing makes it super accessible, even for beginners in design.
Adobe Spark also has a visual drag-and-drop page editor. However, the page editor of Adobe Spark is opposite of Canva in terms of positioning.
The editing functions are on the right side of the page editor while the real-time editing preview is on the left side of the page.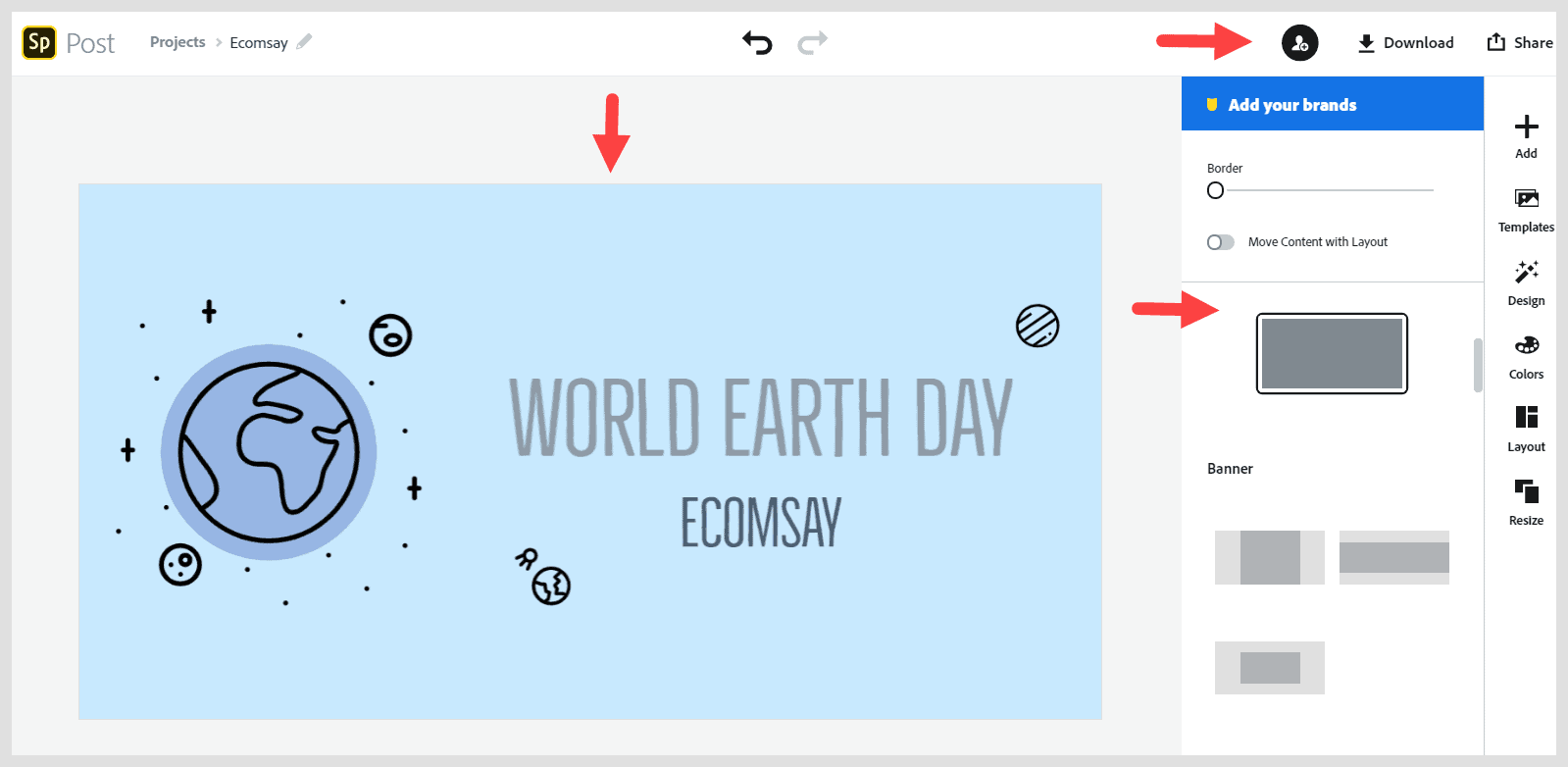 Its interface is also clean and you can easily drag and drop elements, text, or media files to your designs.
One thing I don't like about Adobe Spark's editor is that it's slightly slower and lags while editing my designs.
Winner: Canva
It's a close one but I am giving it to Canva simply because it's editor doesn't lag and is faster than Adobe Spark which makes it more intuitive and easier to use.
Which One Has Better & More Templates?
Most of us use Canva or Adobe Spark because of the pre-designed templates, right?
But the question is: which one has more ready-made templates and also which tool offers professional-looking templates?
In short, no one can beat Canva in terms of professional looking pre-designed customizable templates.
Canva offers more than 420,000+ pre-designed beautiful templates, covering tons of categories to choose from, including social media, flyers, posters, presentations, animations, and much much more.
All these templates are categorized by industry and there are pre-designed templates for almost every category you can possibly think of.
Whether you're looking for professional templates for your blog, eBooks, presentations, flyers, posters, videos, animations, sale offers, and 50+ other categories, you can easily get them there.
On the other side, Adobe Spark offers almost 26,000+ templates that are also categorized by industry but compared to Canva it doesn't have tons of categories.
Adobe Spark is built especially for social graphics, short videos, and web pages, whereas Canva covers tons of categories.
Other than that, I have used both tools, and what I found that Adobe Spark's templates aren't as stunning as Canva.
However, there are some good templates on Adobe Spark as well but most of them are premium.
In my opinion, Canva free templates are way better than Adobe Spark's premium templates.
Let me show you the templates of both graphic designing tools, so you'll know which one has stunning customizable templates.
I am going to show you the Facebook Post templates of both tools to show you the differences in templates.
Here are the templates of Canva from Facebook Posts category: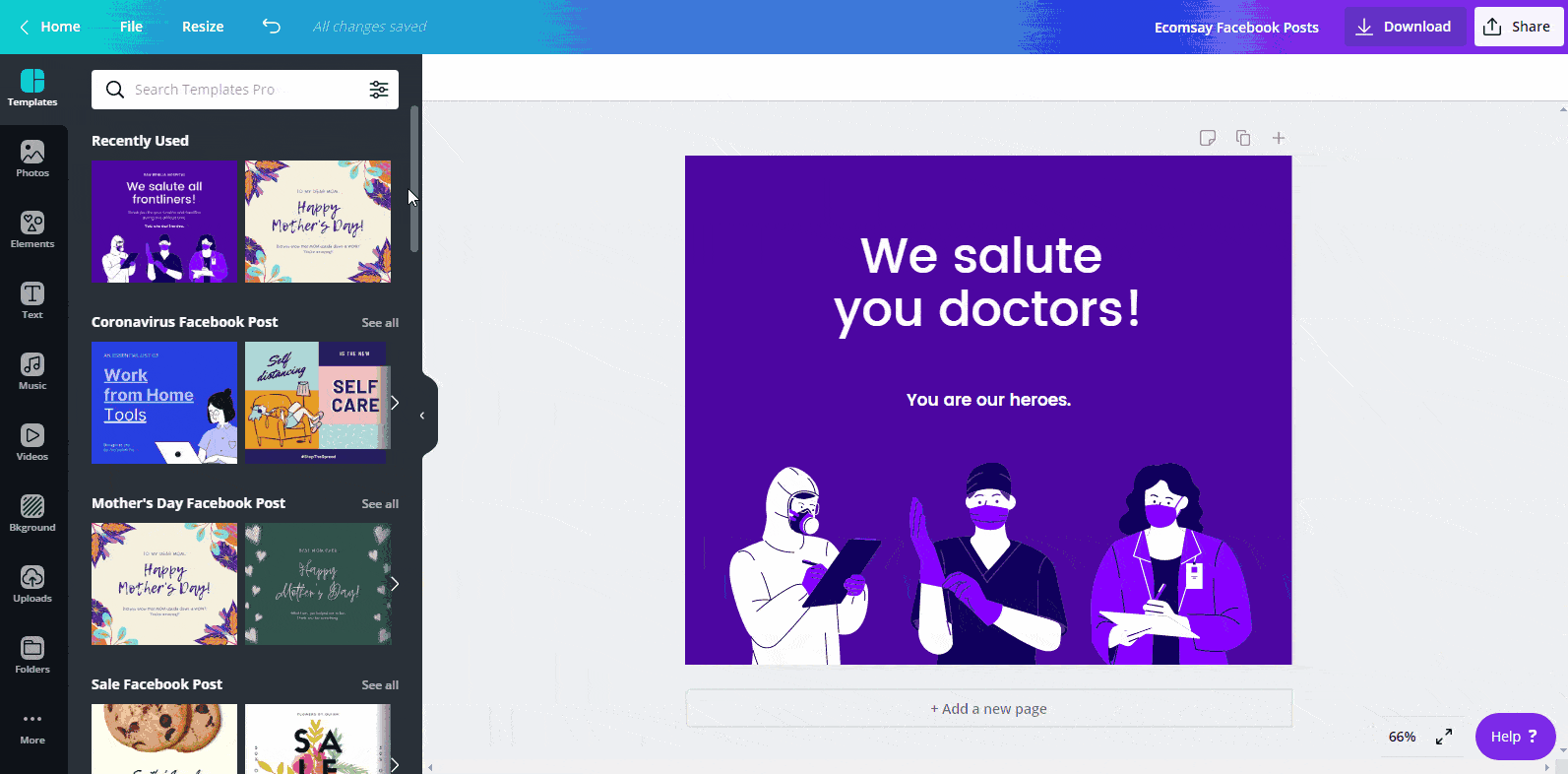 Now let's look at the templates of Adobe Spark from Facebook Posts category:
The templates with the yellow icon are premium templates, but you can clearly see that even the free templates of Canva are better than Adobe Spark premium templates.
Maybe you think that we can't compare both tools based on only one category. But still, it's not only about the Facebook Posts category, almost all the other categories as well.
Winner: Canva
No doubt, Canva is the clear winner here as well because of more templates and categories to choose from, whereas Adobe Spark has less than half templates compared to Canva.
Also, the templates of Canva are more professional looking than Adobe Spark.
Features & Integrations
Features and integrations are important because the more helpful features a tool has, the more opportunities we'll have to create stunning designs with ease. Inspiring, huh?
Please note, since both tools have free and paid plans so I am going to cover the main features from the perspective of both plans.
With that being said, let's compare both tools to see which one you should choose when it comes to integrations and features.
Canva is an amazing tool that gives non-designers a chance to create stunning graphics easily and quickly because of its cool unique features and integrations capability.
Here's a quick overview of the main Canva features.
Custom branding designs

Resize designs

Branded templates

Create and organize folders

Collaboration tools

Upload custom fonts

1000+ fonts

Drag & drop interface

Millions of stock images, icons, shapes, elements, etc.

Download designs in transparent backgrounds

Create videos and animated designs

Layouts for every occasion

Share designs with team members or others

Publish for web & print

Custom Charts

Image cropper

Photo Blur

Set download quality
I am not going to cover each feature in detail because I've already covered them in the Canva Pro guide.
To learn more check out that guide or here's the video as well which covers some main features of Canva.
Now, let's talk about the integration support of Canva.
Canva supports integrations with the popular social media platforms (FB, Twitter, Youtube), file hosting service (DropBox, Google Drive), music hosting platform (SoundCloud, Spotify), free-to-use stock media files websites (Pixabay, Pexels), email marketing services (Mailchimp), CRM services (HubSpot) and much more.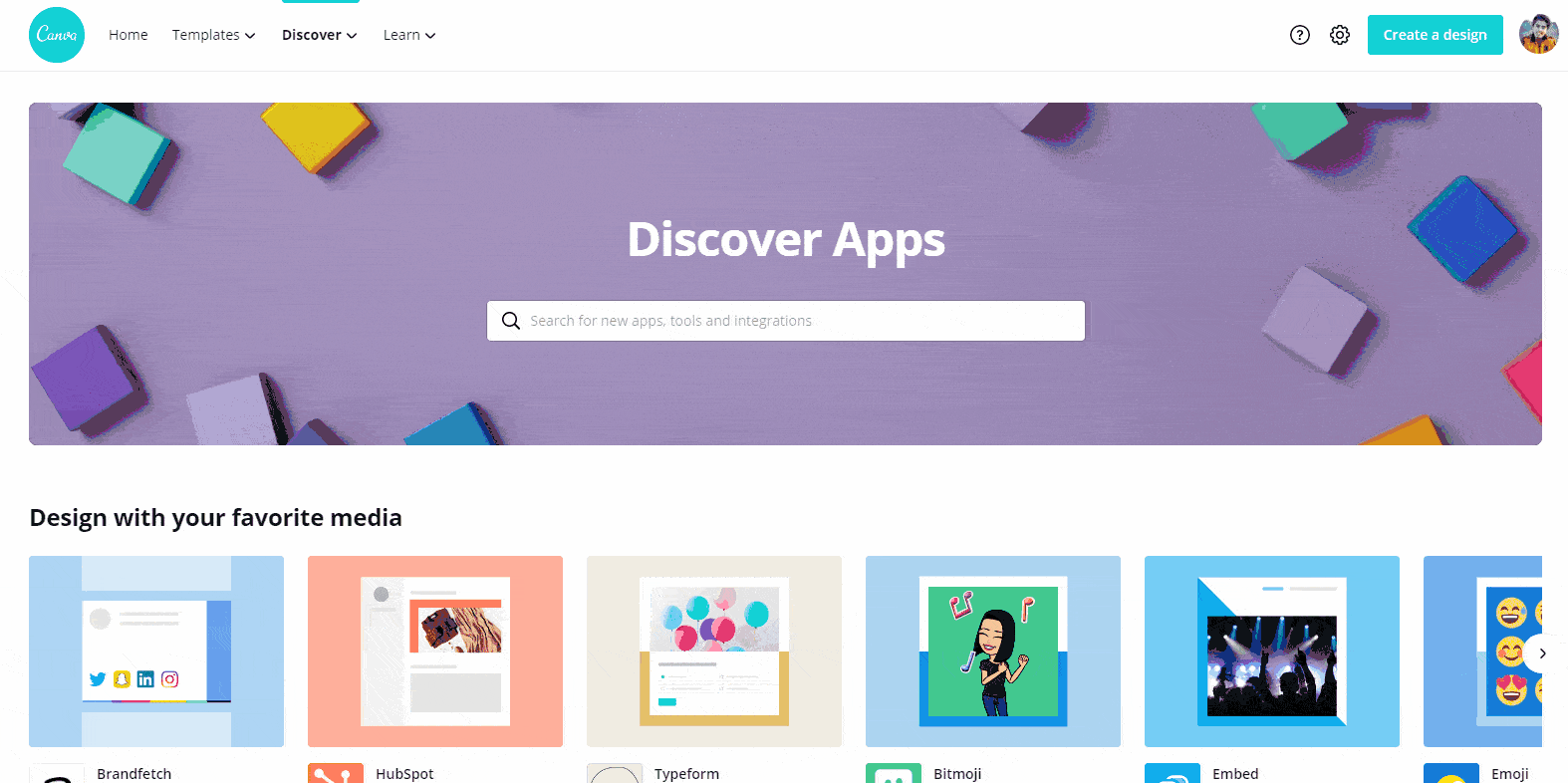 It also has an embed function that will help you to embed your designs to your website directly via code or you can embed media files from other platforms to your designs such as YouTube video or Twitter tweet in your designs.
Adobe Spark also has some similar features like Canva but there are some features that are unique in both tools.
Before addressing those unique features, take a look at the quick overview of Adobe Spark features:
Resize designs

Upload fonts

Custom branding designs

Create folders

Web page design

Text overlays

Cross-device sync

Video creation

Record or import audio

Different

layouts

Royalty-free photos and icons

Invite others to work

Download in transparent background
The two main unique features that Adobe Spark has but Canva doesn't are the recording or import of audio in video creation and web page designing.
On the other side, Canva has far more unique features and capabilities than Adobe Spark like embed functions, design cropper while editing, create animated designs with one click, better collaboration tools, share designs directly on social media, and much more.
Canva also has a printing service available known as Canva Print which allows you to print your designs and order them if you want while Adobe Spark doesn't offer this service.
To learn more about Canva Print, check out this video.
However, besides all the other features, the two features that are similar in both tools are the resizing of designs and downloading images in transparent background (Background remover).
These two features are only available in Canva Pro (not in the free plan), whereas you can use these two features with your free Adobe Spark plan.
Now we've compared the main features of both tools and integrations that Canva supports but, what about the integrations of Adobe Spark?
Adobe Spark only supports integrations with cloud storage services such as DropBox and Google Drive.
Winner: Canva
Both tools have great features, however I recommend Canva over Adobe Spark because it has more helpful features, tons of integrations, and better collaboration tools.
In a nutshell: I think there's not a single online graphic designing tool that can beat Canva in terms of features and integrations.
There might be but I've never heard or used any online designing tool that has more features and integration options than Canva.
Pricing
Both tools are free but there are limitations in the free plans. To avoid those limitations, you have to have to pay for both Canva and Adobe Spark — but the pricing models are different.
Canva offers three plans which range from $9.95 – $30 per month, one is the Pro plan and the other one is Enterprise plan. Canva Pro costs $9.95 per month (when billed annually) or $12.95 monthly. The enterprise plan is by quote plan for advanced features and controls, starting at $30 per month.
A quick note about the differences in plans is that Canva Enterprise has better features than Canva Pro because it costs more.
However, I don't recommend you to choose the Enterprise plan because this plan is suited for big business and companies.
Instead, I highly recommend Canva Pro if you're individuals or a small business owner (like me).
Other than that, before upgrading to any Canva plan, check out my detailed Canva Pro guide to know whether upgrading to the pro plan of Canva is worth it for you or not.
Let's talk about Adobe Spark pricing.
So, Adobe Spark has only one plan, and it costs $9.99 per month or $99.99 annually. The features are the same whether you choose the monthly plan or the yearly.
However, if you choose the annual plan you'll save $19.
Winner: Tie
It's tough to pick a winner here because there is not any significant difference in terms of pricing between both tools.
Conclusion
Comparing Adobe Spark vs Canva isn't about deciding the best platform. It's more about deciding which is the best for you.
After reading this article, now you have a better idea of which one you should choose but if you still need an extra push in choosing between Canva and Adobe Spark, here's a quick recap and how I would summarize:
Canva is a better option for you if you want to create mostly graphics and animation designs.

Adobe Spark is better than Canva for you if you want to create mostly videos or web page designs.

Canva editor is much more stable, smooth, and faster than Adobe Spark.

Both tools are free and offer a similar pricing plan for the basic plan, but Canva provides different plans to choose from.

Canva has many more features, integrations, professional templates, photos, icons, layouts, better customizations, and collaboration options.
Overall, I recommend Canva over Adobe Spark, except you want to create mostly video or web page designs.
I hope you found this guide helpful and if you have any suggestions, thoughts, or questions, please let me know via the comment section below.
Now it's time to hear from you.
When it comes to the Canva vs Adobe Spark battle, which tool do you prefer and why?
Let me know right now in the comment section below.