Last Updated: October 31, 2023

OnBuy is one of the fastest growing companies in Europe and its reputation might have already caught your attention.
But if you're not sure what exactly it is and how it works, you're in the right place.
In this post, I'll delve into the details to provide you with a comprehensive understanding of this platform.
So, without any further delay, let's dive into the world of OnBuy!
What Is OnBuy?
OnBuy is a UK-based online marketplace where sellers can list a wide range of products for sale and buyers can browse and purchase products from them through their platform.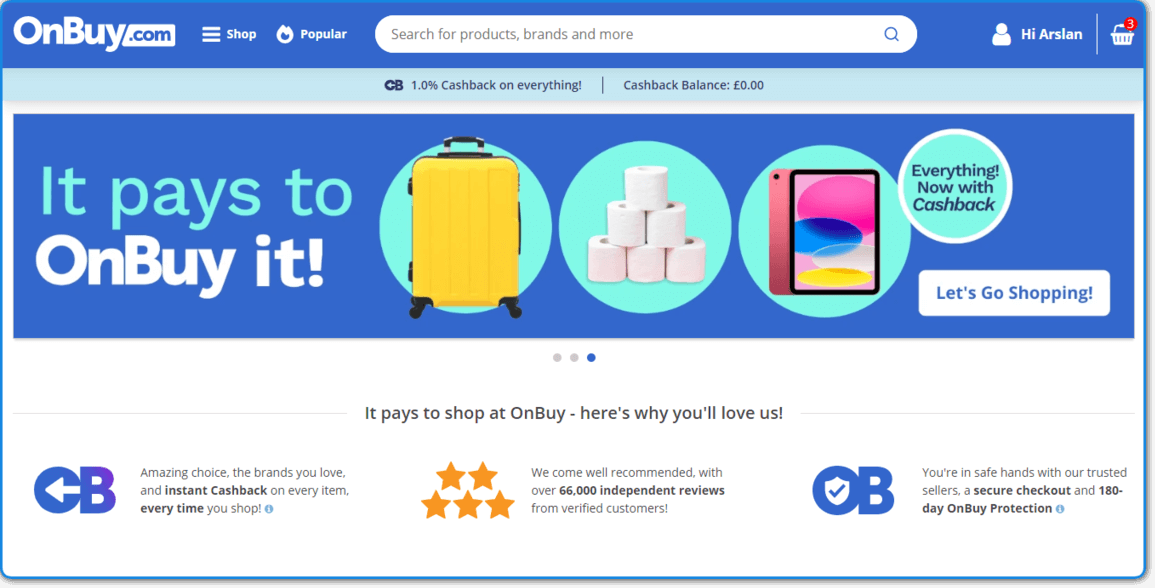 It's similar to other popular online marketplaces like Amazon and eBay but it primarily targets the UK market, which means that it is designed primarily for buyers and sellers within the United Kingdom.
Moreover, OnBuy differentiates itself from other online marketplaces by offering competitive selling fees and not competing with its sellers (means not selling any of its own products on its marketplace, unlike Amazon).

How Does OnBuy Work?
OnBuy works as an intermediary between buyers and sellers that facilitates the transaction between them and offers certain safeguards and dispute resolution mechanisms to protect both parties.

However, it's important to note that OnBuy does not hold inventory or own the products being sold on its platform.
Instead, it allows independent sellers to list their products and buyers to browse and purchase items from them.
Here's a detailed overview of how it works:
Seller Register: In order to sell, sellers must first register on OnBuy. They can do this by creating a seller account, providing necessary information about their business, and agreeing to OnBuy's terms and conditions.
Wait For Approval: OnBuy will then evaluate the application to determine whether to approve or reject it.
List Products: Once approved, sellers can create listings for the products they want to sell. This includes providing details about the product, such as its name, description, price, images, inventory, and shipping information. OnBuy may have guidelines and requirements for these listings to ensure quality and accuracy.
Set Up Delivery Methods: Sellers are required to set up their own couriers and delivery methods. OnBuy does not have its own dedicated courier or delivery service.
Buyer Browse & Search: Buyers can search for products using a search bar or browse through categories and subcategories on the OnBuy website. They can use filters and sorting options to refine their search and find the products they want.
Product & Seller Selection: After finding a product they want to purchase, buyers can click on it to view detailed information such as product details, reviews, seller ratings, and compare prices from different sellers offering the same product.
Add to Cart: Once the product and seller is chosen, they can add their desired item(s) to the shopping cart, similar to traditional e-commerce platforms.
Checkout: After adding all the items they want to purchase, buyers proceed to the checkout process, where they can review their order, select a payment method, and enter shipping information.
Order Confirmation: Once the order is placed, the buyer receives an order confirmation, and the seller is notified of the purchase by OnBuy.
The Payment Is Held By OnBuy: As an intermediary between both parties, OnBuy processes the payment securely and holds it until the seller delivers the product and the buyer receives and accepts it.
Communication: Once the order is placed by the buyer, both buyers and sellers can communicate with each other regarding orders, product inquiries, and any issues that may arise during the process.
Seller Ships The Item(s): When an order is placed, sellers are obligated to promptly dispatch the ordered products.
Buyers Receive & Verify: Upon receiving the items, buyers should carefully inspect them to ensure they match the description and are exactly as shown and described in the product listing of the seller.
If Accepted:

If the buyer accepts the order and any applicable return or refund periods have passed, OnBuy releases the payment to the seller, minus any applicable fees.
Additionally, the buyer can rate the seller which is highly recommended as it helps other potential buyers to make informed decisions and build trust and reputation on the platform.

If Rejected:

If the buyer finds any issues with the received products, such as damage, incorrect items, not as described, or quality concerns, they can document the problems and communicate with the seller through the OnBuy platform. This may involve providing images or descriptions of the issues.
Depending on the nature of the issue, the buyer and seller can agree on a resolution, which may involve a refund, replacement, or other mutually acceptable solutions. OnBuy may assist in processing refunds if necessary.

OnBuy Dispute Resolution: In cases where a resolution cannot be reached between the buyer and seller, you can contact OnBuy's customer support to step in, review the situation, and ensure a fair outcome.
In summary, OnBuy does not hold inventory itself but acts as a middleman between buyers and sellers, facilitating the payment process, assisting in dispute resolution, and having various measures in place to protect both parties.
Note to Buyers: Though OnBuy has security measures in place to protect you, it's your responsibility as well to carefully vet the seller before making a purchase to avoid any issues.
My years of experience reviewing numerous online marketplaces have shown me that your shopping experience on any marketplace is heavily influenced by the seller you select.
Therefore, it is extremely important to do your due diligence about the seller when buying from any online marketplace whether it is OnBuy, DHgate, Mercari, or any other.
Have any questions?
Please don't hesitate to leave a comment below, and I'll be more than happy to assist you.