Last Updated: August 7, 2023

So you're thinking of trying out Modlily after being enticed by its unique styles and fashionable clothes at much affordable prices.
But you're afraid of e-scammers because prices that seem too good to be true often lead to scams.
So before making a purchase from Modlily, be here till the end to explore: Is Modlily legit or a scam waiting to take your hard-earned income?
Let's dive in!
Is Modlily Legit?
Modlily is undoubtedly a legit fast-fashion online retailer specialises in selling trendy clothes including wedding dresses, tops, bottoms, swimwears, and other special occasion outfits.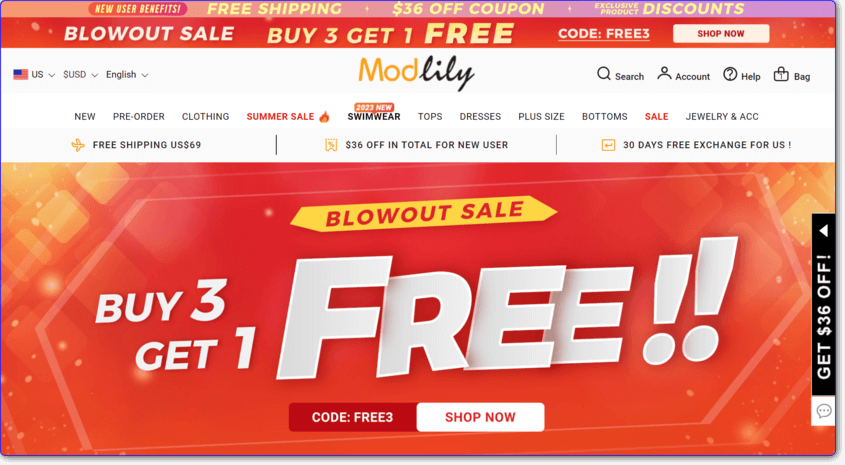 If you're seeking cost-effective dresses while still maintaining a fashionable look, Modlily is indeed an excellent option for you.
But hold on a moment!
Before buying from Modlily, knowing these 4 things is very essential for you:
1. The Product's Quality Matches The Price You Paid
Modlily usually sells products at much cheaper rates than other online or traditional stores.
In addition to that, Modlily offers sales on its already cheaper products, gives promo codes to its customers, and even offers free or very minimal shipping charges on its products.
This might make you wonder how it is possible for Modlily to manage its finances then.
To understand this, it is important to note that Modlily is an online fast-fashion company that emphasises more on trendy, stylish, and affordable products rather than long-lasting and high-quality ones.
So, Modlily uses fabric and other materials in manufacturing its products relatively lower in quality compared to those used by luxury or high-priced online retailers in manufacturing their products.
But this doesn't mean that its products are so short-lived that they become useless after being used only once or twice but means that they aren't as long-lasting as those offered by expensive retailers.
Hence, don't expect the quality of Modlily's products to be as good and long-lasting as the products of high-end online stores.
In short, what you get will depend on how much you paid.
2. Size And Fitting Issues
Generally, getting a right size dress that fits properly with the body is one of the major challenges when shopping online, not only from Modlily.
But Modlily even further complicates the matter by providing the same/general size chart for different types of dresses.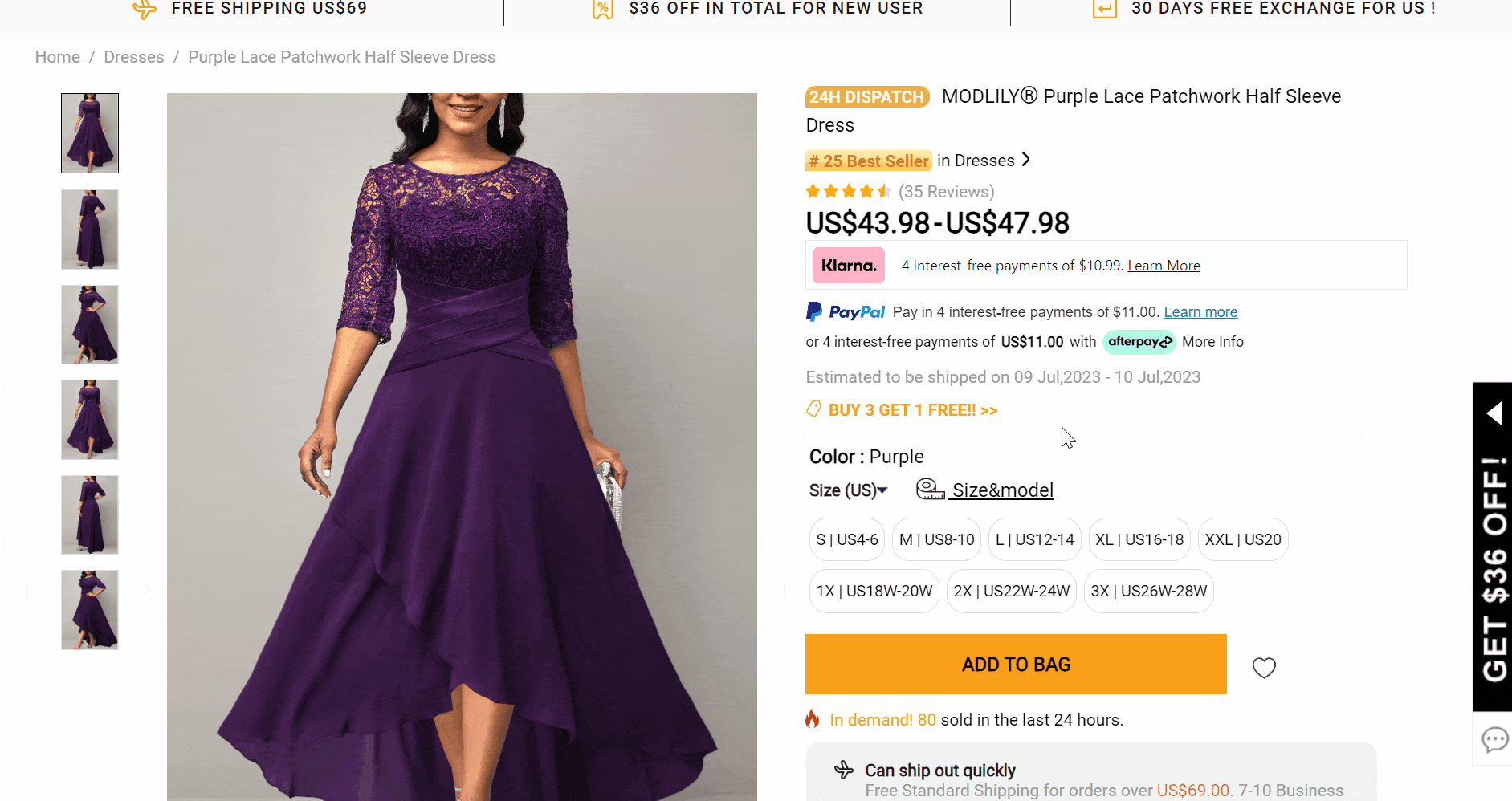 Moreover, the size chart it provides is not applicable for all nations and varies from country to country.
This increases the probability of receiving a dress with size and fitting issues as the measurement of one type of dress may be different from the other.
But it is worth noticing that the dresses sometimes don't fit properly even if they correspond to Modlily's size chart due to the individual body shape variances, the type of product's material, and the style or design of the product.
So before buying from Modlily, it is essential for you to note that the dress you receive may not fit you properly.
As a result, you'll have to make alterations to your dress through a local tailor to get the perfect fit you desire.
However, the important thing to note here is that making the dress fit on your body may not be possible even through alterations, especially if the dress is either too small or too large.
In this case, you'll have to either exchange your dress or return it for a refund.
But here lies the actual problem that:
3. Exchange And Return Is Complicated And Getting The Full Refund Is Impossible
The process of exchanging and returning your unwanted dress is very complicated and you'll have to return your dress back to Modlily on your own costs for an exchange or refund.
And in case you're made eligible for the refund, Modlily will still deduct from your amount the original shipping charges plus insurance and handling fee.

Therefore, exchanging or returning your dress for a reasonable refund may not be beneficial for you because the shipping and return shipping charges plus other fees when applied may exceed the actual price of the product because Modlily's products are generally cheap.
4. Unnecessary Delays In Order Delivery
Modlily gives an estimated delivery time and provides a tracking number after the order is confirmed.
But Modlily sometimes fails in delivering the products within the estimated time and takes longer than expected to deliver the order.
The main reason for delivery delays is either Modlily's failure to process the product on time and send it late to the shipping courier, or the delay occurs due to the courier's fault.
Moreover, customers often find difficulties in tracking their orders to determine their products' whereabouts due to confusing shipping updates.
Tip: Place your order well ahead of time, particularly for your special events like wedding ceremonies and other important occasions (more details and tips below).
So these are the 4 important things you must be aware of before buying from Modlily.
Let's quickly go over them again
Don't keep higher expectations from the quality of Modlily's products as you'll get what you paid for.
Your dress may not fit you properly and will make alterations on your own.
In case of return, you'll bear the shipping and return shipping costs plus applicable taxes and custom charges.
You may not get your product within the estimated delivery time.
These issues aside, as far as the legitimacy of Modlily is concerned, it is without a doubt a legit online shopping company as it is one of the world's leading e-retailers in trendy and special occasion attire.
Additionally, it's not like scam companies operating anonymously but its headquarter is based in Shanghai, China.
Above all, it has been in business for the last 14 years.
So if it were a scam company, it would've vanished long ago as scam companies don't survive for so long.
Now if Modlily is legit but the above issues are associated with buying from it, then:
Should You Buy From Modlily?
In the end, it comes down to your personal preferences, how much money you're willing to spend, and your willingness to take some risks, such as:
The quality of the dress you receive may not meet your expectations.
Receiving a dress with size and fitting issues.
If you need to return, you'll bear the return shipping charges along with additional fees which may exceed the actual cost of the product.
You may not receive your order within the estimated delivery time given to you by Modlily.
So if you're ready to take these risks, Modlily is a best option for you to buy trendy and fashionable dresses at very cheaper and reasonable prices.
But if not, you should not buy anything from them.
Considering trying out Modlily?
If so, you must follow the following tips to minimise the risks and have a pleasant shopping experience with Modlily.
9 Tips To Know Before Buying From Modlily
The first tip here for you is to:
1. Thoroughly Read Modlily's Return And Refund Policy
While we shed light on some of the aspects of Modlily's strict return and refund policy above, it is crucial for you to read its return and refund policy in depth to have a complete understanding of all the details.
This will enable you to become familiar with specific return deadlines, refund amount, return and refund fee and process, and other important details.
2. Carefully Look At The Product's Photos
Before buying the dress you're interested in, it is advisable to closely examine its photos from different angles.
Zoom out each part of the dress to get a better idea of the colour, design, and overall appearance of the product.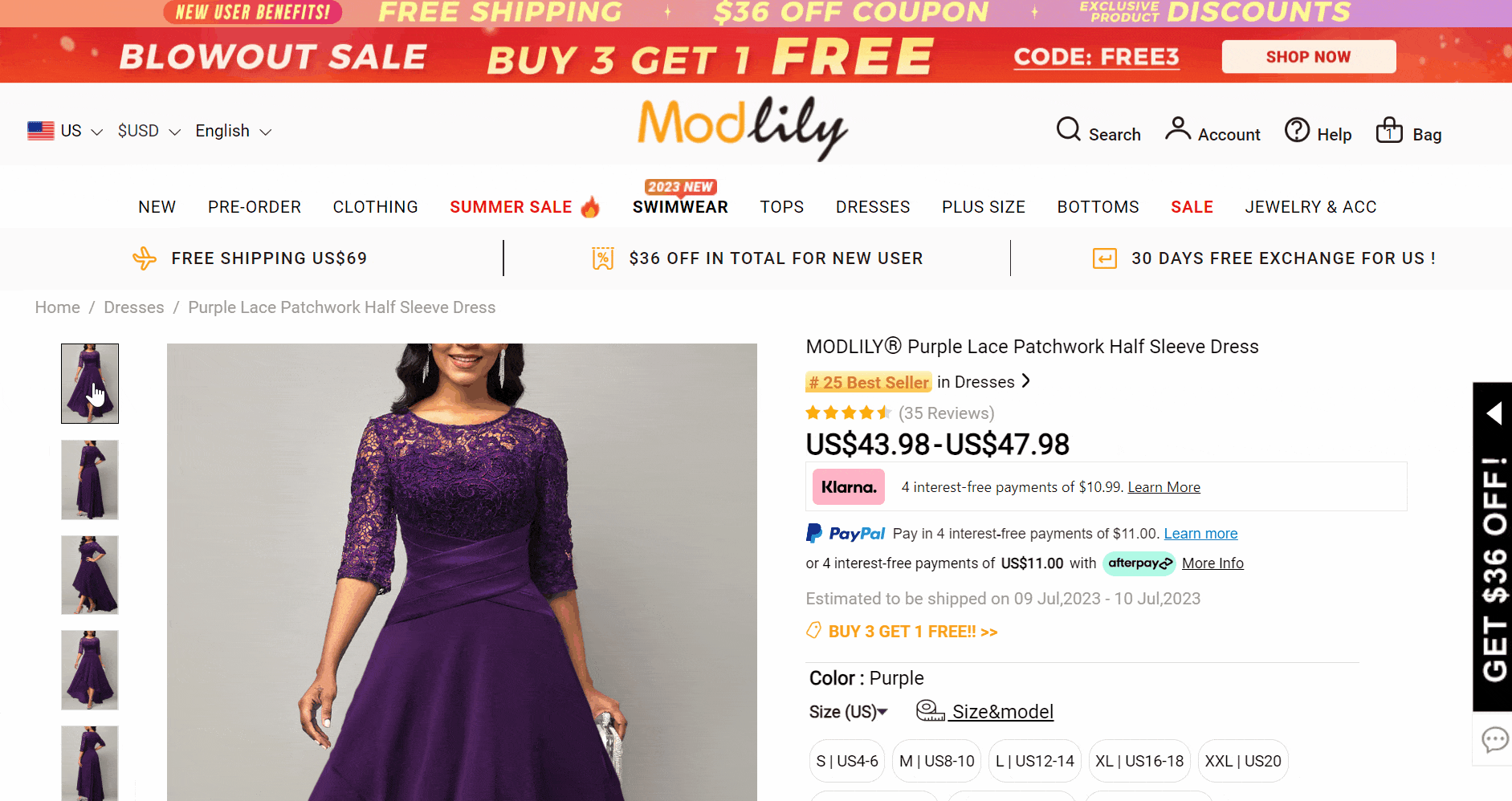 Next, proceed to:
3. Have A Look At The Product's Description
Though you can get a good idea from the visual appearance of the product by looking at its photos and outlook, don't miss to read the product's details as it contains important information about the product such as the dress type, composition, fabric, style, sleeves, etc.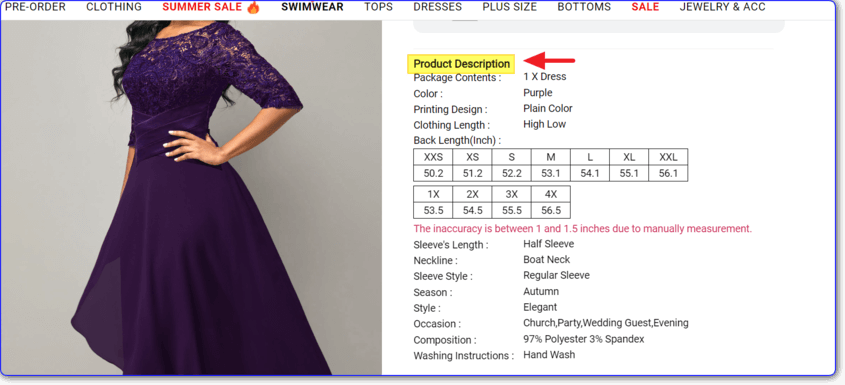 4. Take A Glance At Customer Reviews
Before buying anything from Modlily, it is extremely important to read the reviews of the customers who have previously experienced the product to get their feedback on the product and to actually know what to expect from the product.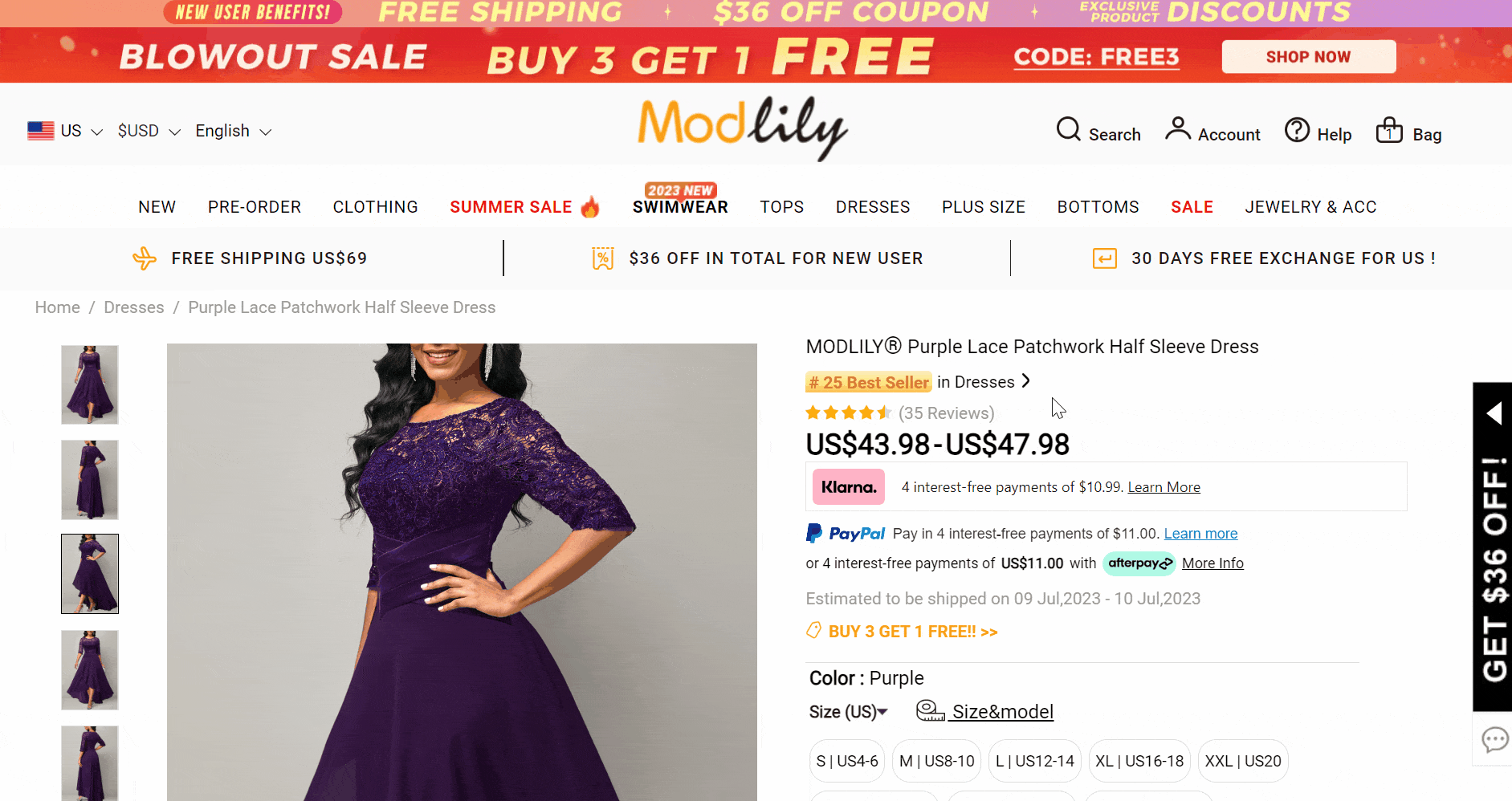 5. Carefully Check The Size Chart And Provide Accurate Measurement
As already discussed above, one of the major issues customers face in online shopping is to get a dress that fits their body properly.
Therefore, you should do your utmost care in selecting a size and providing your actual body measurement as returning the product back to Modlily is a complicated process and you'll bear the return shipping charges as well.
So when selecting a size, make sure to carefully look at the size chart provided by Modlily.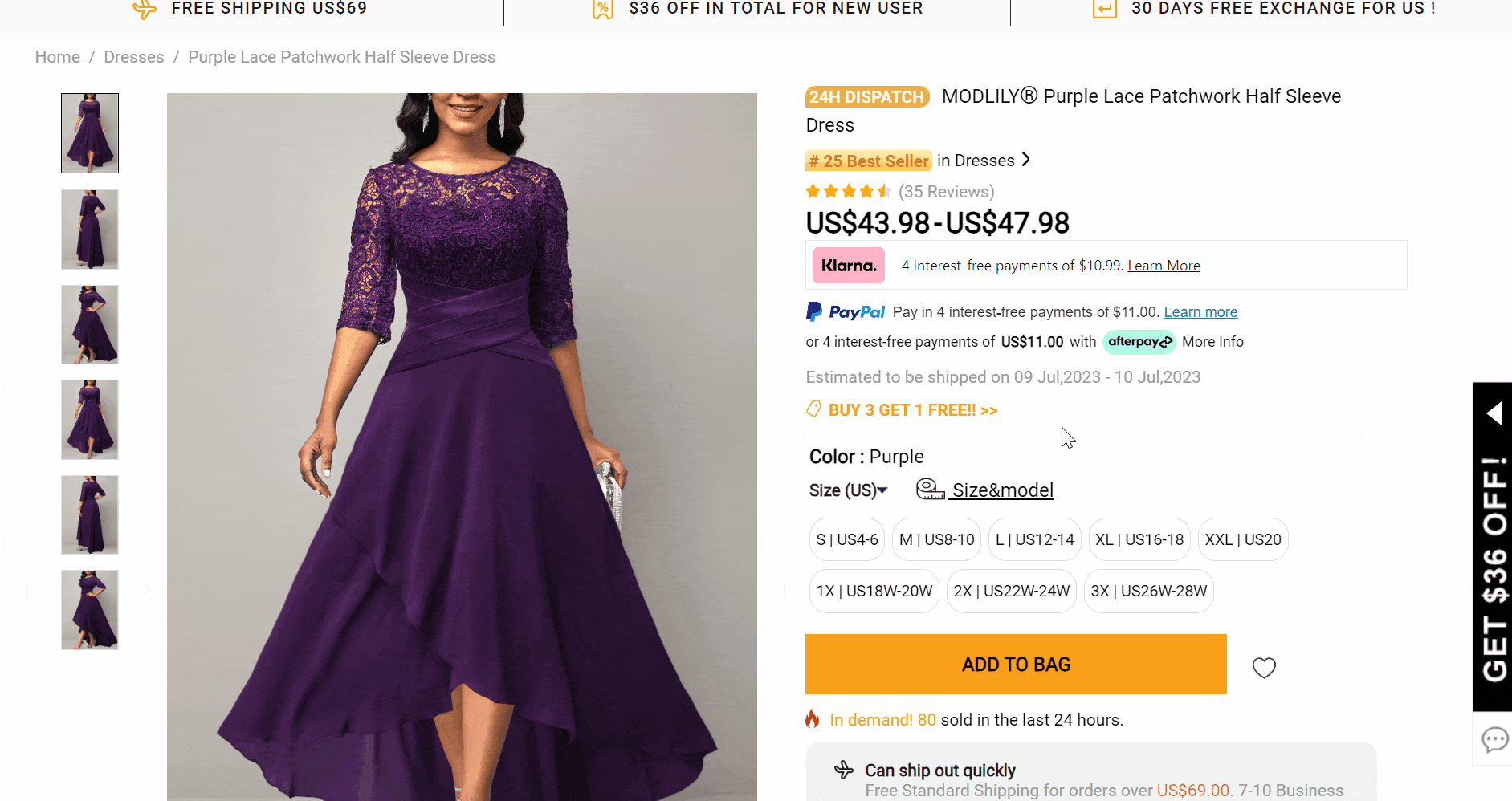 To avoid any blunder in choosing a size and provide your accurate body measurement, it is important for you to follow their measurement guide or measure your body through a professional to ensure the best fit.
6. Order Well Ahead Of Time
To avoid last minute stress, it's recommended to order your dress well in advance from Modlily, especially for weeding and other special occasions.
This allows enough time for product processing, shipping, potential alterations, order delay, and addressing any other issue that may arise.
I would personally recommend to order your dress 5-6 weeks before you need it as they deliver orders within 3-4 weeks to most countries.
And to further minimise the risk of receiving your product lately, especially in case of a special event like a wedding or party, it would be wise to order your dress 2 months before your event date.
7. Ask Question If You've Any Confusion
If you've any confusion or concern about the product you're buying, you should contact Modlily's customer service directly or ask a question in the section 'Customer Q&A.'

Don't buy anything from Modlily before your question or concern about the product is addressed by its customer support team.
8. Review Your Order Before Finalising Your Purchase
Before proceeding to payment, make sure that you've reviewed your order details like the product's size and colour, and shipping address.
Take a glance to ensure everything is correct so that you don't face any issue with your purchase later.
9. Pay With PayPal
You can make payment to Modlily through credit/debit card, Klarna, master card, etc, but I recommend you to pay with PayPal because of the buyer protection program.
For your information, the buyer protection program is a program of Paypal that provides safety and security to your purchases.
And that's all!
By following these tips, you are less likely to be stuck in a problem and you'll have a pleasant shopping experience with Modlily.
How Long Does Modlily Take To Deliver?
Multiple factors influence Modlily's delivery time such as shipping method you choose, processing time, the type of item you're buying, destination country, custom clearance, and other unexpected circumstances.
However, it primarily depends upon two factors:
Processing Time: This refers to the time taken by Modlily to prepare your item for shipment. During this time, Modlily picks up the item from its warehouse, checks its quality and condition, and then packs it for shipment. Some items take longer processing time from the others.
Shipping Time: It is the time taken by the shipping courier to deliver the product to your home. It depends upon the shipping method you choose and your destination country.
Also, Modlily will give you an estimated delivery time on the product page based on your chosen shipping method and your country.
Conclusion
So yes, Modlily is without any doubt a legit online shopping retailer.
It is indeed an excellent choice for women looking for cost-effective dresses while still maintaining a fashionable look.
However, it is recommended to buying from Modlily only if you're ready for these risks:
You may receive a dress that is not of high quality as you expect it to be.
Receiving a dress that may not fit you properly.
If you need to return your dress, you will incur the return shipping charges as you have to ship back your dress on your own costs.
Getting a full refund is impossible as shipping charges and other applicable fees will be deducted from your refund.
You may encounter delivery issues.
By the way, to minimise these risks and enhance the chances of a great shopping experience with Modlily, you should follow those 9 tips mentioned above.
So this was all about Modlily from my side.
Still, if you have any questions or want to share your personal experiences, feel free to let me know in the comment section below.