Last Updated: November 14, 2023
So you're going to visit a place while not knowing what to explore in your destination or how to book different activities with various suppliers.
That's why GetYourGuide might have tempted you to reserve your excursion and activities through it because it gives you access to a wide range of activities from different suppliers in one place.
But on the one hand, you think booking through GetYourGuide is feasible, while on the other hand, you're concerned about its legitimacy and reliability.
Don't worry! By the end of this article, you'll know exactly if it's legit as well as some other important things you should know before using it for making bookings.
Let's dive in.
Is GetYourGuide Legit?
GetYourGuide is certainly a legit online travel agency and marketplace for tour guides and excursions as it has been in business for the last 14 years.
Moreover, its main headquarter is located in Berlin, Germany, with its 14 additional sales offices in Europe, Asia, Africa, and the Middle East.
Above all, GetYourGuide is a unicorn business as it has raised a total of 1.1B in funding from 38 investors.
By looking at these factors, there's no doubt that GetYourGuide is a legitimate platform for booking tickets, tours, and activities with suppliers all around the world.
But Wait!
Although GetYourGuide is legit, you should be aware of the following 5 things before using it for your tour and activity reservations.
The first one is:
1. GetYourGuide Might Complicate Any Mishaps
It's important to note that the activities you see on GetYourGuide such as guided tours, bus and boat trips, tickets for sightseeing, and all other activities, are offered by the activities suppliers, not by GetYourGuide itself.
GetYourGuide, like other online travel agencies, acts only as a middleman between you and the suppliers of tours and activities it lists on its site.
Being an intermediary platform, it only concludes transactions between you and the activity suppliers and takes a commission from suppliers when the deal is done.

So being a middleman, it's GetYourGuide who handles your activity booking with the supplier as your contract with the supplier is through GetYourGuide.
Therefore if an issue arises and you need help, you've to first contact GetYourGuide who will then reach out to the concerned supplier on your behalf and then will communicate the supplier's response with you.
So you can make changes, cancellations, obtain a refund, or resolve any other issues only through GetYourGuide since the supplier isn't liable to help you directly.
In this way, the involvement of the middleman (GetYourGuide) can make things a little bit complicated to resolve if something goes wrong with your tour or activity.
2. Discrepancy Between Advertised And Delivered Services
Although GetYourGuide first vet suppliers and then allow them to list their activities on its site, some suppliers may not be good at delivering their services to you.
Some customers report that their concerned suppliers didn't deliver them what was promised or advertised to them on GetYourGuide.
They didn't comply with the content and information about the activities and tours they showed customers on GetYourGuide such as photos, description, facilities, and other included things.
Some report that they didn't feel comfortable with the guide due to language barriers, his/her behavior, punctuality, and lack of knowledge about the visiting areas while others weren't satisfied with the transport, facilities, and other things included in their tour.
Although it rarely occurs, there's still a possibility that you may find a discrepancy between what was promised to you by your respective supplier and what they actually deliver to you.
3. GetYourGuide Has No Control Over Activity Providers' Services And Contents
Now, if the services of your activity provided by the suppliers don't meet your expectations or its other contents don't align with what they advertised, GetYourGuide will neither be responsible for this nor is liable to compensate you.
This is because GetYourGuide, like other online travel agencies, has no control over the quality and standard of the services suppliers advertise on its platform nor is responsible for misconduct, negligence, or any errors of the suppliers.
Therefore, if you're not happy with anything that is related to the activity provider, GetYourGuide isn't liable to help you in this regard.
What GetYourGuide can do is to remove the bad suppliers from listing their excursions on its site.
4. Risk Of Reschedule And Cancellation Of Your Booked Activity
There's a possibility that your booked activity may be cancelled or rescheduled by the supplier due to multiple reasons like unexpected situations, technical errors, non-availability of a guide, and low participation, especially in group-based activities or tours.
You may adjust your plans if this happens but you're stuck when your activity is cancelled or rescheduled just before its scheduled start time because you may not have enough time to formulate an alternative plan.
5. Issues in Getting A Refund
While GetYourGuide automatically issues refunds to customers when their activity is cancelled by the supplier or they themselves cancel it within the cancellation deadline, some customers still find difficulties in getting their due refund.
This is because the refund is passing through a middleman, GYG, as the refund is first issued by the supplier and then GYG sends that refund to you.
Moreover, if you cancel your booking outside the given cancellation deadline or you're not satisfied with your travel experience and want a refund, you'll have to make a refund request to the supplier through GetYourGuide.
You'll not get a refund if your refund request is rejected by the supplier as getting a refund in this case is subject to the supplier's approval.
GetYourGuide isn't liable to give you a refund if your refund request is declined by the supplier.
Got it!
So these are the five main things you should consider before using GetYourGuide for booking an activity or tour with a supplier.
So, Should You Use GetYourGuide?
In the end, it depends upon your personal comfort and preferences whether you use GetYourGuide or book with a supplier directly.
But if you're reluctant to use it due to the above issues, I would say that these aren't only confined to GetYourGuide but every online travel agency is a middleman, has no control over the services of suppliers, and travellers sometimes face cancellation and refund issues.
Moreover, some issues customers sometimes face while using GetYourGuide aren't universal and don't represent the experience of every customer.
The majority of its customers are happy and satisfied with the activities and excursions they booked with the suppliers through GetYourGuide.
Now, as far as my personal recommendation is concerned, there's no need to use GetYourGuide or any other OTAs if you can book and manage your activities directly by contacting suppliers individually.
But if you can't book and manage your activities directly with the suppliers either because you've no knowledge about the place you're visiting or due to any other reasons, then booking through GetYourGuide may be convenient for you.
But I will recommend using GetYourGuide for your activity booking only if you follow the 10 tips mentioned below.
10 Tips To Follow While Using GetYourGuide
The first and foremost is to:
1. Read Carefully The Terms And Conditions Of GetYourGuide
While we shed light on some aspects of GetYourGuide policies, it's essential to read its terms and conditions to have in-depth knowledge of everything.
Familiarise yourself with its cancellation and refund conditions, deadlines and process, and other important details about tours and activities and their suppliers.
2. Read All About Suppliers Activity
Suppliers provide all information about the tours and activities they advertise on GetYourGuide such as duration, cancellation policy, meeting points, description, inclusions and exclusions, and some other important information.
Please ensure that the activities they offer include everything you need and align with your requirements.
Especially pay attention to the supplier cancellation deadlines, age restrictions, and physical fitness requirements.
3. Carefully Examine The Photos Of Your Tour Area
Don't forget to look at the photos of your visiting places provided by the suppliers on GetYourGuide.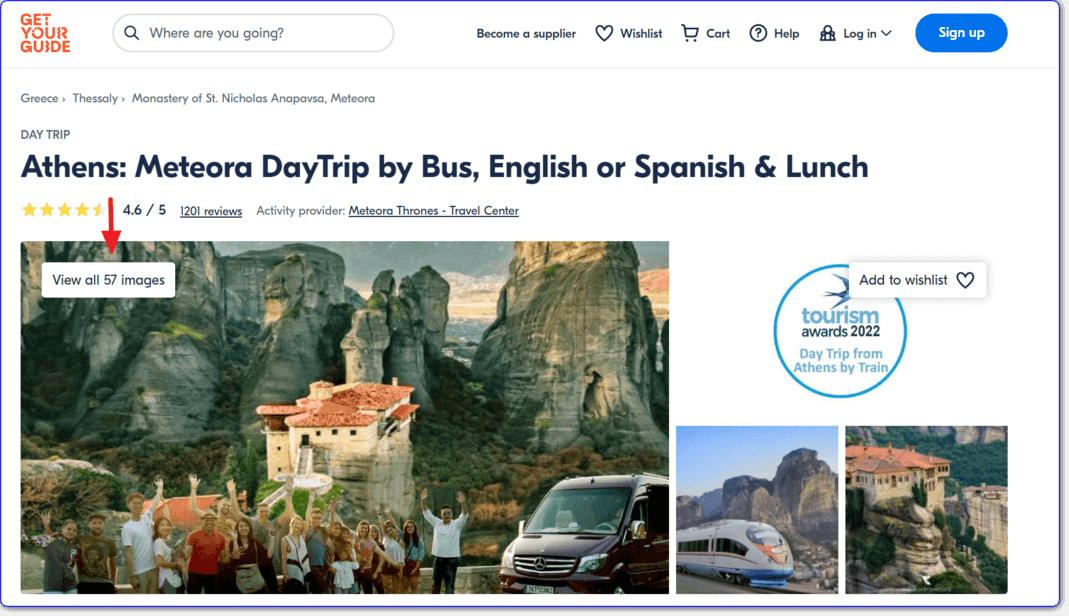 These photos can offer you insights into what you can expect during your travel experience.
4. Read The Travellers Reviews
Keep in mind that while images can be attractive, they may not fully represent the current situation or the actual experience.
Therefore, for a more comprehensive understanding, read on the GetYourGuide platform the reviews of the travellers who have personally experienced that activity and given their feedback on it.
5. Clear Your Confusion Before Booking
If you've still any confusion about your activity or anything else, reach out to the supplier through GetYourGuide's help support before booking.
It's advised not to book a tour or activity if your confusion isn't cleared by the supplier.
6. Choose 'Reserve Now Pay Later'
If the 'Reserve Now Pay Later' option is available for the activity you're going to book, it's advised to select it and not pay at booking time so that if your plans change, you can easily cancel your booking and get a refund without passing through the refund process.
7. Pay With PayPal
GetYourGuide accepts different payment methods but I would recommend you to pay with PayPal because of its Buyer Protection Program.
In case you don't know, the buyer protection program is a program of Paypal that provides safety and security to your bookings.
8. Confirm Your Booking Details With The Supplier
While GetYourGuide confirms your booking with your respective supplier, it's important to confirm your booking details directly with the supplier such as meeting points and time and any other specific instructions provided by the supplier.
9. Print Out Your Itinerary
Take print of digital copies of your booking confirmation, tickets and any correspondence with the supplier.
Having these documents readily available at the time of checking can be helpful.
Last but not the Least is:
10. Arrive Well Before The Start Of Your Activity
You must know that if you don't arrive on time at the meeting point and thus miss your activity, your all money and time will go in vain as both supplier and GetYourGuide aren't liable to help you in this regard.
Therefore, you should arrive at the meeting point well in advance of the scheduled start time to avoid any inconvenience.
That's it!
So these are the 10 tips you should follow while using GetYourGuide for activities and excursion bookings to have a pleasant travel experience.
Conclusion
So yes, there's no doubt in the legitimacy of GetYourGuide as it has been in business since 2009 and is headquartered in Berlin with additional sales houses in 14 countries.
However, although it's legit, you should consider the following things before using it such as:
GetYourGuide is a middleman.
It has no control over the standard of suppliers' services
Suppliers activities may not meet your expectations.
And you may face cancellation and refund issues.
Moreover, as it's complicated to resolve an issue with the supplier as a middleman (GetYourGuide) is involved, therefore, follow the above 10 tips while using GetYourGuide for your booking to decrease the likelihood of facing an issue.
So this was all about GetYourGuide from my side. Hope this article helps you make the right decision about booking through GetYourGuide.
Still, if you've any confusion or want to add something, feel free to drop your comment below.