Last Updated: November 10, 2023

Fruugo might have caught your attention by offering you a wide range of products from various retailers at competitive prices and discounts.
But you've some concerns which you want to be cleared before buying through it such as:
Is Fruugo legit or a scam?
Does it really list authentic products from trusted and reliable retailers?
What are the potential issues associated with buying on Fruugo?
Should I buy on Fruugo or try another platform?
Rest assured! All your concerns and apprehensions will be addressed by the end of this article.
Let's delve into it.
Is Fruugo Legit?
Fruugo is definitely legit as it has been in business since 2006 and lists products from world renowned retailers such as Nike, Puma, Sony, Clarks, Gucci, Chanel, and hundreds of other top brands.
Moreover, it is running in 43 countries with its main headquarters located at 13 Fountain Street, Ulverston, Cumbria, LA12 7EQ.
Above all, it is a registered company in England and Wales with its number 06553460.
So yes, Fruugo is a legit marketplace that gives you access to a wide range of products from different international retailers.
But hold on!
Though Fruugo is legit, here are the 5 things you must know before making a purchase through this platform:
1. Fruugo Isn't A Retailer But An Online Marketplace
For those customers who don't know, Fruugo isn't a shop in its own right nor does it sell or dispatch products itself.
Instead, it provides a platform for other third-party retailers to advertise their products while Fruugo only concludes agreements with its customers for the sale of products on behalf of the retailers.
So in case an issue arises, you've to contact the retailer you bought from through Fruugo's help center.
The retailer will evaluate your request and will respond to you through Fruugo whether your request is acceptable or not.
Therefore, Fruugo isn't liable to return or cancel your order and give you a refund as your return, cancellation, and refund request is subject to the approval of the retailer you bought the item from.
In short, Fruugo only connects the sellers and consumers and provides a medium of communication between them if an issue arises.
2. Order Tracking And Delivery Issues
One of the important things you should be aware of is that some customers have reported that though their orders arrived, they found difficulties in tracking them and received them lately.
Their orders took longer than the given estimated delivery time and the tracking number sent to them by Fruugo didn't work to know about the know-how of their orders.
One of the reasons for difficulties in order tracking may be that customers either themselves select a standard delivery method or there's no other delivery option available during purchasing that doesn't provide tracking and proof of delivery service.
Therefore, you should keep it in mind before making a purchase on Fruugo.
3. Discrepancy Between Advertised And Received Items
Some customers report the issue that they receive a different product from what is advertised by the retailers on Fruugo's site, especially in terms of color and materials they use in products.
In many instances, the product they receive doesn't match the description given by the retailer on Fruugo's site.
As various retailers are selling their products on the Fruugo platform, some of them may not give proper descriptions and other correct information about their products.
Tip: To avoid facing this issue, you should search about the seller (details below).
4. Keep Realistic Expectations From Products' Quality
While Fruugo sells authentic products from trusted retailers, it's important to note that the quality of the products Fruugo lists varies according to their prices.
Retailers may advertise lower-priced items but their quality is comparatively lower than that of high-priced ones.
What is wrong with customers is that they purchase cheaper products but they expect their quality to be as good as that of expensive products.
Therefore, don't expect top-notch quality from lower-priced items because you'll get what you pay for.
If you prefer high quality over price, you should avoid purchasing lower-priced products on Fruugo.
The next important one is:
5. No Exchanges And Issues in Return And Refund
First of all, Fruugo and its retailers don't accept exchanges if you're not satisfied with the product you receive.

You can only return the product and get your refund but the issue is that returning your order is very complicated as discussed above.
You'll need to provide the retailer with all the details and proofs of your return and if necessary will give pictures and videos if the retailer requires them.
In addition to this, you've to return your order at your own cost in case of color, quality, size, or any other issues, except in case of receiving damaged products.

But sometimes, the return charges are so high that getting a refund may not be reasonable for you.
And even if you pay for returning your order, you'll not get a refund if the retailer rejects your return request as getting your refund is subject to the retailer's approval.
Furthermore, Fruugo isn't liable to compensate you if the retailer gives you a partial refund or refuses to give your refund since it's only a platform provider, not the seller itself.
So these are the issues associated with returning your order and getting a refund.
Got it!
Hence, these are the 5 important things you should be aware of before making a purchase on Fruugo.
To summarize the above discussion, Fruugo is a legit platform but making a purchase through it is hit or miss.
If the product you receive satisfies you and meets your expectations, you'll definitely benefit from its wide range of products from various sellers in one place at competitive prices and discounts.
But if unfortunately not and you need a return, the affordability of products and convenient shopping will turn the opposite way as returning your order and getting a refund is a headache and comes with extra charges.
So, Should You Buy Through Fruugo?
Ultimately, it mostly comes down to your personal comfort and preferences whether you buy through Fruugo or try any platform.
But if you're reluctant to use this platform because of the above 5 main issues, I would say that these issues aren't universal and don't apply to every customer's shopping experience.
The majority of its customers are happy and satisfied with the products they purchased on Fruugo.
Moreover, these issues aren't only specific to Fruugo but every online marketplace acts as a platform provider only and their customers encounter issues in delivery, tracking, and return and refund.
The purpose of highlighting these issues here is that you should consider them before purchasing through Fruugo.
As far as my personal recommendation is concerned, I would only recommend buying through Fruugo if you follow the below 9 tips.
9 Tips To Follow When Buying On Fruugo
The first one is:
1. Read Fruugo Return, Refund And Cancellation Policies
While we gave a touch to some aspects of its return and refund policies, it's important to read its cancellation and return and refund policies in detail to have a complete understanding of everything.
Visit its site and read thoroughly its return and cancellation criteria, deadlines, process, refund amount, and some other important information.
2. Search About The Seller
As Fruugo lists products from hundreds of retailers, you must search about the retailer you're buying products from.
While Fruugo first scrutinizes the retailers and then allows them to list products on its site, there's still a probability that some of them may not be strict and disciplined in their business.
That's why they may not provide proper descriptions, photos, and other important information about the products they list on Fruugo.
Therefore, to know about the sellers' reliability, you should look for their fast history, ratings and reviews of customers, and owners, etc.
I recommend you to buy only from reliable sellers who have a good reputation and track record of excellence in the market
3. Beware Of Too-good-to-be-true Priced Items
Some retailers may offer you their products at much cheaper rates on the Fruugo site.
If a product seems too good to be true, you should find the price of that or another identical item in the traditional market or on other online platforms.
If a retailer on Fruugo (or on any other platform) offers you a product at a price much below its original or estimated rate in the other market, it's advised to avoid buying it as products with too-good-to-be-true prices often come in defects and flaws.
Now, when you become sure and want to purchase a product, you should:
4. Read The Product Description
To ensure the product meets your requirements, reading its description is very crucial as it contains important information about the product such as its features, size, materials, composition, color, and other necessary things.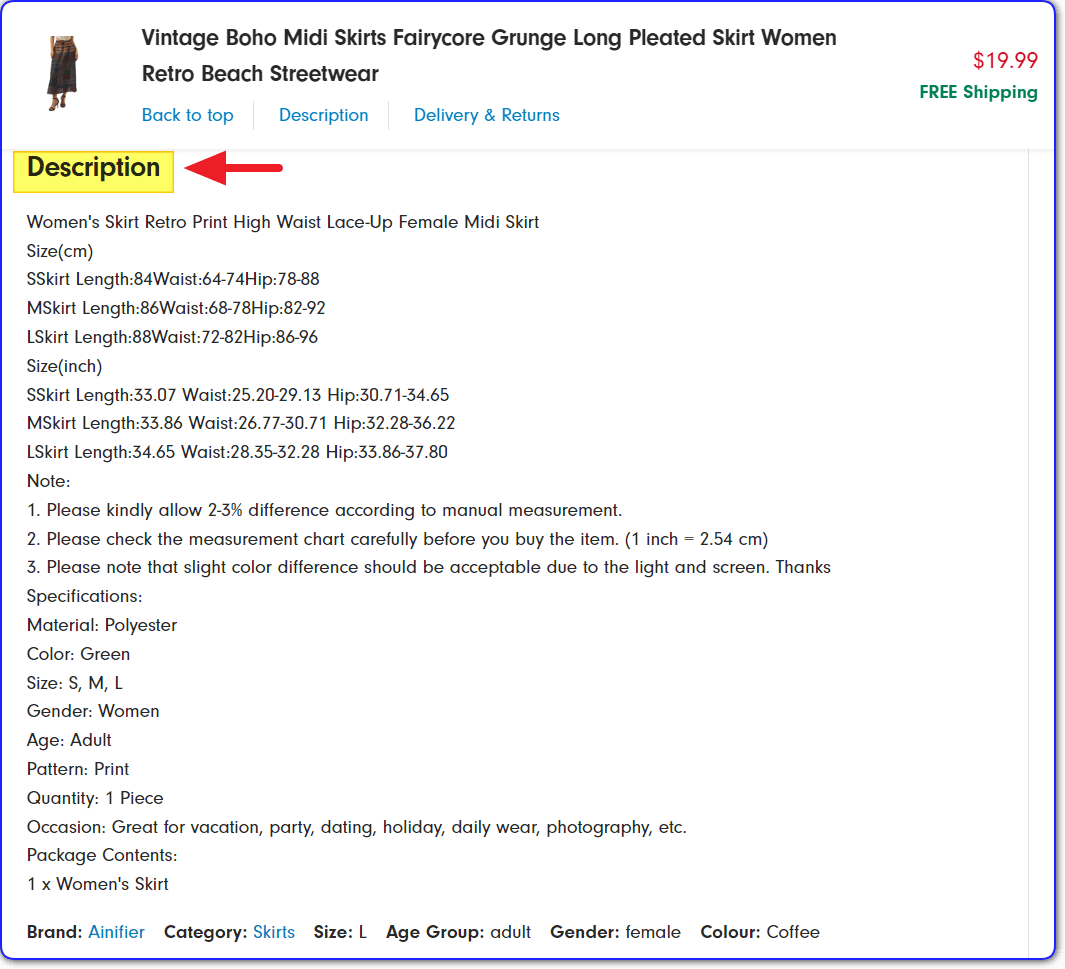 Next, proceed to:
5. Check The Product Photos Carefully
Whatever you're buying on Fruugo, examine the photos of the product carefully, especially if you're buying clothing items, shoes, and home decor.
Take a close look at the product's pictures from different angles by zooming out each part to get a clear view of its color, design, and its overall appearance.
6. Clear Your Confusion Before Buying
If you've any confusion about the product you're buying or anything else, please don't hesitate to contact the Fruugo help center.
You should not buy anything on Fruugo if its help center doesn't clear your confusion and give a response to your query.
7. Order Well In Advance
As discussed above, orders sometimes take longer than the given estimated delivery time when shopping through Fruugo.
Therefore, it's advised to place your order well ahead of the time you need it to avoid last-minute stress.
This allows enough time for product processing, shipping, potential alterations if needed, order delay, and addressing any other issue that may arise.
I would personally recommend you to order your product 3-4 weeks before you need your product.
8. Review Your Order
Before you proceed to payment, don't forget to review your order to make sure that you've provided the correct order details such as your address, email, color, size, etc as it's very challenging to sort out any issue with the retailer through Fruugo.
9. Pay With PayPal
Though Fruugo accepts different payment methods, I would recommend you to pay with PayPal because of its Buyer Protection Program.
In case you don't know, the buyer protection program is a program of Paypal that provides safety and security to your purchases.
That's it!
So these are the 9 tips you must follow when shopping anything from the retailers through Fruugo.
Conclusion
No doubt, Fruugo is a legit platform as it has been in business for the last 17 years and advertises products from world renowned sellers like Nike, Puma, Sony, Gucci, and many others.
But, though it's legit, you must be aware of 5 importing things before buying on it such as:
It's an online marketplace, not a retailer itself.
Don't keep higher expectations from lower-priced item
The product you receive may not match its description.
Orders in some cases take longer than the given estimated delivery time and customers face issues in the order tracking.
The return and refund process is complicated and you've to return your order at your own costs.
Moreover, I will recommend you to follow the 9 tips mentioned above to have a pleasant shopping experience on Fruugo.
Hope you find this article helpful in making the right decision for your shopping on Fruugo.
If you've any queries or want to share your personal experiences with Fruugo, feel free to drop your comment below.
FAQs
Is Fruugo reliable?
Yes, Fruugo is a reliable platform as it has been in business since 2006 and advertises products from world's top retailers.
However, you should consider some important things before buying on it such as it's an online marketplace, not a shop itself; you should compromise on the quality of lower-priced items; may receive a different item from the advertised one; and you may face issues in delivery, tracking, and in return and refund.
Is Fruugo safe?
As far as the security of your payment details and other personal information is concerned, Fruugo is without a doubt a safe online marketplace.
Fruugo utilizes strong encryption and modern security and fraud prevention tools for the safety of your personal details.
Above all, Fruugo follows the security measures of the Payment Card Industry Data Security Standard (PCI-DSS) to protect your data from theft, fraud, and unauthorized access.
Is Fruugo Trustworthy?
Fruugo is a trustworthy platform but you should search about the sellers from whom you're buying a product on its site.
Also, search about the product elsewhere online if a seller on Fruugo offers it well below its original or estimated market value.
Where is Fruugo located?
While Fruugo is running in almost 43 countries, it's a registered company in England and Wales with its main headquarters at 13 Fountain Street, Ulverston, Cumbria, LA12 7EQ.