Last Updated: November 8, 2023
For finding a remote and flexible job, FlexJobs might have caught your attention because of its multiple job listings and easy-to-use interface.
But before going to use it for your job search, you've some concerns about it such as:
Is FlexJobs legit or a scam?
Are the jobs it lists authentic and from legitimate companies?
How to get your desired job on FlexJobs?
Don't worry! All your queries and concerns about FlexJobs will be cleared by the end of this article.
Let's dive in.
Is FlexJobs Legit?
FlexJobs is definitely a legit platform as it has been in business since 2007 and has been featured in articles by trusted and reputable media outlets such as BBC, CNN, Forbes, CNBC, and USA Today.
Moreover, it offers access to authentic and legitimate jobs from the world's top companies that have an excellent reputation and track record of excellence in the job market.
Above all, FlexJobs has received many awards and recognitions that demonstrate its credibility and transparency as a trusted job-seeking platform.
So yes, FlexJobs is a legitimate platform for seeking legitimate and authentic flexible jobs like full-time, part-time, freelance, and remote jobs.
But Wait!
Though FlexJobs is legit, here are three main things you should be aware of before using it for job searching:
1. FlexJobs Isn't An Employment Agency
Some people often blame FlexJobs when they don't find their desired job or when they're not hired by an employer after applying through FlexJobs.
They think that the subscription fee they pay to FlexJobs aims at providing them with a job.
For those people, it should be clear to them that FlexJobs isn't a recruiting agency that gives jobs and places people into positions.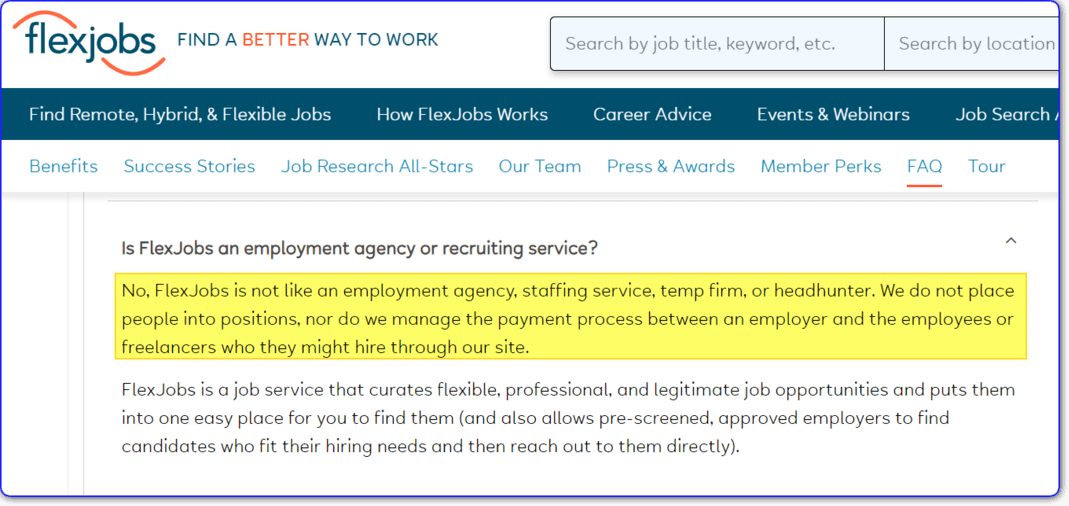 But it rather provides you access to vetted job listings from reputable companies through its platform.
The fee you pay to FlexJobs is for gaining access to job listings and its valuable resources to aid your job search.
So finding a job or getting hired by an employer solely depends upon your abilities, experience, skills, qualifications, and employer choices and hiring decisions.
In short, FlexJobs isn't set to give you a job but rather gives you access to curated job listings from trusted employers through its platform.
2. Barriers In Job Findings
While it's true that hundreds and thousands of people are successful in being hired by employers through FlexJobs, it's not guaranteed that you'll get a job.
Getting a job depends upon multiple factors such as:
Skill Miss-match: Employers often require specific skills for the job they offer. The skills you've may not align with the skills required by the employer.
Experience Requirement: In most jobs, some experience in the relevant field is required by the employer. So if you've skills but not experience, it becomes difficult for you to compete with those who've some experience.
Location Barrier: While the majority of the jobs it lists are remote jobs, some jobs still require employees to work or live in specific regions. So if you've the required skills and experience, you're still not eligible for a job having specific location criteria.
Resume And Cover Letter Acceptance: Even if you meet the qualifications of the employer but your resume and cover letter don't make a strong impression, it can be challenging to stand out among other applicants.
Job Competition: As remote and flexible jobs attract a large pool of applicants, it may be challenging for you to secure your desired job due to stiff job competition, especially if you're new in the job market.
The next one is:
3. Auto-Renewal And Difficulty In Subscription Cancellation
You should be aware that once you subscribe to FlexJobs, your subscription will be automatically renewed after the deadline of your subscription is reached.
For example, if you make a one-week subscription, FlexJobs will automatically renew your subscription for another week without your approval if you don't cancel it within 7 days.
The same is the case with monthly and yearly subscriptions.
Furthermore, although rarely occurs, FlexJobs sometimes fails to cancel its user's subscriptions even being cancelled by them or users find difficulties in their subscription cancellation.
In any case, they are charged by FlexJobs due to its auto-renewal subscription policy.
Though FlexJobs addresses cancellation issues and refunds its users, it causes a headache for them to get their money back after passing through its complicated refund process.
So these are the 3 main things you should be aware of before trying FlexJobs for searching for a flexible and remote job.
So, Should You Use FlexJobs For Getting A Job?
In the end, it mostly comes down to your personal comfort and preferences whether you seek a job through FlexJobs or use other platforms.
But personally, I would recommend you to not subscribe to FlexJobs directly.
But rather go to its site as a free visitor to know if the types of jobs you're searching for are available as they can show you a short version of all job listings for free without a subscription.
If you find what you're looking for, then subscribe to its weekly package, not jump directly to its monthly or yearly subscription, to get access to full job details and other tools of FlexJobs.
Next, if you're satisfied with FlexJobs, then proceed to its other subscriptions, otherwise cancel it before your subscription deadline is reached.
So if you find FlexJobs helpful and want to try it for your job search, following these 8 tips is extremely important for you to increases your chances of successfully getting a job and minimize the risk of being stuck in a problem:
8 Tips To Follow While Using FlexJobs
The first one is:
1. Read Its Job Search Career Advice
The first and most important thing you should do is to read FlexJobs job search career advice.
This will guide you on how to make a good resume and cover letter, prepare for an interview, search for a job, job application, and some other important things you must know.
2. Make A Well-Structured Profile
The other important one is to create a well-structured and detailed profile on FlexJobs.
No matter how much experience and skills you've, if your profile isn't appealing, it's nearly impossible to get hired by an employer.
Therefore, make a well-rounded profile that includes your resume, skills, work preferences, and any other certifications or qualifications.
3. Tailor Your Resume
As every job requirement is different from the other, therefore, make changes to your resume according to the job you're applying for.
Remove the irrelevant stuff that the employer doesn't want and highlight only relevant skills and experiences that align with specific job requirements.
4. Customize Your Search
One of the challenging tasks in finding a job on FlexJobs is to find a job that's relevant to your skills, experience, location, and other requirements.
To make this process easy, use FlexJobs advanced search filters to narrow down job listings based on your criteria, that is, job category, type, location, and more.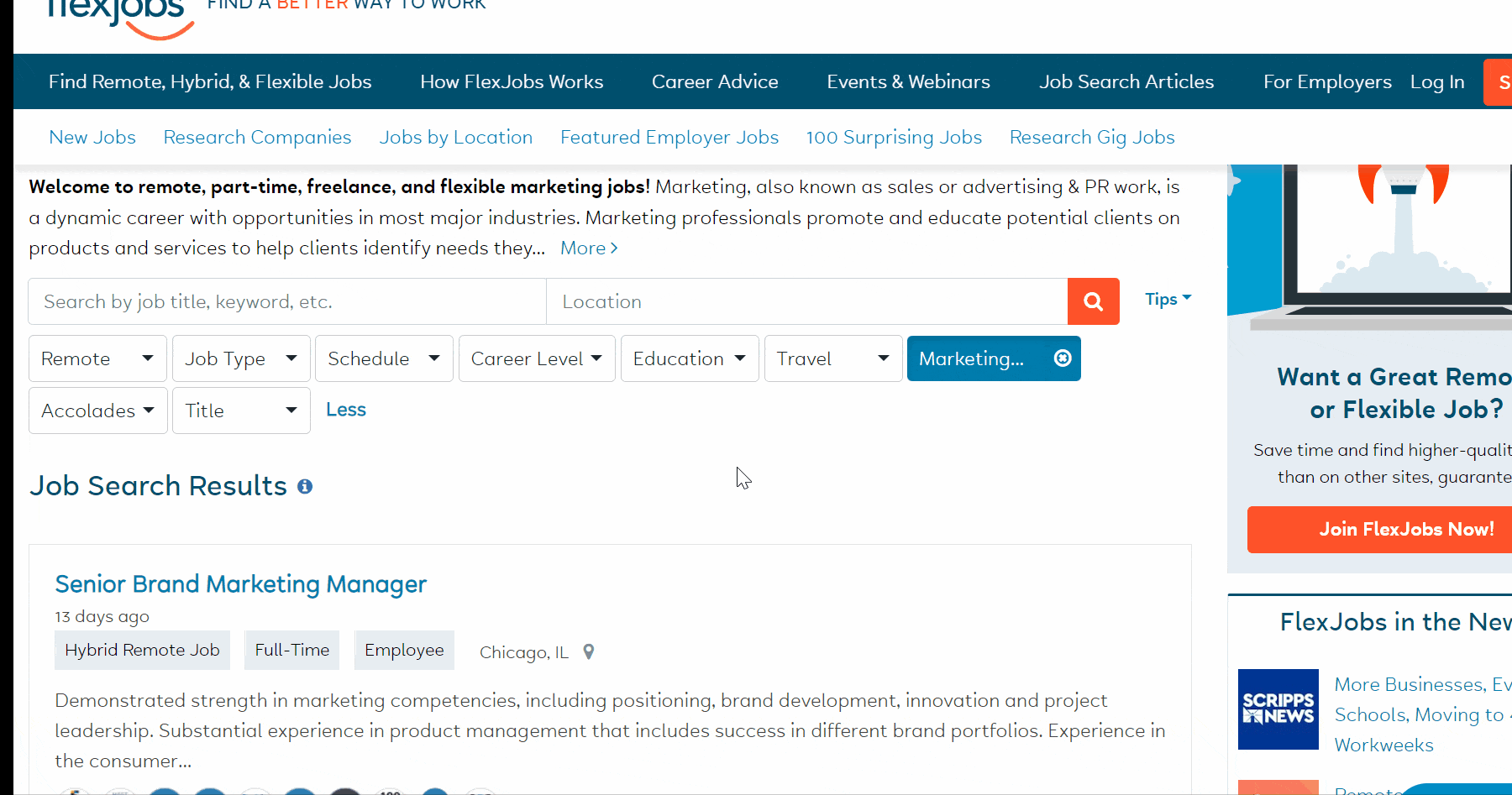 5. Research About The Companies
FlexJobs provides information about the companies it lists their jobs on its platform.
Before applying for a job you're interested in, do proper research about the company you're applying for to ensure it's best suited for you.
This will enable you to become familiar with its reputation, culture, values, and some other important information.
6. Stay Patient And Persistent
As remote and flexible jobs attract a large pool of job seekers, finding a job on FlexJobs can take time.
Therefore, be persistent in your efforts and don't get discouraged by rejection. Be patient and keep applying until you get a job.
7. Stay Informed
You should update yourself with new job listings, industry trends, job market news, and remote work tips through resources and articles posted by FlexJobs on its site.
Don't forget to set up FlexJobs' job alert feature to get new notifications about recent posts and jobs.
8. Don't Wait For The Last Day Of Subscription
As discussed above, FlexJobs users sometimes face difficulties in cancelling their subscription.
Therefore, it may take some time for your cancellation request to be processed and there may arise potential issues during the cancellation process.
So if you want to cancel your subscription on the last day, you may not have it cancelled before the deadline.
Therefore, it's advised to not wait for the last day of your subscription but to cancel it at least one or two days so that you've enough time to cancel your subscription.
That's it!
So these are the 8 tips you must follow while using FlexJobs to smooth your job search journey.
Conclusion
FlexJobs is definitely a legit job search platform as it has been in business for the last 16 years, featured in renowned media outlets, and has won many prestigious awards.
However, you must consider 3 important things before using it for a job search such as:
FlexJobs is not an employment agency.
There are some barriers to getting a job.
And it auto-renews subscriptions and though rarely occurs, users sometimes face difficulties in cancelling their subscriptions.
Moreover, you should follow the above-mentioned 8 tips to ensure you get your desired job and don't face any problems.
So this was all about FlexJobs from my side. Hope this article is helpful for you in finding a job on FlexJobs.
If you've still any questions in mind or want to share your personal experience with FlexJobs, feel free to let me know in the comment section below.