Last Updated: September 22, 2023

In the ever-expanding world of online shopping, you're interested to make a purchase from Commense after being attracted by its unbelievable low prices.
But with great deals come great concerns about legitimacy as e-scammers attract customers by offering them such great deals and in the end steal their money.
Fear not, you'll know Exactly if Commense is legit and also some other common concerns about it by the end of this article.
Let's get started!
Is Commense Legit?
Commense is definitely a legit online shopping company for buying trendy and stylish cloth items like tops, bottoms, swimwears, blazers, and for other multiple types of dresses.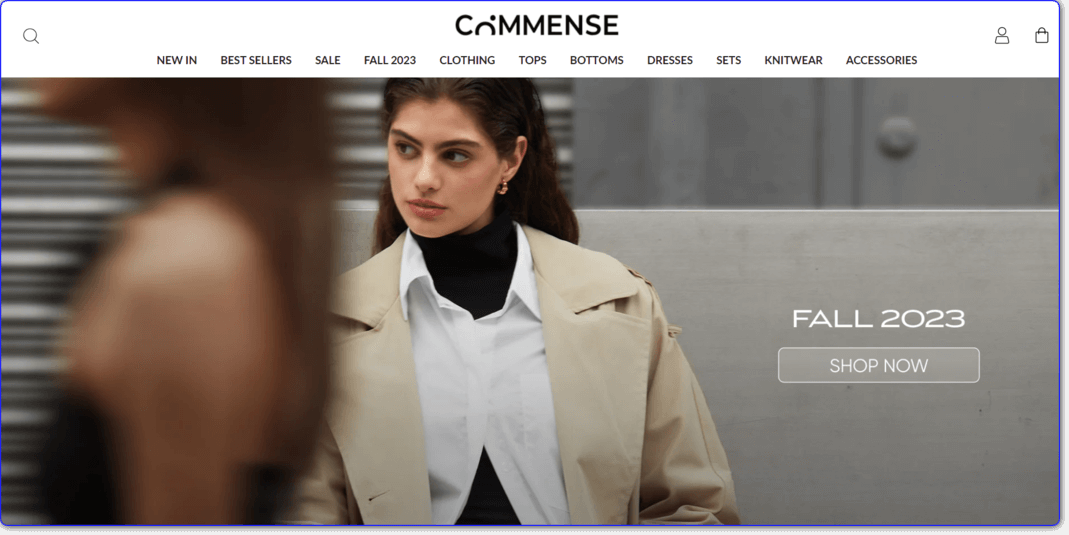 It isn't like scam companies that run anonymously and steal people's money by deceptive marketing tactics like offering them cheaper deals.
But it is located in Kowloon, Hong Kong, and successfully delivers products to its customers.
But Wait!
Though Commense is legit, knowing the following 3 things is very crucial for you before buying its products.
The first one is:
1. You Get What You Pay For
Although Commense sells good quality products at affordable prices and customers are generally satisfied with their quality, it's important to note that don't expect top-notch quality from Commense's products, especially in case of buying lower-priced items.
This is because Commense uses fabric and other materials in manufacturing its products relatively lower in quality compared to those used by luxury or high-priced online retailers in manufacturing their products.
But this doesn't mean that its products become useless after a short-period of use, it means that they aren't as durable and high-quality as those offered by expensive retailers.
Commense do so in order to make its products accessible to a wide range of consumers at affordable rates to meet their demands.
As Commense products are comparatively cheap, so don't expect their quality to be as good and long-lasting as the products of high-end online stores because:
You will get what you pay for.
2. Size And Fitting Problems
One of the major challenges customers face while buying from online stores, not only from Commense, is to get a dress that's comfortable and fits well to their body.
The reason behind this is that the dress customers receive sometimes doesn't correspond to the size chart provided by Commense.
And even if the dress size corresponds to the given size chart, it sometimes still doesn't fit properly to the body due to the customer body type, dressing habits, and also due to the style and design of the dress.
Moreover, the size also varies according to the fabric used in the dress as some fabrics are stretchy which don't fit well to the body.
So it's essential to note that though rarely occurs, there's a possibility that you may receive a dress with a slight size and fitting issues.
However, the matter becomes worse for you if you receive a dress either too small or too large as it becomes impossible to make your dress fit to your body even by making alterations.
In this case, you'll have no other options but to either exchange or return your dress for a refund.
But here lies the actual problem:
3. Return And Exchange Is Complicated And No Full Refund From Commense
Returning your dress for exchange or refund is very complicated as you've to provide all proofs and details with pictures and your return request is subject to Commense approval.
Furthermore, you've to return your products at your own cost in case of colour, size, quality or any other issues, except in case of receiving damaged products.
And even if you send back your product for a refund at your own cost, still, Commense will deduct the original shipping charges of the products from your refund.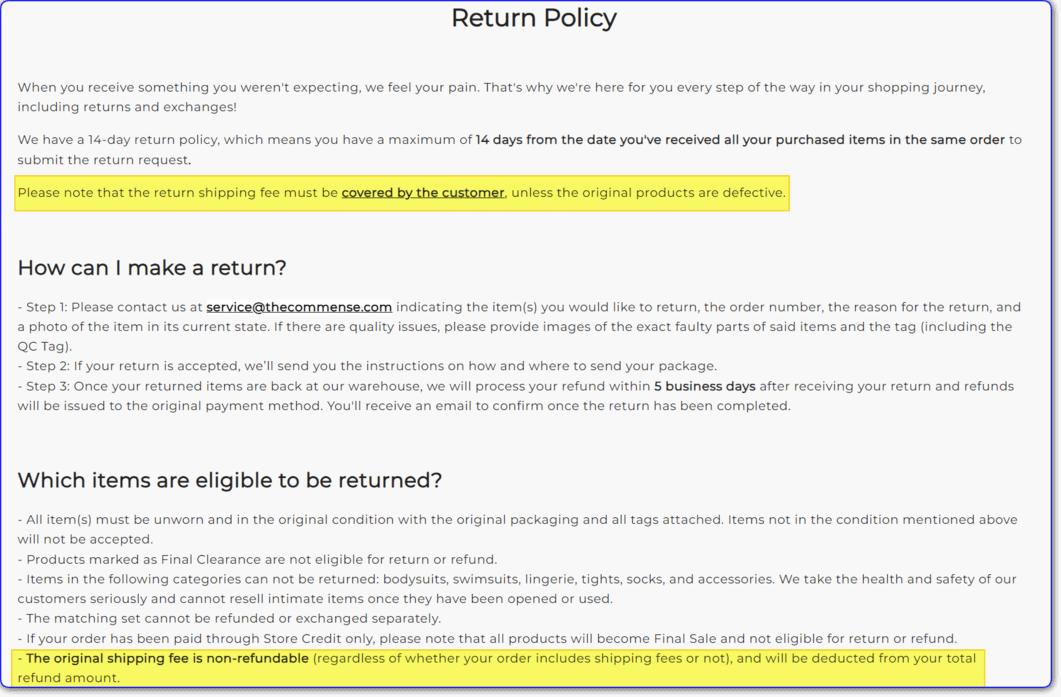 So you've to bear the return as well as the original shipping charges if you need to return your order for a refund.
Now, Commense knows that returning orders for a refund or exchange aren't reasonable for you due to shipping and return shipping charges, that's why they give you two options:
Keep the product and get a partial refund or;
Use their store credit for another purchase.
Store Credit is like a pre-paid amount given to you by Commense to make another purchase instead of getting your refund.
So you'll have no other options but to either use their store credit or keep the product and get a partial refund as the shipping and return shipping charges applied on you often exceeds the product's actual value.
Got it!
Hence, these are the 3 important things you should consider before buying from Commense.
So to conclude the above discussion, Commense is legit but receiving their products is hit or miss.
If the dress you receive satisfies you and aligns with your expectations, you'll definitely benefit from Commense trendy and stylish yet affordable dresses.
But if unfortunately not and you need to return your product, its affordability will turn costly as return carries extra charges and you'll get only a partial refund.
So, Should You Buy From Commense?
In the end, it mostly comes down to your personal comfort, preferences, and your budget to decide whether to buy from Commense or stay away.
But if you're hesitant to buy from Commense because of the 3 main issues associated with buying from it, I would say that these issues aren't universal and don't represent the shopping experience of every customer.
Commense has a good reputation among its customers because the majority of its customers are happy and satisfied with their purchases they made from it.
Moreover, these issues are common in almost all other e-shopping companies, not only in Commense and it's not always the case that customers face these issues.
These issues are merely the negative experiences of some customers discussed here for you to take them into consideration before buying from Commense.
So after looking at these factors, the final choice is yours whether you buy from it or stay away.
Considering buying from Commense?
Here are the 9 tips you should follow before buying to have a good shopping experience with Commense:
9 Tips To Follow Before Buying From Commense
The first one is:
1. Read Commense's Return And Return policy In Detail
While we gave a touch to some aspects of its return and refund policy above, it's very important to read thoroughly its return and refund policy to have a complete understanding of everything.
By doing so will enable you to become familiar with return deadlines and process, refund amount, eligibility criteria for return, and some other important details.
2. Check The Product Photos Properly
Examine closely the photos of the product you're considering buying to not face any colour issue.
Take a close look at the dress pictures from different angles by zooming out each part of the dress to get a clear view of its colour, design, and its overall appearance.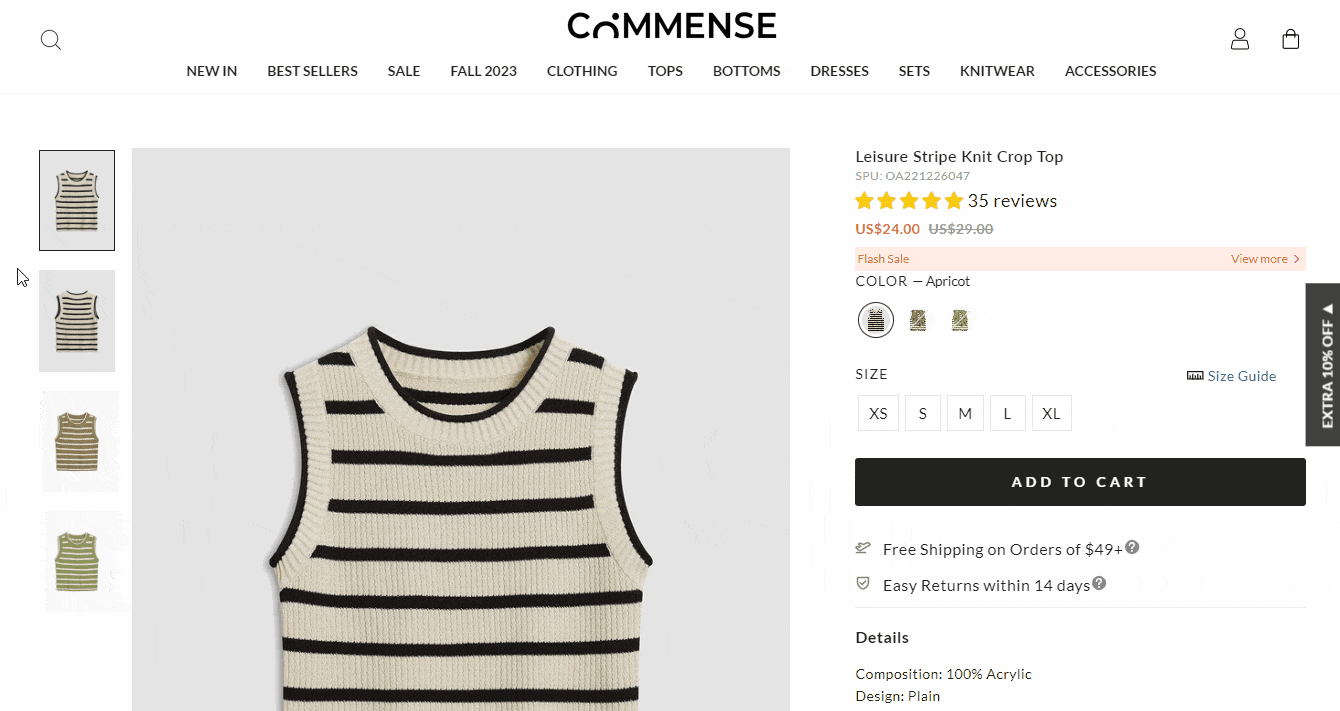 3. Read The Product Description
Please don't forget to read the product description as it contains important information about the product such as, its composition, design, materials, style, pockets, its season, etc.
The next important one is:
4. Read Customer Reviews
To get a better sense of the dress you're purchasing, read the reviews of the customers who have personally experienced it before to get their feedback on the dress and the problems they encountered with the dress.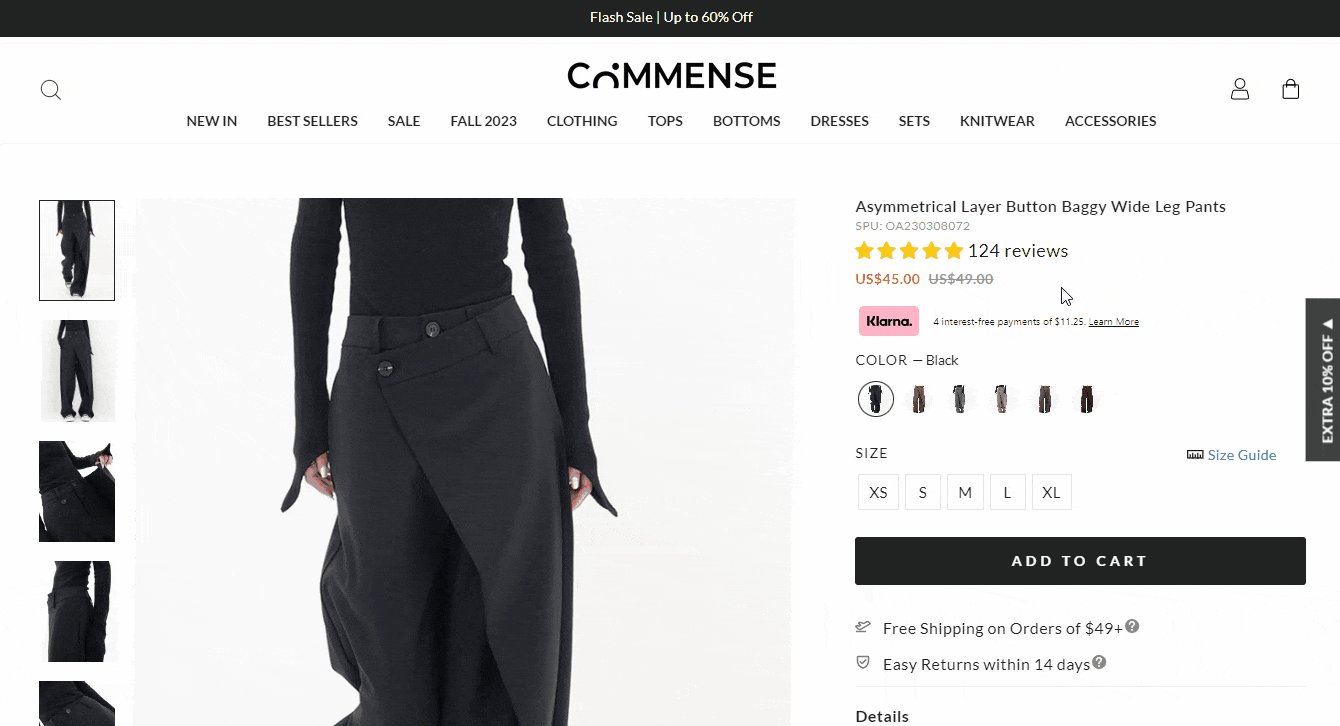 5. Carefully Check The Size Chart And Provide Accurate Measurement
One of the major issues customers face in online shopping is that they don't get their dress that fits properly to their body because they sometimes don't follow the given size guide and chart.
Therefore, you should be careful in selecting your size from the size chart and provide your accurate body measurement as you know return is very complicated and you'll get only a partial refund if you face size and fitting issues.
So, follow Commense's Size Guide carefully to avoid any blunder while selecting your size and providing your body measurement.
6. Order Well Ahead Of Time
In some cases, order takes longer to be delivered than the estimated delivery time given by Commense.
Therefore to avoid last minute stress, it would be better to place your order well in advance of the time you need your dress, especially for important events like parties.
This allows enough time for product processing, shipping, potential alterations, order delay, and addressing any other issue that may arise.
I would personally recommend to order your dress 5-6 weeks before you need it as Commense delivers orders within 3-4 weeks to most countries.
7. Ask Your Question From Commense Before Buying
If you've any confusion about the product you're buying or have any query in mind, contact Commense's customer support team via email.
It is advisable to not buy anything if its customer support team doesn't clear your confusion and give response to your query.
8. Take A Look At Your Order Summary
Before proceeding to payment, it's very important to review your order summary to ensure that you've given correct order details such as size, colour, email, and shipping address, etc.
9. Pay With PayPal
While you can make payment to Commense through credit/debit card, Klarna, and mastercard, I recommend you to pay with PayPal because of its buyer protection program.
In case you don't know, the buyer protection program is a program of Paypal that provides safety and security to your purchases.
That's it!
By following these 9 tips, you're less likely to be stuck in a problem and will have a very pleasant shopping experience with Commense.
How Long Does Commense Take To Deliver Your Order?
There are multiple factors that influence Commense's delivery time such as shipping method you choose, processing time, your location, custom clearance, and other unforeseen circumstances.
However, total delivery time primarily depends upon processing and shipping time.
Delivery time= Processing Time + Shipping Time
Processing time is the time in which your product is scrutinised and prepared by Commense for shipment while shipping time is the time taken by the shipping carrier to deliver the product at your doorstep.
The processing time usually takes 1-5 business days while the shipping time varies according to your location and the shipping method you choose.
But generally Commense delivers products within 3-4 weeks to most countries.
Conclusion
So yes, Commense is a legit online shopping company located in Kowloon, Hong Kong, and successfully delivers products to its customers.
However, though it's legit, you should look into 3 major things before buying including:
The quality of its products may not be as good as offered by high-priced companies as you will get what you pay for.
You may receive a dress with size and fitting issues.
Return process is very complicated and getting a full refund is impossible.
And if you're considering buying after looking at these issues, you should follow the above 9 tips before buying to have a pleasant shopping experience with Commense.
Hope this article has cleared your concerns and queries and made you able to make a right decision for your shopping with Commense.
Still, if you've any questions in mind or want to share your personal experience with Commense, let me know in the comment section below.