Last Updated: July 28, 2023

The mid and plus-size dresses of BloomChic at cheaper rates might have caught your attention.
But you're hesitant to buy from it as prices that seem too good to be true often come in scam and hidden costs.
So before making a purchase from BloomChic, read this article till the end to know if BloomChic is legit or a scam designed to deceive you and steal your money.
Let's dive right in!
Is BloomChic Legit?
BloomChic is definitely a legit online shopping company that sells mid- and plus-size clothes for women, such as occasion dresses, tops, bottoms, blouses, swimwears, and other different attires.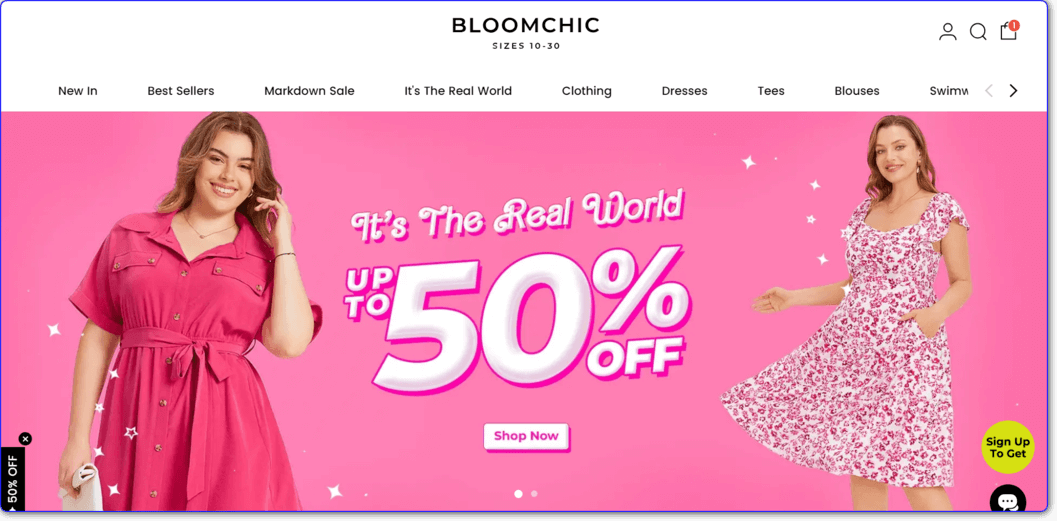 BloomChic is indeed a good option for you if you're looking for affordable dresses in the size range from 10 to 30 without compromising on style.
But wait!
Before you make a decision of buying from BloomChic, it's extremely important for you to know these 4 things:
1. Difficulties In Order Tracking
Customers sometimes find difficulties in tracking their orders because of the technical errors in the BloomChic tracking system.
They're only shown where their order will arrive but aren't updated about its current location due to the fault in BloomChic updating system.
And even in some cases, customers find only a blank page when they click on the order tracking number given by BloomChic.
2. Delay In Order Delivery
BloomChic often takes longer than its given estimated delivery time in delivering their orders.
This is because BloomChic either doesn't send the order to the respective shipping courier on time or the delay occurs from the courier side.
Whatever the case may be, customers in most cases received their dresses later than the given estimated time.
Tip: Place your order well in advance, especially when ordering for important occasions (more on this later).
3. Uncertainty In Ordering Pre-order Items:
Pre-order item is an item that is not currently in stock but is shipped to customers once available in the stock.
The issue with placing an order for a pre-order item is that though the estimated shipping date is given by Bloomchin on the product page, it's uncertain when the item will be available in the stock.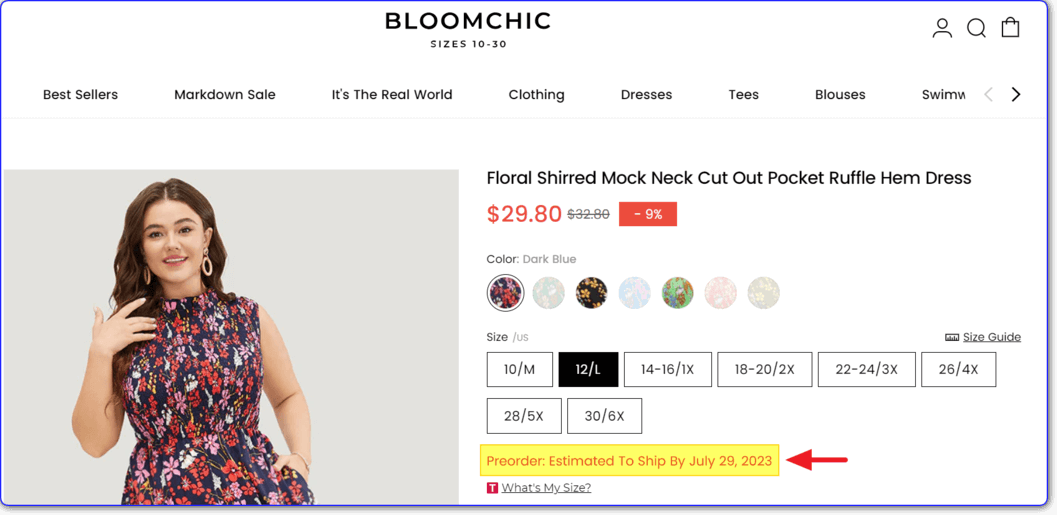 But what is more disgusting is that if you select multiple items in one order and one of your selected items includes a pre-order item too, then your whole order will be on hold till the pre-order item becomes available.
4. Keep Realistic Expectations Regarding Quality
While BloomChic provides good quality products at affordable prices and customers are generally satisfied with their quality, it is important to set realistic expectations regarding the quality of its products.
Don't expect top-notch quality from BloomChic's products, especially in case of buying lower-priced items as they may not have the same level of fabric, material, and overall craftsmanship as high-priced dresses.
But this doesn't imply that its products become useless after a short-period of use, it means that they aren't as durable and high-quality as those offered by expensive retailers.
So if you prioritise high quality over pricing, it is advisable to try other luxury or high-end retailers, not BloomChic.
So these are the 4 things you should consider before buying from BloomChic.
Let's quickly repeat them:
You may find difficulties in tracking your order.
BloomChic often takes longer than the given estimated delivery time in delivering its orders.
It's uncertain when your pre-order will arrive and if one of the selected items in your single order is a pre-order item, your whole order will be on hold till the pre-order item becomes available.
Keep realistic expectations regarding the quality of BloomChic's dresses.
Keeping these issues aside, as long as its legitimacy is concerned, BloomChic is undoubtedly a legit online shopping company as it's one of the best emerging e-retailers in selling mid- and plus size dresses.
Moreover, it isn't like scam companies running anonymously but has its headquarter in Los Angeles, California, United States.
Now, being a legit company but still carrying some risk of issues might have confused you about whether to buy from it or stay away.
So here's my suggestion:
Should You Buy From BloomChic?
Ultimately, it depends upon your personal preferences, priorities, budget, and your willingness to potentially encounter some issues, such as:
Delay in order.
Difficulties in order tracking.
Uncertainty about pre-order items.
And the quality may not meet your expectations.
If you're not willing to take these risks, you should not go for buying from BloomChic.
But personally I recommend you to try BloomChic because these and some other issues like return and refund, colour differences, and size fitting problems are common in online shopping, not only in shopping from BloomChic.
But Don't worry!
By following the below tips before buying, you would've a good shopping experience with BloomChic and hope you'll not face any of the above mentioned issues:
9 Tips To Follow Before Buying From BloomChic
The first and foremost thing you should do is to:
1. Carefully Read BloomChic Return And Refund Policy
To avoid any refund and return issues later, it's very important for you to read BloomChic return and refund policy in detail before buying from it.
This will enable you to become familiar with its return deadlines, return and refund shipping process and costs, refund amount, and other important details.
2. Look At The Dress Photos
Carefully look at the photos of the dress you're considering buying to not face any colour issue.
Closely examine the dress photos from different angles by zooming out each part of the dress to have a better idea of its colour, design, and overall look of the dress.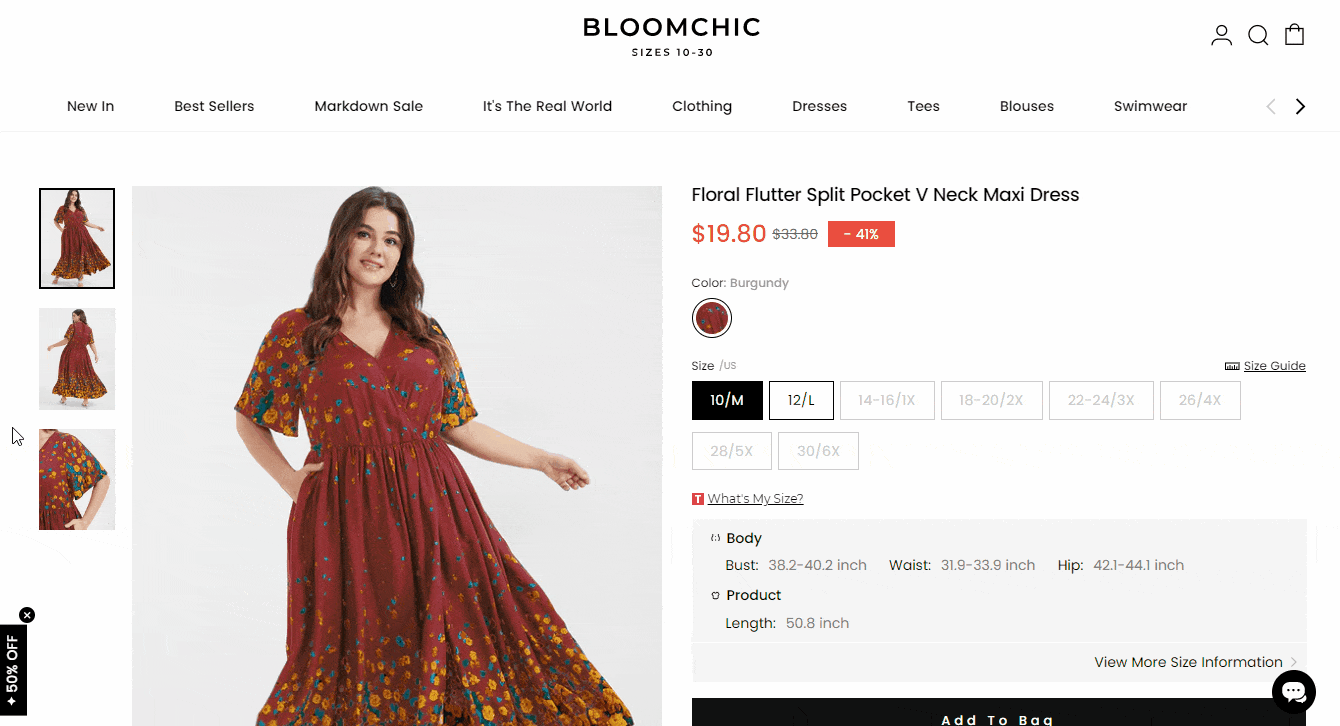 The next tip for you is to:
3. Read The Product Details
While you can get a good idea by looking at the product's photos, don't forget to read its details as it contains important information regarding the dress such as, fabric composition, pockets, style, care, type, stretch, sleeves, and the dress season etc.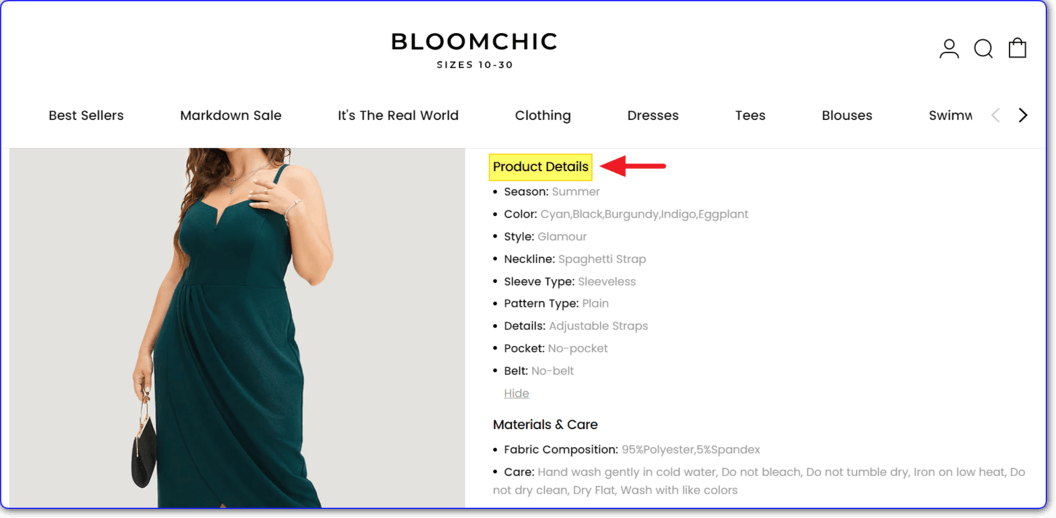 4. Read The Customer Reviews
To actually know about the dress you're buying, it's crucial for you to read the reviews of the customers who have experienced it personally to get their feedback on the dress and issues they face with the dress.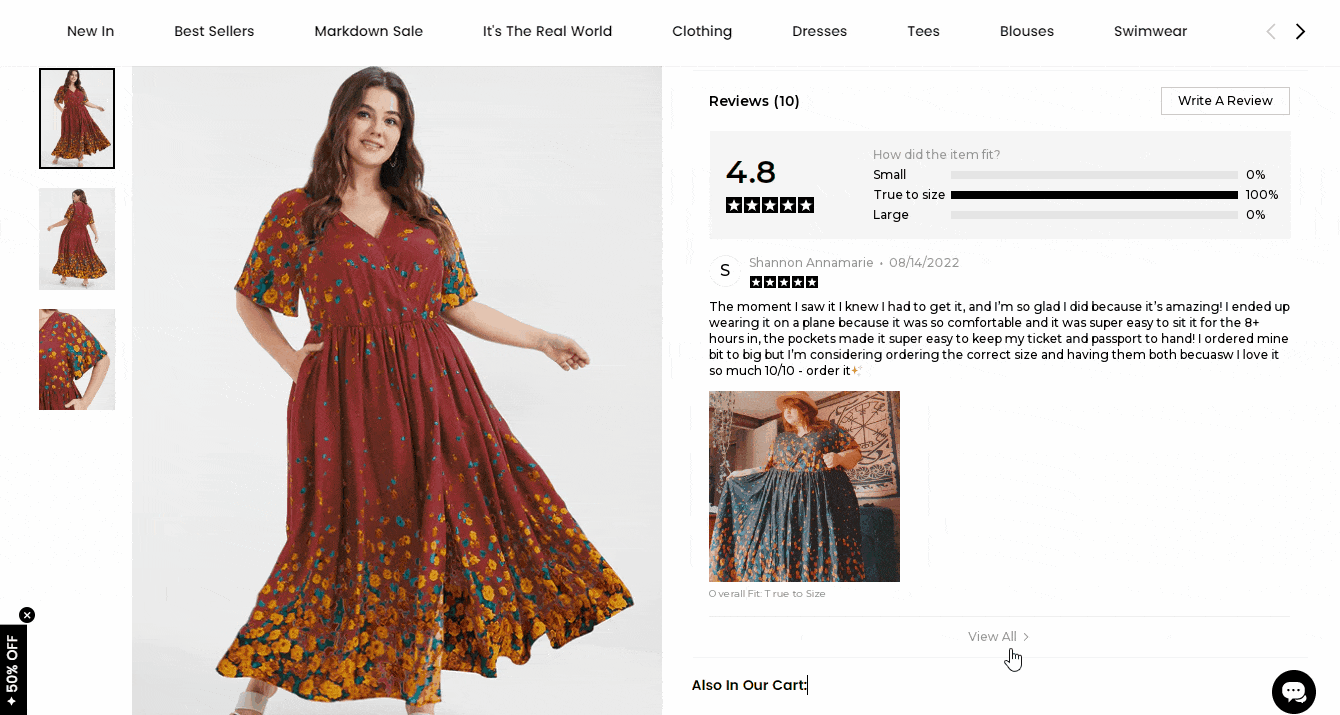 5. Check The Size Chart Carefully And Give Accurate Measurement
Getting a dress that fits the body properly is one of the most challenging issues in online shopping.
Therefore, you should be careful in selecting your size from the size chart and in providing your correct body measurement as returning the product back to BloomChic and then ordering another is a very complicated process.
So to avoid any blunder in selecting a size and in providing your actual body measurement, it's important for you to follow its size guide or measure your body by a professional tailor.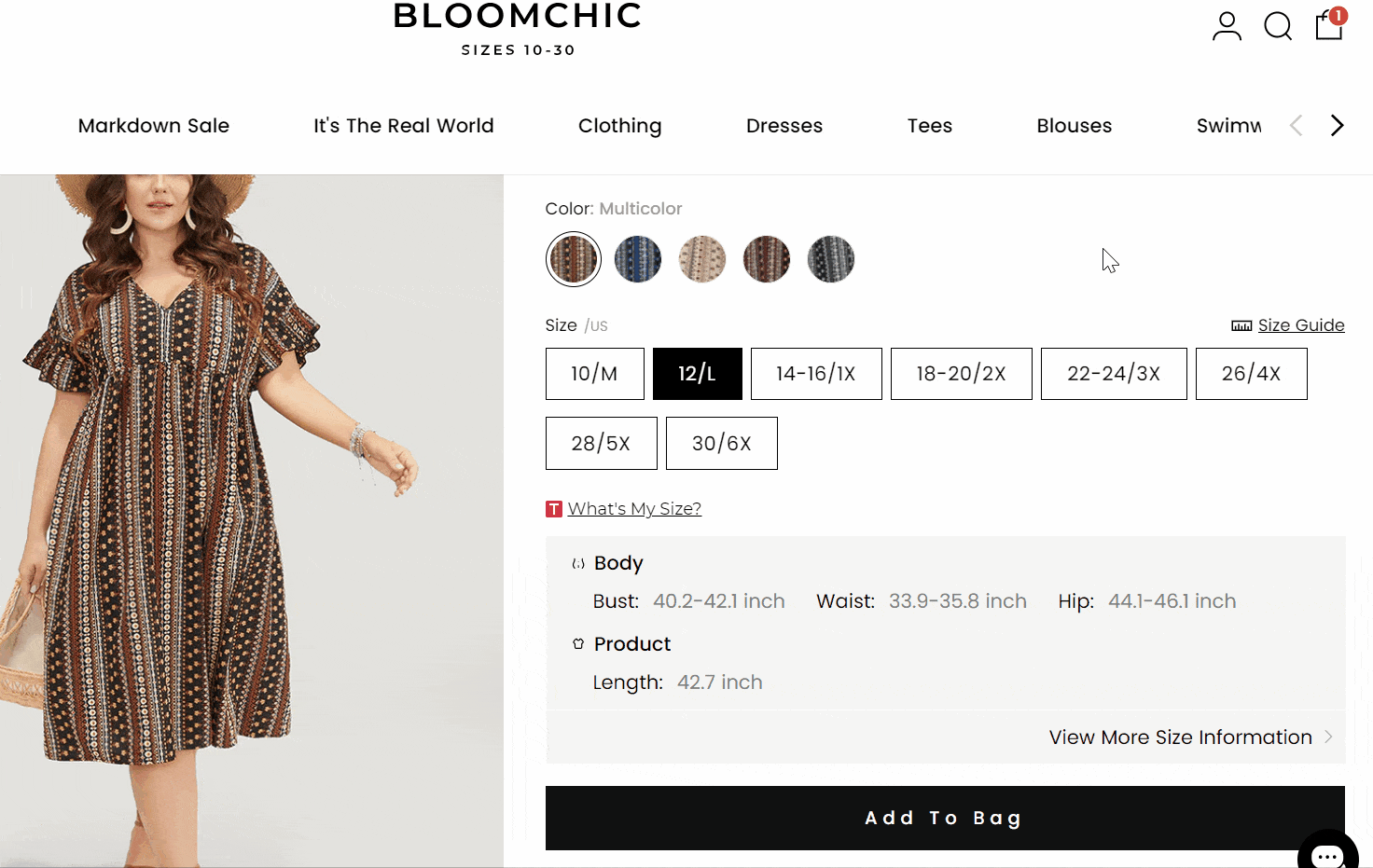 Also, don't forget to watch BloomChic's measurement guide.
6. Order Well In Advance
As already discussed above, BloomChic often takes longer to deliver its order than the given expected delivery date.
Therefore to avoid last minute stress, it is advisable to order well ahead of the time you need your dress, especially for your party or other important occasions.
This allows enough time for product processing, shipping, potential alterations, order delay, and addressing any other issue that may arise.
I would personally recommend to order your dress 5-6 weeks before you need it as BloomChic delivers orders within 3-4 weeks to most countries.
7. Clear Your Confusion Before Buying
If you've any doubts or concerns about the product you're buying or want to ask a question about anything, don't hesitate to contact BloomChic's Customer service via its email.
It's advisable to not buy anything from BloomChic if your confusion isn't cleared by its customer support team.
8. Review Your Order Before Proceed To Payment
Before finalizing your order, make sure that you've reviewed your order details like the product's size and color, and email and shipping address.
Properly check that everything is correct so that you don't face any issue with your purchase later.
9. Pay With PayPal
Although you can make payment to BloomChic through credit/debit card, Klarna, master card, etc, I recommend you to pay with PayPal because of its buyer protection program.
In case you don't know, the buyer protection program is a program of Paypal that provides safety and security to your purchases.
That's it!
By following these tips, you're less likely to be stuck in a problem while buying from BloomChic.
How Long Does BloomChic Take To Deliver?
There are multiple factors that influence BloomChic's delivery time such as shipping method you choose, processing time, your location, custom clearance, and other unforeseen circumstances.
However, it primarily depends upon two factors:
1. Processing Time: In this duration, BloomChic prepares your item for shipment. During this time, BloomChic picks up the item from its warehouse, checks its quality and condition, and then packs it for shipment. Generally they process items in 1-3 business days.
Shipping Time: This refers to the time taken by the shipping courier to deliver the product to your destination. It depends upon the shipping method you choose and your destination country.
There are two shipping methods: Standard and Express. Both with estimated delivery time are mentioned on the product page.

Note that Standard shipping takes longer than Express shipping but you've to pay extra for the latter. 
Conclusion
BloomChic is without a doubt a legit e-company for medium- and plus-sized dresses at very affordable prices with good quality and style.
However, purchasing from them carries the following risks:
Difficulties in order tracking.
Delay in delivery.
It is uncertain when your pre-order item will be available in the stock and your order that includes a pre-order item will arrive.
The quality of BloomChic's dress may not meet your expectations.
But don't worry, you're less likely to face these and some other issues like return and refund problems, colour differences, and size fitting problems if you follow the above mentioned 9 tips.
So this was all about BloomChic from my side.
Still, if you've any queries or want to share your personal experiences with BloomChic, feel free to let me know in the comment section below.
BloomChic FAQs
Where does BloomChic ship from?
BloomChic doesn't specifically show from where it ships orders. Its main office address is 'Sai Ying Pun, Hong Kong' but its headquarter is based in Los Angeles, US.
So it is a Hong Kong based company that ships orders to some western countries only like US, UK, Canada, Spain, Italy, etc.
But as customers are reported that their orders are often delivered later than the given estimated delivery time, BloomChic may deliver orders from Hong Kong or China.
2. Where is BloomChic located?
The Headquarter of BloomChic is located in Los Angeles, California, United States but its main office address is 'Kaiser Center, Sai Ying Pun, Hong Kong.'