Last Updated: August 7, 2023

BeenVerified claims that you can get information about someone, but it requires you to pay an upfront subscription fee.
This leads to a question, is it actually legit and does it really provide you with accurate information or is it a scam waiting to take my hard-earned money?
To confirm this, I've paid for their service, so you don't have to before knowing the truth about BeenVerified.
So, let's begin.
Is BeenVerified Legit?
BeenVerified is definitely legit as it is a well-established company that has been operating since 2007 and I've personally used it. However, the information it provides is basic and not always accurate, up-to-date, or complete.
Here's why:
BeenVerified neither provides information about someone by itself nor does it use any special algorithms or dark web data on its site.
Instead, it collects and compiles information from various publicly available sources that are legally accessible, such as:
Public Records: Public records are documents or pieces of information that are not considered confidential and therefore are available for public inspection and retrieval. They are created, maintained, and provided by government agencies unless some specific laws or regulations prohibit or limit their disclosure. Some examples of public records are birth and death certificates, criminal records, property records, etc.
Social Media Platforms: BeenVerified also collects information from social media platforms, such as Facebook, Twitter, and LinkedIn. This includes information users have made public, such as their name, age, location, and employment history.
Online directories: They also collect information from online directories such as Yellow Pages, White Pages, and other similar platforms.
Other Sources: BeenVerified also uses other sources to gather information about individuals, such as news articles, blogs, and other publicly available information.
BeenVerified then puts the collected data in one report and offers it to users for a fee.
But since the data gathered by BeenVerified is collected from publicly available sources, the information it provides to you will be basic and may not always be up-to-date, accurate, or complete.
However, as far as its legitimacy is concerned, BeenVerified is indeed a legitimate service that really provides you information about someone such as their personal and contact details, criminal and court records, property records, etc.
How do I know?
Well, BeenVerified has been in business for over 16 years and it is a fact that scam companies don't survive this long.
Moreover, it doesn't run its business anonymously. The company is based in New York City.
But most importantly! I've tested it myself.
I searched about my friend on BeenVerified, whose information I already had. I did this just to confirm if this service actually works or if is it a scam.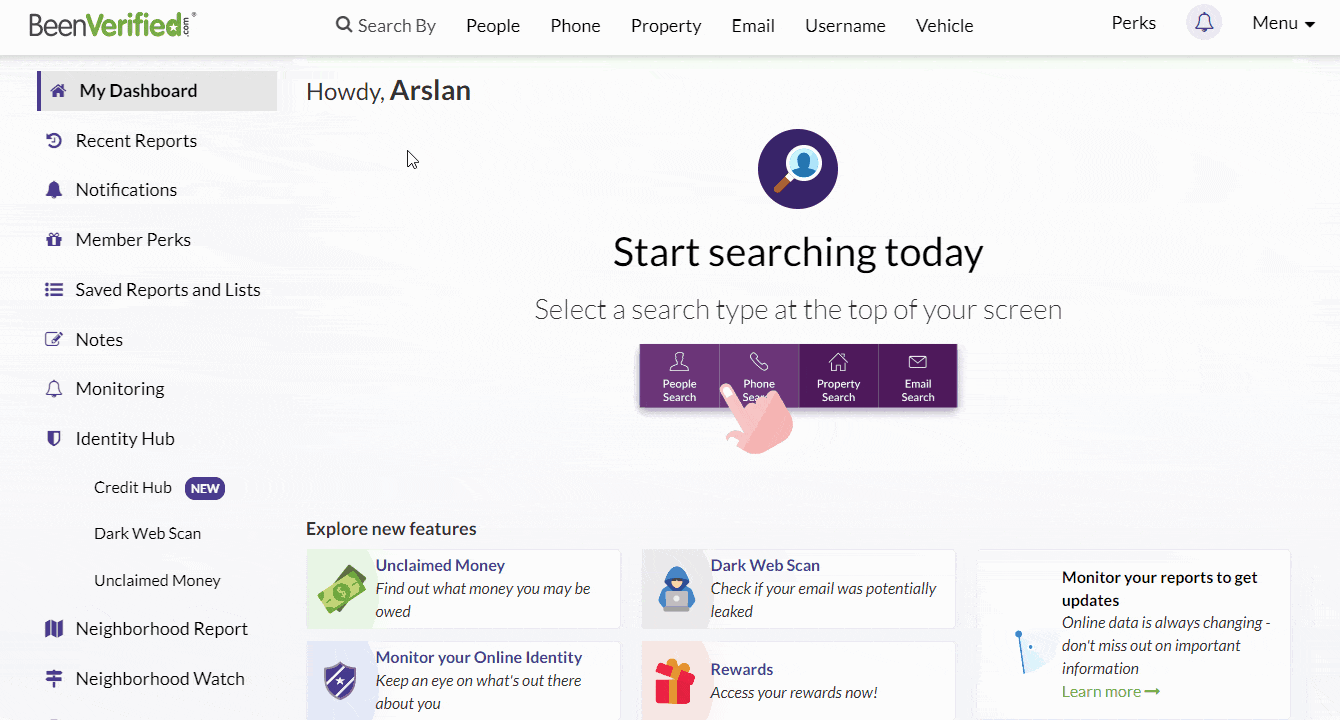 By viewing his report, BeenVerified showed me his phone number, address, associates, criminal and traffic records, bankruptcies records, and relatives' details such as their name, phone numbers, and addresses along with the option to view their full report.
Though some details were missing such as his job and education details, email address, social media accounts, and neighbor information, the other provided information was completely accurate.
However, this isn't always the case.
As I said before, BeenVerified sometimes provides you with inaccurate and outdated information as well.
But overall, it's a legitimate service.
So, Should I Buy BeenVerified's Subscription?
Well, it depends on your specific needs, preferences, and budget.
However, in order to make a well-informed decision about whether or not you should purchase its subscription, you must be aware of its pros and cons.
So, let's get to know its PROS first:
Get information quickly & effortlessly: BeenVerified helps you get information about someone from the comfort of your own home or office. All you need is an internet connection.
Quick results: Unlike some other background check services like TruthFinder and Spokeo, BeenVerified searches results relatively quickly.
Multiple search options: BeenVerified allows users to conduct searches using different criteria, such as name, email address, phone number, or physical address. This flexibility provides users with various ways to find the information they are looking for.
Easy to use: The service has a user-friendly interface that makes it relatively simple to search for and access information. It doesn't require any specialized knowledge or skills to navigate.
Trial: BeenVerified offers a 7-day trial at just $1 which is a great way to test their service before committing to its subscription.
Now, Cons:
Incomplete, outdated, or inaccurate information: Since BeenVerified aggregates data from various publicly available sources, its provided information can sometimes be inaccurate, outdated, or incomplete.
No one-time searches: BeenVerified doesn't offer one-time searches, which means you'll have to purchase its subscription even if you have to run only one report.
Cancellation isn't straightforward: While BeenVerified cancels your trial or subscription without any headache if you contact them via their email, phone number, contact form, or live chat, the cancellation process isn't straightforward as there's no option to do it straight from your account.
Information about US-based people only: BeenVerified only provides information on US-based people, so if you require information about someone outside the U.S., it isn't for you.
Not a substitute for professional background checks: While BeenVerified can provide valuable information, it's important to note that it is not a substitute for thorough professional background checks conducted by experts or organizations.
Privacy concerns: The use of platforms like BeenVerified raises privacy concerns, as it allows users to access personal information about individuals. While public records are generally accessible, some people may feel uncomfortable with their personal data being readily available to others as their data could be misused.
By weighing these pros and cons and considering your specific needs, you can easily decide for yourself whether or not you should purchase BeenVerified's subscription.
What are your personal recommendations, Arslan?
Well, I recommend you not to purchase its subscription if:
You're looking for information about someone outside the United States.
You are in search of confidential or highly sensitive information about someone such as his/her social security number, bank details, etc.
You need to conduct a one-time or very limited number of background searches.
You can find the required information on your own, especially if it is very basic information such as his/her name, social media accounts, employment history, etc.
However, you should definitely purchase its subscription if:
You're looking for information about US-based people only.
You want to get access to publicly available information about someone such as his/her name, address, phone number, criminal records, property records, etc.
You need to perform frequent background searches per month.
You can't find the information on your own or don't have time to travel to local courthouses to file requests for public records or scour the internet in search of information about him/her.
You accept the fact that the information it provides may not always be accurate, complete, or up-to-date.
However, don't forget to cancel your trial within 7 days; otherwise, your subscription will renew automatically and you will be charged.
Conclusion
So yes, BeenVerified is a legitimate service for getting information about nearly anyone in the United States.
However, the accuracy and completeness of the information provided by BeenVerified can vary, as it relies on public records and other publicly available sources from which they gather the data.
Furthermore, the information it provides can be found on your own but it would require thorough online research or visiting the local courthouses physically to submit a public record request about someone.
BeenVerified just does the heavy lifting for you and delivers you results within a couple of minutes!
Got any questions?
Feel free to let me know in the comments down below.
BeenVerified FAQs
Does BeenVerified notify the person you search for?
No, BeenVerified does not notify the person you search for in any way. Your search activities conducted on their platform remain private and confidential.
Is BeenVerified legal?
BeenVerified is legal as it collects and pulls data from sources that are already publicly available such as public records, social media profiles, online directories, and more. However, the way you use the information obtained from it can have legal implications.
As long as you use BeenVerified for personal and lawful use, such as finding lost contacts or criminal records of someone, you don't need to worry about anything.
However, using BeenVerified to get information about someone for illegal activities, such as harassment, discrimination, or stalking is strictly prohibited and can lead to legal consequences.