Last Updated: September 5, 2023
The cheaper flight deals ASAP Tickets offers might have tempted you to book a flight ticket through it.
But as a savvy traveler, you've a doubt that offers that seem too good to be true often come with hidden costs and scams.
Therefore, you want to know:
Is ASAP Tickets legit or a scam?
Is booking through it free of issues and risks?
And Should I book through it or stay away?
Don't worry. All your concerns and doubts will be cleared by the end of this article.
Let's dive into it!
Is ASAP Tickets Legit?
ASAP Tickets is definitely legit as it has been in business for over 20 years and is one of the leading online travel agencies in the United States.
So if it were a scam company, it would've vanished from the market long ago as scam companies don't survive for such a long period.
Moreover, it's a successful brand of International Travel Network, a US-based consolidator bringing cost-effective solutions for airlines and vast business opportunities for travel agents.
ASAP Tickets is endorsed and accredited by the American Society of Travel Agents, Better Business Bureau (A+ BBB rating), Airline Reporting Corporation, and International Airlines Travel Agent Network.
By looking at these major factors, there's not an iota of doubt in the legitimacy of ASAP Tickets.
But wait!
Though ASAP Tickets is legit, here are the three things you should consider before booking through it:
1. ASAP Tickets Might Complicate Any Mishaps
You should be aware that ASAP Tickets, like other online travel agencies, act as a middleman between you and the airline you make a booking with.
Being a middleman, it is ASAP Tickets that handles your booking with your respective airline, not the airline itself.
Therefore, your respective airline isn't liable to help you directly since your booking contract isn't directly with the airline, it's through ASAP Tickets.
In case you face an issue and need help, you've to contact ASAP Tickets first who will then forward your message to the airline you booked with on your behalf, and then ASAP Tickets will communicate the response of the airline with you.
So you can make changes, cancellations, obtain a refund, or resolve any other issues not directly with the airline but only through ASAP Tickets.
In this way, the involvement of the middleman (ASAP Tickets) can make things complicated to resolve if something goes wrong with your travel.
The next one is:
2. High Administrative Charges And No Help By ASAP Tickets
First of all, most of the discounted tickets of ASAP Tickets are non-refundable and non-exchangeable.
But if the fare rules allow cancellations and changes to a reservation, still, some customers report that they get no help from ASAP Tickets to make changes and get a refund for their cancelled flights.
Similarly, if the airline itself makes schedule changes or cancels your flight for any reason, re-booking an alternative flight or getting a refund becomes a real headache for you.
Moreover, ASAP Tickets takes high administrative charges, $250, plus charges implied by the airline for making changes and getting a refund.

So on the one hand, ASAP Tickets often don't help its customers in making changes and getting a refund for their cancelled flights while on the other hand, they bear the high administrative charges of both ASAP Tickets and the airline they booked with.
And last but not the least is:
3. No Clear Booking Information By The Travel Agent
You can book your tickets only by emailing ASAP Tickets or by calling one of the travel agents of ASAP Tickets whose contact numbers become available when you choose your destination and search for flights.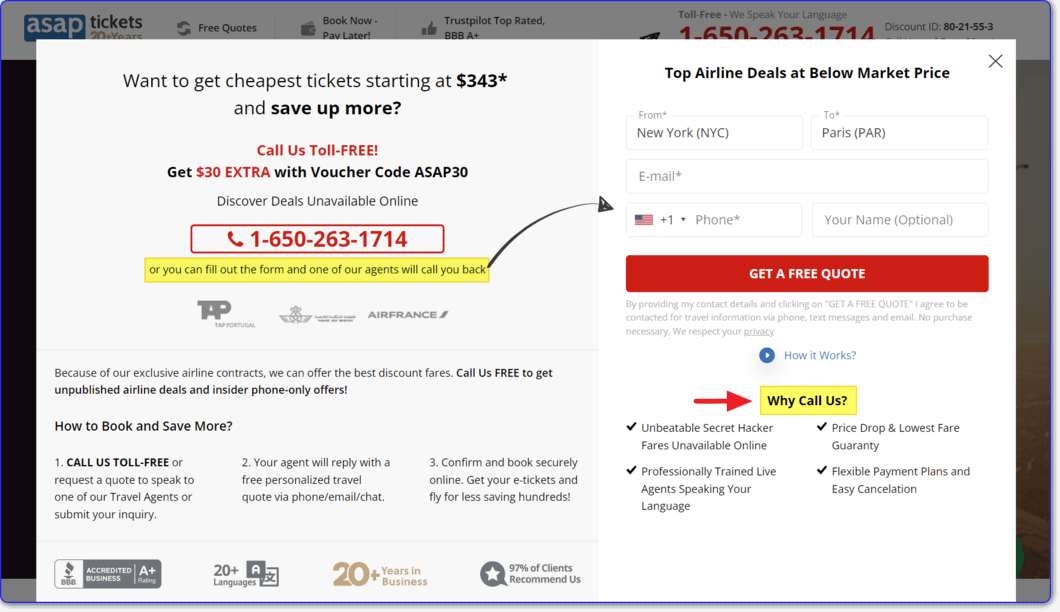 The travel agent will provide you with all the booking details and other important fare rules.
But sometimes, the travel agent misses some important booking information and doesn't communicate them with the customers.
These include baggage information, seat allocation, changes and refund rules and cancellation deadlines, etc.
The customers aren't informed of that information and face problems at check-in time.
That's it!
So these are the three main issues you should consider before making a flight booking through ASAP Tickets.
To conclude the above discussion, it goes without saying that there's no doubt in the legitimacy of ASAP Tickets but booking through it isn't entirely free of risks and issues as discussed above.
So you would definitely benefit from its cheaper flight deals unless you need changes, cancellations, or refunds as resolving any issue with ASAP Tickets is very challenging.
By the way, these issues aren't only confined to ASAP Tickets but are common in booking with other online travel agencies too.
Now, if ASAP Tickets is legit but also carries some issues, then you may be confused whether to book through it or not.
Let me tell you.
Should You Book Through ASAP Tickets Or Stay Away?
In short, if ASAP Tickets offers the same flight rates as an airline directly offers you or if the price difference isn't significant, then you should book directly with an airline.
But if ASAP Tickets offers flights at much affordable rates, then it mostly comes down to your personal comforts and preferences whether to book through it or stay away.
The worth mentioning thing here is that if ASAP Tickets offers cheaper flight rates but still you're hesitant to book through it because of the issues concerned, I would say that these issues aren't universal and don't represent the experience of every traveler.
The majority of the customers had a very pleasant travel journey and were satisfied with their bookings they made through ASAP Tickets.
The issues discussed above are only for your consideration which you should take into account before booking.
In the end, it is only you who can make the right decision for your travel journey. These are merely my suggestions.
Considering booking a flight through ASAP Tickets?
If so, here are the 6 tips you should follow before making a booking to minimize the risks and have a pleasant Travel experience with ASAP Tickets.
6 Tips To Follow Before Booking Through ASAP Tickets
First and foremost:
1. Read ASAP Tickets Policies And Fare Rules Carefully
Before making a booking through ASAP Tickets, read in detail its cancellation, changing, and refund policies to have a complete understanding of everything.
This will enable you to become familiar with the cancellation deadlines, refund amount and process, and some other important things.
In addition to it, make yourself aware of the fare rules which provide details about whether the ticket you're going to book can be cancelled for a refund, if changes are allowed, and some other important details.
Note: ASAP Tickets will allow changes and refunds for cancellations only if the fare rules allow it, otherwise not.
2. Get Complete Information From The Travel Agent
As discussed above, one of the major issues customers face is that the travel agent sometimes fails to provide complete booking information.
Therefore, get complete information from the travel agent about each and everything related to your booking before confirming a travel booking with him/her.
3. Provide Your Accurate Booking Details
As you know, it's very difficult to resolve an issue with ASAP Tickets, especially making changes and cancellation to your booking.
Therefore, you should be careful enough to provide accurate booking details such as your name, date, email, passport number, etc.
4. Don't Book Paper Tickets
Though most of the tickets ASAP Tickets issue are e-tickets, it also issues paper tickets that are delivered to you through FedEx or UPs.
It's advisable not to book paper tickets as there's a possibility that your ticket may be lost or delayed during delivery for which ASAP Tickets is not responsible.
So there's a chance that you may miss your flight if something goes wrong during delivery.
5. Make Sure Everything In Your Booking Itinerary Is Correct
Once the booking is confirmed, ASAP Tickets will send you your booking itinerary via email which includes all the details of your booking.
Thoroughly check it to ensure that everything in your booking is correct such as name, departure and arrival date, etc.
Contact ASAP Tickets right away if there's any fault to avoid being stuck in a problem later.
6. Verify And Re-confirm Your Flight With The Airline
To know whether your flight is confirmed by ASAP Tickets with the airline, verify it yourself with the airline you booked with.
Moreover, though it rarely occurs, there's still a possibility that your flight may be cancelled or rescheduled by the airline for any reason.
Therefore, reconfirm your flight with your airline before departure to avoid any inconveniences later.
Conclusion
ASAP Tickets is definitely a legit online travel agency as it has been in business for a very long time, since 2001, and has been endorsed and accredited by world renowned agencies such as ASTA, IATAN, ARC, and BBB.
However booking through it carries some risks and issues, such as:
ASAP Tickets might complicate any mishaps between you and the airline.
It often doesn't help its customers in making changes and getting a refund for cancellation and takes high administrative charges, $250.
No clear booking information by its travel agents.
In addition to looking for these issues, you should follow the above 6 tips before booking to have a pleasant travel journey with ASAP Tickets.
So this was all about ASAP Tickets from my side.
Still, if you want to add something extra or share your personal experiences with ASAP Tickets, feel free to drop your message in the comment section below.