Last Updated: November 4, 2023
Looking for hard-to-find, used, out-of-print, or new books at reasonable prices, AbeBooks might have caught your attention because it gives you easy access to such books from various sellers.
But before making a purchase on AbeBooks, you've some concerns which you want to be addressed such as:
Is AbeBooks legit?
Are the sellers selling books on AbeBooks legitimate and trustworthy?
What are the potential issues associated with buying on AbeBooks?
And should I buy through it?
Don't worry! All your concerns will be addressed by the end of this article.
Let's start with the main question.
Is AbeBooks Legit?
AbeBooks is indeed legit as it is owned by Amazon, the world's largest online retailer and marketplace, and has been in business for over 27 years.
Moreover, there are other well-known subsidiaries of AbeBooks such as BookFinder.com, ZVAB.com, and IberLibro.

So yes, a marketplace that has been in business for such a long period, has other well-known subsidiaries, and is owned by another world-renowned marketplace, Amazon, will definitely be legit.
But wait a little!
Although AbeBooks is legit, you should consider some important things and issues before using it for buying anything:
1. AbeBooks Might Complicate Any Mishaps
In case you're not aware, AbeBooks only acts as a middleman between buyers and sellers who advertise their products on AbeBooks.
AbeBooks doesn't sell its own products but connects sellers to sell their products and buyers to purchase from them.
So when you're buying something on AbeBooks, you're not buying from it but from independent sellers allowed by AbeBooks to list their products on its site.
Being an intermediary platform, it only facilitates transactions between you and the seller you're buying from and then informs the seller to ship the product directly to you after AbeBooks confirms your payment.
But the problem here is that if an issue arises with your purchase, you've to resolve it with the seller through AbeBooks, not directly with the seller, as it's AbeBooks who handles your purchase with the seller.
In case you need changes, cancellations, refunds, or resolve any other issue, you've to contact your seller through AbeBooks who will then communicate the seller's response with you.
In this way, the involvement of a middleman (AbeBooks) might complicate resolving an issue with the respective seller.
2. Discrepancy Between Advertised And Received Books
Sellers provide details about the books they list on AbeBooks such as edition, condition, content, description, and other important information.
While sellers provide accurate details and excellent services as AbeBooks allows only vetted sellers to list their books on its site, some of them may not meet the same standards, leading to negative experiences for some customers.
Therefore, some customers have reported that the books they received didn't match the details and descriptions of the books given by some sellers.
Customers from those sellers sometimes received books with poor conditions, outdated or incorrect editions, missing pages or contents, and wrong descriptions, contrary to what was advertised by them on AbeBooks.
This issue happens because AbeBooks, like other middlemen e-companies, has no direct control over the services and accuracy of information provided by individual sellers.
Therefore, there's a possibility that you may find differences between the product you receive and the product advertised by those sellers.
Tip: To avoid facing this issue and to recognize reliable and unreliable sellers, look for their ratings and search more about them (more on this in the tips below).
3. Delivery And Tracking Issues
As AbeBooks doesn't deliver items to customers itself but sellers do, some customers encounter problems in delivery and tracking.
Some customers have reported that their orders took longer than the estimated delivery time given by the seller.
And some of them have complained about the sellers not providing them with the correct tracking number and up-to-date tracking information thus making it challenging for customers to track their orders' progress.
Therefore, though you'll receive your order, it may take longer than the given delivery time or you may find difficulties in tracking your order.
4. No Replacement And Complicated Return And Refund Process
You should be aware that AbeBooks doesn't accept replacements if you're not satisfied with the product you receive. The only option left to you is to return your order and get a refund.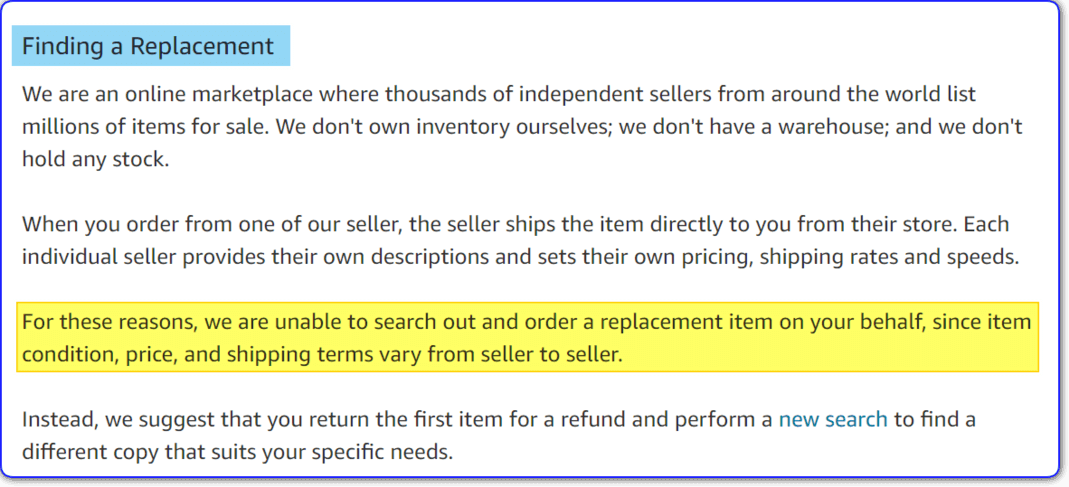 If you receive an incorrect book or if it arrives damaged, you'll be refunded the original price of the book and shipping as well as the return shipping charges.
But the problem is that if you receive a book that's not as described by the seller (e.g., worst condition or outdated edition), though you'll be refunded the book's price and the original shipping charges, your request for the refund of return shipping charges is subject to the approval of the seller.
If the seller denies your request, AbeBooks isn't liable to refund you the return shipping charges.
Moreover, if you've received the correct book but have changed your mind and want to return it, you'll have to return your book back to the seller at your own cost which can sometimes be higher than the original book's price.
Got it!
So these are the 4 things you must be aware of before buying anything on AbeBooks.
So, Should You Buy On AbeBooks?
In the end, it depends upon your personal comfort and preferences whether you buy on AbeBooks, buy directly from sellers, or try another platform.
Personally, I would recommend that you should first search for the book in a physical store so that you can personally examine it and avoid facing issues associated with online purchasing.
But if the book is only available on AbeBooks or it offers a significantly lower price but you're worried about buying through it due to the above issues, I would say that these issues aren't only confined to AbeBooks.
This is because not only AbeBooks but every e-marketplace acts only as a middleman and has no direct control over the accuracy of information of individual sellers, customers face issues in delivery and tracking, and resolving returns, refunds or any issues is a little bit complicated.
Moreover, the issues some customers face don't represent the experience of every customer as hundreds and thousands of customers are satisfied with the purchases they made on AbeBooks.
The purpose of highlighting these issues is that you should consider them before buying on AbeBooks.
Furthermore, customers are stuck in problems because they ignore paying attention to some important things while making a purchase on AbeBooks.
Therefore, to decrease the possibility of facing a problem and have a pleasant purchasing experience with AbeBooks, here are the 7 tips you should follow while making a purchase.
7 Tips To Follow While Purchasing Through AbeBooks
The first one is:
1. Read Its Return And Refund Policy
While we have just discussed some aspects of AbeBooks' return and refund policy, it's important to read it in detail to have a complete understanding of everything.
You should go to its return and refund policy section and familiarise yourself with the return and refund process, conditions, deadlines, refund amount, and some other important details.
2. Search About The Seller
As various sellers are listing their books on AbeBooks, to get insight into the reputation and reliability of the seller you're buying from, you should look for its ratings and selling history with AbeBooks.
It's advised to buy only from sellers who have been selling books for at least 5 years on AbeBooks with high ratings (more than 3 stars).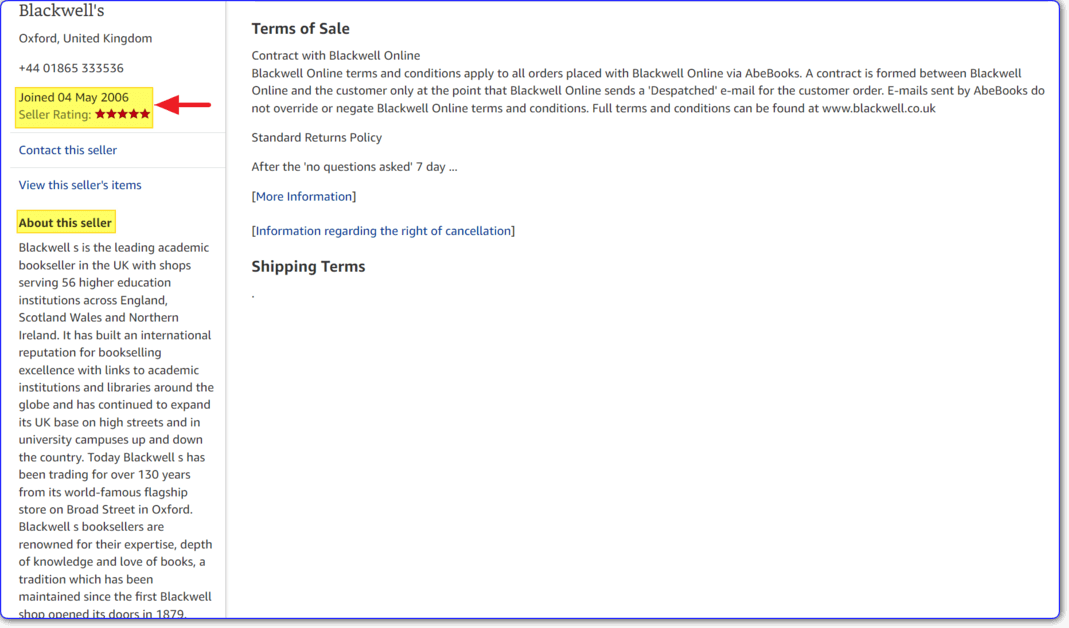 It would be icing on the cake if there's more information about the respective seller available on other platforms such as Google and other book-selling marketplaces.
Therefore, also search about the seller you're buying something from on other online platforms to check if there's more information available about it.
3. Carefully Select The Book Condition, Edition And Binding
Sellers on AbeBooks sell used as well as new books with different conditions, editions, and bindings.
Therefore, it's very important to do your diligence in selecting the book's condition (new, fair, good, used), edition, and binding (soft or hard) according to what you need as it becomes very difficult to sort out any issue with the seller through AbeBooks
4. Clear Your Confusion
If you've still any confusion about the book you're buying or anything else or you need additional information, don't hesitate to contact AbeBooks or the seller directly through AbeBooks.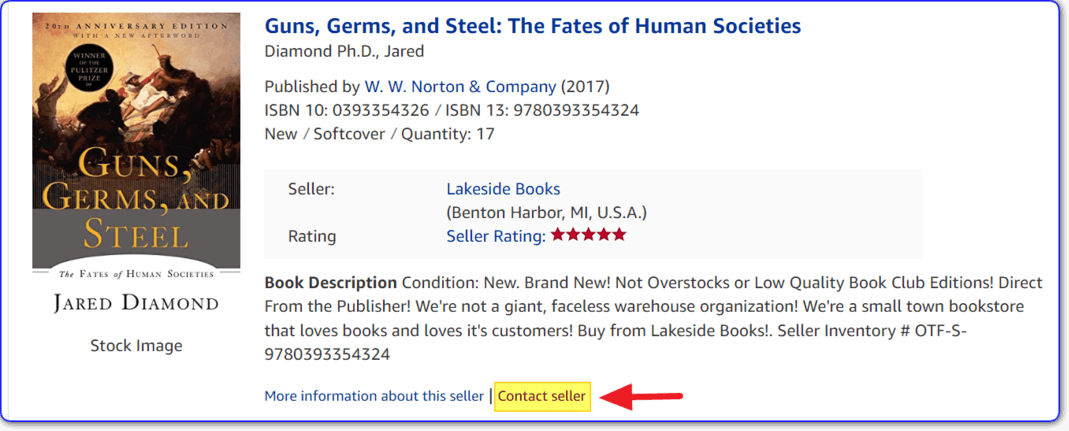 It's advised to not buy anything on AbeBooks if the seller or AbeBooks doesn't respond to your query and clear your confusion.
5. Enter Your Correct Address
Double-check to ensure that you've entered your correct delivery and email address as neither AbeBooks nor the seller is responsible if you don't receive the tracking number or your order is delivered to the wrong place due to your incorrect email and delivery address.
6. Review Your Order
Before proceeding to confirm your payment, take a glance at your order summary to make sure that you've provided the correct order details such as your address, email, book condition, and edition, etc to avoid any inconvenience later.
7. Confirm Your Order With The Seller
Although AbeBooks will send you an email once your order is processed by the seller, it's essential to confirm your order with the seller directly to ensure it's really confirmed with the seller by AbeBooks.
That's it!
So these are the 7 main tips you should follow while purchasing anything from sellers on AbeBooks to have a pleasant shopping experience.
Conclusion
So yes, AbeBooks is definitely a legit marketplace as it has been in business since 1996, owned by Amazon in 2008, and has many other reputable subsidiaries.
However, though it's legit, you should look into some issues before buying anything through it such as:
As it's a middleman, it might be complicated to resolve any issue with the seller.
You might find discrepancies between the advertised and received items as AbeBooks has no direct control over the information given by the individual sellers.
You may face delivery, tracking and return and refund issues.
Furthermore, to decrease the possibility of being stuck in a problem and to have a pleasant purchasing experience with sellers on AbeBooks, you should follow the 7 tips mentioned above.
So this was all about AbeBooks from my side. Hope you've found this article helpful.
If you still have any questions or want to add your personal experience with AbeBooks, feel free to let me know in the comment section below.
AbeBooks FAQs
Is AbeBooks reliable?
Yes, AbeBooks is a reliable platform for buying and selling rare, new, and used books, magazines, fine arts, and other literary materials as it has been in business for a very long time, since 1996.
However, as there are different sellers selling their books through AbeBooks, you should look for the sellers' ratings and their selling history with AbeBooks to ensure you're buying from reliable and trusted sellers.
Where is AbeBooks located?
AbeBooks is located in Victoria, British Columbia, Canada and has office in Dusseldorf, Germany.
Moreover, it manages regional websites for North America, France, Germany, Italy, the UK, and Spain.
Is AbeBooks safe?
As far as the security of your personal information is concerned, AbeBooks is a safe marketplace as it uses encryption protocols and software for your information security.
For the security of your payment card information, AbeBooks strictly follows the Payment Card Industry Data Security Standard (PCI DSS) when handling your credit card data.
Is AbeBooks Owned by Amazon?
Yes, AbeBooks is owned by Amazon.