Last Updated: December 23, 2020
Are you confused which platform to choose between Udemy and Teachable for hosting your online courses?
Don't worry.
I will give you a detailed comparison which one will be the right choice for you.
I did my research, and I took a look at a lot of the options out there for hosting online courses.
There are plenty of options for different selling strategies, but the two platforms that stood out to me were Udemy and Teachable.
Both of these course platforms have been around for years, and they both have millions of users.
But, these two platforms represent two drastically different course selling and marketing strategies.
So if you're just getting started and you're trying to decide between these two platforms, I hope this review is helpful for you.
I'm going to dive into the top 10 criteria that I think are the most important for new and advanced course creators.
And also, If you have little budget or don't have a large following or email list yet.
1. Acquiring New Students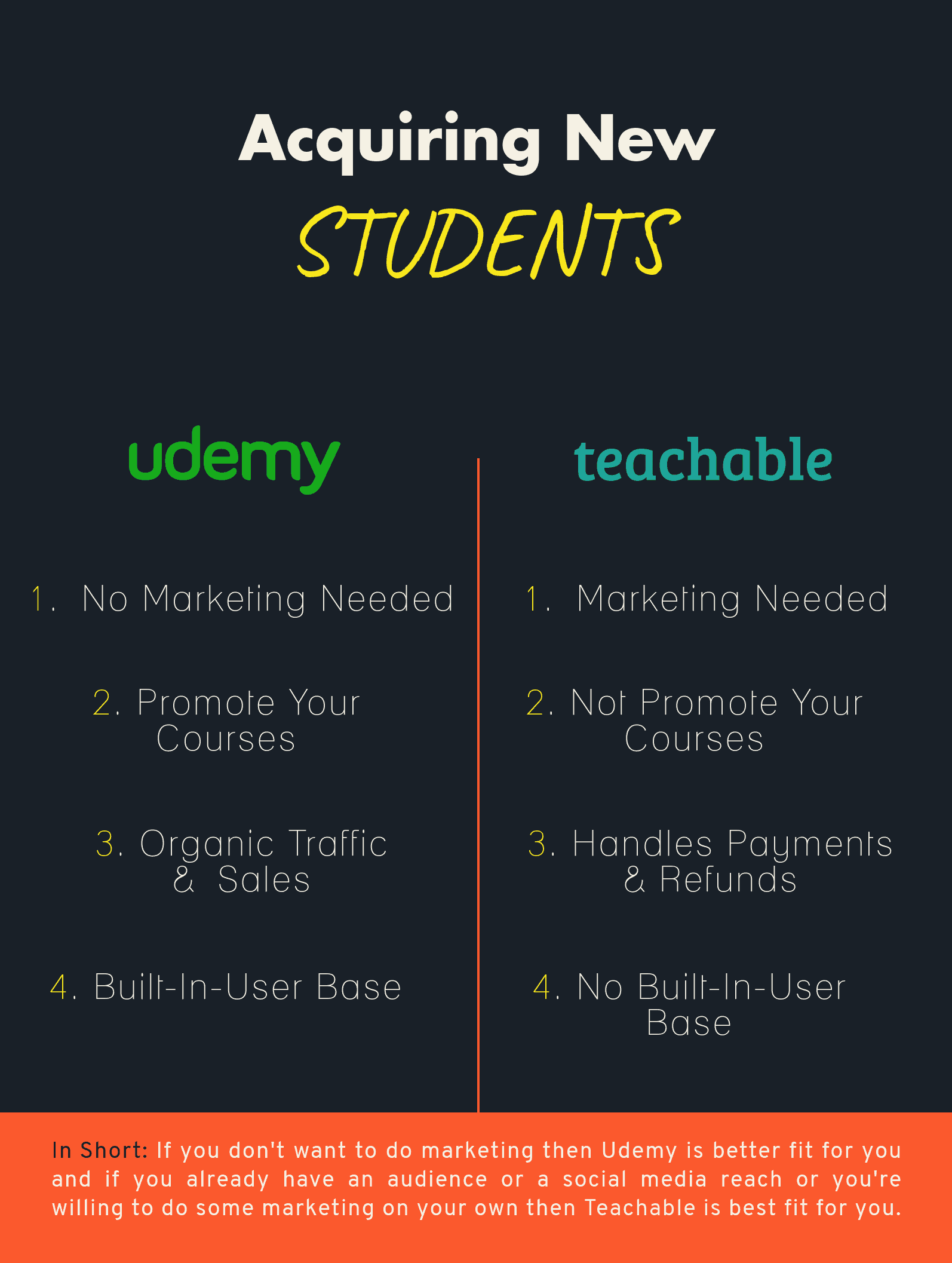 Acquiring New Students On Udemy
When it comes to getting new students into your courses without doing any marketing Udemy is the clear winner.
Udemy is the world's largest selection of courses with over 100,000 online video courses.
It's a very active online learning community.
The majority of the core sales come from organic traffic.
In other words, you didn't have to do any marketing or advertising to acquire new students on Udemy.
Also, there are a ton of different marketing strategies that you can use to gain more students on your course.
The more effort you put into marketing, the more successful you'll be on any platform.
I am just pointing out that additional marketing isn't required to acquire students due to the nature of the platform.
Udemy will promote your courses to their vast community of students via email and on-site promotions.
In Short: If you don't know how to do marketing for your course or don't have money to spend on marketing, then Udemy is for you.
Acquiring New Students On Teachable
Teachable, on the other, is a software tool that you can use to create and sell your courses online.
You can upload your course content, and they'll take care of processing sales and refunds.
It is excellent, but they don't have a built-in user base or friendly student community like Udemy does.
Currently, Teachable has no course directory so that the students can find your course.
Teachable will not promote your courses for you.
The bottom line is that if you're going to use Teachable, you're going to have to do marketing to get students in your course.
It is not necessarily a bad thing.
But, it is something that you should keep in mind if you're just getting started with your online course business.
So if marketing isn't your thing Udemy might be a better fit for you.
In Short: If you already have an audience or a social media reach or you're willing to do some marketing on your own Teachable might be the best fit for you.
2. Teachable & Udemy – Pricing Plans
When it comes to choosing the platform, you might be thinking first about the pricing of both platforms.
So, let's compare the cost of using the platform.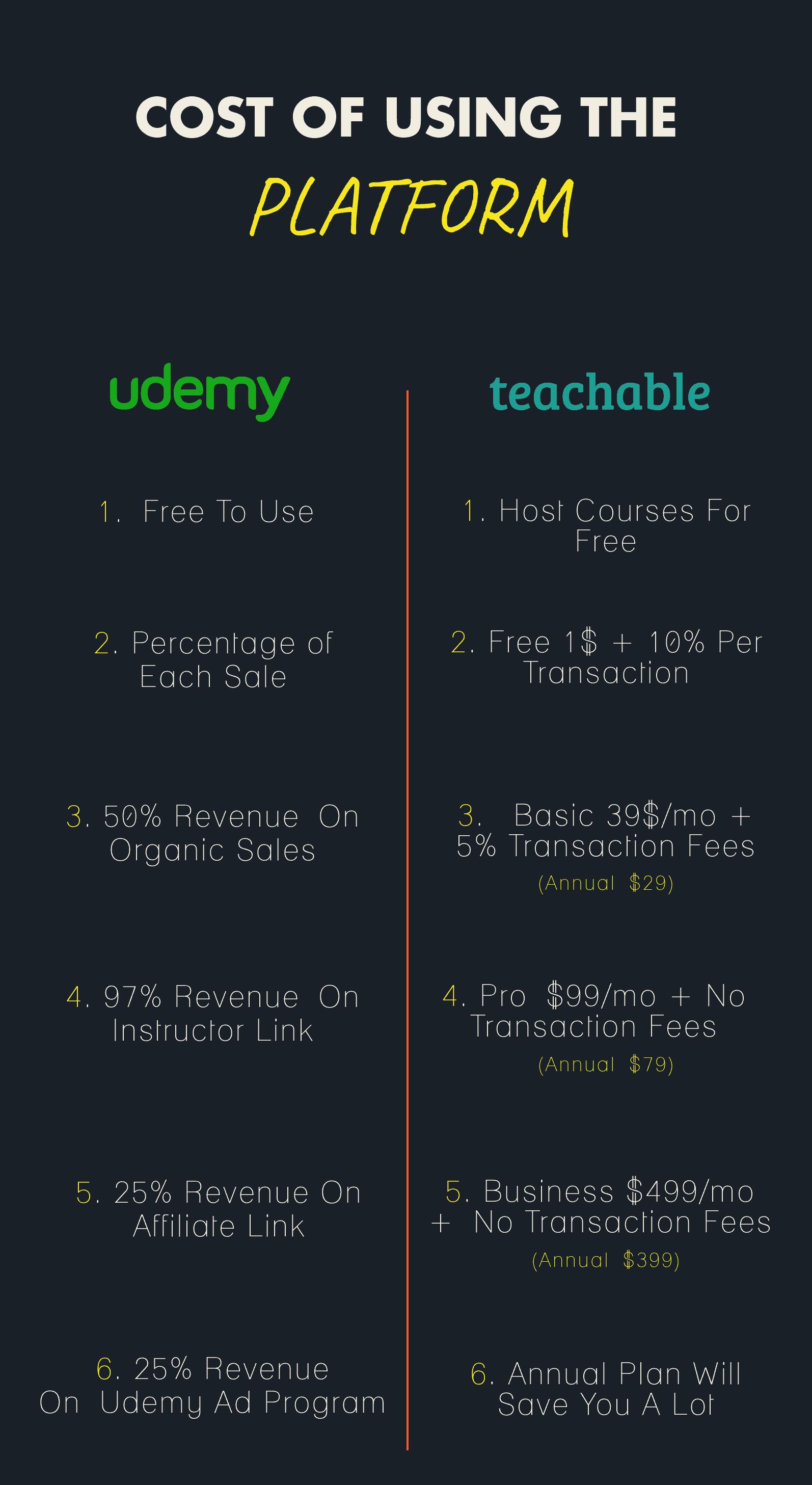 Udemy Pricing Model
It is free to use and by that, I mean it's free to upload and sell your courses on the platform.
Udemy makes their money by splitting revenue with instructors when the student buys one of the courses on the platform.
Here is the current pricing model of Udemy:
Organic Sale: The revenue share is 50% to the instructor when a student buys a course organically through Udemy.
Coupon Code Or Self-Promoted Link: Udemy gives 97% to the instructor if a student buys through an instructor's coupon code or self-promoted link.
Paid User Acquisition Channel Sales: Udemy is a partner with affiliates across the globe and the instructor only gets 25% if the purchase is made through an affiliate link or if a third party is promoting your course or the sale is made through Udemy's ad program you will only get 25%.
It means that if you're relying on Udemy to promote your course for you.
There are two ways to look at this.
You're paying Udemy or their affiliate partners 50 to 75% of your course sales revenue to acquire a new student.
Pros:
The upside of this is that you

didn't have to spend time money or energy

and social media or content marketing.
Cons:
The downside is that you're

losing a significant amount of revenue

on each course sale.
In most cases, if you're doing your marketing, you should be able to acquire a new student for much less than 50 to 75% of the course price.
Your ability to communicate and market to your students on Udemy is limited.
Teachable Pricing Plans
Teachable has several pricing plans, but you can get started on the platform for free.
But there are several plans to choose from, that will give you access to more advanced features and lower transaction fees.
Here are Teachable's current pricing tiers:
Monthly Plans
Their basic plan is $39 a month, but they charge a 5% transaction fee + credit card fees.
If you move up to their professional and business plan, you won't be charged any transaction fees at all.
I suggest you choose a professional plan because I think it's a perfect deal if you already have some audience to sell your course.
Why?
Because if you were to be on the basic plan, you would end up paying more in transaction fees.
The choice is yours, and I am just given you my opinion 🙂
Annual Plans
If your goal is to host your course for a long time, then you should choose yearly plans.
Because in annual plans you will get a discount as you can see above in the image.
3. Course Pricing Restrictions
If you are going to sell your courses and the price of your course is above 200$, then Udemy is not for you.
You can use Teachable if you have courses worth more than 200$.
Let's discuss the course pricing restrictions of Udemy first.
Course Pricing Restrictions On Udemy
In 2016, you could sell your courses on Udemy for anywhere between 9$ to 300$.
On April 4th, 2016, Udemy announced that there would be a mandatory price restriction on all courses.
They changed this price range to 20$ to 50$ per course, and that was incredibly limited.
After this restriction, many of the mentors were unhappy.
Therefore they change the price restriction again, which is 20$ to 200$, and this is the current pricing restriction as well.
Course Pricing Restrictions On

Teachable
Teachable does not have any course pricing restrictions.
[bctt tweet="On Teachable you have the freedom to price and run your course business any way that you want to." username="ecomsaydotcom"]
If you are starting a business, the last thing you want is some other entity dictating how you can sell your courses.
Not having control over basic stuff like course pricing, and student communications can make it very difficult to grow and succeed.
4. Checkout via PayPal And Stripe For Teachable
If you sign up for the Teachable professional plan, you can set up direct payments through PayPal and stripe.
It means you could access your course revenue immediately.
You don't have to pay any additional transaction fees.
And, if you're on Teachable free or basic plan, all payments are made through Teachable checkout system.
Teachable will hold your funds for 30 days to cover any refund requests and then pays you out once a month.
If you don't want to sign up for Teachable professional plan a good alternative for getting funds quickly and avoiding excess transaction fees is to use a third-party checkout option like SamCart.
SamCart gives you beautifully designed checkout pages that are built to convert followers into paid students.
The checkout process is seamless.
You can add testimonials guarantees and images to your checkout pages.
It reminds students about the value that you're delivering with your course.
One thing that I love about SamCart is that you also can offer upsells during the checkout process.
5. Marketing & Retargeting
Udemy
One of the most important things to remember when teaching on Udemy is that your students aren't your students they're udemy students.
They have stringent rules for how you are allowed to communicate with them.
Udemy does not give you access to your student's email addresses.
You're limited in the number of announcements and promotions that you're allowed to send each month through Udemy.
Teachable
Teachable, on the other hand, helps you grow your student base.
When a student enrolls in one of your course, Teachable will give you access to students information.
It's all saved within the platform, and you can export the information at any time.
Teachable also integrates with dozens of email providers like ConvertKit.
So, it's easy to save and organize student contact information.
You might be thinking, what ConvertKit is?
ConvertKit is an email marketing service, and it integrates with Teachable.
So when a student signs up for one of your courses, they'll also be automatically added to your email list.
There are also a ton of beneficial features on CovertKit like tagging and segmentation.
These features are so valuable for marketing automation and sales funnels.
I've used an Aweber and MailChimp in the past, and my opinion ConverKit is the clear winner.
6. Technical Requirements
Udemy
Udemy has a lot of requirements for their course.
Most of the requirements are there to ensure that people aren't uploading junk to the site.
They do have a checklist of their quality requirements.
I found this checklist to be helpful for planning and structuring the content.
Make sure that your course video export settings are spot-on with Udemy's requirements.
Otherwise, they'll send your course back to you and don't approve your course on Udemy.
Teachable
Teachable does not have an approval process for courses that are hosted on its platform.
You're free to use a combination of video, audio, quizzes, images, and text-based documents to create your course.
7. Integrations
Udemy
Udemy lets you insert tracking code for Google Analytics and Google AdWords.
It is excellent if you're trying to figure out conversion rates to see how many people have visited your course.
Also, you can judge the success of a Google AdWords campaign that you're running of your course.
But that's the extent of the third-party integrations that Udemy allows.
Teachable
Teachable, on the other hand, has a ton of integration options like ConvertKit, YouTube Live, Twitch, Zapier, MailChimp, Google Analytics, and many more.
8. User Difficulty
Both Udemy and Teachable require very few technical skills.
Let's discuss Udemy first.
Udemy
Udemy is intuitive to use.
You pretty much fill in a blank here and upload your video here, and you're ready to go.
They also have a lot of documentation to help you.
If you get stuck, there is a helpful Facebook group called the Udemy Studio.
In the group, you can ask questions, get feedback on videos, and chat with other Udemy instructors, and so on.
The reviewer is usually great about giving you specific feedback as what's needed to get you approved and get your course up.
So all in all, Udemy isn't a bad option as long as you understand that Udemy isn't a place for selling higher-priced courses.
Teachable
On the other hand, Teachable is very easy to get started.
I got the hang of its essential functions very quickly.
Mostly because of the helpful free webinars and summits that they offer.
I've linked up a few of Teachable's webinars below that I highly recommend regardless of whether you end up using the platform or not.
Teachable Webinars:
Teachable Quickstart Webinar
7 Steps to Launch Your Own Profitable Online Course Webinar
They're full of a ton of good information for building your course and marketing it to your students.
Teachable also has an amazing Facebook group called The Teachable Tribe.
It's an excellent resource for asking questions.
Getting help and networking with other Teachable instructors etc.
9. Pre Sales Pricing Plans & Monthly Members
Teachable
Finally, one of the prominent standout features of Teachable is the ability to pre-sell courses and offer different pricing plans.
The ability to pre-sell allows you to validate course, concepts quickly.
It is necessary to make sure that you're creating something that your students want to buy.
If you plan to offer premium priced courses, the ability to provide an installment plan can help you enroll more students.
It will help your students who can't afford to pay the full price of the course upfront.
The third option that Teachable supports are monthly subscriptions.
It gives you the ability to turn Teachable into a full-fledged membership site.
You can earn recurring monthly revenue from students who subscribe to your courses.
Udemy
Udemy does not offer any of these features.
10. Drip Content
Teachable
Teachable supports automated drip content.
Drip content allows you to release lessons to your students over a specific period rather than giving access to the entire course all at once.
A few reasons why you might want to drip your content are:
You want to run a time-bound class that has weekly lessons and support for a specific amount of time.

You want to pre-sell your course to validate your idea.
Dripping content allows you to create lessons over time.
Rather than have your course completed before you open course enrollments.
Udemy
Udemy does not support drip content at this time.
Conclusion
No matter what platform you use if you can give valuable content to your students, you can earn through your courses on both platforms.
Now, which platform did I ultimately choose?
I will use both of them, but I will use them in different ways.
Udemy is great for validating course concepts.
I don't recommend relying on it to run your whole online course business.
The students on Udemy are great at giving feedback.
It is essential for improving course content presentation quality and online teaching skills by creating a short free or low-cost beta course.
You can start building your student base and get feedback on what should be included in your course offering.
Teachable is what I like to run my full online course business.
It gives me the most significant amount of control over my course content pricing student communications and payment gateways.
I hope that you found this comparative review helpful I'd love to hear your thoughts in the comments.