Last Updated: June 7, 2022
Some people say you have to use KWFinder while some say you have to use SEMrush to get higher rankings.
Which one is the best for SEO? Which one should you use?
It's a question that drives you nuts.
And you just can't figure it out.
Well, the answer depends on the level of your SEO knowledge, your budget, and the job you're looking to accomplish.
In this article, I'll compare KWFinder vs SEMRush to see which one you should go with, and why.
Short on time? Here's a quick verdict for you.
KWFinder vs Semrush: Short Verdict
KWFinder is primarily a keyword research tool, while SEMrush is an all-in-one SEO tool for experienced SEOs to do competitive analysis, keyword research, content marketing, PPC, and much much more.
Which One is Easier to Use?
First, I decided to see which tool is completely beginner-friendly. Let's see who came out on top.
KWFinder Ease of Use
KWFinder is very easy to use and no one can beat it in terms of ease of use. It's the most beginner-friendly solution and what makes it even more beginner-friendly is its user-friendly interface, color coding, and intuitive dashboard.
The reason it is one of the easiest SEO tools is that it is developed especially for keyword research and fewer options mean much faster to get used to. This doesn't mean that it can do only keyword research, it has some other cool helpful features as well.
But not as compared to SEMrush.
SEMRush Ease of Use
SEMrush is also easy to use but KWFinder is generally more beginner-friendly. It has so many more advanced features than KWFinder, so it'll take you a little longer to get used to it.
Winner – Ease of Use: Fewer options make KWFinder an easy to use product overall and you can get used to it even if you're a complete beginner, whereas SEMrush takes a little longer to get used to. So the ease of use battle goes to KWFinder.
Which Tool Is More Accurate & Best for Keyword Research?
Keyword research plays an important role in SEO as oxygen in human living and everyone agrees with that.
However, everyone has a different opinion. Some say "Content is KING" while some say "Backlinks are the most important ranking factor than anything else."
But in my opinion, keyword research is 50-60% of SEO. I'll give you the proof as well, just keep reading.
Now let's compare both tools in terms of keyword research. You might be thinking, how do I am going to compare them?
I've always believed in transparency with my blog readers so the best way to compare them is by sharing this site stats with you.
I'll enter some keywords I rank for on both tools and show you what suggestions both tools are giving us.
I mean the keyword difficulty, the volume, etc., and then show you how much traffic I am actually getting from those keywords and how hard it was for me to get on #1 of Google's first page for that specific keyword.
In this way, you'll have a better idea of which one is more accurate and good for keyword research.
Sounds interesting? Let's start with…
KWFinder Keyword Research & Accuracy
One of the keywords I rank for is "Is Mercari Legit" so I am going to enter this keyword in KWFinder and see what suggestions it gives.
You can type the exact keyword to see the current overview of this keyword or find profitable keywords for your blog.
I entered "Is Mercari Legit" and here are the suggestions for this keyword by KWFinder.
Keyword Difficulty: 24
Global Monthly Search Volume: 3,600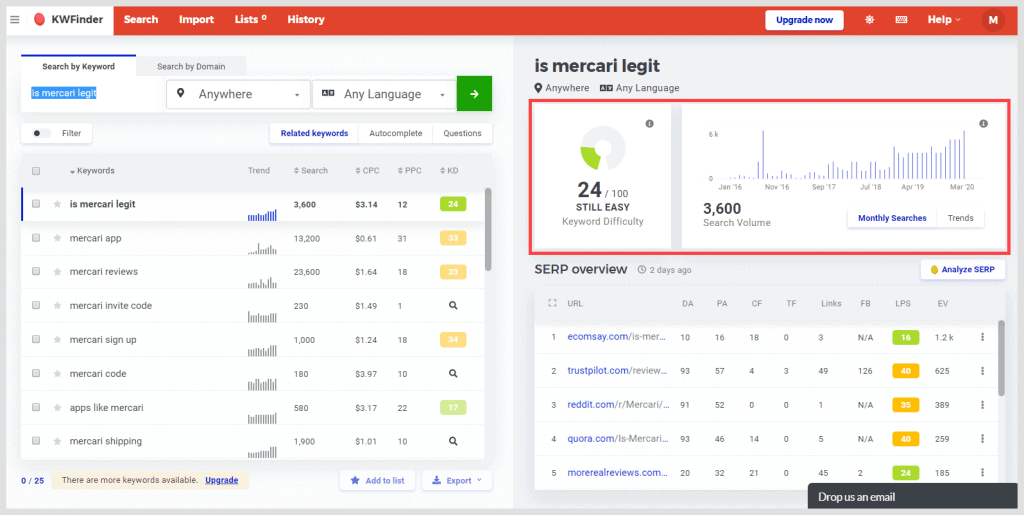 SEMrush Keyword Research & Accuracy
Let's take a look at this exact keyword in SEMrush, and here's the keyword overview.
Keyword Difficulty: 72% (Hard)
Global Monthly Search Volume: 3,000
The actual result I got with this keyword…
So you've seen the results of that keyword on both tools, now let me show you the exact results I got with this keyword.
Here are the actual results by ranking on my target keyword, "Is Mercari Legit."
As you can see, In the last 30 days from now I got "2,794" visitors by ranking on the first spot.
You've seen the visitors stats but, Is this topic very hard for me to rank as SEMrush says?
Well, not hard for me because there wasn't detailed information about this topic at that time meaning not high competition so I just wrote a detailed guide to help users and ranked with 0 backlinks.
The result proves that the KWFinder keyword difficulty metric is much more accurate than SEMrush, while the SEMrush keyword volume metric is much more accurate than KWFinder.
????
Please note:
A page can't just rank for only one keyword but it ranks for so many other relevant keywords and I also get all this traffic not just from a single keyword.
According to Ahrefs' study, the average #1 ranking page ranks well for about 1,000 other relevant keywords.
Maybe you think that you can't compare both tool's accuracy and volume metrics on only one keyword, you're right.
But you know what?
I've tried some of my other keywords as well, and the results are mostly the same.
In short:
KWFinder = Accurate keyword difficulty metrics but not the search volume one as compared to SEMrush.
SEMrush = Accurate search volume metrics but not the keyword difficulty one as compared to KWfinder.
Winner – Keyword Research: Well, it depends on which is the more important metric to you. If you're not very good at checking the keyword competition manually, then KWFinder is a better choice for you.
On the other side, if you're good at reviewing the keyword difficulty manually and want to know the accurate search volume metrics, then SEMrush is the winner for you.
However, when it comes to keyword research SEMrush has some cool unique features as well like:
Keyword Magic Tool
Keyword Manager
Keyword AD History
Try both for free to get a better idea.
When you select any plan of KWFinder that doesn't mean you'll only get access to Mangools' KWFinder only but all the other ones as well.
SERPWatcher (Rank Tracking)
SERPChecker (SERP Analysis)
LinkMiner (Backlink Analysis)
SiteProfiler (SEO metrics & Insights)
So I think I'll also compare the backlink analysis feature of both tools so you'll know which one is best when it comes to analyzing backlinks.
SEMrush vs Mangools: Backlink Analysis
I think you'll agree with me when I say:
Getting high-quality backlinks to your site improves your search engine rankings.
One of the effective ways to get backlinks is to analyze your competitor's backlinks, and then you can replicate their links.
There are tons of backlink analysis tools but, which one is better in the SEMrush vs KWFinder battle?
Let's see which tool can find the most backlinks and has a more significant link index.
Again for this test, I am going to use this blog (Ecomsay).
Mangools Backlinks Analysis
When I entered my blog root domain to the Mangools backlink analysis tool (LinkMiner), it found a total of 96 backlinks and 24 referring domains.
Try their backlink analysis tool below for free.
Now let's check the results on SEMrush.
SEMrush Backlinks Analysis
SEMrush backlink analytics tool found a total of 150 backlinks and 42 referring domains.
Now let me show you the exact link reports of this website.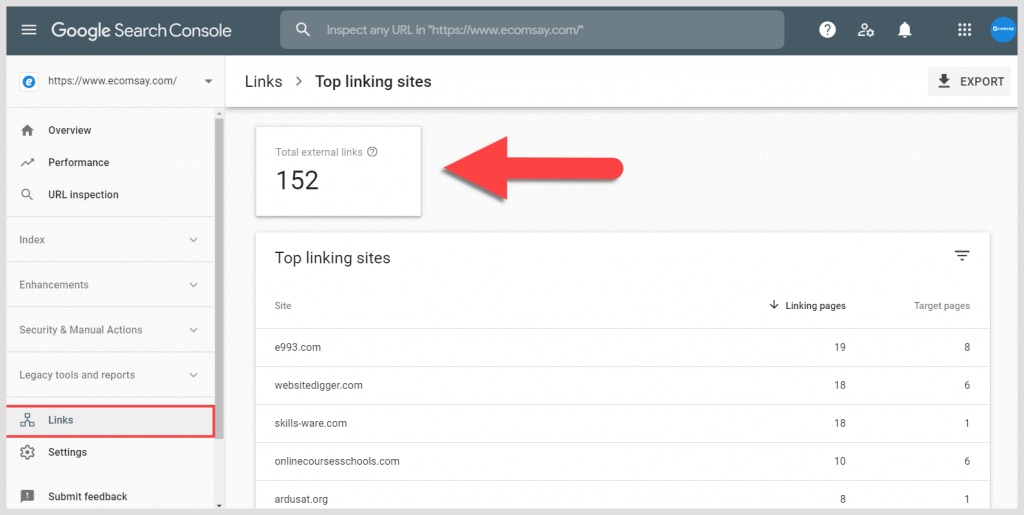 This proves that SEMrush is so accurate in analyzing backlinks, and the KWFinder isn't excellent in terms of backlink analysis.
Winner – Backlinks Analysis: When it comes to analyzing backlinks, SEMrush isn't just the winner from KWFinder but no other SEO tool can compete with it, I think not even Ahrefs in terms of analyzing backlinks of any domain.
Which Tool Has More Helpful & Unique Features?
We've compared the main features of both tools like the keyword research tool and the backlink analysis.
Now we'll put Mangools vs SEMrush to see which of them has the longest list and most impressive features.
Mangools Features
Take a look at quick glance at Mangools features.
Keyword Research helps you in finding the right and easy to rank keywords for your blog.
Competitor Analysis to see your competitors top performing keywords just by typing their domain.
Rank Tracker to start tracking your SERP positions now in any location, on any device.
Backlink Analysis that helps you to find your competitors backlinks so you can replicate their links easily.
SEO metrics and insights shows you the SEO authority of any website or URL and the insights, backlinks, competitors and most popular content.
Now let's cover the beast when it comes to features.
SEMrush Features
Here's a taste of SEMrush features:
Competitor analytics to see your competitor top keywords, backlinks and much more.
Keyword analytics helps you to find the most profitable and easy to rank keywords for your website.
Projects shows you your site stats and how you can improve your site technical issues.
Marketing Insights helps you in finding where your rivals invest most of the marketing efforts and how you can adapt in your own marketing strategy.
Gap Analysis to find keywords that your competitors ranks for but you are not, and also find untapped backlink opportunities.
Topic Research helps you in generating engaging content ideas.
SEO Content Template give recommendations around your targeted keyword so you can create search-optimized content.
SEO Writing Assistant is an add-on for Google Docs and WordPress that helps you to create SEO friendly content in real-time. While you're writing it will show you, your overall SEO + readability score, and how you can improve your writing and much more.
Lead Generation tool gives you a custom widget such as free site audit that you can place on your website and if someone want to run the free audit they've to enter their email and in this way you can collects thousands of leads.
Listing Management allows you to check your business listings on different platforms like Google, Yelp, Facebook, and dozens of other directories, maps, and social networks to keep your business listings correct all over the internet.
CPC Map helps you in comparing the advertising costs on Google Ads across different states of a country in an industry.
Winner: This is a no-contest – SEMrush is the clear winner. It's a way more advanced SEO tool than KWFinder. There's isn't even a single tool that can beat SEMrush in terms of the cool, unique longest list of features.
I've shown you just a quick glance at what SEMrush has to offer, the best practice is to try each feature by yourself.
Semrush vs KWFinder: Pricing & Plans
Both tools offer a free trial for a limited time so you can test them out but in the end, you've to select a paid plan.
So, let's talk about the pricing and plans.
KWFinder Pricing (Mangools)
KWFinder pricing starts as low as $29 per month for the Basic plan, $39 per month for the Premium plan, and $79 per month for the Agency plan when billed annually. However, by choosing the monthly plans of them you pay 40% extra on each plan.
Now it's time to cover.
SEMrush Pricing
SEMrush offers three pricing plans, the Pro plan costs $99.95 per month, the Guru plan costs $199 .95 per month, and the Business plan costs $399.95 per month. If you are billed annually, you save 16% on each plan.
There's an Enterprise plan as well for which you've to contact SEMrush for custom pricing and volumes.
Winner – Pricing & Plans: In terms of pricing, KWFinder easily beats out SEMrush. No doubt that KWFinder is one of the most affordable tools for a beginner that doesn't have much money to spend on SEO tools.
Which Tool Has The Best Customer Support?
Stuck for help or thinking what if I need help? Both KWFinder and SEMrush offer step-by-step guides and tutorials so the user can get help.
But what if you ever have to contact their customer team?
To test their customer support, I've decided to send this exact message below to both companies and will see which one responds quickly.
"Hi Team Mangools/SEMrush, I have a question in my mind and that is, do you use clickstream data to refine your search volume?"
Let's see which platform responds to us quickly and has more contact options and.
KWFinder (Team Mangools)
You can get in touch with Mangools by sending them an email or a live chat discussion.
For this, I am going to send this message via a chat button that is located in the right bottom corner of the KWFinder homepage.
So, once I sent the message I received this helpful reply within 2 minutes:
Great, sometimes there is live chat support especially I think on Sunday but mostly it is online and you'll get help within minutes.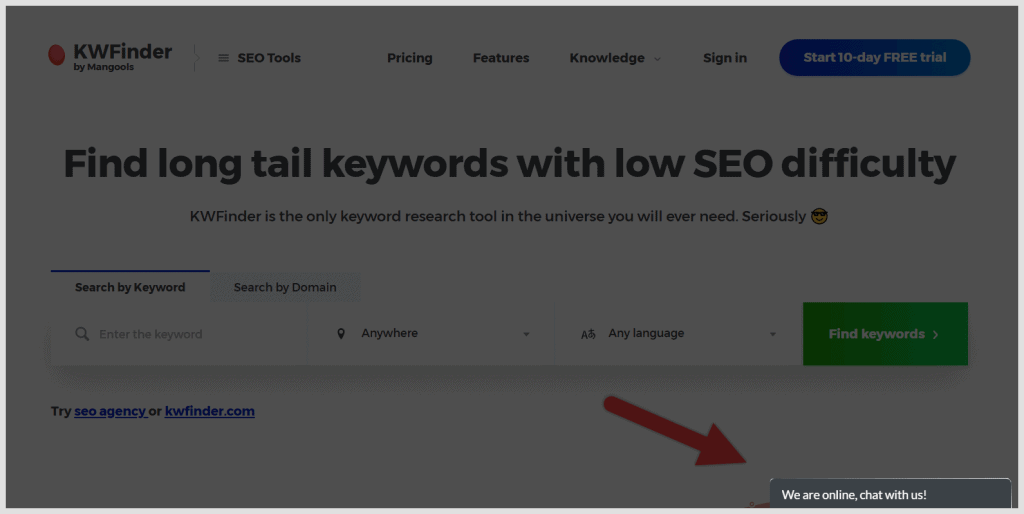 Now let's contact team SEMrush.
SEMrush Customer Support
In order to contact SEMrush, you've two options:
The contact page is especially for users who want to ask any questions whereas the phone number is for those interested in partnerships with them.
I head over to the SEMrush contact page and submitted my question.
And I got the response within 6 to 8 hours with this message:
Winner: The customer support of both tools are great but when it comes to quick response, KWFinder is the clear winner and easier to ask questions because of the live chat functionality.
Conclusion
The KWFinder vs SEMrush battle is one that has a different winner depending on your budget and your SEO needs.
I've covered the main differences and all the ins and outs of both tools, from their ease of use, features, customer support, and more.
By now, you should have a better idea of which one should you choose.
Here are my final suggestions to make your decision even easier and wrap up this article.
You Should Use KWFinder If:
You're focusing only on keyword research and looking for cheapest keyword research tool.
You want super easy to use keyword research tool, even a complete beginner can use.
You're looking for keyword research tool with surprisingly accurate keyword difficulty score metric.
You want very responsive live chat support.
You Should Use SEMrush If:
You're looking for all-in-one SEO & Marketing toolkit.
You're looking for SEO tool that is very accurate in keyword search volume metric, rank tracking, analyzing backlinks, competitive analysis and pretty much accurate in every feature.
You're doing ad research, competitive analysis and campaign building to optimize your PPC Campaign.
You want to improve your overall website online visibility, performance and its health.
SEMrush is a next-level SEO as well as marketing toolkit and best for those not doing just keyword research but all the other analysis of your website and ad campaigns to get high rankings and results.
If you've a budget and looking for a tool that can meet all your SEO + PPC needs then I highly recommend SEMrush.
KWFinder is the best beginner-friendly keyword research tool with a seamless interface, beautiful design, and excellent ease of use. I highly recommend it to you if you're focusing on keyword research only.
And there you go! Hopefully, you should now pick the absolute best one for your SEO ranking needs.
If not, I also suggest you try SE Ranking, a leading KWFinder and SEMrush alternative, owing to its accurate data and worldwide keyword database.
Now it's time to hear what you have to say.
Do you agree with my KWFinder vs SEMrush comparison?
Which tool do you prefer and why?
Let me know what you think in the comments below!