Last Updated: April 15, 2023
Perhaps you were drawn to Loveholidays due to its alluring offers of hotel accommodations with or without flights and easy-to-use website interface.
But, as a savvy and experienced traveler, you're skeptical about its enticing deals as these deals often come with a scam and hidden costs.
So before making a booking through it, let me uncover the truth: Is Loveholidays legit? Or is it just a scam waiting to devour your hard-earned money?
Let's get into it!
Is Loveholidays Legit?
Loveholidays is a legit online travel agency as it has been in business for over 11 years and doesn't run its business anonymously. However, the risks associated with booking through it are very high compared to direct bookings with hotels or airlines.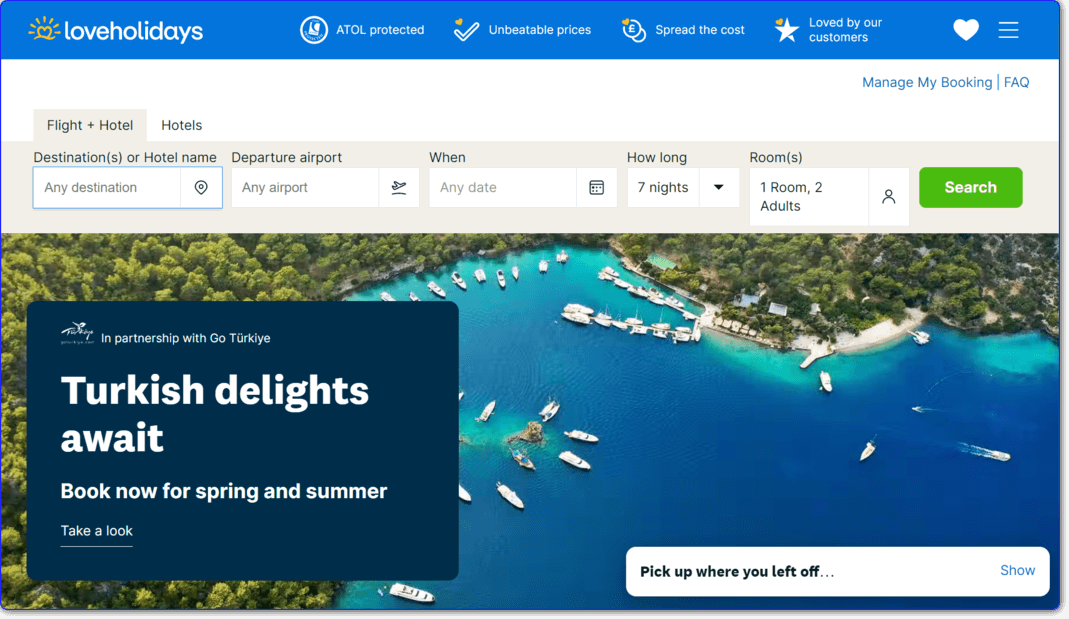 Though booking directly with a hotel or airline is also not free of risks, their chances are much lower compared to booking through Loveholidays.
Here's the reason:
Loveholidays basically acts as a middleman between you and the service provider (hotel or airline) you've made your booking.
So being a middleman, it is Loveholidays who collects your payment and handles your booking, not the service provider you booked with since your contract isn't with them, it is with Loveholidays.
That's why the hotel or airline will not be liable to help you directly if something odd happens.
In case something goes wrong with your booking, you have to involve Loveholidays first who will then reach out to your respective service provider on your behalf, and then Loveholidays will communicate the response of the service provider with you.

Due to the involvement of a third party between you and the service provider, you may likely be stuck in a lot of back-and-forths between Loveholidays and the hotel or airline.
And this makes the whole process of resolving your issues a bit more complicated and your issues take longer to resolve.
In the same way, making changes, cancellations, and getting a refund becomes more complicated and bears extra charges when your hotels are reserved through Loveholidays since a middleman is involved.
Hence, this is the reason why booking through Loveholidays carries a higher risk of issues compared to booking directly with an airline or hotel.
Besides these general risks, here are some of the major drawbacks associated with booking through Loveholidays.
Let's talk about it!
1. List Closed Hotels
Customers have reported that sometimes they found the hotels they booked through Loveholidays closed upon their arrival at these hotels.
The customers are then stranded in a strange place because the hotel they booked isn't responsible for the negligence made by Loveholidays.
Loveholidays still lists these hotels on its site despite the fact that the customers have complained about it and the hotels themselves have no idea when they will remain open when they are contacted.
Though this issue occurs rarely, customers have a sense of insecurity regarding the closure of the hotel they booked through Loveholidays before they go on their journey.
2. High Administrative Charges
Loveholidays will charge you its administration fee and the service charges of the service provider if you need changes, cancellation, or want to get a refund.
Loveholoidays sometimes even charges you for the changes and cancellations not made by you but are made by either your respective service provider or by Loveholidays themselves beyond your control.
3. Deduct An Extra Amount From Your Refund
You should also keep in mind that besides the administrative charges they take, Loveholidays often deducts some more extra charges from the refund they give you.
Loveholidays holds the amount from your refund without any reason and gives you a very meager amount of your refund.
4. Loveholidays Doesn't Take Responsibility For The Travel Service
Loveholidays only lists the hotels or airlines on its site and manages your booking between you and them.
It doesn't take responsibility for the actual provision of the travel service.
In many instances, though Loveholidays lists all the information and facilities of the hotel on its site, often, customers do not find the facilities of hotels Loveholidays mentions.
So if the hotel you booked through Loveholidays does not meet your expectations or it is not as exactly as shown in the listing, unfortunately, you can't do anything.
Do not expect that you'll reach out to Loveholidays and they will refund you, book you with another nearby hotel, or anything else.
Similarly, in this case, do not expect refunds directly from the hotel since they are not liable for your booking.
In a situation like this, it is quite possible that Loveholidays may push things onto the hotel, and the hotel's staff may turn around and push things back on Loveholidays, leaving you stuck in the middle.

Therefore, there will be no other option but to accept the hotel as it is.
5. Price Difference Issues
In some cases, there is an issue with your booking and Loveholidays tells you to rebook the same room. When you go to rebook the same room, the new price you're shown sometimes exceeds the price at which you previously booked.
The same is the case when you want to add something you missed during your booking you've already confirmed with Loveholidays.
At this stage, cancelling your booking isn't a good option for you too as you will bear the cancellation charges as well as administrative charges will be deducted from your refund.
Hence, you're compelled to pay these extra charges as there is no other way out.
So these are the major drawbacks associated with booking through Loveholidays.
Though booking through Loveholidays has many drawbacks and carries a higher risk of issues, but as far as its legitimacy is concerned, it is a legit online travel agency.
Loveholidays is legit as it has been in business for the last 11 years.
If it were a scam company, it would've vanished from the market very long ago because scam companies don't survive this long.
Moreover, Loveholidays doesn't run its business anonymously. Its headquarter is in London, UK.
Furthermore, the official site of the UK government shows the status of Loveholidays "active with its registration number." 
So if Loveholidays were like a ghost company, the UK's official website would not have mentioned it on its site and would not have shown its status as active.
By keeping these major factors into consideration, there is no doubt that Loveholidays is a legit online travel agency.
So, Should You Book Directly Or Through Loveholidays?
By looking into many drawbacks and the legitimate points mentioned above, the final choice is yours whether you book through it or stay away.
But as far as my personal recommendations are concerned, I don't recommend you book through it due to the following main reasons:
As already mentioned above, Loveholidays lists sometimes the hotels which are closed and customers have already complained about them.
The other reason I don't recommend it is that they deduct some extra charges from your refund without any reason.
Last but not least is that customers are often not happy with the services of the service providers Loveholidays lists on its site. Upon their arrival at the hotels, Customers find very different things from what they are shown by Loveholidays during booking.
This was all about Loveholidays from my side.
If you've any queries or want to add something more about Loveholidays, please share with me in the comment section below.