Last Updated: September 15, 2023

So you're thinking of making a purchase from Litfad after being attracted by its unique and trendy items like home lighting, outdoor decor, rugs, furniture, and its other home improvement products.
But you've the following concerns about Litfad that you want to address before you decide to make a purchase:
Is Litfad legit or a scam e-company?
What are the potential risks associated with buying from it?
And Should I Buy from it or stay away?
Don't worry, you'll find answers to each of these queries in detail by the end of this article.
Let's start with the main question.
Is Litfad Legit?
Litfad is legit in a sense that it delivers orders to its customers and also some of its products are listed and sold by Amazon, the world renowned multinational company. However, it's not reliable at all.
Here's why:
1. What They Advertise Is Different From What They Deliver
One of the major issues customers often face is that they receive a different product from what they're shown by Litfad, especially in terms of colour, craftsmanship, and quality.
The colour issue may be genuine as screen resolution can cause slight variations between pictures and the actual colour of products.
But as far as other issues are concerned, Litfad is very poor in craftsmanship and its products aren't of good quality as described.
The craftsmanship of the products Litfad shows in pictures is very attractive and enticing but the products customers receive are actually crafted very poorly.
Furthermore, they either use low-quality materials in their products or the materials they show you in product's description are often very different from those of the product you actually receive.
In many cases, the quality of the products they deliver is so bad that attempting to assemble its parts with screws often results in parts becoming irreparably damaged.
The next one is:
2. Delay In Orders
While the estimated delivery time is mentioned with the product you're buying, Litfad often takes longer than the given estimated delivery time in delivering its products.
The main reason for order delays is that Litfad ships most of its orders from China, though it claims that it has its warehouses in the US and Europe too.
Therefore, the orders sometimes take months to be delivered by Litfad at your doorstep.
3. Products Often Comes Damaged And Broken
One of the other serious issues customers encounter is that the products they receive often come damaged and broken.
As most of the products Litfad delivers are very delicate, especially home lighting, there's a greater possibility that the products may be damaged during delivery by the shipping carrier.
But it's also possible that Litfad itself delivers damaged products without carefully processing them.
Whatever the reason, customers have reported that in most cases, they receive damaged products and then aren't able to return them and get a reasonable refund from Litfad.
4. Missing Parts And No Clear Instructions By Litfad
Litfad delivers products in parts and you've to assemble and fit them on either yourself (if you can) or through a local expert.
But Litfad may leave you frustrated because in some cases it doesn't include all the necessary parts of the products in its orders.
Consequently, your whole order may result in failure due to a missing part as it's nearly impossible to find that missing part in your locality and even if you luckily find it, it may not seem natural to the whole design, style, and appearance of your product.
And as Litfad delivers products in their component parts, it doesn't give you clear instructions on how to assemble and fit these parts to construct the final item.
Moreover, the instructions they give you are often written in Chinese which the majority of the customers don't understand.
Last but not the least is:
5. Partial Refund And High Return Shipping Charges
So if you face any of the above issues or aren't satisfied with the product you've received, you'll either exchange it or return it for a refund.
But returning your order and getting a refund isn't as simple and easy as you're told by Litfad.
How? Let me tell you the reality.
You should keep in mind that in any case, you've to return your order at your own cost even in cases where you receive a damaged product or encounter an issue with your order that's not your fault.
But the worth mentioning point here is that you've to ship your order back to China, though you're not told by Litfad about this during placing your order.
And even if you return your order back to China at your own cost, Litfad will deduct the shipping charges from your refund which are often very high.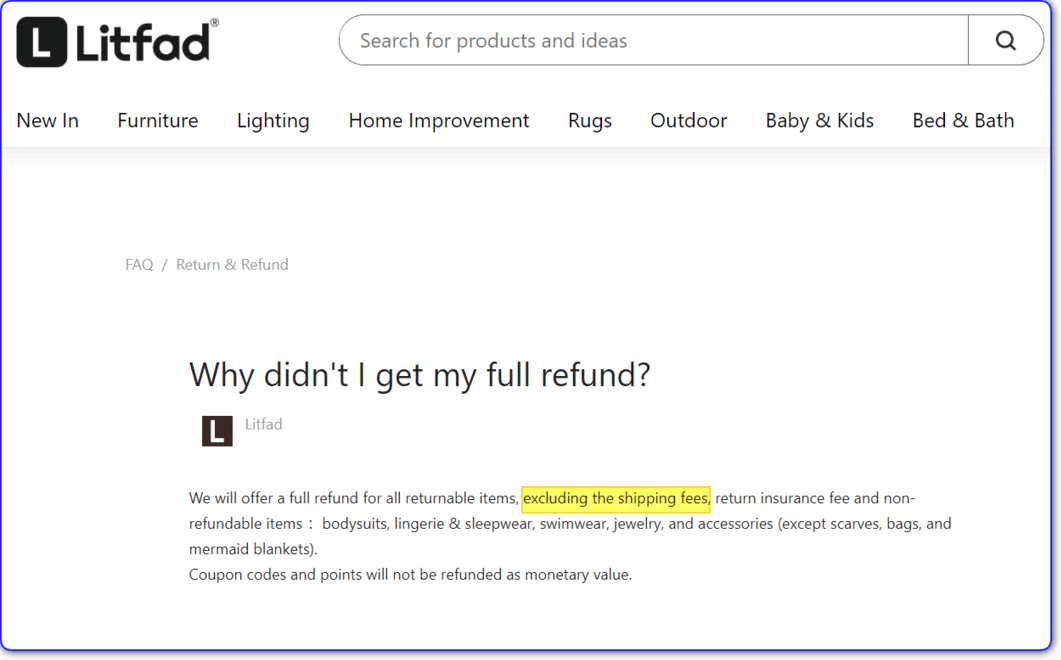 So getting a reasonable refund isn't suitable for you as you'll have to incur the shipping and return shipping charges which often exceed the actual price of the product.
By this trick, Litfad traps its customers by offering them a deal: keep the product and take a partial refund.
In most cases, they initially offer 5% of the refund but if you insist for more, they'll give you not more than 40% of your total refund amount.
In the end, you'll have no other options but to accept what Litfad offers you as returning your order back to China is very costly and takes a lot of time.
So don't be deceived by the flexible return and refund policy of Litfad but look for these issues associated with return and refund.
That's it!
Hence, these are the issues because of which Litfad isn't a reliable and trustworthy company to buy products from.
To wrap up the above discussion, it's now clear that though Litfad is legit in a sense that it delivers orders and also Amazon sells its products, it's not a reliable platform due to the issues mentioned above.
So Should You Avoid Buying From Litfad?
After looking at the issues associated with buying from Litfad, the final choice is yours whether you buy from it or stay away.
But as far as my personal recommendation is concerned, I don't recommend you to buy products from Litfad as it has left the majority of its customers frustrated and disappointed when they make a purchase from it.
In addition to that , the 5 major issues discussed above are faced by its customers very frequently, therefore, it's more likely that you may also face one of these issues.
That's why, I suggest you to avoid buying from Litfad because if you face any of the above-mentioned issues, all your money and time will go in vain.
So this was all about Litfad from my side.
Hope this article may have cleared your concerns about Litfad.
Still, if you've any questions or want to add something, let me know in the comment section below.
FAQs
Where is Litfad located?
Litfad is located in Tsim Sha Tsui, Kowloon, Hong Kong. However, though it claims it has its warehouses in the United States, China and Europe, it ships most of their orders from China.
Litfad doesn't tell you at the time of making a purchase that you've to return your order back to China.
But if you want to return your order, you've to send your order back to China, not to the warehouses of Litfad located in the US and Europe.
Is Litfad reliable?
Litfad is not a reliable company as the majority of its customers aren't satisfied with their purchases they make from Litfad.
They often receive damaged products, some parts are missing in their orders, no clear instructions by Litfad, and returning and getting a refund is a nightmare.