Last Updated: April 15, 2023

Are you struggling with making the choice between Canva vs PowerPoint for creating professional designs?
If the answer is yes, keep reading.
While both of these tools have some significant similarities, like ease of use, and an ability to build beautiful presentations, they're designed for very different users.
Canva is a graphic design tool best suited to non-designers to create a wide range of graphics with thousands of pre-designed templates for everything from social media posts and presentations to logos, posters, marketing assets, and much more.
In contrast, PowerPoint is a presentation program designed exclusively for creating professional-looking presentations. It is best suited to those looking for easy-to-use software to create just presentations, not any other visual graphics.
This just covers the very basics of each platform.
To help you make a confident decision about which tool is right for you, I'm going to take a deep-dive look at the differences between the tools in terms of:
Before we get into the details of the differences, let me briefly describe both tools.
Canva vs PowerPoint: Short Verdict
Canva is a web-based graphic design platform for non-designers to create a wide range of quick graphics, while PowerPoint is a powerful yet easy-to-use presentation program designed just for creating professional-looking presentations.
Key Differences
The primary difference between Canva and PowerPoint is the scale and breadth of what you can do with each app.
Both tools allow you to design presentations, but while PowerPoint focuses exclusively on professional slideshows, Canva offers more variety.
Canva is used to create everything from infographics to album artwork, flyers, posters, social media content, and tons of other design types with thousands of ready-made templates and a huge library of assets.
In contrast, PowerPoint is an industry-standard solution for creating presentations within the Microsoft ecosystem. It's easy to use and packed with templates, but focuses only on the creation of presentation-style assets with a host of extra tools like word processing and drawing.
Canva can be used to create presentations as well as a variety of other design types, whereas PowerPoint can only be used to create presentations.
However, PowerPoint has more advanced features and tools than Canva for creating presentations, which means you can create much better presentations in Powerpoint than you would with Canva.
Simply put, Canva is the right choice for you if you're looking for an all-in-one graphic design platform for making quick graphics from presentations and logos to business cards, resumes, social media posts, and much more.
Whereas, PowerPoint is the best choice if you've to create presentations only.
By now, you should have a better idea of what sets these tools apart and which might be better suited to your needs.
But before making the final choice between the two, there are important factors to consider like ease of use, features, pricing, templates, and collaboration.
So let's compare both Canva vs PowerPoint thoroughly in terms of all these factors, starting with ease of use.
Ease of Use
In their respective fields, both Canva and PowerPoint are among the most popular tools on the market, precisely because of their ease of use.
Canva is created for people with no prior design knowledge, it is one of the most easily accessible design tools on the web.
You can get started with Canva instantly without any additional learning required. However, if you still need help, you can visit Canva Design School to learn everything there's to know about Canva.
For the most part, you should be able to jump straight in, thanks to Canva's drag-and-drop editor and a huge library of templates for everything from social media graphics and presentation to eBooks, flyers, logos, posters, cards, documents, and much more.
The easy-to-use templates come categorized into different segments based on what you want to create. For instance, if you click create logo, Canva will provide you with thousands of beautiful templates for designing logos.
Furthermore, adding something to your design such as text, photos, videos, elements, audio, and more is as simple as dragging the asset into the Canva's drag and drop editor.
To discover Canva's editor, watch this video:
Now, let's discuss PowerPoint's ease of use.
Microsoft PowerPoint is also one of the most convenient tools on the market for slideshow and presentation creators. The solution makes it as easy as possible to get started, with various step-by-step guides to learn this program.
Like Canva, PowerPoint offers a range of templates and pre-existing assets to choose from, to help bring your design to life. You can sort through presentation options with the search bar on the PowerPoint application, or choose from the most popular designs.
Once you access a template, you can implement animations, transitions and more between each slide, to help enhance your presentation.
Clicking on the "Insert" tab within PowerPoint will also give you access to a range of shapes, stock photos, textbox, icons, and more.
Like with Canva, you can upload your own pictures, or use pre-existing assets in the PowerPoint library. There are also thousands of assets to download online.
One of the things that makes PowerPoint particularly easy to use is the PowerPoint "Designer" feature, which uses AI algorithms to automatically generate ideas for you to choose from when you're creating your content.
When you place content on a slide, the designer works in the background to match your content to your layout.
Ease of Use – Winner: PowerPoint
Although you can't go wrong with either in terms of ease of use, PowerPoint is the winner for a few reasons.
First, there are fewer features to learn about on PowerPoint than you'd have with Canva. Secondly, it focuses only on the creation of presentations, whereas Canva focuses on a wide range of design types.
Features
There's no denying PowerPoint and Canva are both packed with a huge range of excellent features. However, they do serve very specific purposes.
Canva's features are suited to non-designers looking to create a wide range of quick graphical assets like logos, thumbnails, infographics, presentations, photo books, invitations, custom prints, and much more.
Unlike PowerPoint, Canva has some super convenient features like one-click background remover, animation styles, content scheduler, brand kits, magic resize, and much more.
Apart from that, it offers 610,000+ templates to bring your designs to life and hosts over 100 million photos, videos, audio, icons, charts, and graphic elements that you can use in your designs.
Moreover, Canva offers some basic photo editing features and manipulating tools which PowerPoint doesn't.
In contrast, PowerPoint's features are geared towards professional presentations. You get a complete graphics presentation package providing everything you need to build a professional-looking presentation.
Unlike Canva, PowerPoint comes with access to a range of features like designer, smartart, cinematic motion, drawing, painting, and outlining tools which help you to expand on your presentation designs and make them more unique.
The most helpful feature of PowerPoint is the "Designer" feature which uses AI to generate design ideas for you automatically. This can be used to make a professional design with minimal effort.
Moreover, PowerPoint comes with support for cinematic motion presentations, where you can explore transitions, stock animations, and unique layouts, with opportunities that go beyond what you can do with your presentations in Canva.
Like Canva, you can export your slideshow in a range of different formats, and store content directly within the cloud.
However, unlike Canva, PowerPoint also gives you more freedom to draw free-hand on your designs. You can easily draw on a touch-screen with a pen and even convert hand-drawn shapes and text into more professional versions in the app.
To help nail your presentations, PowerPoint will also provide you with AI coaching to help you practice your speech, pacing, and word choice.
I've covered the key features of both tools but it's not possible for me to cover each feature.
To sum up, I would say:
PowerPoint is the best slide show presentation program that has all the features you need to create a professional-looking presentation and you should choose it over Canva if you've to create just presentations, nothing else.
Comparatively, Canva has all the features you need to create a variety of graphic designs easily and quickly so if you've to create a wide range of visual content (not just presentations) then you should choose Canva over PowerPoint.
Features – Winner: It depends!
While Canva gives you more features for creating a wider variety of assets, PowerPoint provides a more advanced range of capabilities specifically for presentation.
If you want to create social media assets, PowerPoint would be no good, but for presentations, it definitely outshines Canva, and gives you more room for creativity.
Pricing
Pricing is another most important factor to consider when choosing between PowerPoint and Canva.
Let's compare both and see which one is cheaper and what both tools have to offer in their pricing plans.
Both Canva and PowerPoint offer free and premium plans. Firstly, let's discover Canva pricing plans.
Canva Pricing
Canva offers three pricing plans (one free and two paid plans):
Canva Free
Canva Pro
Canva for Enterprise
The free plan of Canva offers access to more than 250,000 free templates, 100 design types, and hundreds of thousands of free graphics and photos. You'll also be able to access collaboration and 5GB of cloud storage with this free service.
Unfortunately, you won't access all the premium templates (610,000), 100+ million premium stock photos, videos, audio, graphics and time-saving features like background remover, content planner, brand kit, and more unless you upgrade to premium plans.
The downside of Canva free plan is that it is used by the majority of the users which means it will more likely leave you with a design that looks similar to those created by other people because they have access to the same features as you.
If you want to unlock all the features and premium content to create unique designs, you've to upgrade to one of these two paid plans:
Canva Pro
Canva for Enterprise
????
Tip:
Before spending your hard-earned money on these premium plans of Canva, you can try them for free by taking a
30-day free trial
to see if it's worth upgrading.
Once you've decided to upgrade, here's how much both plans cost and what's included in them.
Canva Pro plan costs $12.99 on a month-to-month basis or $119.99 per year, for up to 5 people which means if you upgrade to this plan, you can give access to 4 other people to Canva Pro.
However, giving access to additional people will cost you $7 per person if you're on a monthly plan or $60 if you're on the annual plan.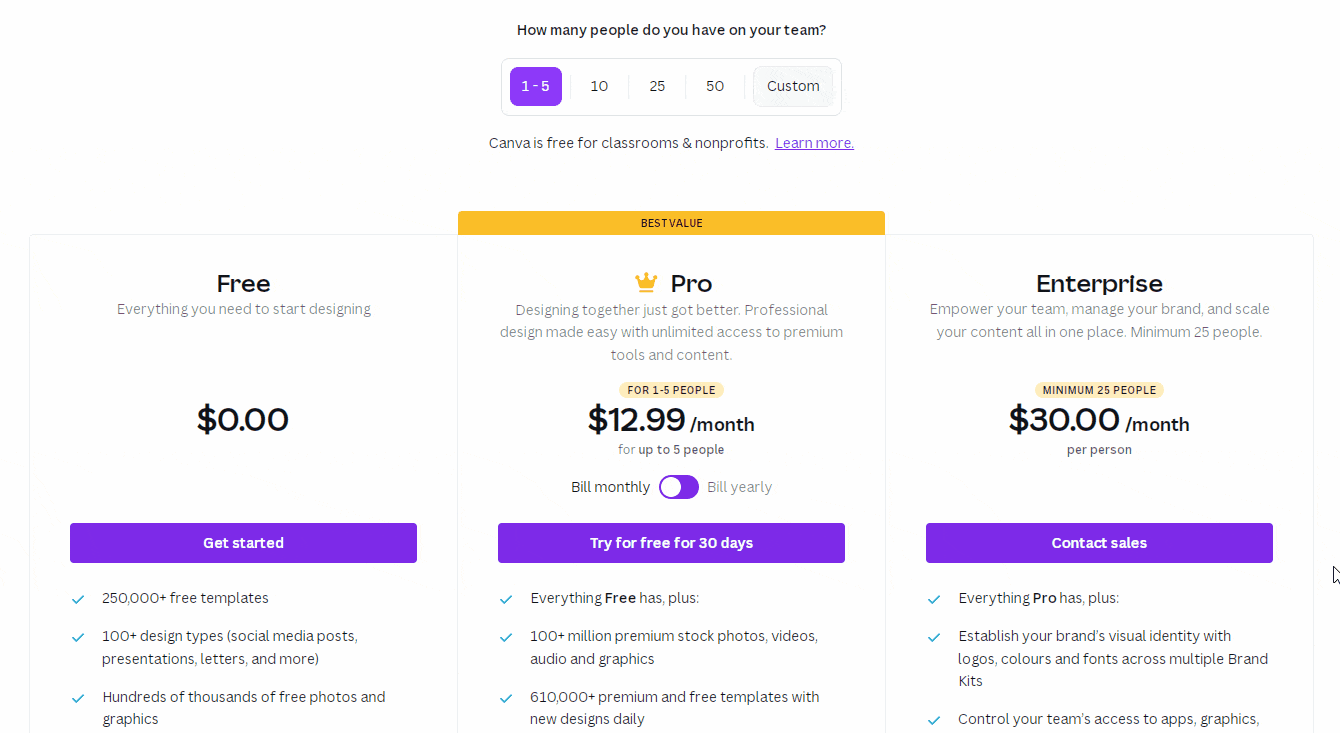 Canva for Enterprise costs $30 per month per person. However, this plan requires a minimum of 25 people in order to sign up since this plan is not for individuals, it is ideal for organizations, franchises, businesses, and agencies with large teams.
To know what's the differences and what's included in Canva Free, Pro, and Enterprise plan, check out this slideshow presentation.
PowerPoint Pricing
PowerPoint desktop software is not free but it has a web-based version as well that can be accessed for free via Office Online.
However, the free version is extremely limited. It allows you to access basic presentations, a handful of templates and a few simple features.
If you want to really unlock the functionality of PowerPoint, you have to purchase it.
PowerPoint can be purchased either:
Standalone: $159 flat-fee.
With Microsoft 365 subscription: Starting at $6.99 per month.
The standalone version of PowerPoint costs $159 for 1 PC or Mac (one-time fee) but it doesn't include cloud storage, updates, and all the premium features.
PowerPoint is most commonly purchased as part of Microsoft 365 (formerly Microsoft Office suite) and I personally recommend getting it with this subscription plan rather than the standalone version because it's the best value.

With Microsoft 365 subscription, not only you'll get PowerPoint, but also Word, Excel, Outlook, 1 to 6 TB of cloud storage, premium templates, and much more.
To learn more about what you get with this subscription plan, watch this video:
But, How Much Does Microsoft 365 Costs?
Microsoft 365 has two pricing plans for individuals and family known as:
Microsoft 365 Personal: Perfect for 1 person and it costs $6.99 per month or $69.99 per year. This plan includes access to 1 TB of cloud storage, and all the features and premium content.
Microsoft 365 Family: Perfect for 6 persons and it costs $9.99 per month or $99.99 per year. Includes access to 6 TB of cloud storage, and premium safety features in mobile app.
Most people get one of these two Microsoft 365 plans, but it also offers pricing plans for business.
Pricing – Winner: Canva
Canva has a slight edge over PowerPoint in terms of pricing plans because the free version of PowerPoint on the web is extremely limited compared to Canva's free plan.
Nevertheless, Canva and PowerPoint have one plus point and one drawback in terms of paid plans.
The standalone version of PowerPoint can be a lot more expensive than Canva, particularly for first time buyers and if you want to access all of the Microsoft Office tools.
But on the other hand, getting PowerPoint with Microsoft 365 subscription is slightly cheaper than premium subscription plans of Canva.
Templates
Both PowerPoint and Canva have plenty to offer in terms of beautiful, eye-catching, and professional templates.
Canva is one of the most versatile products on the market from a template perspective, with over 610,000 templates available for a host of different categories.
It has templates for 100+ design types from presentations and social media posts to blog graphics, logos, and more.
On the flip side, PowerPoint also offers a wide variety of PowerPoint templates (few hundred templates) specifically for presentations but it has significantly less templates than Canva.
Furthermore, it's important to know that both PowerPoint and Canva offer a combination of free and premium templates.
To access Canva's premium templates, you'll need an upgrade to Canva Pro.
On the other hand, you'll need to get the Microsoft 365 subscription to have full access to a range of premium templates. You won't get access to premium templates with the standalone version of PowerPoint.
Alternatively, you can download PowerPoint from the web or purchase from other third-party providers like Envato.
Templates – Winner: Canva
No doubt, Canva is the winner from templates perspective. Not only it offers significantly more templates but it has templates for a wide range of design types.
Collaboration
If you're creating your assets as part of a team, both Canva and PowerPoint have collaboration tools intended to empower team members to create professional designs together.
The collaboration options for both tools are very similar.
Both tools offer essential collaboration features, including the ability to invite team members to work on your designs with a link or email (Through Outlook or OneDrive for PowerPoint)
Both allow you to upload your content to the cloud for other people to access whenever they need to, and leave comments on for review later.
Both allow you to add members to access a specific folder through team tools
Both solutions also allow you to work on the same projects in real-time through the cloud, provided both of you have access to the right subscription.
PowerPoint and Canva will also show you who is active and working on your designs with you, so you can keep track of your team members. Plus, you can comment, tag, annotate, and work together in an ever-evolving environment.
To see how collaboration works in Canva, watch this video:
To see how collaboration works in PowerPoint, watch this video:
Winner: It's a tie!
The collaboration features on both PowerPoint and Canva are extremely similar, allowing you to work with your colleagues asynchronously, or at the same time.
Conclusion
Both Canva and PowerPoint are fantastic tools for non-designers looking to create graphic assets. However, they're intended for different purposes.
Canva is an easy-to-use tool for working on a host of different designs with pre-made templates and assets. You can build everything from social media content to presentations, using animations and pictures from the Canva library.
In contrast, PowerPoint is a focused presentation building tool with advanced features like word processing, and drawing, as well as AI to boost your presentation quality. It is most commonly used for business and school presentations.
I'd recommend Canva for beginners looking for an all-in-one environment for creating all kinds of graphic designs.
I'd recommend PowerPoint for business users looking to create high-quality presentations with intelligent guidance.
Now you know which one to choose between Canva vs PPT depending on your designing needs and budget.
Feel free to leave a comment if you have any questions!