Last Updated: April 15, 2023
Struggling to choose between Canva and Figma – two ultra-popular design tools?
Despite the fact that both of these tools are built for designers, they serve very different purposes and are intended for completely different users.
Canva is for non-designer looking for an online graphic design platform to create simple and quick graphics such as social media graphics, infographics, logos, presentation, posters, and other visual content with a wide variety of pre-designed templates for almost everything.
In contrast, Figma is best suited for professional designers looking for a collaborative UI and UX design tool to create websites designs, mobile application designs, wireframes, prototypes, and everything in between.
This was just a brief overview of both tools.
To help you make an informed decision, I'll explain all the the main differences between Canva and Figma and will consider five criteria to see how these two design tools stack up:
By the end, you should have all the information that you need to make your choice between Figma vs Canva.
Since it's a detailed comparison but if you're short on time, here's a short verdict with a quick comparison overview to help you pick the ideal platform quickly.
Canva vs Figma: Short Verdict
Canva is a great option for non-designers to create simple static graphics, while Figma is best suited for professionals to create prototypes, wireframes, and design interactive UI, UX, websites, and mobile apps.
Quick Comparison
Check out this summary table to quickly compare Canva and Figma in all the six key factors to consider.
| Category | Figma vs Canva | Winner |
| --- | --- | --- |
| Ease of Use | Canva is the easiest product to use out of Figma and Canva, simply because it's much easier to grasp as an out-of-the-box solution. Figma is more of a specialist tool, and therefore has a learning curve. | Canva |
| Features & Editing Capabilities | Figma is more advanced than Canva for creating comprehensive user experiences in the design world. However, the two services do have very different purposes. | Figma |
| Templates | Canva has far more template options to choose from, while Figma is more likely to be ideal for designers who want to start with a blank slate. | Canva |
| Collaboration | Both Canva and Figma offer collaboration tools, but Figma is far more focused on supporting teamwork from start to finish. You can even call your colleagues through Figma. | Figma |
| Pricing | Canva is a little more affordable than Figma, but both tools are relatively high-value for the services they offer. | Canva |
| Plugins & Integrations | Canva only has a handful of plugins and integrations options, while Figma offers significantly more. | Figma |
Not short on time?
Let's compare both tools in-depth in terms of all these six key factors, but since the differences between Figma and Canva are pretty distinct, it's important to know all the major differences between them.
Key Differences Between Canva and Figma
The major difference between both tools is that Canva is for simple static designs, whereas Figma is for complex interactive designs.
Canva is a graphic design tool built for non-designers in mind allowing them to design simple static graphics from social media posts and logos to posters, flyers, presentations, and tons of other visual content using a host of thousands of ready-made templates.
Apart from graphic designs, it also offers some basic features for photo editing as well.
Figma, on the other hand, is a vector-based UI/UX design tool for professionals. It is most commonly used for designing websites and mobile apps with prototyping and wireframing functionality.
The best use cases of Figma are prototyping, wireframing, diagramming, and creating designs of user interface (UI), user experience (UX), websites, and mobile apps.
Please note: Figma can only design the appearance of websites, mobile apps, or anything else, but can't build the actual website, app, etc.
To put it simply, let's say you have to build a website or mobile app either for yourself or a client and have a general idea about the look and feel of the website or app so in that case Figma will be the perfect fit for you.
Although Figma is specifically for designing UI, UX, websites, apps, you can use it to create all kinds of graphic design work from social media posts and presentations to logos, resumes, or just about anything you can imagine. The possibilities are endless.
However, it has a very steep learning curve compared to Canva (more details later).
Canva has little to no learning curve, you can get used to it within 30 minutes.
Unlike Figma, Canva offers millions of stock photos, videos, audio, and graphic elements as well as tens of thousands of pre-designed templates for everything from infographic to social media posts, logos, custom prints, and much more which makes it extremely easy to design graphics.
However, Canva's ease of use comes at the expense of limited functionality and customization options. While it's easy to create basic graphic designs, it's difficult to create anything unique.
Even though Figma doesn't offer ready-made stuff (except some pre-designed templates) and has a steep learning curve, it gives you a lot more freedom to design graphics.
To cut it short, I would say:
Canva is the best option for non-designers looking for an extremely easy-to-use graphic design platform to design graphics quickly and easily.
It is ideal for designing simple static graphics such as social media (YouTube thumbnails, Facebook posts, Instagram stories, etc.), presentations, logos, flyers, resumes, cards, and other visual content either from scratch or using pre-designed templates.
In contrast, Figma is ideal for professional designers looking for the industry standard prototyping and UI/UX design tool. It is best for designing UI, UX, websites, and mobile apps with interactivity.
I hope now you have a better idea of how these tools differ from each other and which might suit your needs better.
However, there are important factors to consider like features, collaboration, pricing, templates, integrations, and plugins before making the final choice between Canva and Figma.
So let's compare both tools thoroughly in terms of all these factors as well as ease of use even though you know which one is easier to use.
Let's get into the details, starting with ease of use first.
Ease of Use
Both Figma and Canva are designed to be as intuitive as possible.
Each of these apps come with clean, easy-to-follow interfaces, a convenient backend environment for sorting through features, and a host of tools to help you get started, such as FAQs and documentation.
However, the nature of each app does mean you're likely to find one option easier to use than the other.
Canva is naturally more straightforward than Figma because it's intended for a simpler kind of design process.
Canva basically gives you everything you need to create stunning graphics in one parcel. You don't even have to worry about making sure the scale of your pictures is correct, because Canva has automatically scaling templates built-in.
You can choose from a range of different template options, from social media posts, to blog banners, infographics, prints, flyers, short videos, and more. It also offers millions of graphics, stock photos, videos, and audio in case you need something extra.
Figma, on the other hand, is far more complex. You need to have at least a basic knowledge of UX and UI design to take full advantage of this app.
This collaborative design interface tool comes with a bit of a learning curve. You'll need to commit time to figuring out how the system works, what each module in the builder can do, and how different components work together.
However, if you're already familiar with UX and UI design, you should find the app to be very straightforward. The design space is intuitive, with a very clean and convenient environment for dragging and dropping modules into place.
To learn the basics of Figma, watch this video:
Features and Editing Capabilities
Both Canva and Figma are packed full of features for modern designers – though they each serve a very different purpose.
Canva's features are suited mostly to non-designers, who want to create quick graphical assets, like logos, thumbnails, presentations, infographics, and similar content.
Canva offers a range of tools for adjusting and enhancing imagery, as well as various time-saving capabilities, like "magic resize" which automatically scales your design to suit any format with one click.
There's also "brand kit", which allows you to keep your whole team on the right path with resources for your visual brand identity.
Canva even has its own content planner, so you can schedule content for your social media profiles after you create it.
On top of that, you'll have access to a host of resources, like 610,000+ templates, 100+ million premium photos, videos, graphics, and audio clips, along with animation features, to get your images moving.
For more details, check out this interactive presentation to see all its key features in action and get an idea of what Canva is capable of:
In contrast, Figma's features is geared more towards UX designers, with a focus on building interfaces for websites, apps, and other digital experiences.
You need to be a professional designer with in-depth design knowledge to really leverage the functionality of Figma.
However, if you have the right skills, you'll find the feature set is extremely useful, including everything from wireframing tools and templates, to building modules, where you can create user flows from scratch.
Figma makes it easy to build UX environments with drag-and-drop capabilities, a pen tool for typing, and the "FigJam" whiteboarding environment, where teams can collaborate in real-time over their creations.
You can also build full kits and templates for your teams to use whenever they're building something new for the same brand, to ensure ongoing consistency.
To learn more about the features of Figma, check out this video:
Templates
Templates are ideal for a designer looking to save some time on creating commonplace assets. With a template, you don't have to start building everything from scratch, and you can worry less about getting sizes and dimensions right.
Canva comes with thousands of templates to choose from (over 610,000 to be exact), and they cover everything from social media posts, to advertisements, logos, and eBooks.
You can instantly customize any template with Canva's drag and drop feature in just a few clicks.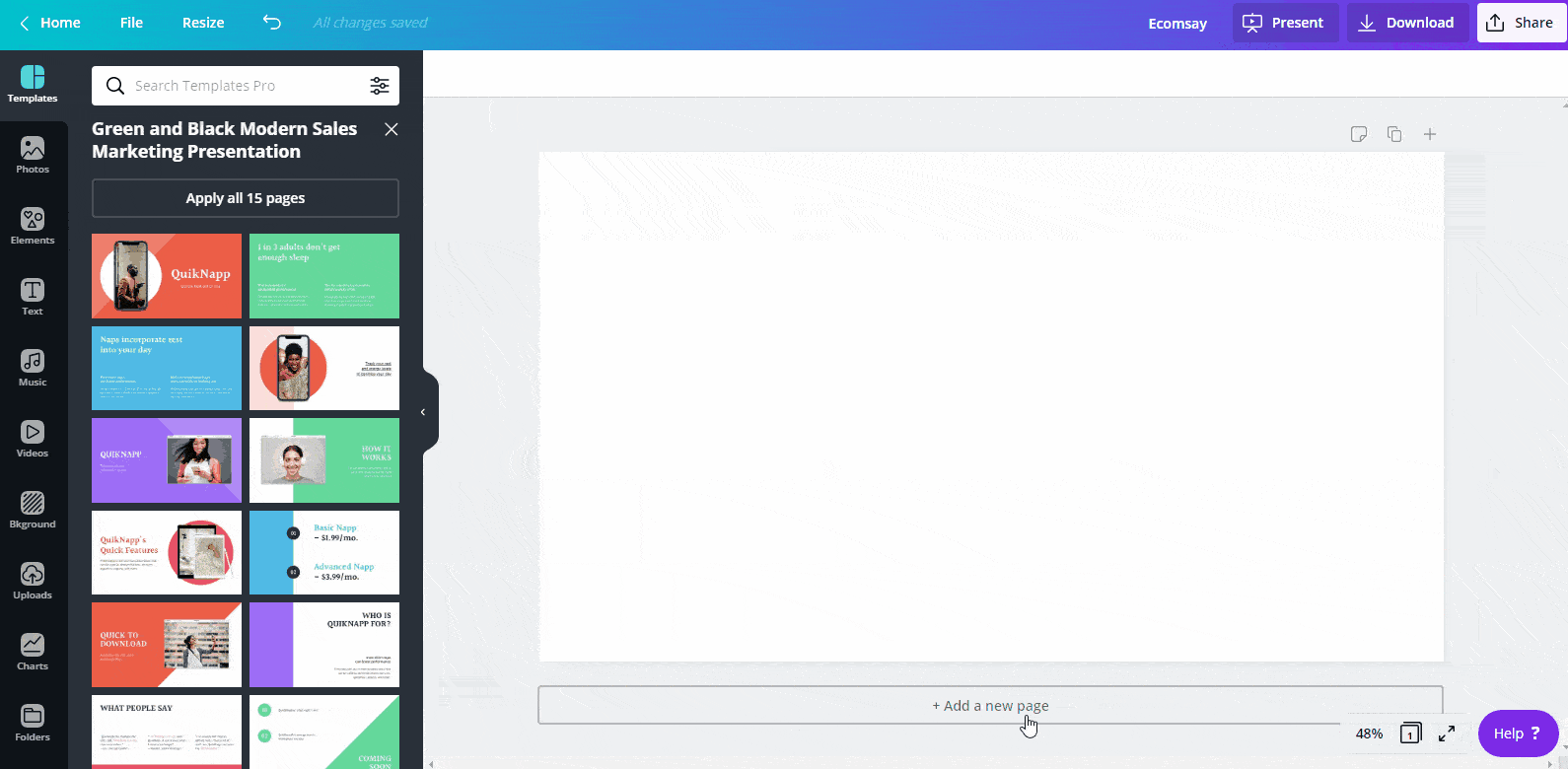 Many of the templates offered by Canva look phenomenal, and you can even access free assets like stock photos, fonts, vector graphics, and animations too.
However, there are some limitations to what you'll have access to in the free version of the app. Upgrading to premium will give you more variety to choose from.
Compared to Canva, Figma definitely has a lot less to offer from a template perspective. The app really wants to give its users the freedom to design anything they want from scratch, which means you start with a blank slate.
Of course, that's not to say there aren't any templates at all.
You can access a handful of simple templates for things like customer journey maps, concept maps, and mood boards, but there's not a lot to choose from.
These templates also give you just the basic structure of whatever you're trying to create, with no added visuals to turn any heads.
Although they don't have many pre-designed templates built-in, you can visit the Figma community where random people share beautiful templates that you can duplicate, remix, and use for free.
Collaboration
Most design tasks don't happen in a vacuum.
Often, when you're choosing between design tools to use for your next project, you'll need to think about what kind of software your colleagues will like using too.
Fortunately, both Canva and Figma allow you to play nicely with others on your team.
Canva allows you to invite members to work with you on your design, via an email or a direct link. This will give your users direct access to edit or simply view your content.
You can also tag team members and add comments for them to check out, or share specific folders of content with users.
It allows you to collaborate in real-time too. This means you can work on a project at the same time as your colleagues, wherever they are in the world.
Figma also takes collaboration seriously, building it into every stage of the application interface. You can create fully accessible libraries for your entire team, and invite as many people as necessary to view and comment on your designs.
Any viewer can grab snippets of code, and you can export the assets you need to share them with external users in seconds. The FigJam environment is definitely the most compelling part of this app for collaboration purposes.
With FigJam, you get an immersive online whiteboard where you can brainstorm with your team members on an infinitely customizable board. You'll be able to send comments, draw on projects, and even create sticky notes in real-time.
At the same time, Figma ensures teams can consistently work together in real-time on any project as it emerges, designing and building in the same synchronized environment.
Pricing
Both Figma and Canva offer a free version of the app, and premium packages, depending on the functionality you need.
Free: $0
Pro: $12.99 per month, for up to 5 people (including you). For adding each additional member, you will be charged $7.00 if you're on a monthly plan or $60.00 per year ($5.00/month) if you're on a yearly plan.
Enterprise: $30 per month per user, requires a minimum of 25 people.
There's a 30-day free trial available if you want to test out Canva premium plans before you buy.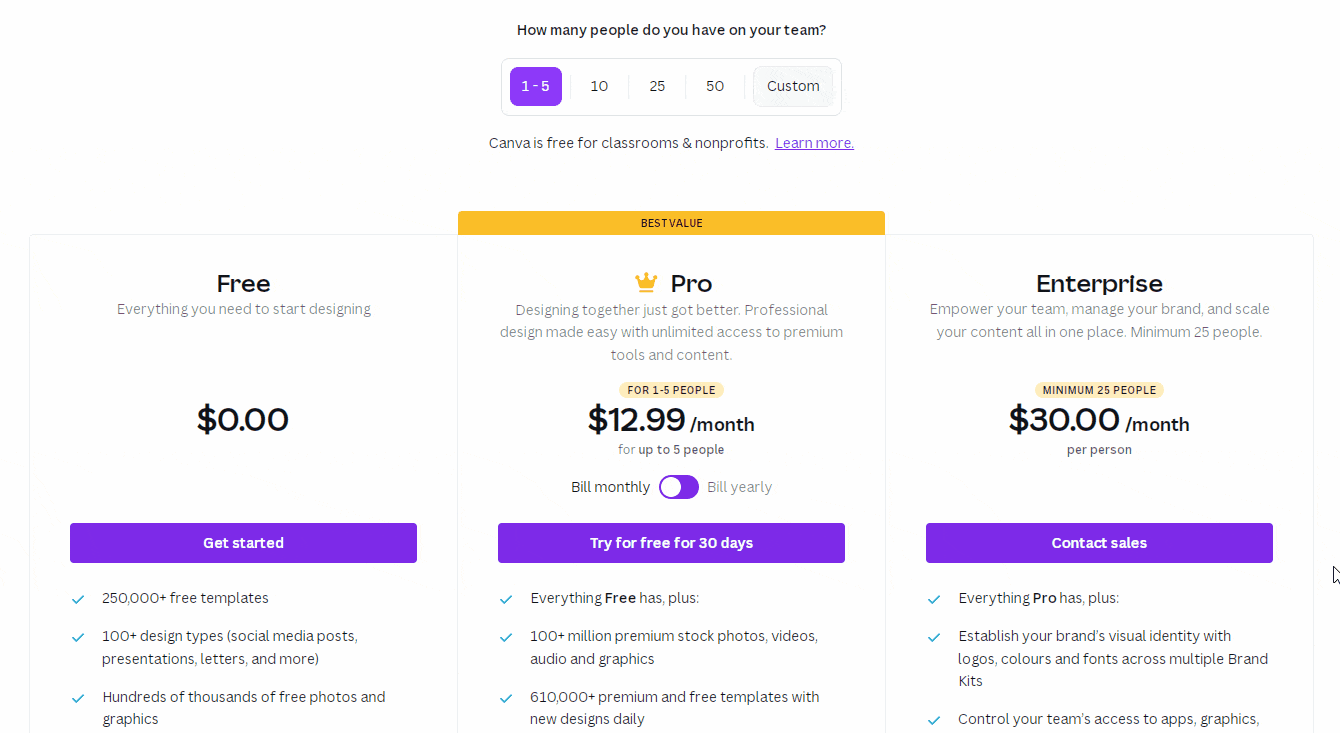 To know what's included in each plan of Canva, take a look at this interactive presentation:
Now, let's talk about Figma pricing plans.
Free: 3 Figma and 3 FigJam files, unlimited collaborators, and unlimited personal files, with access to the mobile app and plugins included.
Professional: $12 per month, per editor, with all the features of Free, plus unlimited Figma files, version history, sharing permissions, and team libraries.
Organization: $45 per month, per editor, for everything in Professional plus org-wide libraries, centralized file management, private plugins, and more.
Enterprise: $75 per Figma editor per month with advanced security controls.
You can also access extra FigJam support for $3 per editor per month, or $5 per editor per month if you need centralized content management and other advanced features.
Plugins & Integrations
Both Figma and Canva offer plugins and integrations, so you can connect more of the tools you use every day in the same platform and bring new functionality to your experiences.
But, which one offers more plugins and integration options?
To get straight to the point, Canva is nowhere close to Figma in terms of plugins and integration options.
Canva has a total of 90+ integrations and plugins to choose from, most of them are for social media platforms, photo editing extensions, productivity apps, file hosting services, and email marketing tools.
Figma, on the other hand, separates integrations and plugins.
Figma has thousands of plugins to choose from which give you comprehensive access to various features like font pickers, chart creators, design resources, and much more.
However, there are not many integration options available on Figma as compared to plugins. It offers integrations with a wide range of tools such as Notion, Confluence, Maze, Maker, Maze, Pendo, and more.
Figma focuses heavily on user testing, collaboration, productivity, and prototyping integrations.
Conclusion
Making the choice between Canva vs Figma is easier than you'd think. The two apps are intended for entirely different purposes, so the right option for you will depend on what you're designing.
Canva is likely to be the choice for you if you're looking for a graphic design tool that doesn't requires graphic design experience. It is best for creating simple graphics such as blog banners, social media posts, and so much more with a couple of clicks.
Figma is perfect if you're looking for the best design tool for designing UI/UX. It's a little more complex, but you can build more comprehensive design experiences with this tool.
Have any questions? Feel free to ask in the comments!