So you've heard about Skillshare but don't know what it is, how it works, how much it pays, its pricing, how to get started and more.
If so, then brace yourself. You've landed just the right article.
Knowing the ins and out of Skillshare is confusing at first, and I was also at the same stage you are now.
At that time, I spent a lot of time to get knowledge about Skillshare, and I got confused at some point.
But once I learned, I thought that there might be many people searching for the same information I am looking for, and I must say you are one of them.
Therefore, I am going to share detailed information in this post, so you don't have to search for all queries related to Skillshare as I did.
Here's what you'll learn in this guide:
Let's dive right in!
What is Skillshare?
Skillshare is an online learning platform created for both learners and educators. It has more than 30,000 classes to choose from with new courses added all the time in design, tech, illustration, business and more.
If you are a learner, you can take an online course of a specific skill that you want to learn.
Whereas if you are a teacher, you can create and publish a course on any skill you have and make some side-income.
Skillshare offers a wide variety of topics, but the most value is in creative topics like design, photography, cinematography and motion graphics, etc.
Anyone can take a class, do a project, and even teach a course whether you are an individual or a team.
Skillshare Pricing
Skillshare offers three pricing plans to choose from:
Premium Monthly: Skillshare monthly plan costs $15 per month.
Premium Annual: Its annual plan costs $8.25 per month, it is billed as one payment of $99 annually.
Team: It costs $99 per user, per year.
Skillshare pricing structure is pretty simple. They offer 'free,' 'premium,' and 'team' plans.
Let's talk the difference betweem each plan of Skillshare.
Differences Between Skillshare Plans
As you'd expect, how much functionality you get from Skillshare depends very much on how much you're prepared to pay for it. Each plan offers a distinct set of features, which I'll go through now.
FREE Plan
You can only watch the courses available for free, mostly there is not that much information in the free classes but suitable for basic information.
What's included in the free plan?
More than 2,427 Free Classes

Join the community to create projects, discussions, and learn with other students.

Download free mobile apps on Android, iOS, and Apple TV to learn from anywhere.
PREMIUM Plan
Skillshare's Premium monthly plan costs $15 per month, and it's annual plan costs $8.25 per month and it is billed as one payment of $99 per year (45% discount).
They offer a 7 day free trial of the premium plan as well so you can test out their premium plan and classes before going to pay for it.
Note:
You have to cancel your Skillshare premium trial before the subscription time ran out otherwise the subscription payment will be deducted from your credit card automatically.
Click here if you don't know how to cancel Skillshare subscription.
What's included in the premium plan?
Download classes and access them when you're not connected to the Internet.
Unlimited Access to More Than 30,000 Classes.
Watch your classes without ads.
The membership funds the royalty pool that pays teachers every month.
Donate Premium Skillshare Memberships to those in need.
Get exclusive discounts from popular creative services.
Please note, this isn't the complete list of features and benefits that comes with the premium plan. However, these are just the main features of the premium plan.
TEAM Plan
Skillshare Team plan costs $99 per user, per year. This plan is good for you if you have a team working on a specific project so all of you can do team management inside Skillshare.
The Team plan allows you to inspire your team with on-demand classes, in-person events, customized learning paths, world-class creatives, and more.
For more details, check out this quick overview video of Skillshare Team plan.
So these are the pricing and plans of Skillshare, now let's discuss about how you can get a free month of the premium subscription.
Skillshare Referrals
Skillshare gives you a free month whenever you refer a friend, a family member, or anyone else to their platform.
If someone signs up via your link and once they complete their first full payment of Premium membership, they'll receive 14 days of Premium Membership for free, and your account will be credited with a free month of Premium.
It's a win-win for both of you, but the question is…
How To Refer a Friend on Skillshare?
Step 1: Click on your profile icon and then click on Refer a friend.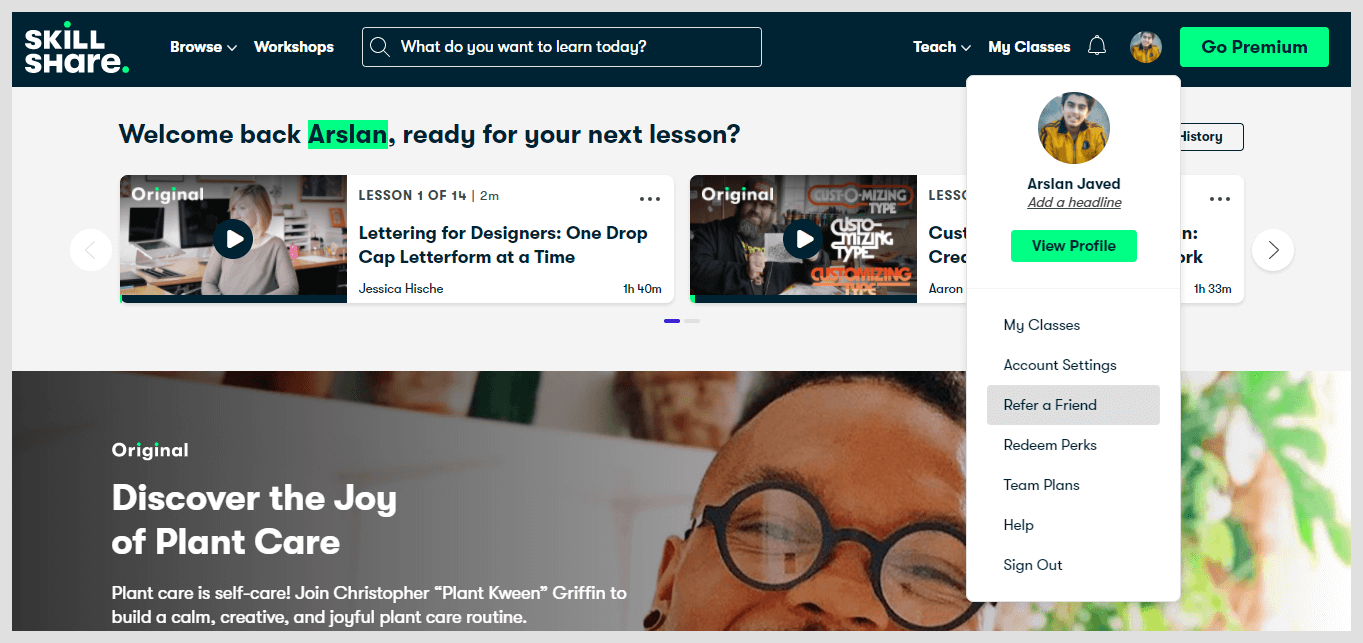 Step 2: Here you can invite someone with their email address or by sending them your referral link.
Getting Started with Skillshare
To get started with Skillshare we have to first create an account on it. 
So, how to create an account on Skillshare?
Step 1: Visit www.skillshare.com/signup.
Step 2: Fill out the required information and click on "Sign up."
Step 3: If you want to start your 2 months free trial of the premium plan, then fill out the billing information.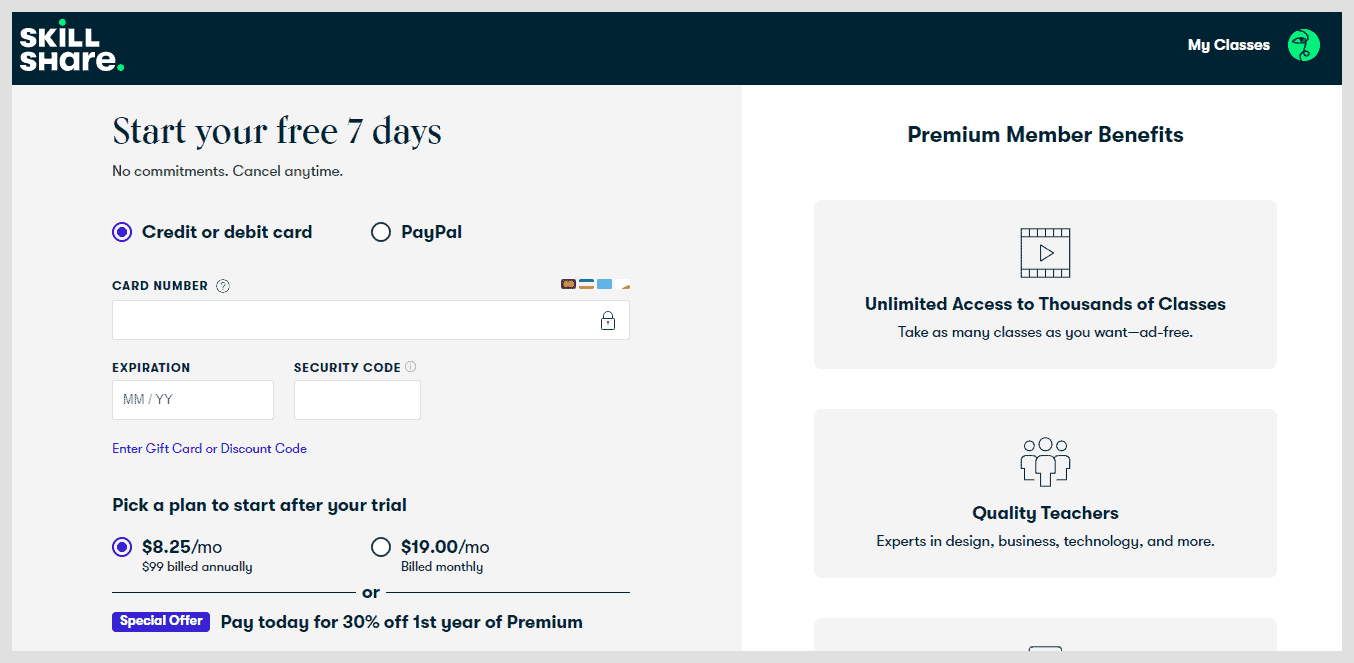 However, If you don't want to start your free trial and use the free plan, just click on the Skillshare logo on the top left corner.
Interface & Ease of Use
Skillshare is pretty straightforward to use – it's got an excellent clean, modern interface.
What you will see when you log in:
Home: When you log into your account, you can see the skills you follow or follow the skills you're interested in. Also, you can take a look at recommended classes, lists, featured on Skillshare, join workshops, and more.
Browse: It lets you choose any category in which you want to learn a skill. Also, you can look at all classes, recommended classes, student projects, and groups.
Workshops: Communicate with other like-minded students and exchange feedback to improve your work by joining the workshops.
Search: Find classes of any skill that you want to learn.
Teach: If you want to educate others, then you can become a teacher on Skillshare (more on becoming a teacher on Skillshare below).
My Classes: It allows you to see your lists, workshop, all saved classes, watch history.
Notifications: By clicking on the bell icon, you can see the notifications.
Profile: It helps you to edit your profile, refer a friend, see your classes, redeem perks, learn about team plans, get help from Skillshare, and sign out your account.
Now, let's talk about how you can become a teacher on Skillshare if you want to teach others and earn money from your teachings.
Becoming a Teacher on Skillshare
If you have any skill that you'd like to teach online and educate others with your knowledge, you might consider teaching on Skillshare.
It helps skilled creators to teach and make passive side income online.
But, how to become a teacher on Skillshare?
Step 1: Create an account on Skillshare, if you already haven't.
Step 2: Now visit https://www.skillshare.com/teach and click on "Start a Class."
Step 3: Upload your video lessons, add title and description, choose a category, sub-category, class type, level, and click on save draft or publish to publish your course.
The choice is yours whether you want to set up your class type to free or premium.
How Much Does Skillshare Pays?
Skillshare revenue is based on a royalty system, and the teacher can get paid for the number of minutes watched by Premium students in their classes each month.
How much does skillshare pay per minute?
Skillshare pay between $0.05 to $0.10 per minute watched.
For example, if you are a teacher and your students watched 5,000 minutes of your class in the first month, then you would earn between $250 to $500.
Note:
To receive a payment, you must get at least 30 Premium minutes watched across all of your classes within a month. Also, you'll not get paid for the minutes watched by students through a free class or a free access link.
Common FAQs
How Does Skillshare Make Money?
Skillshare allow users to peek into a course for free, to get an introduction of it. However, a full course is available only for premium members.
Their business model is subscription based, which means that students pay a monthly or annual fee for a Premium Membership, which includes unlimited access to the entire catalog of Premium classes and other Premium features.
Skillshare pays 50% of that premium's membership amount to the teachers on the site, and they keep the rest.
That's how they make money.
Conclusion: Is Skillshare Worth It?
We hope that by reading this entire post, you now have a better idea of what Skillshare is, who's it for and should you use it or not.
Here's our final thoughts about Skillshare whether it is worth it for you or not. I'll talk from both teacher as well as student prospective. 
Let's start with the teacher first.
Is Skillshare worth it as a teacher?
As a teacher, don't think that you will earn a living with Skillshare money, but it's great for side-income.
Anyone with knowledge and skills can upload a course for free on the platform.
The top teachers on Skillshare make up to $100,000+ a year, which is a good amount of money, but in most cases, these teachers already have a huge following.
Getting started on Skillshare is easy and free, if you are just getting started and don't have money to spend, then it's worth it.
Is Skillshare worth it as a student?
Skillshare is good to learn new skills, but as I already said, it offers the most value in Creative, Business, and Technology topics.
Other topics are also good, but they seem to have less quality content.
The best thing about Skillshare is that the courses are very specific and most of them are short.
If you are a web developer and want to take courses on CSS, JavaScript to improve your skills, this may not be the right platform for you .
Overall, Is it worth it?
In my opinion, I would say it's worth it for both teachers and students.
Yes, there are some issues with usability, limited course selection outside of creative topics, but it's still worth the money.
If you're a creative professional, it's good for you when it comes to continuing your education or even if you're not, you can browse a ton of free courses, so, why not try it out.
Now I'd like to hear from you:
Have you ever used Skillshare? If so we'd love to hear whether you think it's worth your money or not! Leave a comment below with your questions, opinions, thoughts, experiences, and advice.
I love hearing from my readers, let 's get this conversation going!
Skillshare FAQs
You may still have some FAQs in your mind and here are few common ones that most people have about Skillshare.
Do I have access to classes if I cancel my Premium Membership?
You'll lose access to your classes and any downloadable material provided by teachers at the end of your current pay period when you cancel your Premium membership.
But, you'll be able to update your class projects and participate in class discussions.
Can I pause my Premium Membership?
Yes, you can pause your membership for a maximum of three months via your Payments page.
How can I resume my Premium Membership?
To resume your paused membership, go to your Payments page and click on "Resume Membership."
Can I deactivate or delete my account, and how?
Yes, you can either deactivate your account temporarily or permanently.
Temporary
To deactivate your account temporary, head to the Account page in your Account Settings and On the bottom, right-hand side, click the Deactivate Your Account link.
Permanently
Delete your account permanently by contacting Skillshare Support. Please note that you will not be able to reactivate your account once deleted permanently.
How to reactivate Skillshare account?
If you deleted your account temporary, then you can reactivate your account at any time by contacting Skillshare Support.
So, these are some of the common FAQ's about Skillshare and if you have more questions, click here.
Last Updated: January 1, 2022